Build a Working Power Platform App (from scratch) in just 5-days...
...and get $2.9k worth of bonuses!!
Microsoft's Power Platform is all set to become THE skillset to have. In this 5-day Power Platform Challenge, we will teach you exactly how to create a Vacation Booking App (from scratch) in as much time as it takes to watch 5 films on Netflix! No prior knowledge or coding skills required.
NEXT Challenge starts: 12th september
Limited offer! When you graduate, we will give you your

money back

to spend in the Academy Shop!
Created by Matt Weston MVP
P
Our Challenges are the ultimate

Power Platform training tool
If you're a creative person that enjoys building solutions to problems, then you're in luck!

Power Apps, Power Automate, Teams and SharePoint, are all fantastic and can easily be used together to build the solutions you need.

Microsoft has built the equivalent to Lego. At our disposal, we now have the tools to make pretty much anything our minds (or business's) desire!

Unfortunately, using Microsoft 365, just as with Lego, you can easily hit problems. For example, you can build the most fantastic Lego village but then realise that the shiny new truck that mom just bought doesn't even fit in the garage! Even worse, you can run out of bricks!

Our "5-Day Challenge" helps you build a Vacation Booking solution using the Microsoft 365 Power Platform whilst also giving you the fundamental learning needed to keep away from issues and not "run out of bricks".

We have adopted a method we call "B.L.U.E" (Build it | Learn it | Use it | Enhance it) to teach you all you need to know to get started in the Power Platform but more importantly, help you learn by creating a usable solution.
You'll be encouraged to be creative and will have the benefit of in depth live support from our Academy coaches. We also throw in a great community experience to boot and the chance to "Graduate" with a Credly award to share your achievement.
In short, Microsoft gives you the Lego; we give you the build instructions and dedicated support to help it go swimmingly!

In exchange for a modest $279 investment, you get ALL of this (

$2,970 resources

):
plus ...when you graduate, you get your

money back in Academy vouchers

!
Access to the 5-Day Challenge Training Videos
5-Days of video coaching by Matt Weston MVP. These videos have been carefully curated to ease you into the Power Platform step-by-step. By the end you will be amazed at what you've built.
9 Step-by-Step Ebook Guides
If you prefer to learn by reading, no problem! We've produced ebooks that will guide you through the entire build.
How to setup your development environment guide
Microsoft offer free developer environments so that you can practice and build the solution without having to pay for your own tenant. We show you exactly how to set this up. If you need more assistance, we're happy to jump on a call to guide you through it. (If you want to use your own tenant, then that's fine as well).
Live Collab365 Coaching throughout
Our Collab365 Coaches will be there to guide you through the challenge daily. The coaches run daily Teams meetings and will also be active in Collab365 Academy to help clear any roadblocks you have.
Lifetime access to the Collab365 Academy (inc. learning paths)
We believe that learning should be a continuous experience. As soon as you purchase, you will be added to the Collab365 Academy to meet other members and enjoy all of the content on offer in this Challenge (and more). Once in the Academy, you can start learning immediately by following our specially curated learning paths.
Solutions Challenger (Credly) Certificate
As soon as you graduate we issue you with a Credly badge so that you can show-off you new Power Platform skills.
$279 Graduation Coupon (Get your money back!)
If you commit to the Challenge and demonstrate that you've successfully completed the build, we will give you a $279 discount on anything in the Academy shop! Note: the coupon lasts for 3 months.
Microsoft 365 Foundation Micro Course
If you'd like a primer into Teams, SharePoint, Power Apps, Power BI, Power Automate and Power Virtual Agents then this is for you. If you pass you get access to our member perks area and also earn an Explorer badge!
BONUS:

108 Microsoft 365 Ebooks
A library that contains 1000's of pages of learning. This incredible resource teaches you all the essential Microsoft 365 skills, including Teams, SharePoint, Power Platform, OneNote, Azure and more ...
BONUS:

200+ hours of video training
We've ran 10 Virtual Summits around Microsoft 365 and Power Platform. Every single session will be added to your Academy account to supplement your learning.
BONUS:

Power Automate Beginners Workshop Recording
In this Masterclass, we teach you everything there is to know about Flows and how they work. You will learn the basics of the Power Automate, what it can do for your business, and so much more! This Masterclass is perfect for anyone who wants a better understanding of automation within Microsoft 365.
BONUS:

Solutions Day Recordings
Solutions Day took place on January 18th 2022 and showcased the 'art of the possible' by demonstrating how Microsoft's Power Platform can help to solve six real-world problems.
BONUS:

Power Apps Beginners Workshop Recording
This online training teaches you how to get started with Canvas Power Apps.
BONUS:

Power BI Beginner Workshop Recording
This workshop is ideal for people who are just beginning their Power BI learning and want a leg up. Or for those with the foundations who want to build their skills to create compelling visualisations.
If you want to get started with the Power Platform and build something 'real-world' in 5-days ...
this is the mission we're giving you...
Do
YOU

Accept

for only $279

?
In this Challenge you will build a solution Using

SharePoint

,

Power Automate, Power Apps, Power Virtual Agents, Teams, Planner

&

Power BI !!

...
This solution can either be built in a free training Tenant (we can help guide you on securing a FREE Microsoft 365 Developer Program tenant) or directly within your own Microsoft 365 Tenant.
Leverage SharePoint to store and manage leave requests and entitlements
Learn how to explore and manipulate data in SharePoint Lists to manage your staff holiday or vacation data
SharePoint Lists can be used in many different scenarios to store the data needed to power your Power Platform solutions. In this 5-Day Challenge, you will learn how to use SharePoint to manage the leave entitlement and request data that drives the solution. You'll also learn how to create re-usable 'Content-Types' to speed up future rollout.
Work with Power Automate to glue the solution together
Power Automate provides the "Connections" in the Power Platform Solution.
Nearly all solutions can benefit from Power Automate to move data around and connect systems up. The Vacation Booking System is no different as it uses Power Automate to move data around, perform checks and trigger Approvals.
Use Power Apps to view and trigger Vacation Requests
Power Apps will be used as one of the main user interfaces for your staff to manage their requests. No code needed!
We will show you how easy it is to build a Power Apps solution with no code. Once created, staff will be able to view and request vacations and see what they have left from their entitlement.
Engage Power BI To Provide Insights
Power BI provides the ability to see not only your own requests but also for management information around current trends
Power BI is a powerful visualisation tool integrated with Microsoft 365. Once implemented, it will be easy to review requests in real time, understand what's left to take and gather a view across teams.
Get Even More Experience By Using Power Virtual Agents, Planner and Teams !
The 5-Day Challenge will introduce you to even MORE Power Platform components. This will provide more insight into the wider options available within the Power Platform for your future builds.
You'll build a chatbot to provide an alternative to using the Power App for raising requests for leave.
You'll also give approvers a visual tool using Planner so they can simply drag and drop Approvals rather than replying to emails.
Finally, you'll learn how this all integrates and Pivots around Microsoft Teams as the booking 'hub'.
WATCH THE VIDEO BELOW TO SEE A QUICK DEMO OF WHAT YOU BUILD
Do
YOU

Accept

for only $279

?
What's it like

to take part in the Power Platform Challenge?
When you attend the Challenge you can expect a next-generation training experience. We know it's really hard to complete a course when you're left alone. Our challenges are fun, cleverly-paced and also give you a degree of accountability ... so you succeed!

Each day we release new modules for you to watch and follow along with. There's usually 1-2 hours of training per day. You can either watch the video training or read the guidebook.
We also host a live coaching session each day where you can get additional help, motivation and guidance. People who've taken part before, love the accountability this gives them.
If you're working through the steps in the challenge and hit a problem, you will be able to ask questions in the private Challenge space. You're never alone!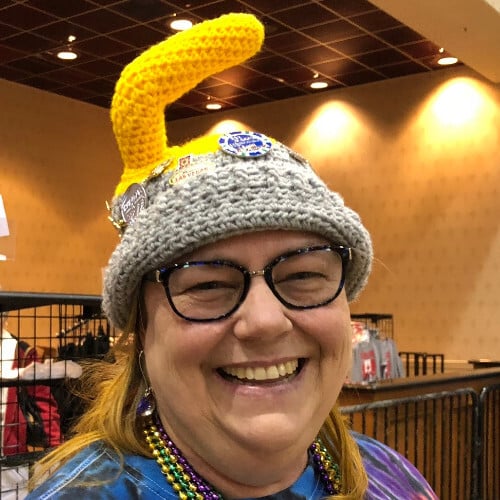 Took the 5-Day Challenge in April 2022
Cindy Vasey -
Compliance Program Manager at AWS
I took the 5-day Challenge as I wanted to explore the Power Platform's full potential quickly. In addition, I loved the idea that I would build something real world that taught me all of the significant services. The Challenge was nicely paced, with tasks to do each day, and I loved the idea that Collab365 were on hand to support me. Once we finished the build, we were invited to a graduation event where we could show what we'd built. I also walked away with a Challenger badge to add to my Credly profile and new skills that I use in my day job. If you want to learn the Power Platform fast, then I highly recommend booking on the Challenge and committing to building the Vacation App.
Here's what happens

day-by-day

in the Challenge?
Over 5 fun-filled days packed full of practical learning, you will complete 9 modules covering 7 services in, or closely aligned to the Power Platform. Each day will be supported by daily LIVE group catch-up sessions.

Kick-off and Introduction
You'll kick off the challenge with a live call. You'll meet the rest of your group including one of our support coaches who will assist you every step of the way. We'll ensure that you are set up with a suitable environment to build the solution and answer any questions that you have.
You'll step into the shoes of the Data Manager to create the data infrastructure for the Vacation App solution.
It's check-in time! You'll find the live catch-up calls a frequent event throughout your challenge. They are designed to help you overcome issues together and help challenge the group to keep moving forward.Got stuck using SharePoint? This is your chance to get help from the support coaches and other members. The support coach will be setting bonus challenges along the way for the chance to earn bonus academy badges !
Create Approval Workflows
Dive into the Power Platform world starting with Power Automate. Learn how business automation can quickly improve your productivity and efficiency whilst managing people's vacation requests with approvals.


Consider Power Apps as the face of your vacation app. Learn how to build an intuitive application that your staff can use to book vacations and view important information about their holiday entitlements.
It's check-in time! As a group, we will get stuck into your Power Apps and automation. Share your progress and share creative choices you made with your Power App with the rest of the group. This is a fantastic opportunity to talk about any problems you are facing along the way and get the answers you need.
Build interactive Chatbots
Dive into Power Virtual Agents using the Microsoft Teams interface to build your first automated chatbot that handles vacation requests from members of staff.


Advanced Power Automate Flows
Expand on your existing Power Automate flow to correctly format date and time expressions so that your formulas can perform calculations.
It's check-in time! Let's speak with your chatbots! Did you give your bot a personality? Or maybe you got creative with the communication triggers? Voice your opinion on your progress and share your Chatbots with the rest of the group. This is a fantastic opportunity to speak up about any problems you are facing along the way and get the answers you need.
Advanced Data Control in Power Apps
Learn how to use Collections with Power Apps to bring in data related to staff Leave Entitlements, allowing you to reuse the information in multiple places.
Task Management Using Power Automate
Learn how to integrate Microsoft Planner into your Power Automate flow to automatically create and close tasks when the holiday is requested and approved.
It's check-in time! As with other days, this is time put aside for you to talk to the coaches and peers and get answers to challenges you might have had so far. It's also the last day of the challenge so we'll give you all the help you need to spur you on to the finish line and earn your Credly badge!
Automated Notifications user Power Automate
Learn how to use the power of Power Automate in conjunction with Microsoft Teams to send out scheduled alerts and messages to the staff over Teams.
Created Reports and Visualisations
Learn how to turn your Leave Entitlements and Leave Request into a beautiful Power BI Dashboard, surface and drill into staff holiday analytics and create reports.
If you feel like you need more time to catch-up or refine your solution then we always build in a weekend between day 5 and Graduation! Most people finish on Day 5, but sometimes, life gets in the way and you could do with a few more hours.
This is your time to shine as the Graduation Day gives you an opportunity to show what you've built. In this informal online meeting, we celebrate all your success and issue the "Solution Challenger" Credly badges.
To pass the challenge, you can either give a quick demo at the Graduation Day, or if you prefer, you can send screenshots over of your final solution to the Collab365 coaches.
What if I can't make the Graduation?
Don't worry if you can't make it, you can join another cohorts graduation. If you've fallen behind, we also leave a full weekend between day 5 and graduation, giving you time to catch-up!
Continue learning in the Collab365 Academy
Once you've completed the challenge this isn't the end! You will be given access to Challenge Graduation area in Academy and you can continue to access all of the workshops, courses, and training included within this offer.
It's much easier to learn together and that's what the Academy is all about!
Do
YOU

Accept

for only $279

?
All Graduates Are Awarded The

Solutions Challenger

Certificate
We've partnered with Credly to offer certifications, meaning you will be able to show-off your new skills on platforms like LinkedIn, Facebook and Twitter. Being able to prove you've produced a completed Power Platform App, adds immediately credibility to your professional profile!
"There are

not enough humans

to code fast enough to build 450 million apps."
There's never been a better time to learn the Power Platform and become a highly-paid, no-code developer.
"At Microsoft, a simple run of the numbers on how many apps will be built in the next five years shows how critical low-code and no-code software will become. Microsoft expects 500 million new apps to be built in the next half decade, which is more than all the apps built in the last 40 years.

"If that's true, 450 million have to be built with a low-code tool," said Charles Lamanna, corporate vice president of the citizen applications platform at Microsoft. "There are not enough humans to code fast enough to build that many. Professional developers should focus on harder challenges than another expense submission form or approval form."?
Build

It.

Learn

It.

Use

It.

Enhance

It.
Now compare an online course with a "5-Day Challenge" where you follow along and see the working solution unfold before your very own eyes:
Do you

fail

to complete or

get

bored

with online courses?
At Collab365, we believe that you can't just learn Power Apps and hope for the best.
You must have a grasp of all the other pieces required to make bullet-proof solutions that will put a permanent smile across your boss's face.

We also believe that many of us prefer to learn by "doing".
So if you're a prolific buyer of online courses but never get past "Module 1", you're not alone.
Often concepts get boring fast. New ideas overwhelm and are easily forgotten. Online self-paced courses require dedication to complete, and many don't even get started.
With our B.L.U.E method and this 5-Day challenge, we believe we have the right recipe to keep you engaged and above all learning at the right pace.
We provide:
A

Dedicated Learning Space in the Academy

Daily L

ive coach

support

Unlimited

support

via Chat and Posts in the Academy if you get stuck

1:1 help

if needed
C

hallenges

to help you stay motivated
A

Graduation Event

to Celebrate Your Achievements
A

Credly "Challenger" Badge

to congratulate you for completing the Challenge
You'll be encouraged to not only learn, but also get creative and win our daily 'Solutioneer' awards.
At the end, you will have a working product that isn't just a collection of concepts, it will be a fully fledged Power Platform solution you can publish and roll out to your team.
We're so confident you will complete the course - and love it - we are throwing in a free Credly badge when you "Graduate" to celebrate your achievement.

Book your Power Platform

Challenge

for you ... or your Entire team
INDIVIDUAL
Book yourself onto the 5-day challenge so you can learn the Power Platform by building a real-world solution that you can use in your organization.
NB: Your date selection is made after checkout
TEAM
If you'd like your entire team to learn by going through the 5-Day Challenge, please get in touch. We can offer discounts to organizations who need to purchase multiple licenses.
DONE-FOR-You
If you need a vacation app in your organization and want us to build and deploy it for you, then please get in touch. One of our team can remotely develop the solution for you. We can also train your team, if required.
Who are Collab365?
At Collab365 we've been running online events and training experiences for over 6 years. Over that time, we've achieved a few milestones that make us proud:

NEW MEMBERS JOINED THE COLLAB365 ACADEMY IN LAST 4 WEEKS
ATTENDEES HAVE JOINED OUR ONLINE EVENTS SINCE 2014
NUMBER OF MEMBERS IN OUR FACEBOOK AND LINKEDIN GROUPS
Take a look at Matt's training style below ...
Matt Weston is an MVP and fully-qualified Microsoft Certified Trainer. He's also spoken for us many times and ran half-day Workshops.
Prefer us to deploy the vacation booking app into your own tenant?
If you don't have the time or people to learn how to build a vacation booking app, don't worry we can remotely install it for you to use in your own Office 365 environment .
Before we start the build, we'll have a kick-off meeting to ensure you have the relevant Microsoft 365 licenses and that we can access your environment.
We will then start to build the vacation booking app into your *own environment.
Once we've finished the build, we will train you and your team on how to use it going forward. We'll also give you access to the Collab365 Academy.
*Note: Changes may be recommended to the solution in the challenge to meet meet your requirements.
Can I customise the vacation booking app?
We prefer to the keep the solution as close to the one in the challenge as possible. However, some lightweight customisations are possible. Please contact us below, so we can discuss them further.
Meet The Challenge Team ...
Collab365 Live coach
Jon is one of the 5-Day Challenge support coaches at Collab365. He's been working with the Power Platform for some time now and has learned first hand how this challenge works by building the solution himself
COLLAB365 Live COACH
Connor is one of the 5-Day Challenge Support coaches. He and Jon work alongside each other to deliver the live Q&A sessions, the graduation as well as help you stay engaged and motivated right until the end. 2 years into his learning of the Power Platform so teaches in terms that beginners will understand.
CHALLENGE Presenter
Matt will take you step by step through the whole process of building your solution.
From the why, to the how, he will be your guide and has written the eBooks that support the challenge
Is There A Guarantee?

Of course... :)

Collab365 100% guarantees that if you participate in the challenge, show up to the daily live calls, implement what you learn, by the time the challenge is done, you will have a fully working vacation booking app and a solid understanding of the core fundamentals of the Power Platform.

If for some reason you don't feel like that is true, then you can email our support team within 3 days and receive a full refund of $279.

Pretty simple.
Don't forget, we want you to succeed so much that we're going to give you your money back in Academy coupons. if you attend the Graduation then we will give you $279 to spend in the Collab365 Academy shop.
Although it's a 5 Day Challenge, we anticipate most 365'ers (as we like to call Academy members) will take roughly 45 minutes - 2 hours each day to perform build steps with the support of eBooks and/or the videos.
You are also invited to a live Q&A each day to get help and show others how you are getting on. Therefore we advise putting aside 2.5 hours each day for 5 days before booking this Challenge. Only the Live Q&A is at a fixed time so please make note when you book. All other activity can be taken to suit your work/life schedule.
There is also a graduation on the 6th Day of the challenge where we confirm the solution build with you, offer any ongoing support and celebrate with assignment of the awards for the challenge!
The sections above will tell you who the Challenge Presenter is. They have written the content and recorded the training videos for the challenge. However, they don't always run the challenge event itself.
Before day 1, you will be invited to an introduction session where you will meet your Academy Support Coaches. They have trained on the content and delivered it many times so will be there to help you overcome any hurdles. You will be able to ask your Support Coaches any questions on the live meetings as well as on chat in the Academy
We want everyone who attends to the 5 Day Challenge to succeed but you will also need to be motivated to complete the build. It helps if you plan to use the solution at the end.
Even if not, we will help you whenever you ask - either during live Q&A or via chat options in the Academy.
If you do fall behind, dont worry, we build in some slack to the event calendar so there is always a day or so where there is no new module to complete, allowing you to catch up.
We want you to be able to complete the challenge so if at any time, you know you are not going to be able to complete your remaining days, let us now and we can pause your progress on the Challenge.
This will allow you to re-join a later challenge if needed. We will also work hard to get you a space on another Challenge event if you let us know before your booking starts.
Unfortunately we cannot guarantee there will be spaces available as we try to limit numbers to enable 1:1 support when needed and keep the team feeling motivated during the event.
At the moment, we are running Live sessions to balance UK and US time-zones (3pm UTC). We are looking at other options so if you would like to tell us what would work for you before booking, just drop us an email at [email protected] and we will see what we can do.
To complete your build, you will need an environment where either you are a Power Platform Admin or you have been given the permissions to build and deploy Power Apps, Power Automate Flows, Power Virtual Agents, Teams Channels and SharePoint Lists.
Comprehensive setup instructions are provided if you dont have this in place and the option we describe is free of charge.
Everyone who joins us on this course so far has really enjoyed it and we are confident our recipe encourages people to push hard for the finish line.
Sometimes however, it's unavoidable that 365'ers cant complete the build by Day 5 of the challenge and so need to miss the graduation.
In this unlikely event, we will offer you a space at the next graduation giving you more time and a chance to still claim your Credly certificate of completion and the kudos of a great solution YOU built.
The course is designed to work with only a basic level licence. No premium connectors are used during the build. You can either use the free licence given as part of a Developer Tenant by Microsoft (more on information on how is available when you sign up).
You can also buy a Microsoft 365 Business Basics licence which will be enough for as little as 5$ pcm currently.
If you give us 24 hours notice before your event date and start time, we can offer to try and move you to a future event. If this is not possible, we can offer a refund at this stage.
Unfortunately after this point, we will have committed the time, resource and organisation needed to help you on your journey so a refund will not be available.
The solution is yours to take with you. If you have built it on your tenant, you will be able to publish and use it right away. We can offer limited support in publishing within your own tenant but we may be restricted. Your Microsoft 365 Admin should be your friend here.
You can always export the Services you built and re-install as well.