Learn how to target your audience with a range of features in SharePoint Communications sites – from web parts to visual design tips to honing your communications strategy.
This eBook covers SharePoint communication sites and how best to use them to target information to your colleagues throughout your organisation.
For example, we're all used to getting emails. However, how relevant are the emails that you are getting at any one time to your work? It's important that people get information when they need it, where they need it, and at the right time, too.
Communications strategy
Since 1690 we've been reading newspapers for one very simple reason – the structure of it is tried and tested. With this in mind, we need to translate this simple principle into a communications strategy for your organisation's SharePoint sites.
Information must be manageable and consumable like a newspaper's different sections
Sections should have their own topics
Topics can be previewed, and if more information is required, you can click on a link
They must be visually interesting
Content must be dynamic and not static; otherwise, people won't come back to the SharePoint site
For most organisations, there is a top-down approach to news and information: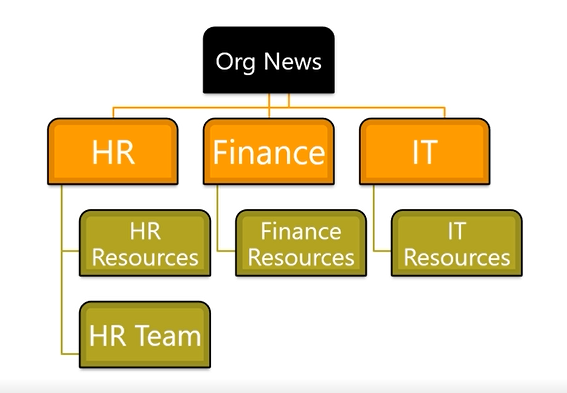 Each department sends out their own pieces of information to the wider organisation, usually via email
This can lead to too much information in your inbox, and you'll tune out
Let's translate the above structure into SharePoint.
A top level Org site for the entire organisation.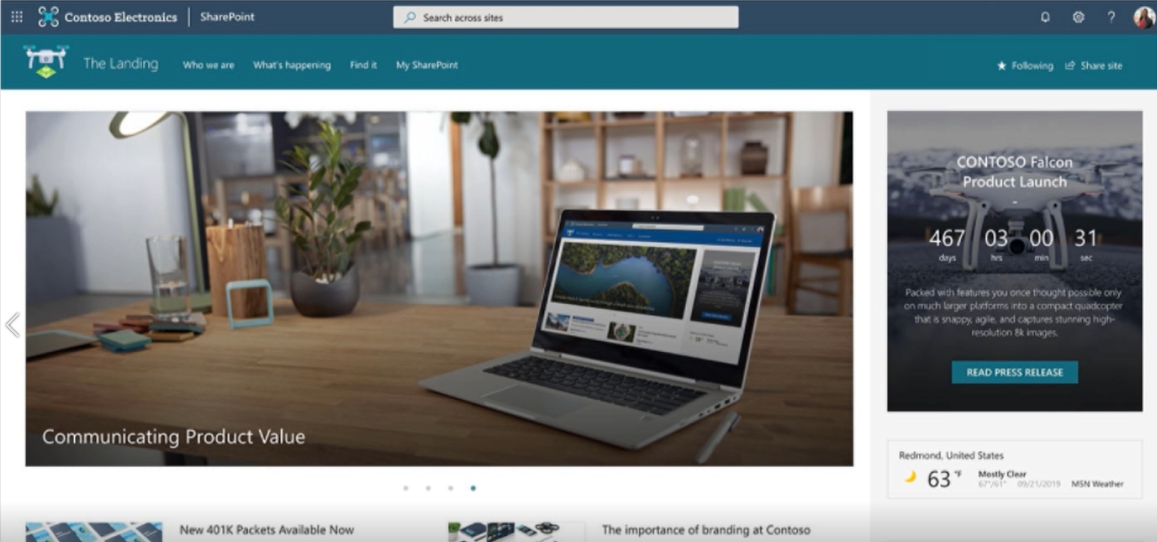 Below the above site, departmental news – each function (HR, Finance, IT etc.) will be in charge of their news on individual sites. They will need to own it and present it on their own SharePoint sites.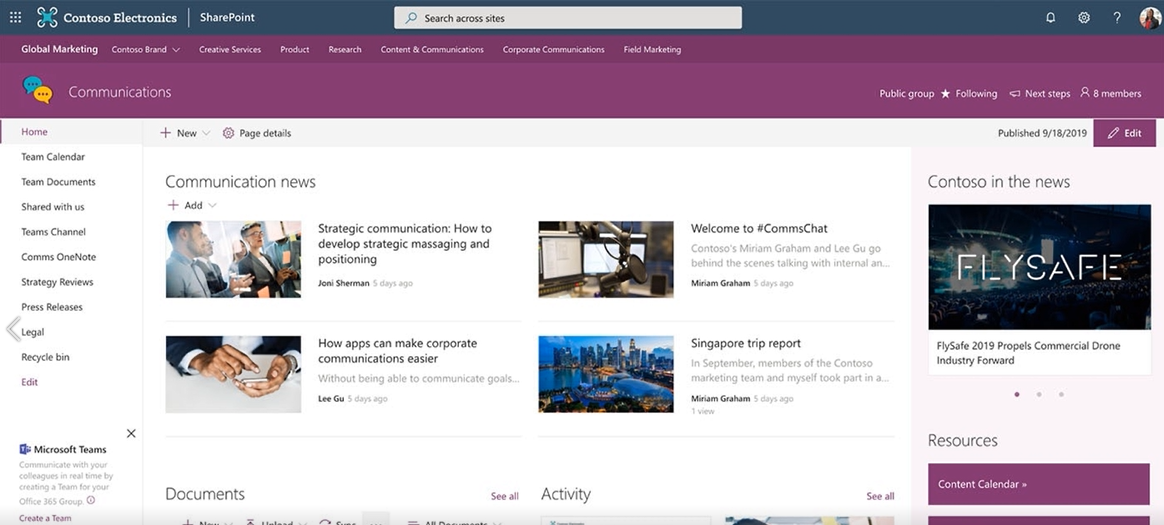 As a 'consumer' of the published news within your organisation, you will go to each department in order to find specific documents and forms: finance forms would sit on the Finance SharePoint site, HR forms on the HR SharePoint site and so on.
The information on each site should be easy to find and in context
The structure of each site at this level should be the same
The below screenshot shows the common parts of a SharePoint site regardless of the department you are looking at. Communication news, Documents, Activity and Resources are the commons building blocks of each department site.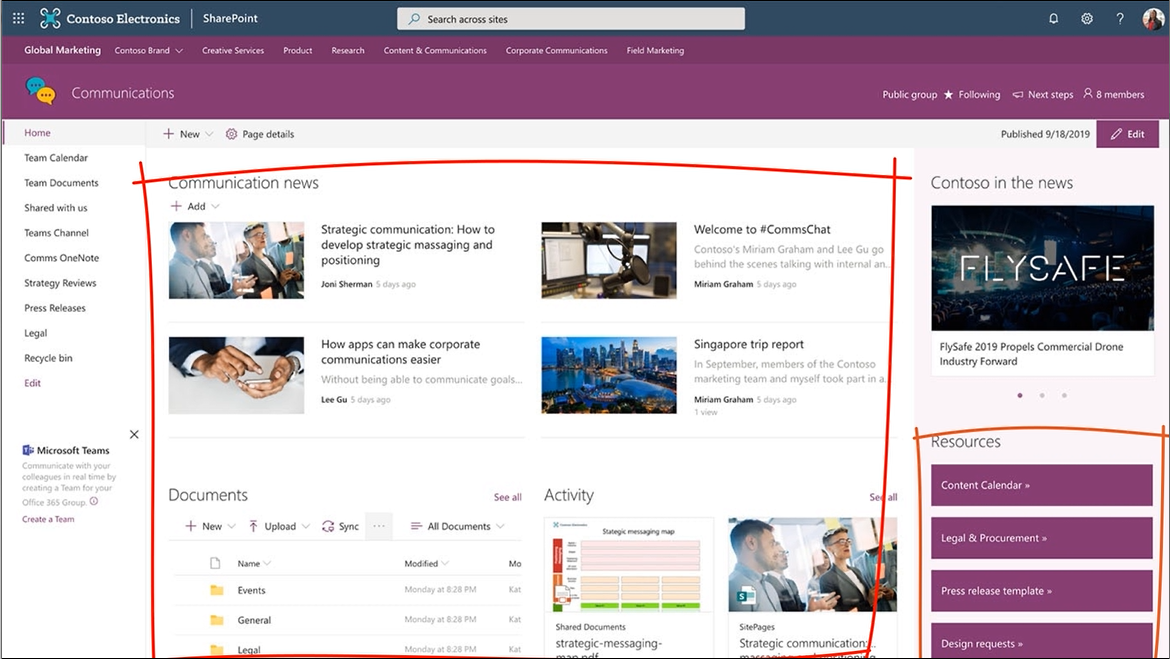 SharePoint pages
Once an end-user has landed on a SharePoint site, they will start to interact with the site's pages.
The information contained on each page must be broken down into individual topics. What's great about SharePoint is that you can pull information already sitting in SharePoint and portray it in different ways or views.
The key aspects of creating a successful communications site include:
Dynamic content with relevant news
Periodically spotlighting specific resources if you don't have much news
Calendar or events
Links to resources should be in the same place whatever page you are on – refresh the content but don't change the structure
Audience targeting
It's important that the content on your SharePoint sites actually targets your audience. Once you establish your audience, then you can target them with:
Sites
Pages
Web parts and apps
Navigational links
Creating a SharePoint site
To create a new SharePoint site or look at an existing one, log in to Microsoft 365 and SharePoint from the App launcher. In this portal, you will see the SharePoint sites that you have permission to view – which is, in effect, audience targeting already.
The below screenshot details the SharePoint portal showing your sites. Here the sites are 'security trimmed'. You can only see the sites that you have permission to see.

If you are an administrator, you can create a new site by clicking on Create site.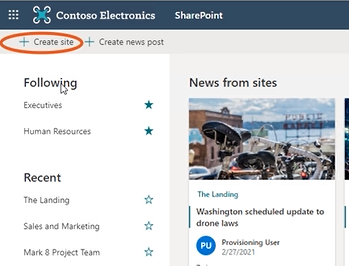 Select Communications site. Ultimately, there's not a lot of difference between these two templates as you can communicate to your audience with either one. Think of it more as a starting point.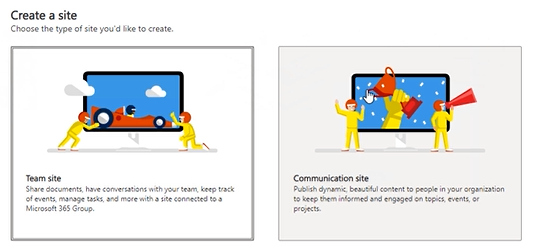 We're going to stick with the Topic layout and call the site Acquisitions. While you don't have to add a Site description, it will help people within your organisation search and find the site.
The site address will be checked for its availability and then select Finish. Your brand-new SharePoint site will then be created.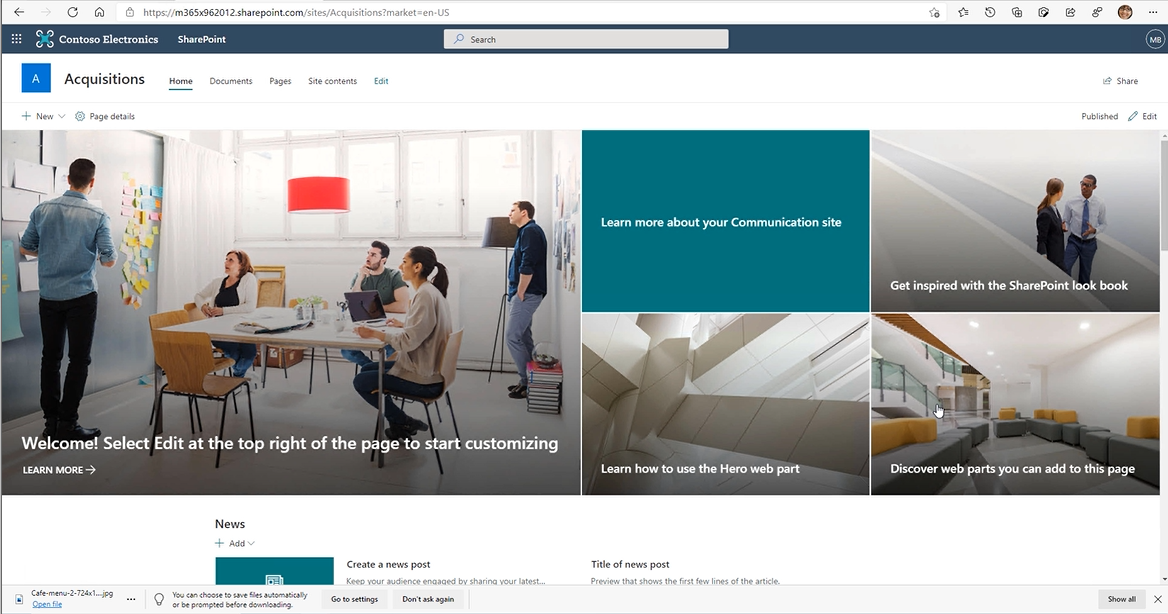 Creating pages – topic focused content
Let's look at the anatomy of a SharePoint page. The below sample is the landing or homepage for Contoso Electronics.
The highlighted section is the Hero web part which details the high-level activities within the organisation.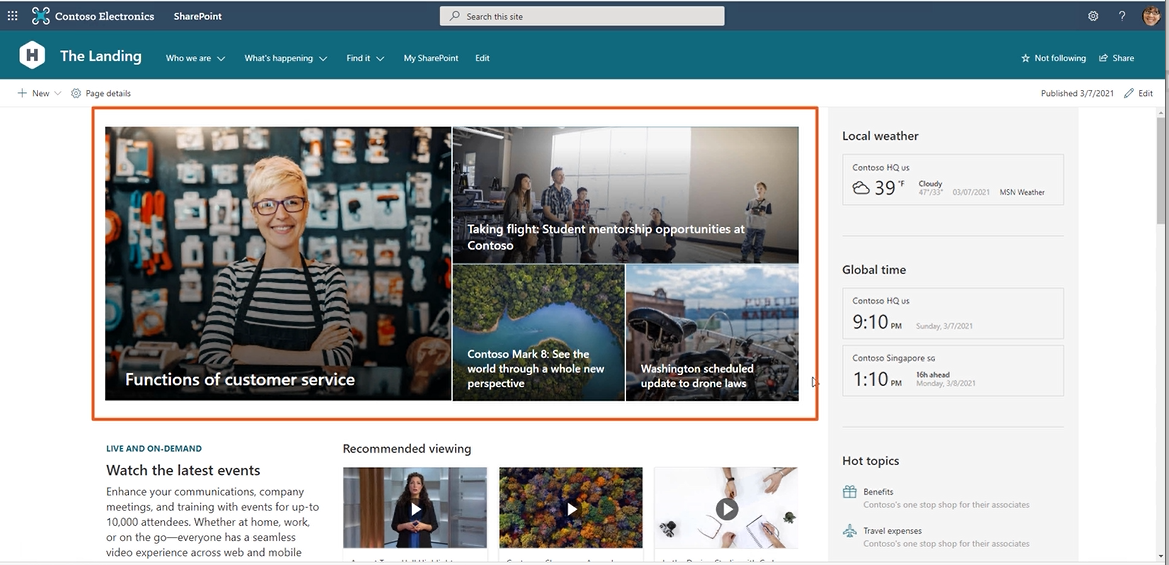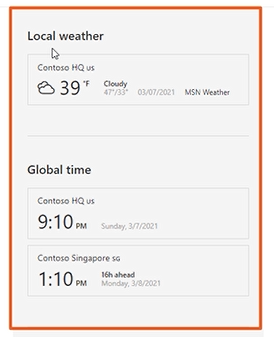 There are some contextual web parts that detail the weather and local time. Further down the page, we have a News web part, and to its right, there is the Hot topics web part which links to documents.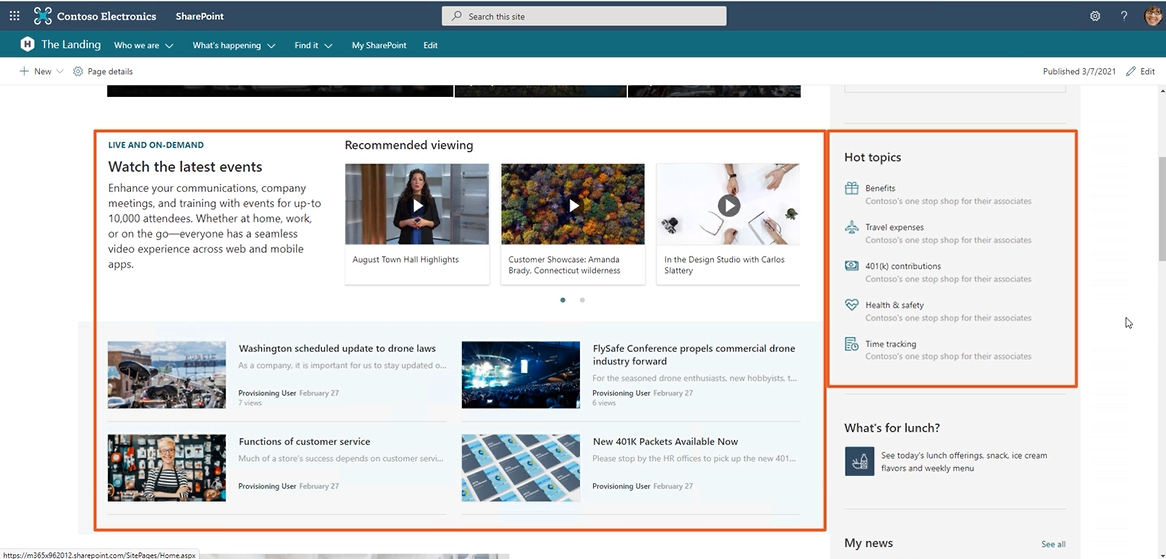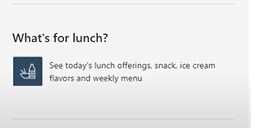 There's also a web part called What's for lunch? The reason I highlight this is that it's often the most popular page within an intranet! However, if your canteen differs from one location to the next, you must make sure that you are only targeting the correct people.
We're going to target our audience here by using the audience setting targets on the pages and the links.
Trimming the content to suit our audience
Go to the Pages library by selecting Site settings (cog menu) → Site contents → Site pages. The site pages house not only all the pages in the site but also News posts that are created sit here too.
If you look at the screenshot below, you can tell by the columns that audience targeting has not been enabled.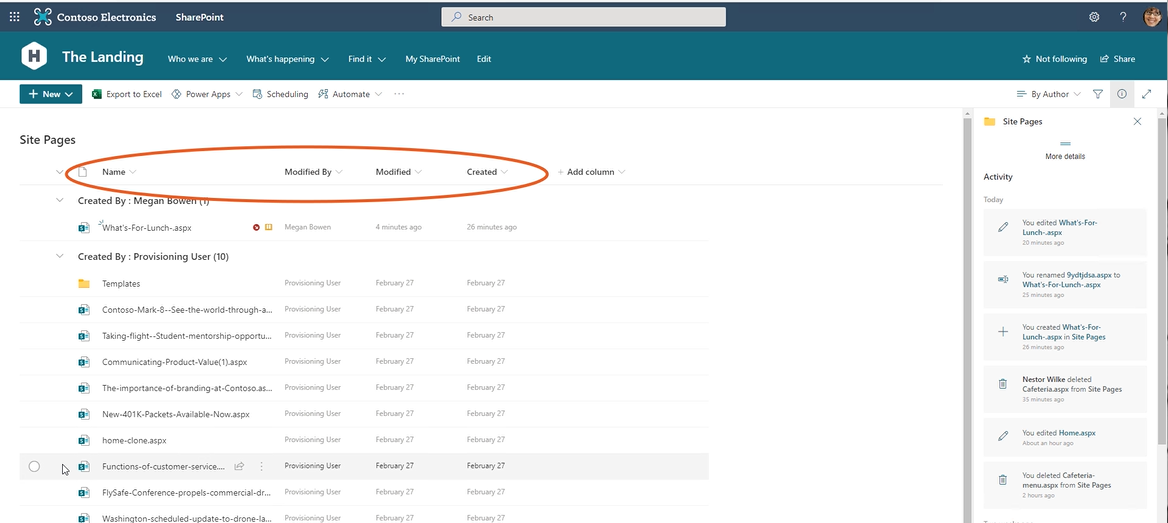 To turn it on, go to Site settings (cog menu) → Library settings → Audience targeting settings.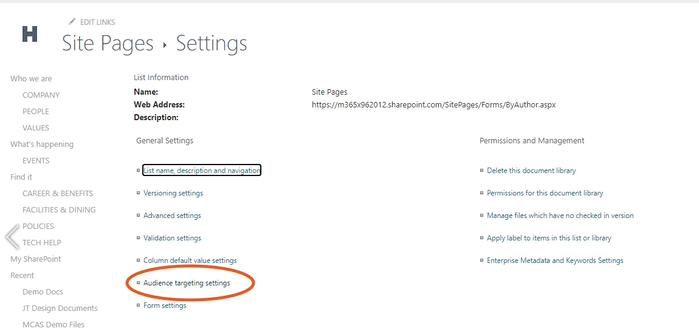 Next, check Enable audience targeting and click OK. Back in Site pages, we now have an Audience column.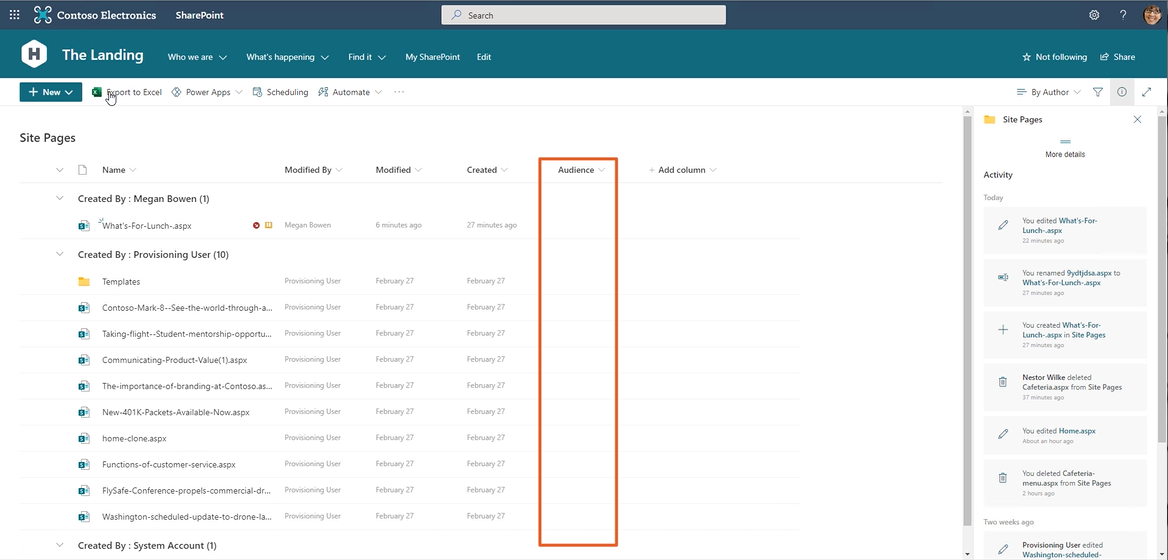 Let's start by editing our What's for lunch page in order to target it. Once you have opened the page, select Edit and then select Page details.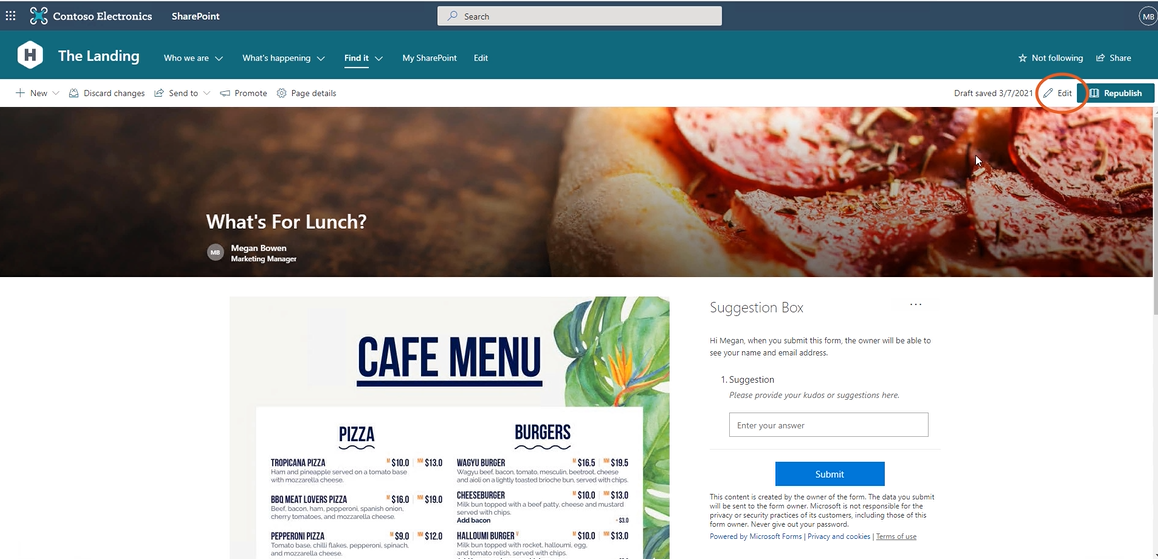 Page details bring up a pane on the right-hand side of the page.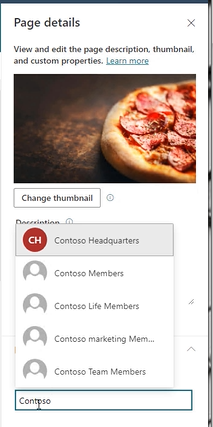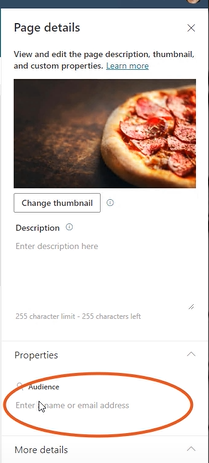 On the details pane, you can select the exact audience. Here we are selecting the staff who are working
at Headquarters.
Back in the Site pages library, you will see that this page is targeted at Contoso Headquarters.

Obviously, it would be very time consuming if you had to target each page. However, you can bulk target by selecting multiple pages and choosing a department.

Furthermore, you can assign certain pages to all employees, too. Keep in mind that this depends on having Active Directory / security groups that are set up in your organisation.

The next step is to set up the web part to recognise the audience targeting. The web parts are the little widgets that are the building blocks of your SharePoint pages. While you can target your page, you can also target certain web parts on the pages too.
The following are the four different web parts that you can apply audience targeting to:

Unfortunately, the Local weather web part cannot be targeted – just these four.
Back on our page, select Edit. Then select the web part you want to edit – in our example, it's the news web part. Once you select Edit, the pane will appear on the right-hand side, and as you scroll down, you'll see Enabling audience targeting. The next step is to close the pane and select Republish.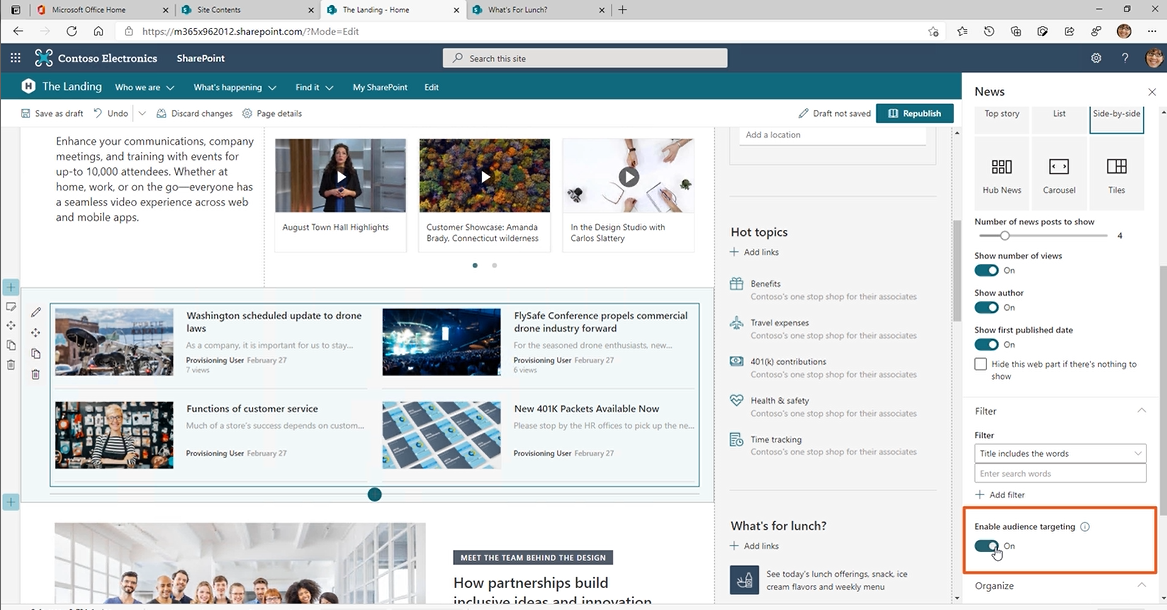 Based on the audience, you will either see content or not. When logged in as another user (below), the news that is presented is different.

Editing Hot topics
Let's remove the What's for lunch web part and instead add a link to the page in the Hot topics web part.
Select Edit and Add links on the Hot topics web part.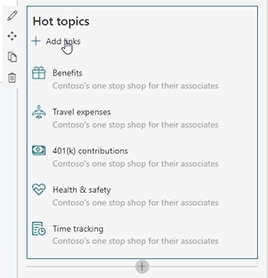 Next, select the What's for lunch page.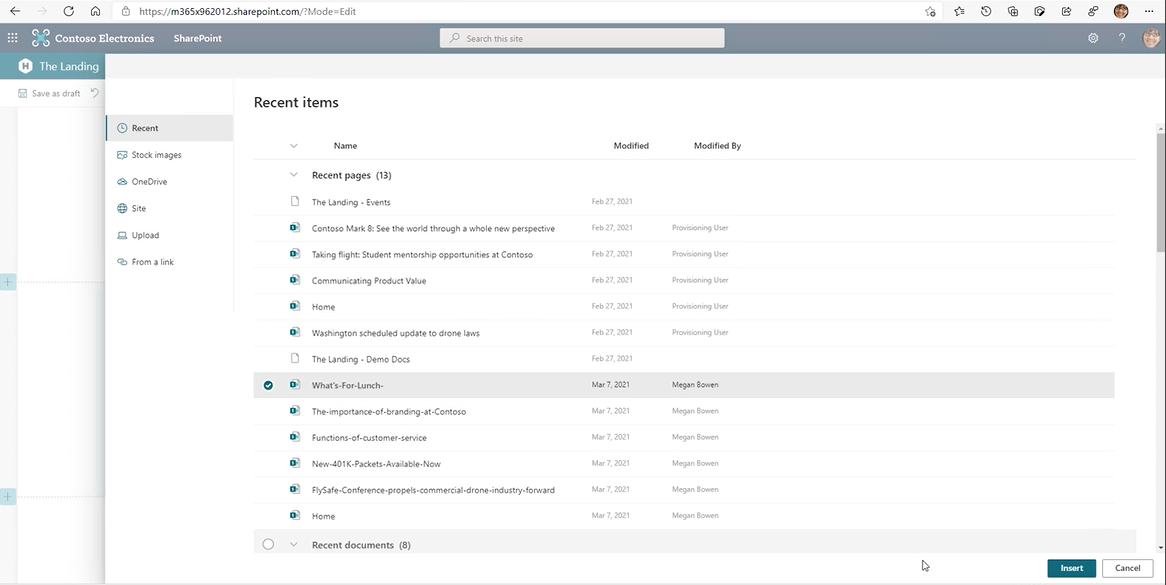 You can customise the icon by changing the Thumbnail, and you can add a Description too.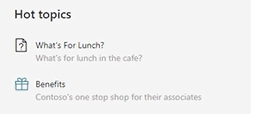 Navigation
Next, edit the Hot topics web part and turn on Enable audience targeting and select Republish.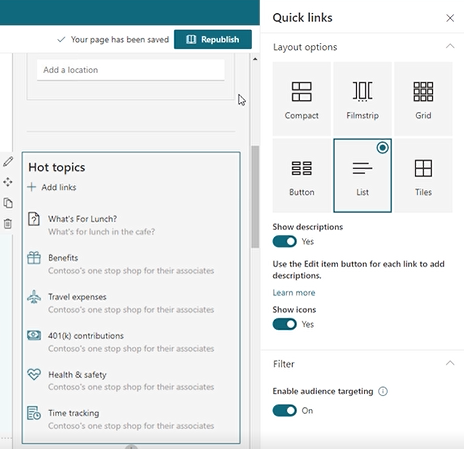 When we sign in as another user, we don't see the link.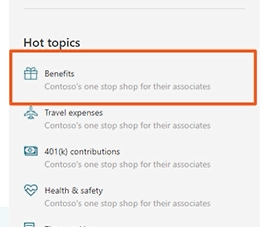 There are three areas where we can target our audience via navigation.

If you are an owner or an administrator, you can edit the Hub Site navigation by clicking on Edit on the top bar.

The first action we must take, is to turn on audience targeting by clicking it on at the bottom of the page and selecting Save.

Once that is on, select Edit again. In our example, we scroll down to Cafeteria & Catering, select the '…' and choose Headquarters staff.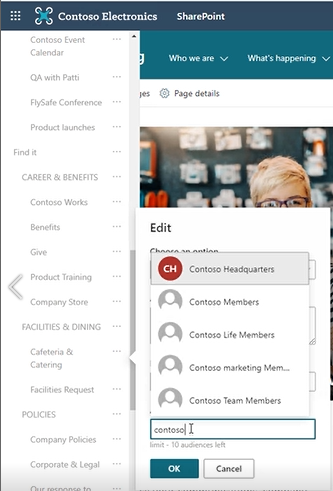 Quick launch
Let's look at a page that has a Quick launch menu. Select Edit corresponding to the menu, and Enable site navigation and audience targeting.
Quick links
Lastly, let's look at Quick links. They show up on pages in many different varieties. The following is a basic Quick links web part that shows up on a collaboration site.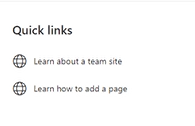 Firstly, select Edit for the page, then edit the Quick links and select Enable audience targeting.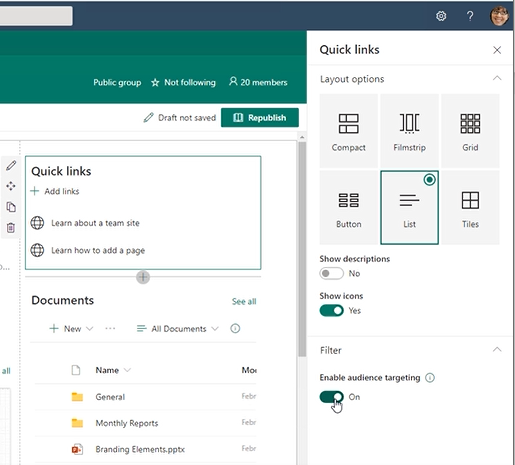 Next we're going to add a link by inserted the URL of the What's for lunch page and click Insert.

Back on the page, you can target your audience at the bottom of the Quick links pane and Republish.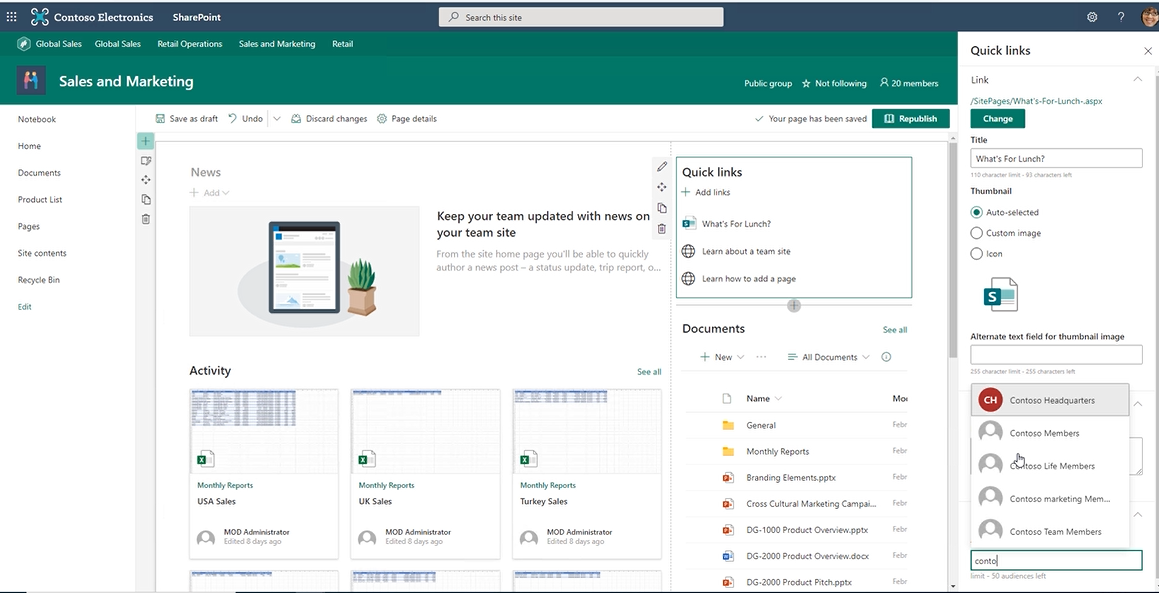 It's also important to realise that the Quick links may look different depending on the layout options. The below example is different to the above example as it's a grid.
Planning your communication
In summary, when it comes to your communication, you must consider the following:
Who do you serve?
Remember geography, language and their perspective
Roles within your company
Other defining features of your audiences
What information do they need?
What news is relevant to them?
Who is looking for what?
And always ask your audience what they want!