Find out how to create a learning environment for your organisation by using the many features that Teams offers. From creating different channels to adding third-party apps while integrating the SharePoint backend – you'll have your professional learning environment ready for your students in no time!
Microsoft Teams is a great way of training people in your organisation. It offers a safe and secure space that is easy to work with and entirely customisable.
We'll be looking at various features such as:
Creating a team
Channels
Tabs
SharePoint and the SharePoint look book
Document libraries
Lists
Planner and Polly
Getting started
The first action we must take is to create a team. If there are restrictions within your organisation, you might have to ask your administrator to do so.
Select Join or create a team: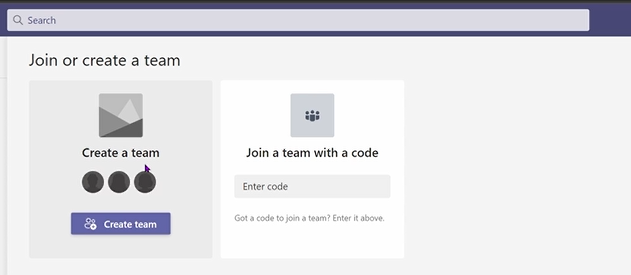 Although there are many templates that you can use, we're going to create our team From scratch.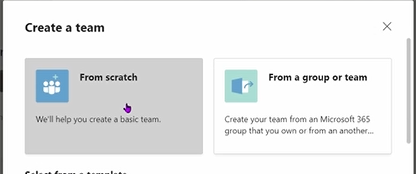 On the next window, select Private for the kind of team as it will be for specific people and not for the wider organisation.
Give your team a name and select Create.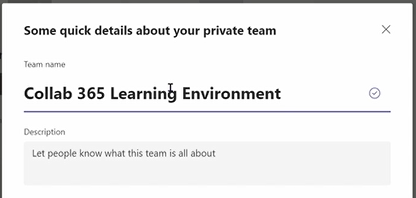 We will skip the window which allows us to add people, and our team is created. The team appears at the bottom of your list of existing teams.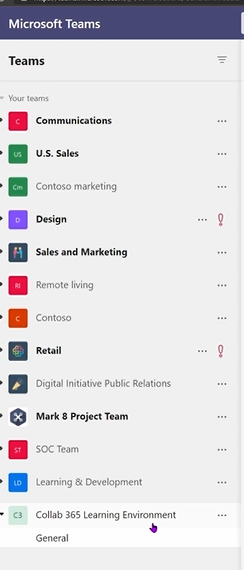 Structuring your team
One of the first actions we want to take is to lock down the General channel so people cannot start conversations here.
Go to the General channel and select the three little dots '…' → Manage channel.

As we would like the General channel to have few messages, we're going to select within its channel settings Only owners can post messages: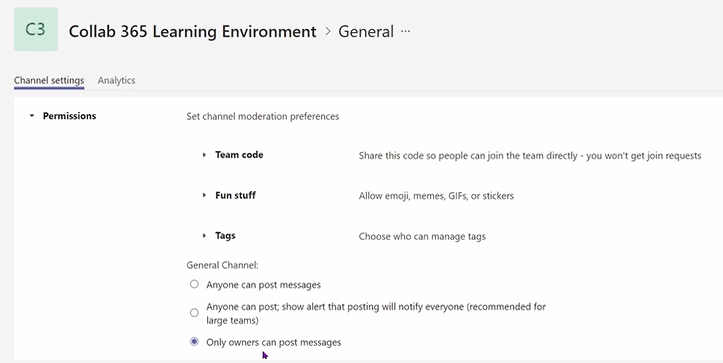 Next, we're going to start adding channels by selecting '…' → Add channel.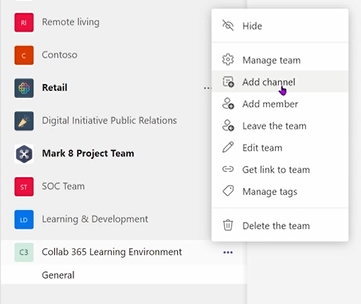 The first channel we are going to create is a private one for educators. This means that only educators have a space to communicate in private within the team.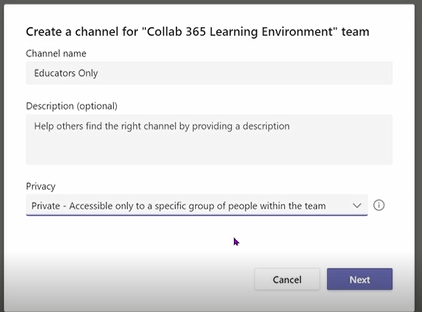 The next channel is Chit Chat Zone. Always select Automatically show this channel in everyone's channel list to ensure that all team members can see it.
Next, add the following channels:
Ask for help.
Learning Zone.
Learning Materials.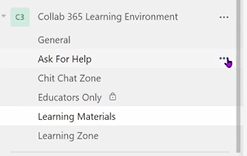 While the above channels look a bit dull, you can add emojis, by selecting each channel then Edit this channel. Put the curser before each name and press the Windows key and full stop. Up comes the emojis and select one.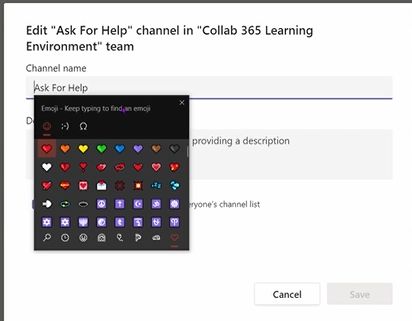 Perform the same action for each channel – see the below screenshot for our new-look channel styles.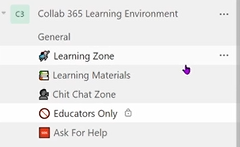 The next step will take us into the settings of the overall team by selecting the '…' by the team's name and Manage team.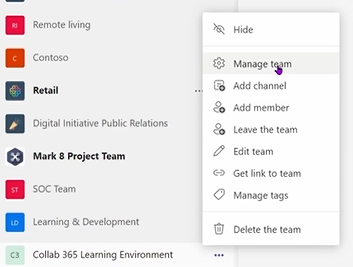 In settings, we're going to upload a picture to add a team picture.
Our team now has an icon.

Staying on the same page, under Member permissions, we are going turn off everything except Give members the option to delete their messages and Give members the option to edit their messages: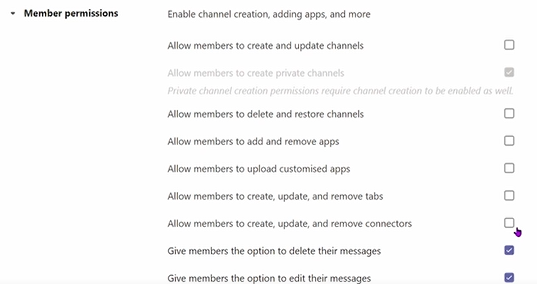 We're going to keep all the other settings as default.
Building out our channels
The next step is to build out our channels, starting with Learning Materials.
By default, members have read and write access to the files which are saved to Files.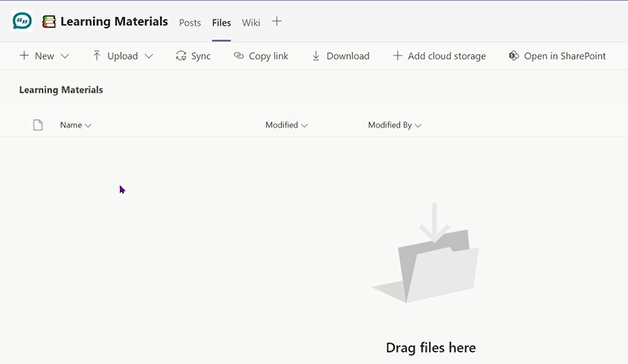 However, we don't want our members editing the course material, so let's turn this function off.
In order to create an area where they cannot edit, we must Open in SharePoint.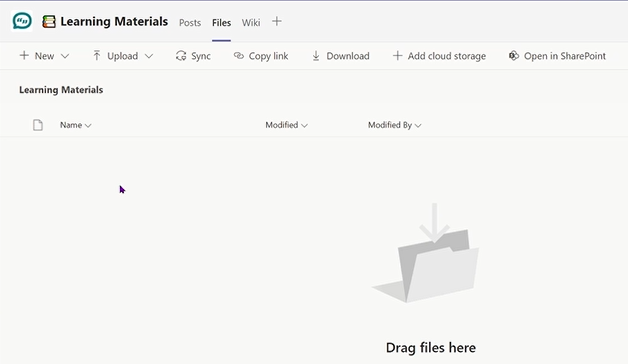 Every team has a SharePoint site attached to it. There is a default document library and every folder in the library relates to a channel. However, you won't see our private channel as its documents are stored on an entirely separate SharePoint site.

By selecting the '…' by Learning Materials and choosing Manage Access, you can change the settings for members from Can edit to Can view if necessary, for the entire channel.


However, what we're going to do is create a folder in Learning Materials and restrict that folder to Can view for members. This means that team members cannot edit the folder.
SharePoint look book
Sticking in SharePoint, you could use its many features to aid your learning environment. Check out the SharePoint look book https://lookbook.microsoft.com/ which is a great resource for design tips.
From the look book we're going to select Microsoft 365 learning pathways.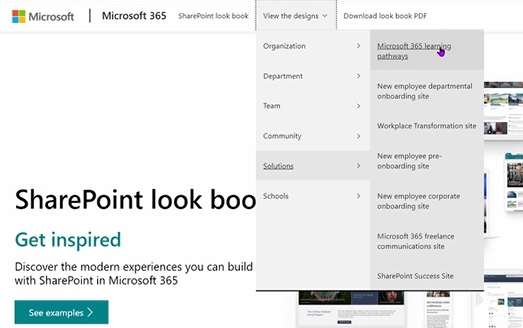 Scroll down the webpage and select Add to your tenant. On the next window, click Accept. Please note, that you need certain admin rights to perform such a task.
The next step is to add your email. Also, you will see the default URL for the new SharePoint site. Select Provision and then select Confirm.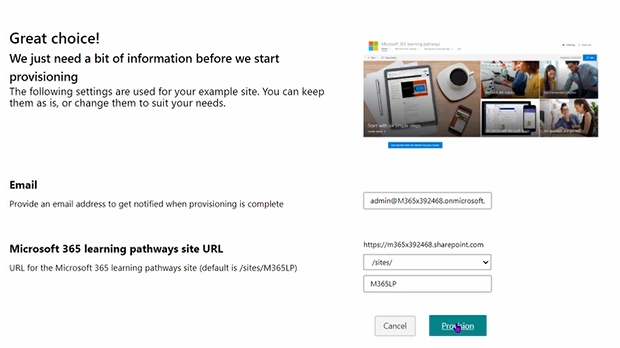 In a couple of minutes, the SharePoint site will be ready. When it is, copy its URL to your clipboard.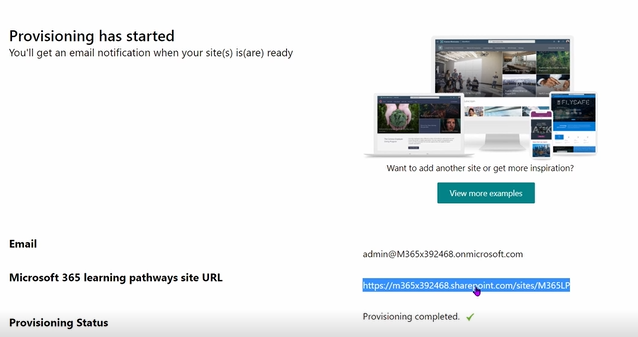 Back in Teams, select the Learning Materials channel and add a new tab by clicking on the + plus icon.

Select the SharePoint tab.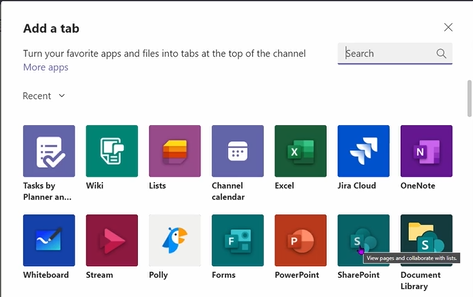 Select Any SharePoint site and paste in the URL to the new Learning Pathways site. Select Save.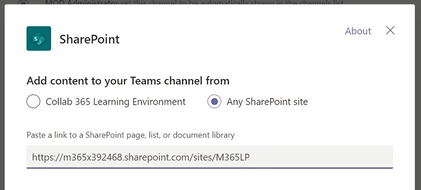 By creating a tab, the SharePoint site sits nicely at the top of our Learning Materials channel.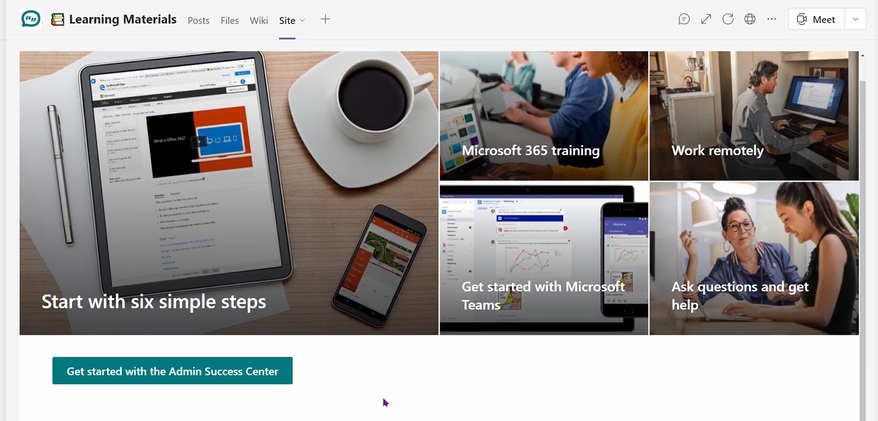 Lastly, we going to rename the tab from Site to Learning Pathways by selecting the dropdown menu.


Adding Tasks by Panner and To Do
Next, let's add Tasks by Planner as a tab in order to assign tasks. Select the + plus icon and choose Tasks by Planner and To Do. We're going to call it Assignments.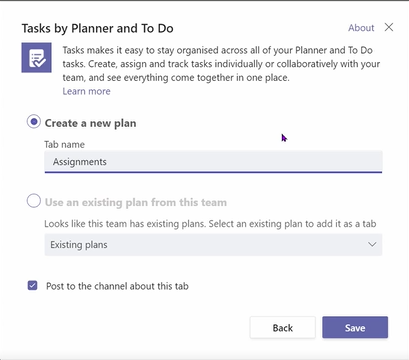 With this app, we can create different buckets that correspond to various assignments for specific people.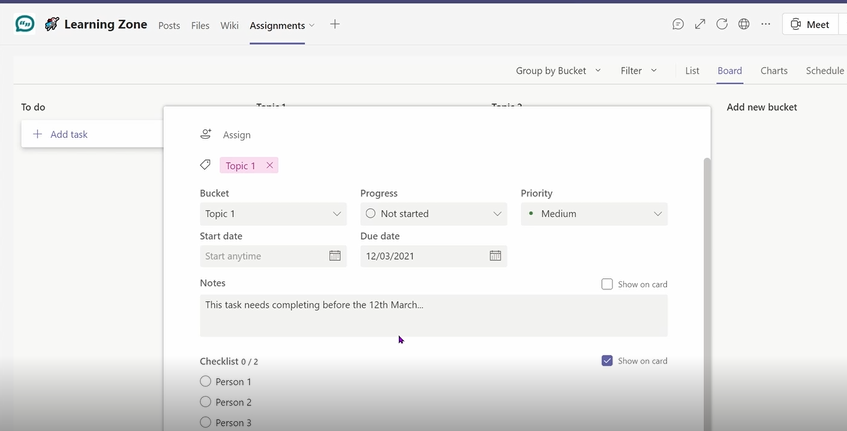 Planner is the easiest way to assign items. However, Lists is the 'next step up' in terms of integrating Power Automate if you are interested in developing it out further.
Planner also has a number of views such as List, Board, Charts or the below Schedule view.

Live meetings channel
Another channel that's good to have is a live meetings channel. Before we add a calendar to it, let's add an emoji of a clock to its name!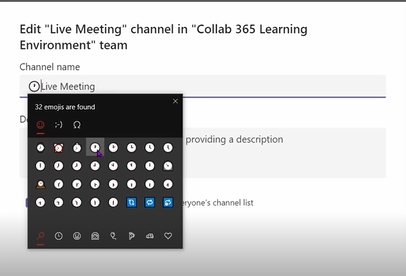 Then, we'll add a tab for the Channel calendar.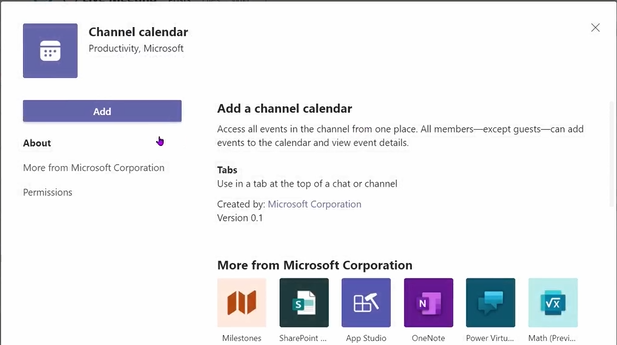 One we have that set up as a tab, we can add our Initial Get Together event.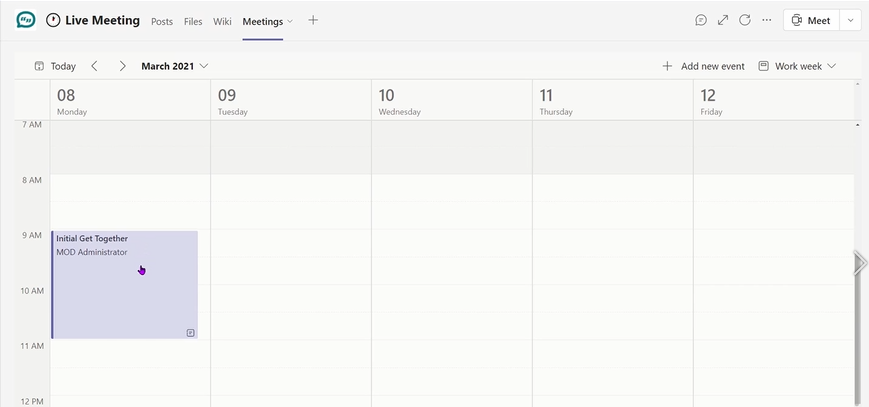 Teams app templates
According to Microsoft, 'App templates are examples of complete apps for Microsoft Teams that are open-source and available on GitHub. Each app template contains detailed instructions for deploying and installing that app for your organisation. It also provides a sample app that you can install and begin using immediately.'
One which we would like to highlight is FAQ Plus which enables you to create a chatbot to answer questions from people within a team channel.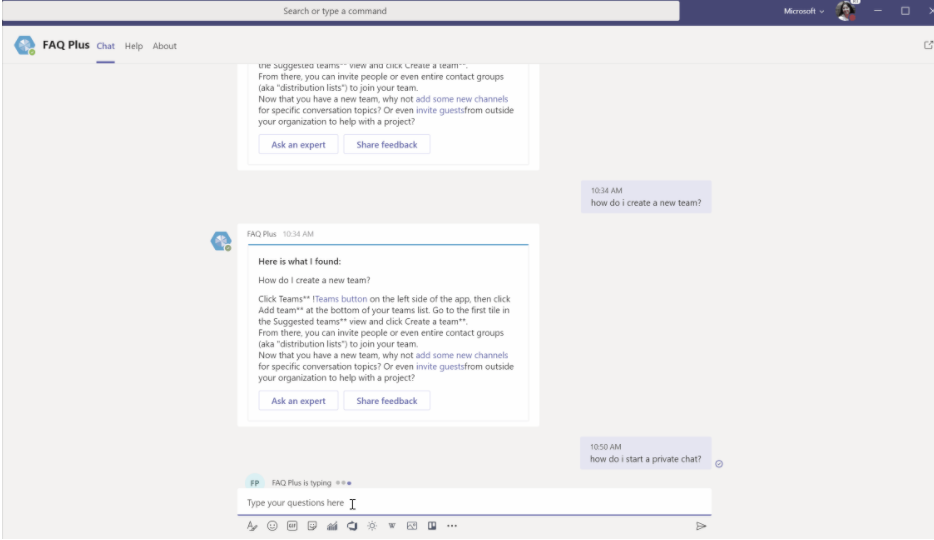 For more information and a full list of the templates, see https://docs.microsoft.com/en-us/microsoftteams/platform/samples/app-templates
Generating a welcome / announcement note
Before we start adding people to the team, let's create a welcome note.
On the General channel, start a New Conversation by clicking on the icon at the bottom of the page.
Select the Add a subject icon: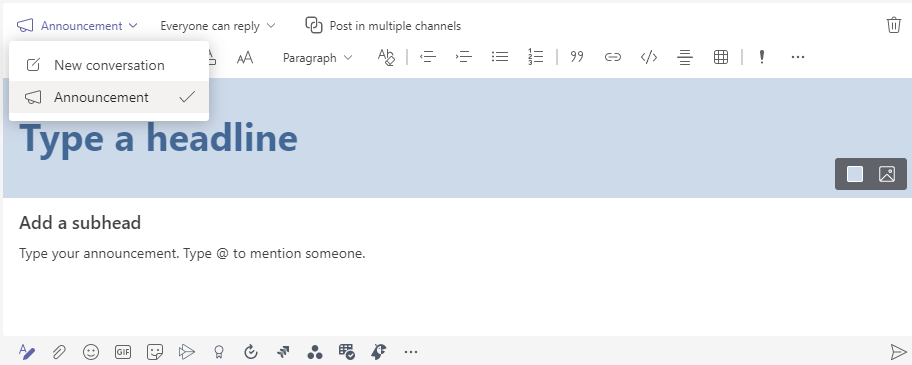 Add an announcement and change the subject too. When people join the team, they will feel welcomed!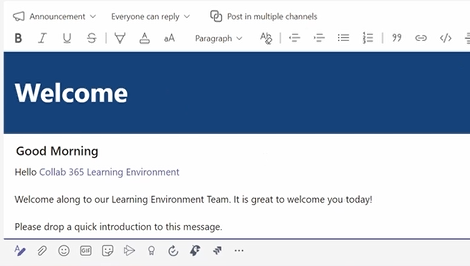 Adding Polly to the Learning Zone Channel
Polly is great for a taking a quick poll.
Click on the Learning Zone channel.
Select Polly from the page and add.

In Polly, schedule your poll for a suitable time.
Add your questions: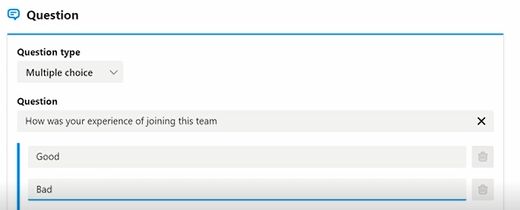 If you like, you can make it anonymous on the settings, too.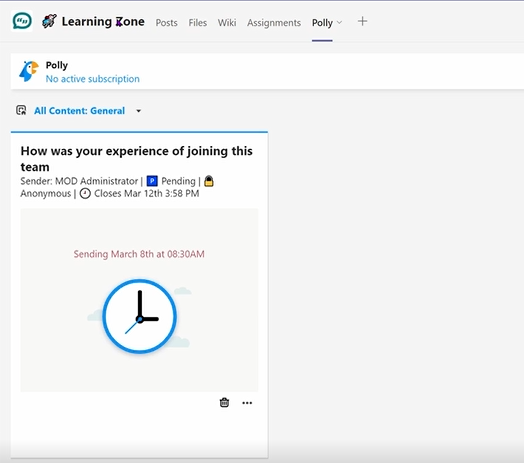 The next steps
https://support.microsoft.com/en-us/office/use-breakout-rooms-in-teams-meetings-7de1f48a-da07-466c-a5ab-4ebace28e461
Creating channels for different groups
https://support.microsoft.com/en-us/office/create-a-channel-in-teams-fda0b75e-5b90-4fb8-8857-7e102b014525