If you want to automate your processes, you need to fully understand all the steps within them. Who does what when? Where are the bottlenecks? Should people be doing different, more challenging tasks?
In this eBook, you'll discover the benefits of Microsoft's process advisor and learn how to analyze your organisation's processes before optimising them through automation.
Process advisor – discover and understand processes better
Many organizations are currently facing issues with their processes. They know that the processes exist – for example, invoices coming in have to be scanned, approved, and then archived – but it's hard sometimes to tell what a process path or flow looks like.
Think about what your organization could accomplish if its processes were digitized so that all the individual steps were done automatically. How many employees could you transfer to more demanding, engaging and rewarding tasks? How much money could you save by having these employees doing something more challenging? How much faster would your processes be?
Benefits of automation:
More accurate data across systems
Reduce human error
Faster output at a lower cost
More time for innovation and strategy
Standardized processes
Increased employee satisfaction
Democratizing automation for everyone
How can organizations use Microsoft tools to automate their processes and motivate their employees to make processes more effective and faster through automation? Microsoft wants to democratize automation so that anyone within an organization (citizen developers, pro developers or someone from the IT department) can transform processes on their own. The focus of the Power Platform is to give tools to anyone within the organization who has courage enough to start learning and building processes and applications.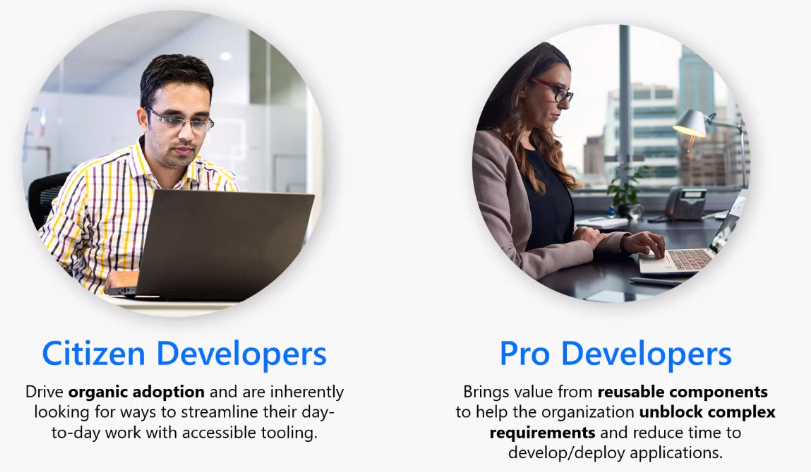 Power Automate and Power Platform
Power Automate within the Power Platform is just one of the tools people can use to create solutions. We also have Power Apps, Power Virtual Agents and Power BI that work on the top of the Microsoft Graph AI Builder and the Dataverse. Anyone in an organization can use this ecosystem to start creating.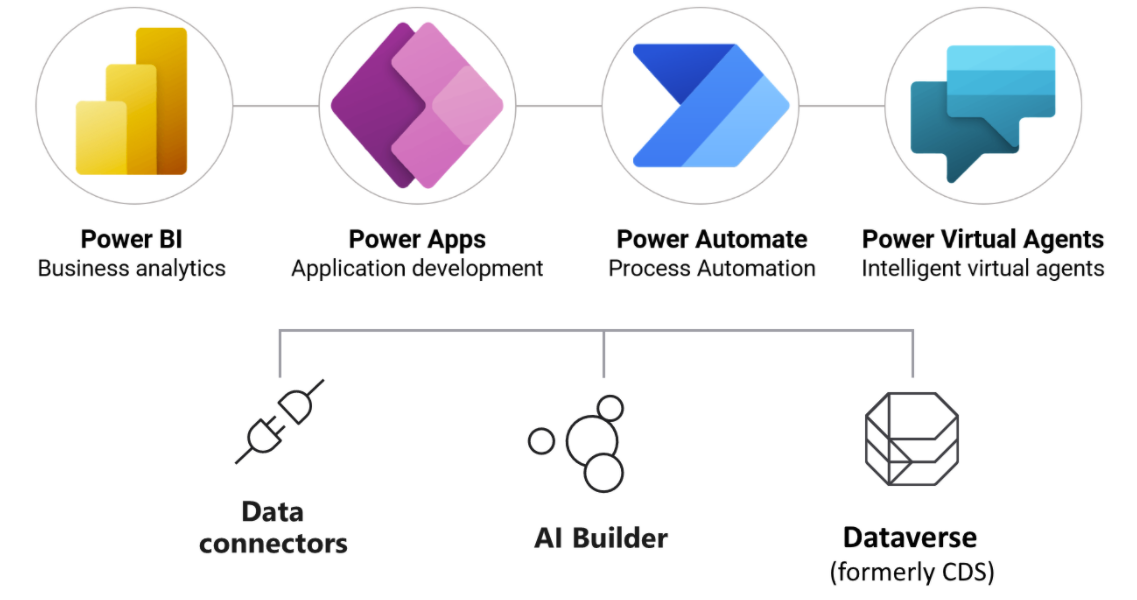 Endless automation
There's almost endless automation with the in-built API. There are over 400 connectors ready to be used in the Power Platform. If there is no built-in connector for a particular function you can use an HTTP request action to make a simple call (POST, GET, PATCH, PUT or DELETE) to any endpoint API.
There are thousands of actions and hundreds of triggers. There are also pre-built templates – when you are thinking about digital automation between the digital endpoints, Power Automate lets us automate whatever you want. Regardless of whether the system is in the cloud or on the premises, it just needs to be connected to the internet so that we can put it into our process.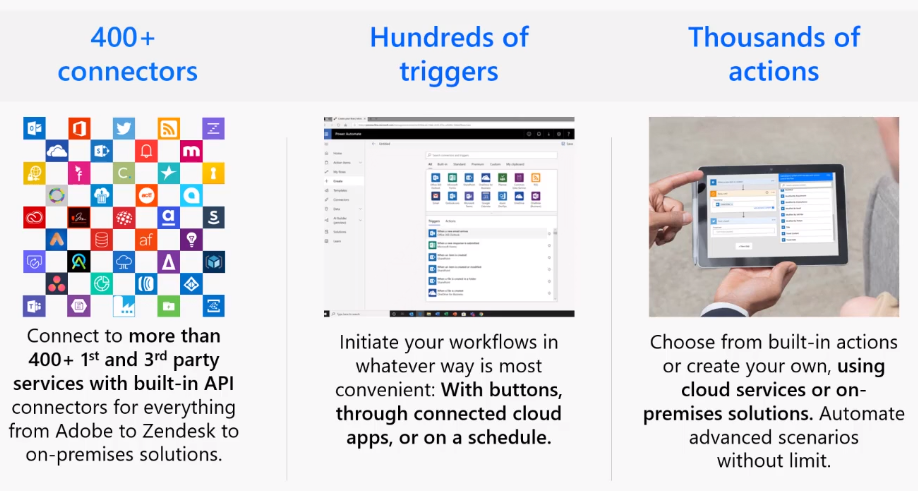 Bridging automation between the old and new
What if we have an application that doesn't have these digital endpoints? If the only way to interact with it is to use the user interface 'endpoint'? The answer is Robotic Process Automation (RPA). Microsoft started thinking about RPA in 2018, two years before it acquired Softomotive. It wanted to bridge the gap between old applications without APIs and modern workflows. This means we can put these old applications into our modern automated workflows so that even writing to an old Customer Relationship Management system (CRM) or Enterprise Resource Planning system (ERP) can be automated.
RPA timeline
The history of Microsoft and RPA is quite short – it started in 2018. However, Softomotive (the RPA company that Microsoft acquired in 2020) was founded in 2005. The history of most of the RPA vendors (like Blue Prism, Automation Anywhere and UiPath) began at around the same time. Once Microsoft acquired Softomotive, it started to incorporate its tool into the Power Platform. The biggest benefit is that Power Automate Desktop works in the cloud, so all the information seamlessly integrated into Power Automate processes.

Process advisor (Public Preview)
What was missing from this new ecosystem was a tool that would help organizations discover their own processes, something that other vendors already had. Later in 2020, Microsoft announced a public preview of a new tool called 'Process advisor'. This tool helps organizations to solve automation challenges, better understand their processes (which are sometimes complex and unknown) and find out the best way of automating specific processes.
There are clear benefits to using a Process advisor. Apart from Power Automate Desktop, you don't need any other tools installed. You just create a new process in the tool, then share it with your team, who record their tasks using the intuitive interface. The process is then analyzed, and you, the process owner, can review this analysis, gather insights and make decisions.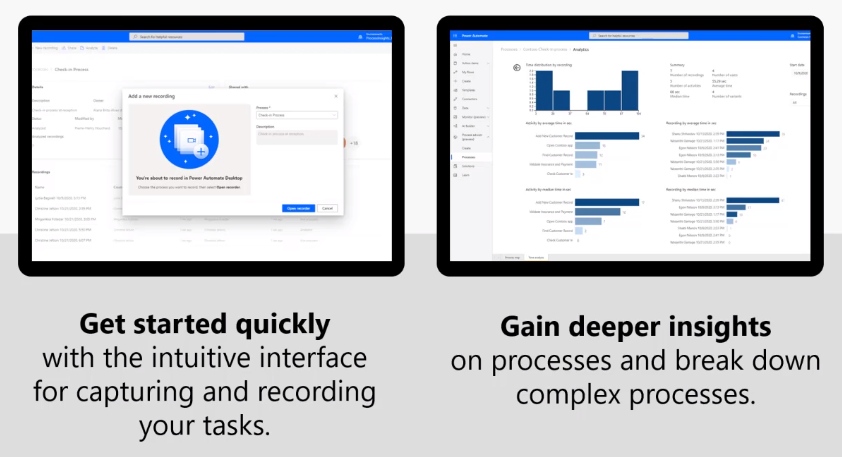 Using the process advisor
First, you create a process by naming it and providing a description. The process is then used to incorporate employee task recordings. Read the analytical report to learn about bottlenecks, see how long the process takes between different users, which areas are the fastest, which users take the longest over certain steps, and so on. You can share the process with other employees, who you can invite as collaborators or co-owners (in a similar way to Power Apps).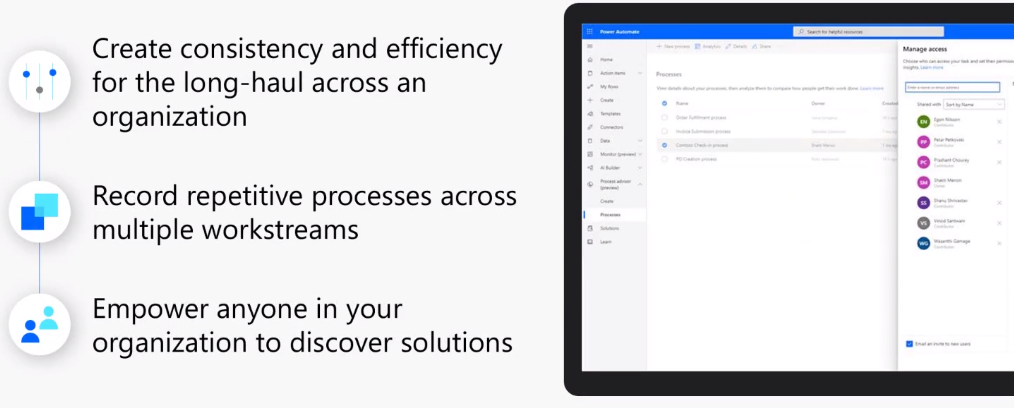 5 easy steps to get started
Create the process – set up a new process and identify potential areas of opportunity for automation.
Share it within your team – invite colleagues to collaborate and add new recordings.
Record – record the actions either you or your colleagues take to complete the process.
Annotate/Edit – Remove sensitive information, then group your actions into meaningful activities.
Analyze – generate a process map and analyze it to gain insights.
Demo
To use Process advisor, first, navigate to your Power Automate portal. In the navigation, you'll find the Process advisor group, which contains two items: Create and Processes.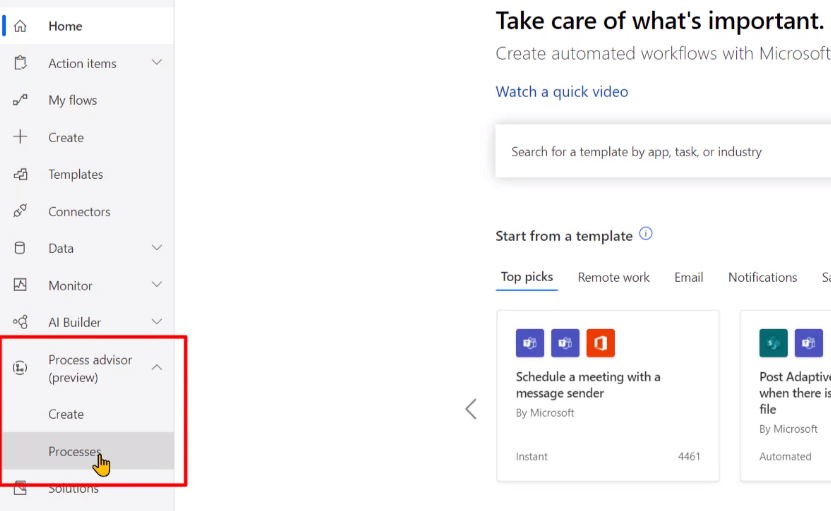 Click on Create and you'll see a list of processes you've created, and you'll be able to create a new one. The first time you use Process advisor it may take a couple of minutes for Power Automate to provision structures in the Dataverse, where it will be storing information from the processes and recordings. You just need to be patient.
We'll create a new recording and call it 'Invoice registration'.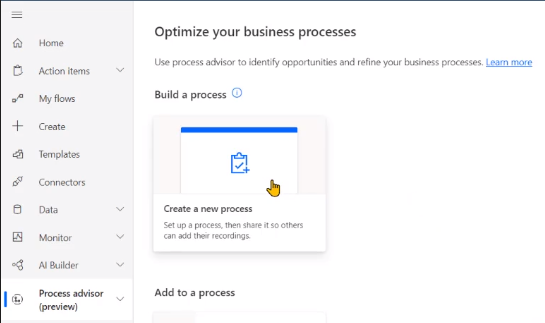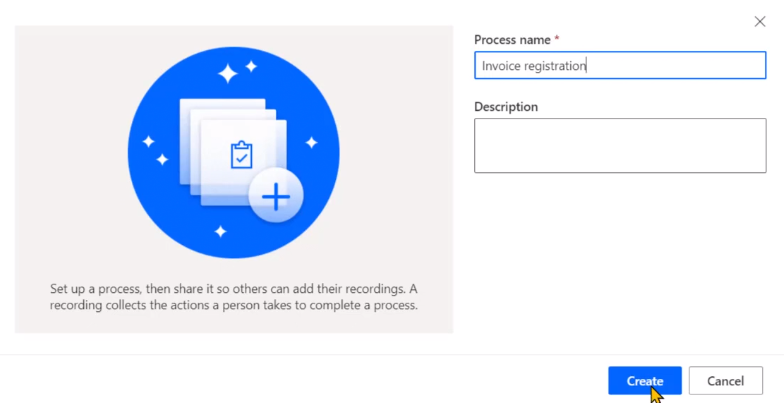 Once the process is created, you can share it with your colleagues.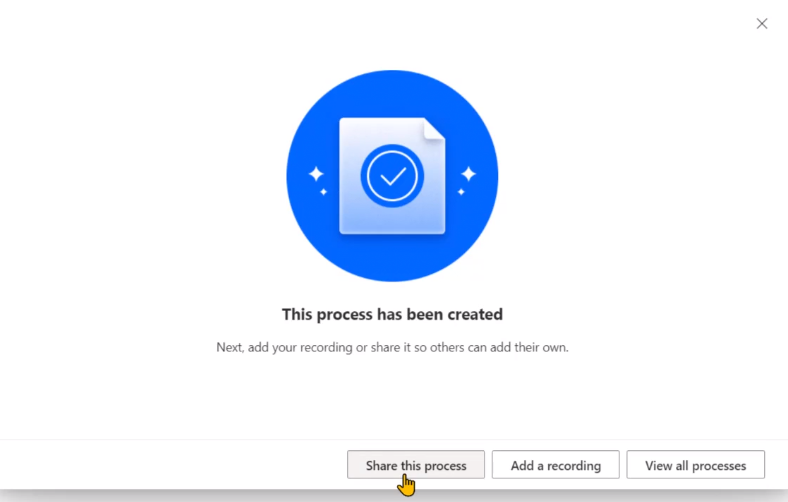 We'll share the process with Adele Vance and make her a contributor.

In her Power Automate account, Adele can see the process that has just been shared with her.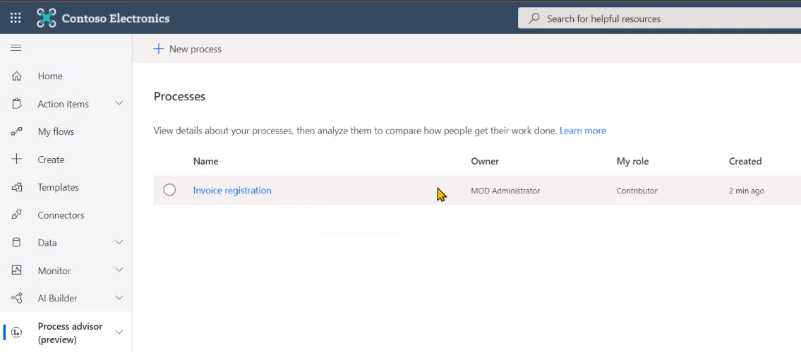 She can open the process and start a new recording.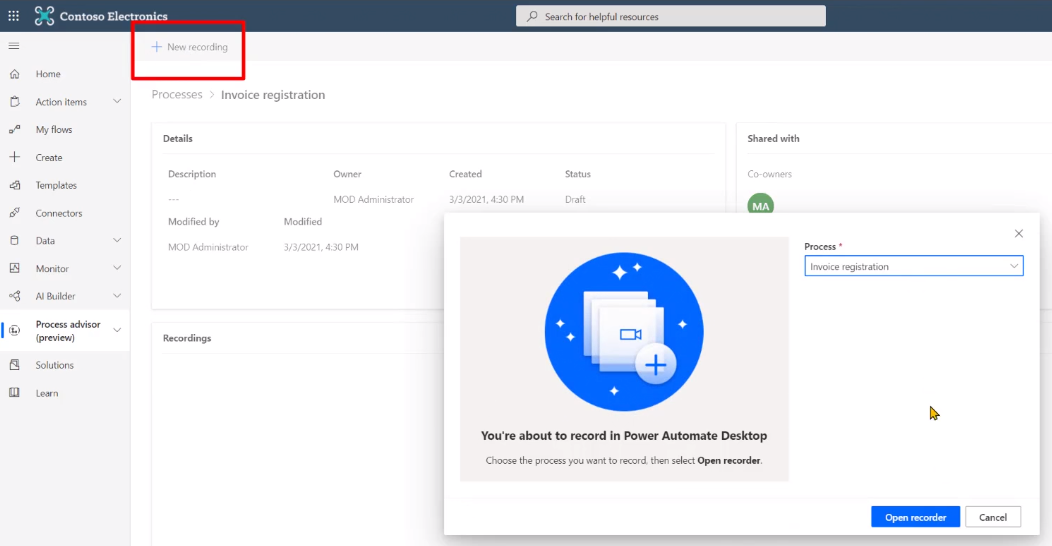 This opens a feature called Desktop recorder. Adele now clicks on Start recording and works through the normal process of registering a new invoice in the company's CRM.
She opens the invoice, then goes into the CRM, opens the Invoices folder and creates a new record. Because the invoice shows the amounts in dollars, she uses an online currency converter to convert them into Polish Zloty. She then enters the converted amounts in the record.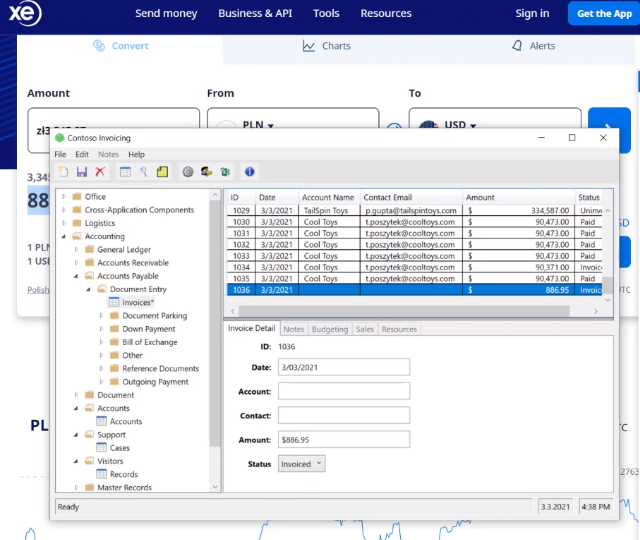 She copies other details from the invoice and saves the record.
She then clicks Finish in Desktop recorder.
The process that Adele has recorded is then saved back to the cloud in Dataverse. It could take a minute or two.
When ready, Adele can then review her recording. If a step contains confidential information (either in a screenshot or description), she may choose to delete it.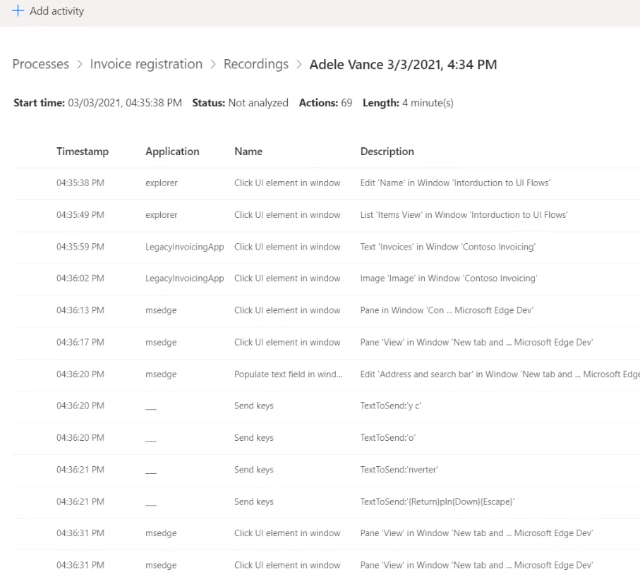 Adele now groups the process steps into activities.
She selects the relevant steps and then clicks on Add activity.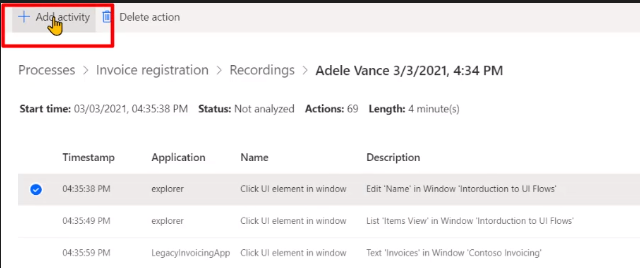 She can either select an existing activity or add a new one.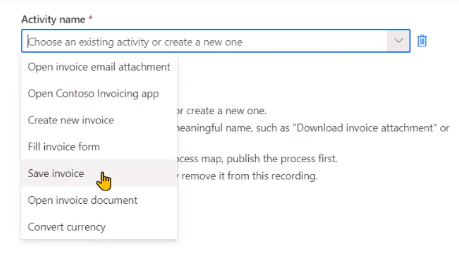 Adele's process includes these activities: Open invoice email attachment, Open Contoso invoicing app, Create a new invoice, Convert currency and Fill invoice form. All of the individual steps need to be grouped into one of these activities to summarise the flow of her process.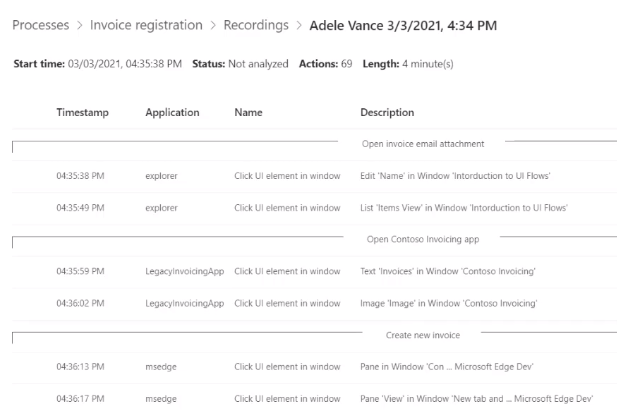 She then clicks Save to save her categorization of the process steps and then selects 'Ready to analyze'.

The process owner can see that Adele's recording is ready to analyze. When they start the analysis, the Process advisor reviews the recordings, looks for patterns, sees how long each step takes and creates data for visualization.
When the analysis is complete, click on Analytics.

This takes you into a Power BI dashboard that works on the data that has been gathered, transformed and prepared by the process advisor on top of all the recordings that have been done for the specific process. It is based on the process map, which details the scenarios within the process, and on the time that it took for each step to be carried out. The analysis report shows you what the process looks like, what the possible variants are to accomplishing it and how long it takes for each variant to be completed. It helps you understand where the bottlenecks are for each activity and work out how you could revise the process to save time.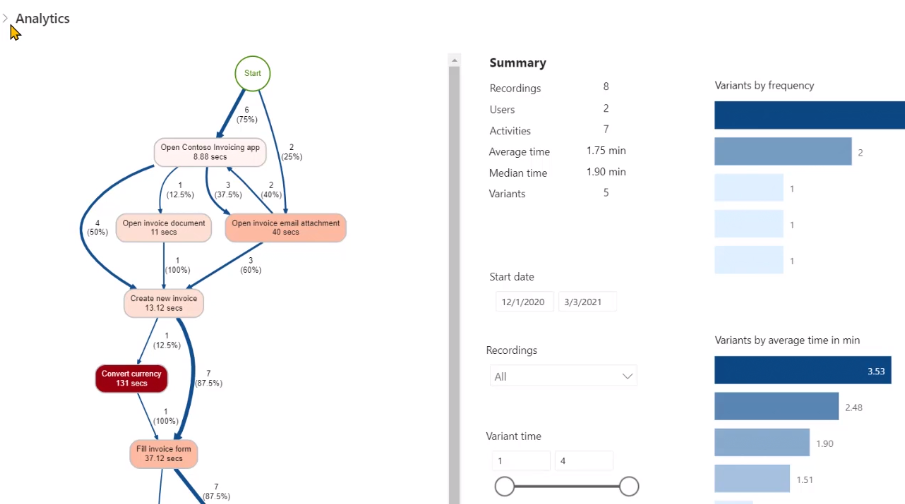 For example, in the invoice registration process, the currency conversion and inputting form data steps took almost three minutes. If you multiply those three minutes by the number of invoices you have per day or week, and then multiply that by the number of employees who are responsible for the invoices, you can easily calculate how much time and effort you could save if you transformed these two steps into a digital process. It doesn't mean you need to fire these employees, but you can move them to more demanding tasks with greater responsibility. On the process map, you can see the most frequently executed scenarios. The thicker the connecting arrows, the greater the number of employees working on those steps.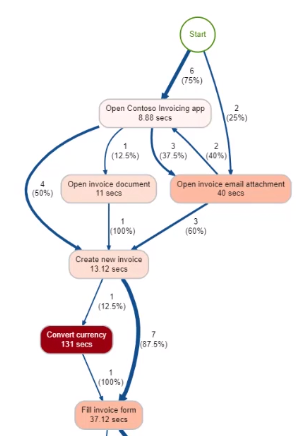 There's also a summary of the recordings where you can deep-dive into time analysis and work out where the bottlenecks are.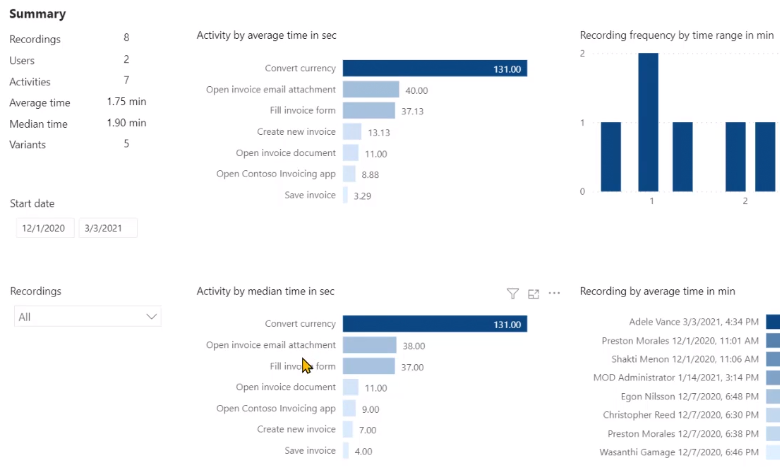 You can see which users took the longest time to complete each step and then talk to them to find out why it took so much time. You can also see how often the variants are repeated and use this information to automate the process and make it more efficient.
Automated solution
After using Process advisor to analyze the invoice process, the company has developed a small application that is used by the front desk to upload a scanned invoice. They have also incorporated AI Builder to recognize and digitalize invoice data. Once the front desk uploads the invoice, AI Builder analyzes it and recognizes pre-defined input data.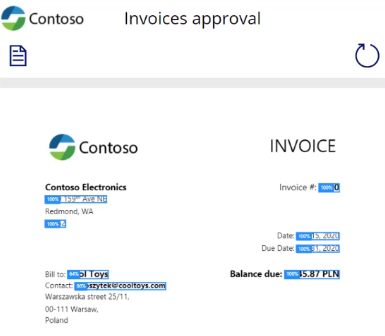 When the user changes the currency, the invoice is updated and can be sent for approval.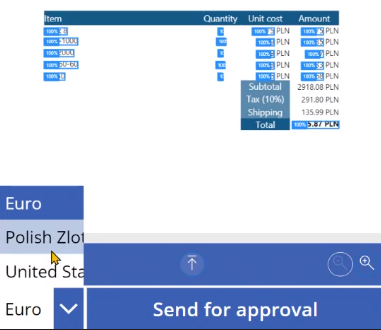 Next, the accountancy team receives a task in Microsoft Teams for approval. The task contains all the data uploaded from the invoice. The team can add a comment and approve the task.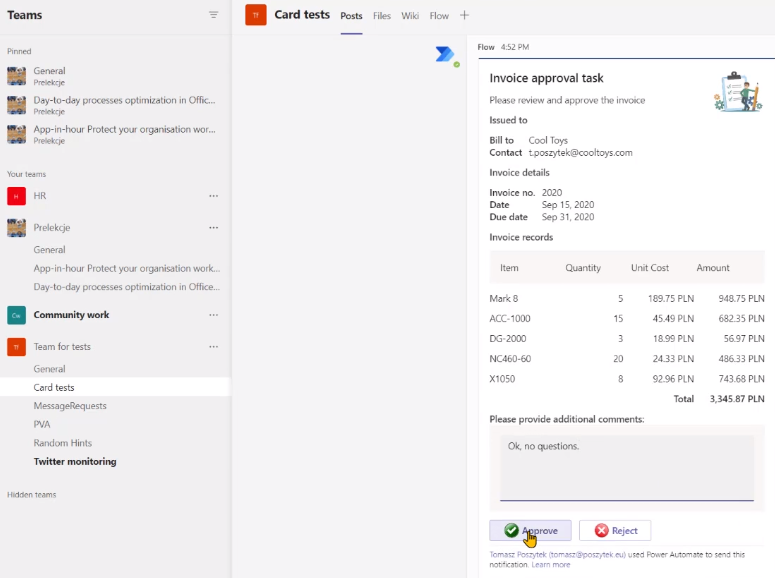 Power Automate, which handles this approval process, now sends a confirmation card.
It also triggers the Power Automate Desktop, mimicking the user's actions during both the currency conversion and the inputting information in the company's CRM.
In Power Automate Monitor is an option called 'Desktop flow runs'.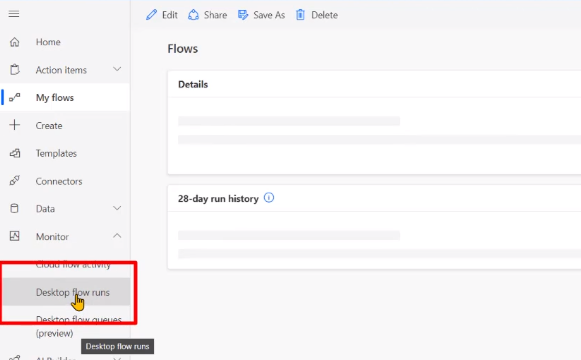 This shows a history of all the RPA desktop flows running in a specific environment. You can watch as the flow status changes from 'Queued' to 'Running' to 'Succeeded' and see exactly how long the process took to complete.

Summary
Process advisor helps you understand your processes better, discover where the bottlenecks are, and find out how much you can save if you digitize the processes. The data it provides helps you design digital applications to accomplish the same outcome as processes carried out manually by employees.