This eBook provides an executive overview of Dynamics 365 with a specific focus on the customer Relationship Management (CRM) elements so is a perfect place to begin your D365 learning journey.
Microsoft Dynamics 365 is a series of products or apps for Enterprise Resource Planning (ERP) and Customer Relationship Management (CRM) applications.
Dynamics 365 apps are business apps. It doesn't matter what type of business you are in; Dynamics 365 will help you run your organization.
The following table shows the categories of Dynamics apps. This Ebook will focus on CRM, but before we look at that, let's briefly examine the other uses of Dynamics 365.
ERP
CRM
Everything Else
Finance
Enhance your financial decision making;
Unify business processes
Sales
Customer Voice
Surveys and customer satisfaction
Supply Chain
Commerce
Connected store
Fraud protection
Customer Service
Business Central
Run your small business, includes right-sized DRM and ERP-type functionality
Project Operations
Field Service
Human Resources
Built on Microsoft Dataverse and has built-in hooks to solutions such as LinkedIn offerings
Project Operations
Pricing
For Dynamics 365 pricing, please see here https://dynamics.microsoft.com/en-ie/pricing/
What is the Microsoft Power Platform?
The Microsoft Power Platform is a business application platform where you can create and deploy bespoke apps, reports, and workflows connected to Office 365, Dynamics 365, Azure, and other third-party applications.
The Power Platform has four main tools:
Power Apps
No code, low code or high code solutions
Canvas apps
Typically used for mobile and must be connected to a data source
Canvas apps allow drag-and-drop functionality, thus creating apps with little or no code but with Excel-like expressions
Model-driven apps
These start with a relational database (Dataverse) and offers a data-driven experience
Security roles – manage users' access to database tables
Standard and custom tables (entities)
Customizable forms and views
App-builder – one or more app based on the same dataset
Many automation options – business rules, business process flows, and classic workflows
Loads of integrations options – talk to other applications transfer information back and forth
Portal apps
Expose relational data to external stakeholders via a website/portal. End users can be authenticated or anonymous
Power Automate
Family of automation choices that include robotic and business process automation
Automating from nearly any type of data source
Power BI
Desktop or web-based analytics tool
Power Virtual Agents
Build custom chatbots within your applications
Customer Relationship Management (CRM)
CRM is often referred to as first-party applications (Microsoft being the first party building the app on the platform). The apps are model-driven which become peers to our custom-built apps. Their features include:
Both work alongside customer engagement apps
Customizable – most out-of-the-box apps get you 80% of the way, and you customize the app further for your own use
There is an overlap – for example, field service similar to customer service
Several supporting apps
Dynamics 365 Sales Hub
Broadly speaking, the Dynamics 365 Sales app covers sales, Microsoft Relationship Sales, and Product Visualize.
Lead to opportunity
Opportunity to quote – can contain product line items, potential sales information, dates, stakeholder information etc.
Quote to order – contains information from the quote
Order to invoice – send an invoice
The aim is to supports product sales, individual and group goals by making sure information is captured in a process that works for the business.
The following is an example of a Dynamics 365 Sales Hub:
Sidebar: Navigation to tables/entities Top bar: apply actions to row items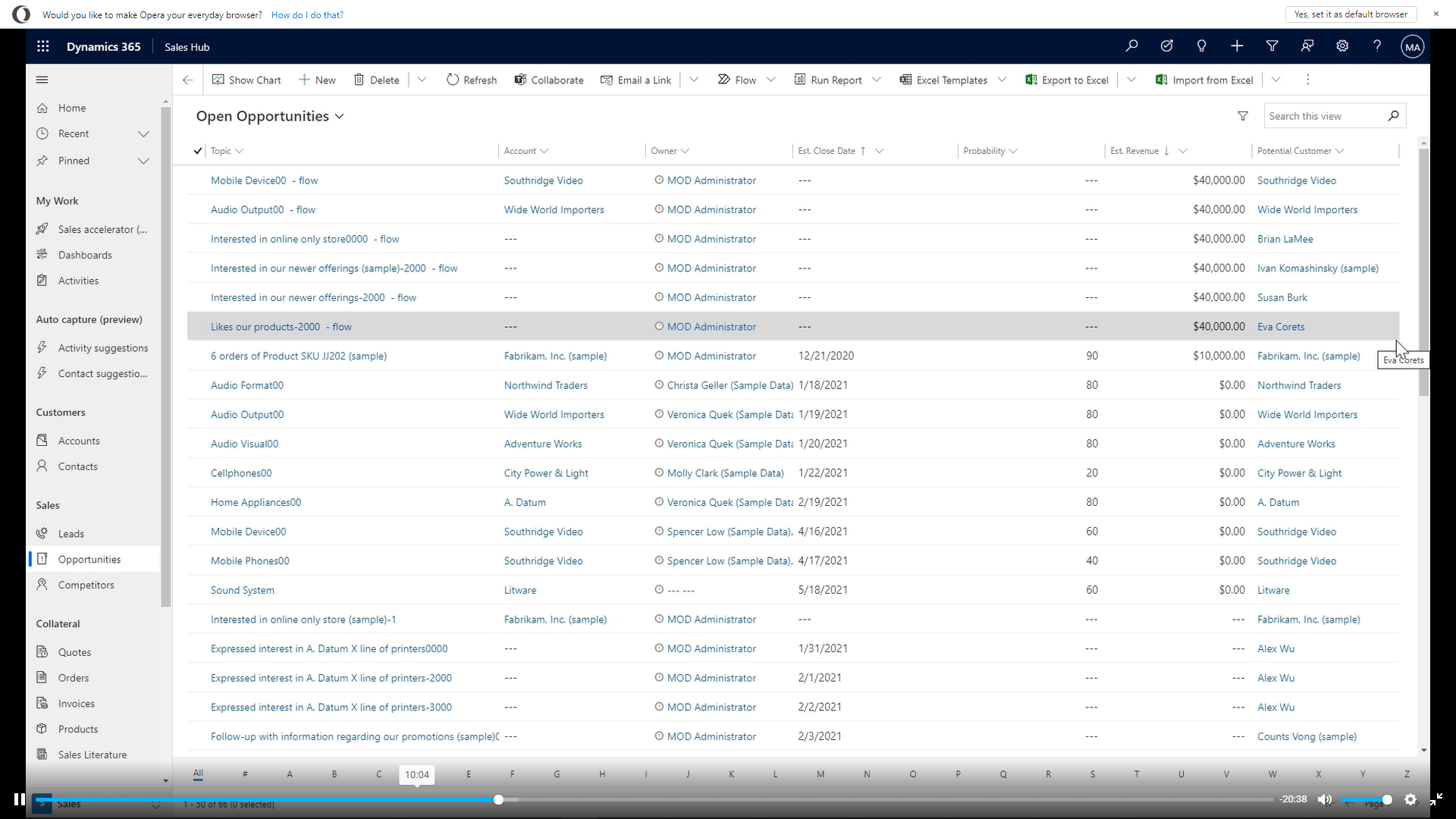 The following is a screenshot of Leads tab.
Select Leads Information about specific lead Action items on record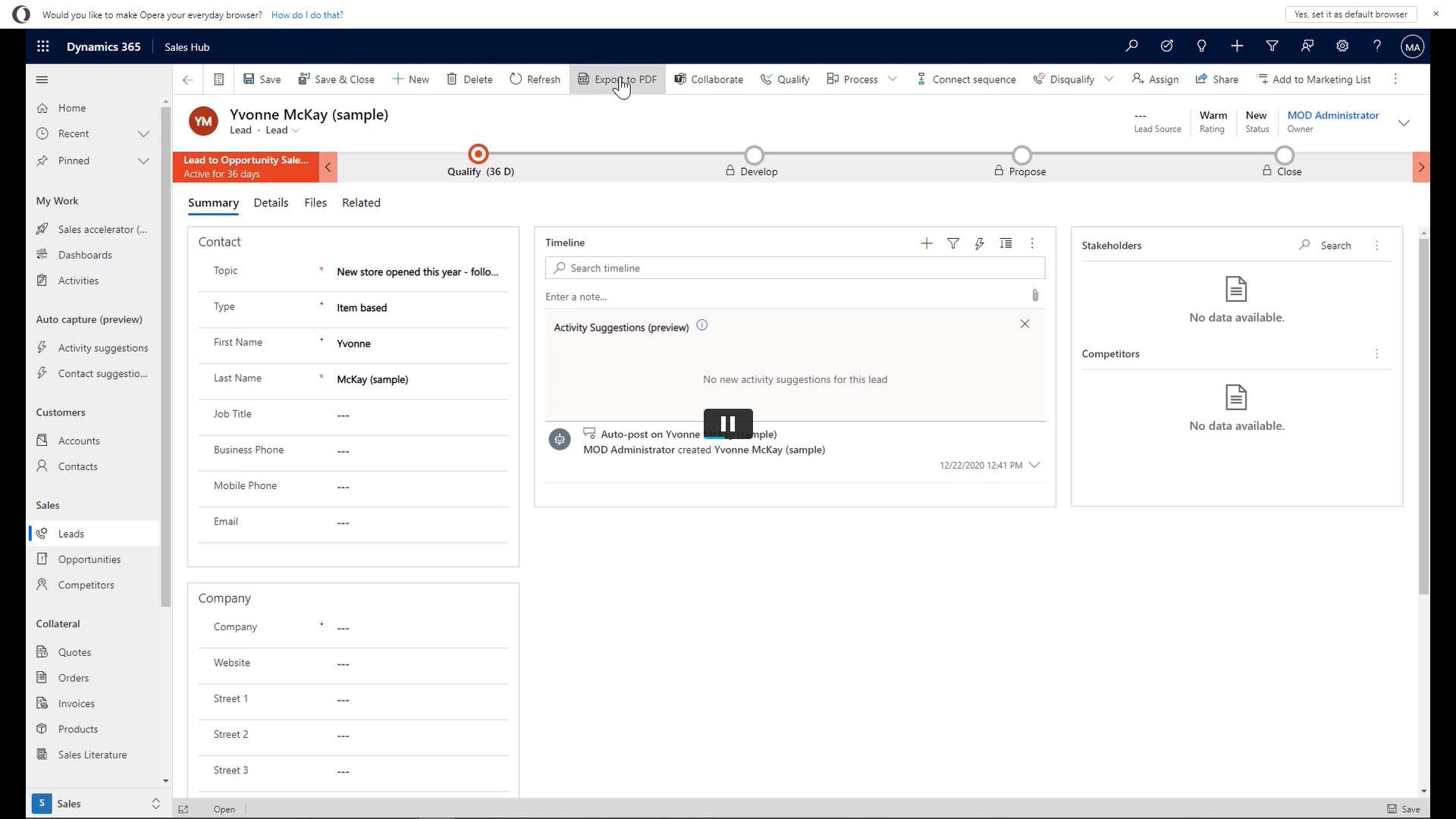 Across the top of the screen, there is a business process flow. This can be the out-of-the-box process or a customized one that guides the user's interaction with the platform throughout the sales cycle.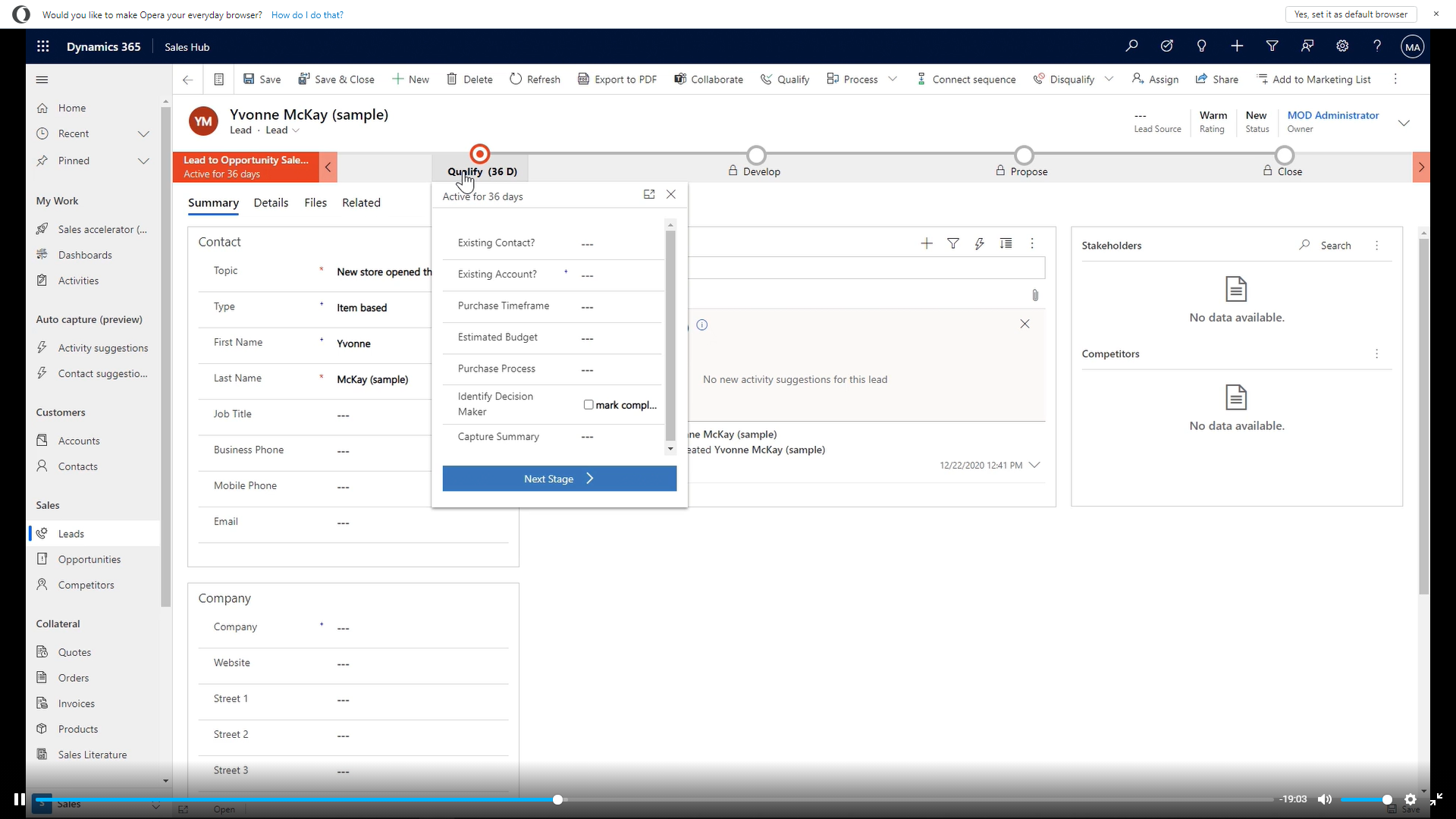 Ultimately, the aim is for a lead to progress and become an opportunity. The opportunity tab contains details such as Status, Actual Close Date, and Revenue.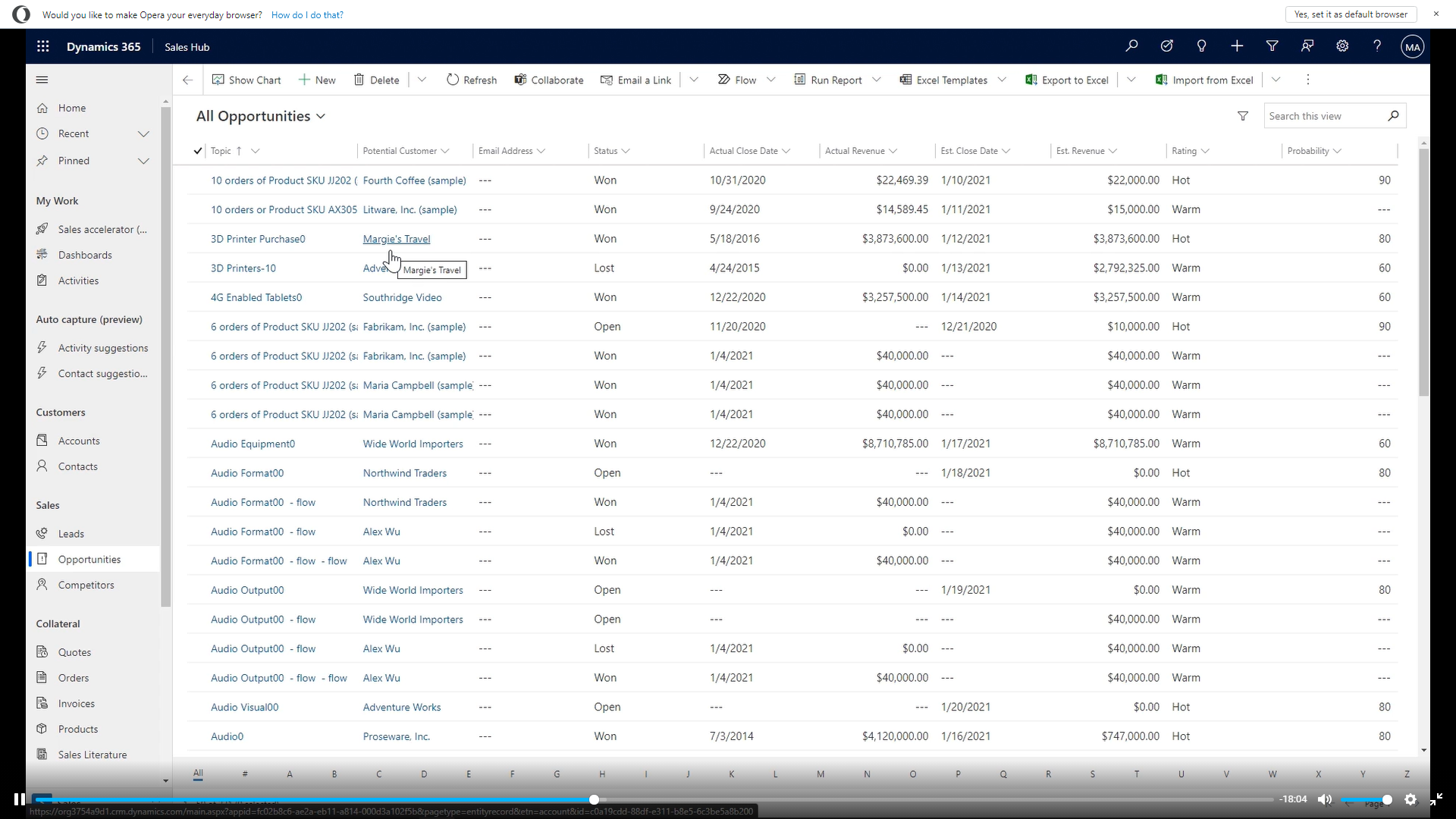 There are many different ways of viewing Opportunities, all of which contain a subset of the main data. The following screenshot is 'My Open Opportunities Scored':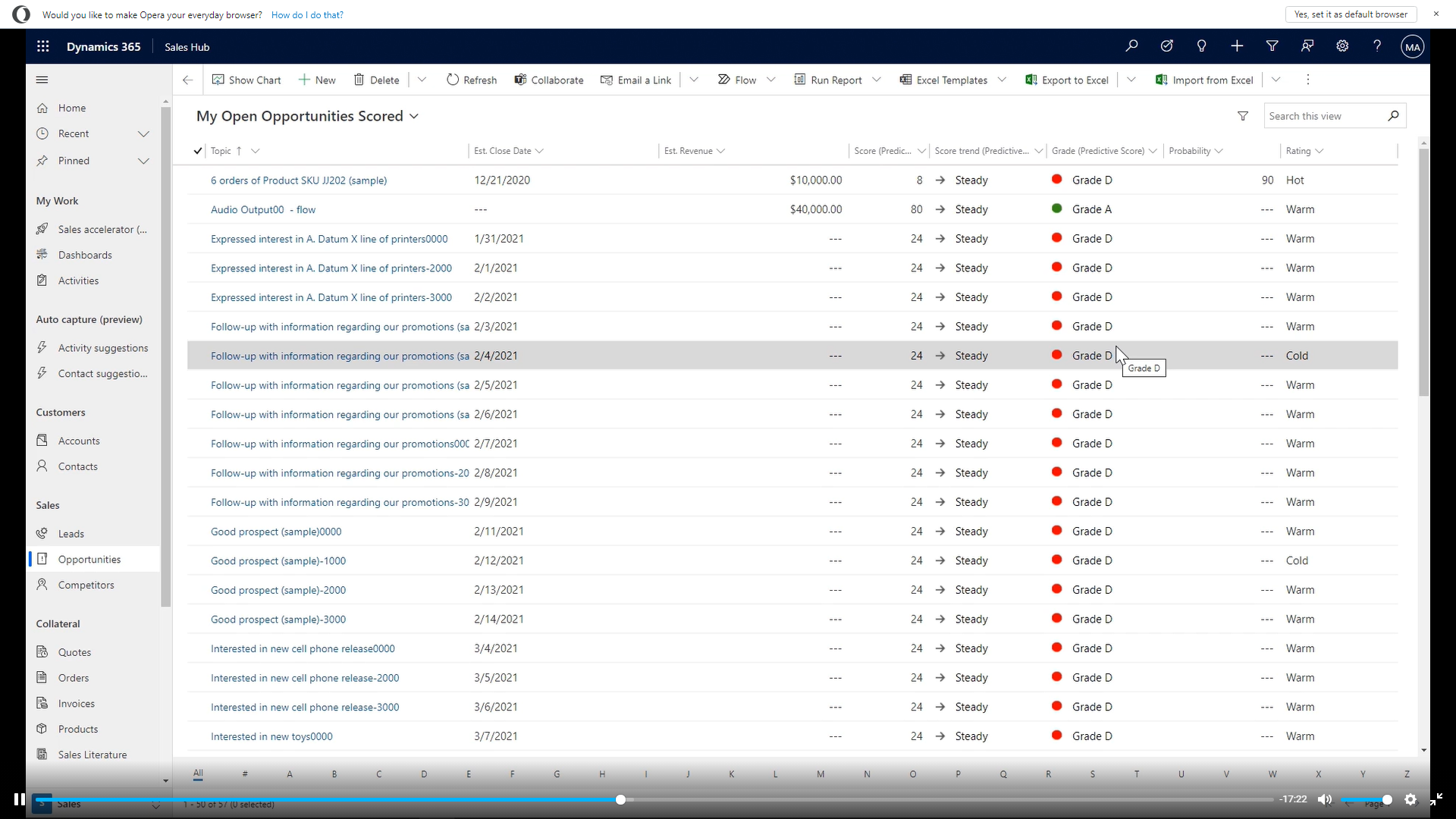 The next screenshot drills down into a specific opportunity:
Additional items to add Business Process Flow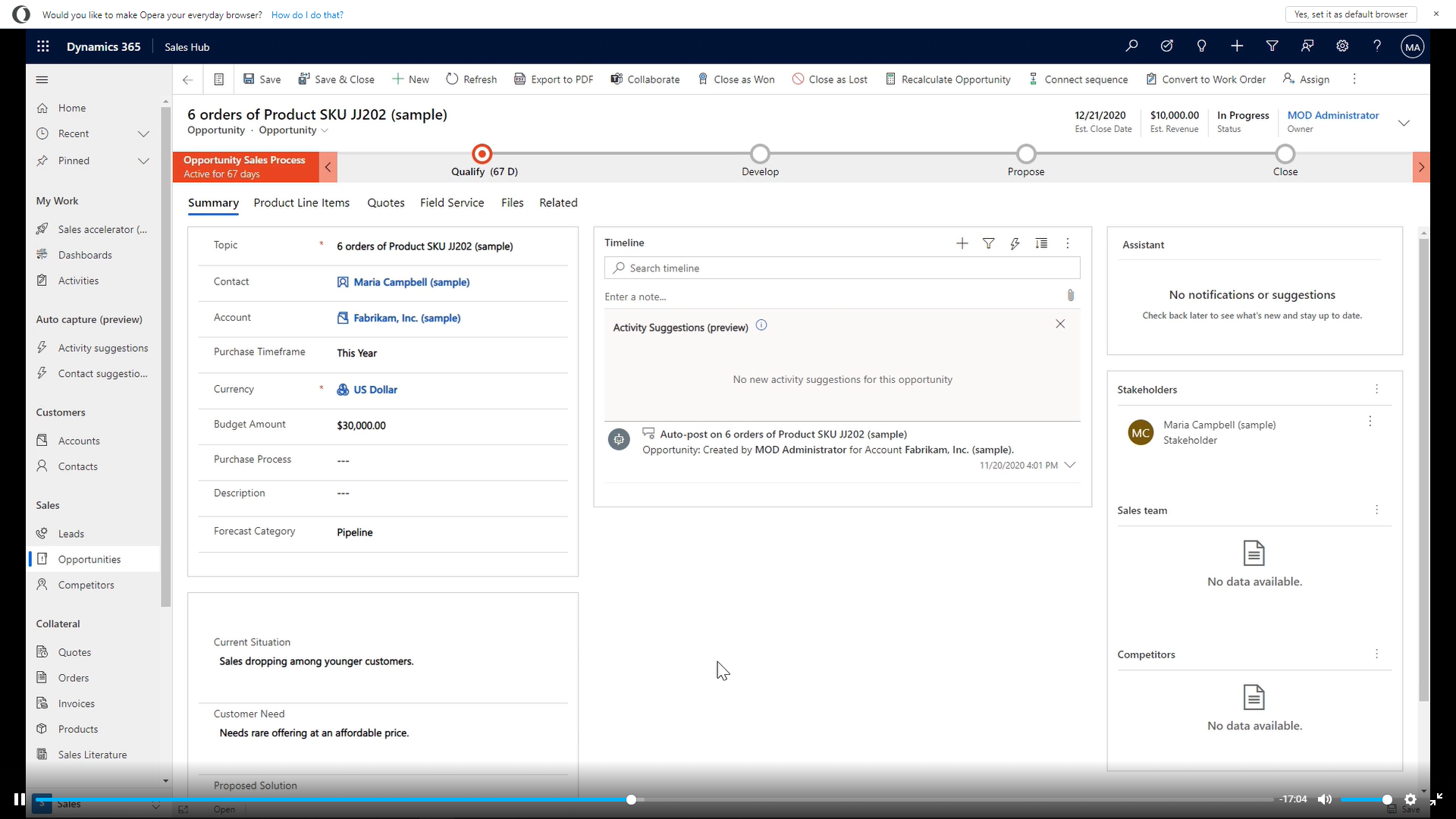 Furthermore, depending on the security of your role, you have different access to forms.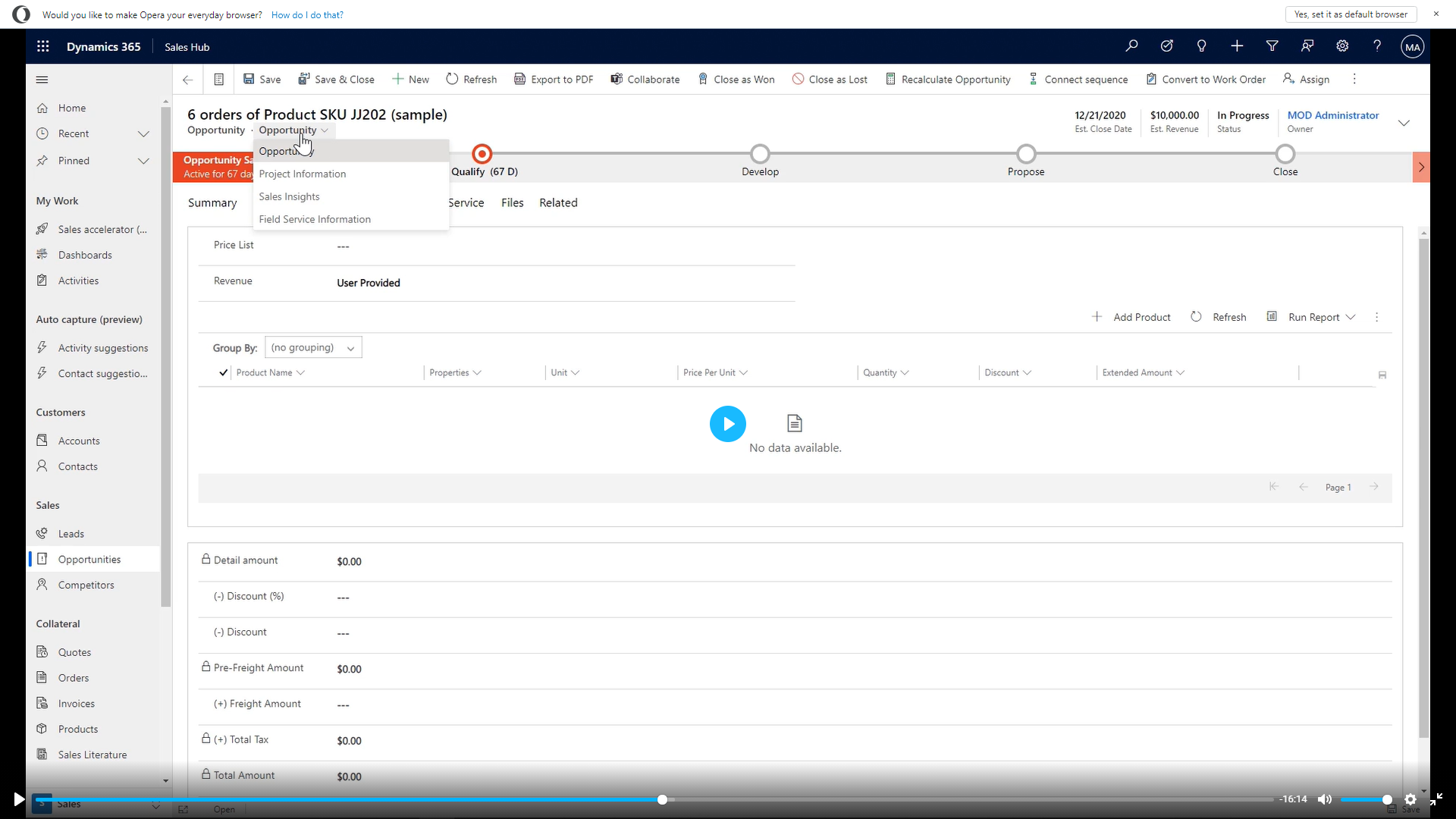 Business Process Flow Steps
The purpose of flow steps is to help ensure that your colleagues enter the correct data each time they work on a record and also to follow the same steps. Once each step has been properly completed, you can move onto the next step.
Each step is, in essence, a form that can be customized for the end-user. The following are examples of a series of steps.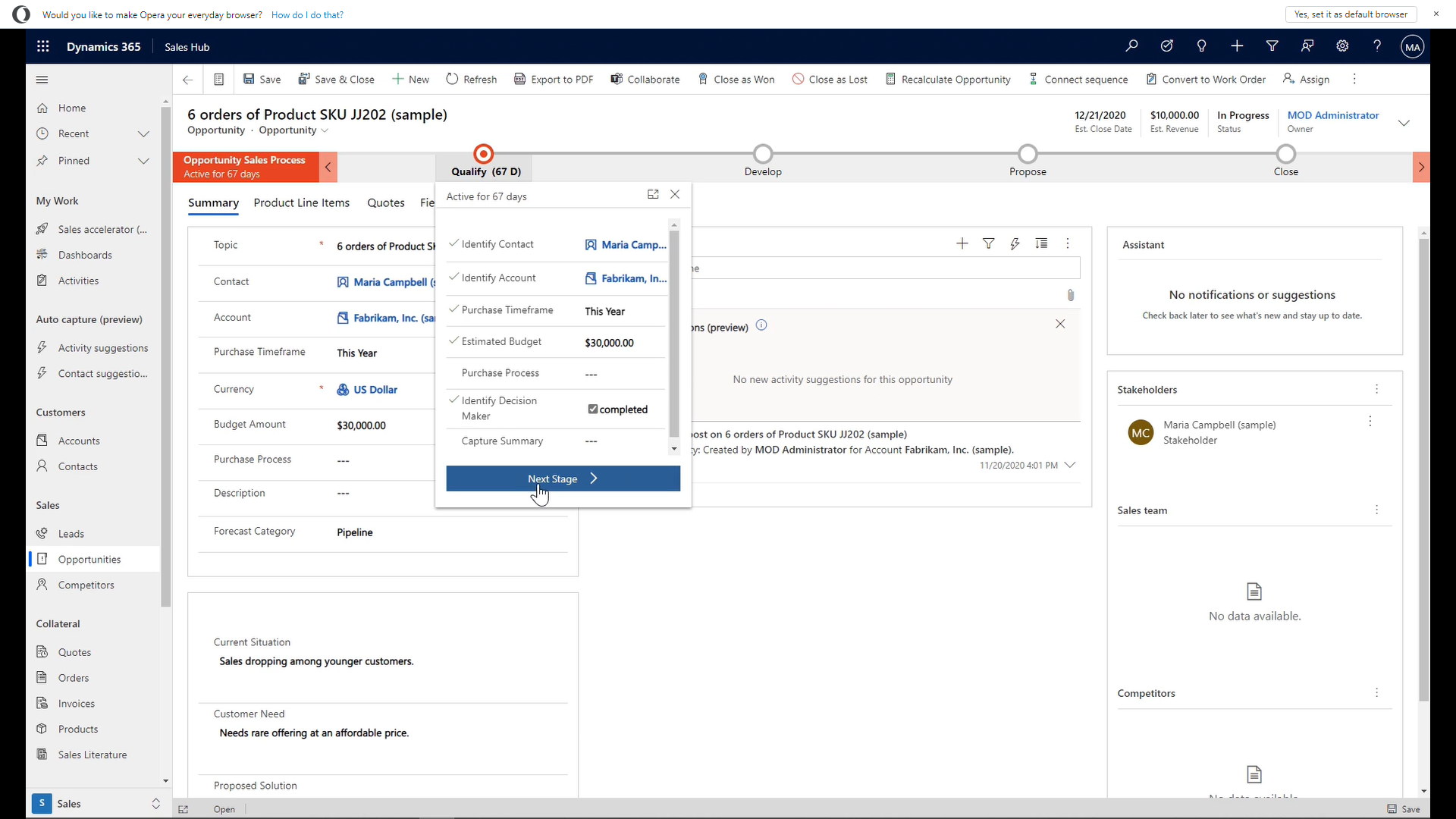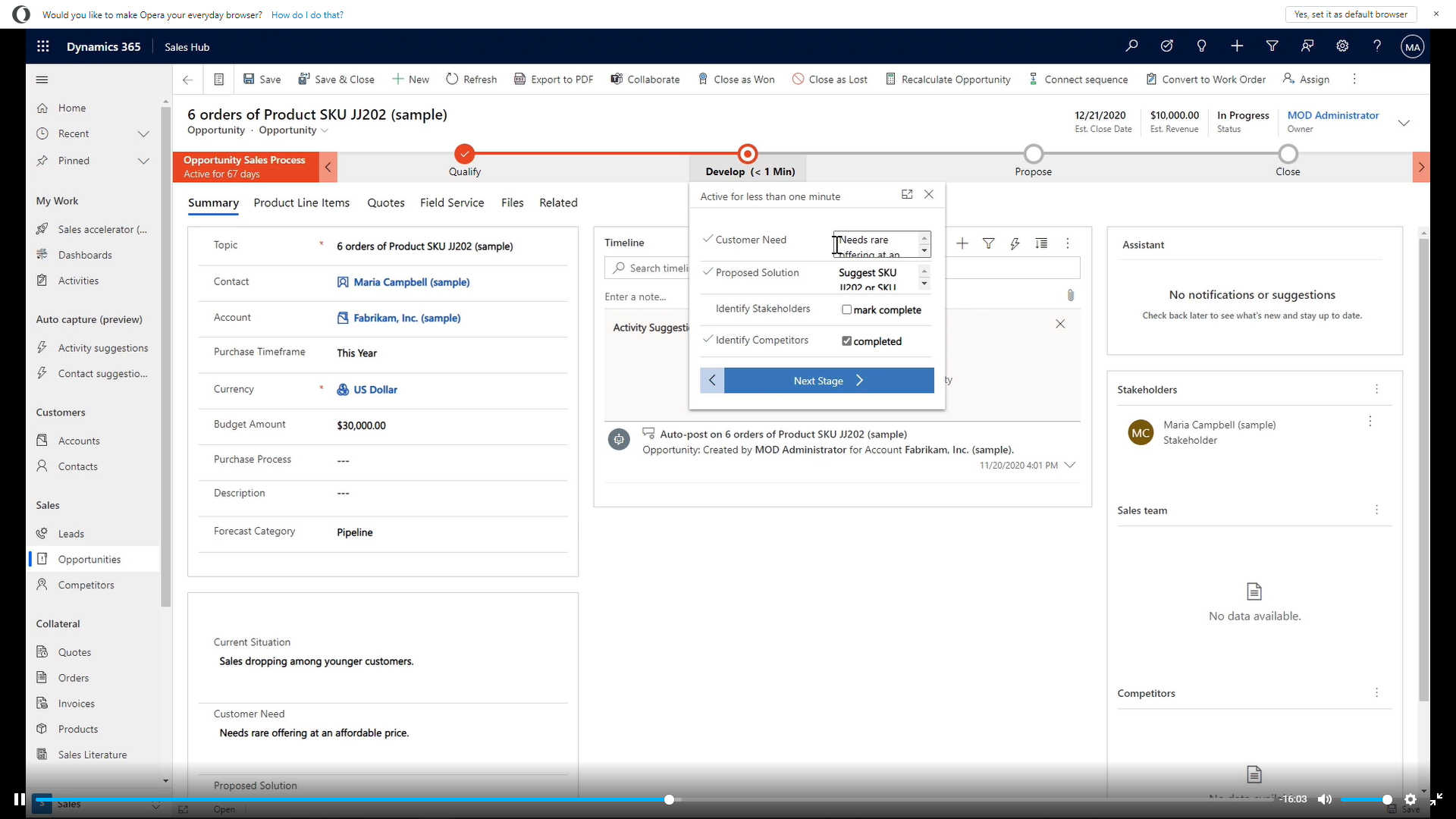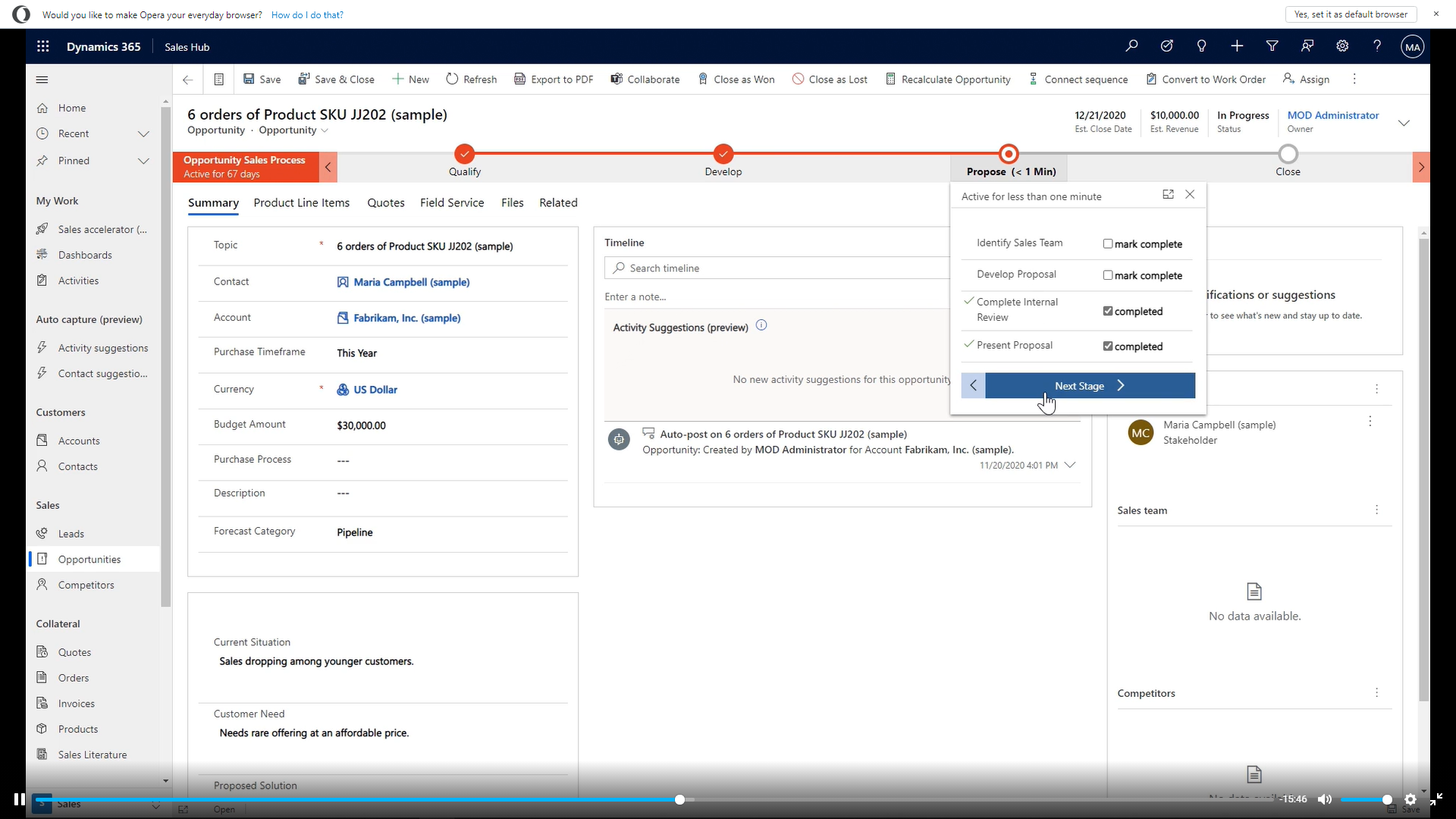 When an opportunity is closed, it has to be either closed as won or cancelled (lost).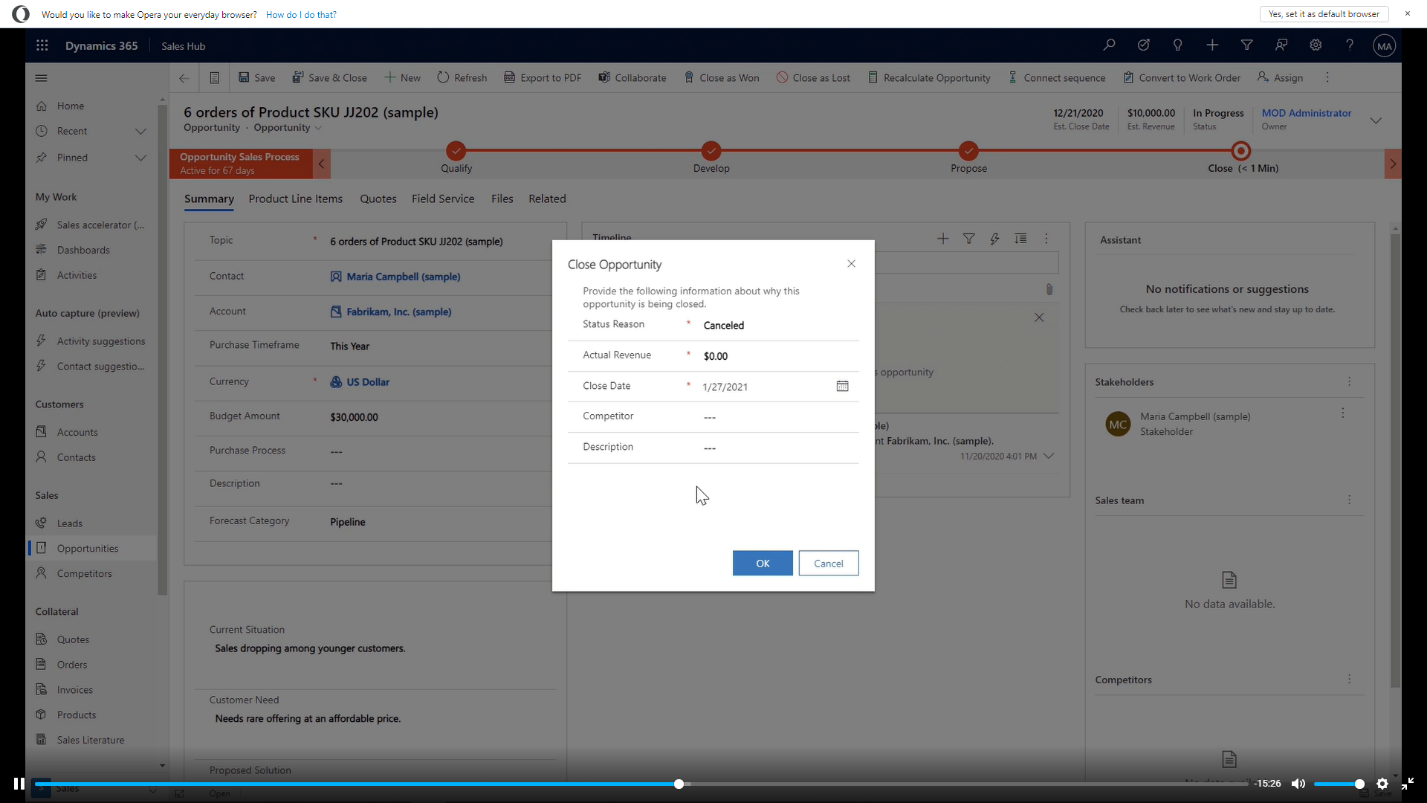 Microsoft Relationship Sales
Microsoft and LinkedIn (owned by Microsoft) have developed a solution that allows you to view 'LinkedIn information about leads, contacts, accounts, and opportunities directly in the Dynamics 365 apps.'
It combines Dynamic 365 Sales plus LinkedIn Sales Navigator, which is a separate product
It is integrated back to LinkedIn via a separate solution
It requires business and/or enterprise account on LinkedIn side
An additional licence is required – see per month pricing
Professional $64.99*
Team $103.33*
Enterprise – Contact Us
Professional features include:

✓ 20 InMail messages per month✓ 1,500 saved leads ✓ Who's viewed your profile

✓ Extended LinkedIn network access

✓ Advanced lead and company search

✓ Lead and account recommendations

✓ Custom Lists

✓ Territory preferences

✓ Lead and Account Alerts

✓ Outlook Web integration

✓ Notes and tags

✓ Sales Navigator Learning Center

✓ Includes LinkedIn Learning and Premium Career**

✓ Sales Navigator Mobile App

All features from Professional, plus:

✓ Unlimited Smart Links

✓ +10 additional InMail messages per month (30 total)

✓ +3,500 additional saved leads (5,000 total)

✓ Team network warm introductions with TeamLink

✓ Organic Marketing Alerts

✓ CRM integrations

✓ Sharing Custom Lists

✓ Basic license management

✓ Usage reporting

✓ Volume and multi-year discounts***

✓ Invoicing***

✓ Dedicated relationship manager***
All features from Team, plus:

✓ +20 additional InMail messages per month (50 total)

✓ +5,000 additional saved leads (10,000 total)

✓ Company network warm introductions with TeamLink Extend

✓ Contact Creation in CRM******

✓ Sponsored Marketing Alerts

✓ Single-sign-on integrations

✓ Enterprise-grade license management

✓ Data Validation for CRM****

✓ Analytics Integration for Usage Data*****

✓ LinkedIn Elevate Alerts
****Only available for customers with Salesforce or Dynamics 365 for Sales

*****Only available for customers using Tableau or Microsoft Power BI

******Salesforce only, Dynamics 365 for Sales coming soon
Sample Dynamics 365 Apps
Product Visualise
Product Visualise shows customers how a product will look in their own environment. The ability to visualize a product can help with the decision-making process.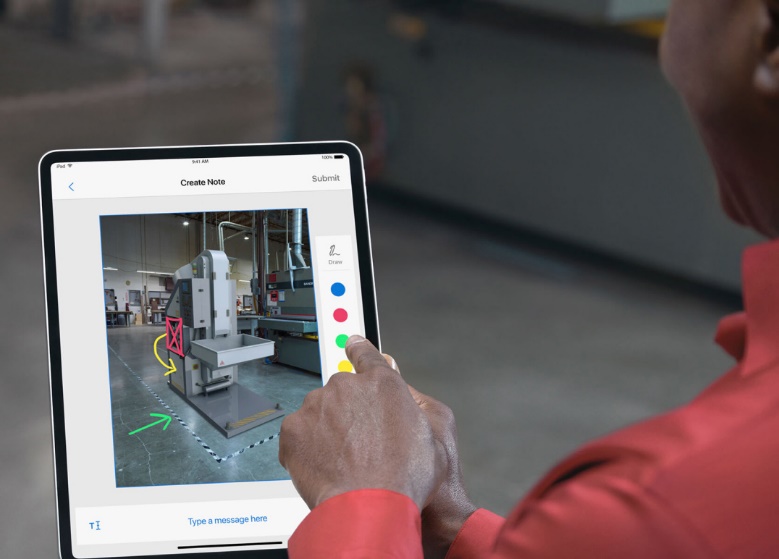 Dynamics 365 Customer Service
Dynamics 365 Customer Service is very similar to the Sales app. You have a choice of using one or more of these features which integrate with one another.
Manage the customer support experience
Call in with a case
Turn a phone call record into a case
The customer service rep can follow the prescribed process
Case management
Knowledge base
Send out knowledge base articles
Build up for our agents a collection of articles
Data on most popular articles
Versioning on articles
Support different languages
Preferences
Make contact with customers at specific preferential times
Deal with specific customer agent
Omnichannel interactions with your customers
Include social media challenges in applications
Remote Assist
Remote Assist allows you to assist and collaborate with remote workers in real-time. The person on site can share what they are doing and can be assisted by a remote support agent.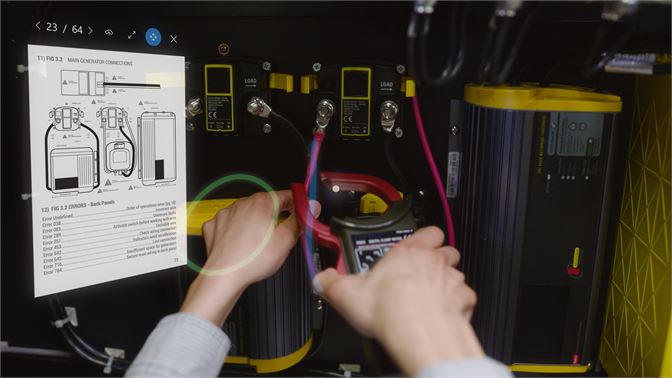 It is compatible with HoloLens, Android or iOS devices, and it uses mixed reality to make the most efficient use of time and resources.
Virtual Agent for Customer Service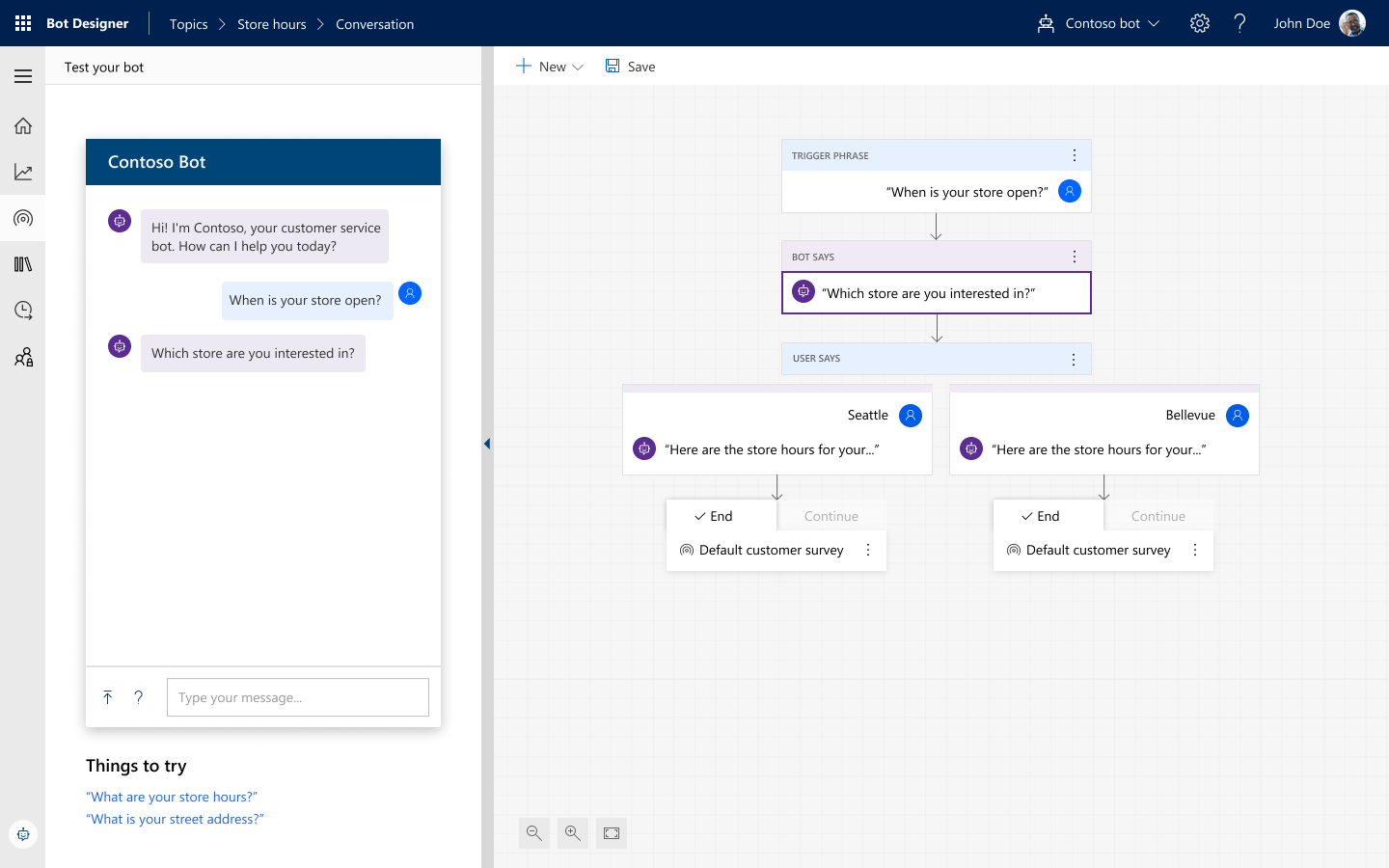 AI-powered chatbots can be developed around the area of customer service. It allows for a completely customizable experience based on drag-and-drop blocks. You don't have to be an AI training professional or a coder; all they need to know is your business model in order to build a chatbot.
Dynamics 365 Field Service
This allows you to manage your technicians in the field. It features:
Smart scheduling board to manage appointments
Manage technicians qualifications to ensure they only get sent on appropriate jobs
Manage the inventory in technicians' vans/trucks
Compatible with Internet of Things (IoT) devices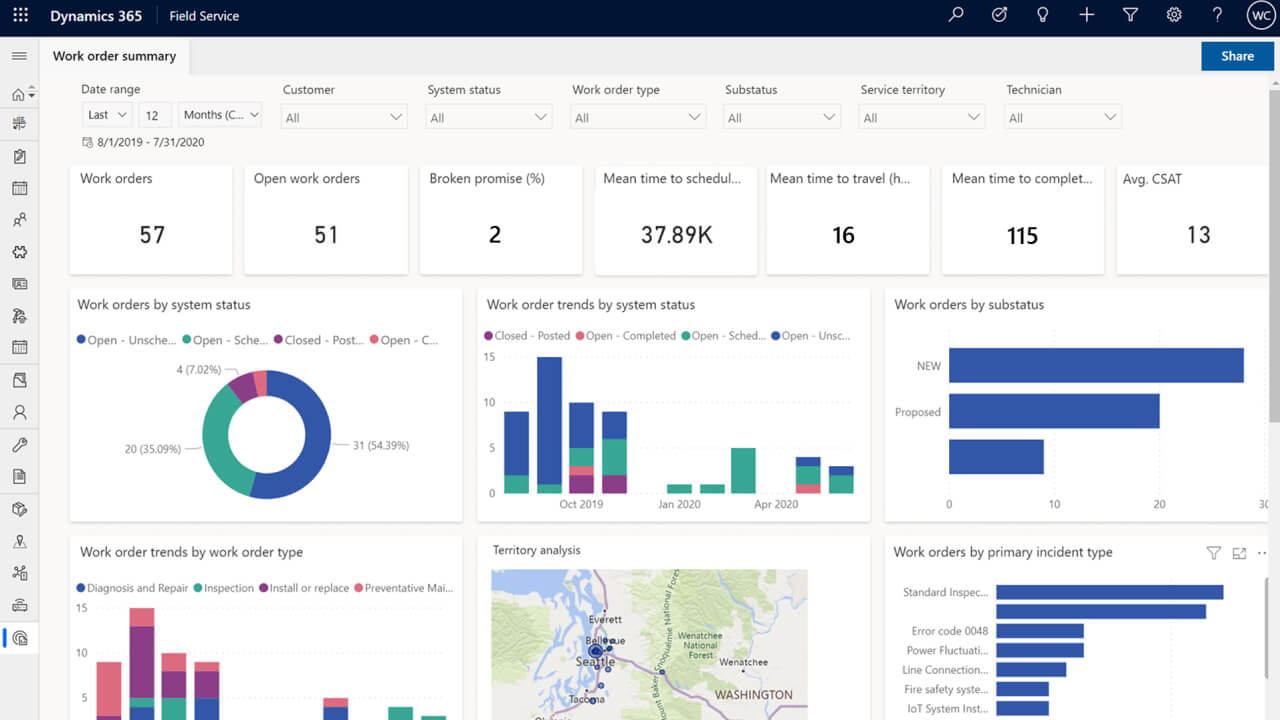 Dynamics 365 Marketing
This allows you to develop and execute your customers' journey by discovering the routes or journeys that customers make when searching for products.
It takes advantages of insights by
Acting on insights that are reported
Bringing customers on a personalized marketing experience; and
Quickly design campaign assets that can be used on customer journeys
Dynamics 365 Project Operations
This is a hybrid app that can exist on both the ERP and CRM systems. It aims to improve deal management and project management by:
Managing time and expenses
Streamlining financial data
Keeping abreast of scheduling
Keep abreast of resources qualifications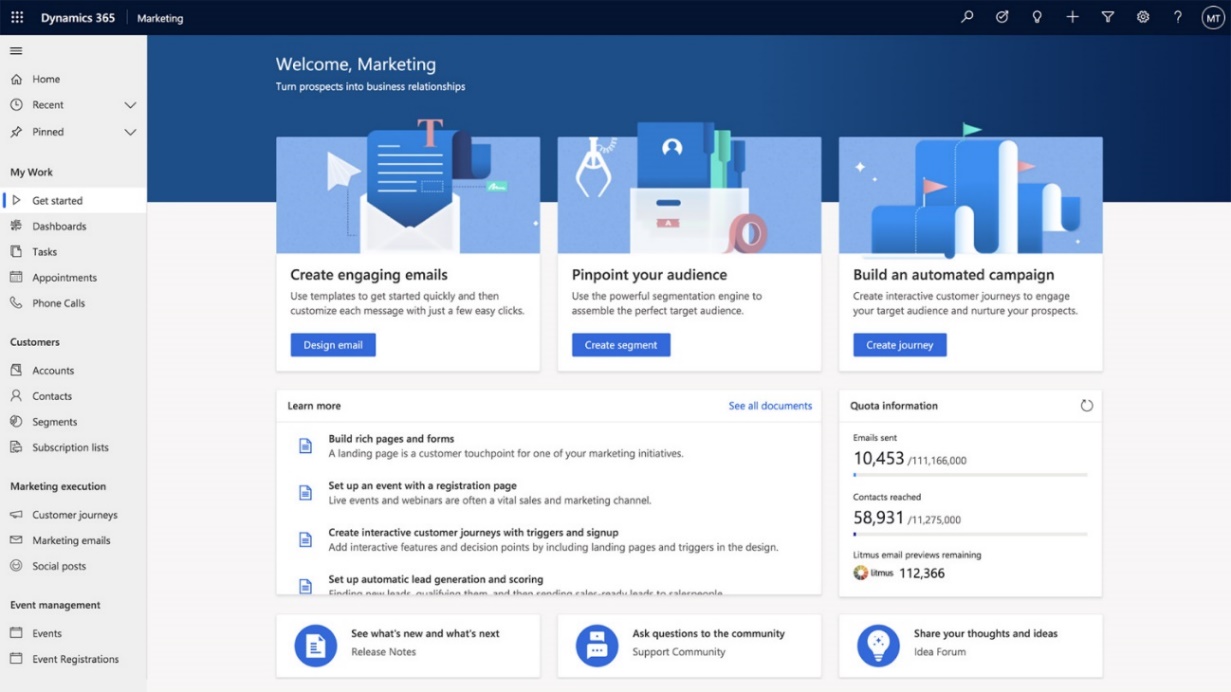 Insights and AI
The Insights and AI apps bring AI technology to the mainstream as not every organization can afford a data scientist. The AI functionality with Dynamics 365 features Customer Insights, Sales Insights and AI Builder.
AI Builder is a Power Platform offering that works with Dynamics 365 and allows you to add AI value to apps such as image and form recognition.
Train it to recognize photos
Assist with inventory
Train on invoice processing and export data to other apps to become useful and actionable data
Sales Accelerator
In the below screenshot, you can see an example of the Sale accelerator in Sales Hub. It features a number of accelerators and insights. An accelerator helps a person to increase their sales and prioritize activities for the day through the workflows available in the Sales app.
An administrator can use the Sequence designer to create a series of activities such as email, phone calls and tasks; these sequences are connected to relevant records, which may dictate best company practices.
The sequences are then applied to leads and are automatically reported to your sales strategy.
My List (see below) is created by a manager for a sales agent to follow.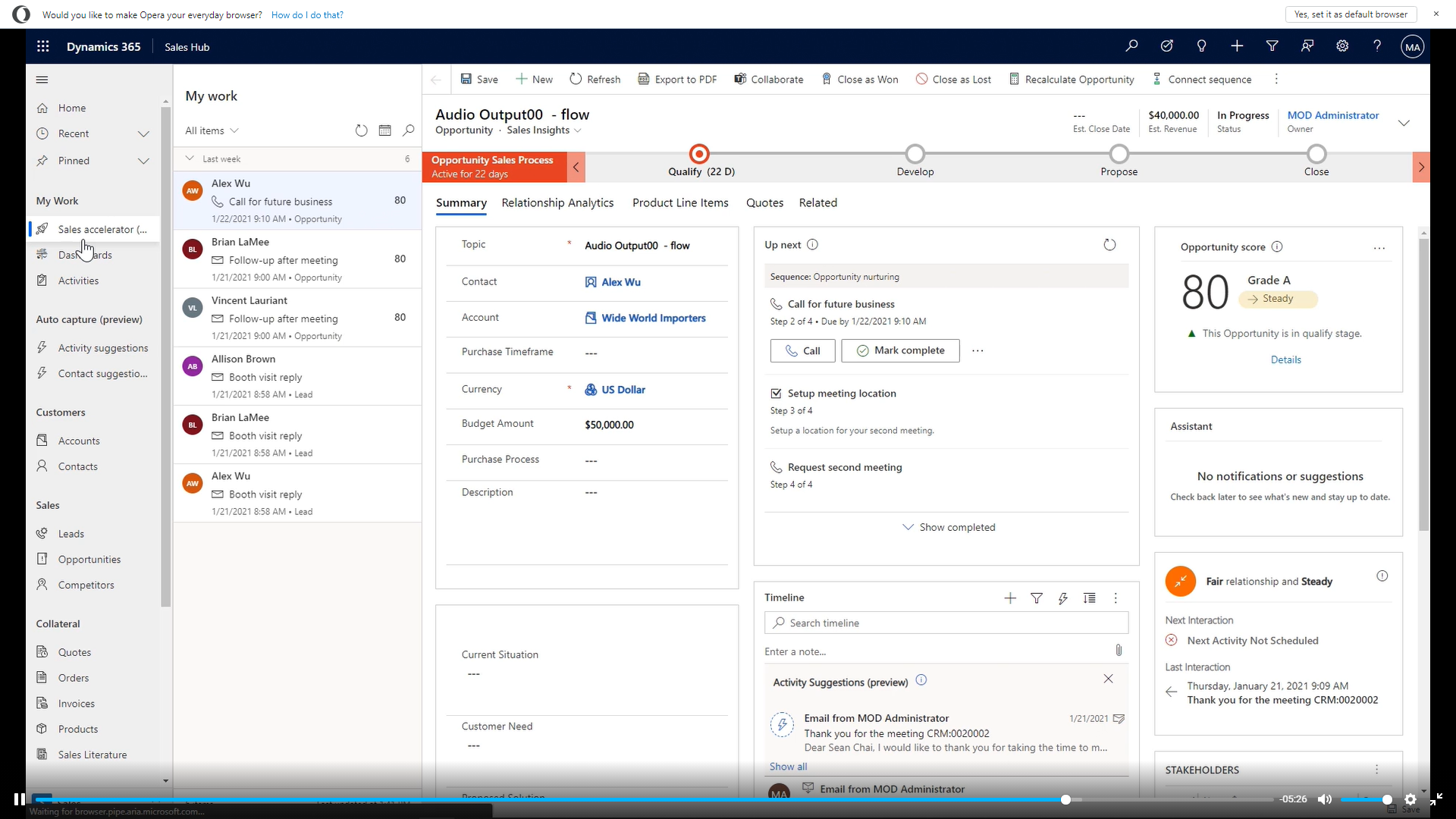 This example is an opportunity record that tracks Opportunity Score and Relationship Score along predefined steps and a timeline that contains an editable email.
In the Relational Analytics tab, we can see more information such as the amount of time dedicated to the opportunity (compared to other opportunities), customer interactions, and relationship health, among other KPIs depending on the data.
This data is compiled automatically based on the steps put in place by the administrator.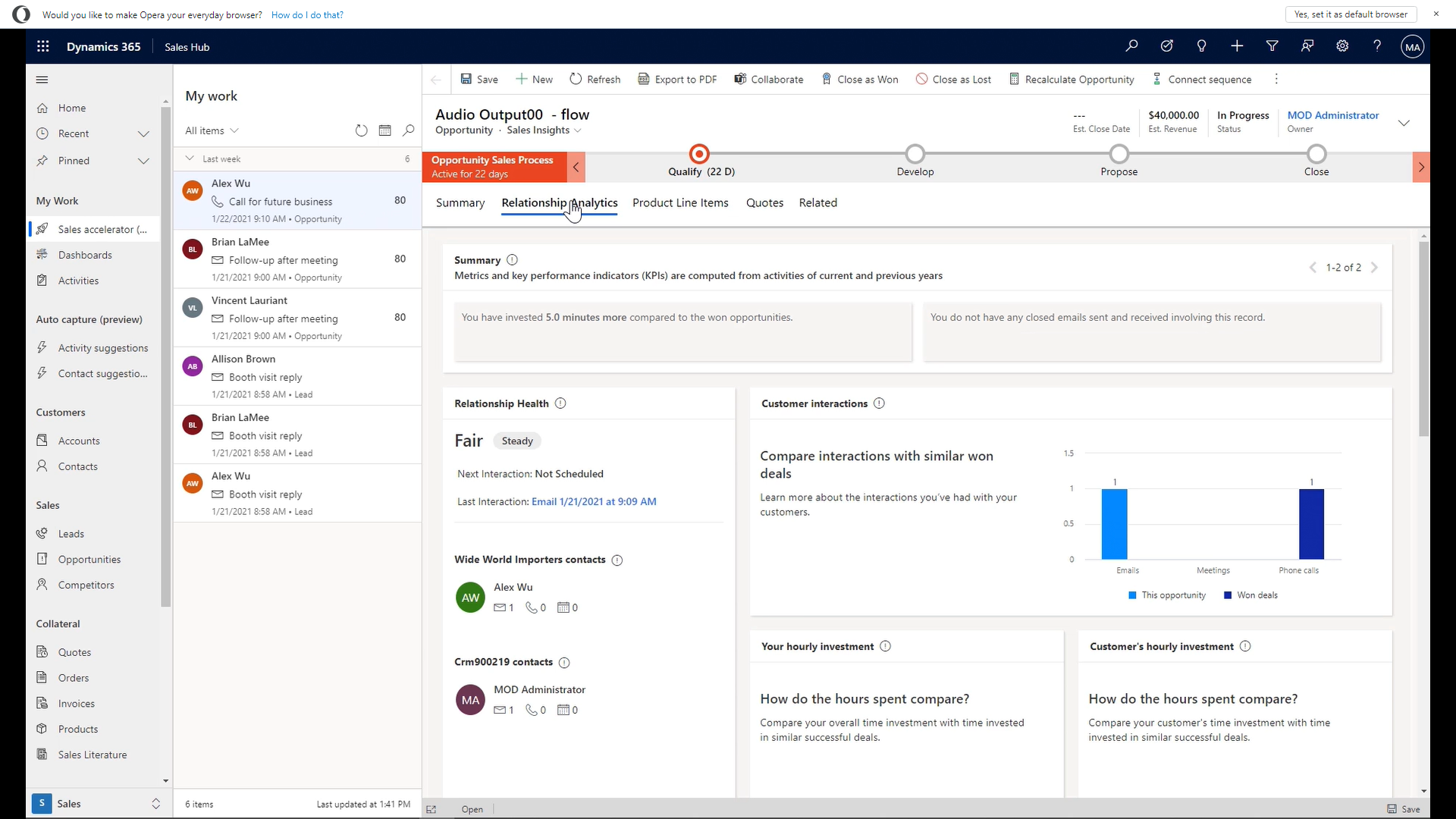 Using the apps together
Ultimately, the end goal is to use all of these apps together to enhance business opportunities and provide real-time data back to the business.
For example:
Field service cases may lead to new sales opportunities to sell more support tickets and upgraded maintenance package
A sales lead may lead to an entry in the ERP system for customer support (prospect to cash) case
Only expose data in individual users what they need to use
Use apps as a data source for field-based canvas app