Tasks can be created from multiple apps and services in Microsoft 365 and it can be difficult to keep track of them all. This book guides you through how to use the Tasks for Teams app to manage all your tasks in one place, increasing your productivity and efficiency.
Tasks across Microsoft Apps and Services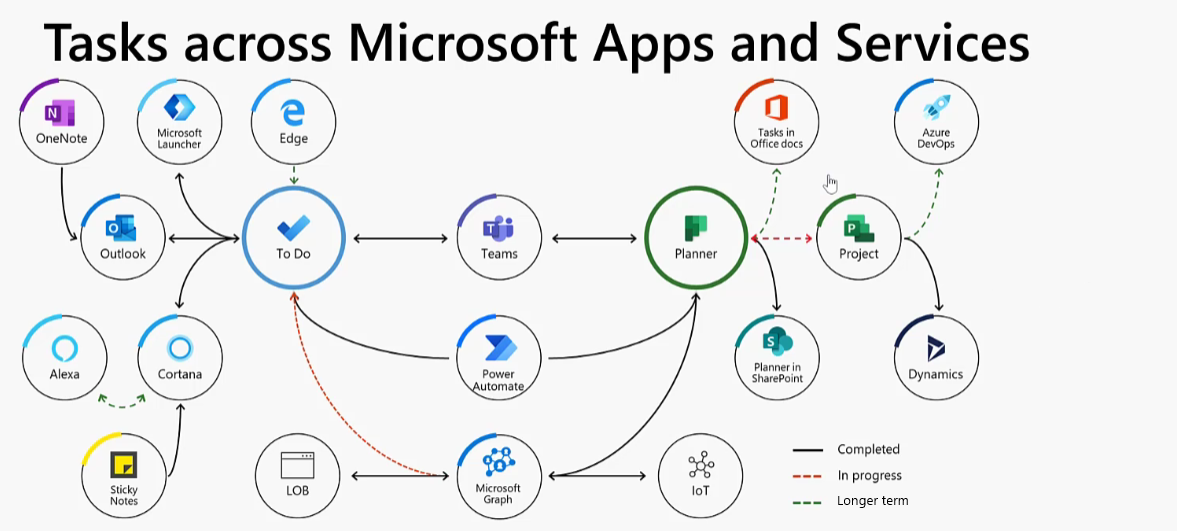 As the above image shows, tasks are present throughout many of the Microsoft 365 (M365) apps and services. The way tasks are managed in M365 can be broken down into three categories – endpoints, hubs and engines.
Tasks endpoints are the apps and services where tasks can be generated. These include apps such as Word, Excel and PowerPoint as well as cloud services such as Cortana.
Tasks hubs are the apps used to bring all the different tasks together and provide an overview of them. Tasks engines are the services that power the tasks in the background such as Planner and To Do.
Core Principles of Tasks in Microsoft 365
Coherence
Tasks across M365 have a simple, familiar look and feel across every experience. Generally, whether you're working with a task in a web browser, desktop or mobile app, you will get a similar end-user experience. This means that user expectations can be maintained and also enables actions, navigation and discovery.
Intelligence
Intelligence services across the Microsoft stack can be leveraged in order to surface tasks. This includes using AI to help users with proactive suggestions such as recommended tasks to complete next. This intelligence can also be used to assist in organizing and prioritizing tasks.
Integration
Integration allows a task-related experience to be connected to logical endpoints such as Teams or Outlook. This also means that we can create our own experiences that are applicable to all types of users and scale task capabilities from individual use up to organizational workflows.
Key Task-Management Endpoints in Microsoft 365
To Do
To Do is an app that we can use to have all our individual tasks in one place. It uses a number of different task lists to help a user plan and manage their workload. An example of this is the My Day list, which shows all tasks that need to be completed for a particular day.
It also helps a user to focus on what's most important by providing suggestions to prioritize their day and also makes tasks more manageable by breaking tasks down into simple steps, adding due dates and reminders.
Although To Do is primarily meant for an individual user, their lists can be shared with colleagues in order to aid collaboration if required. For full management of tasks across a team, we would use Planner, which will be covered later on.
As mentioned earlier, tasks can be accessed via a number of M365 apps. The screenshot below shows how they can be accessed using Outlook via a web browser:

Tasks can be added manually from the right hand To Do pane and can also be added by dragging e-mails over from Outlook, which creates a task linked to that particular e-mail. Tasks can also be edited and marked as important. Clicking the Open To Do button in the right-hand pane opens the full To Do app in a separate browser tab: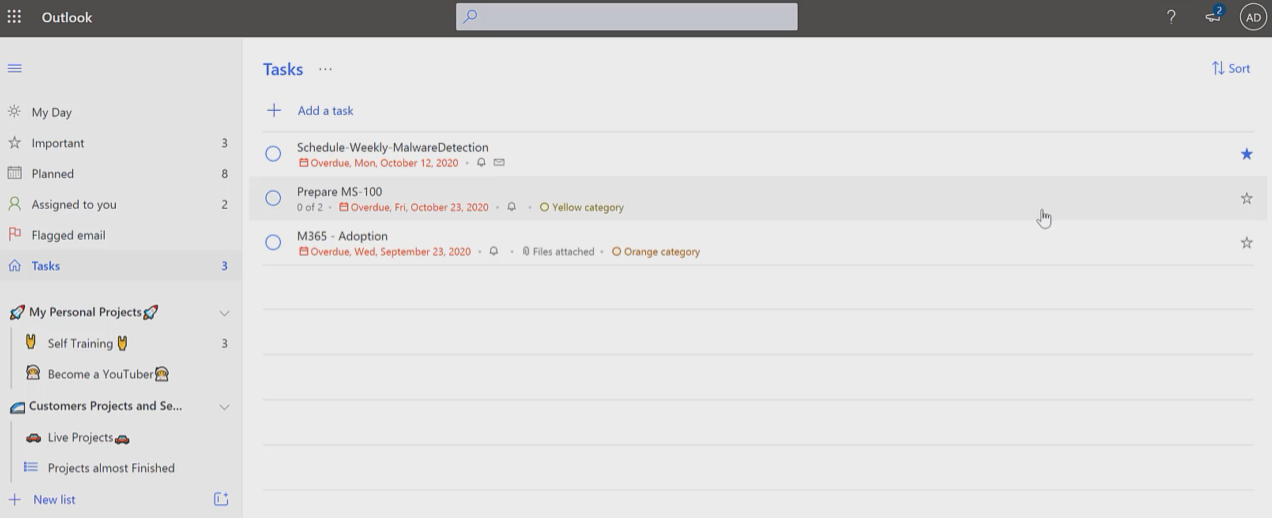 The left-hand menu shows the different task lists such as important tasks and My Day. The "Assigned to you" list shows any tasks that have been assigned to you from a plan in the Planner app. Individual tasks can be edited, which includes the ability to add multiple steps to a task as well as adding a due date and setting reminders on the task.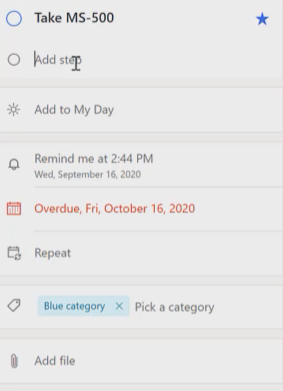 A task can also be assigned a category, although it isn't currently possible to add extra categories. Files can also be attached to tasks, and tasks can be marked as complete when required.
To Do also allows you to create groups to organize your tasks: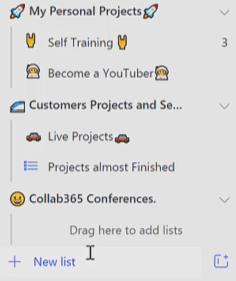 You can create custom groups to organize lists of tasks, and this could be used for particular projects or events and allows a further level of organization on top of the out-of-the-box options available.
To Do can also be accessed using the Windows 10 app: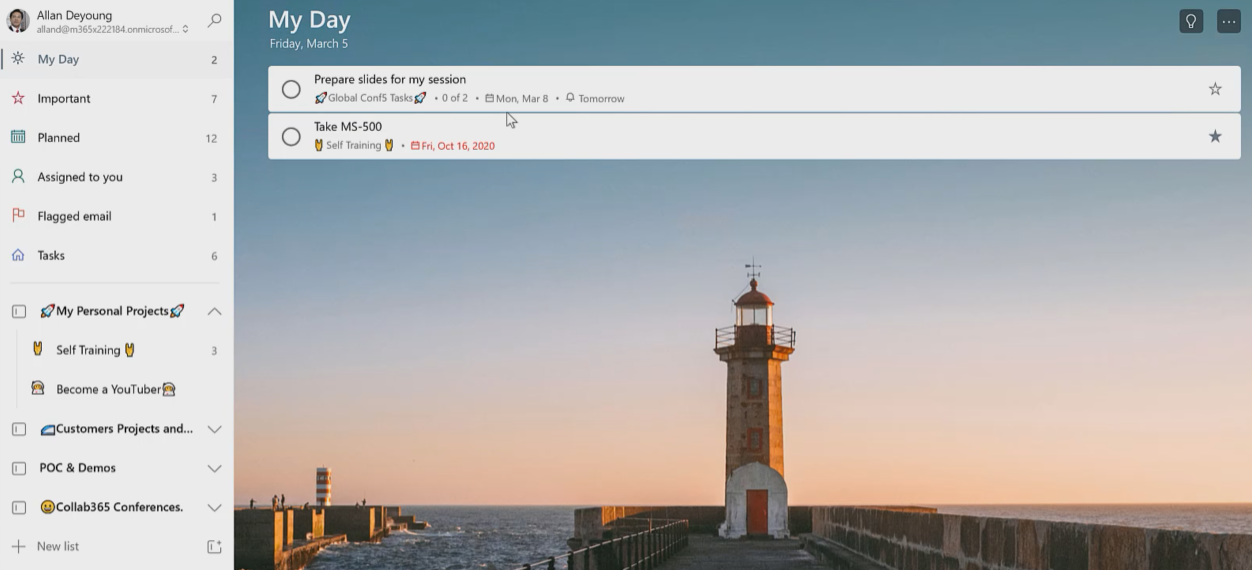 The app provides some extra features, such as being able to set a custom image as the background. This can be set for the app as a while as well as different images and themes for different lists:

One feature that isn't currently available in the desktop app though, is the ability to assign categories to tasks.
Lastly, To Do is also available as a mobile app for Android and iOS: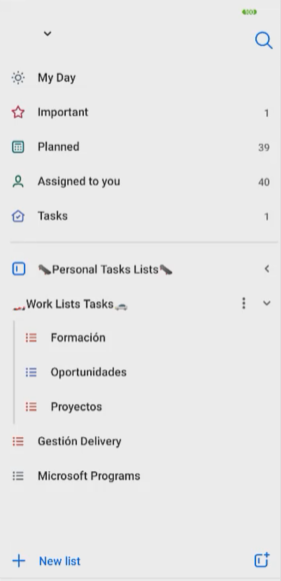 It is important to note that when you are signed into different devices, all your changes are synced, so if you add a task via the mobile app, it will be available on the desktop and web apps as well.
Planner
Planner is an app that can be used to create a simple, organized experience for a team. Plans created in Planner can be managed in Teams, and you can access relevant assets using robust task cards.
Planner also has the ability to see a plan's visualized status down to who's assigned to what task in a single click. It also provides the same security, compliance scalability and performance benefits as other M365 solutions.
Planner can be accessed from the M365 app list in a web browser: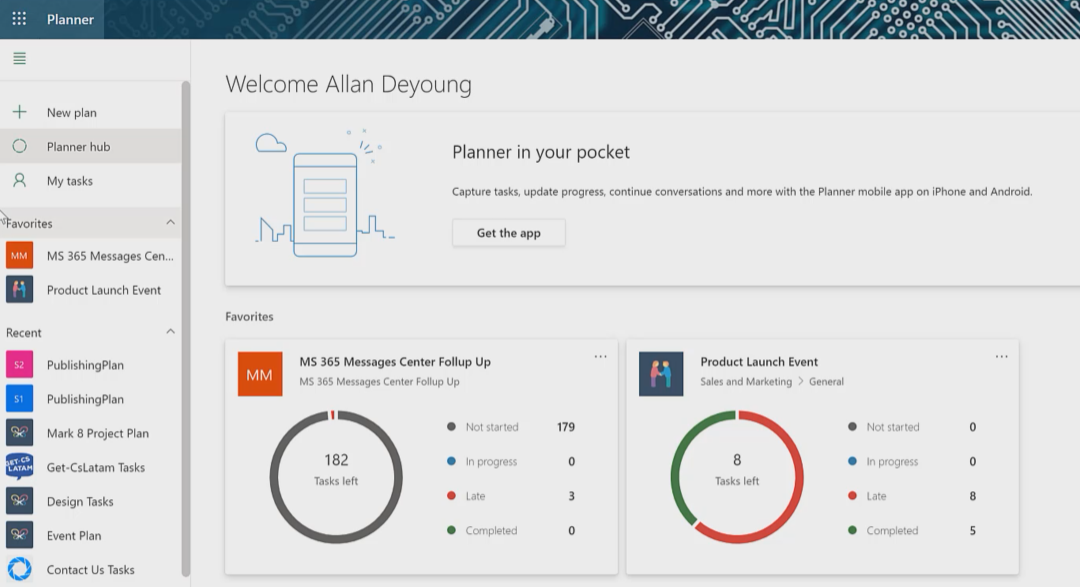 Clicking on a particular plan opens a detailed version of it: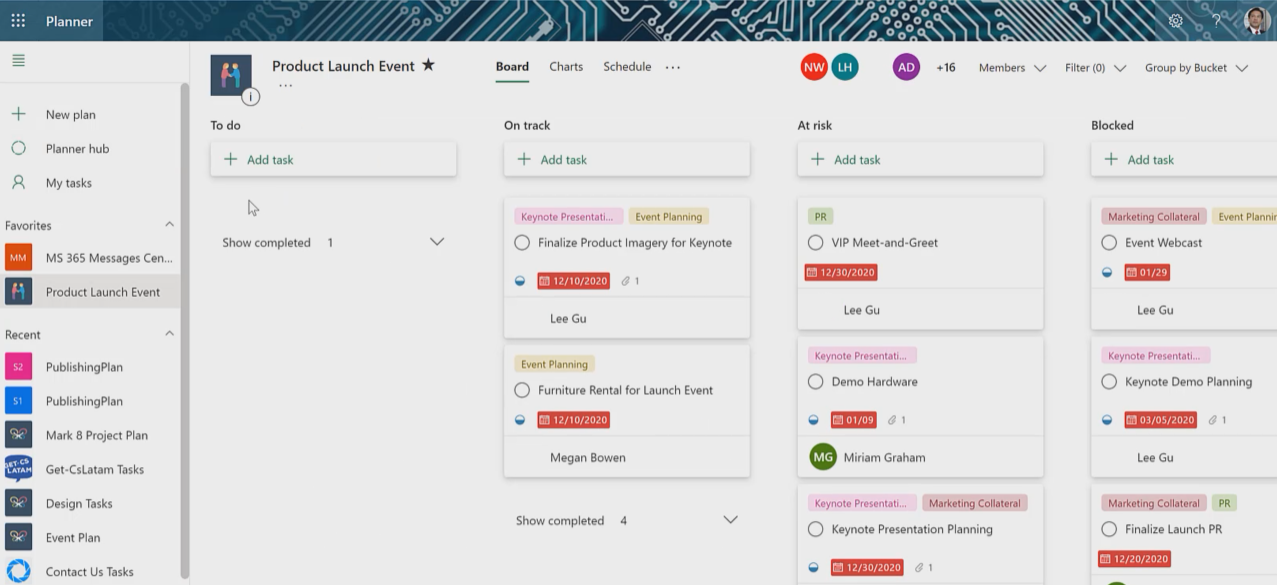 The default view, as shown above, is the Board view. This shows all tasks for a plan in buckets, which are containers for tasks of the same category. In the above example, these buckets are organized around the task status such as To do, On track, At risk etc.
Clicking on a task allows you to edit its information: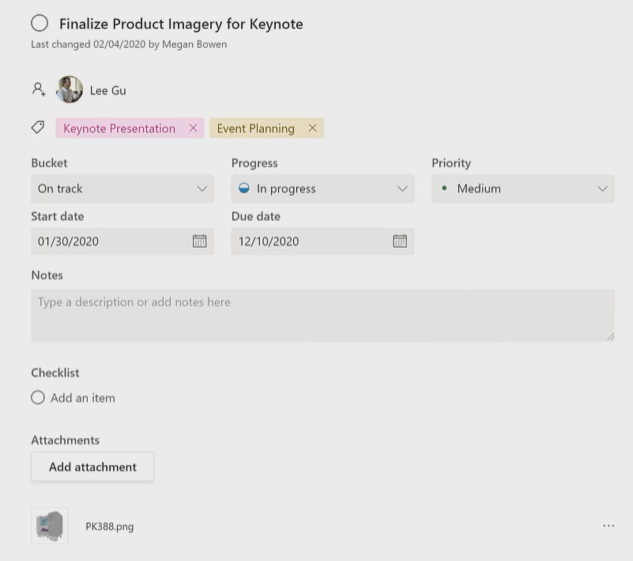 You can assign multiple categories to a task, and it's possible to create up to 25 custom categories in a plan. You can also set information such as the bucket that the task is in, its progress, priority and start and end dates. Notes and files can be attached to the task, and it is also possible to create a checklist to break the task up into multiple steps if required.
New tasks can be created from the overview screen, and the only information you need to enter is the task name, due date and person/people that the task is assigned to: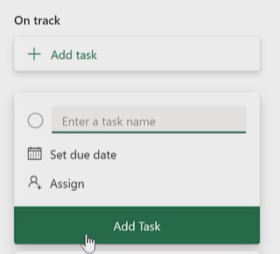 The Charts view allows you to see a visual representation of your plan with charts showing task status, bucket and priority information. In this view, you can still add and edit tasks using the task cards on the right-hand side of the screen:
The third view is the Schedule view, where you can see a calendar style view of the plan: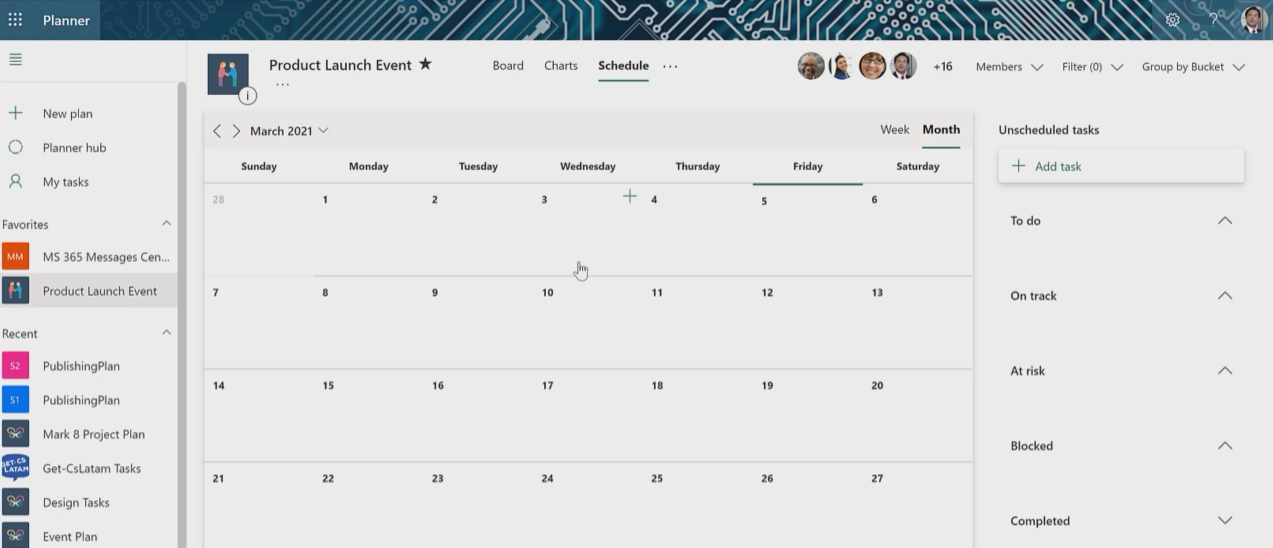 In any of the above views, the tasks displayed can be filtered and grouped based on information such as person assigned, progress, dates, priority and labels.
Tasks in Teams
We have already mentioned Outlook as a hub for accessing and managing tasks, but there is also another hub where this can be done – Microsoft Teams. Teams is already a hub for teamwork as it allows people to communicate using threaded discussions, intelligent meetings and cloud-based telephony.
Users can also use Teams to share and collaborate on Office documents directly in the Teams app and also add third-party solutions and integrate workflows. This is all underpinned with built-in M365 security and compliance standards.
Tasks in Teams integrates both To Do and Planner tasks, so you can manage both personal and team tasks in one view: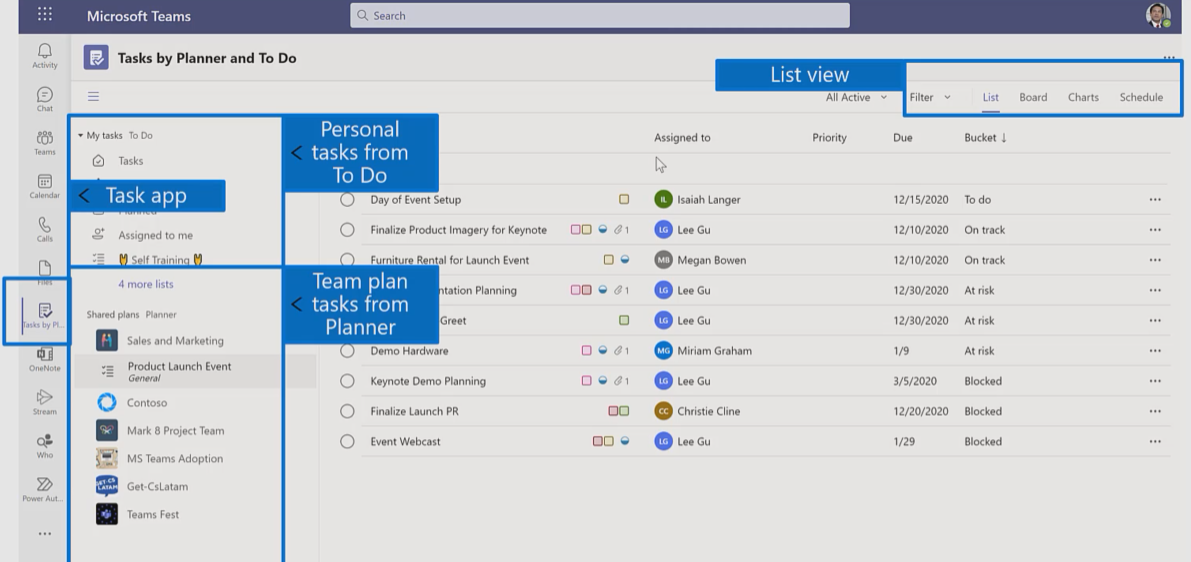 The left-hand section of the app shows personal To Do tasks and team Planner tasks, and the same views from the Planner app are available.
The Tasks in Teams experience comes as either an app, which shows both Planner and To Do tasks, or a tab that can be added to an individual team channel, but this only shows Planner tasks. The Tasks app is enabled by default in Teams, but it can be disabled by Teams admins in the Teams Admin Centre. It is currently called Tasks by Planner and To Do but will change to Tasks.
Some key features of Tasks in Teams:
Available in Teams desktop, mobile and web clients. Guest users can access the Tasks tab, tasks assigned, but they will only see the app on mobile
Four default views available: Board, Charts, Schedule (coming from Planner) and List (new view)
Edit multiple tasks at once through list view
Tasks publishing – create tasks at the corporate level and push those tasks to targeted teams
Graph API and Power Automate support to enable Tasks integration in other apps
As with Planner, tasks in Teams can be filtered by dates or priority: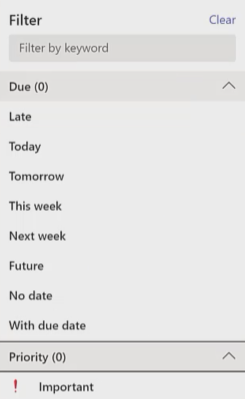 There are also separate views to show current and completed tasks: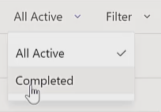 Also, in the same way as To Do and Planner you can click on a task and edit it. The editing options depend on what type of task you open – the first task shown below is a Planner task and the second a To Do task: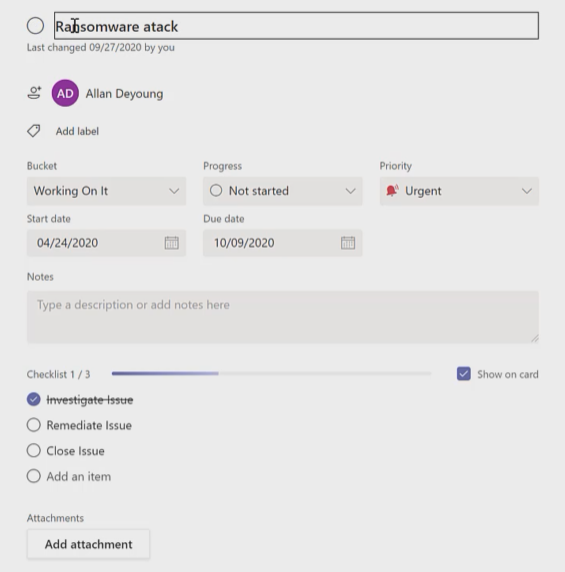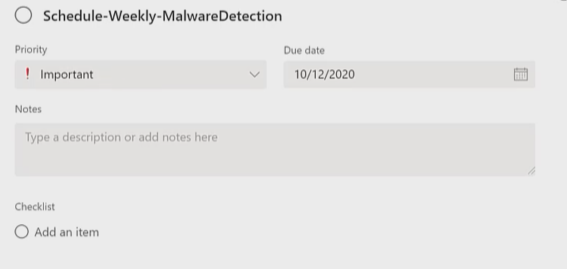 When you add a task in the Tasks for Teams app, you will be prompted to choose where to store the task. This can be in one of your To Do groups or in a Planner plan: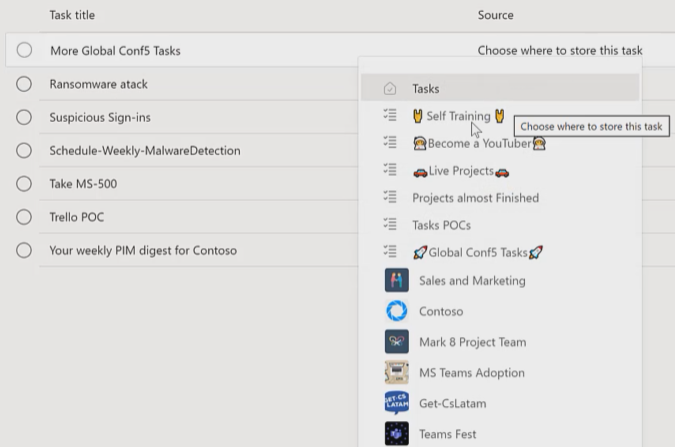 As mentioned previously, the Tasks app in Teams is also available in the Teams mobile app: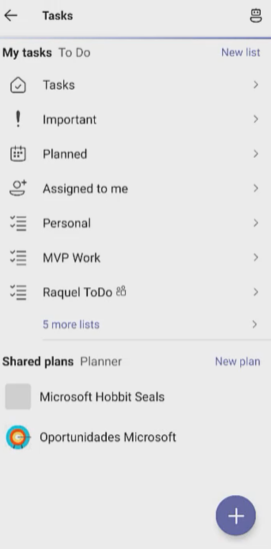 Tasks Publishing: Centralize Tasks Creation
Tasks Publishing is a recent feature to centrally create tasks at the corporate level and publish those tasks to targeted frontline locations (stores, clinics, factories etc.). In order to use Tasks Publishing you have to first set up a Team targeting hierarchy, so tasks can be published to a large set of teams.
A Team targeting hierarchy defines how all teams in the hierarchy are related to each other, which users can publish tasks and which teams users have permissions to publish to. A targeting hierarchy is made available in Teams by publishing a hierarchy file with PowerShell.
There are some considerations when working with Tasks Publishing:
Before creating the schema that defines the hierarchy, some planning is required (for instance, decide which groups in the organization can publish tasks)
Permissions to publish depends on whether a user is a member of any teams in the hierarchy, plus the relationship of that team or set of teams to other teams in the hierarchy. Team owners can always publish tasks.
Only one hierarchy file can be applied per organization
A team can only be represented once in a hierarchy
A hierarchy can contain up to 15,000 nodes, although Microsoft plan to work with customers to raise this limit for large organizations
An example hierarchy is shown below: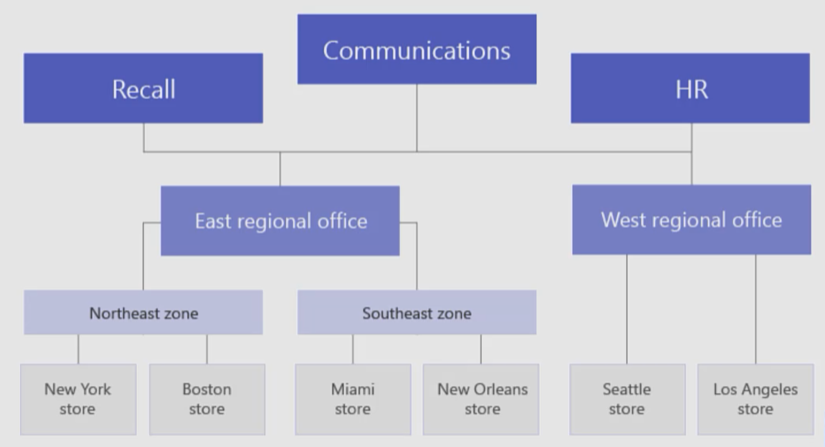 Once you have defined a hierarchy, a Published lists tab will be available on the Tasks app:

Once tasks have been created in this section, you can then publish them to the relevant teams. As you can see below, it is also possible to filter teams, which is useful if there are large numbers of teams in your hierarchy: