Microsoft Lists is a new Microsoft 365 App that takes SharePoint lists to the next level. Users with no technical skills can create simple business apps without a single line of code. This eBook explores the different types of list available and shows you how they work in both Microsoft 365 and Microsoft Teams. You'll learn how to create and manage lists and enhance them with a range of customisation options.
What are Microsoft Lists?
So, what are Microsoft Lists? Evolution of SharePoint lists or just SharePoint lists with steroids?
Microsoft Lists are simple because you can easily create, share, and tracklists with anyone on any device. They're smart because you can keep everyone in sync with rules and quick edits. They're flexible because you can customize your lists for whatever your business needs are.
Main features
Microsoft Lists are easy to provision. By default, there are eight built-in templates that simplify the process of creating lists. You can also create lists from scratch, from Excel and from an existing list.
There's great user experience and flexibility. When you create a list, you can create it as a personal list or as a list in 'My sites'. You can customize any Microsoft List with different views, such as Calendar list view, Gallery view and (on the way) Gantt list view. You can perform a lot of actions with the inline image field and the comments field. The Microsoft Lists mobile app is coming soon.
You can work in a smart and productive way:
Edit data faster with inline editing
New people, choice, hyperlink, date and time and Boolean editors
Edit fearlessly with 100 undos/redos
Sticky column and sticky header (rolling out)
Fixed height/autofit height
Title column renaming
Microsoft Lists are easy to share:
You can grant access to your personal lists
You can share links to lists in the standard Microsoft 365 way with company-sharable links, anyone links, expiration dates and passwords
Microsoft Lists can be customized by means of views:
Adding calendar views and gallery views to the list
Customizing list form editing experience, including header, body, and footer
Applying format to a list view: predefined customizable layouts or just writing your own JSON
Applying format to list columns: predefined customizable layouts or writing your own JSON
You can easily enhance Lists with Power Apps and automate them with List rules and flows (using Power Automate).
Some existing Microsoft Lists limits
It's important to bear in mind there are some limits to Microsoft Lists, although this is
likely to change in the future.
| | |
| --- | --- |
| Limit | Value |
| # of items that can be stored in a List | 30 million |
| # of items that can be stored in a List so permissions inheritance can be broken | 100,000 |
| Maximum # of unique permissions | 50,000 |
| Recommended limit of unique permissions | 5,000 |
| Role assignments per uniquely permissioned item | 5,000 |
Some of these limits will change with the arrival of Project Nucleus and List performance improvements being cooked up by the team.
Demo: A first look at Microsoft Lists
If you have Microsoft Lists in your environment, you'll have a shortcut in your Apps panel.
In the Lists home screen, you can see your favourite lists. To mark a list as a favourite you hover over it and click on the star, and it appears on the top.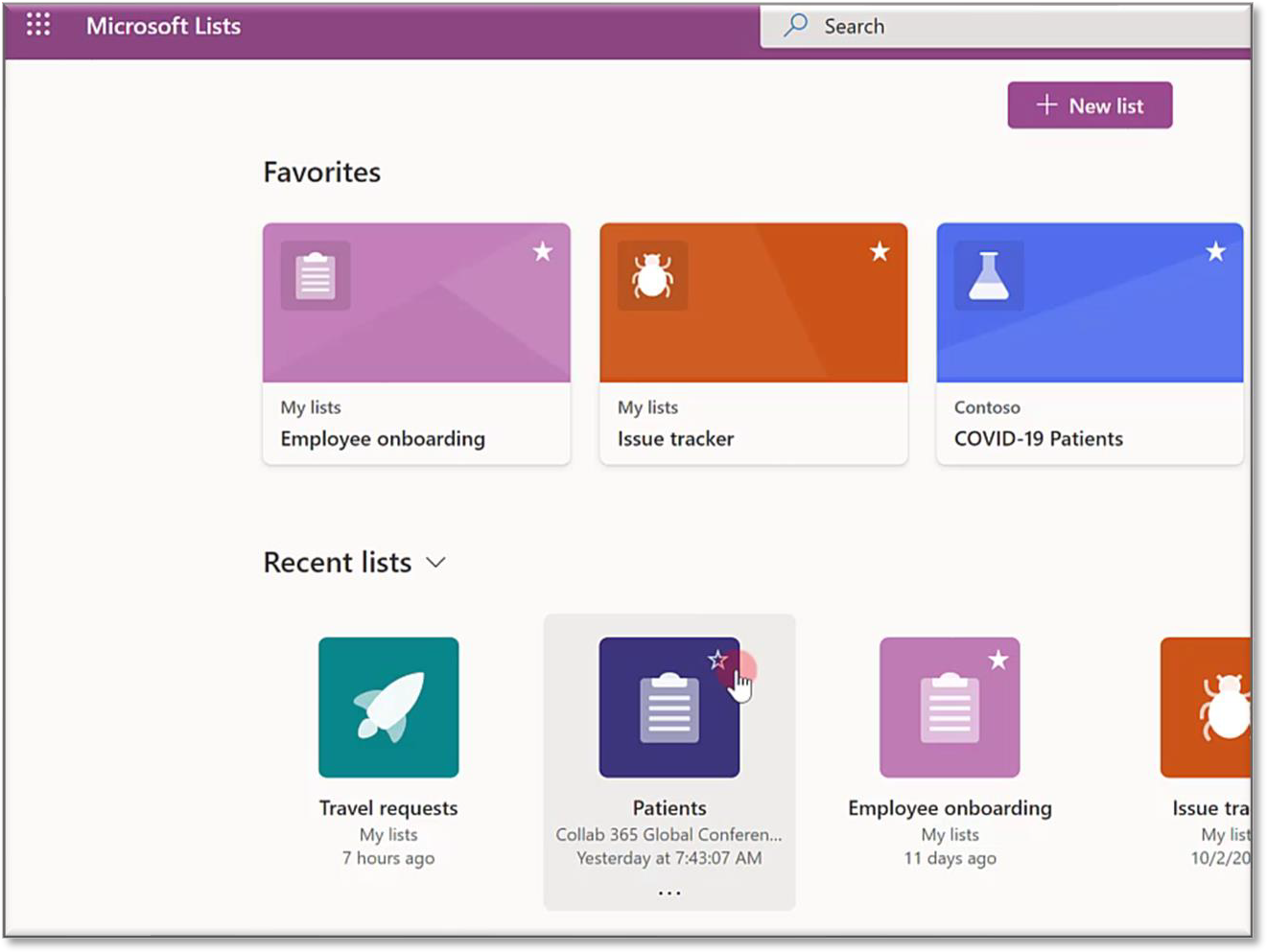 You can see your recent lists. These include your personal lists as well as any lists created on SharePoint sites to which you have access. You can choose to display only your personal lists. You can also filter and search lists.
Creating a list
To create a list, click on 'New list'. You then have three options: Blank list, From Excel and From existing list.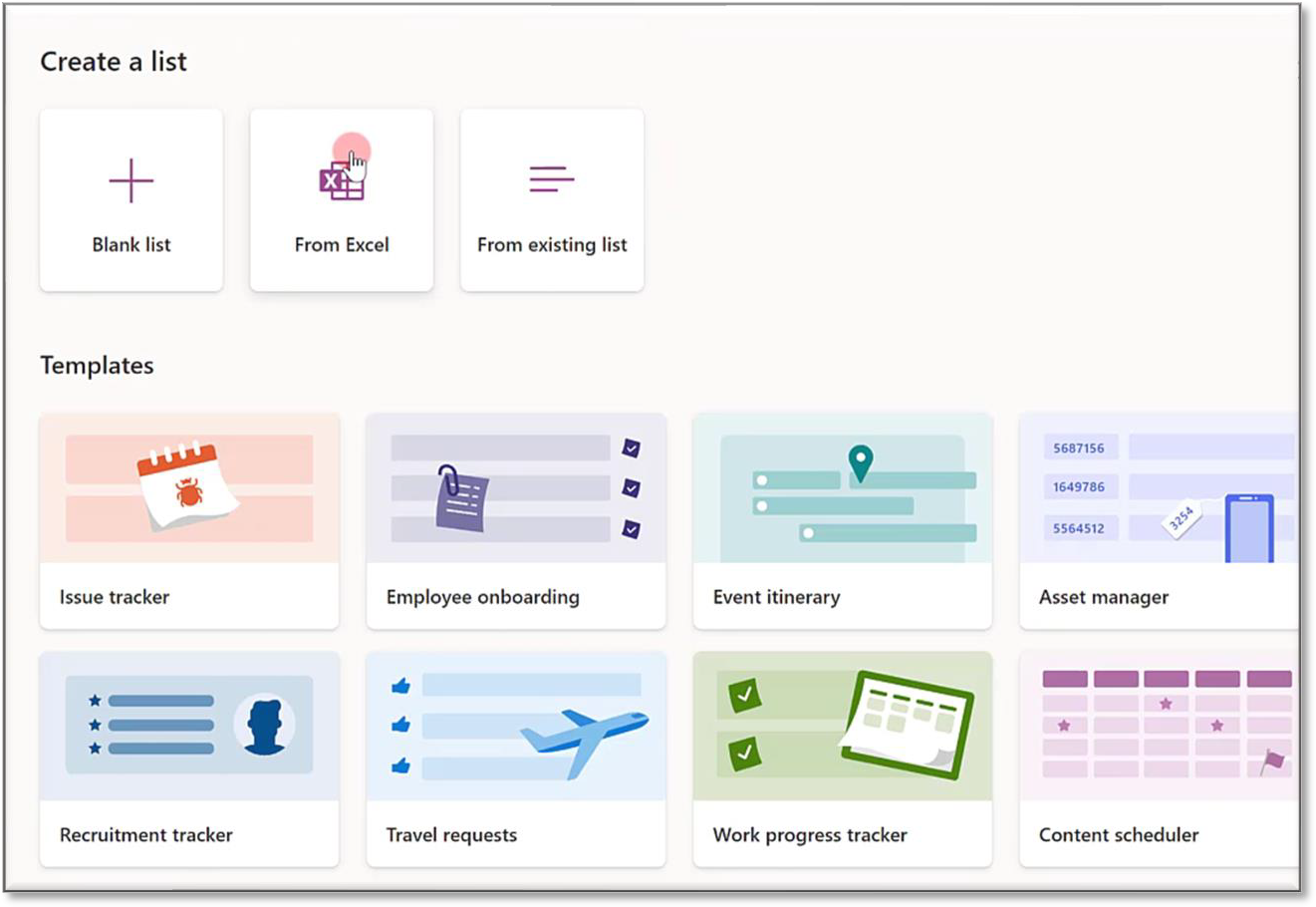 We'll choose the From Excel option, select an Excel file from the file structure and then click on 'Next'. In the wizard, we can select the data table we want to use for creating our list. You can see the different columns that have been added by the wizard. You can choose to change the data types for the columns or decide not to import a column.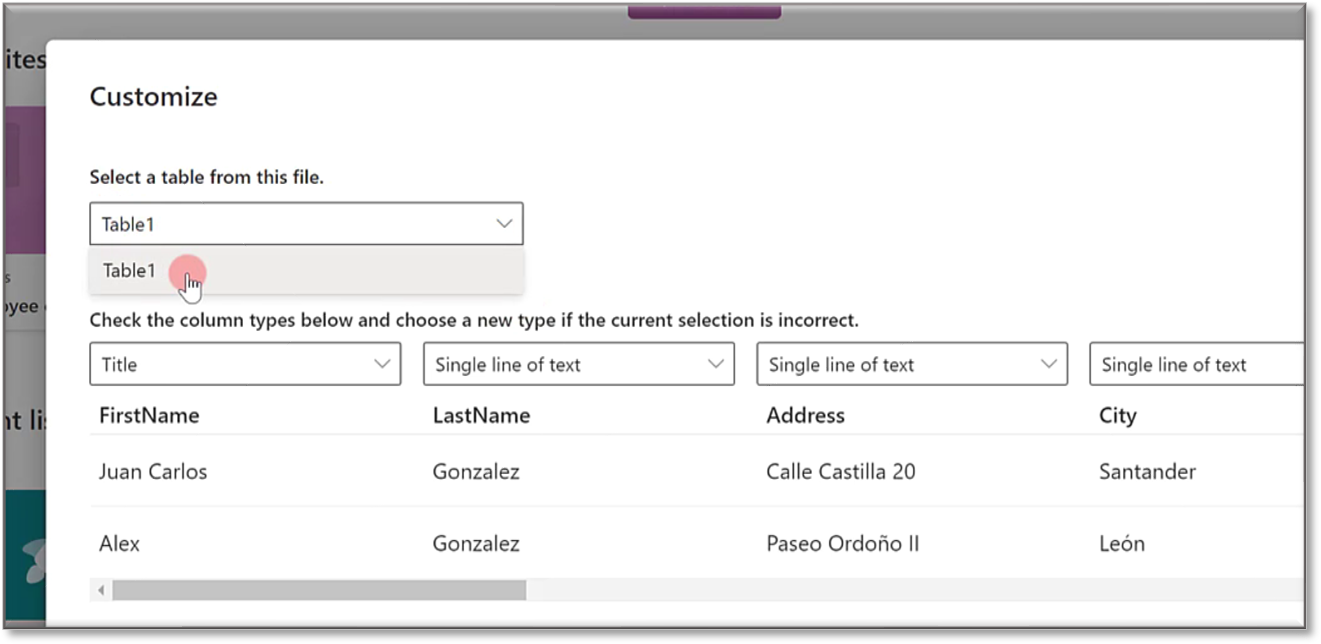 We'll change the City field to be a Choice field. We'll change the Country field to be a Choice field too, set the Phone field to be a 'Single line of text' and make a few other changes. We're prompted to name the list, give a description, and choose a colour and icon.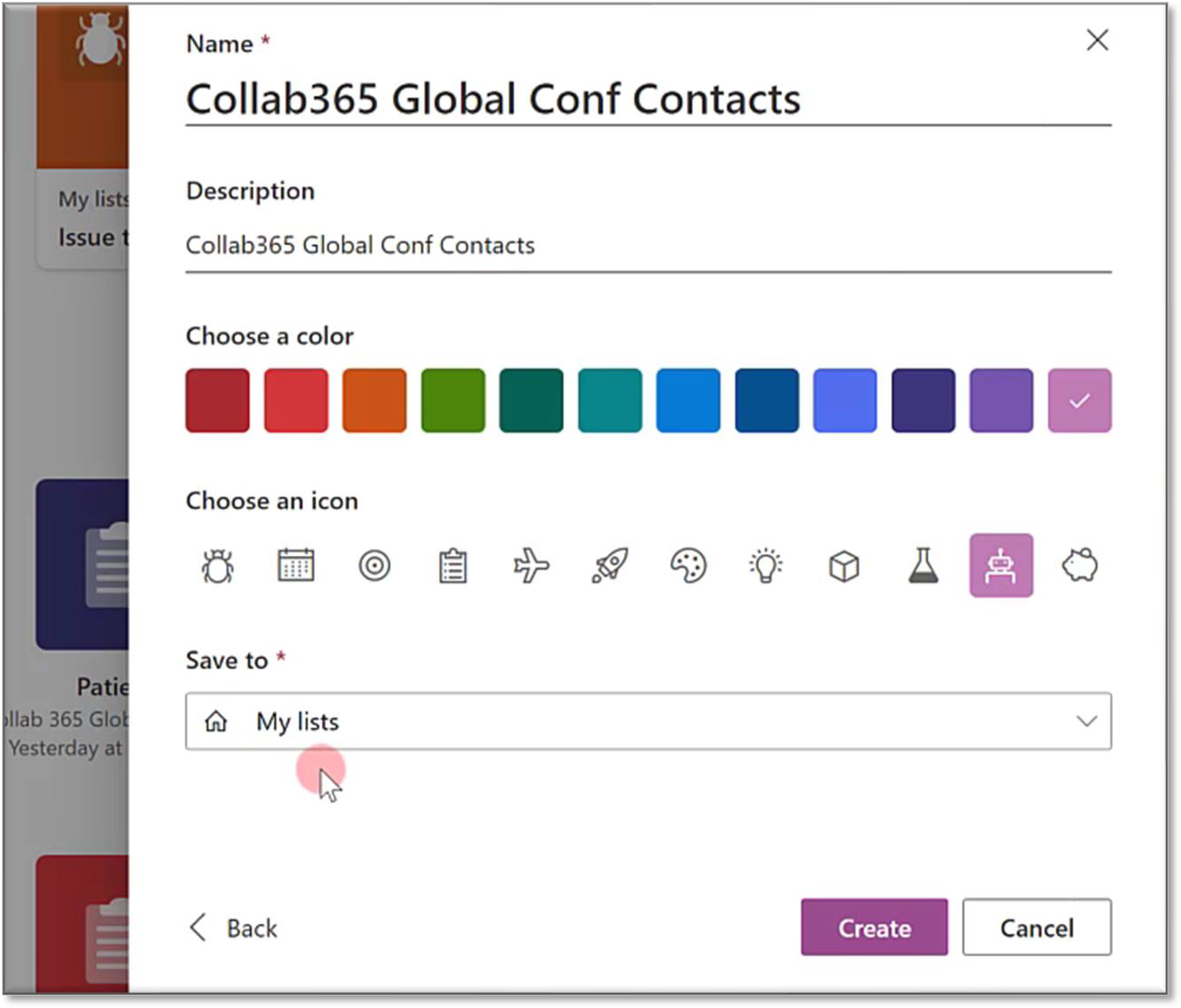 We then save the list to a site and click 'Create'. The list appears in the site and we can see that the changes to the columns we made have been reflected in the edit panel.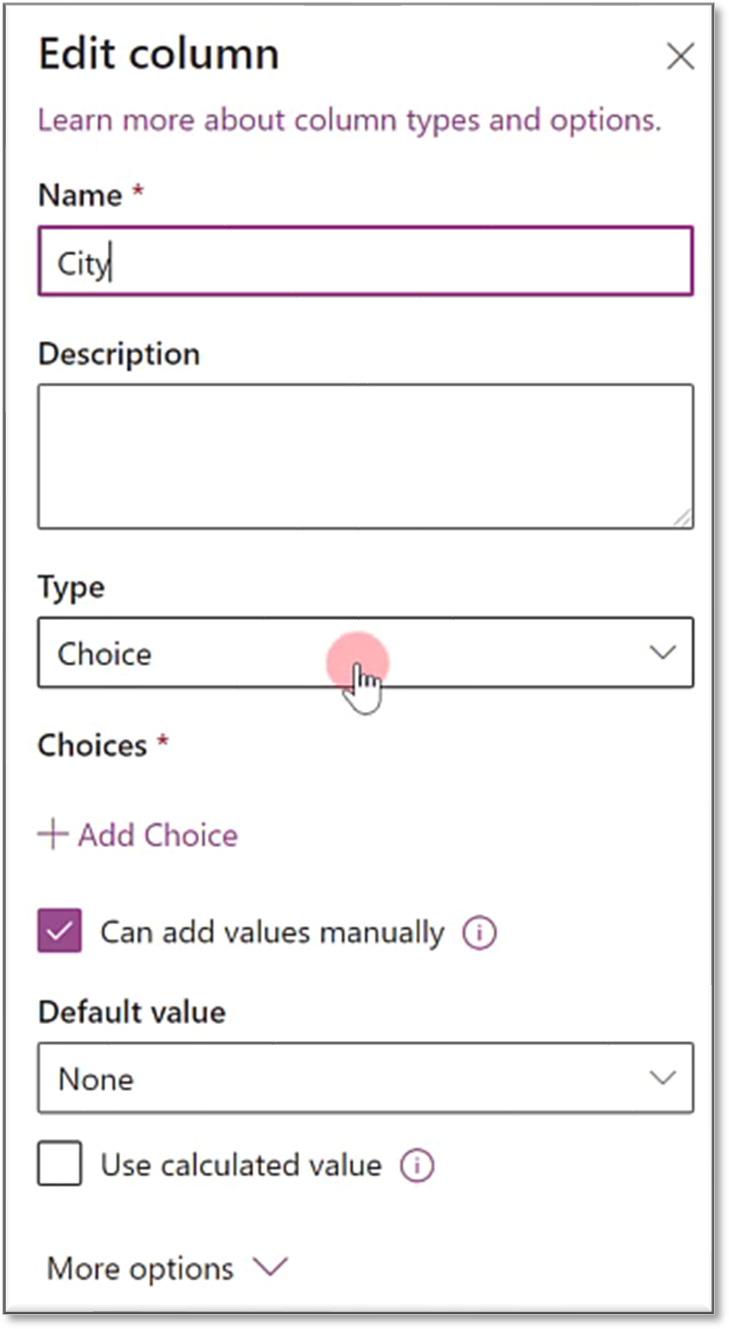 We can make changes to the columns here. We'll format the City column to use 'Choice pills'.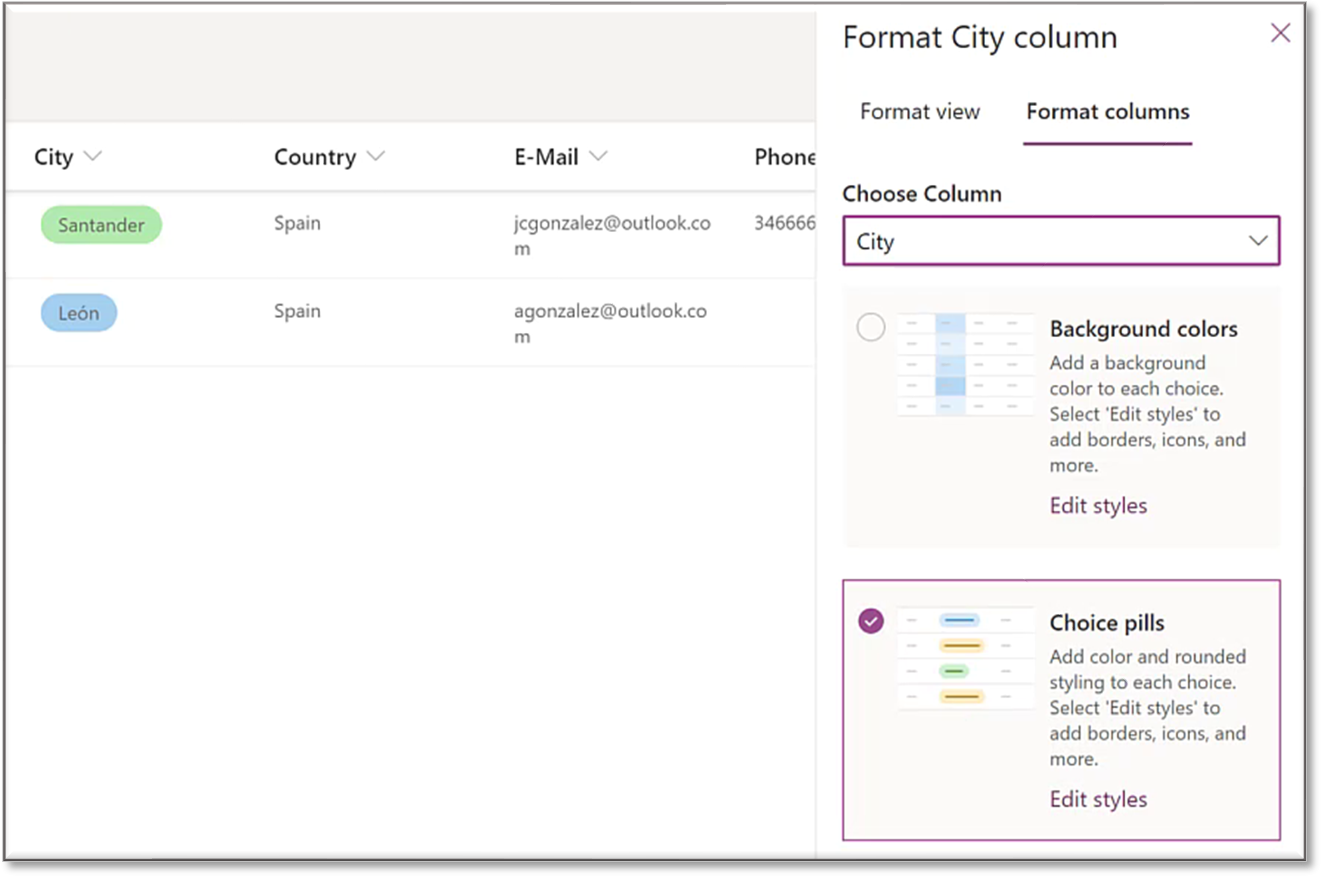 The list is going to look beautiful! You can make further customizations including choosing the colour to be used depending on the value, changing the font, icon, and border style. The process is very straightforward.
Creating an issue tracker
We're now going to create a list from the Issue tracker template.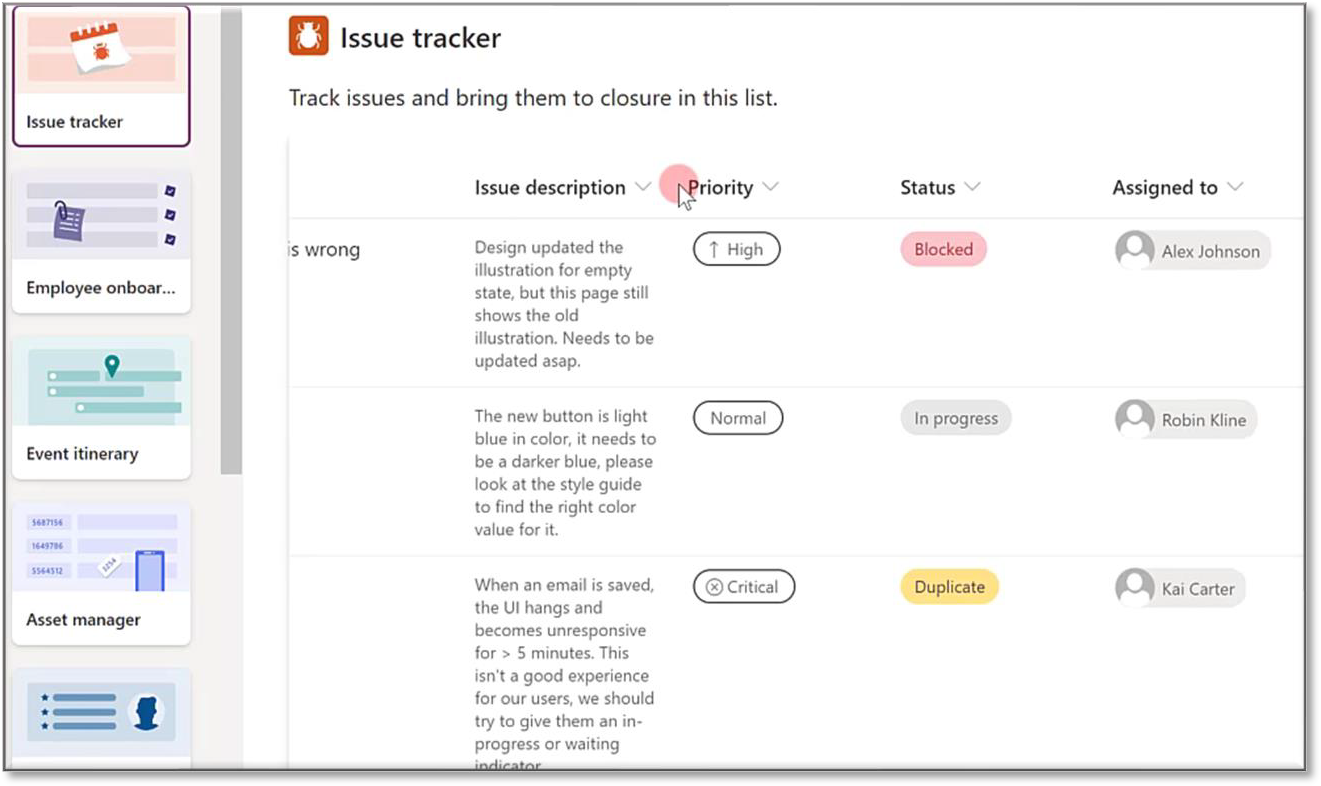 When you create a list from a template you can see in the wizard the customizations that have already been applied. This time we'll save the list to 'My lists'.
In the new list, we can start adding information. We'll click 'New' and start adding items in the list form: the name of the issue, a description, priority, status, assignee, date reported, images, and so on.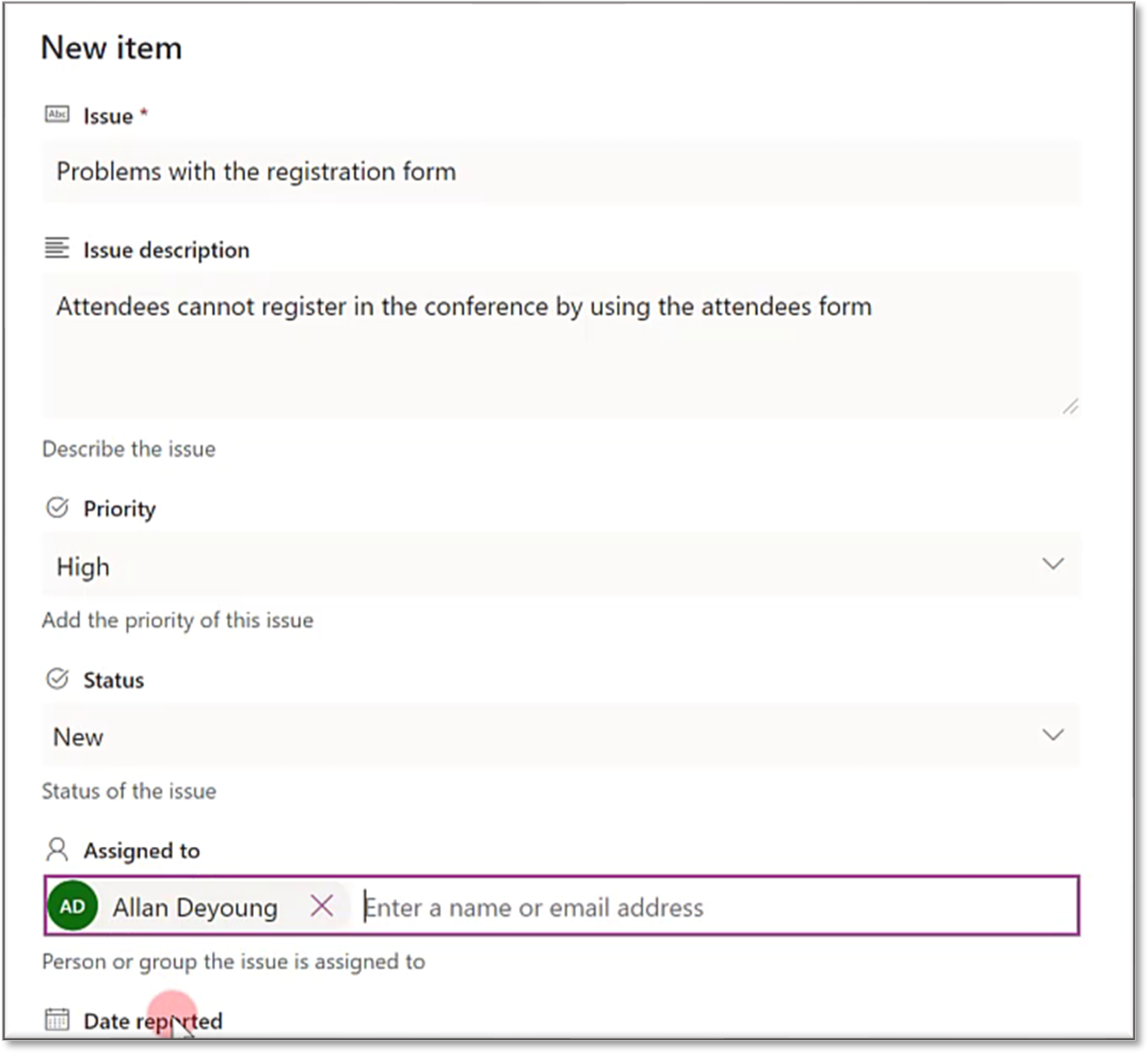 When you save it, the item appears in the list. You can make changes by clicking 'Edit in grid view'. You can add new items in this view too.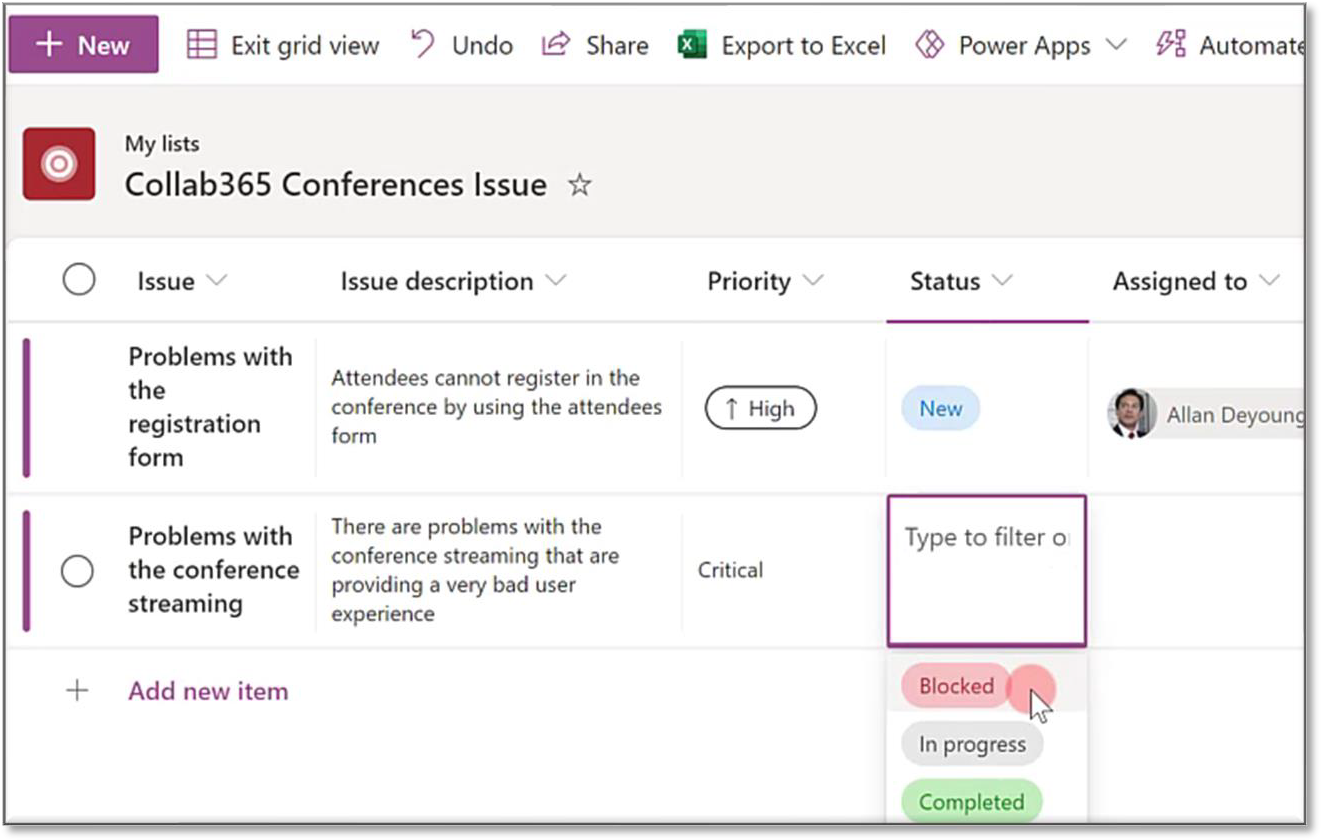 You can undo your changes at any point by clicking on 'Undo'. There's a lot of
productivity when working on list items.
When we exit grid view, we can see the background of one item is a different colour.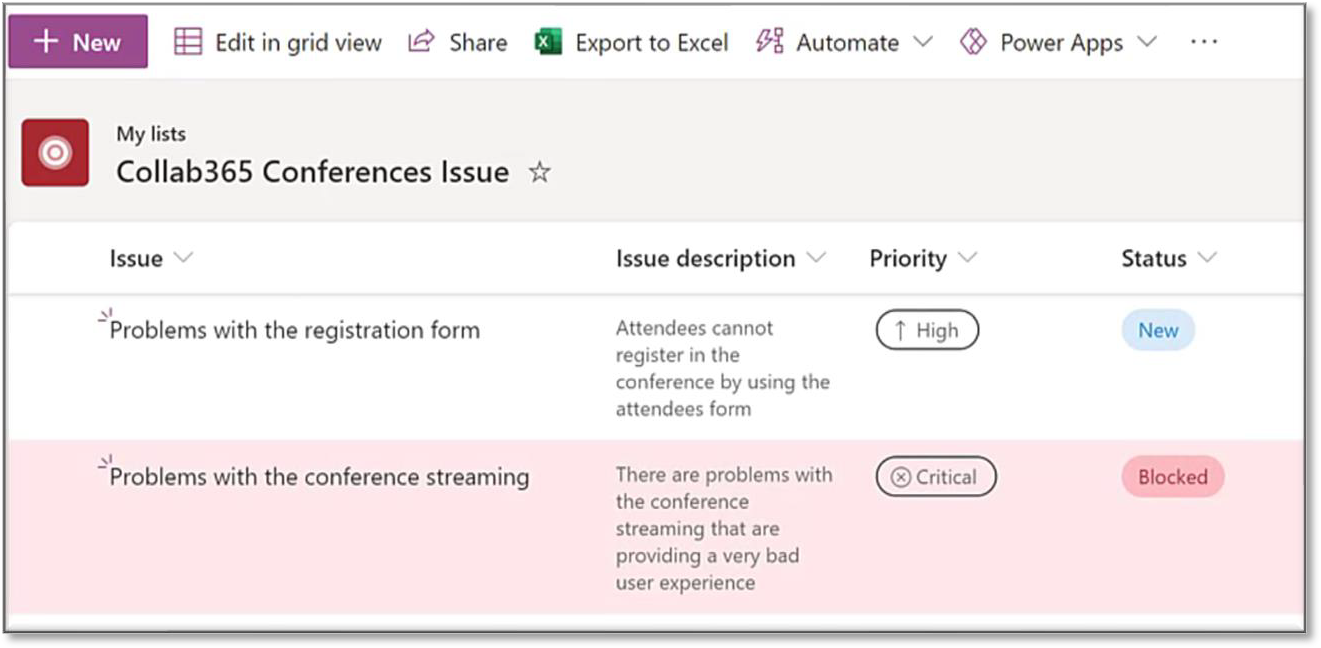 This is because of the in-built formatting of this template. If you click on 'All items' and then 'Format current view', you can see that this template is using conditional formatting. The condition applied this list is 'If Status is equal to Blocked…the
background is pink'. You can customize this as you like, adding different colours, borders, and making the text bold.
You can format each individual column. For example, you might want the Status column to display an icon.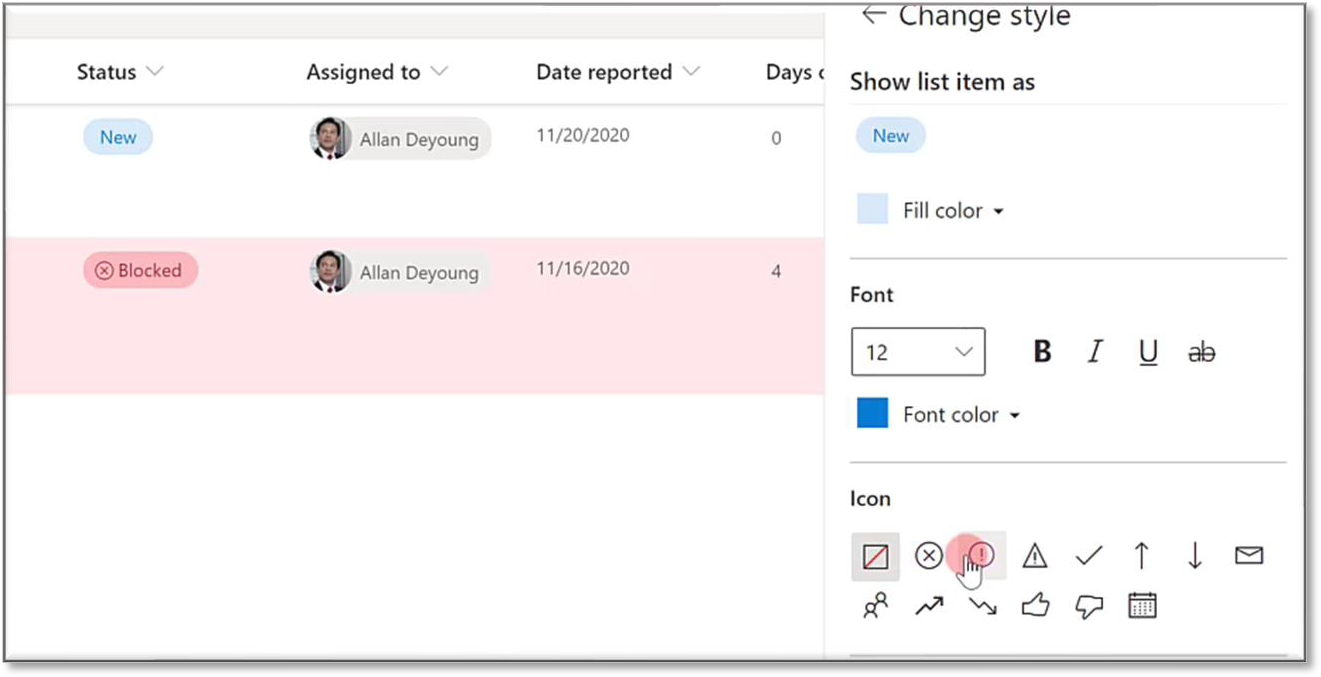 Gallery view
Gallery view displays your list items in cards. Select All items/Gallery. You can customize this view as well by clicking on 'Format view'/'Format current view'. This view is using 'Card designer'.

You can edit the cards – for instance, you can choose whether or not to show an image preview, assignees, issue logged by, and so on. You can also change the order of the content items.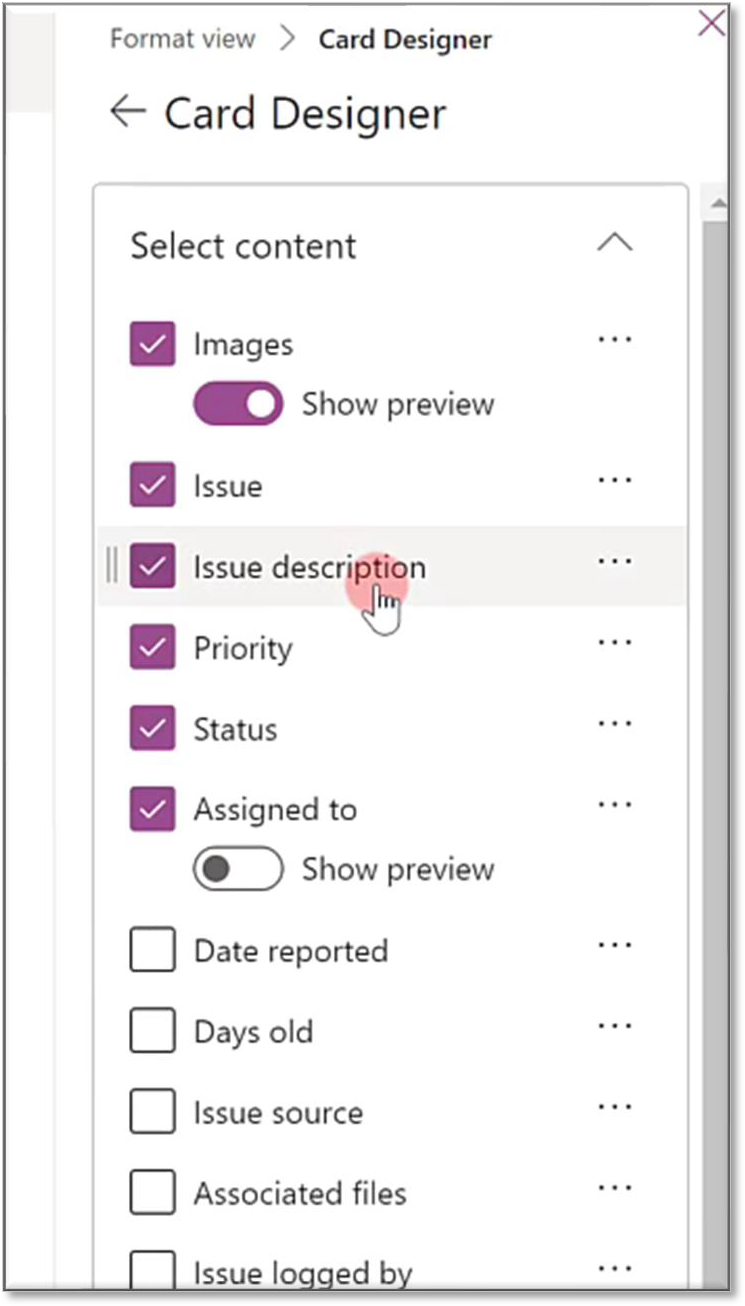 As with column formatting, by choosing 'Advanced mode', you can change the JSON applied to the view.
Creating a calendar view
From All items, select 'Create new view'. In the 'Show as' part of the dialog, we'll select 'Calendar' and name the calendar 'Issues Calendar View'. You can choose the start and end dates of the calendar – in this case, we'll use Date reported for both the start and end date. You can choose to make it a public view or just for you. You can also choose which fields you want to appear. What you get is a fairly basic calendar but, hopefully, Microsoft will provide more options to customize it.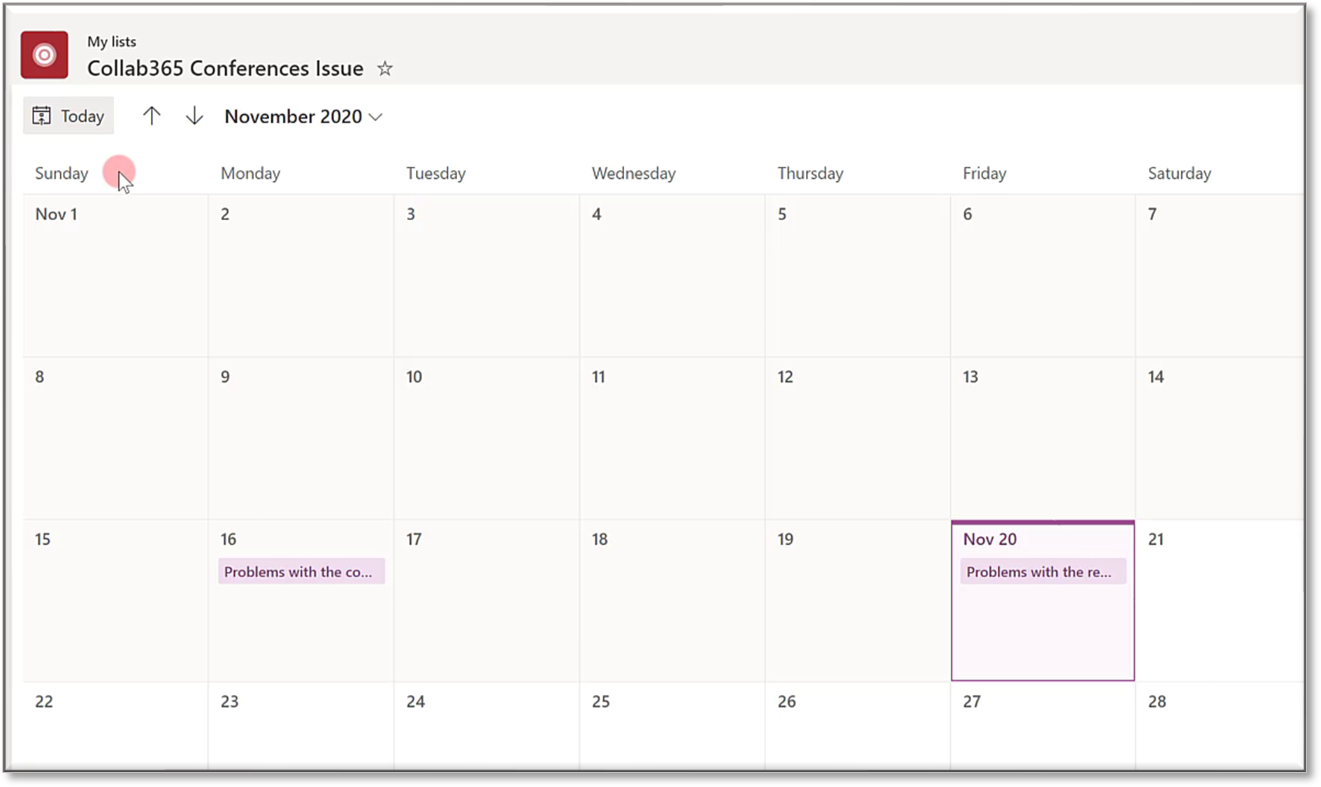 Click on an item in the calendar, and you can see its detail in the right-hand panel. You can click on that to see all the details or on 'Edit' to update the item.
Customizing the Edit form
You can customize the Edit form. Back in List view, we'll click on 'Edit', 'Edit form', 'Edit columns'.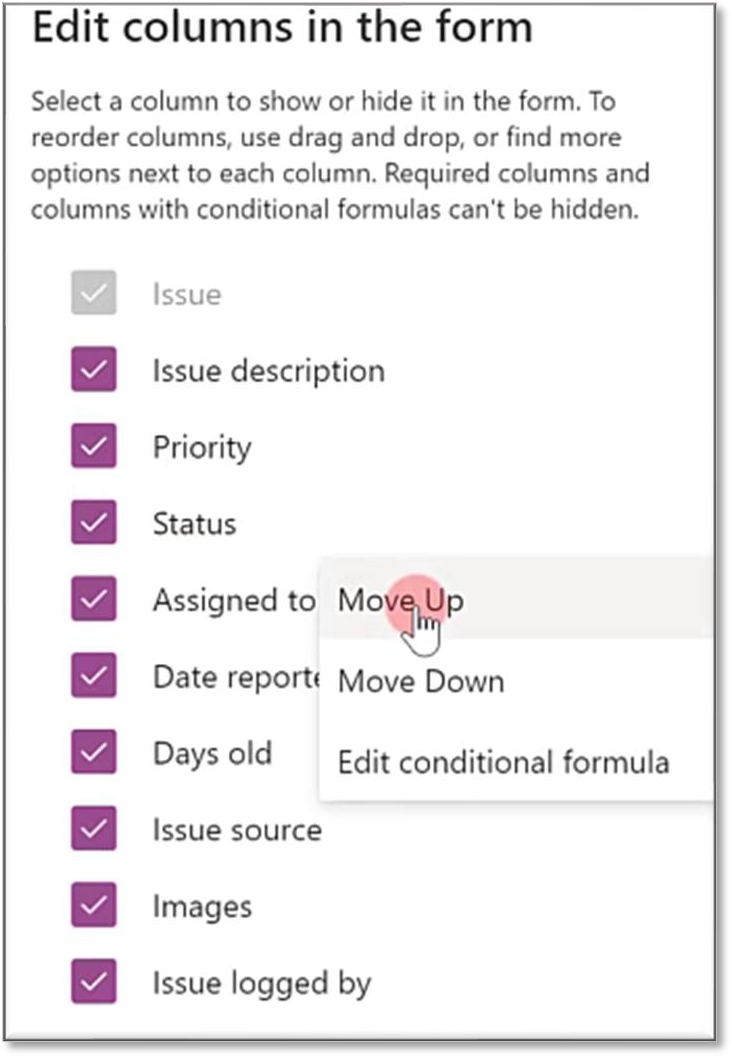 You can change the order of the columns by moving them up or down. You can choose whether or not to display a field (column) using the checkboxes. Even better, you can show or hide a field based on specific criteria using 'Edit conditional formula'.
Adding a custom header and footer
Click on a list item, select 'Edit all', click on the down arrow in the top right, and then
from the dropdown menu select 'Configure layout'.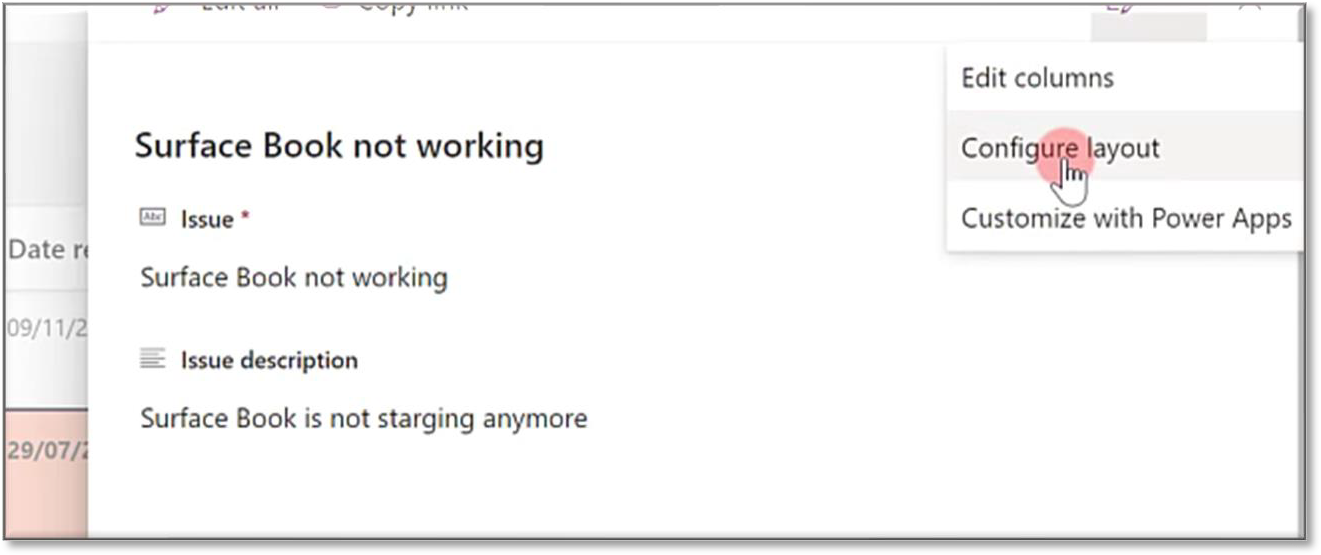 Now you can customize the header, body, and footer of your list by applying JSON script. In this case, the JSON will add an icon to the header and display it in a different font.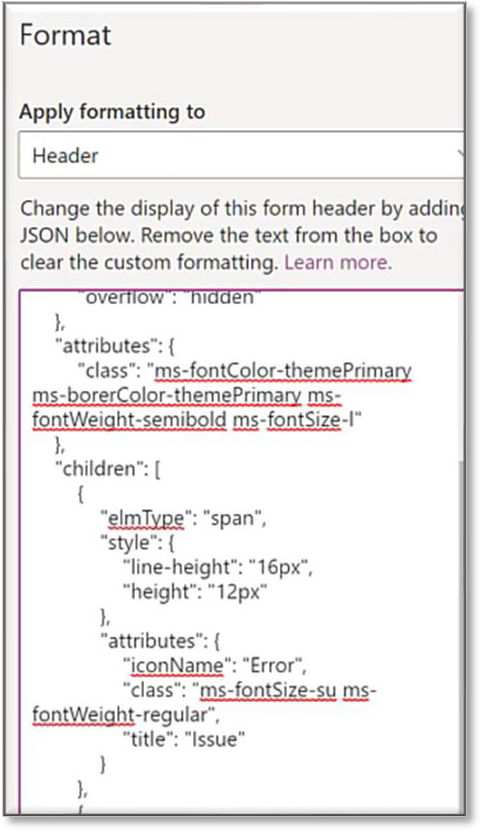 We can see the changes in a preview.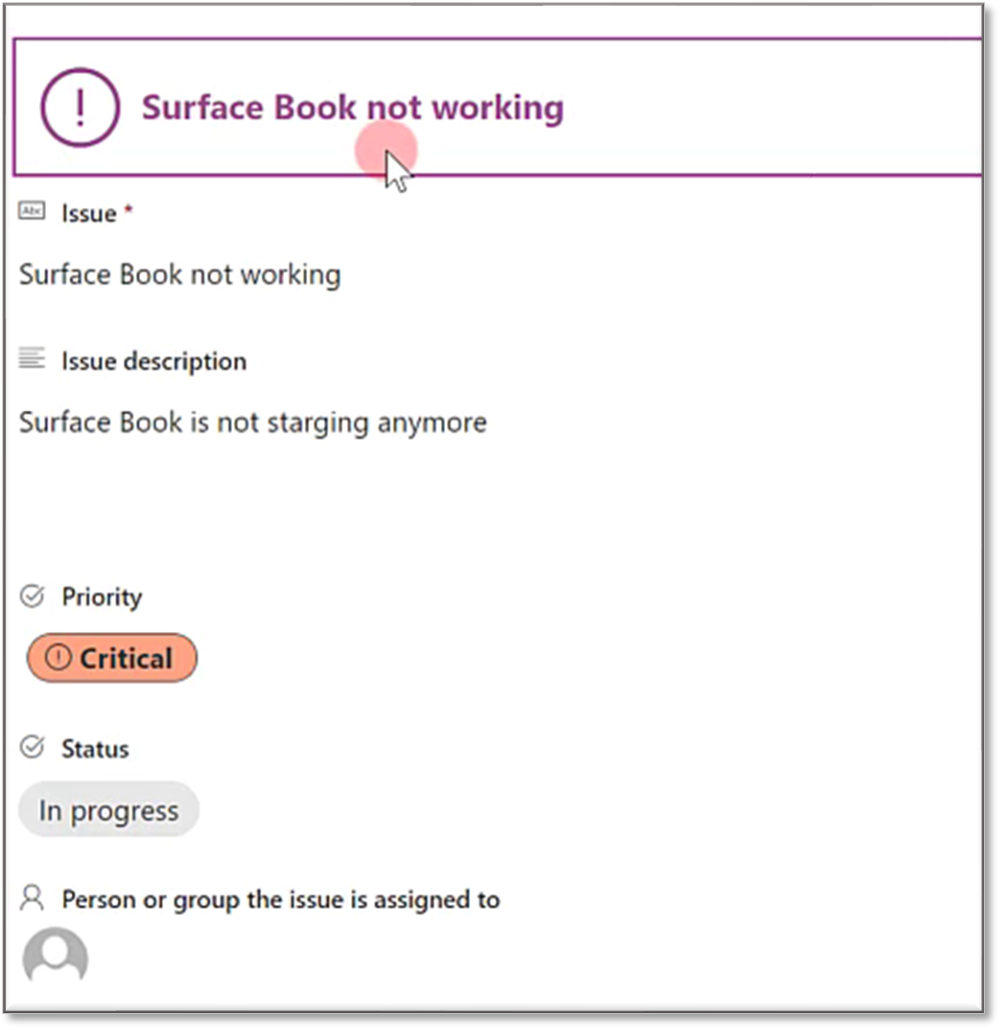 In the next example, we've used JSON to divide up the list form.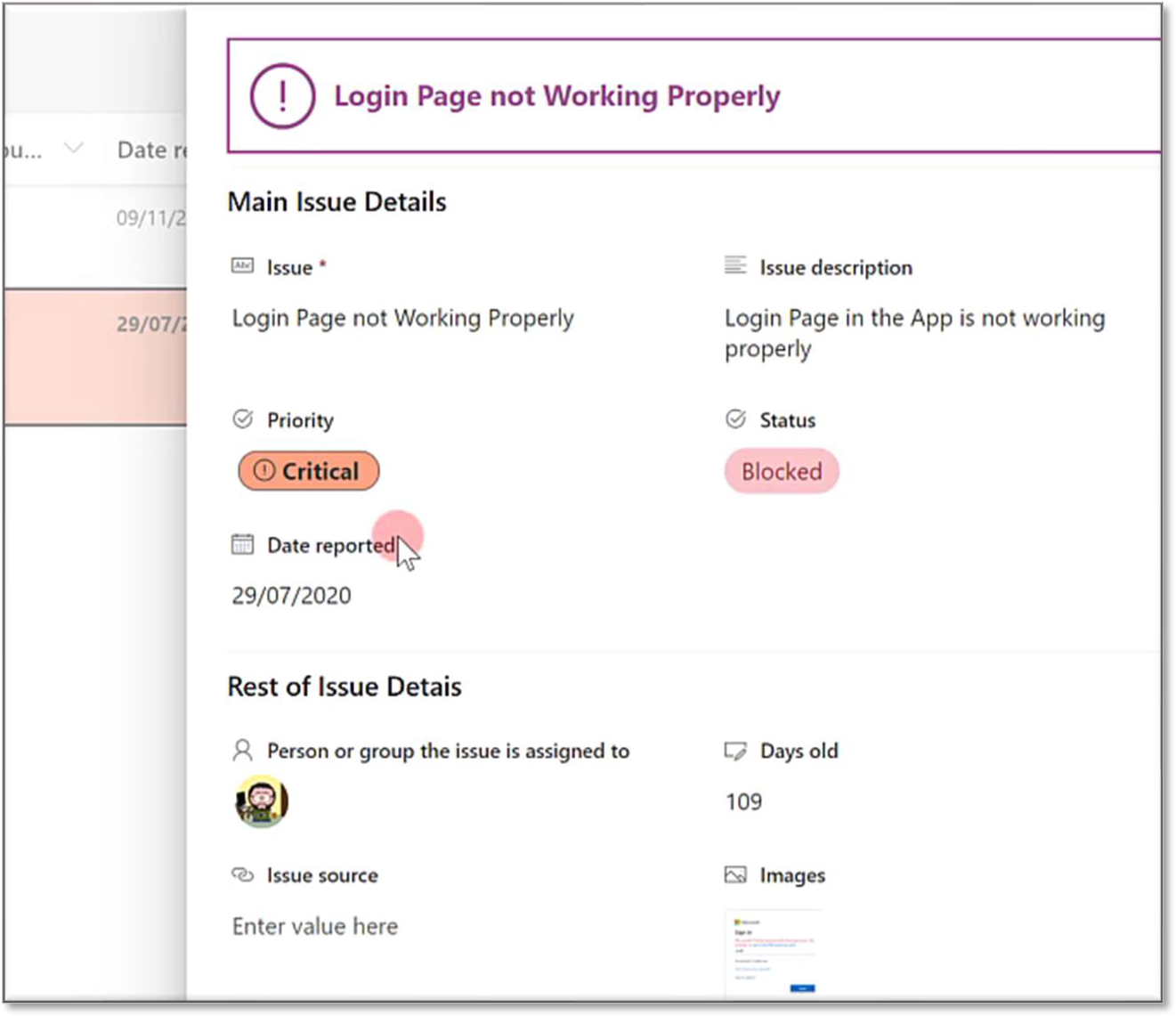 The look and feel is completely different. Don't worry, you don't need to write the JSON yourself, you can just copy and paste pre-written code into the panel. This is just the start of the customizations you can make in Microsoft Lists – it's really powerful.
How do I get Microsoft Lists?
Microsoft Lists is available in any Microsoft 365 Plan at no additional cost
There is nothing you have to do. Microsoft Lists should show up in your tenant as an additional app
Any modern SharePoint list you have in your SharePoint sites is just a Microsoft Lists list
Classic SharePoint lists are still supported, but don't expect any change coming here
Where in Microsoft 365 can I use Microsoft Lists?
You can use Microsoft Lists in the Lists app, in OneDrive for Business, SharePoint Online and Microsoft Teams.
Microsoft Lists in Microsoft Teams
You can add an existing list to a Teams channel as a new tab (a personal Teams app will come at some point)
You can create a new list directly on a Teams channel
You can have conversations on list items, specific to each channel
There are industry-specific solution templates: Incidents, Loans and Patients (more to come in the future)
Demo: Microsoft Lists in Microsoft Teams
Adding a tab in a channel
In a Teams channel, click on the plus symbol to add a tab, select 'Lists' and then 'Create a list'. A selection of templates appears. We're going to choose 'Patients'.
It's the same user experience we've seen in the Microsoft Lists app.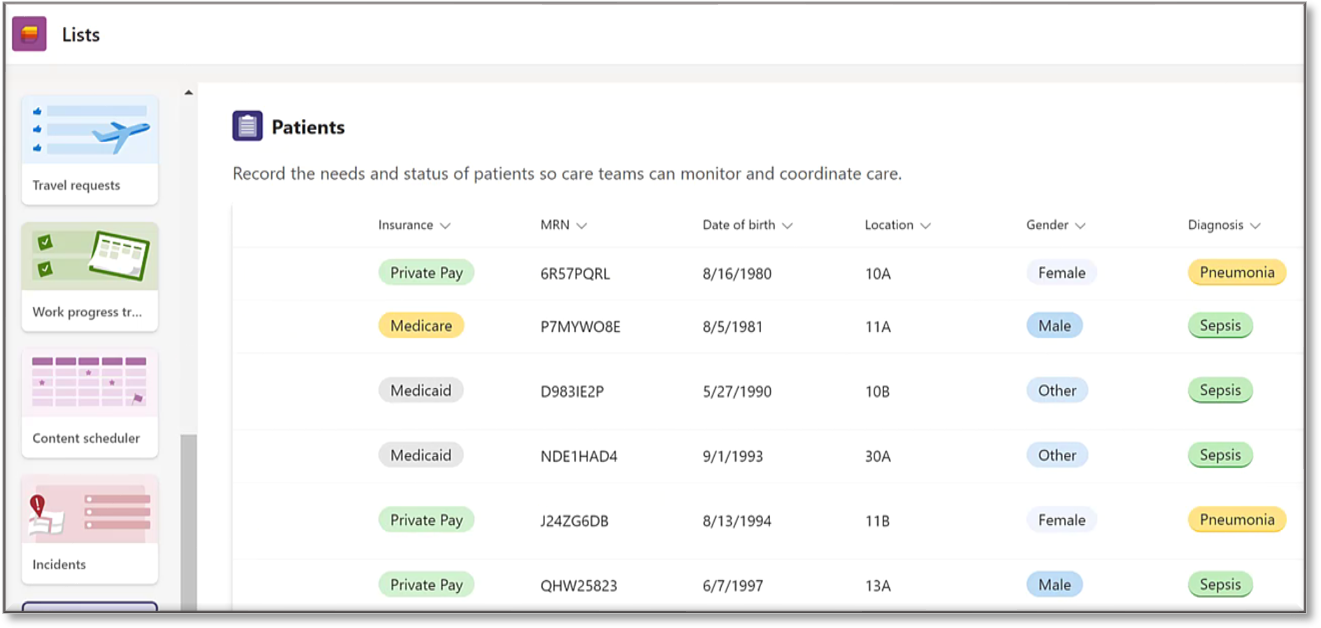 We'll click on 'Use template', add a title, description, colour, and icon. Now you can see your Microsoft List in Microsoft Teams. When you click on 'New item' you can see there are already some customizations on this list. There are different sections that simplify the form-filling process. You can fill in the various fields related to patient care.
You can take advantage of the integration into Teams by changing, for example, to Gallery view or Compact list. You can export the list to Excel or open it in SharePoint.
Work Smart with Rules and Notifications
In Microsoft Lists we will soon be able to create the following rules to notify someone when:

A column changes
A column value changes
A new item is created
A new item is deleted

Set reminders to keep you and your team up to date
Build if/then rules to trigger actions on status and value changes
Send notifications to specified recipients
Demo: Rules and Notifications
Rules in Lists have not been released yet but we can have a sneak preview.
Bear in mind that the user experience may change before it's released. Four templates are available.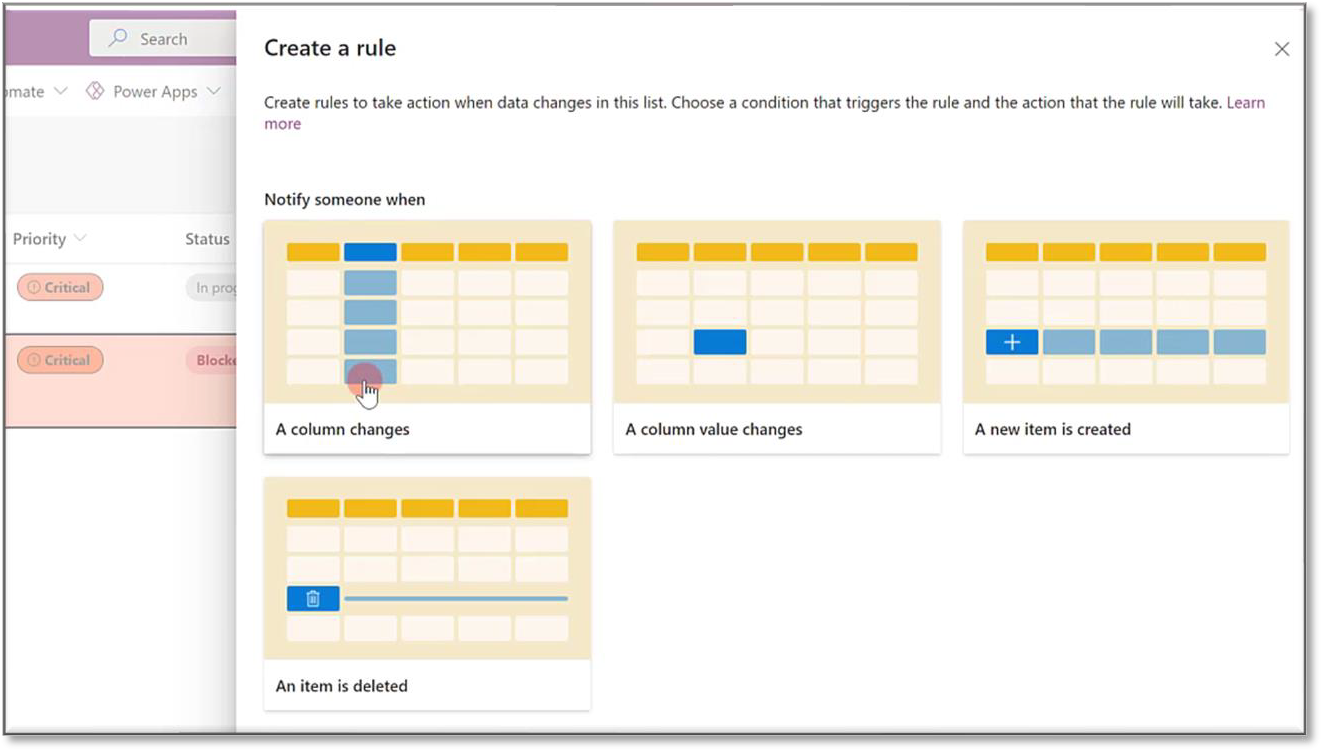 When you click on a rule template you can set it to send an email when something changes.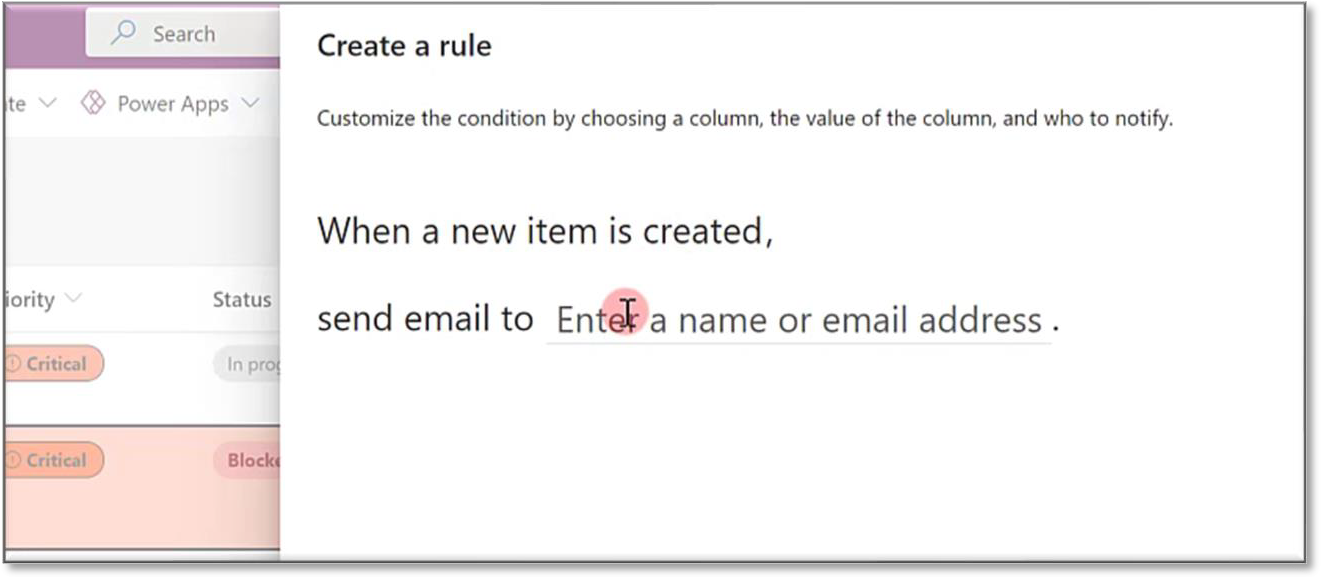 So, the rules functionality is not yet available but, in the meantime, if we go to the SharePoint version of the list, we can set a reminder based on specific criteria (Automate/Set a reminder). We can then edit the reminder in Power Automate.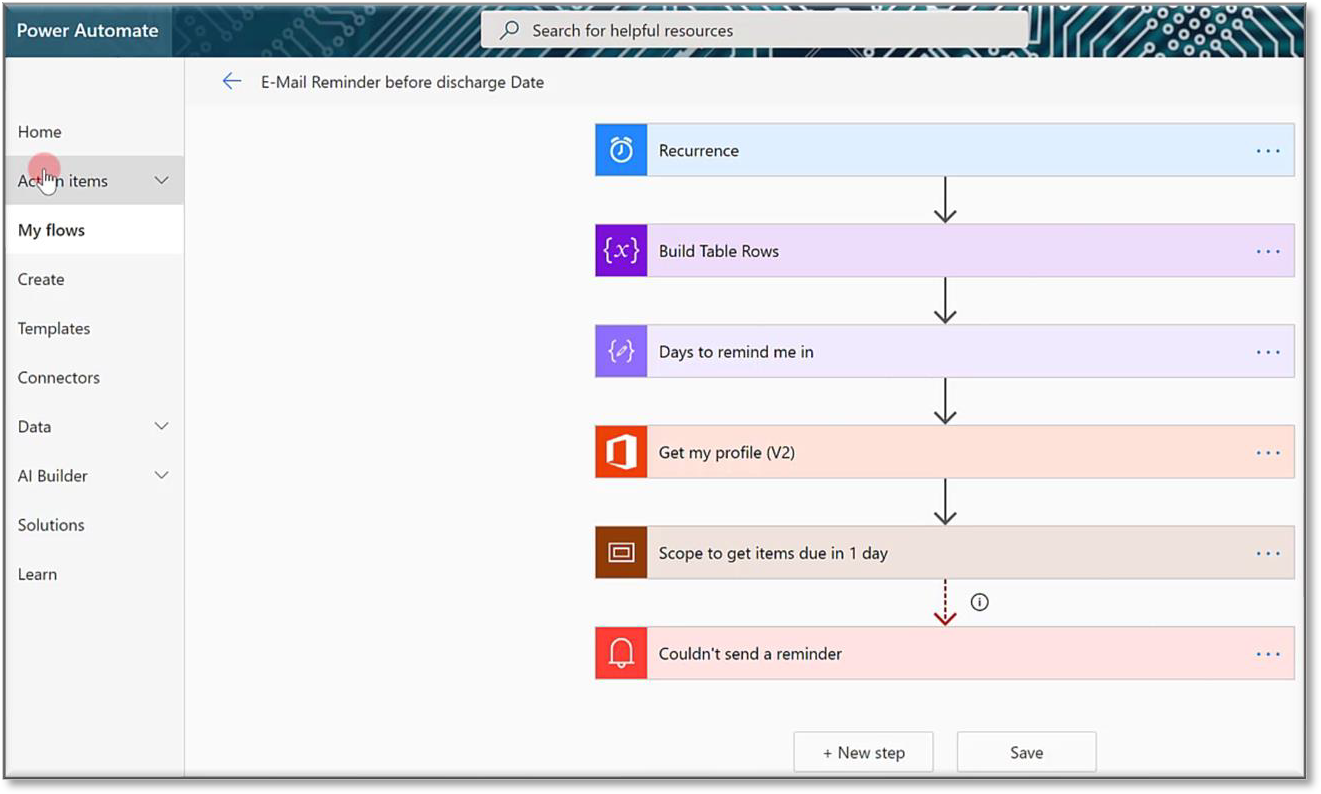 Admin Controls for Microsoft Lists
A global or SharePoint admin can control some settings for Microsoft Lists:
Disable the creation of personal lists (prevent users from saving lists to 'My lists'
Disable built-in list templates that aren't relevant for your organization
Both Microsoft Lists admin controls are available through PowerShell More information: https://docs.microsoft.com/en-us/sharepoint/control-lists
Roadmap: From Ignite 2020
Microsoft Lists app for iOS (preview)
Recover from mistakes with undo/Redo (rolling out)
Take your lists offline (power by Nucleus, currently in preview)
Instantly sort, filter, group scroll large lists
Notify people with @mentions in list comments
Calendar view enhancements
Gallery view with customizable tiles
Summary
Microsoft Lists are an evolution of SharePoint lists – simple to use, customize and extend
Microsoft Lists can be used through the Microsoft Lists app in Microsoft 365, integrated with SharePoint online sites or through the Microsoft Lists Teams app
Microsoft Lists can be enhanced and extended through list views and list columns formatting, list rules, Power Automate flow or Power Apps
We currently have two admin controls to disable personal lists and the ability to use built-in templates
Microsoft Lists will evolve over time, adding more and more features