In this eBook, you'll learn the meaning of Agile and the key stages within the scrum lifecycle. You'll find out about user stories and the collaborative ways of working within Agile teams. A series of demos will show you how you can easily manage your projects with a range of Microsoft 365 apps and tools, including SharePoint, Teams, Wiki, Planner, Whiteboard and Forms.
What is Agile?
Agile is a term used to describe approaches to software development emphasizing incremental delivery, team collaboration, continual planning, and continual learning. The term 'Agile' was coined in 2001 in the Agile Manifesto. The manifesto set out to establish principles to guide a better approach to software development. At its core, the manifesto declares four value statements representing the foundation of the Agile movement. As written, the manifesto states:
We have come to value:
Individuals and interactions over processes and tools (although we don't neglect
processes and tools)
Working software over comprehensive documentation (again, we don't neglect
documentation)
Customer collaboration over contract negotiation (building good relationships with customers)
Responding to change over following a plan (we do have a plan but are very proactive about changes that happen)
What Agile isn't
Agile is not:
An excuse for the lack of a roadmap
Without planning
Development without specifications
Scrum
Agile is a principle that can be applied to different frameworks. Scrum is a framework used by teams to manage their work. Scrum implements the principles of Agile as a concrete set of artefacts, practices, and roles.
Scrum lifecycle
Product Backlog
The lifecycle of a scrum starts with the product backlog, which includes requirements, specifications, and user stories. We'll find out how to use Microsoft 365 to maintain your product backlog.
Sprint
A fixed time period of typically 2 or 4 weeks that contains the development of specific user stories that you agree to with your product owner or customer.
Sprint planning
The sprint starts with a planning meeting at which the whole team gathers and decides on the user stories that should be moved from the product backlog into the scrum backlog. The meeting is run by the scrum master, equivalent to a product manager. The T-shirt size (complexity) of each user story is discussed and agreed upon.
Sprint execution
During the 2 or 4 weeks, the team works on the execution of the sprint to implement the user stories.
Daily scrum
A daily meeting or 'stand-up' where each member of the team discusses what they accomplished yesterday, and what they are going to work on today. They also talk about any obstacles or issues that may affect their work.
Sprint retrospective
This meeting occurs at the end of the sprint to discuss what went well and what could have been done better.
Sprint review
A final review of what's being delivered and shipped to the customer as an increment to the product.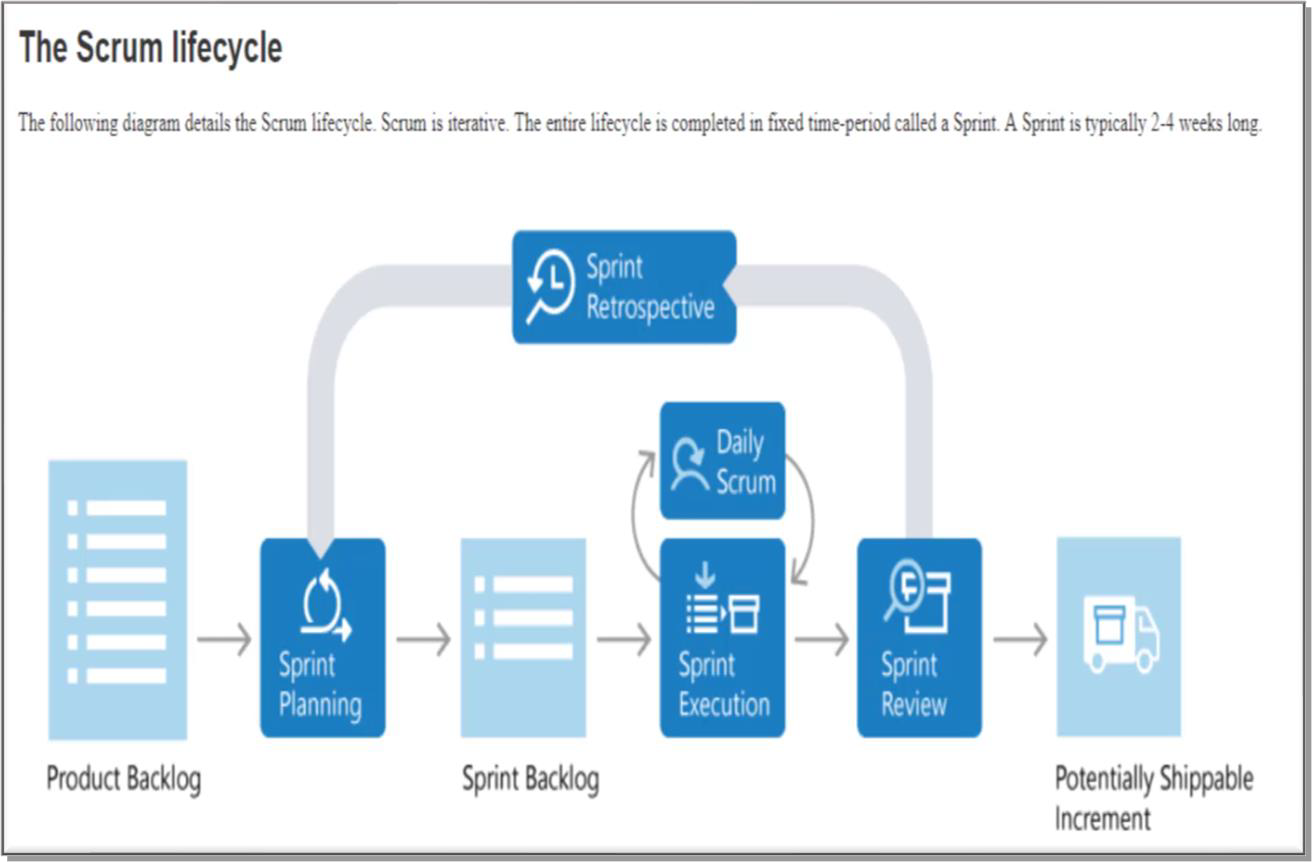 User stories
We write specifications in the product backlog in the form of user stories. A user story is written in this format:
Explanation
As a (who wants to accomplish something)
I want to (what they want to accomplish)
So that (why they want to accomplish that thing)
An example
As a bank customer
I want to withdraw money from an ATM
So that I'm not constrained by opening hours or lines at the tellers
This example of a user story includes what needs to be accomplished (this is placed in the backlog). More details (such as technical details and acceptance criteria) can follow for each user story.
Microsoft 365 for Agile demos
Now let's see how Microsoft 365 can help us to manage Agile and scrum.
SharePoint site creation
Go to Office.com and open SharePoint. Click on 'Create site' at the top left.
You now have a choice between creating a 'Team site' or a 'Communication site'. A communication site is a good way of sharing news, like on a corporate intranet, with typically a small number of content authors and a much larger number of content
readers or consumers. A team site is a place where the members of a workgroup or project team can collaborate on project deliverables, plan an event, track status, or exchange ideas.
We want to create a site that we can use for collaboration not just in SharePoint, but in Outlook, Teams, and other Microsoft products, So, we're going to create a team site because that automatically creates a group of members that can be used in other products.
Select 'Team site'.

When you create a Team site you automatically create an Office 365 group that can be used in other Office products. Enter a site name and other details and then click 'Next.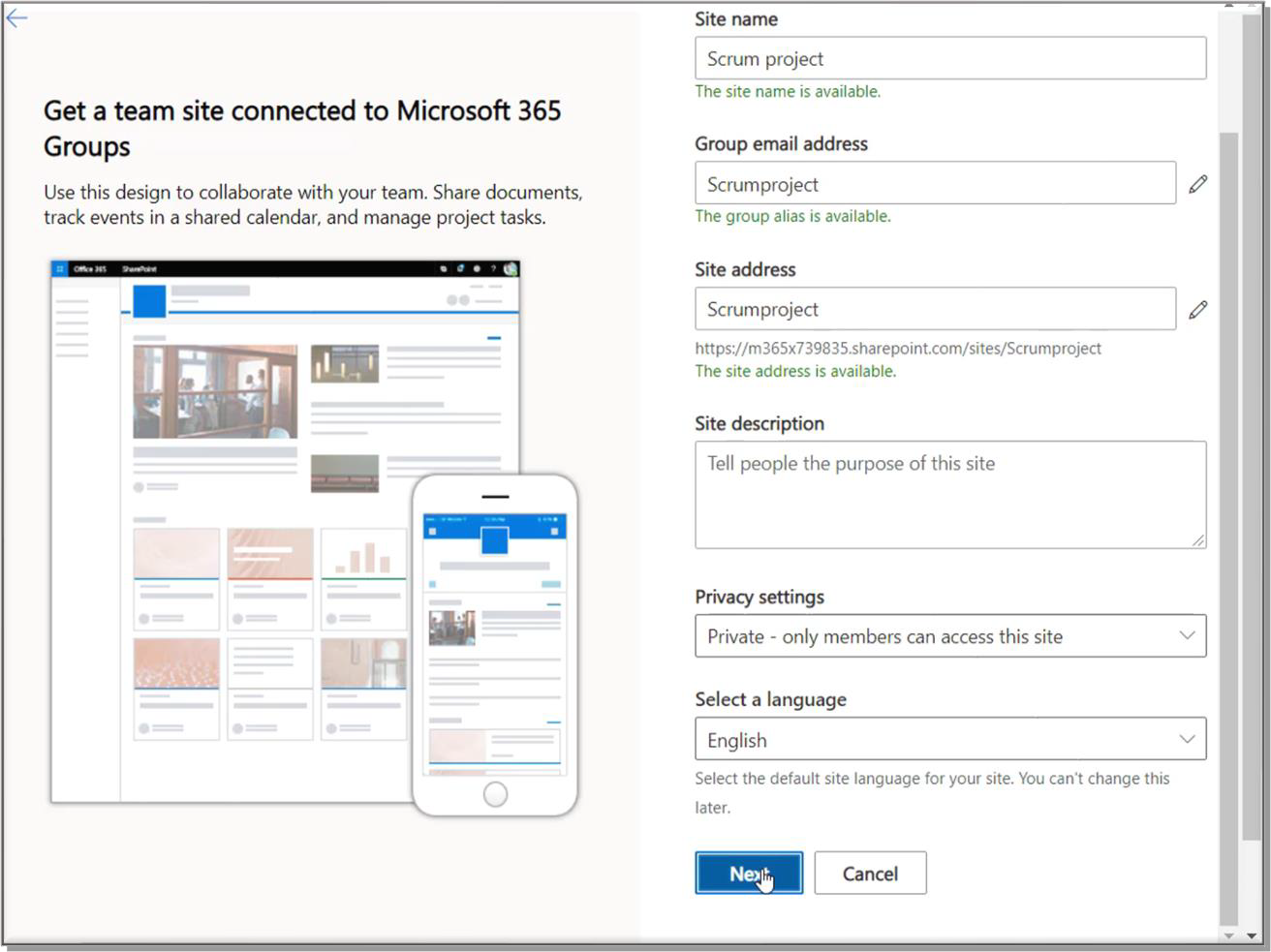 Add group owners and members for this site.
You can add news, documents, links and so on to help collaboration within your team.

Creating a team
In Microsoft Teams, click on 'Join or create a team' and then click 'Create a team'.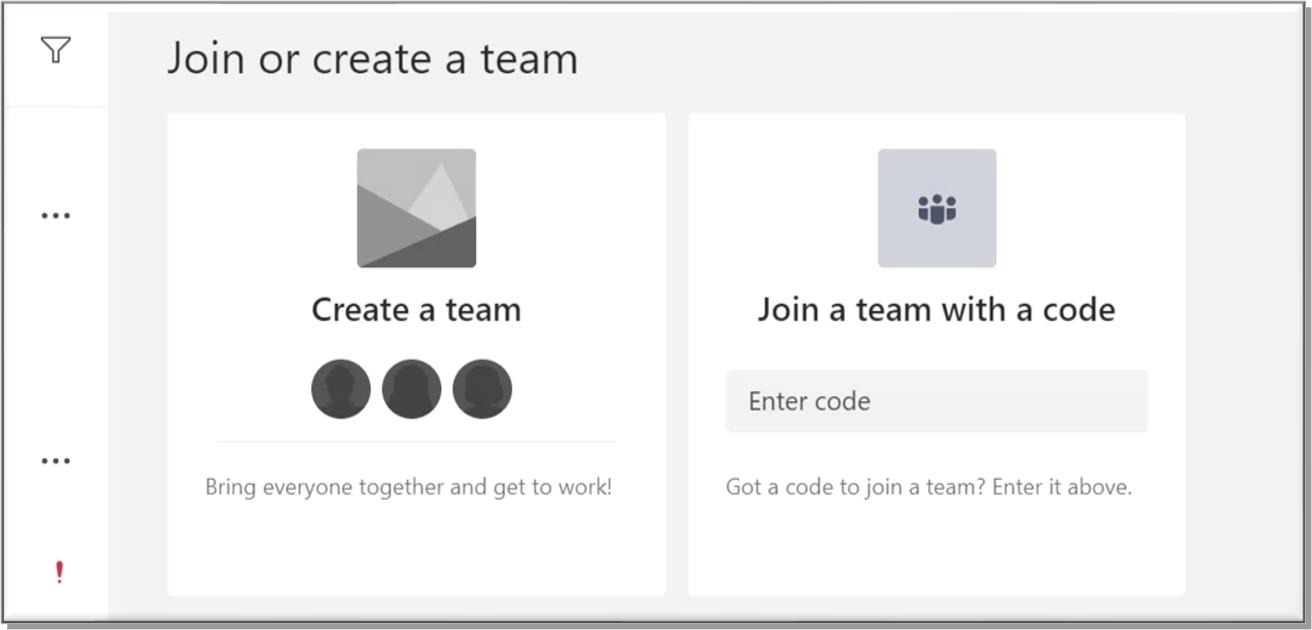 Select 'From a group or team'. In the ''Create a new team from something you already own' screen, select 'Microsoft 365 group' and choose the group you just created.
The team is created. You can post to the whole team and start conversations.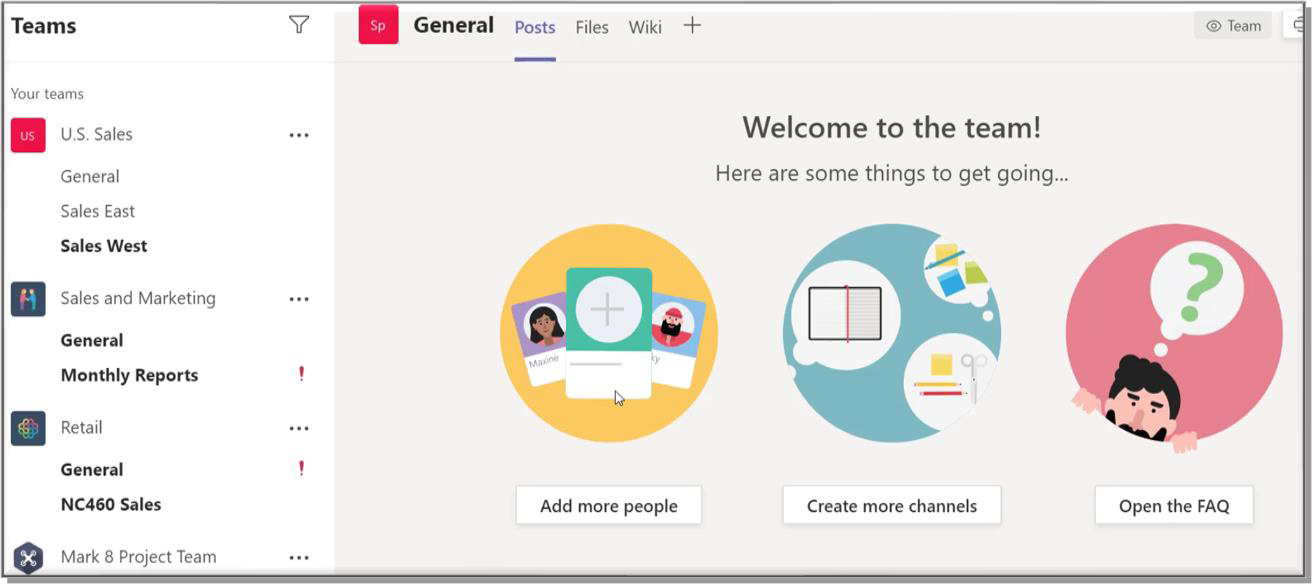 Using Teams to handle the scrum framework
Using Wikis
In the Wiki, we can track discussion in the daily stand-up. You can add in people's
names and divide the page into sections.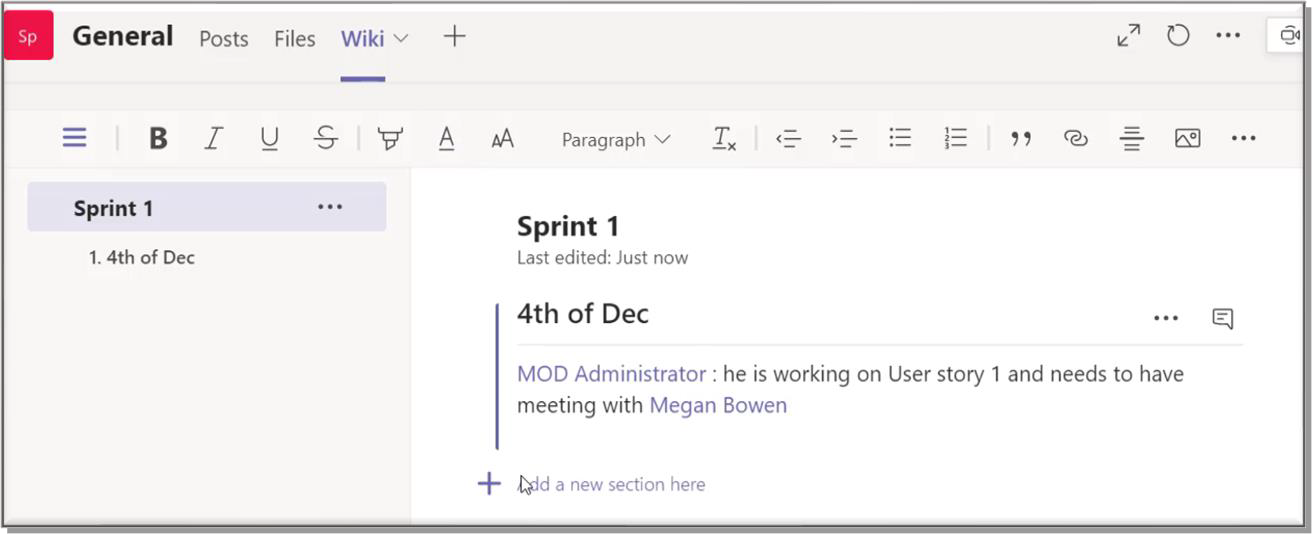 Using Planner to handle tasks and user stories
You can turn apps and files into tabs. Click the + symbol to add a tab. We're going to
select Planner and create a new plan called 'Sprint Backlog'.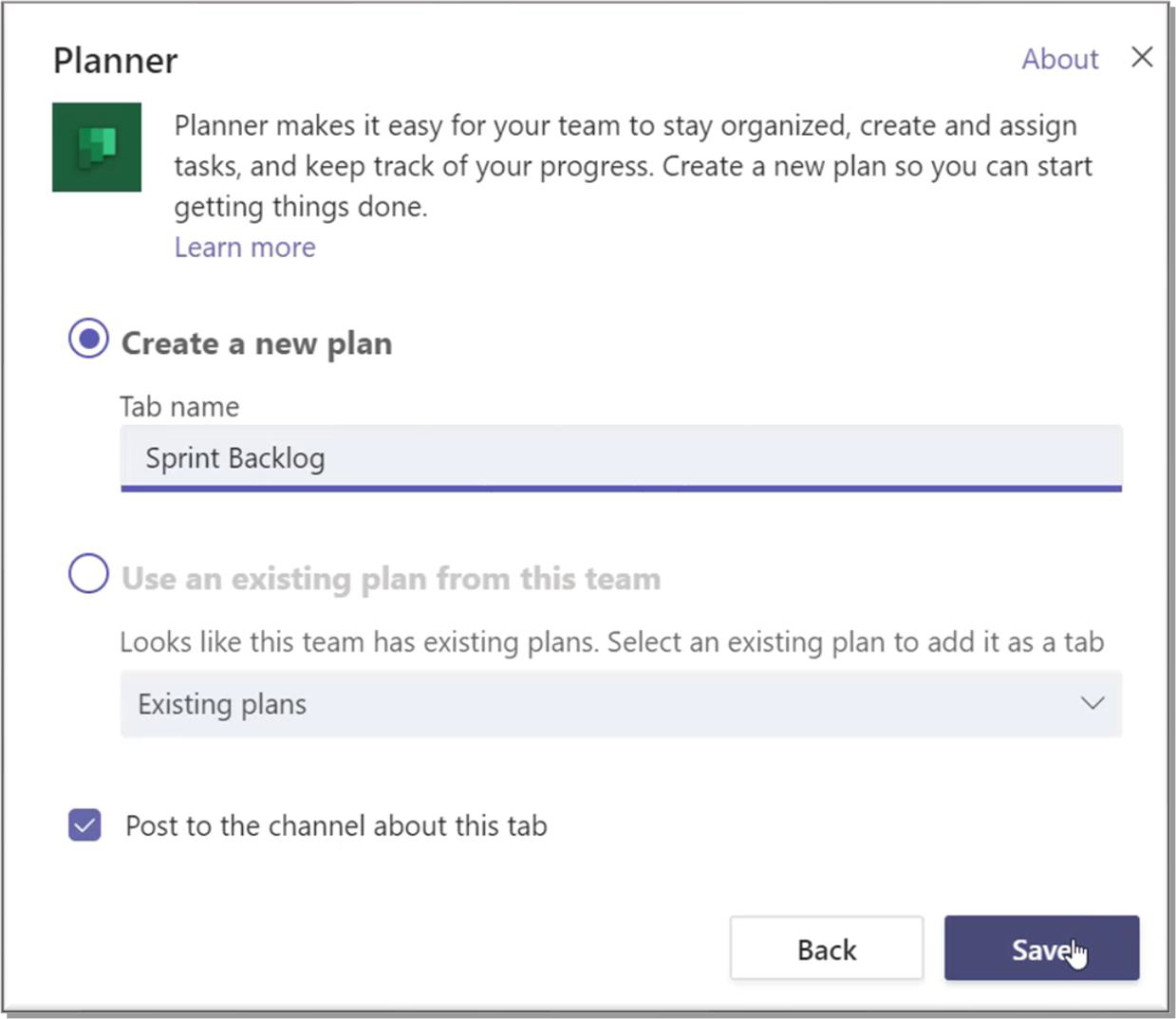 In the new Sprint Backlog tab, we can add tasks – User Story 1, User Story 2, and so on.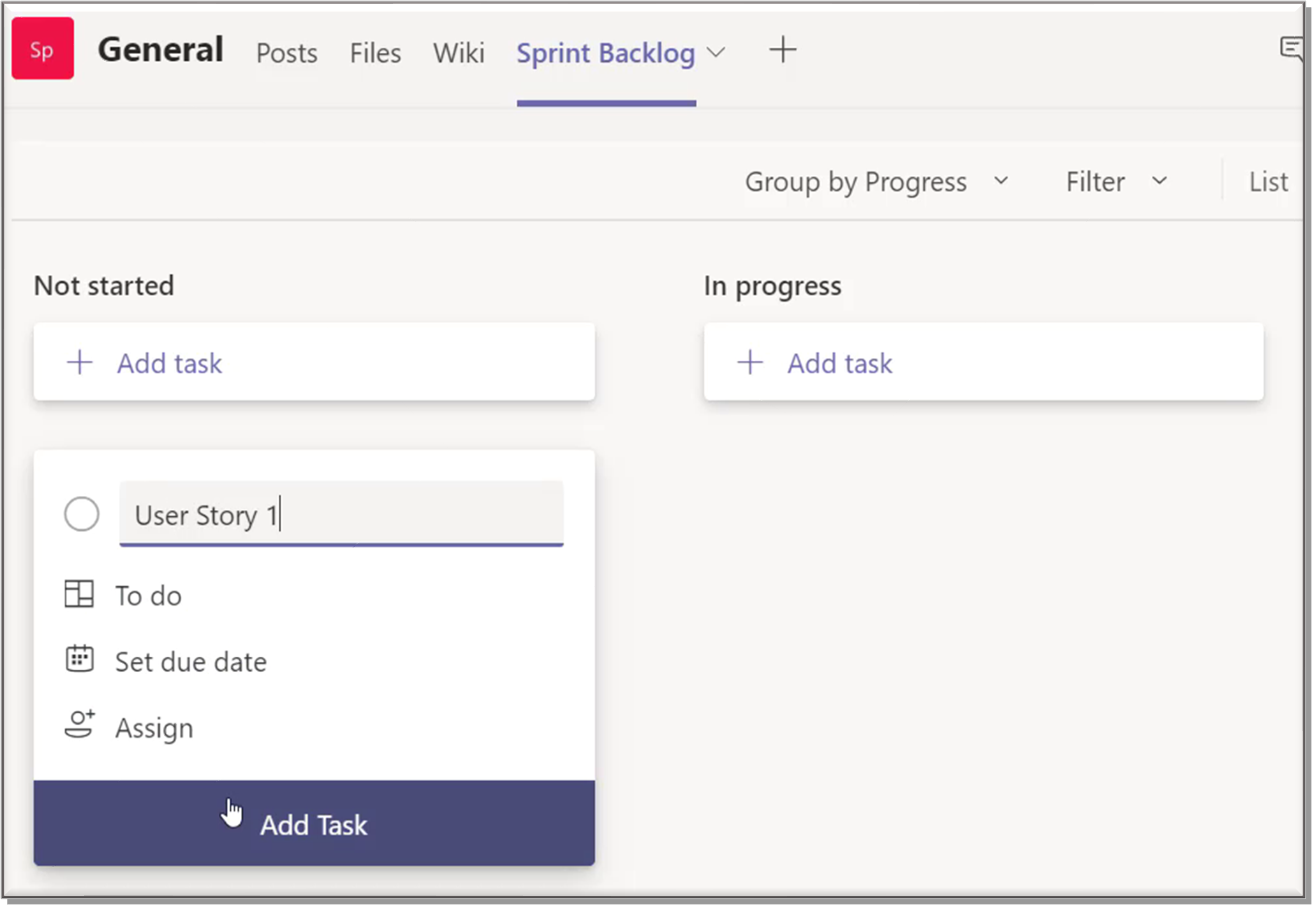 If you click on the three dots in a task, you can start editing it.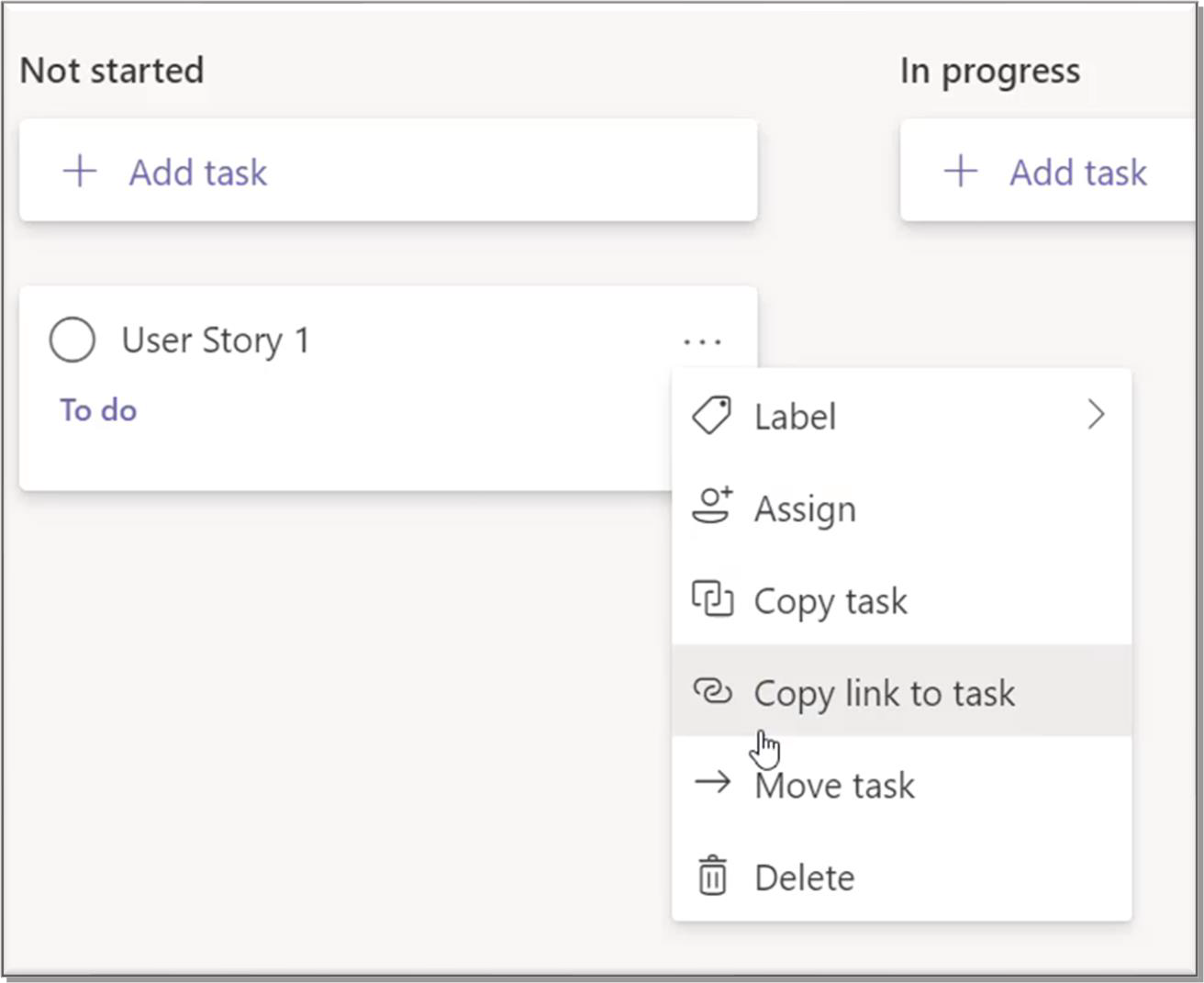 You can add start and due dates and assign specific people to the task.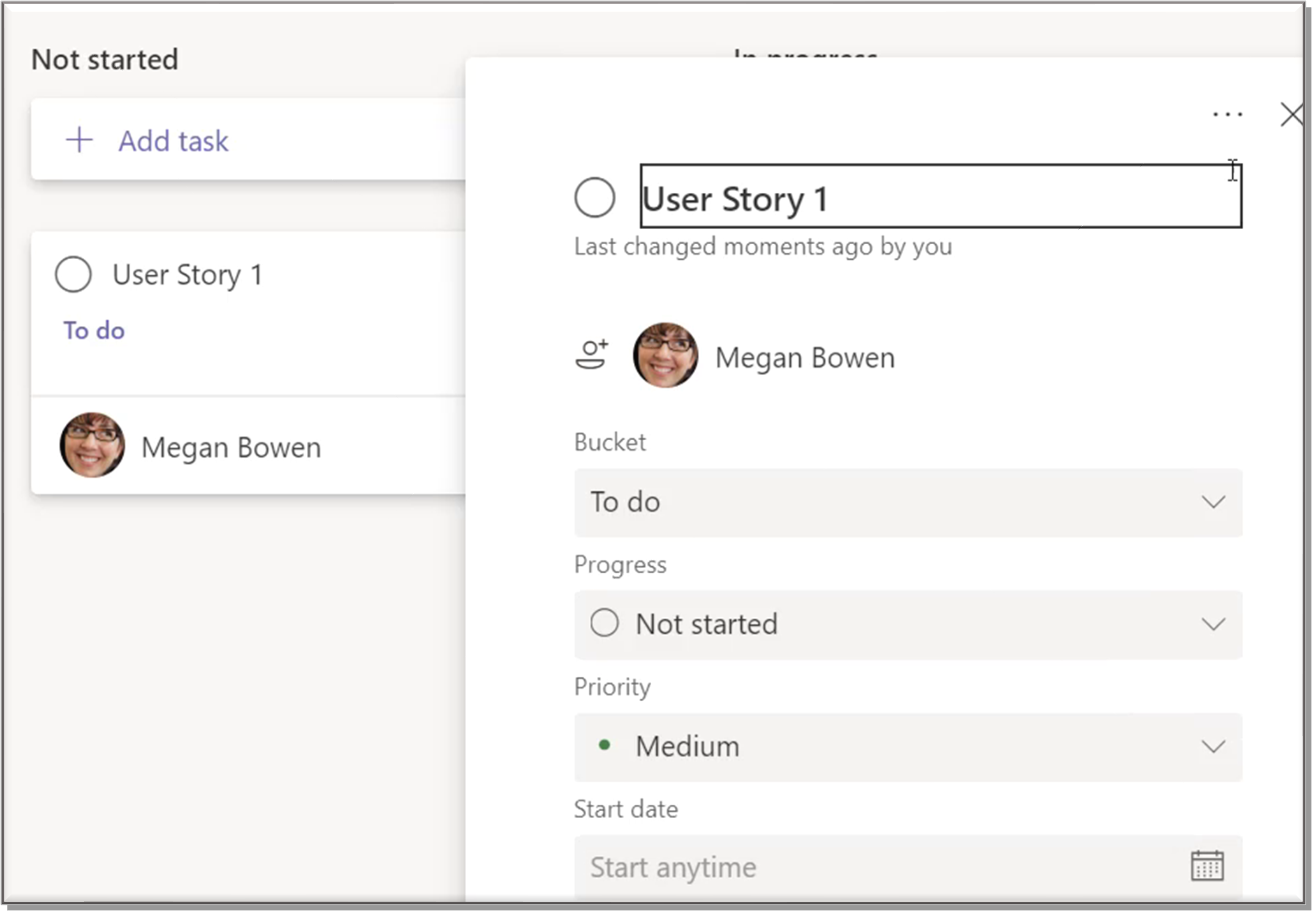 You can also add attachments and comments.
Once completed you can click it to add it to the 'Completed' column, but you can also drag it back into 'In progress' if necessary.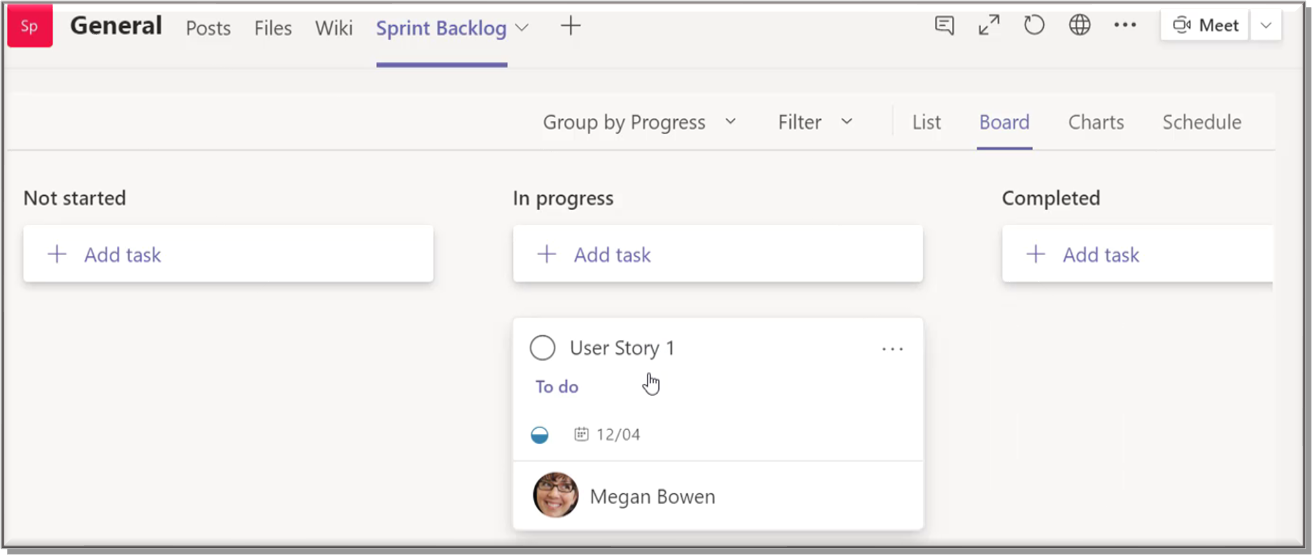 You can view tasks on a board or in a list. You can also view the status of tasks on a chart.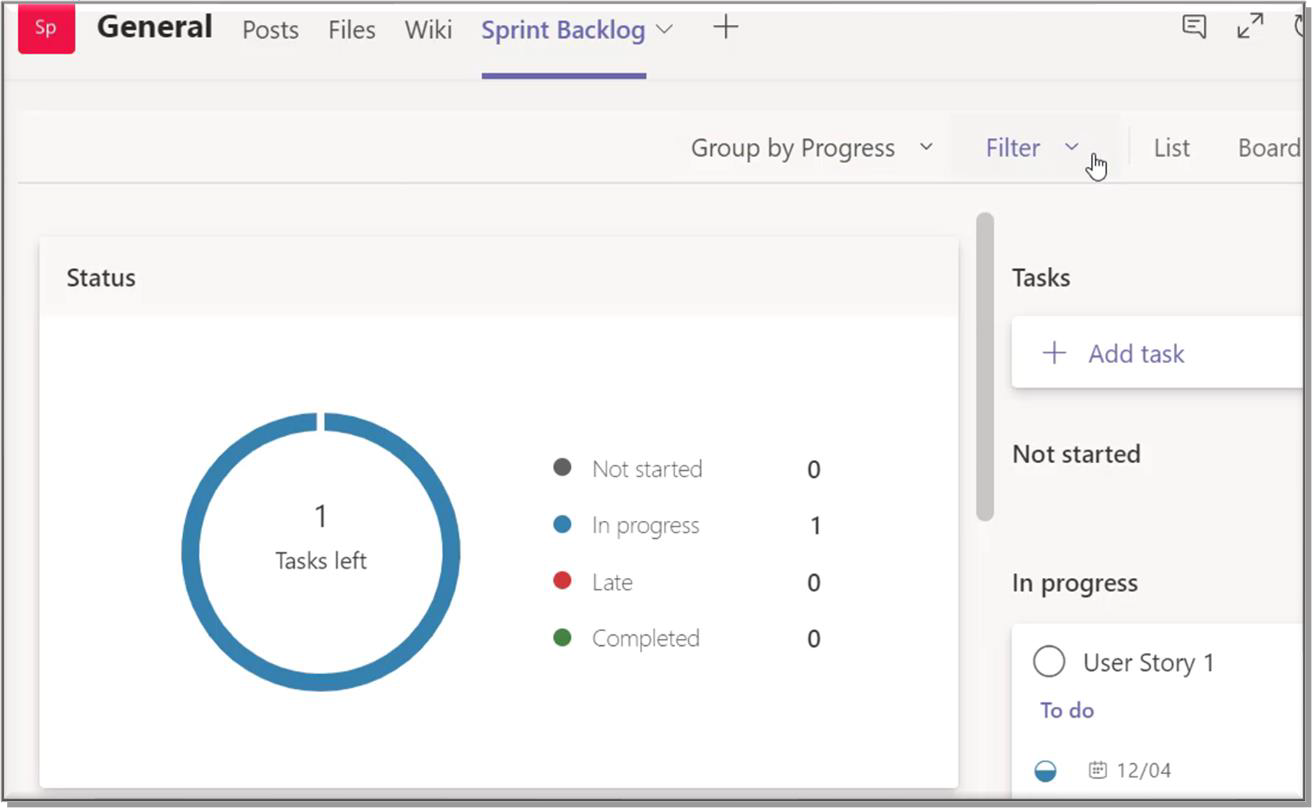 It's a very easy and useful way of tracking user tasks and stories for your team.
As we've seen, you can access the Planner from a Teams tab, but you can also access it in your browser from your Office 365 apps panel.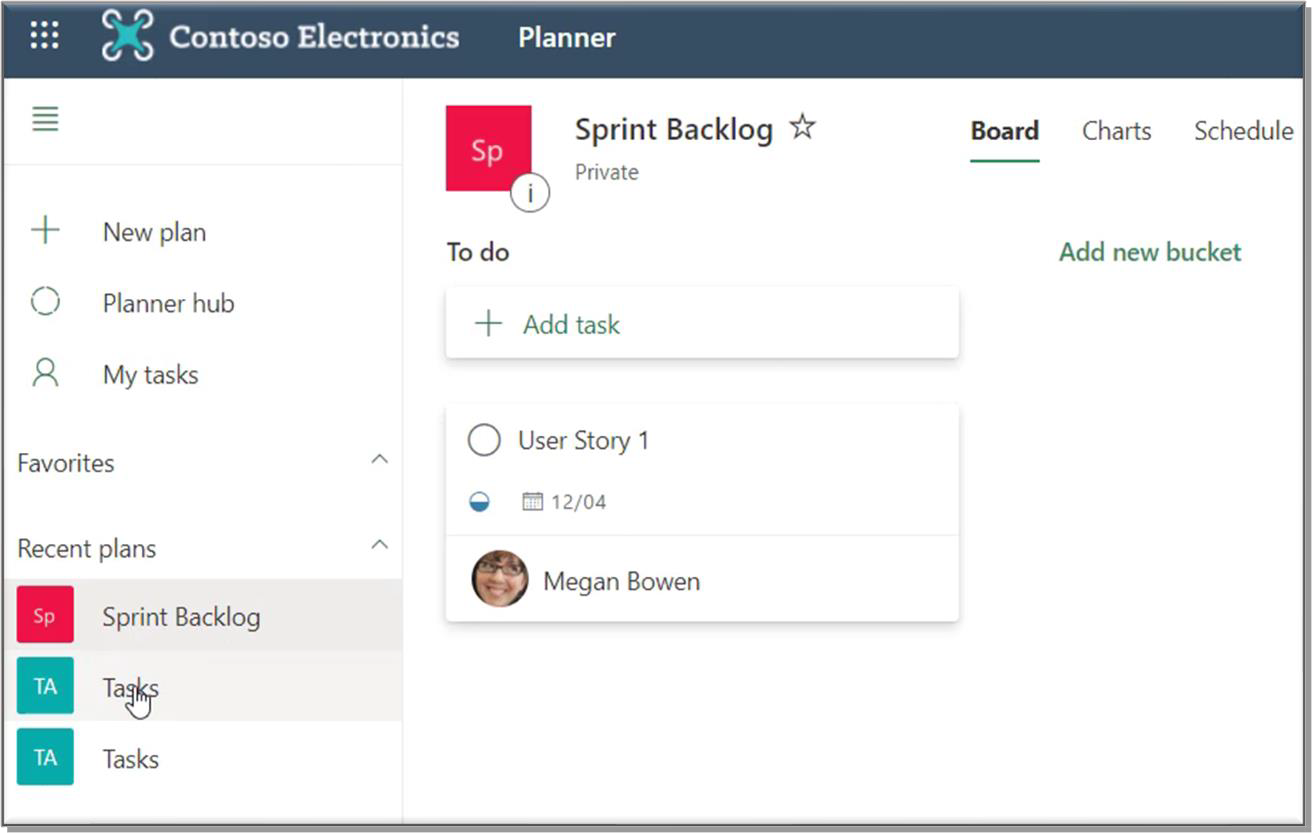 You can create new plans from here, make them public or private, and add members.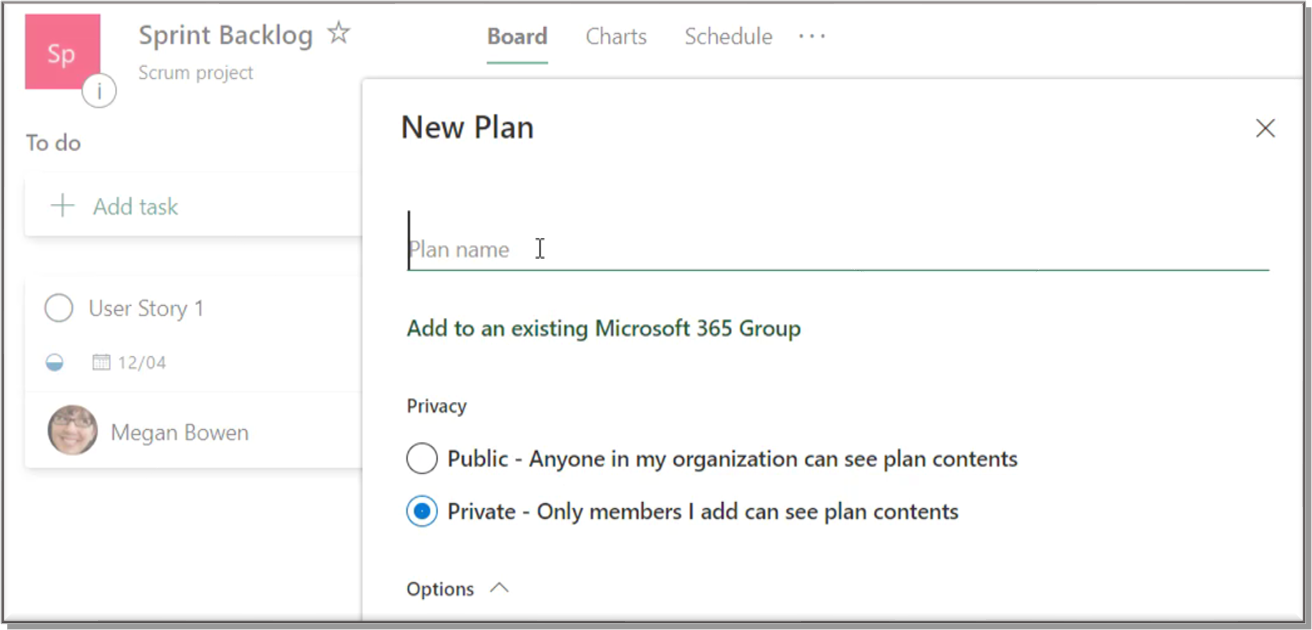 Changes you make in the online version of Planner are synchronised into Teams.
Using Forms to assess user stories
Click the + symbol to add a tab and select 'Forms'. Create a shared form called 'Sprint 1 Planning' and save.

In a scrum, members give weight or complexity values to each user story. You can use the Forms app to enter questions about user stories.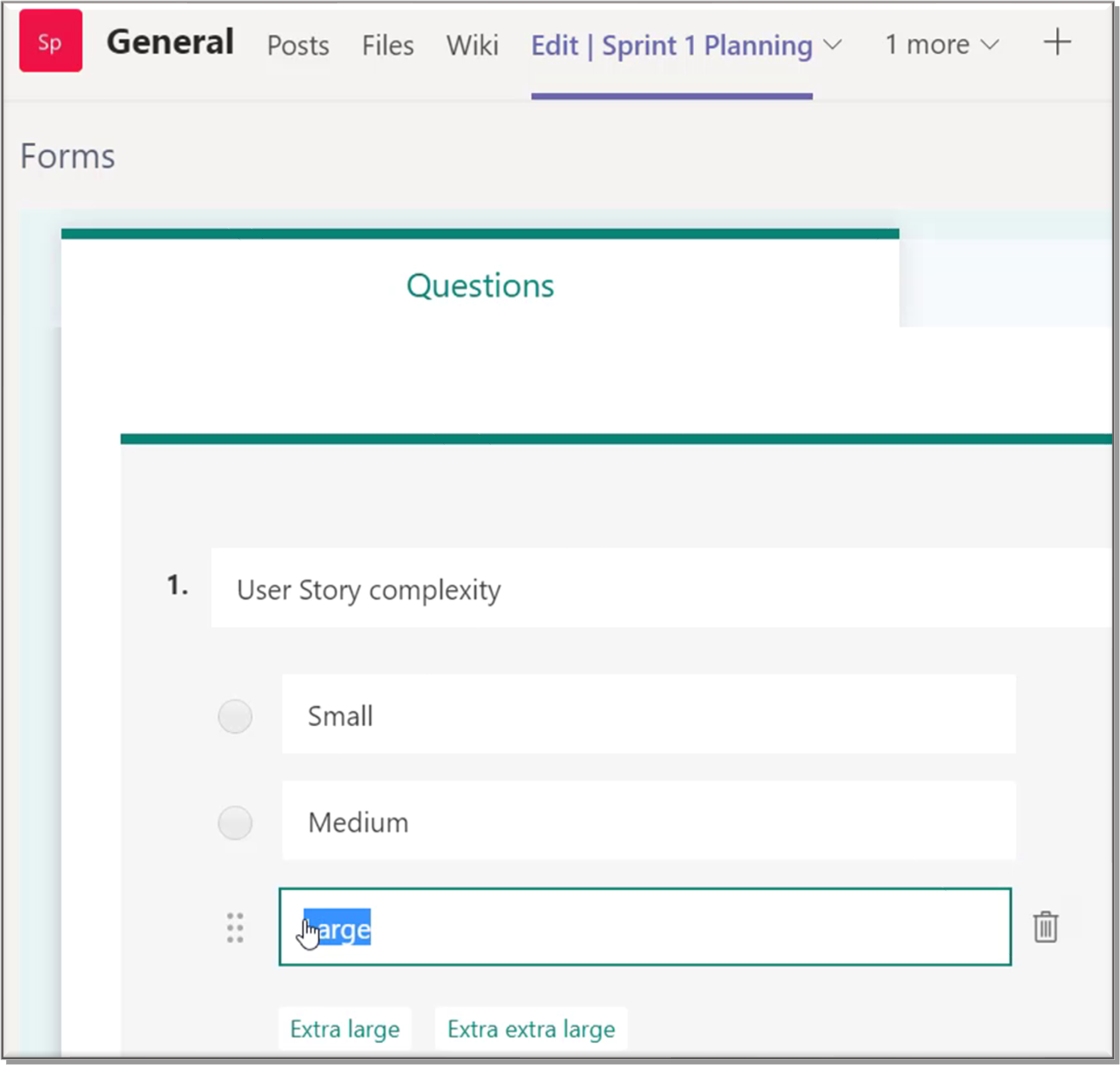 You can test the form in Preview.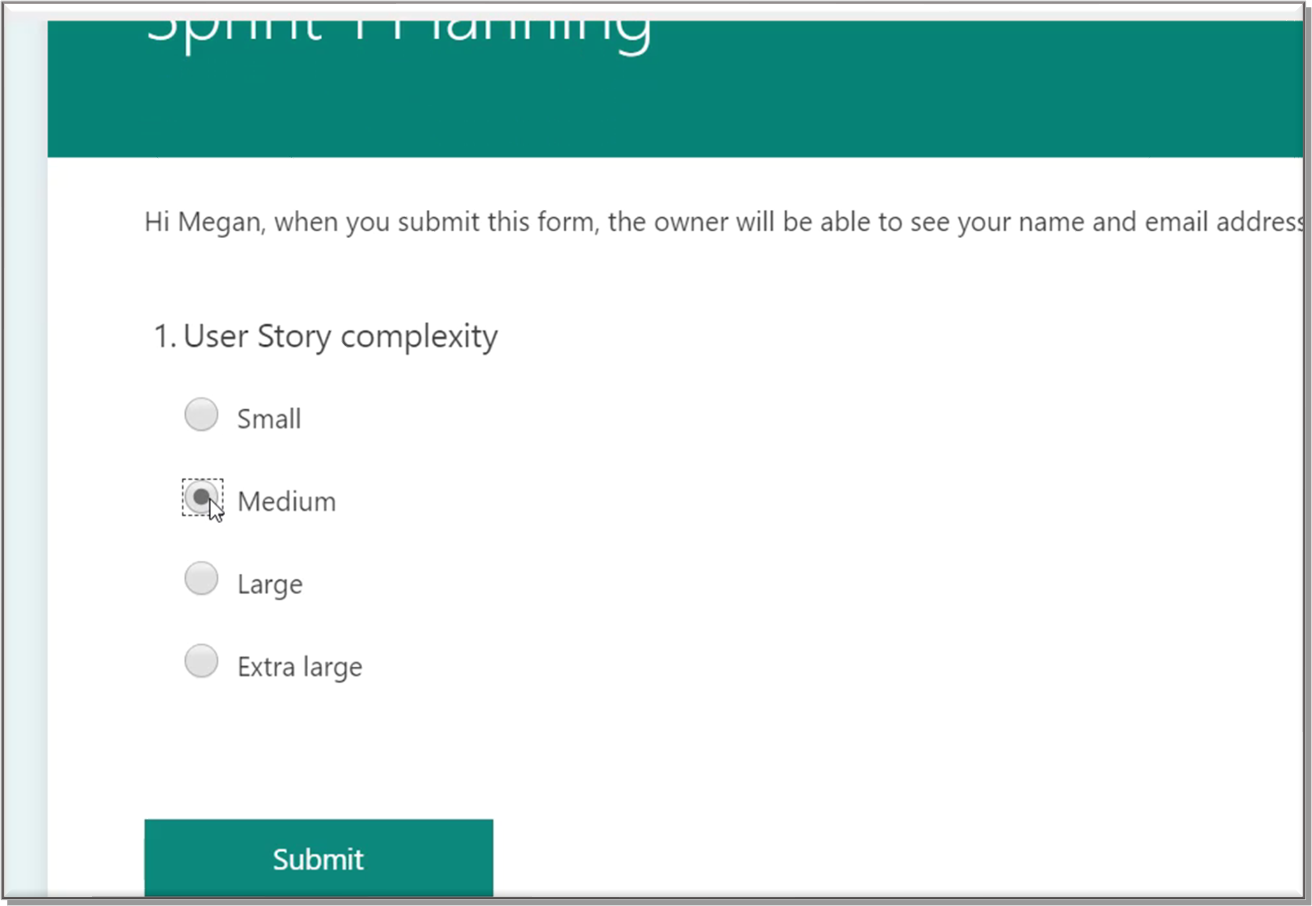 You can check the responses.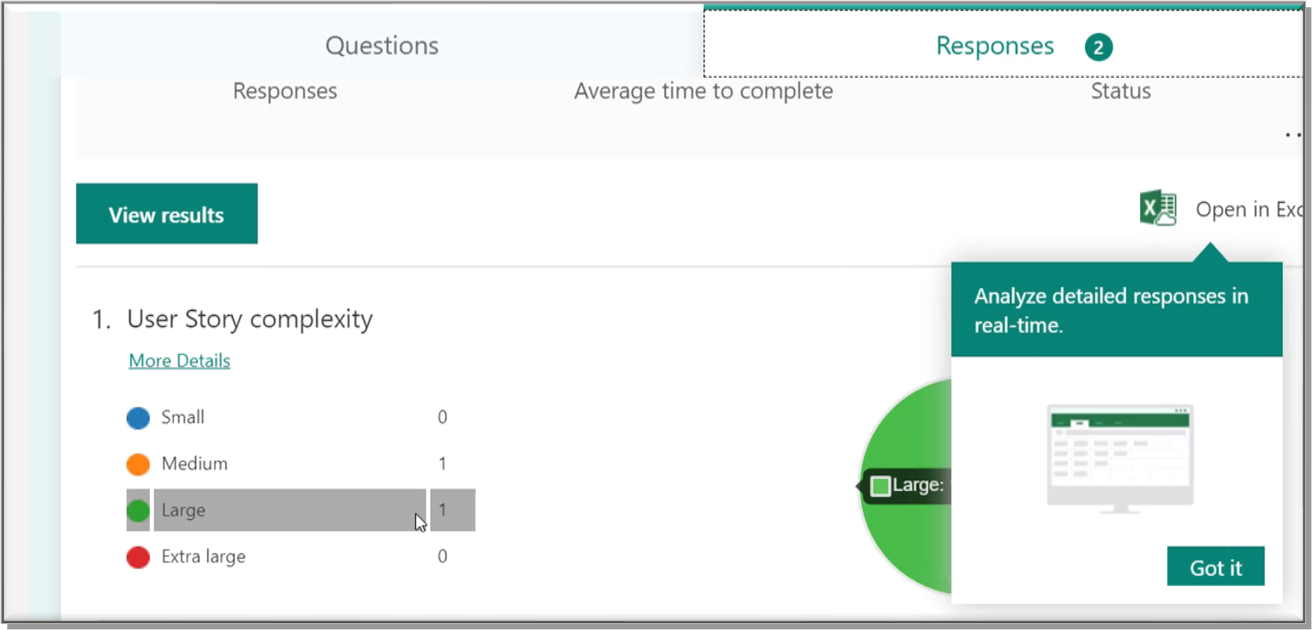 It's a very efficient way of tracking the complexity of each user story. You can then start planning and assigning team members to work on the stories. The same functionality is available in the online version at office.com.
Managing team shifts
If you're working on a large project with people in different time zones or you have team members who work outside of regular hours (for example, on deployment or application support), you can use the Shifts tool to create and monitor shift work.
In Teams, click on the three dots and select 'Shifts'.
Here, we're adding the details of Megan's shift, including the start and end times.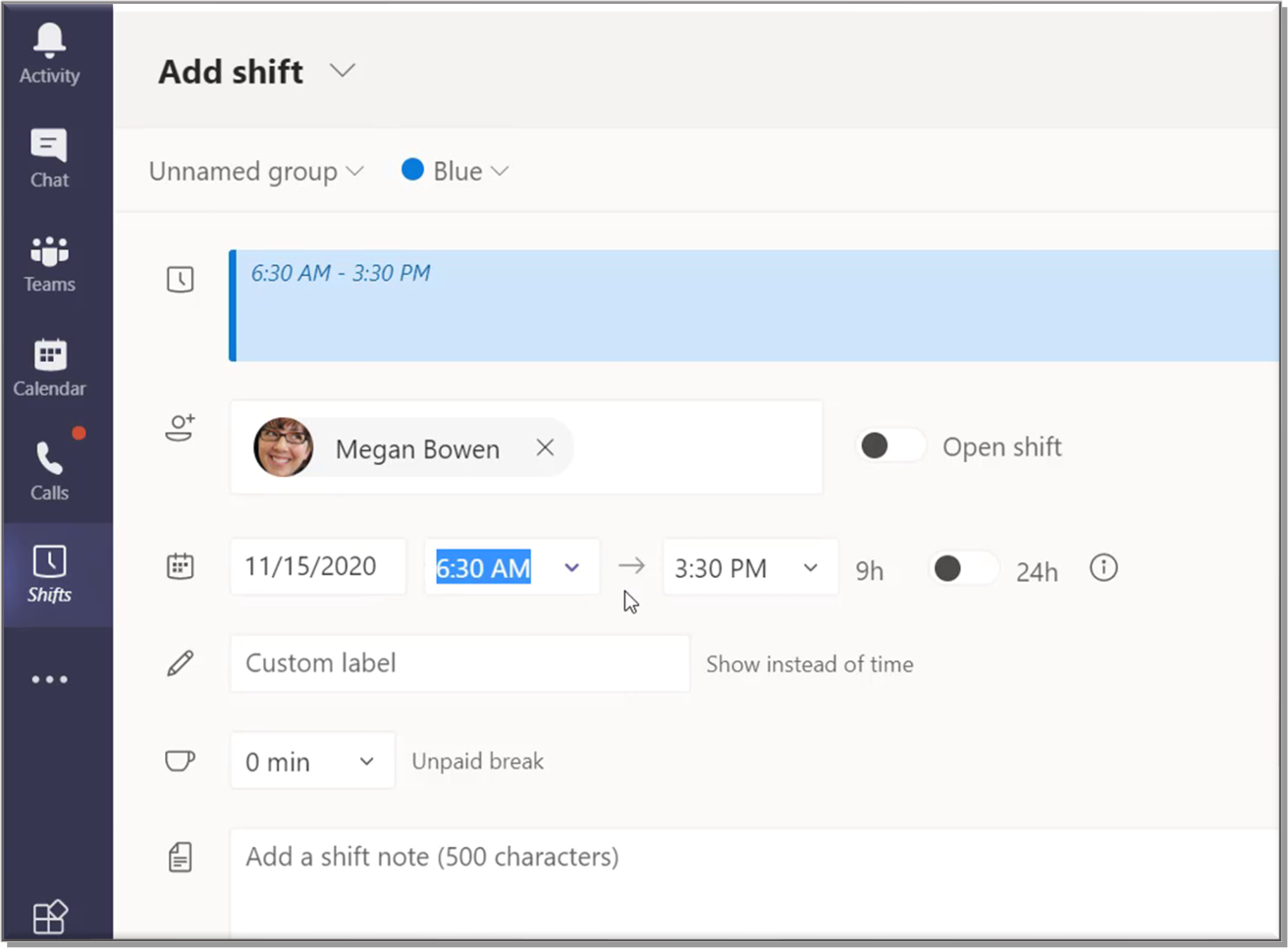 You can also break down the shift into separate activities.

This is a very effective way of managing shifts for large teams, especially those across time zones. It's very easy to track shifts in the Schedule view. You can clock in, copy the schedule, and share it.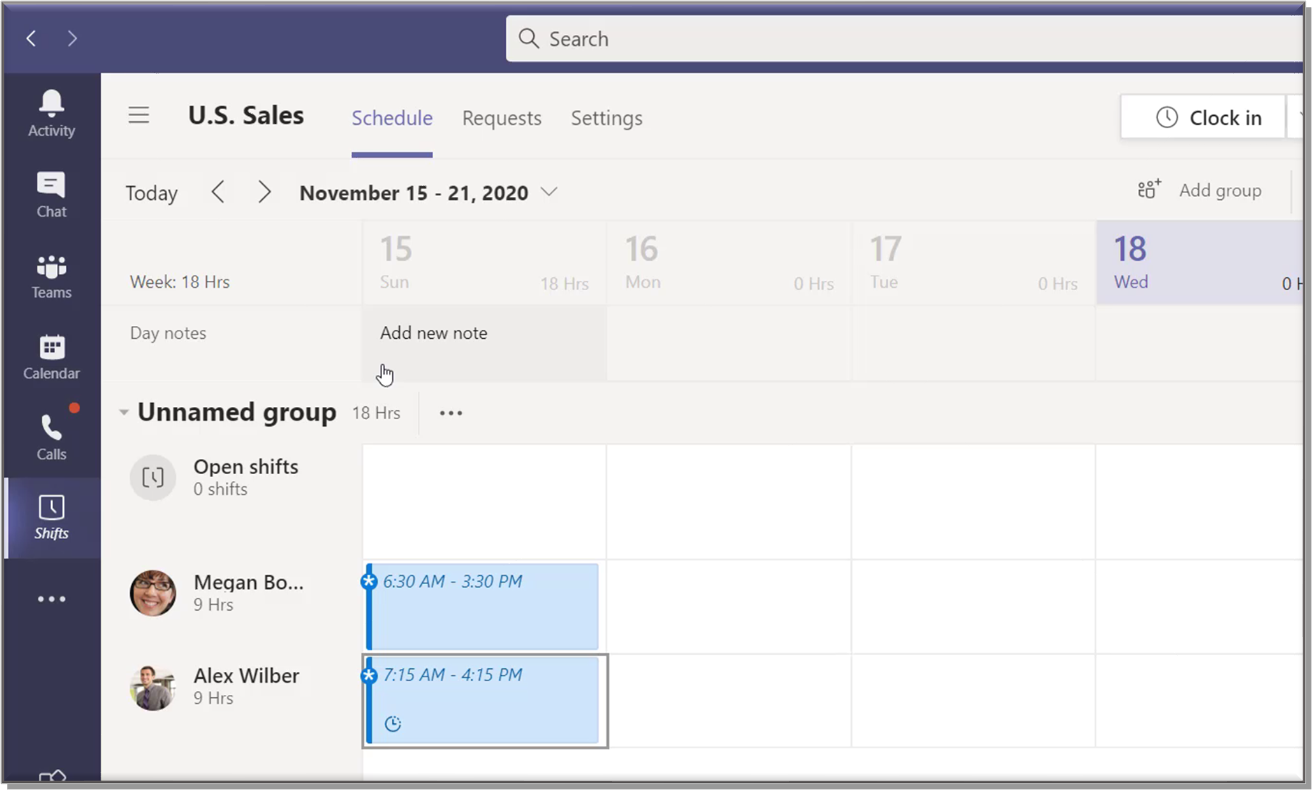 When you add members to an Office 365 group (as you did when you created the SharePoint Team site), each one is assigned an email address. There's also an email address for the group as a whole, so you can send messages and files to everyone in the team.
In the group's settings in Outlook, you can select 'Follow in inbox', which means all group conversations and calendar events will be sent to both the group mailbox and the personal inboxes of group members.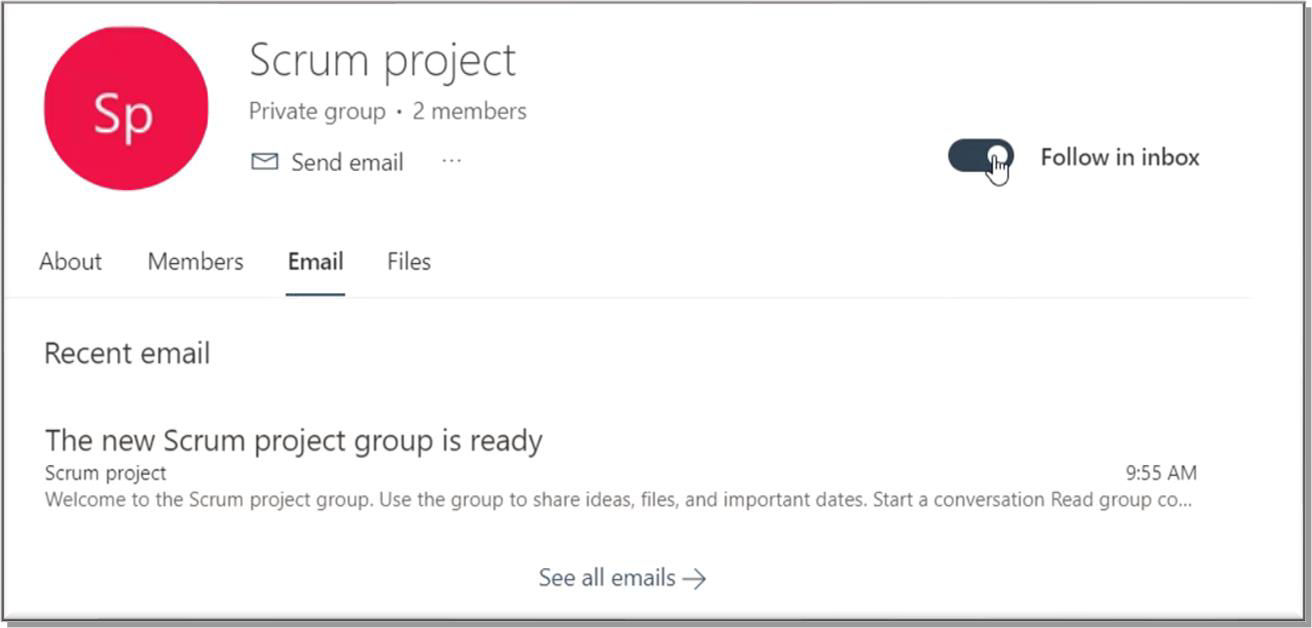 Using Whiteboard to handle retro meetings
The Whiteboard app is a great way of sharing visual information and ideas in meetings. It's especially useful in retrospectives where you can record answers to the questions that are typically asked at the end of a sprint.

The screen can be shared with team members and is stored in the Whiteboard app for future reference.
Using Lists
The Lists app is a powerful way of tracking issues, actions, and so on. You can create a new blank list or import a list from Excel or SharePoint. There's also a range of templates that can be used to give yourself a head start.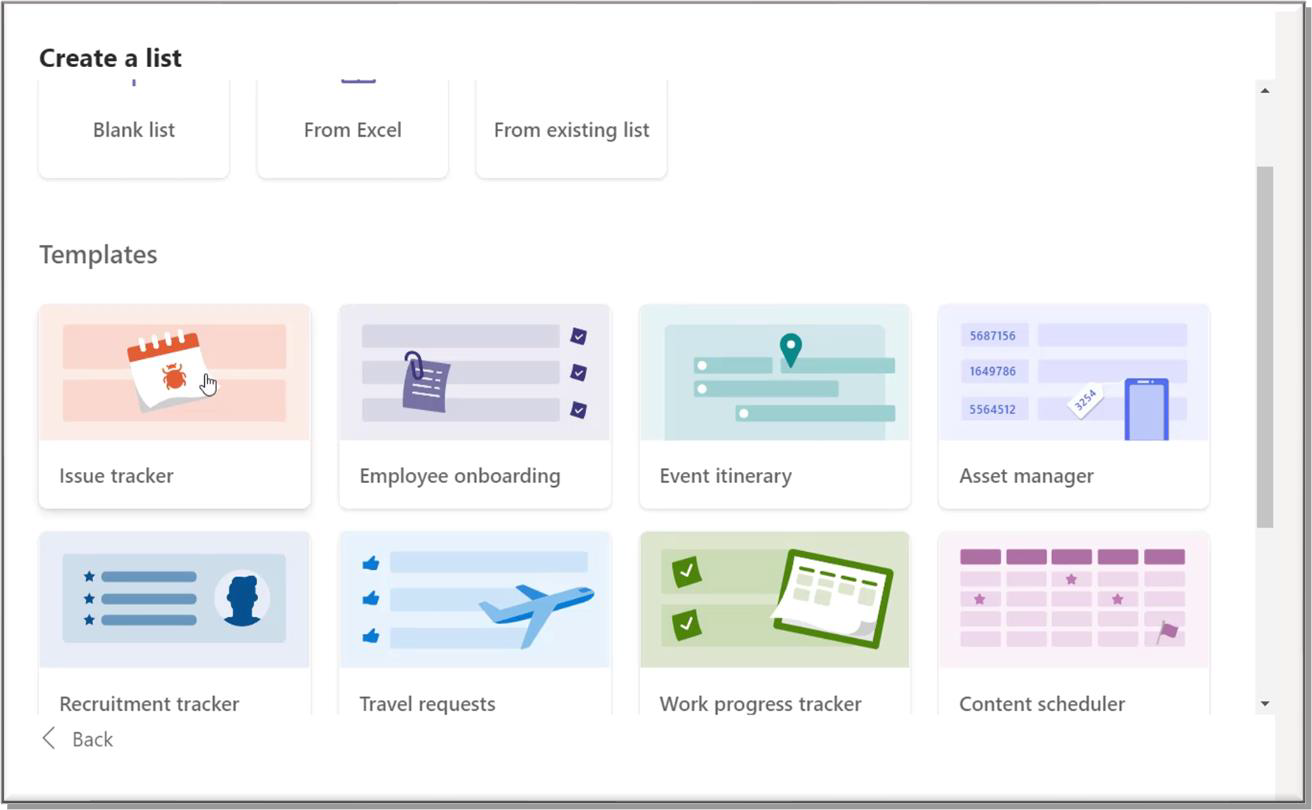 You can use the Issue tracker list template to manage issues raised in a scrum. For each issue, you can set the priority and status, add details and attachments, and assign it to someone to work on. You can also edit the columns that appear on the list.
In SharePoint, you can check all the activities that have occurred for this group, including changes to the issue tracker list.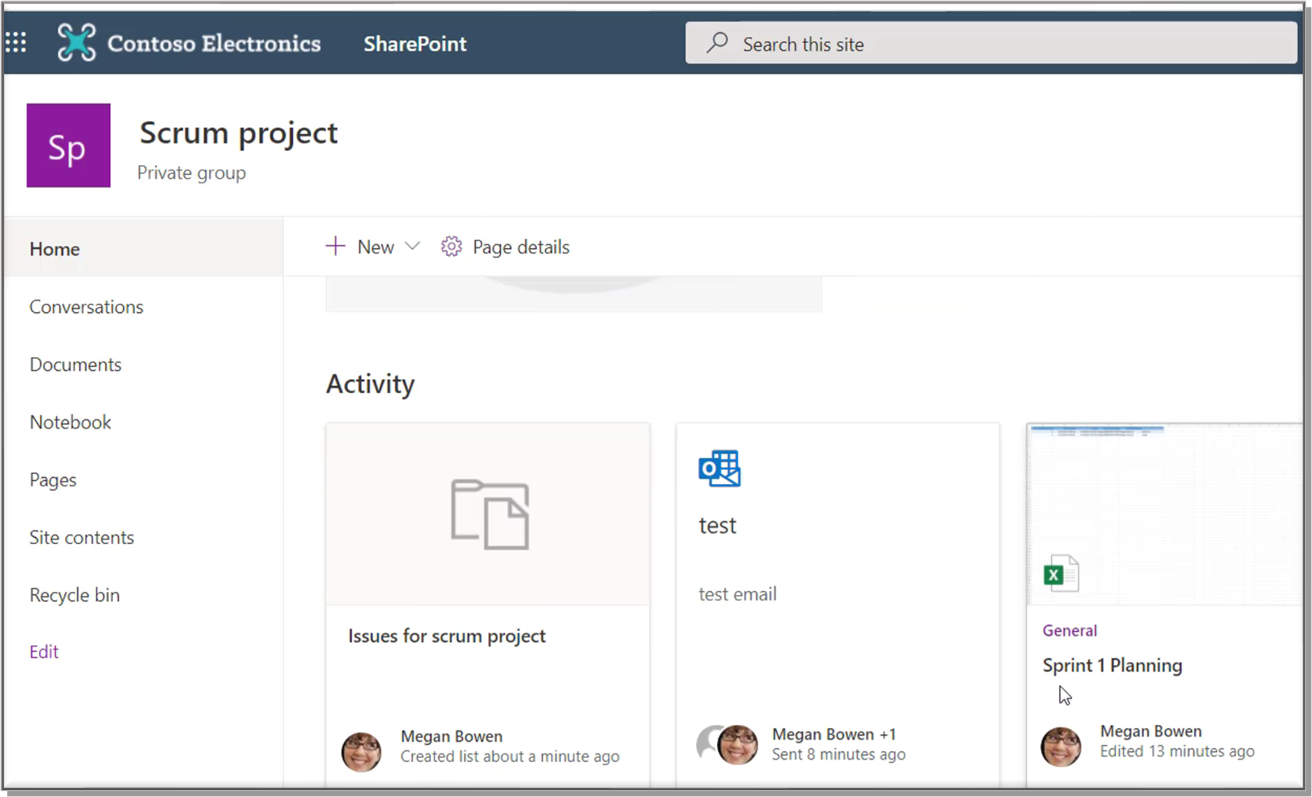 The issue tracker list appears just like a traditional SharePoint list.

You can also create a list in SharePoint and link to it from within Teams. You can integrate lists with Power Apps and Power Automate.

Summary
In this eBook, we have discovered ways of using Microsoft 365 to manage scrum projects and to collaborate with our teams. We looked at SharePoint, Office 365 groups and Microsoft Teams apps, such as Whiteboard, Wiki, Planner and Forms. We learned how to manage Agile projects effectively and powerfully using Microsoft 365 without the need to buy any other products.