This eBook tells you everything you need to know about becoming a Microsoft 365 Champion. Following the Skype-to- Teams transition of a global company, you'll discover how to extend your knowledge of Microsoft 365 products, keep track of the latest news, set up training sessions, and generate enthusiasm about working remotely. You'll also learn how to join the Microsoft 365 Champion program and gain Microsoft Service Adoption Specialist certification.
Are you Microsoft 365 Champion?
Do you either love some pieces of the Microsoft 365 suite of applications or do you have to manage a project to implement one or all of the applications? You might just be a Microsoft 365 champion.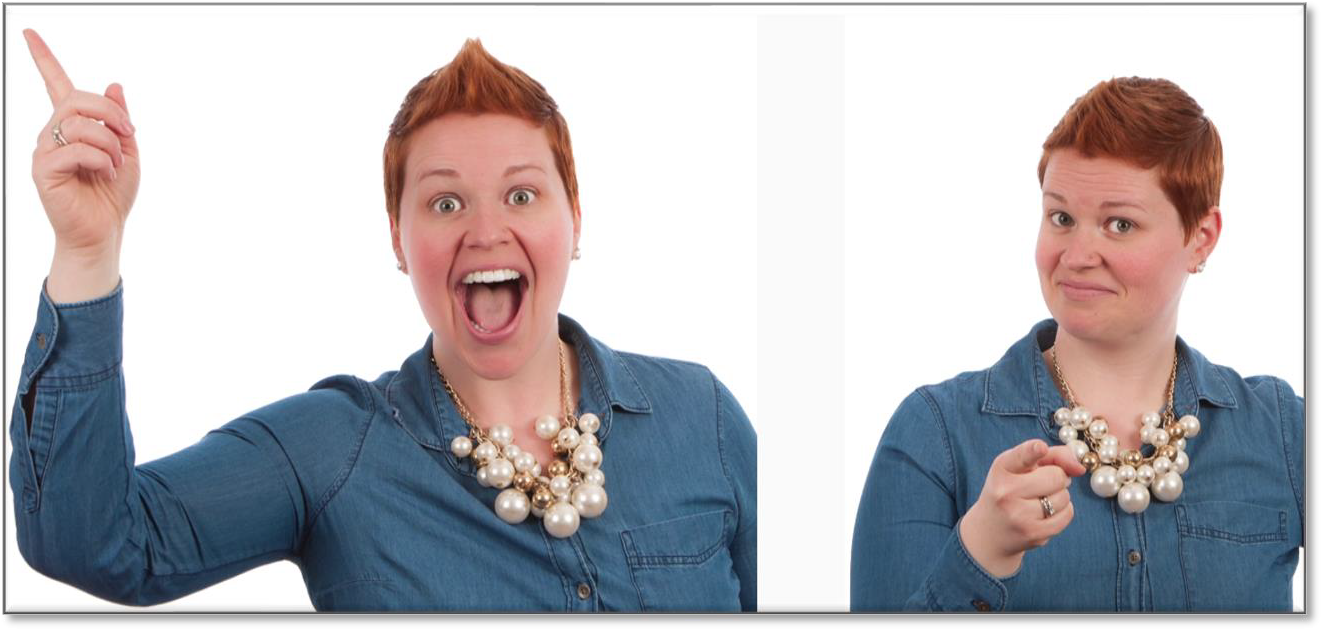 If you're managing a project to move your company or team to Microsoft 365, if you aren't a champion, you're going to need some champions to help you out.
Building Enthusiasm
No matter what role you take in your organisation when it comes to Microsoft 365, enthusiasm is contagious, just like smiles.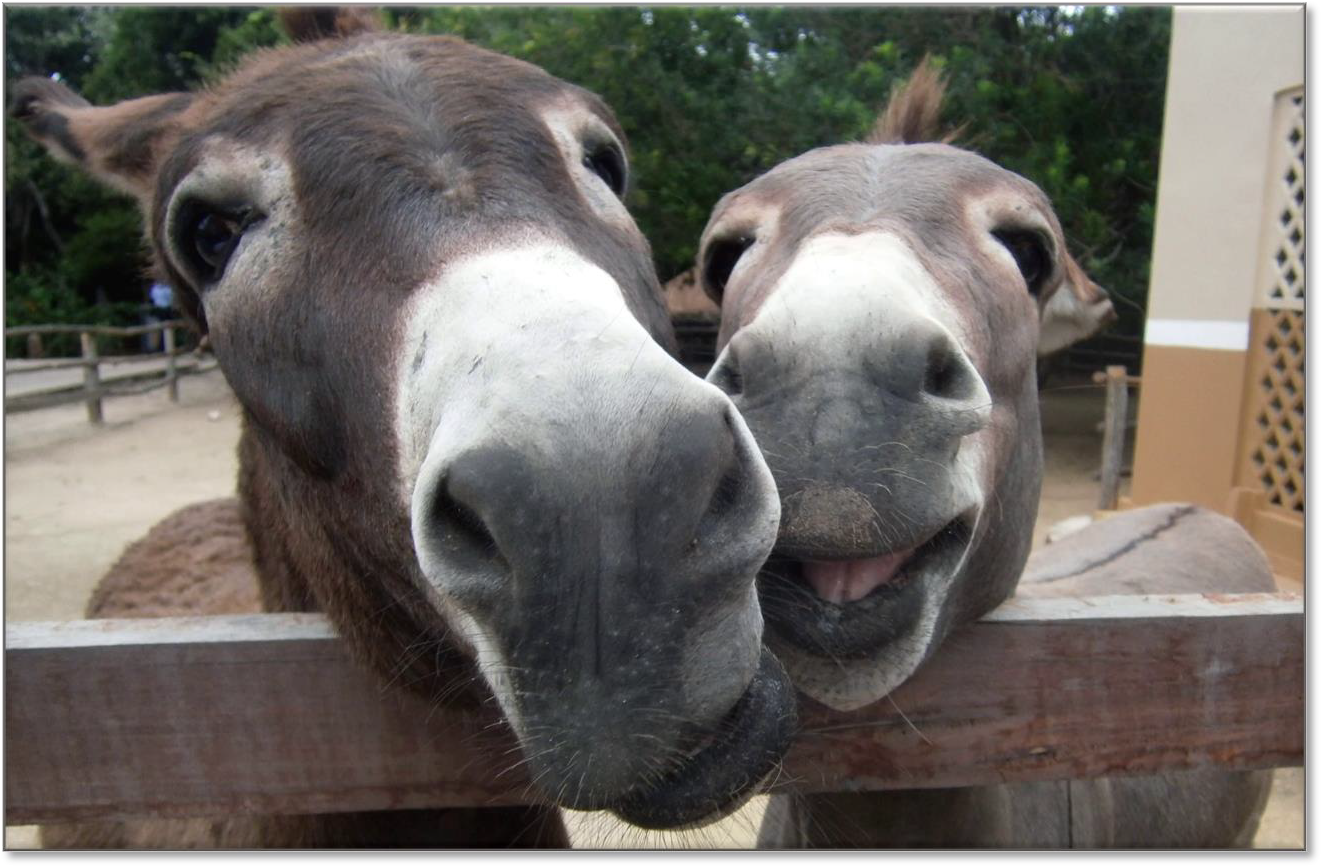 When you're having fun doing something or other people can watch you and see that you're having fun, they'll also want to give it a try. Who doesn't want to be happier and have fun? There are some things that most of us know to be true, without even seeing the research to prove it. We all want other people to like us so that we can feel like we belong.
We're all afraid of things that are new that we haven't experienced. Even if we think we want to, fear can show itself as butterflies in your stomach or not being able to sit still and relax.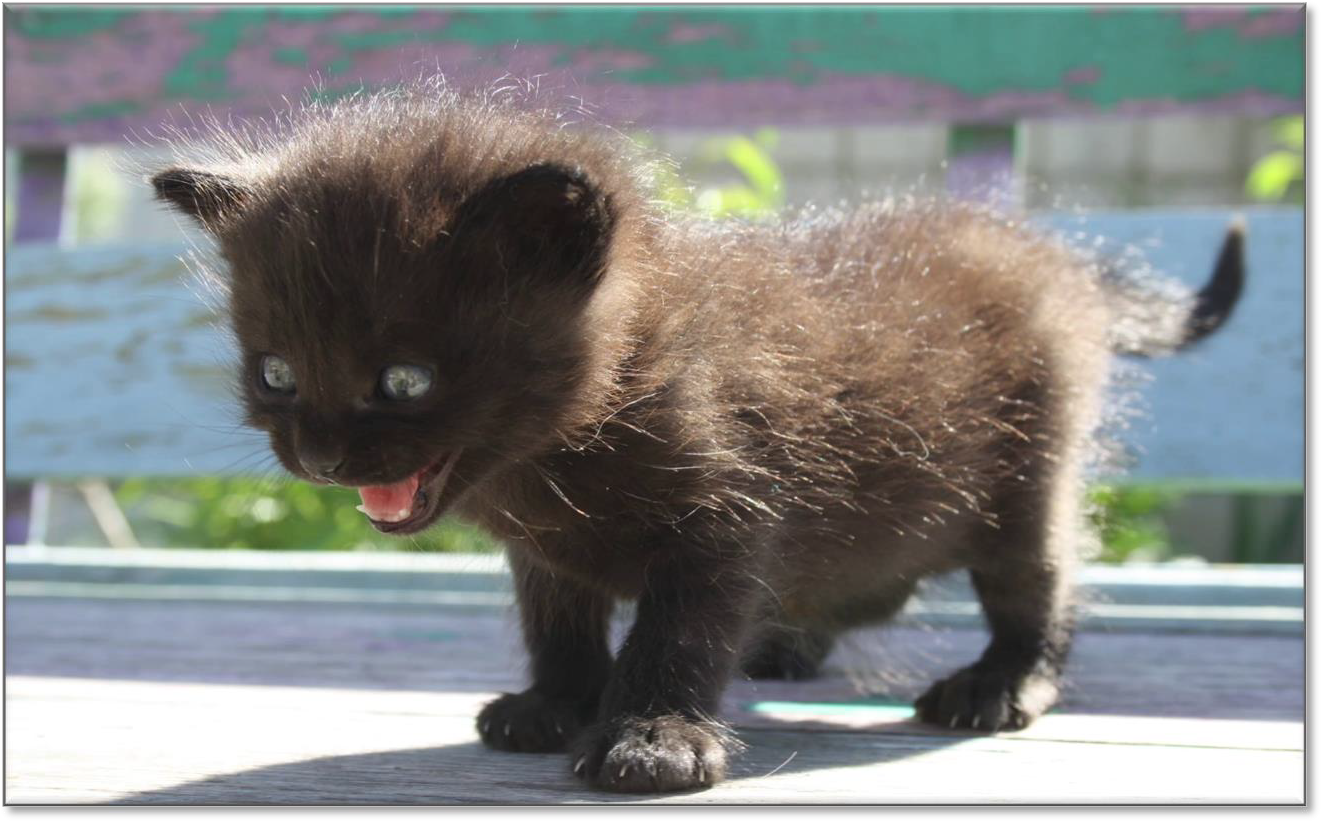 Everyone has different ways to show it, but that fear is what keeps us from wanting to just go out and try everything new and see what it's all about. It's what makes us resist change.
If you've ever heard Susan Hanley speak, you'll have heard her talk about WII FM: What's in it for Me?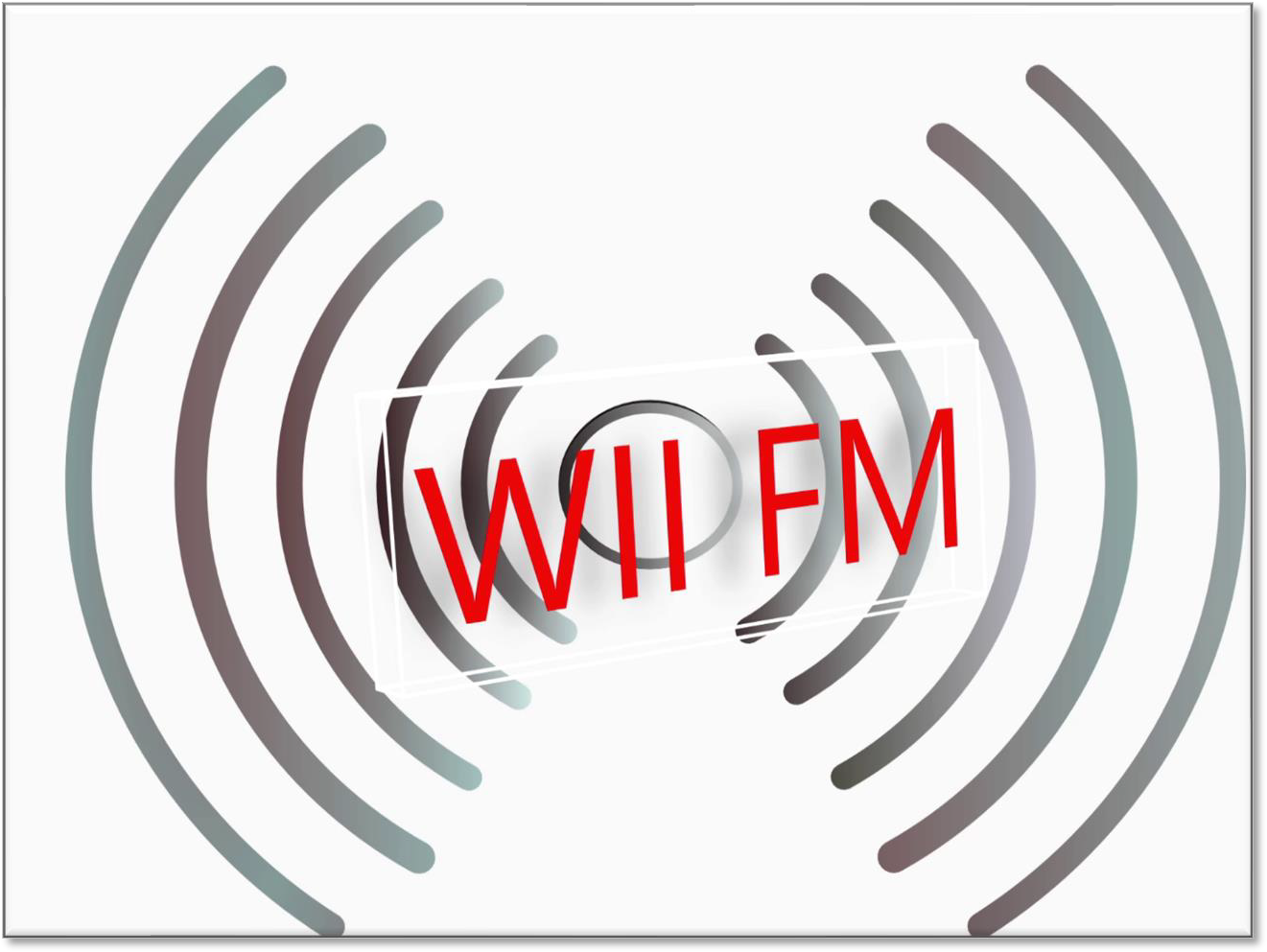 Trying to get someone to change or to try something new often requires a value proposition. You have to provide 'value' in exchange for getting them to try that new thing.
The Skype to Teams Experience
Do you know the significance of this date?

As you probably are aware, we're in the countdown to the end of life for Skype for Business Online. Microsoft's going to be retiring from the service on July 21st of 2021. If you haven't already transitioned, you're going to want to get a move on.
With the help of a transition team, a global manufacturing company recently moved from Skype to Teams. At the start of the transitioning project, everyone already had access to Microsoft Teams, and they were using Skype for Business on a regular basis. Hardly anyone was actually using Microsoft Teams and a couple of people who were didn't appear to know what they were doing. It was used strictly for chat, and people thought it was just another chat product that you used to group chat. Some of the team names were rather odd, like 'Joe/Jim/Bob' or 'Susan/Kerry/Robert'. It seemed pretty much as if they didn't know what they were doing.
Resources
After a couple of weeks of discovery, it was time for the transition team to come up with a plan. Two primary resources were used to develop the plan: the Microsoft Teams Toolkit and the Microsoft Teams Adoption Guide. The toolkit used to be a really ugly page with a lot of links on it and you had to find your way around, although it did have a zip file that you could download and use the pieces that you needed. Today, it looks a little bit different.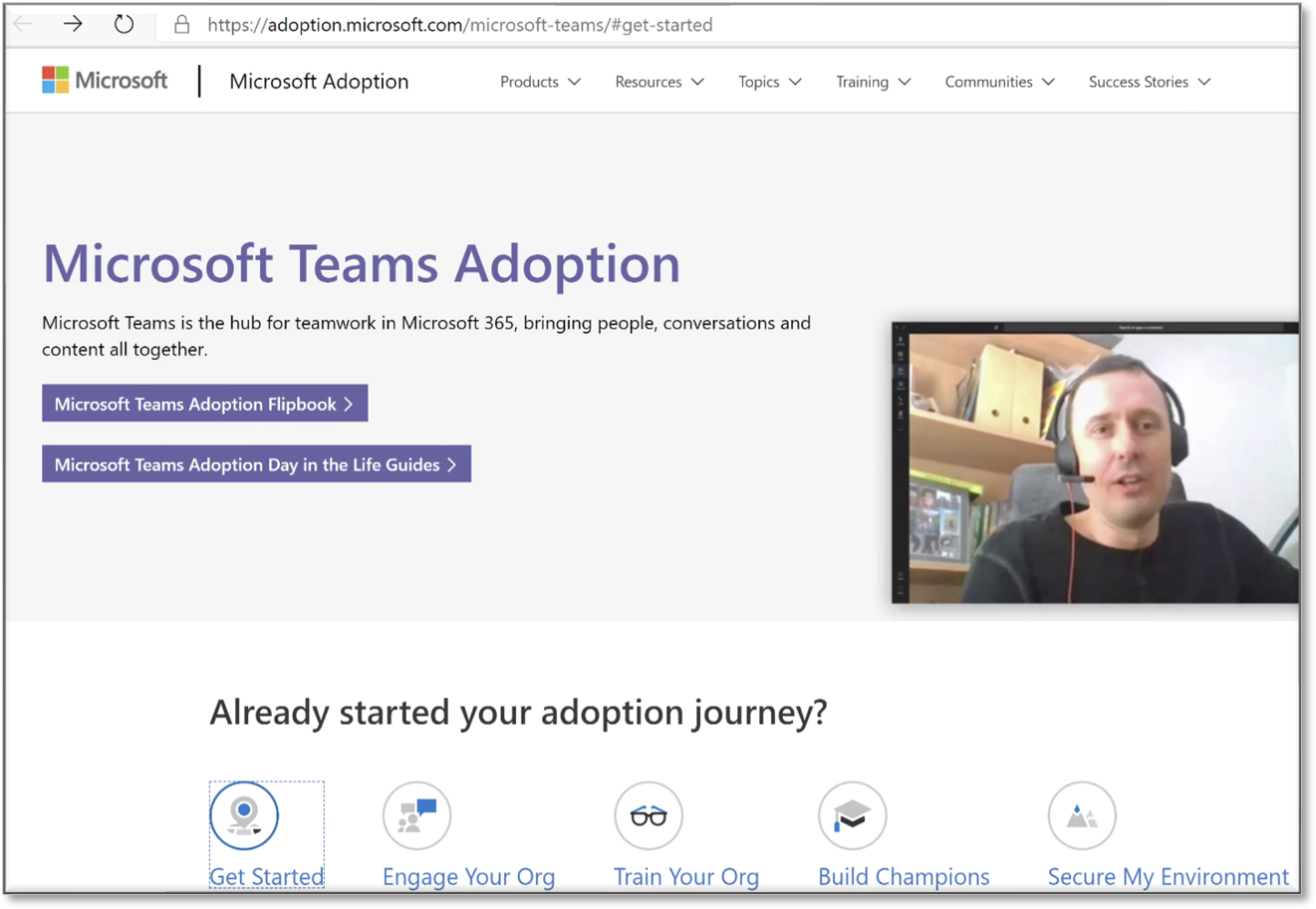 Today, it's called the Microsoft Teams Adoption page, and it has everything you could ask for. It has all the links that used to be on the old toolkit, but now they're organised in a visually pleasing way.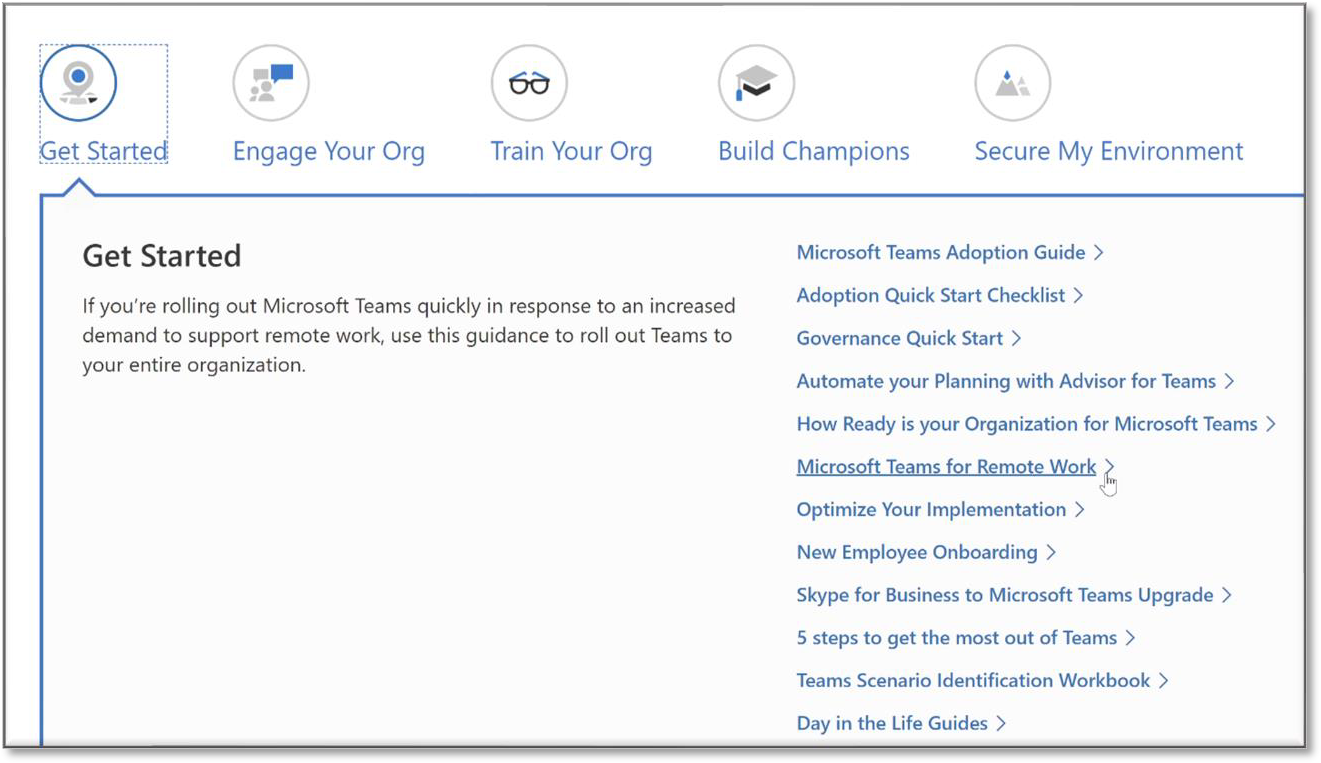 The Get Started section has the Teams Adoption Guide, a Quick Start Checklist and information on using it for remote work. The transitioning project started at the beginning of the pandemic when people were forced to work from home. That accelerated the entire planning process because it was important to get people working using Teams to be able to collaborate effectively.
The toolkit is split into the different phases of an adoption project. The 'Engage Your Org' section gives you a Teams Customer Success Kit, which features some great resources, such as communication plan templates. If you don't know how to write your own plan for communication of the technical part, there are some great examples in there.

In 'Train Your Org', there's help on planning and how to train people to use Microsoft Teams.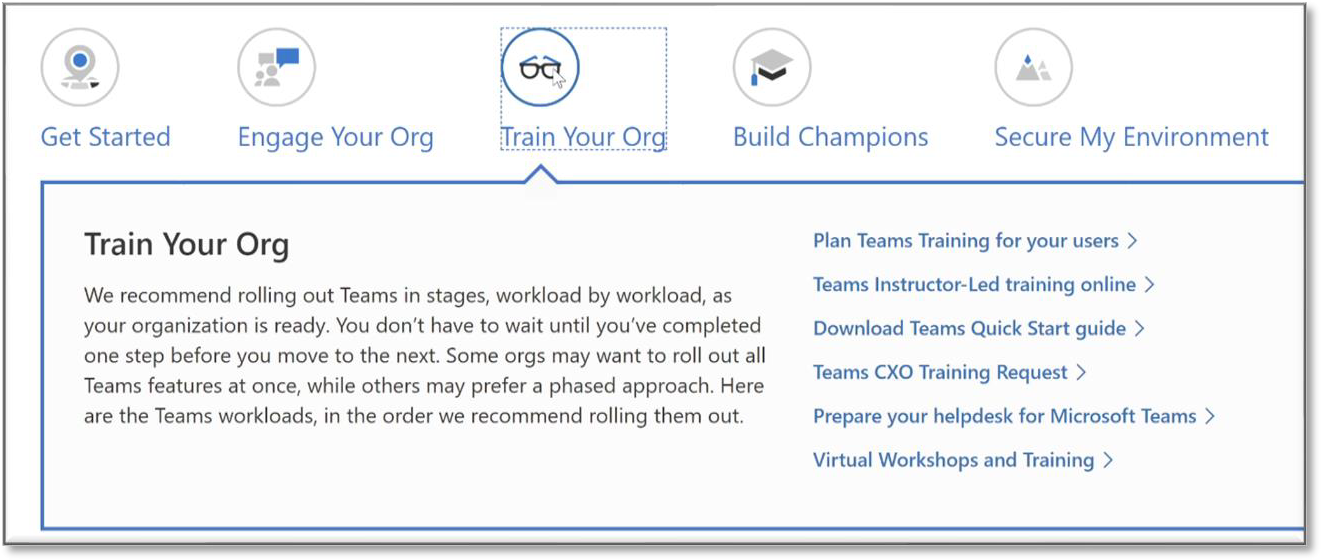 Whether you're a champion or whether you think of yourself as a champion or not, you're going to have to get some other people to help you. The 'Build Champions' section talks about how to build and recruit champions.

Last but not least, 'Secure My Environment' helps you go back and evaluate how your performance went, with workplace analytics, and so on.

When you're moving from Skype to Teams, the process is the same no matter which tool you're using. If you're just moving to Microsoft 365, not only are you going to be teaching people about Teams, but you're also going to be teaching them about how to manage files in Teams. They're going to need to learn the difference between sharing files in a chat and having them go in their corporate OneDrive account, and sharing files within a team (where they're stored in a document library, which is actually SharePoint).
Microsoft also has general information, which looks more like this.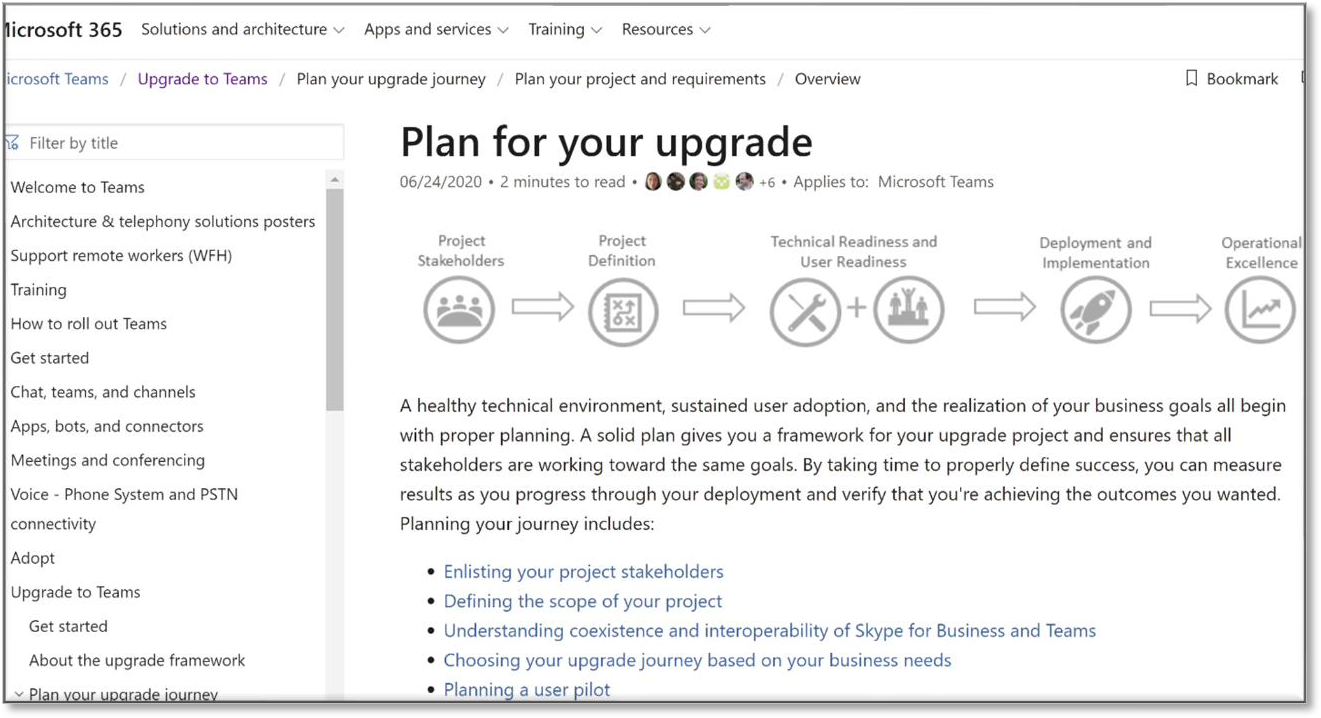 This is much more technical, but there is an entire section on how to upgrade to Teams.
The Microsoft Teams Adoption Guide is really cool because it's a flipbook with videos and other great content. It talks to you about the way you need to think to be successful in transitioning people over to Teams.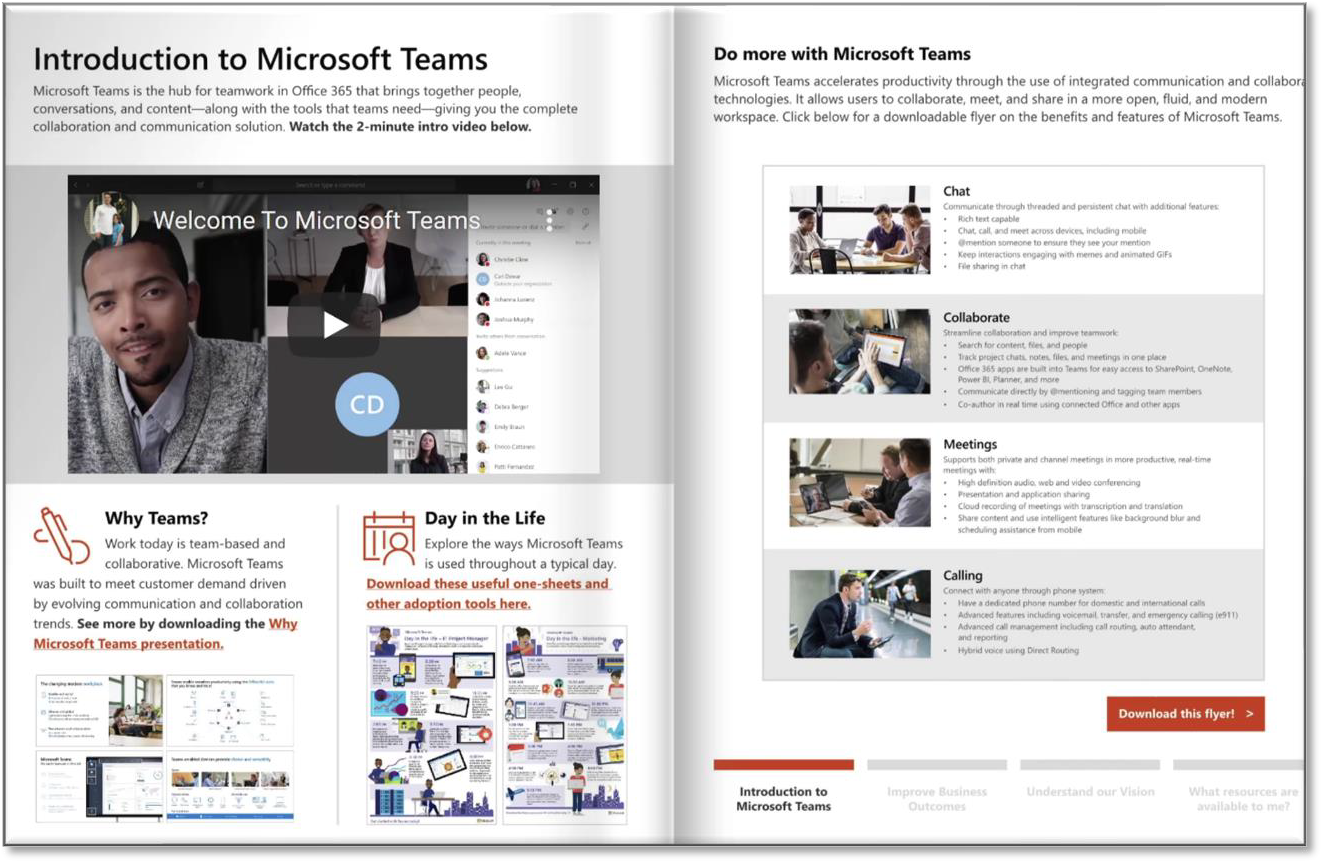 Towards the end of the book is a section called 'Three phases of Teams Adoption'. These phases apply to any product that you want to roll out as part of a service adoption programme: Start, Experiment, Scale. You get started rolling it out, you add more people, including your champions, and then you roll it out to the entire group.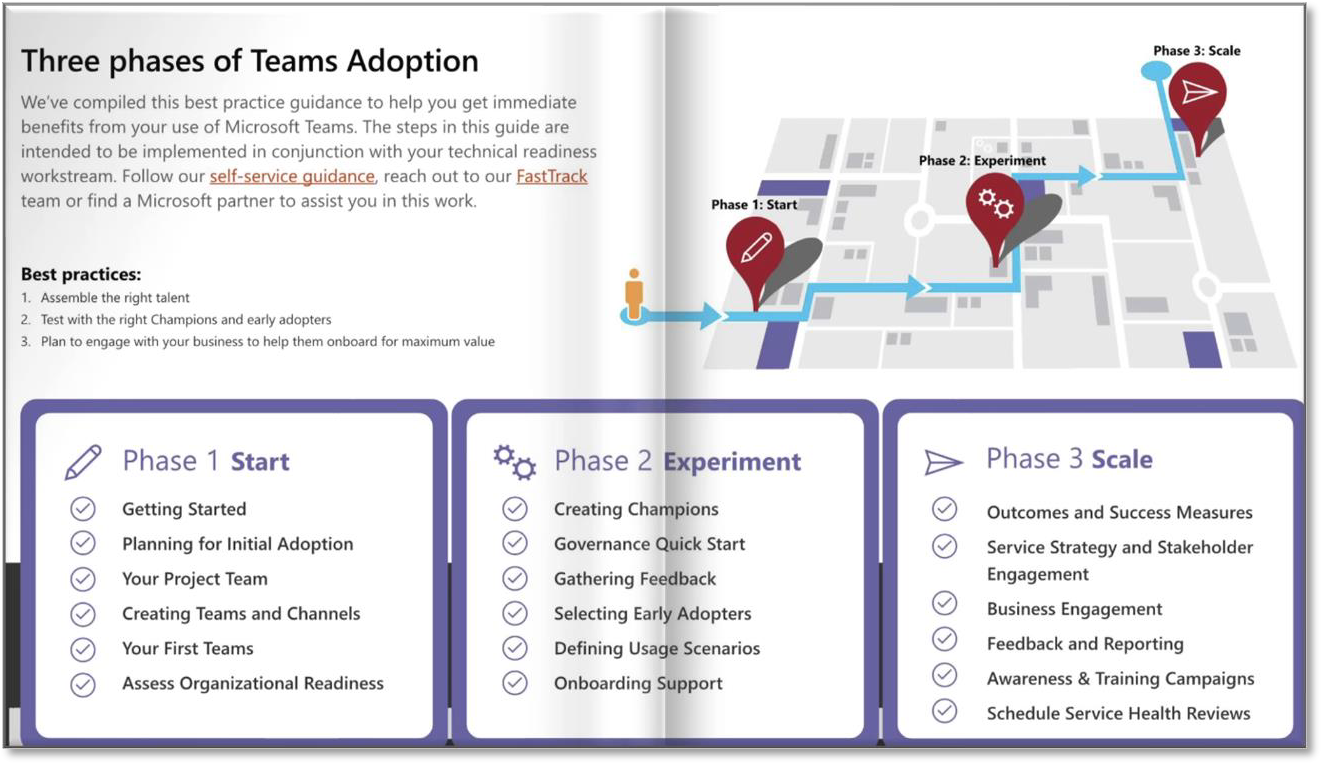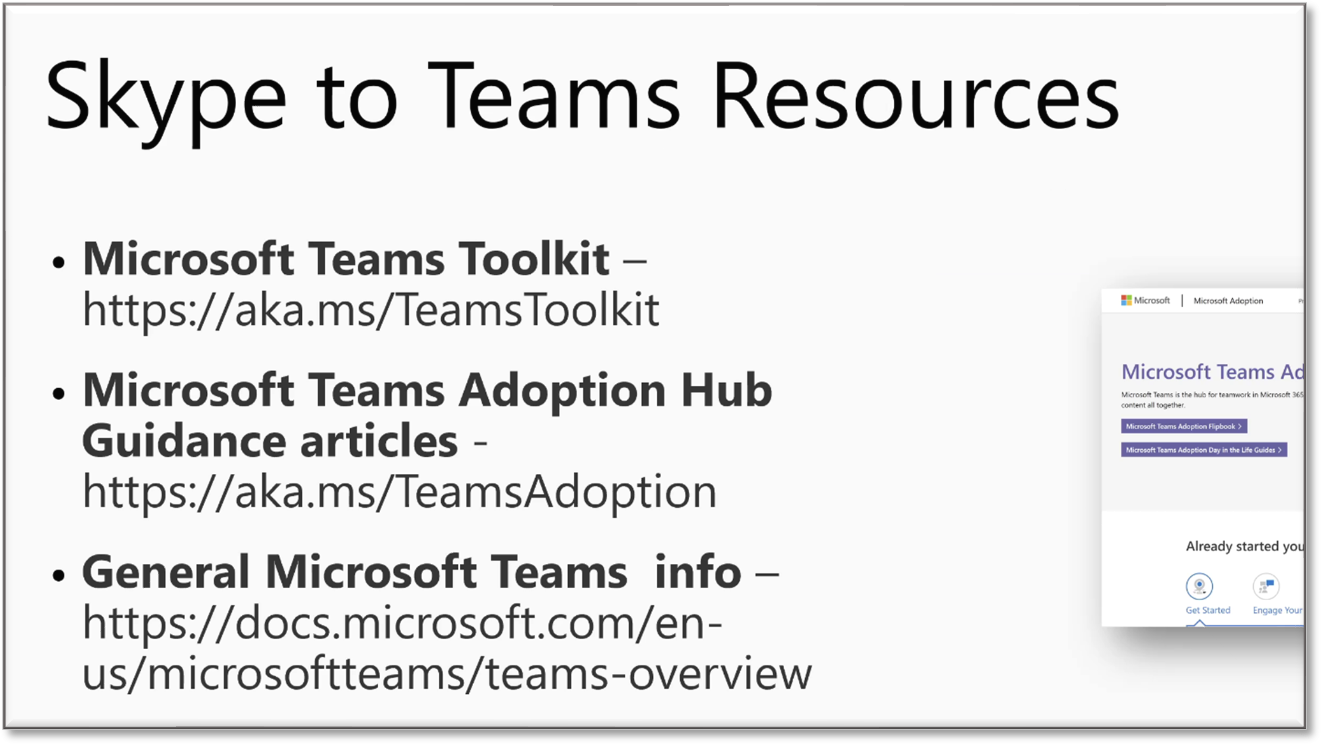 Skype to Teams: The Plan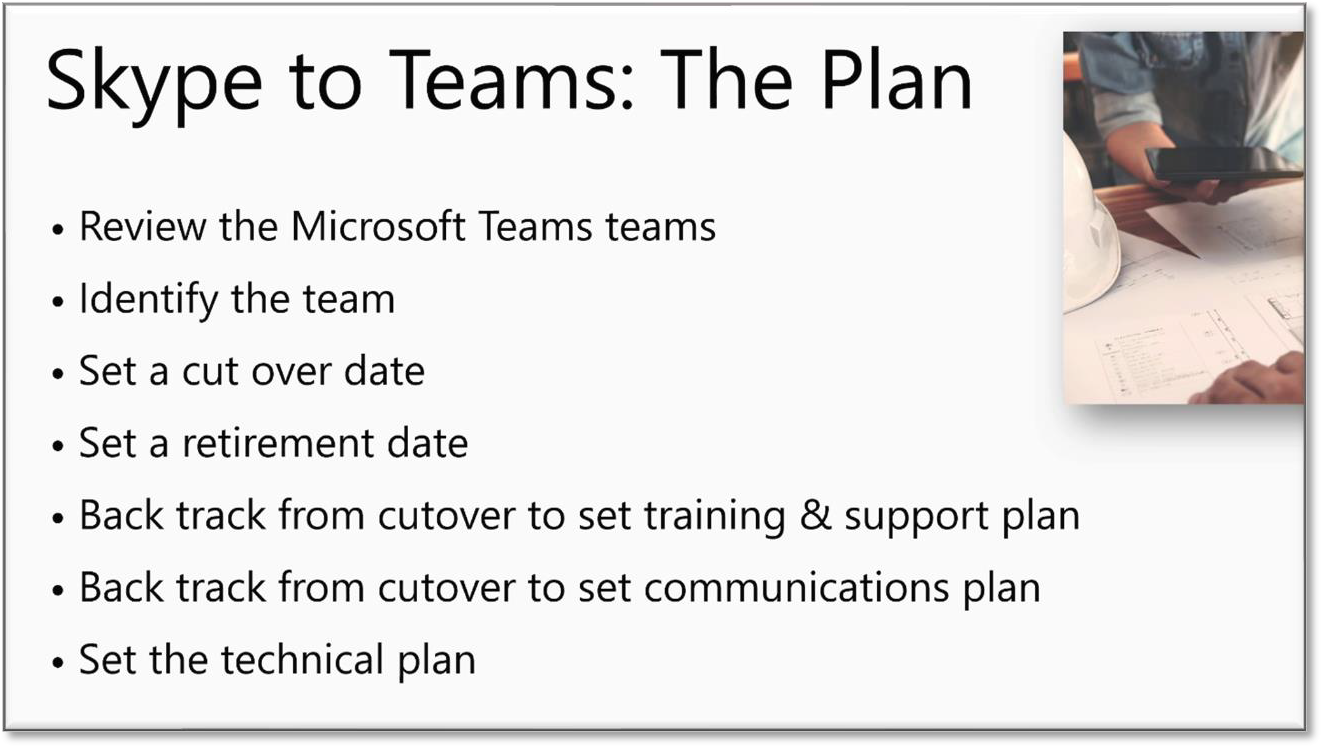 After reviewing the Microsoft Teams teams, it was time to identify the team that would be involved in the project: in this case, it was the rollout team, which was part of the technology services group. A cutover date and Skype retirement date (different from Microsoft's date) had to be decided. Once the dates were set, the transition team had to backtrack and come up with a communications and training plan and decide when technical work would be performed.
Review the Microsoft Teams teams

The transition team checked with the technical team to determine how the Microsoft Teams teams were being used and if they were even needed. Many were archived. It was necessary to think about governance and about how the creation of teams could be restricted, but not make it so restrictive that it would be perceived to be a hurdle to the business process.
Identify the team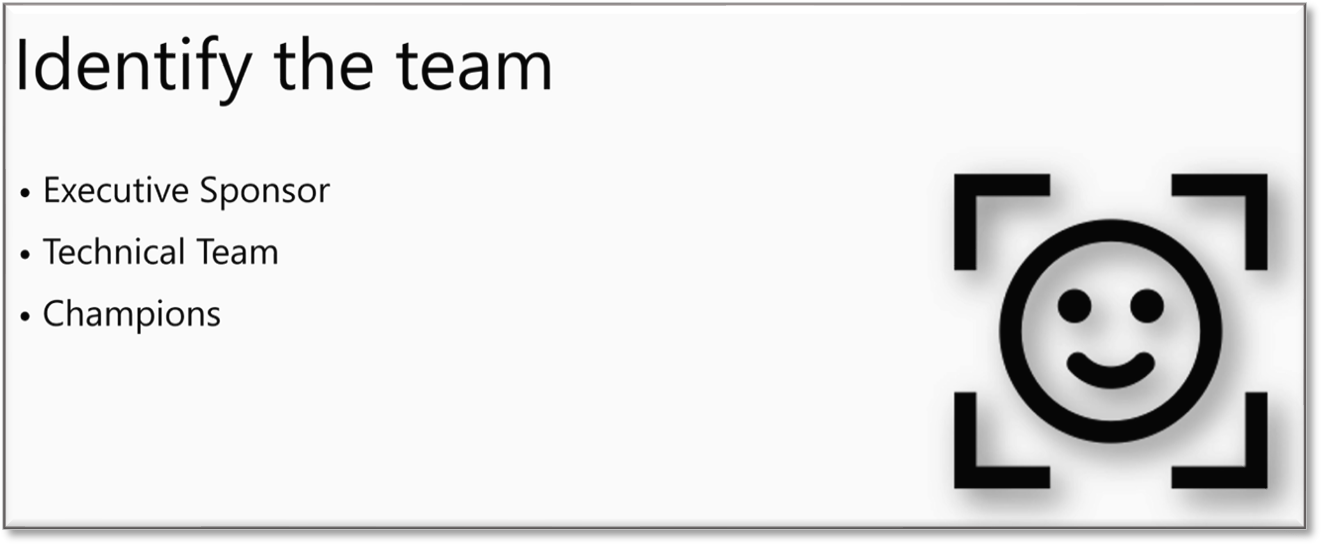 The executive sponsor had the final say on what the retirement date would be. He also approved the communications approach and the user training plan. The technical team were tenant administrators and part of the helpdesk, which made it a technical team of three. Fortunately, a business analyst was assigned to each department in the company, and they were tasked with knowing about their department's system. This was the first group of champions, although some didn't know it when they started! It was a small enough group to train in advance, and they were accessible enough by everyone in their departments for them not to be viewed as an obstacle. They became the new Microsoft Teams team owners, moving forward, to get everybody started.
Set a cut over date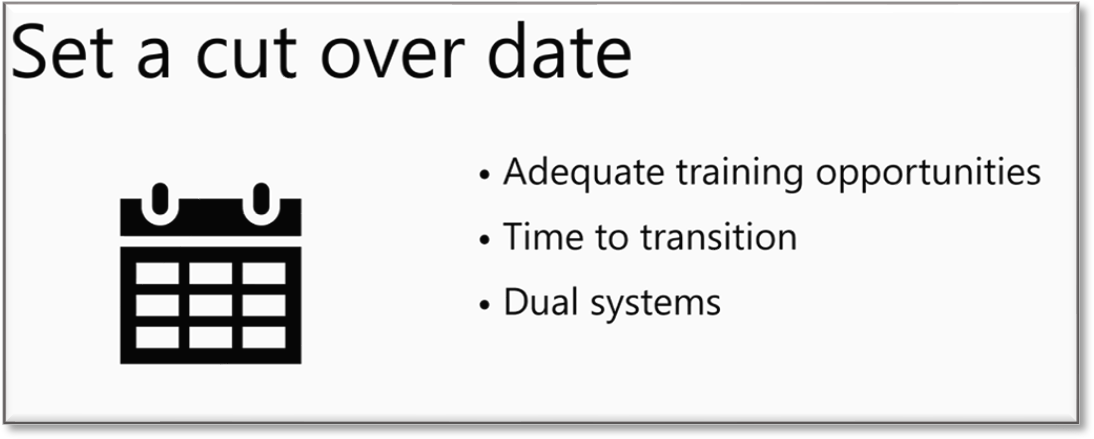 A cutover date was set. The executive sponsor in the tech team decided on the date to use. There had to be enough time to train everyone – almost a month. Training was scheduled at different times and dates to ensure everyone would be able to find a convenient time to attend since it was a global company with people in different time zones. It was important that there was enough time to transition, where people wouldn't feel blindsided by the decision and the date.
In this case, they were running Skype and Teams at the same time. You may choose in your implementation not to do that. You may decide to do it cold turkey and tell people,
'Look, on this day we're switching over to a different system. We're going to Teams, and Skype will be no more'. That's up to you. In the transition project, it worked out well to have both Teams and Skype up for a while, in tandem. That way, people had a chance to get used to the idea and to try it out without feeling like they had to rely on it and they had no choice. And that worked out really well with some training in advance so they could get used to it.
Set a retirement date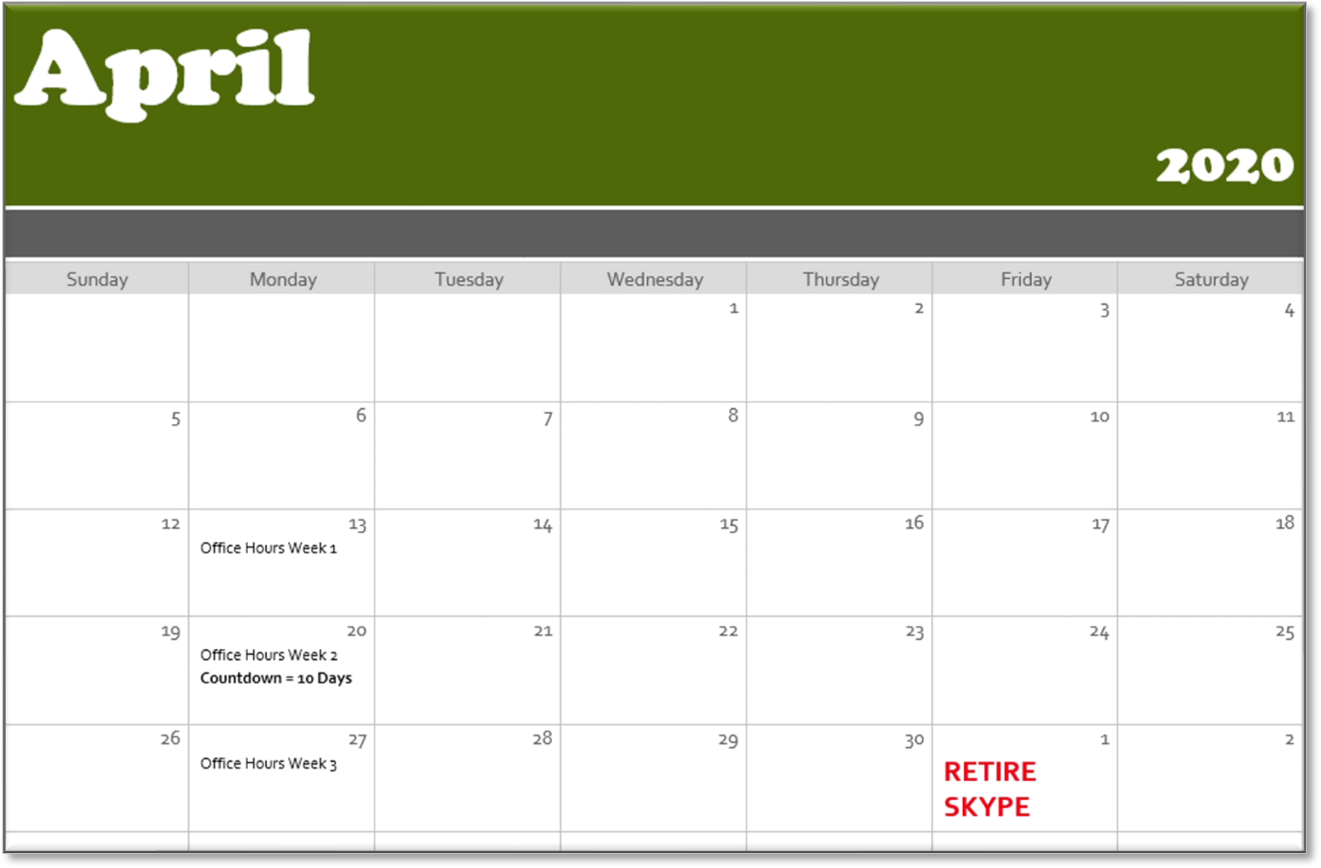 The retirement date was set for May 1. The decision was made at the beginning of April and it was felt three and a half weeks would create a paradigm shift in thinking for people in how they message and hold meetings.
Set the technical plan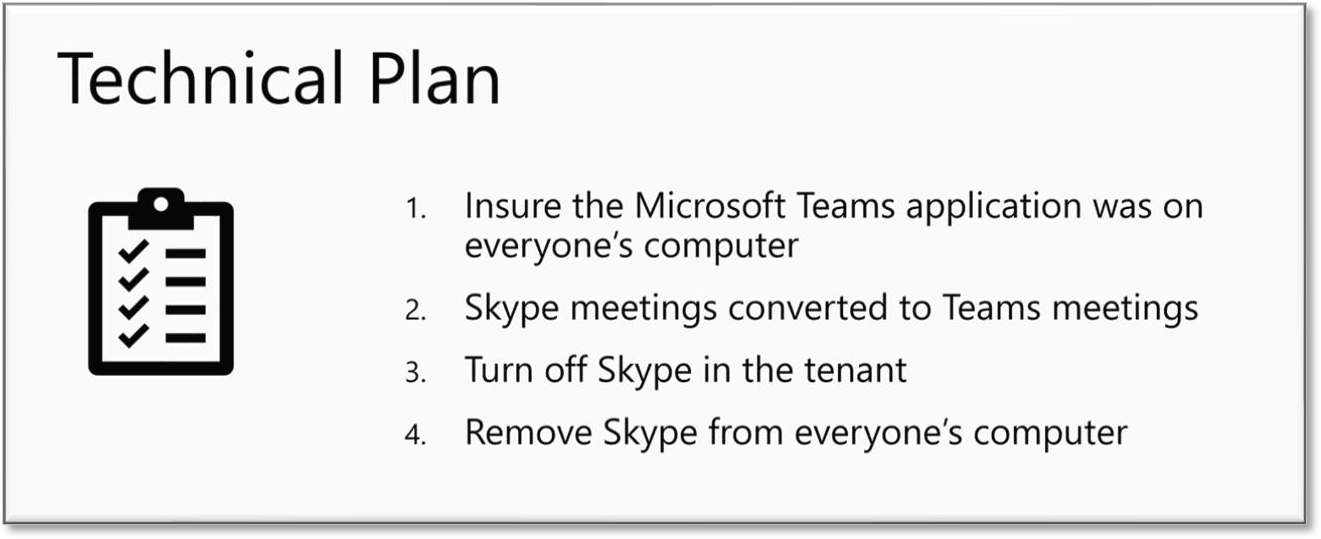 There were four things that the technical team had to handle. The team wanted to make sure that the Microsoft Teams client application was on everyone's computer, and that was something the network guys could push out. So, that's what they did. It would have been difficult to get everybody to download the application since they didn't have admin rights on their computers. A lot of people had scheduled Skype meetings, and they had to be converted to Microsoft Teams meetings. Either the users could do that manually,
or the technical team could do that using PowerShell. In fact, they chose to do both. The technical team would also need to turn Skype off in the tenant. If someone still had Skype on their computer, even if it were turned off in the tenant, they could use it via the Teams service. So, the network guys put together a script to be able to completely remove Skype from everyone's computer on May 1.
Backtrack from cutover to set training & support plan

Office hours training was an hour training session, five days a week. It was Monday, Wednesday and Friday at noon, Tuesday and Thursday at 2 pm to support the different time zones. Each training session during a week was on the same topic. They were all recorded, and the best session of the week was posted onto the intranet.
People were directed to the Teams help files, which are in the lower-left corner of Teams (Help). There are all kinds of great Microsoft videos there, and most of them are a minute or less. The technical team created a Microsoft Teams team, called 'MS Teams support'. Announcements were posted to the general channel. There was a questions and answers channel, where people could ask questions, and anyone could respond with an answer. That went over really well.
Backtrack from cutover to set communications plan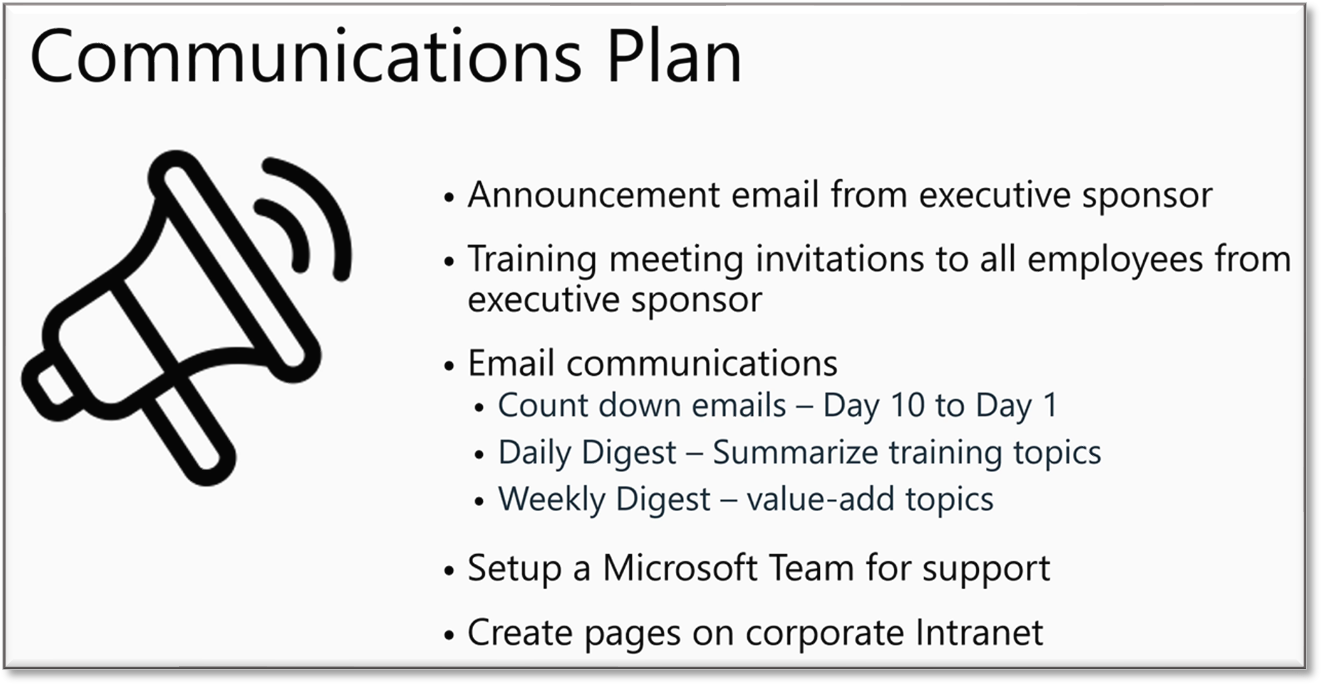 The communications plan was pretty extensive. The executive sponsor sent an email, invitations for all the office hour sessions went out, and further emails were sent reminding people of what was coming and what they needed to do if they had not attended any of the office hour sessions. Here's an example of an email that was sent out about setting up a meeting with external users.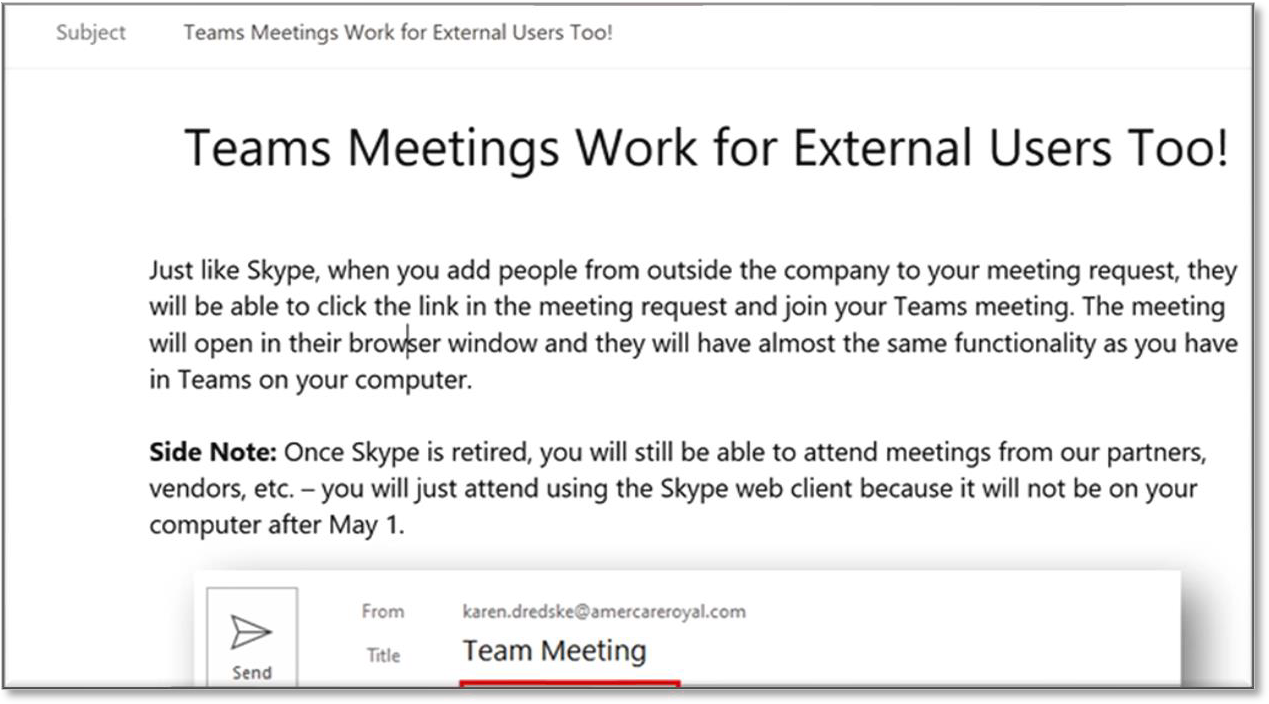 This helped people to feel confident that they understood what was going on for the person that they had invited and, if they needed to, that they would be able to troubleshoot for them. The email was based on a template in the Microsoft Teams adoption kit. The team added some new links and changed the colours to match corporate branding.
Training also covered related applications such as OneNote, for taking meeting notes. The training topics for the office hours sessions were extensive because you can fit a lot of information into an hour session. People were encouraged to ask questions, and these weren't restricted to whatever the topics were or that day's agenda.

The first week was an introduction to Teams. How do you log in? How do you download the app to your cell phone or tablet? How do you add your picture and update it? How do you schedule and run a meeting? How do you use chat? How to search for information?
The second week covered running meetings, how to share information and how to share your screen. The most helpful thing for people was explaining that when they go to share, a little overlay comes up and the option is shown to the furthest left and at the top will always be your main monitor. It says screen, but it actually means your monitor. If you have more than one monitor, the first one is going to be your primary monitor, or if it's your laptop, it'll be your laptop monitor. And then the second one will be right below it. If you happen to run three monitors, there will be a third one below that. If you use 'Window' what it's actually doing is opening an application.
The training sessions often involved troubleshooting issues. Sometimes people seem to be able to hear you, but you can't hear them. Having a monitor that's connected to your computer using an HDMI cable can cause that because HDMI will carry both audio and video. When that's plugged in, your computer doesn't know that your monitor doesn't
have speakers on it. The team showed people how to go into their device settings and set them: for their microphone, their speaker, their video camera and so on.
Another topic was file collaboration. Where are your files at? Where do they live? When should you put your files into OneDrive? If you put files into corporate OneDrive is that the same as using a file share? And, if I want to share something, how do I find it? A popular topic was synching OneDrive with the files on your computer. Extra settings included how to update status profiles and sharing successes using the Praise app, which is really nice. It's good for building some camaraderie and in a positive environment.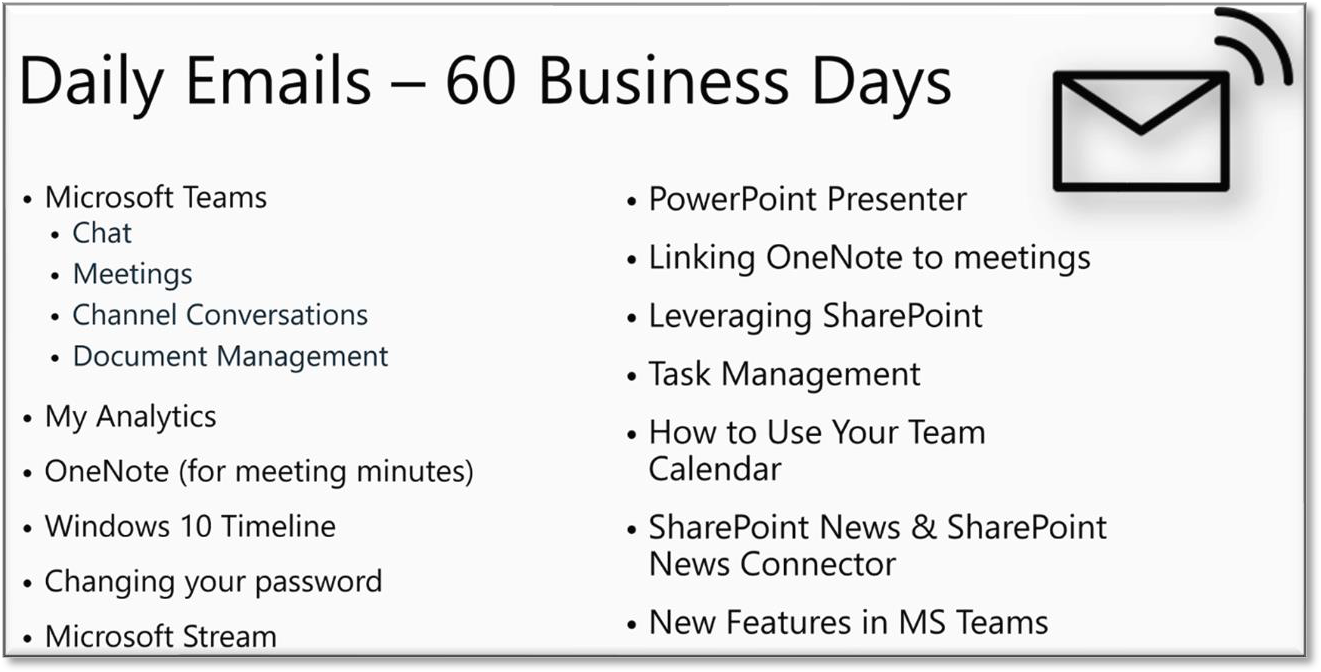 The team sent daily emails, totalling 60 business days of emails. Each of the office hour sessions was broken up into smaller bites so that people could digest them if they weren't in the class. Further emails highlighted productivity.
To Certify or Not to Certify, that is the Question!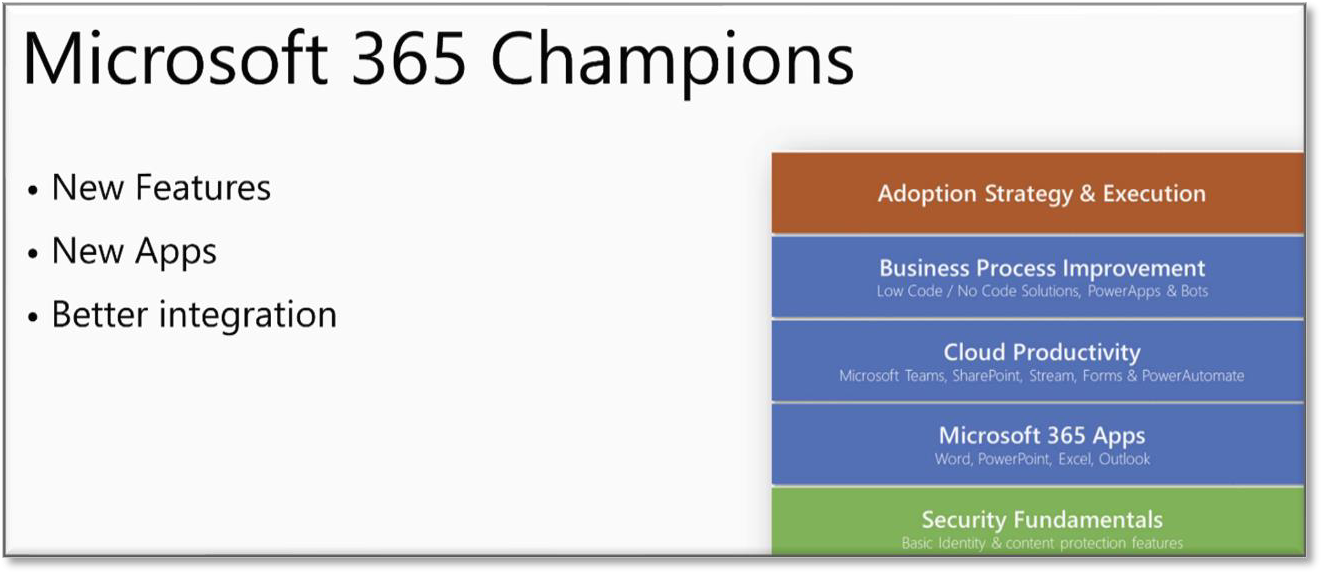 If you think about what a Microsoft 365 champion is, although we've been talking about going from Skype for Business to Microsoft Teams, Microsoft 365 champions really are the people who are excited about the products. They're the people who care enough to keep up to date on the features, and new apps that are coming out. People who are excited and interested in learning about Office integrations. If you find yourself in that position, you have the option to certify and become a Microsoft service adoption specialist.
Where do you get the certification? edx.org is the place to get the training and take the test for the Microsoft Service Adoption Specialist.
It's free, there's no charge for it, and it covers all of the primary methodology points that we've talked about so far that is outlined in the flipbook. There's a general introduction followed by the service adoption framework, getting started, experiment (beta testing) and then enablement. Each of these modules ends in an exam. Then there's a final exam and an additional post-course survey.
However, from 2021, the course will be hosted on Microsoft Learn (learn.microsoft.com).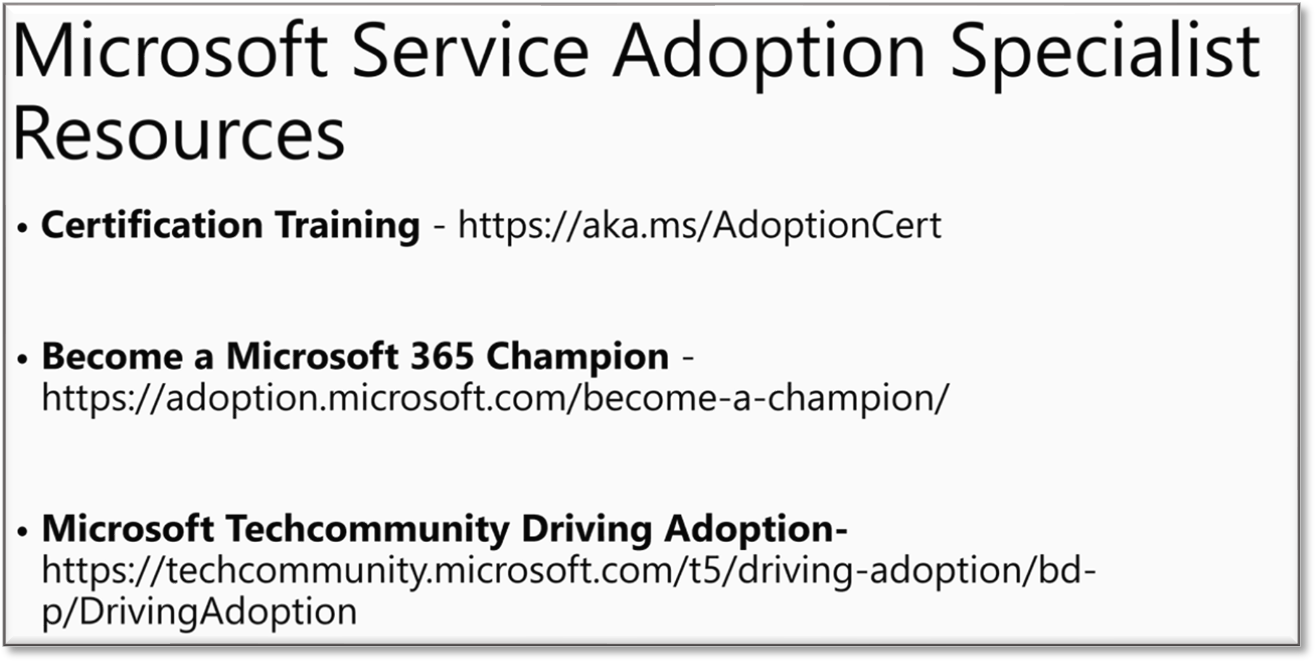 The Certification Training link above will take you to Microsoft Learn. The course currently takes approximately 15 hours of study. Once you're done, you get your certification, and you can add it to your LinkedIn profile and resume.
There is also an official Microsoft programme called 'Become a Microsoft 365 Champion'.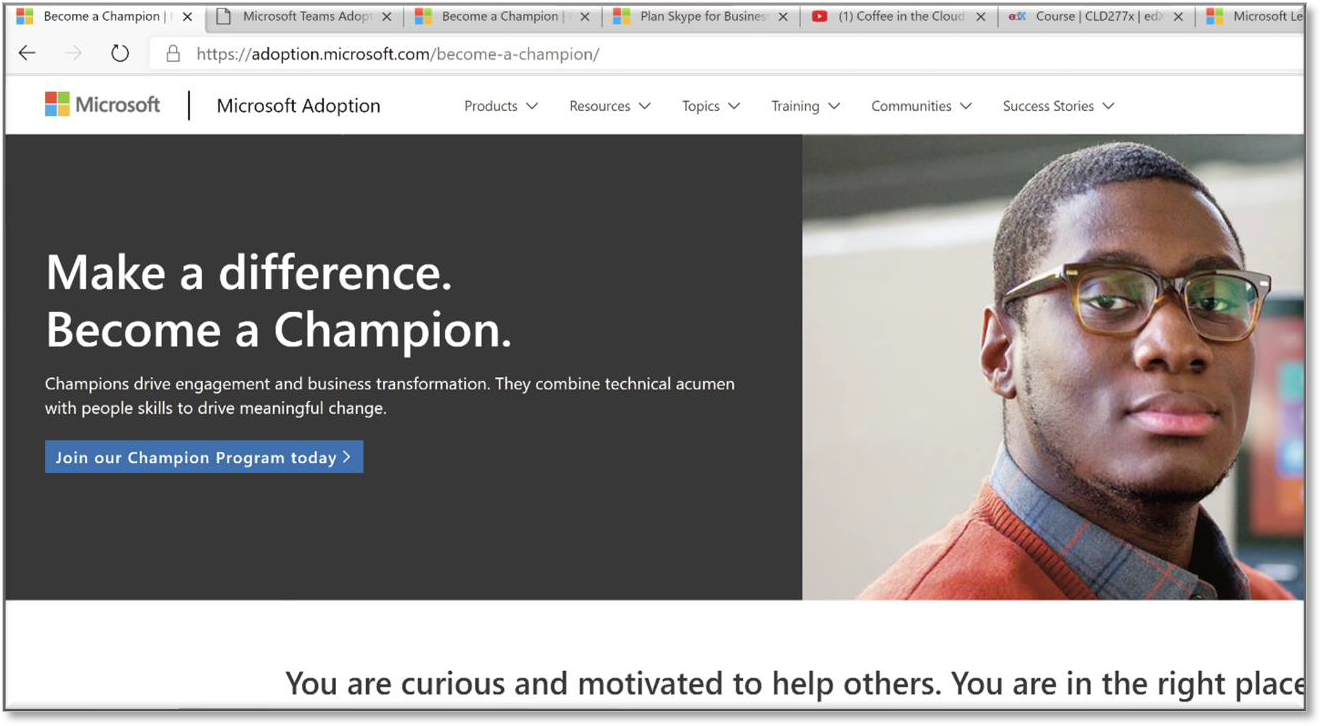 The champion page shows you what Microsoft feels are the best qualifications for being a champion. It'll tell you all the benefits of being in the 'champions' programme and what you're building.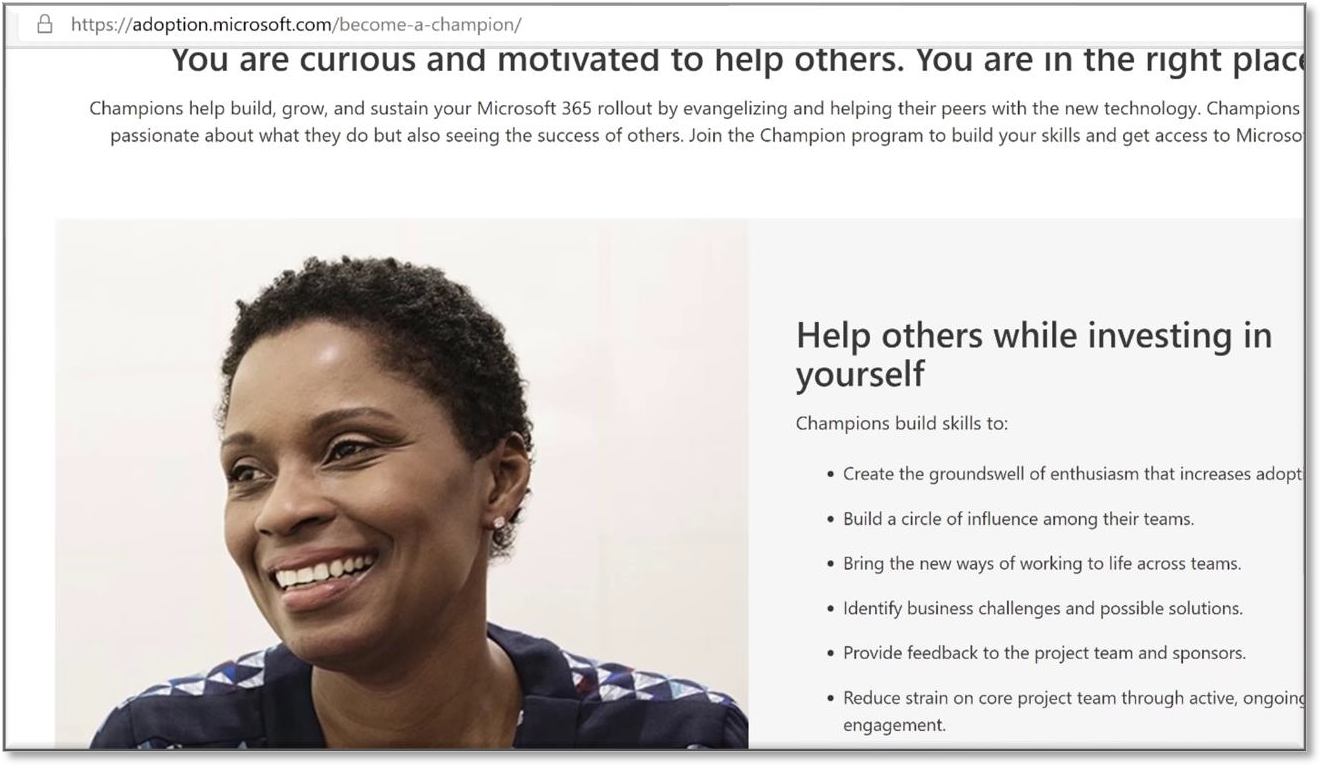 When you're a Microsoft 365 champion, once a month there is a meeting, and they also put out a newsletter to keep people engaged. There is a driving adoption site in the Microsoft tech community, and that includes a blog for driving adoption.
Resources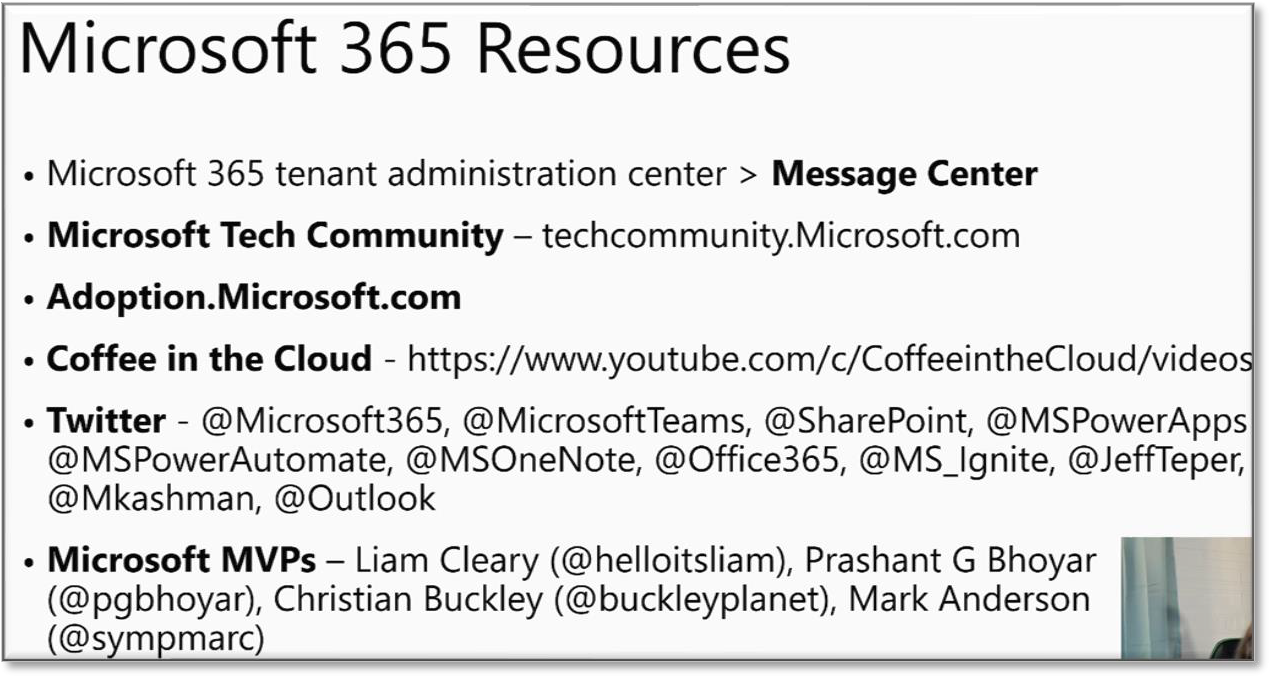 How can you keep up with all of these new features that are coming out for Microsoft 365? There are a number of ways to do that.
The first one is: just keep up with what Microsoft gives you. In the tenant administration centre, there is what's called the 'Message center'. Microsoft sends out notifications a minimum of 30 days prior to rolling out features. It's kind of hard to keep track of all the announcements and delays, and that's going to be your challenge as well. You may want to set up a SharePoint list or a calendar to track all the news.
There is, of course, the Microsoft tech community. There are constantly people in there, and hopefully, you will go there too and help answer questions for people that are looking for how to find champions, how to create champions, and how to transition their company from using Skype to Teams.
Coffee in the cloud is a YouTube channel, with lots of tips and tricks for using Teams, for user adoption and new features that are coming out.
A lot of information can be found on Twitter. There are Microsoft 365, Teams, SharePoint, OneNote, and Office 365 groups. Jeff Teper is known as the father of SharePoint, but he currently is the product owner for SharePoint and Microsoft Teams, and it's always good to get things from the horse's mouth. Mark Kashman is the product owner for Microsoft Lists, which is also a SharePoint product. Last, but not least, there are also Microsoft MVPs out there who are fantastic at sharing information.
Summary
Skype for Business is retiring on July 21st of 2021. If you haven't already transitioned, you need to get a move on. If you aren't a champion, you're going to need some champions to help you out. The two primary resources you should use to develop a transition plan are the Microsoft Teams Toolkit and the Microsoft Teams Adoption Guide. The Teams Customer Success Kit includes some great templates for your communication plan.
Allowing enough time for your transition is a key consideration when setting cutover dates, planning your communication strategy, and organising training sessions.
Enthusiasm is contagious, but trying to get someone to change or to try something new often requires a value proposition: What's in it for Me?
Microsoft 365 champions are people who are excited about the products. If you want to certify to become a Microsoft Service Adoption Specialist and Microsoft 365 Champion there are lots of great resources to help you.