Teams and bots have been talked about for a long time, but now they are more functional than ever. This eBook is a companion to Nick Brattoli's GlobalCon4 session of the same name.
It covers topics such as – Licensing Requirements – Creating and publishing a Power Virtual Agent – Connecting Power Virtual Agents to Teams – Advanced features and enhancements – Challenges
If learning about low and no-code bots excites you, read on!
Here's what we'll cover in this eBook:
What is Power Virtual Agents and what you can do with it
An overview of the Power Virtual Agents online platform
How to build a no-code bot using Power Virtual Agents
How to deploy your bot to Microsoft Teams
How to use the Power Virtual Agents app in Teams
How to use App Studio
What is Power Virtual Agents?
Power Virtual Agents enables customers to create bots without coding and deploy their bots to Microsoft Teams.
With Power Virtual Agents, you can:
Create bots that can answer questions posed by your customers, other employees, or visitors to your website or service
Create bots without the need for data scientists
Create bots without coding
Power Virtual Agents is available as both a standalone web app and as a Microsoft Teams app. Most of the functionality between the two is the same. However, there might be different reasons to choose one version or the other based on the ways you want to use Power Virtual Agents.
POWER VIRTUAL AGENTS VERSION
USE CASES
Web app at https://powerva.microsoft.com

You're an IT admin and want to create bots for your customers to engage with




You've used chatbot services in the past, and want to trial or test Power Virtual Agents




You're familiar with advanced chatbot concepts, such as entities and variables, and want to create complex bots

Microsoft Teams app

You're an employee or member of an organisation or team and want to create bots to answer common questions posed by other employees or teammates




You want to use advanced concepts, such as entities and variables, but have the chatbot available only internally




You want to create and distribute a chatbot in the shortest time possible
Licensing
There are two ways you can use Power Virtual Agents.
The following table compares capabilities in the Power Virtual Agents for Microsoft Teams plan, which is available in select Microsoft 365 subscriptions, against the standalone Power Virtual Agents subscription.
Getting started with the Power Virtual Agents web app
To create a new power virtual agent:
1. Go to https://powerva.microsoft.com/
2. When prompted, enter your bot's name, assign a language, and select an environment
Within a minute, your bot will be ready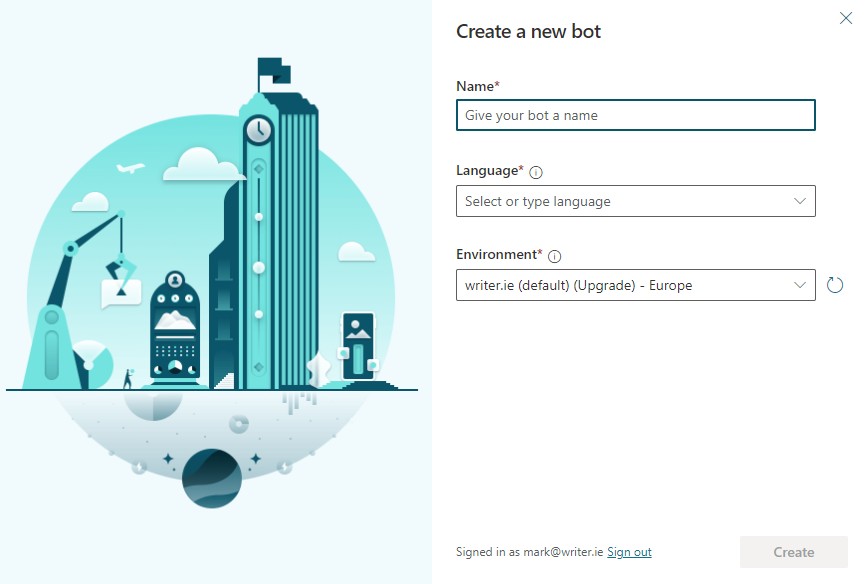 Once you have created your bot, the Home screen will be displayed. Here, there are many useful references and guides to help you explore the potential of Power Virtual Agents.
It also has a Test bot that allows you to chat to your bot before it is deployed.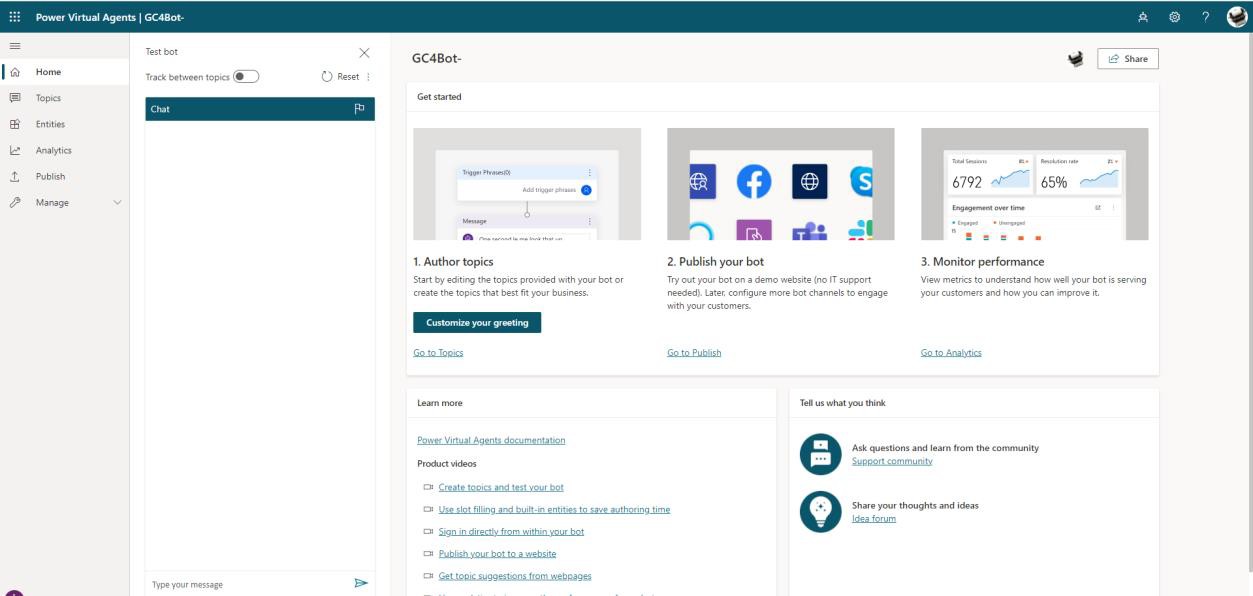 Topics
In Power Virtual Agents, a topic defines the conversation that you will have with a bot.
You can create such topics by customising the out-of-the-box templates or creating new ones yourself.
All topics have trigger phrases which are conversational snippets such as phrases or keywords that a user is most likely to raise about an issue. Also, topics have conversation nodes that help you define how a bot responds and what it should say or do i.e. provide information/links about a service.
When you create a bot, many topics are automatically created by default
For example, in the below screenshot, there are 52 trigger phrases that will be
triggered by the term 'greeting'.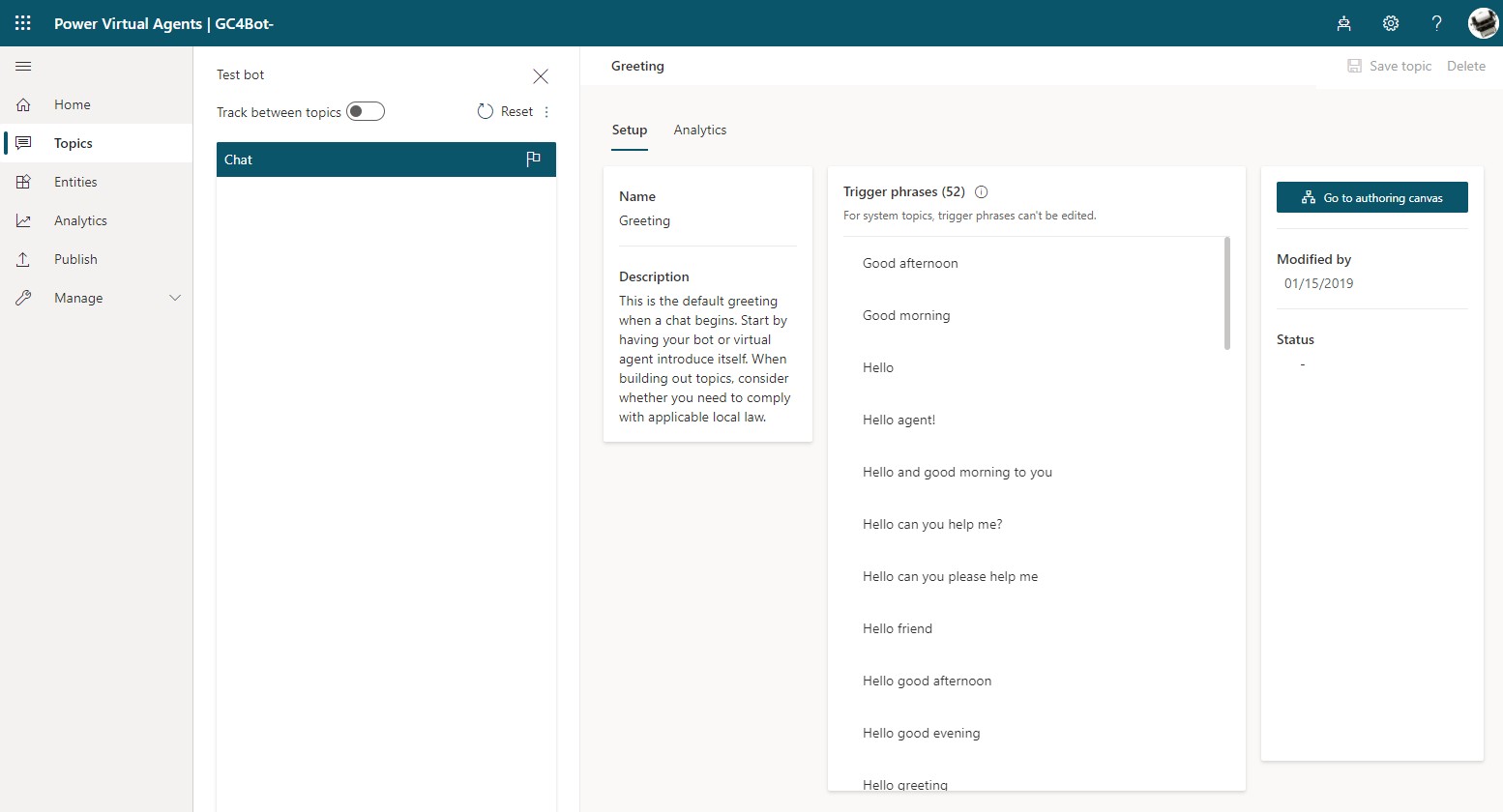 By entering the trigger phrase 'Hello' in the test bot pane, the bot responds with corresponding phrases.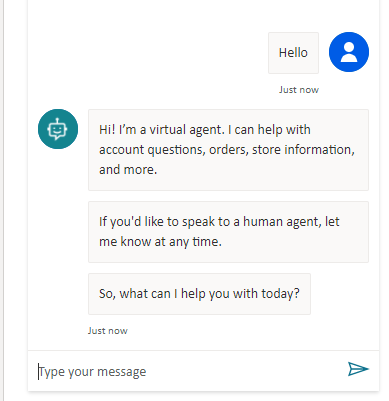 Adding a node to a trigger phrase
Note: You must save your work as you go. Save is located on the upper left-hand side of the screen.
Now that we've created a bot, let's add a node to a trigger phrase. A node is how the bot will respond to a trigger phrase.
1. Under Topics, select a User Topic and scroll down to Greeting.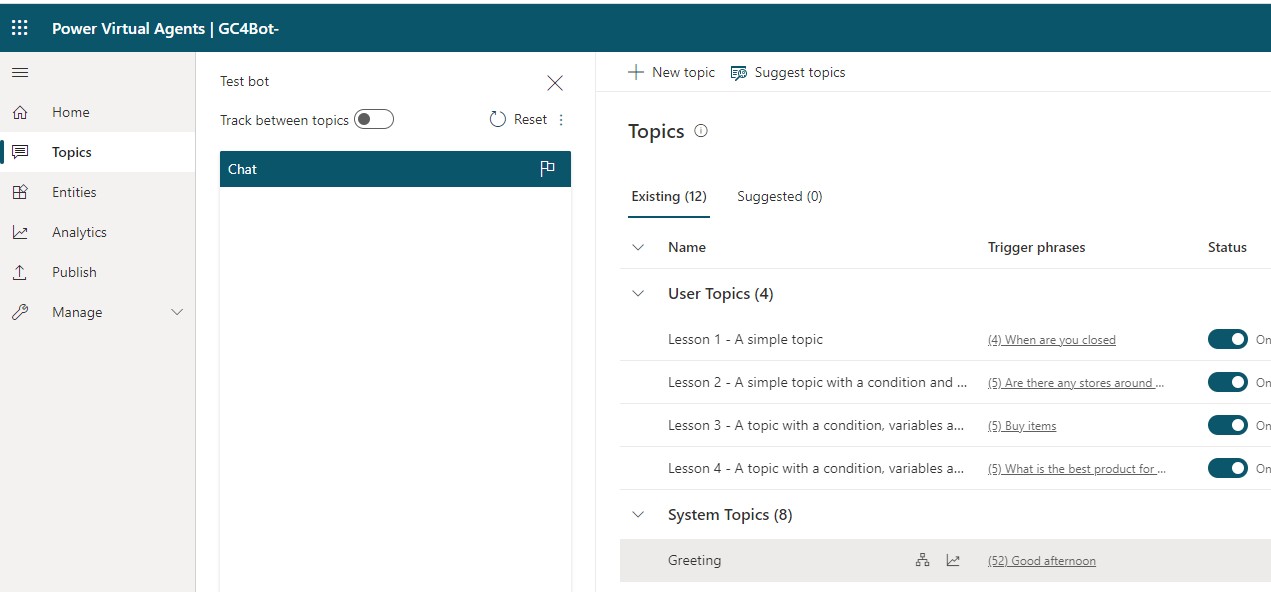 2. Click on Greeting and then select Go to authoring canvas. The authoring canvas is where you define the conversation path between a customer and the bot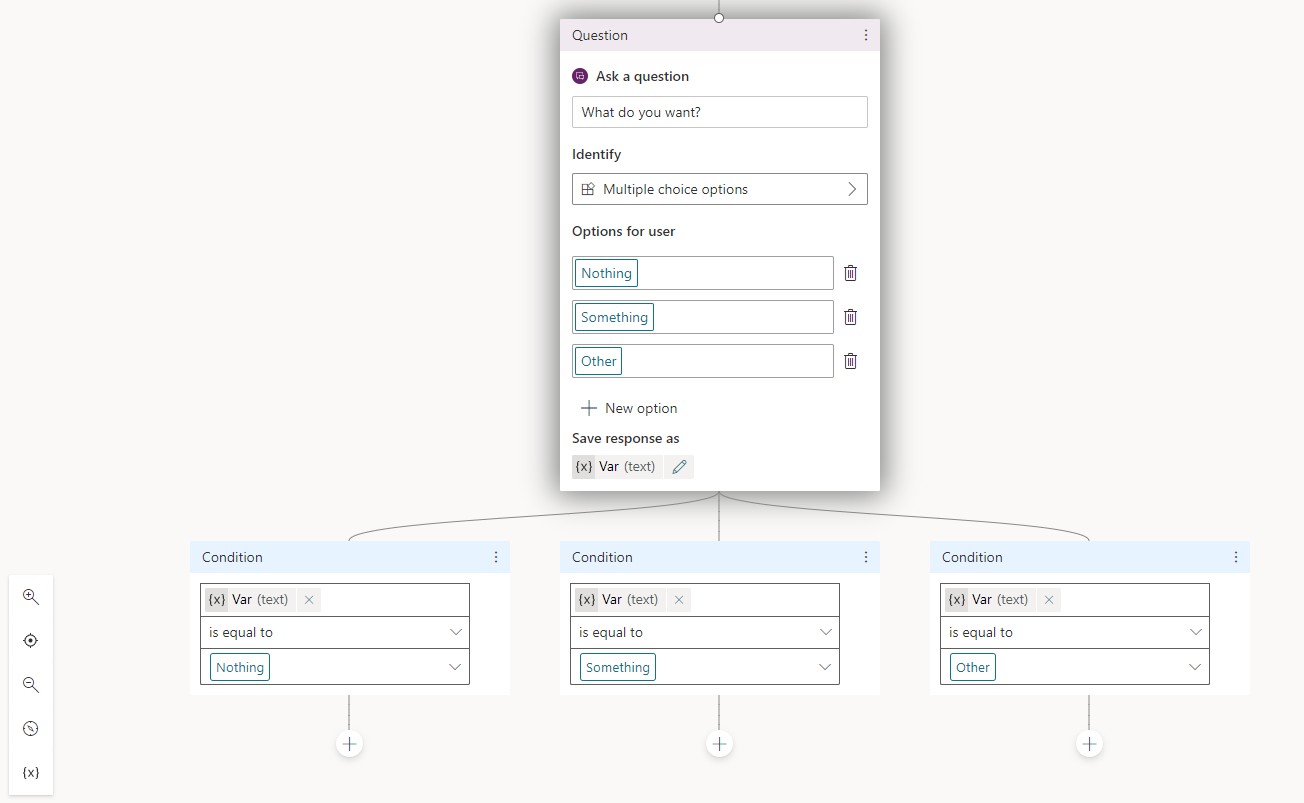 3. Select the Plus (+) icon after the last node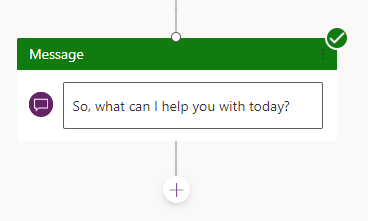 4. In the Ask a question field enter your question What do you want?
5. In the Options for user enter Nothing, Something and Other
6. After entering your Options for the user the branching logic appears.
Save the response as a variable
1. Under Save response as select the pen icon
2. Modify the variable name
3. Under Usage select Bot (any topic can access)
4. Select Save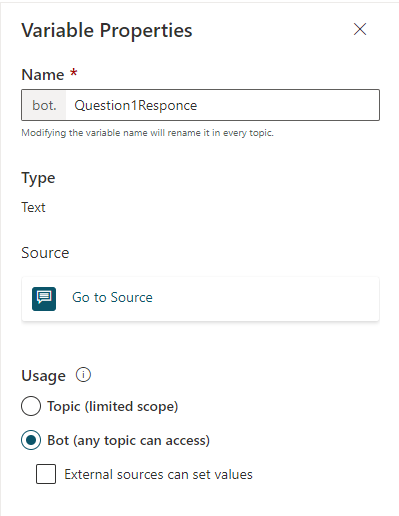 Editing the Conditions
To edit our three conditions:
1. Select the Plus (+) icon after the Nothing condition
2. Select End of Conversation and End with survey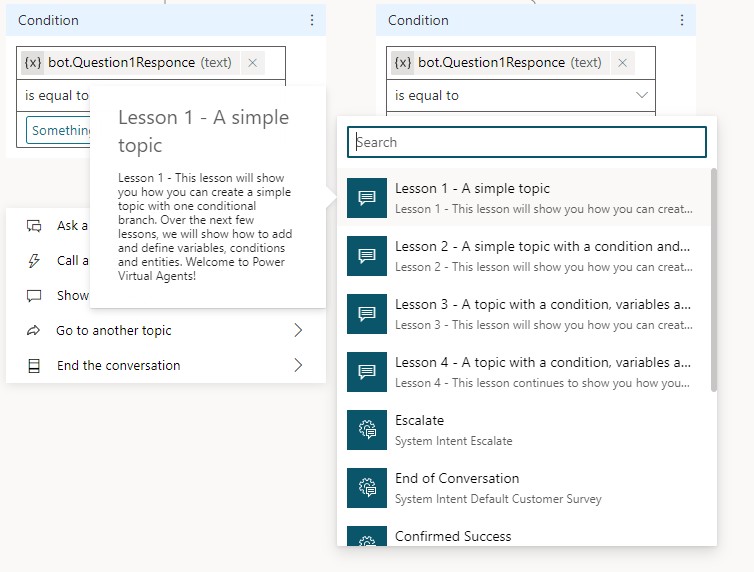 3. Select the Plus (+) icon after the Something condition
4. Select Go to another topic and choose Lesson 1 – A simple topic
5. Select the Plus (+) icon after the Other condition
6. Select Go to another topic and choose to Start over and Save
Testing your bot
1. In the Chat type Good morning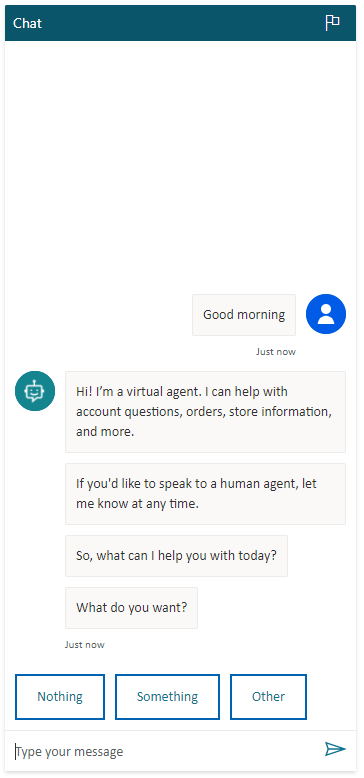 2. As detailed, the bot presents our three choices. Select Nothing
3. When asked Did that answer your question? select Yes.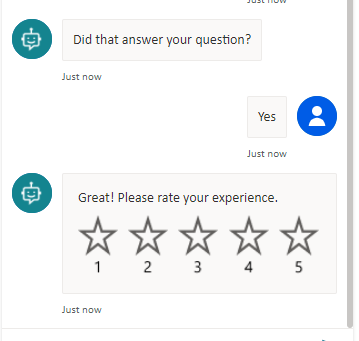 4. The survey appears and you can rate your experience
5. Reset the chat by clicking on the reset icon at the top of the chat.
6. Type Hello and select Something. The bot brings up our selection, which are store opening times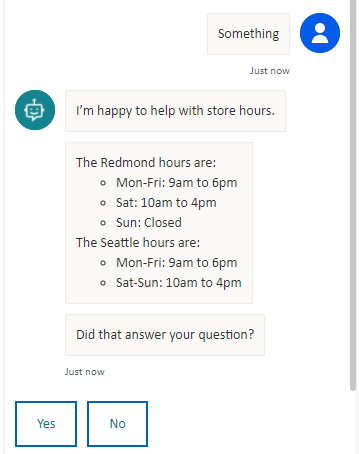 7. Lastly, reset the bot and enter hello into the chat. When prompted select Other. This will start the conversation over again
Editing topics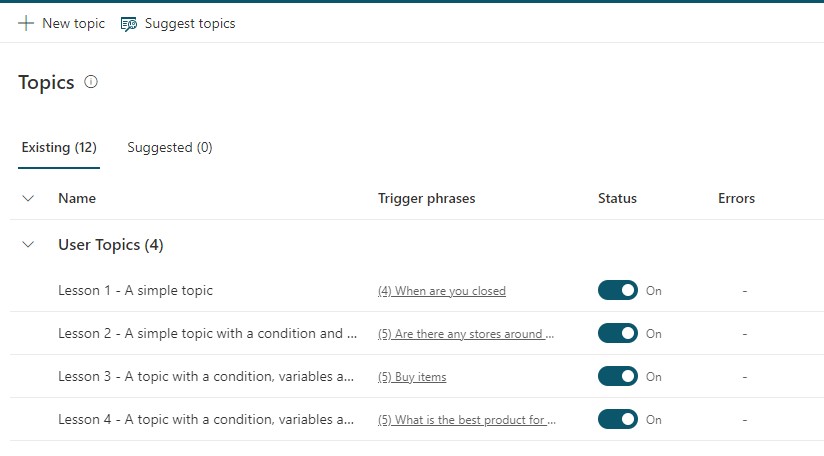 To edit a topic:
1. Select Topics from the Navigation pane and then select the topic for editing
2. The Name, Description and Trigger phases appear which can be edited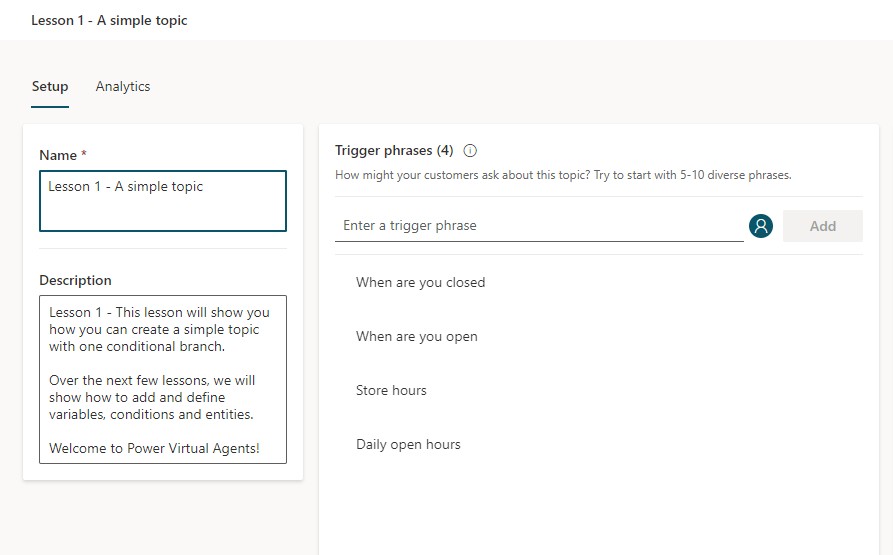 3. By selecting Go to authoring canvas you can edit the branching logic, variables among other items
Entities
When creating bots, you must identify entities. According to Microsoft, 'An entity can be viewed as an information unit that represents a certain type of a real-world subject, like a phone number, zip code, city, or even a person's name.'
Power Virtual Agents comes with a set of prebuilt entities, which cover the most commonly used information in typical conversations.
Entities help you expand what your bots can do and therefore increase their impact. Power Virtual Agents comes with a number of preconfigured entities.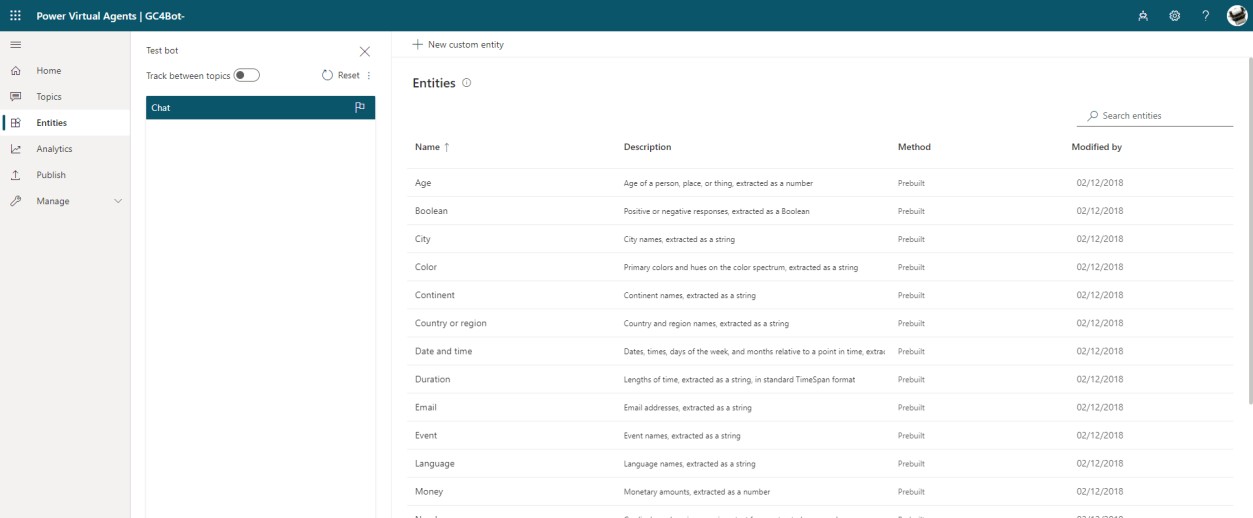 Adding a custom entity
1. Select New custom entity on the main menu.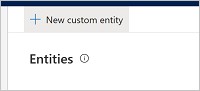 2. Name your entity Dog and add the Fluffy and Shiny as List items
3. Under Synonyms add Floofy and puffy for Fluffy, and press Save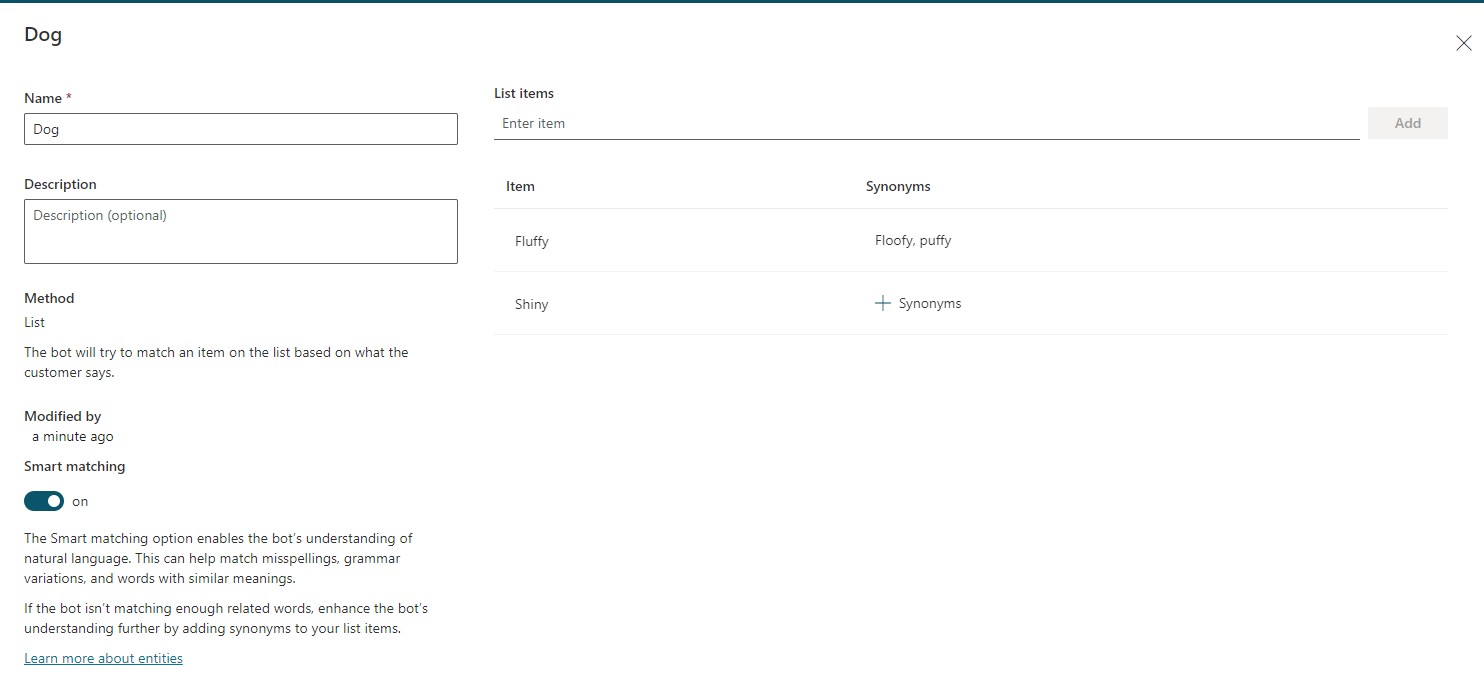 Analytics
By selecting Analytics in the side navigation pane, four topics are discoverable.
| | |
| --- | --- |
| TOPIC | DESCRIPTION |
| Analyse bot performance and usage | Review overall analytics for your bots. |
| Analyse customer satisfaction | Identify overall trends in customer satisfaction, and where satisfaction is falling behind. |
| Analyse topic usage | See how individual topics are doing and how well they're working at resolving issues. |
| Analyse session information | Review and monitor how sessions are doing, including analytics from the topics triggered during a session. |
| Analyse billed session information | Understand how sessions are being billed, based on their usage. |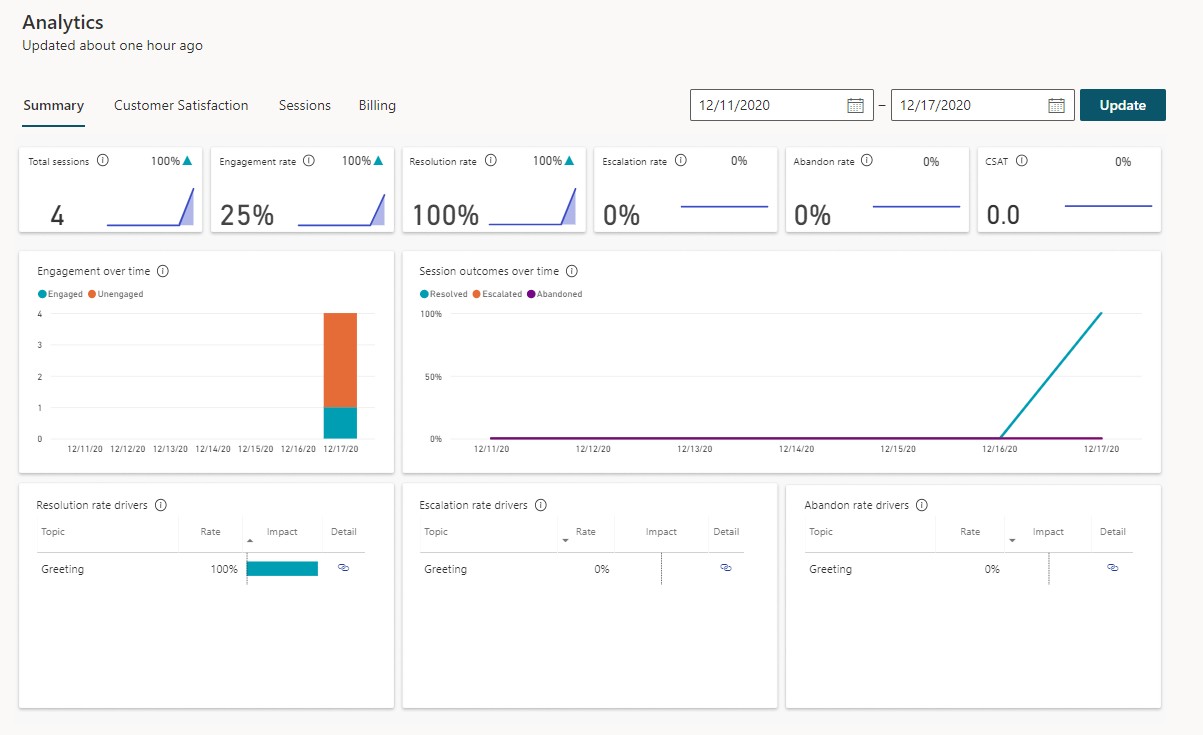 Manage
Manage on the navigation pane allows you to administrate your bots under four categories. They are:
Details – Change your bot's name and appearance
Channels – Select the location where you publish your bot
Security – Set up security for Sharing, Access, Authentication and Web channel security
Skills – Extend your bot's capabilities by automating actions such as sending emails or booking an appointment
Deploying your bot to Teams
1. Under Manage in the navigation pan, select Channels
2. Select Teams and Turn on Teams
3. Depending on your admin rights, you may have to Submit for admin approval. If not, then it becomes live in Teams
4. Under Security, select Authentication
5. Select Only for Teams and Save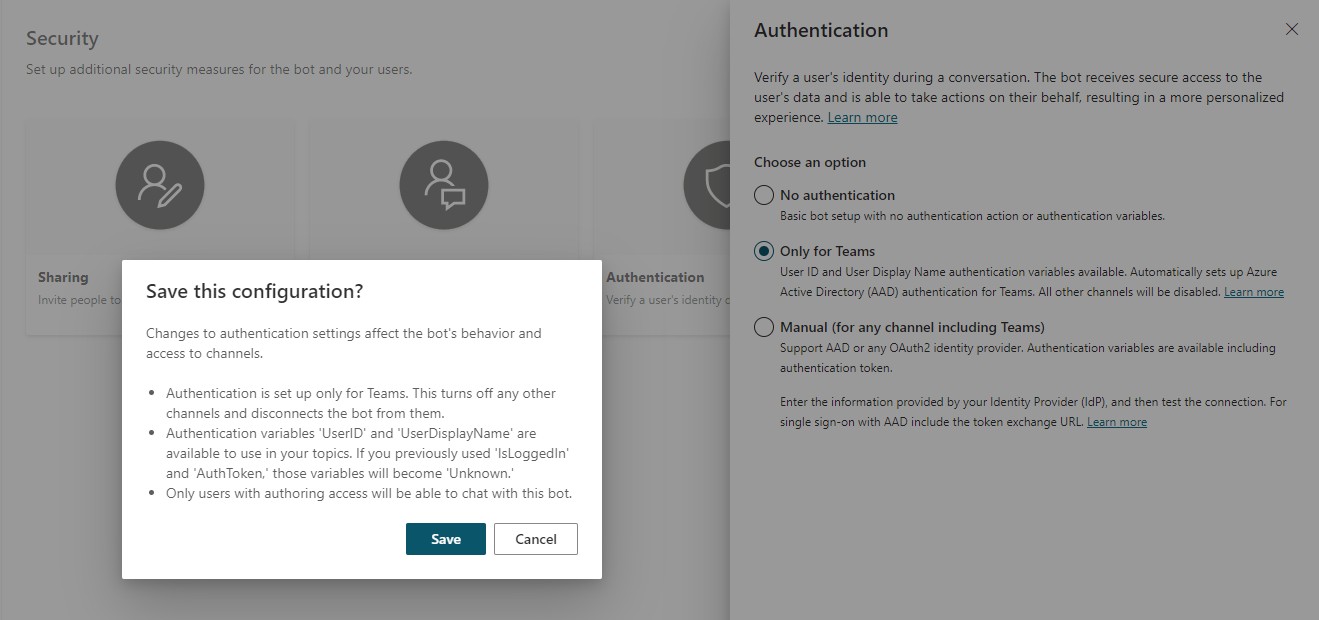 Publishing your bot to Teams
Before end-users can interact with your bot, you must publish it to Teams.
1. Select Publish in the navigation pane
2. Select the Publish button and when prompted, choose Publish
3. In Teams create a team, or use an existing one, to deploy your bot
Installing App Studio in Teams
App Studio is a tool for quickly developing apps for Teams and can be found in the Teams store.
To install App Studio:

1. In Teams, search for Apps Studio in the App store
2. Select Open to run it in Teams
Once you have installed App Studio, it's time to connect your bot to it.
3. On the Manifest Editor tab, select Bot Management
4. Give your bot a name, and under Existing bot registrations, select the bot which you created in Power Virtual Agents
5. Select Create
To update the bot details, you can do so under the Manifest editor tab.
Power Virtual Agents Teams App
The Power Virtual Agents app is available in the Microsoft Teams app store. Once installed it allows you to create, author, test, and publish bots into teams, and all within the Teams interface.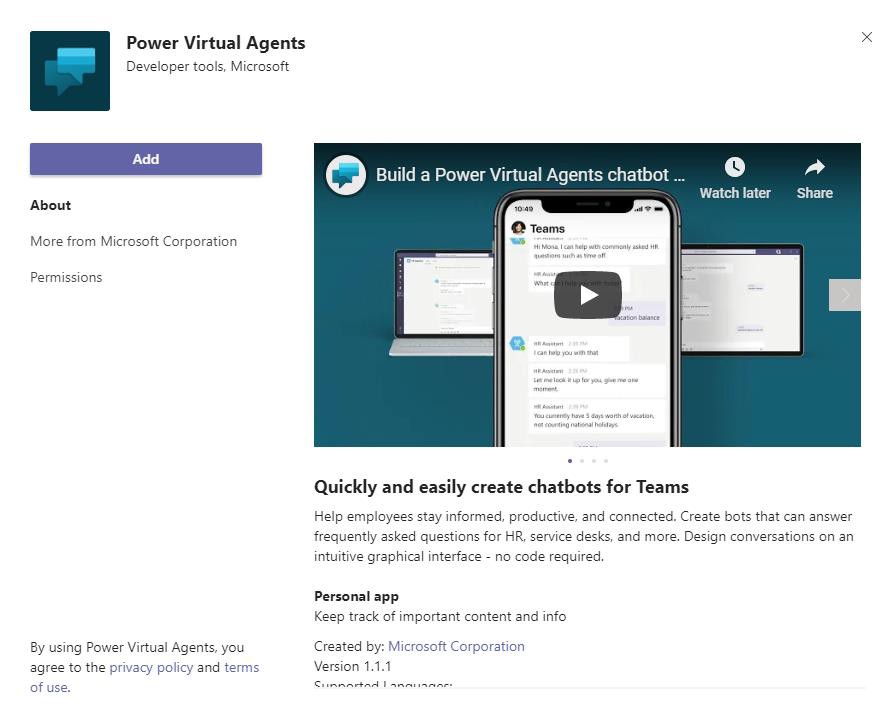 1. Search for Power Virtual Agents in the App Store
2. Select Add and then select Start Now
3. Select the Team that your bot will join, which is the Global Con 4 Team in our demonstration
4. When prompted, name your bot and select a language, and select Create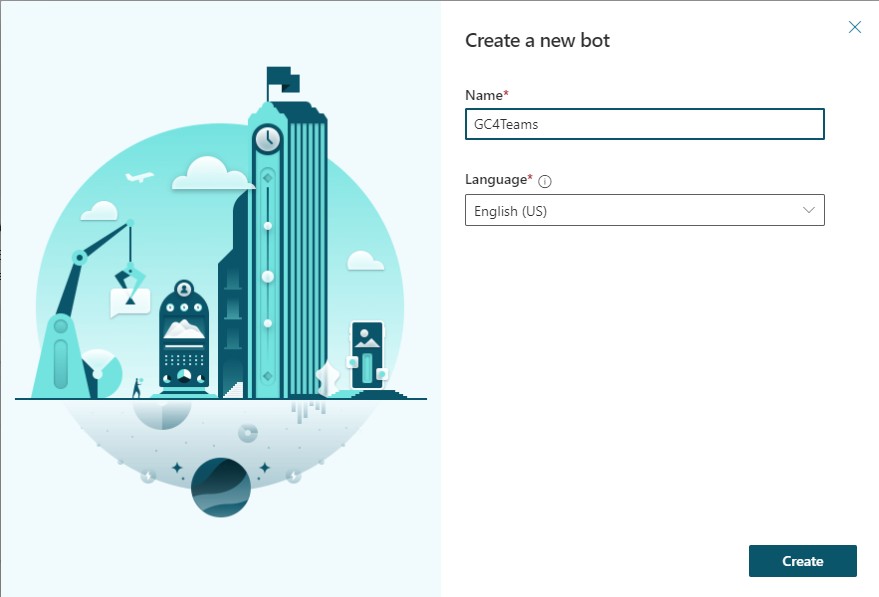 5. Once created, the familiar Power Virtual Agents' environment appears in Teams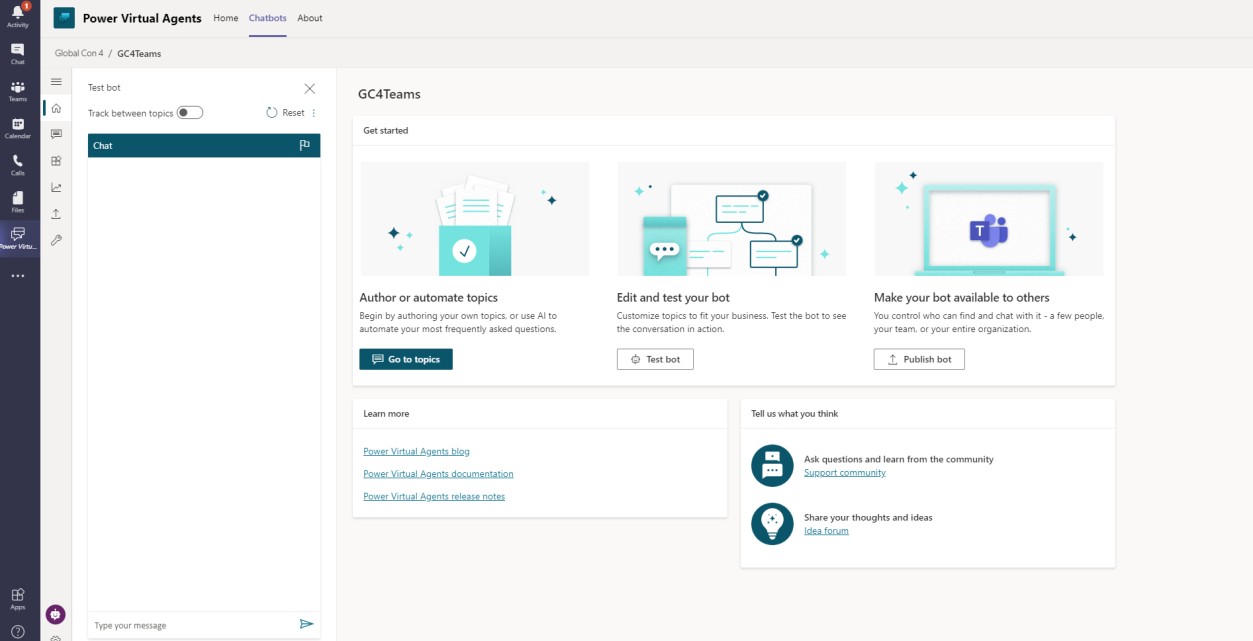 6. Click on Topics and turn off Lessons 1-4. Once we have turned off these topics, we can create a new one from scratch

Creating a new Topic
1. Select Plus (+) New Topic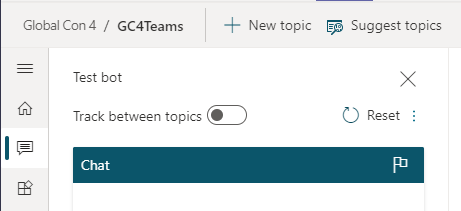 2. Give your topic a Name and add Questions and FAQ as trigger phrases
3. Select Go to authoring canvas
4. Delete the existing node, and add a Question. Enter a question; in our example, we have entered Are you excited about GC5 yet?
5. In the Options for user field, give two: Yes and No
6. Change the variable name to VarExcitmentLevel
7. Under Usage select Bot (any topic can access)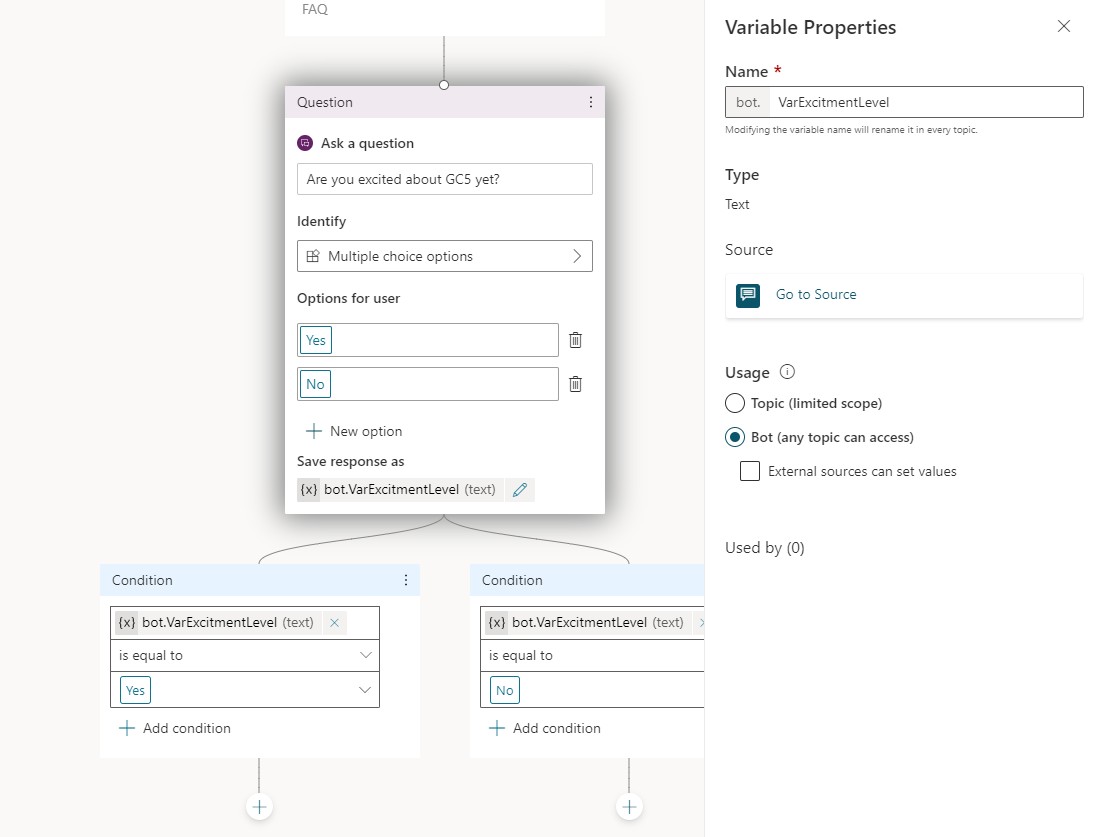 8. If No is the answer, then we will end it with a survey. Select End with survey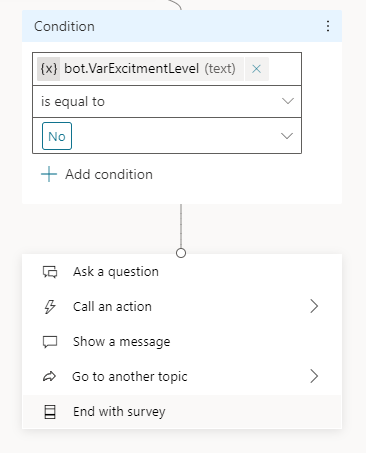 9. If Yes is the answer, leave the Multiple choice options as the default setting, and insert options for such as Power Virtual Agents, Power Automate, Project Cortex, SharePoint and Power BI.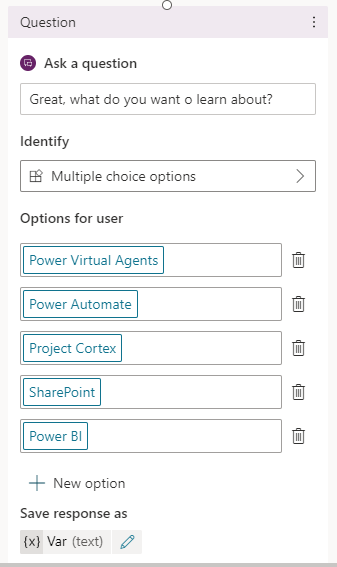 10. As these options branch out as Conditions add a redirect for Power Virtual Agents to Greetings, while adding a Message for the other options

11. Lastly, in Topics select Greeting and Go to authoring canvas
12. Delete the last two nodes. Add a new node and choose Go to another topic
13. Select GC4FAQ and Save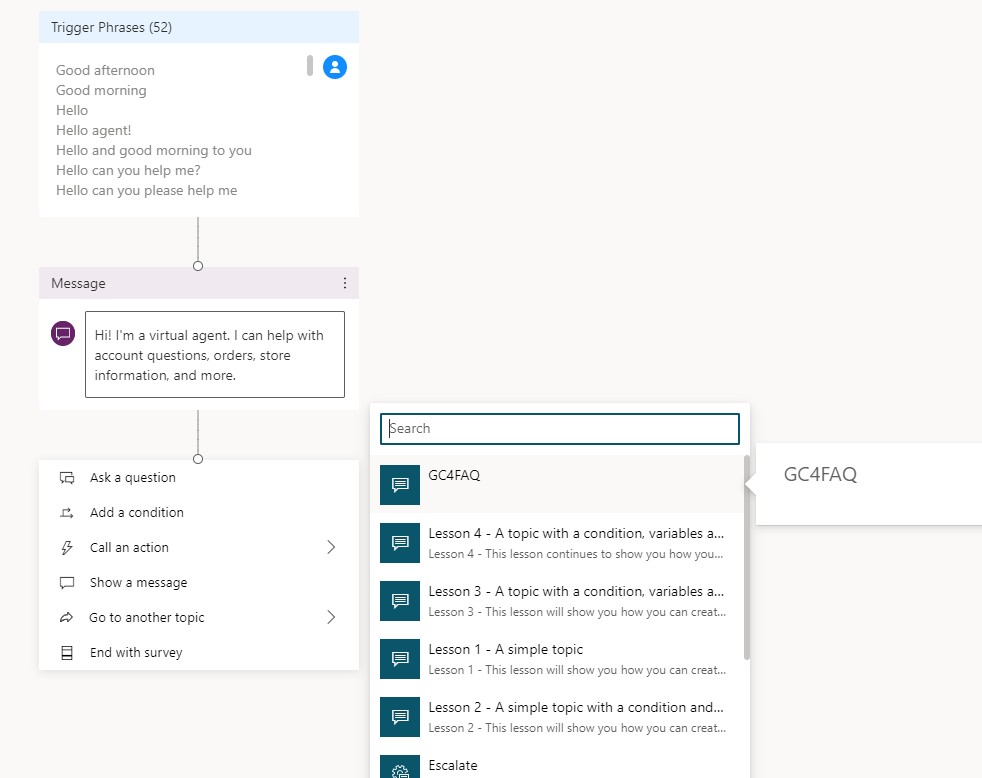 Deploying your bot to a Team
1. Select Publish, wait for a few minutes, and then select Open the bot
2. Select Add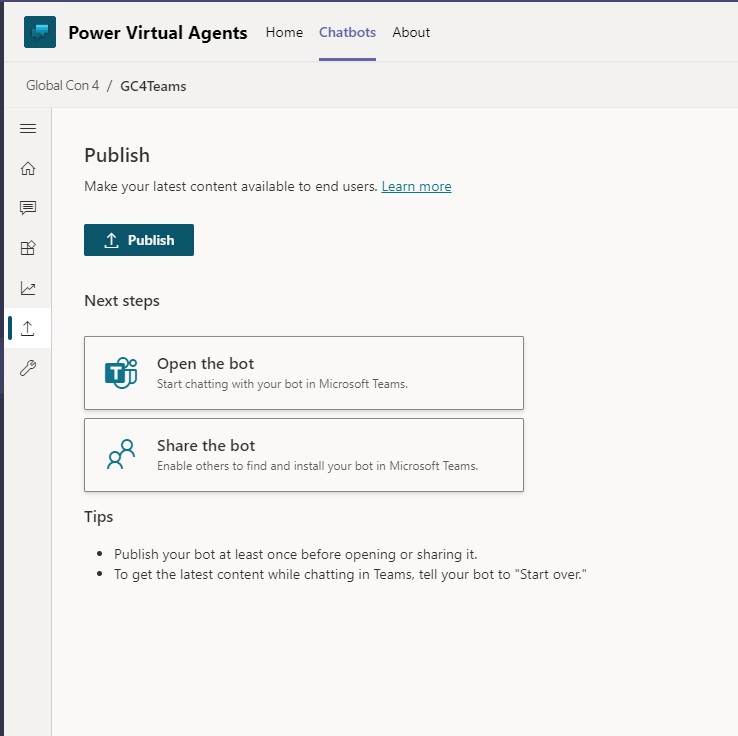 3. Once deployed, you can start talking to your bot in Teams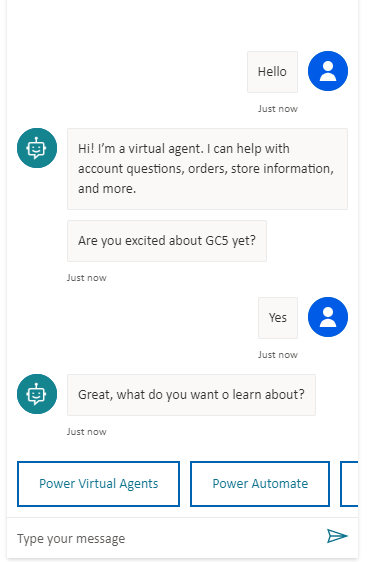 Closing
This is just the beginning of what you can do with Power Virtual Agents in Teams. You can make useful Bots that are as complicated or as simple as you want or need.