This book examines knowledge management in organisations and how you can ensure that people have the information they need when they need it. It also looks at how technology can help you do this, specifically Microsoft Syntex and Project Cortex. These use AI to tag and organise your content automatically to ensure it is easily accessible by the people that need it.
What is Knowledge Management?
At the simplest level knowledge management is about connecting people who have knowledge with those that need the knowledge. Preferably this knowledge is also given at the right time and in the right place.
Think about the things you know about in your organisation and think about all the
times that this knowledge needs to be shared. For example, when you're working on projects and have to share updates or provide information for new starters. There may also be times when you need to know certain information and who you can get it from.
People who don't have access to this knowledge may struggle to get started in an organisation or may end up reinventing the wheel as they don't realise information is already out there and available to them.
It is therefore important to make sure that your captured information is as easy to find as possible. This can be done by pulling information from many different locations and merging them into one central store of knowledge. Alternatively, information can be left in its original location and tagging added to the content, enabling users to find it using search tools.
There are three main types of knowledge:
Explicit Knowledge – This is knowledge that has been explicitly captured for the purpose of holding and sharing knowledge. Examples include requirements documents, support documents, statements of work and contracts.
Tacit Knowledge – Knowledge that is held informally and is hard to share with others. This can include Yammer or teams chat, e-mails and other social media. These systems can hold important data but also make it difficult to find and extract this information.
Implicit Knowledge – This is knowledge that is primarily in people's heads. This can be very important knowledge that isn't written down so can be hard to access for people new to a business, for example.
With the three types of knowledge above, explicit knowledge is the hardest to create and categorise etc. but the easiest to find information from. Implicit knowledge requires no work as the information is in people's heads, but it is also the hardest for other people to obtain.
An Example – Yammer Q&A
One of the useful features of Yammer is Question & Answer, which allows users to post questions and then other members of the organisation can answer them. An example of this is shown below: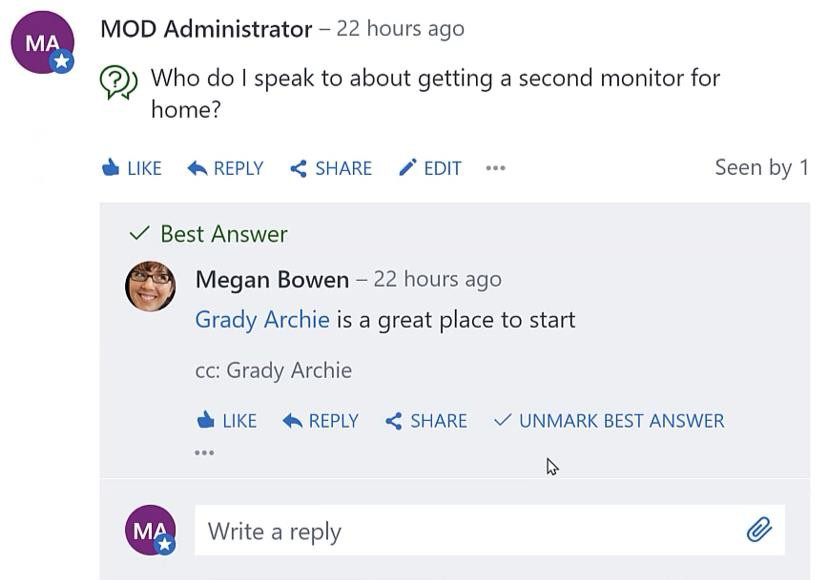 This is a perfect example of implicit knowledge. Grady Archie isn't listed anywhere as the person to go to for a second monitor, but other people who have experience of looking for the same thing in the past know that this is the person who can deal with the request.
You can also see from the above screenshot that replies can be marked as the 'Best Answer'. This is important because being able to identify the best answers to questions allows us to then harvest this knowledge for future reference.
Questions can also be edited, and hashtags added to them so they can be searched for in the future: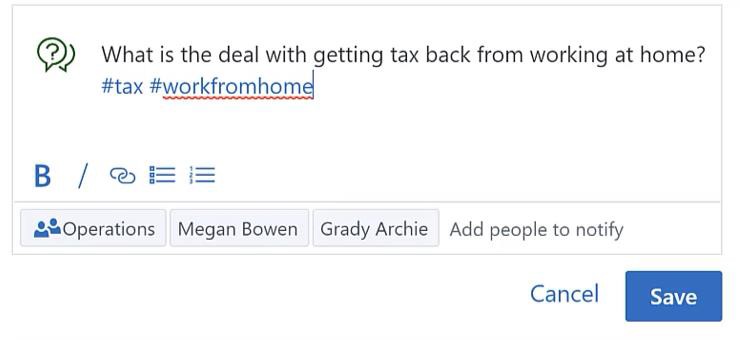 Also, in the latest update of Yammer, it is possible to add specific topics to questions, and these topics can then feed into Project Cortex, which we will discuss later on. Using features such as the above allows us to start turning implicit knowledge into tacit and explicit knowledge. This, in turn, makes more knowledge readily available for the people that need it.
Organising Knowledge
There are a number of different tools that you can currently use in Microsoft 365 and Azure to help with organising and advertising knowledge.
SharePoint Term Store
The term store in SharePoint allows you to organise metadata into hierarchies. Having structured metadata makes it easier for users to tag content correctly, and also makes it easier for this content to be found in the future.
Power Automate
Although we mentioned earlier that knowledge doesn't have to be moved to a central store if this is something you wanted to do it could be done using Power Automate workflows. Workflows could be used to pull out the information you need from multiple locations and automatically add this to another location or system.
Azure Data Factory
Having large numbers of Power Automate flows can cause issues with run limits and governance etc., so an alternative is to use the Azure Data Factory. This allows you to connect to multiple systems, including non-Microsoft ones, extract data, transform it and then move it to your organised knowledge stores and search indexes.
Azure/MS Search
This is an example of not having to move knowledge from its original location to be easily findable. Your knowledge content can be indexed and tagged so users can be directed to it using built-in search tools.
Microsoft SharePoint Syntex Overview
Syntex is the first part of project Cortex that has come out, and it uses Artificial Intelligence to harvest metadata automatically from content. It has been in use as part of the Power Platform for a while but is now much more integrated with SharePoint and can more easily interact with existing metadata, term stores and content types.
Once you've set up Syntex, the first thing you will need to do is provide training files. In the example below, some presentation files from GlobalCon4 have been added to the training files library: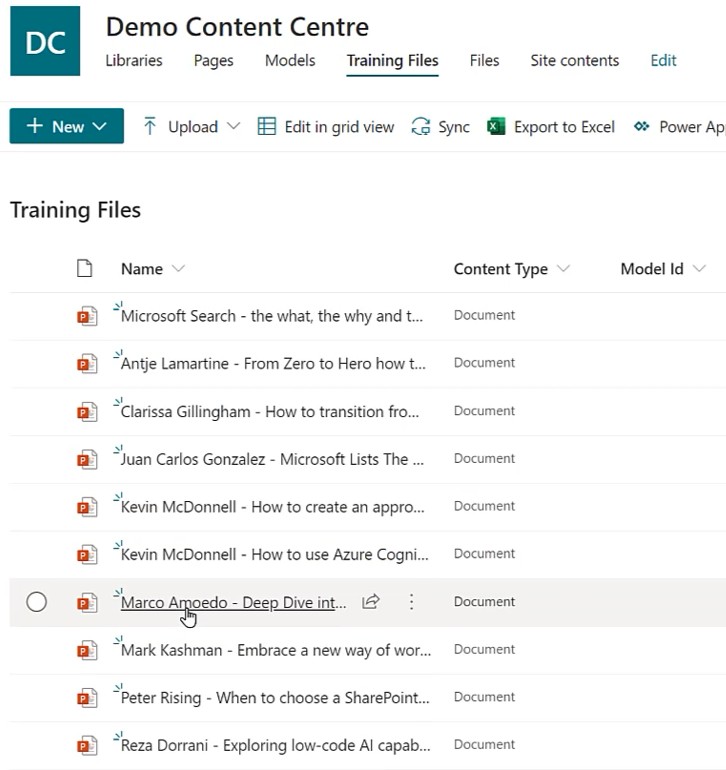 These files contain the speakers' names and the title of the presentation, and our aim here is to be able to extract the name and title automatically and add them as metadata in SharePoint. The only exception is the top file about Microsoft Search, which isn't a GlobalCon4 presentation, and this will be used as a negative example.
Now that we have some training files, we can set up a document understanding model: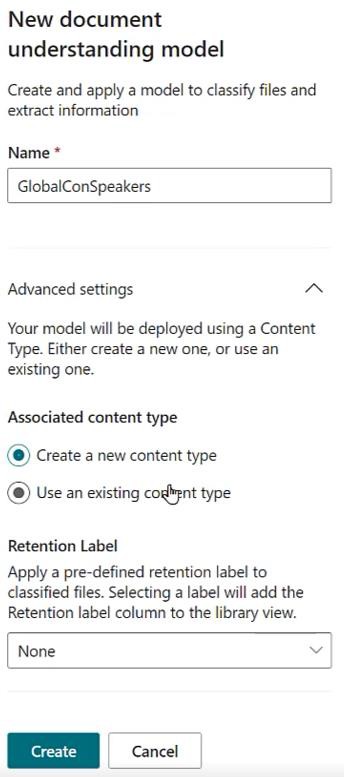 Example Files
Once the model has been created, you then need to add some of the training files that were uploaded earlier as example files on the model: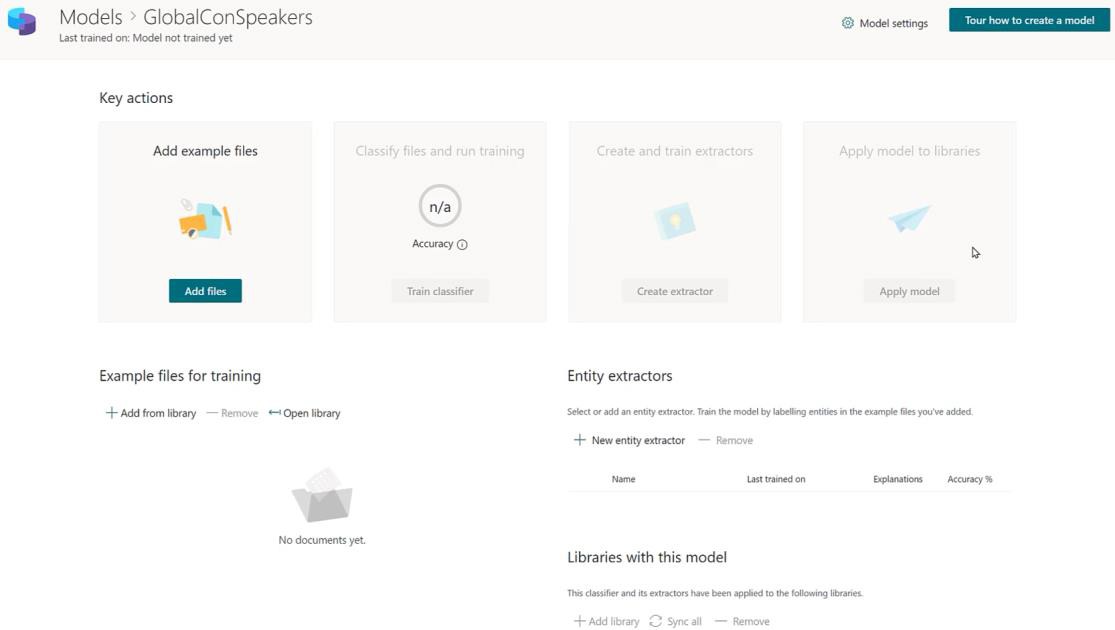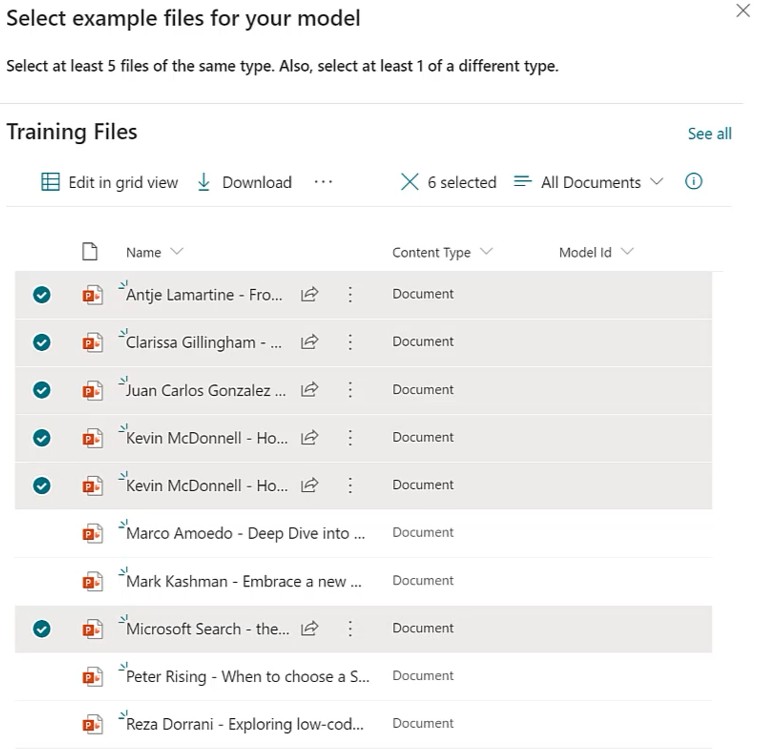 Notice that the negative file has also been added as we need to train the model on what doesn't work as well as the examples of the files that do work. Once the files have been added, we can then classify them and run the training.
Classifying Files and Training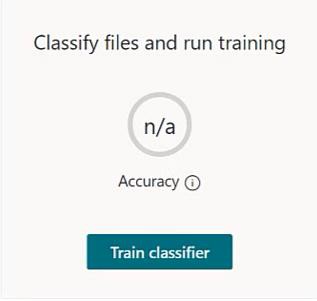 For each of the example files, you'll notice that the text content is displayed on the right-hand side. No images are displayed, just the text:

For each document you just need to tell the model whether it is an example of the type of document that you want the model to recognise:

As mentioned earlier, we also added a negative example, i.e. a file that isn't the type of file we want recognised. One negative example is required, and once you've added at least five positive examples along with the one negative example you will be informed that you have labelled a sufficient number of files:

When you get to this stage, you can then click the Train tab to move onto the next section. The first thing to do in this section is to add an explanation, which is used to help identify the type of document or information that you are trying to identify.
In our example, we'll add an explanation called Speaker to identify the Speaker from the document. Because we know that the speaker name will always be preceded by the text "Speaker:" we can use a pattern list with this text:
Once you've added the explanation, the model will analyse the example files to make sure that it can find the pattern. It also looks at the negative file to make sure that it can't see the pattern and prove that it is a negative example: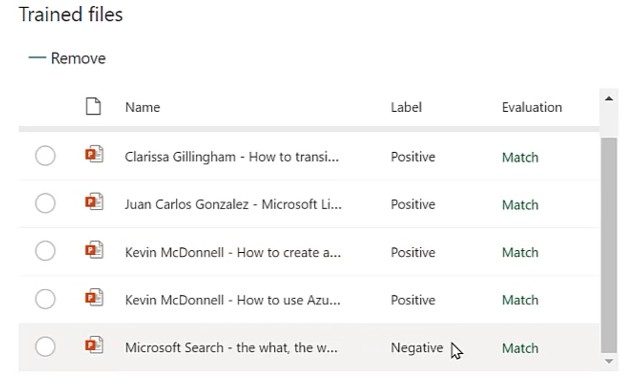 Once you've added your explanations and everything is matching you can then move to the Test tab. Here you can add some more files that weren't part of the labelling process to make sure that the model can also match these: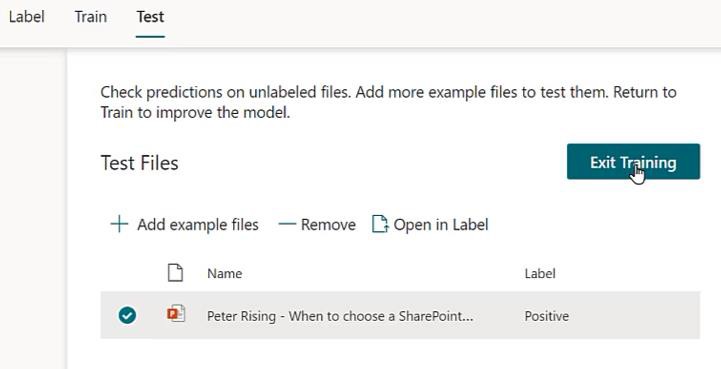 Once you're happy, you can then click Exit Training.
Extractors
The next stage we need to do is create and train the extractor, which will pull the matched metadata out of the documents: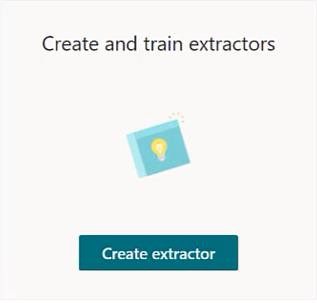 When you create an extractor, you give it a name, specify the column used to hold the extracted metadata and also the type of data that will be extracted: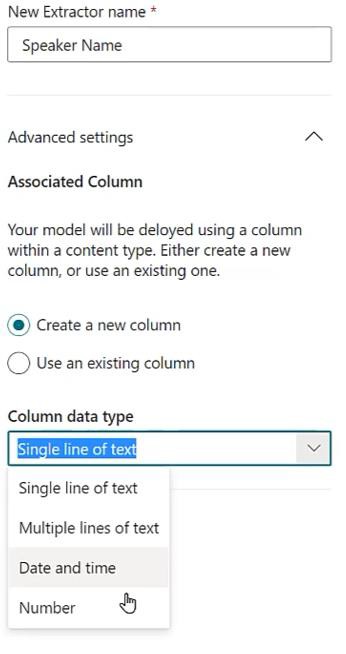 You are then taken to a similar screen to the labelling screen, but this time you highlight the content you want to match, in this case, the speaker name:

For the negative example, you click the No label check box:

Once you've processed the example files, you can then move onto the Train section. Here you need to add an explanation again, which is similar to the first explanation, but this time we've added an increasing number of letter characters after the "Speaker" text pattern. This helps the extractor to know what to expect after the pattern.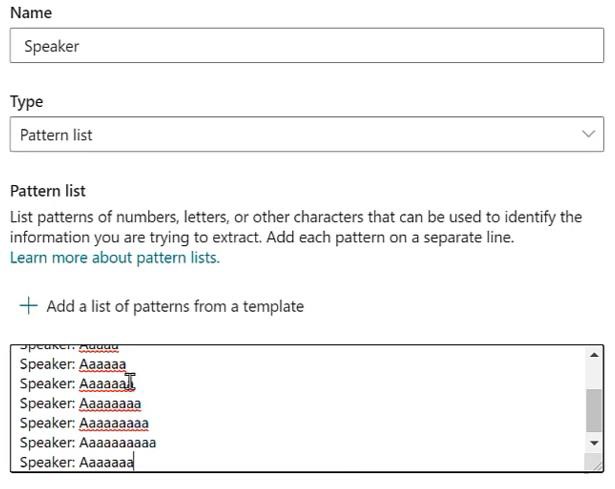 Once the extractor has been successfully trained, you can move onto the Test tab, test with some more documents and then exit.
Apply a Model to Libraries
Once your model has been set up and tested, you can then apply it to any library in SharePoint: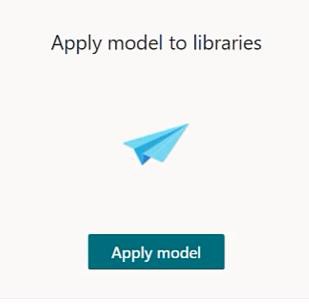 After you have applied your model to a library, you won't initially notice any difference in the way the library looks. However, when you upload some documents, you will see the following, which shows that your model is analysing the documents you uploaded:

You will then notice that the documents will start to be automatically tagged with the content type and other metadata that we defined in the model setup:

A confidence score column is also automatically added to show how confident the system is in the match, and there is a classification date to show when it was classified. If you wanted to classify any pre-existing documents, you can do this by selecting them and clicking the Classify and extract button in the top library menu:

Building a Culture
As impressive as Syntex is, it doesn't mean that all information can be tagged and organised by robots! It is still important to build a culture in an organisation where people are encouraged to organise and tag their content and think about how other people will be able to search for and access it.
Building this culture means also building trust. People in the organisation need to know that, if they make their knowledge available to others, they will be recognised for it, their information will be used correctly and properly, and that they will also be able to access others' shared knowledge when they need to. The culture of being a knowledge-driven organisation needs to come from all areas of the business in order for it to be successful.
Making Knowledge Available
As well as making sure knowledge is being shared, you also need to make sure that the same knowledge is available to the people that need it. In a traditional intranet, you would start off by using site navigation to try and signpost useful information. The new mega menu in SharePoint, for example, allows users to see the main areas of a site quickly and can explore areas that they may not have initially known about.
If users have got a more specific thing they're looking for, then they may decide to use search. If the content is tagged correctly, then search tools such as filters can be used to
give the user a powerful search experience. Microsoft Search isn't just about SharePoint
so content from all areas of Microsoft 365 can be brought into the same search facility.
In the above two cases, this is assuming that the user is actively trying to find a specific bit of information. There are other times though when it may be useful to have
information about things that you're not looking for. AI-driven tools such as bots can be used to remind people of information that may be related to the task they are asking the bot to complete, but they haven't thought of. Other integrations such as showing users results for similar topics or things other users have searched for can also be thought of as knowledge management tools.
People have 'teachable moments' which are times when people need information, and if they get it at that point, they are much more likely to remember that information. This is why it's important to think about the things that people in your organisation are trying to do so that you can push the relevant knowledge to them at the right time.
How Cortex fits into this

Project Cortex applies AI to automatically organise your content. It delivers this content using features such as topic cards, topic pages and knowledge centres throughout Office, Outlook and Teams.
The example below shows a particular project (CORE) that has been highlighted by Cortex in an e-mail in Outlook: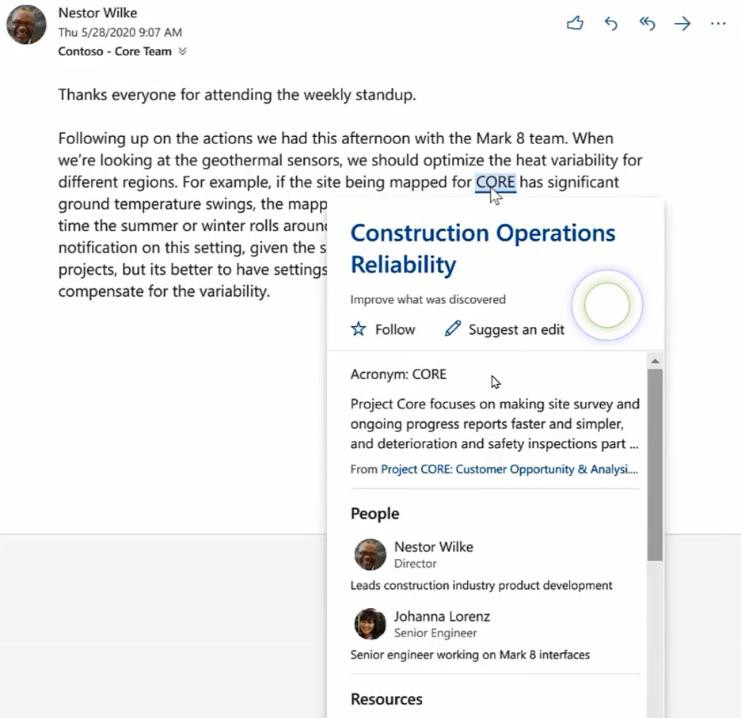 Clicking on the highlighted term in the e-mail opens up an interactive card showing details of the project and users involved along with related documents. These can be clicked to get extra information. The same kind of information can also be surfaced by Cortex in SharePoint pages: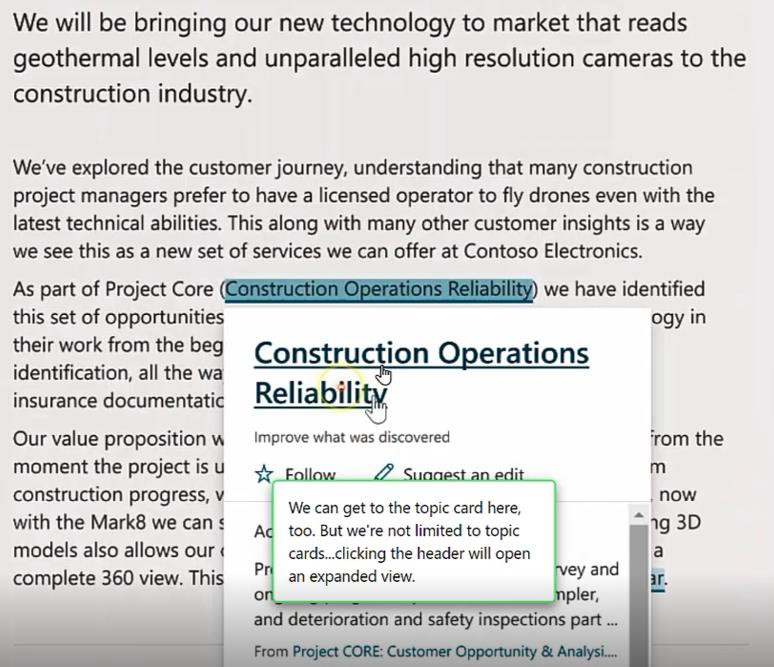 As it's in SharePoint, you can click on the header, and you will be taken to the underlying knowledge centre for the project: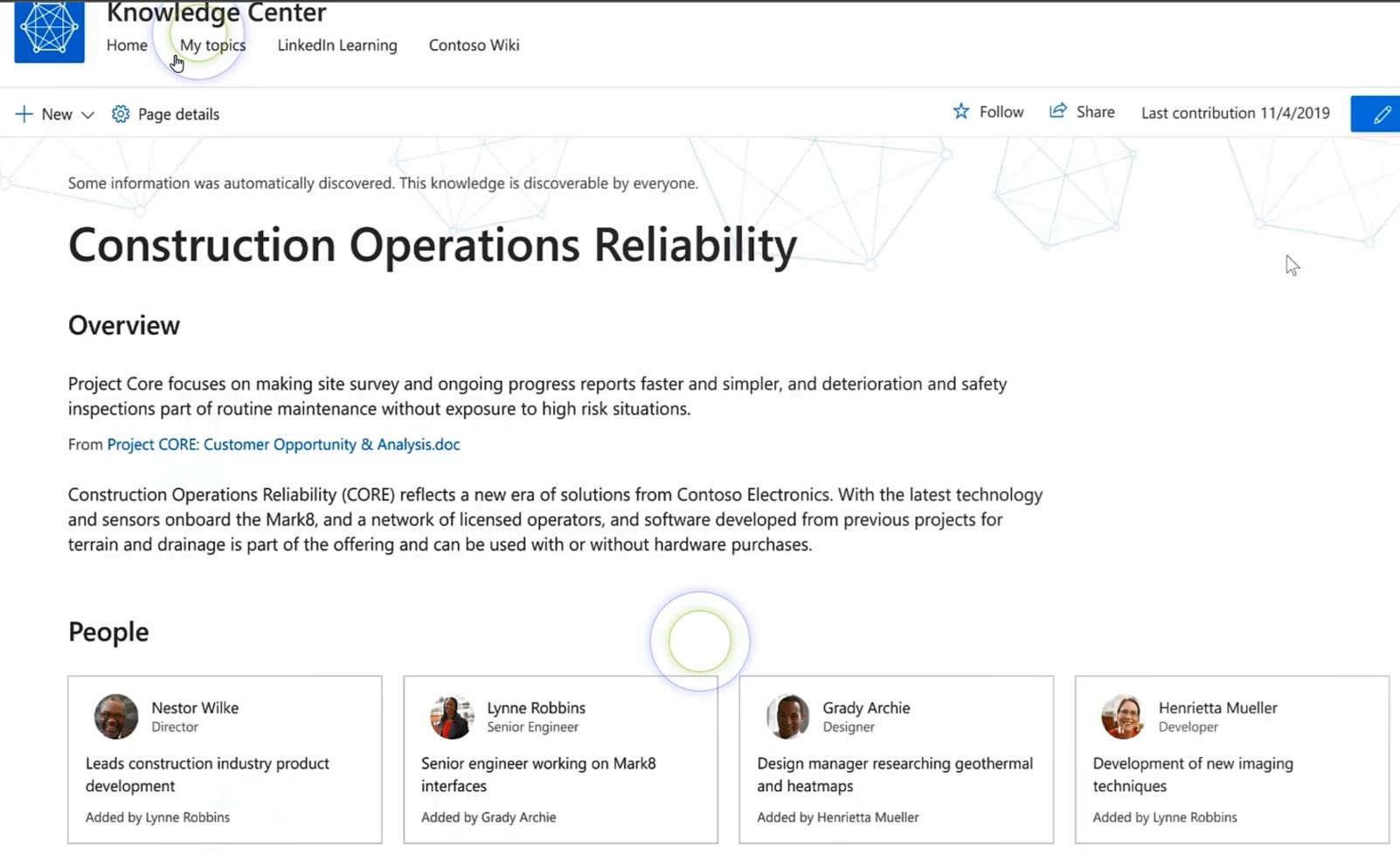 There is also a very useful feature that shows related topics, which can give a big picture view of how different topics in an organisation relate to each other: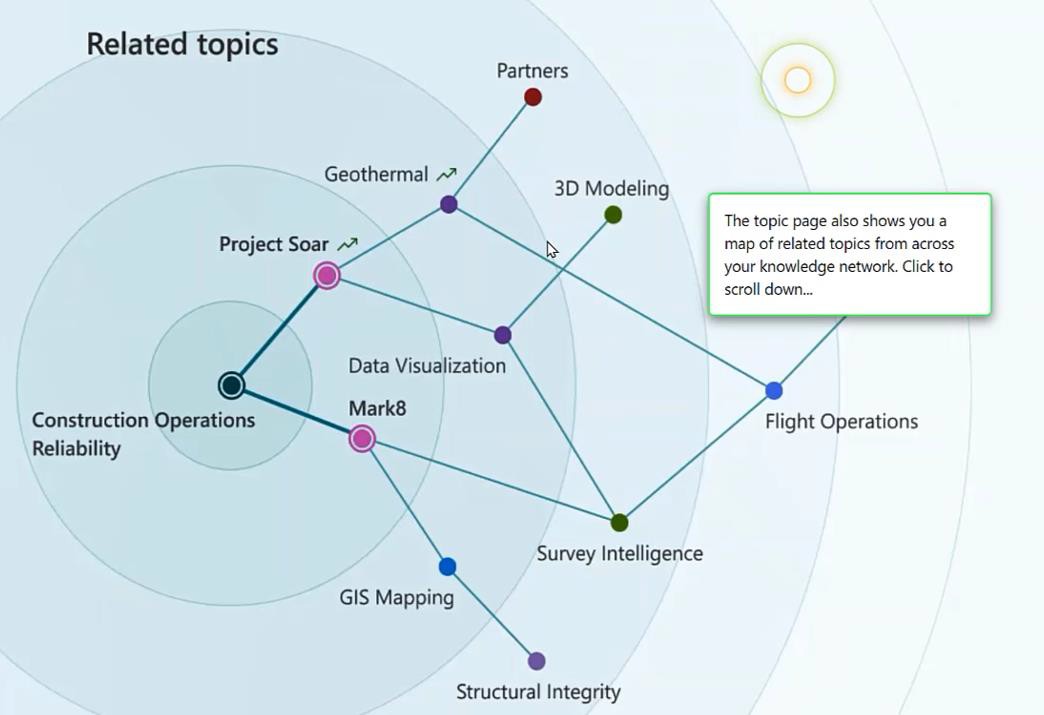 Trending knowledge topics can also show what topics are being accessed and edited most often by your close colleagues as well as the organisation as a whole: