This eBook shows you the many cool and exciting ways you can use Microsoft Forms to improve user engagement throughout your organization. By creating quizzes, games, and surveys, you'll learn how to get users to provide information, discover more about their company, and have fun!
Many people believe the new Microsoft Forms is a replacement for InfoPath and other form tools – but this couldn't be further from the truth. Forms are not only the new survey replacement, but it has an additional type of form called 'Quiz.' People will often take a quiz or fill out a survey if there is a competition involved and some kind of reward.
Microsoft Forms brings all of that to the table and more!
Forms have created an engaging results overview and an option to post the results of your quizzes. Who doesn't like to see their name at the top of a scoreboard? If you work for an organization that has external consultants, partners, and clients, you can set surveys and quizzes to be internal only or allow for external users to participate. Just think of ALL the possibilities!
In this eBook, we'll cover:
Forms Licensing
Forms vs. Forms Pro
End-User Engagement
Training
Power Platform Integration
Forms Licensing
Microsoft Forms is included with all Office 365 Education suite licensing, and for commercial customers, it's part of the following plans:
Office 365 Business Essentials
Office 365 Business Premium
Office 365 Enterprise E1, E3 and E5
Look in your admin panel to check your licensing and to see if you have Forms or Forms Pro. The good news is, by default, Forms Pro is free. It does not attach additional cost until you are over 2K worth of survey responses a month. Over this, $100 is added per month, but if you compare this to other survey or forms tools, you'll save money in the long run because you already own Office 365, and Forms comes with that.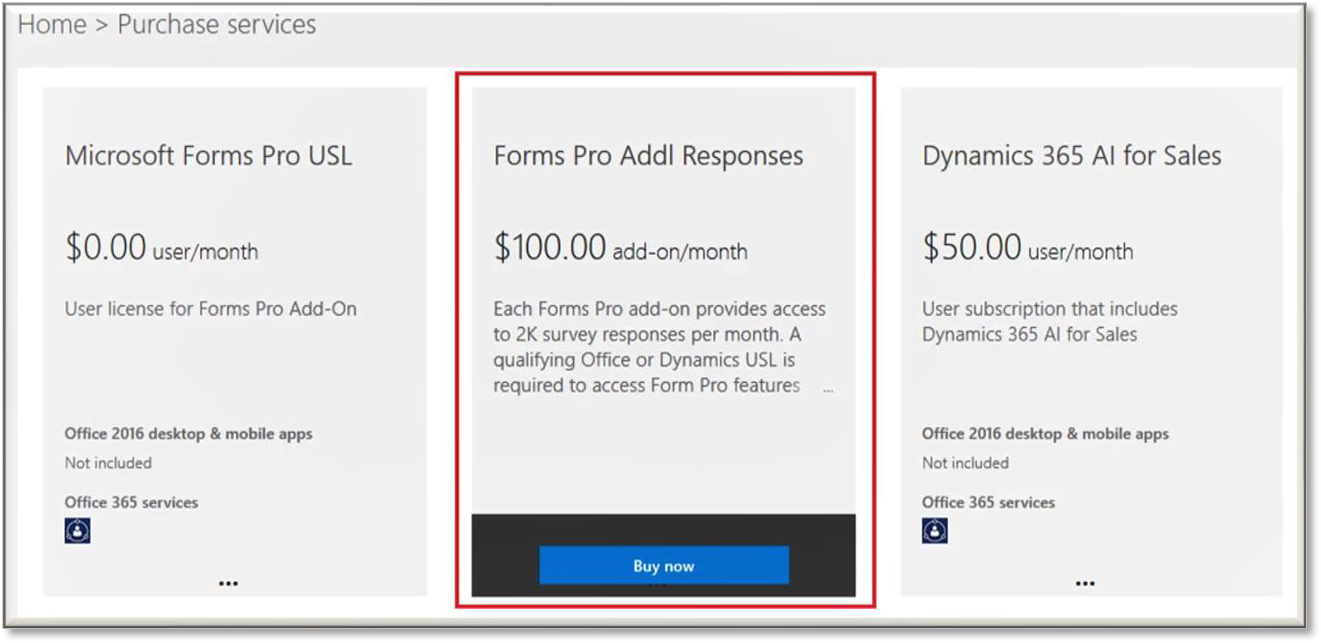 Forms vs. Forms Pro
Forms Pro – Enhanced Sharing and Analyzing
Forms become surveys with response analysis (form insights and analytics).
It has robust sharing enhancements with Forms Pro.
Forms Pro surveys are personalized (you can personalize them to you).

You can connect them to Microsoft Flow (custom email templates based on a trigger).

There's a question builder (creation of variables).
You receive a summary (export results and build Power BI report), letting you learn from the information you are gathering from your users. For example, you can find out how efficient your training program is: what training needs to be created and what needs to be given to your users to complete.
End-User Engagement
This is the most fun part of using Forms. The more you get users involved in what you're doing (whether that's a new intranet or application), the less they will consider it a horrible change to their day-to-day processes. One way of doing this is to do something fun, such as a trivia game where users learn about their company intranet.
Let's create a new form. Open Forms and click on 'New Form.' (Notice that the URL is www.office.com/launch/forms.)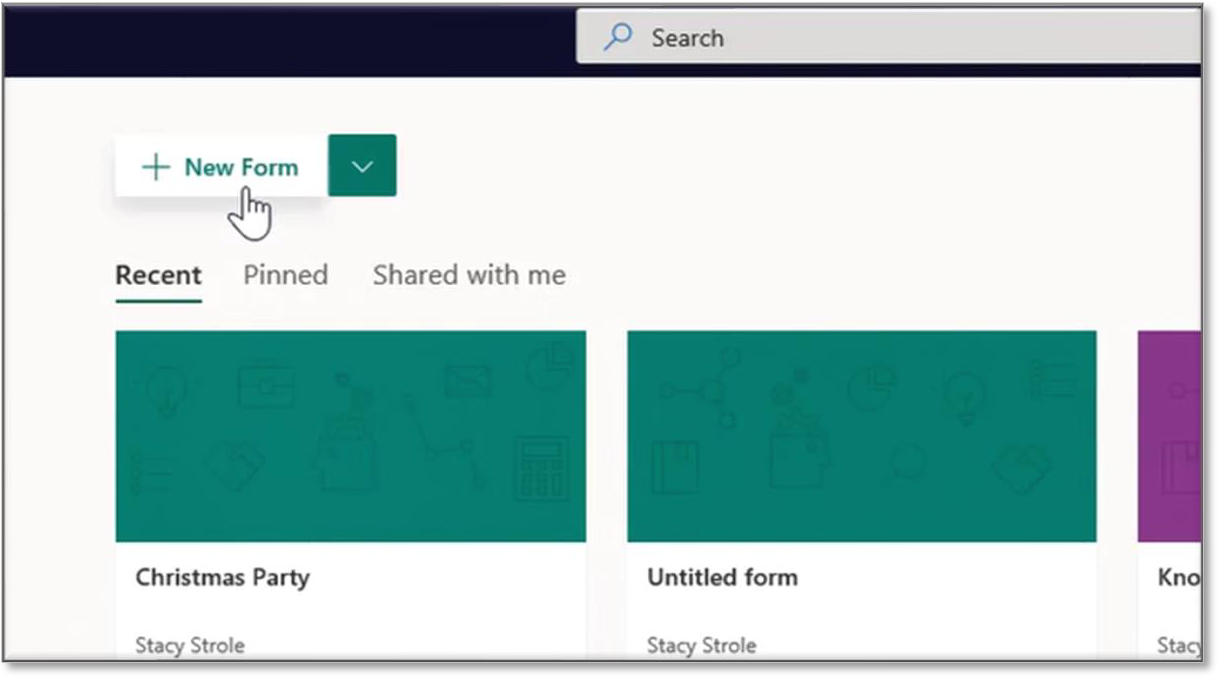 We'll title it 'Get to Know Your Intranet' and, since everyone's very competitive, we'll give
it a description of '$50:00 Company Store Credit'.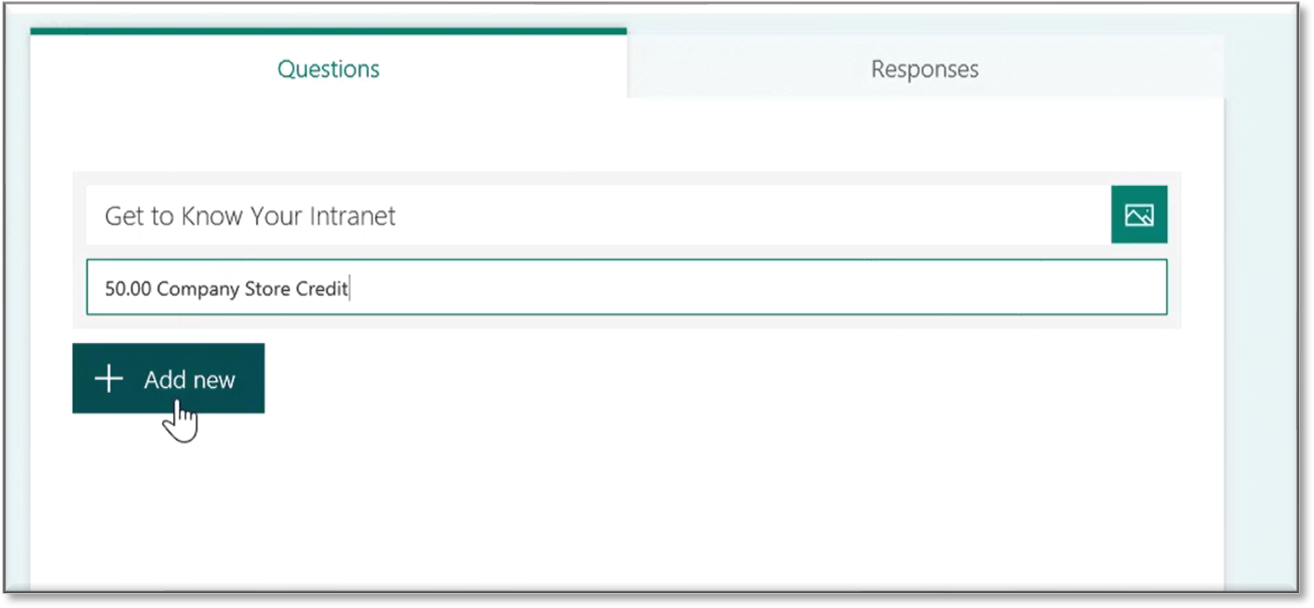 To add a question, click 'Add new.' You get a ton of options for types of question: choices, text box, you can rate things and provide dates. You can include rankings, use Likert to gauge opinions about a topic, upload a file, add a Net Promoter Score®, or divide the form into sections.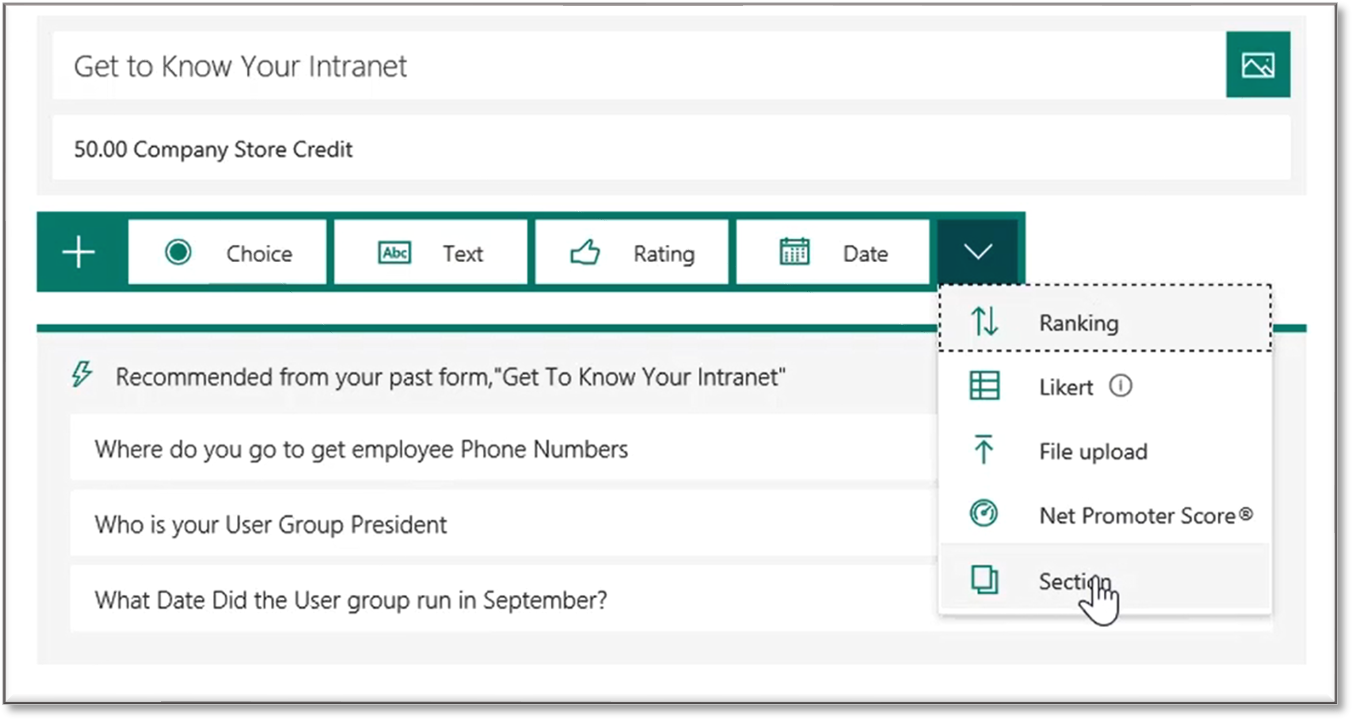 We'll select 'Choice' and add the question, 'Where is the company corporate directory
located?'. We'll add four options for possible answers.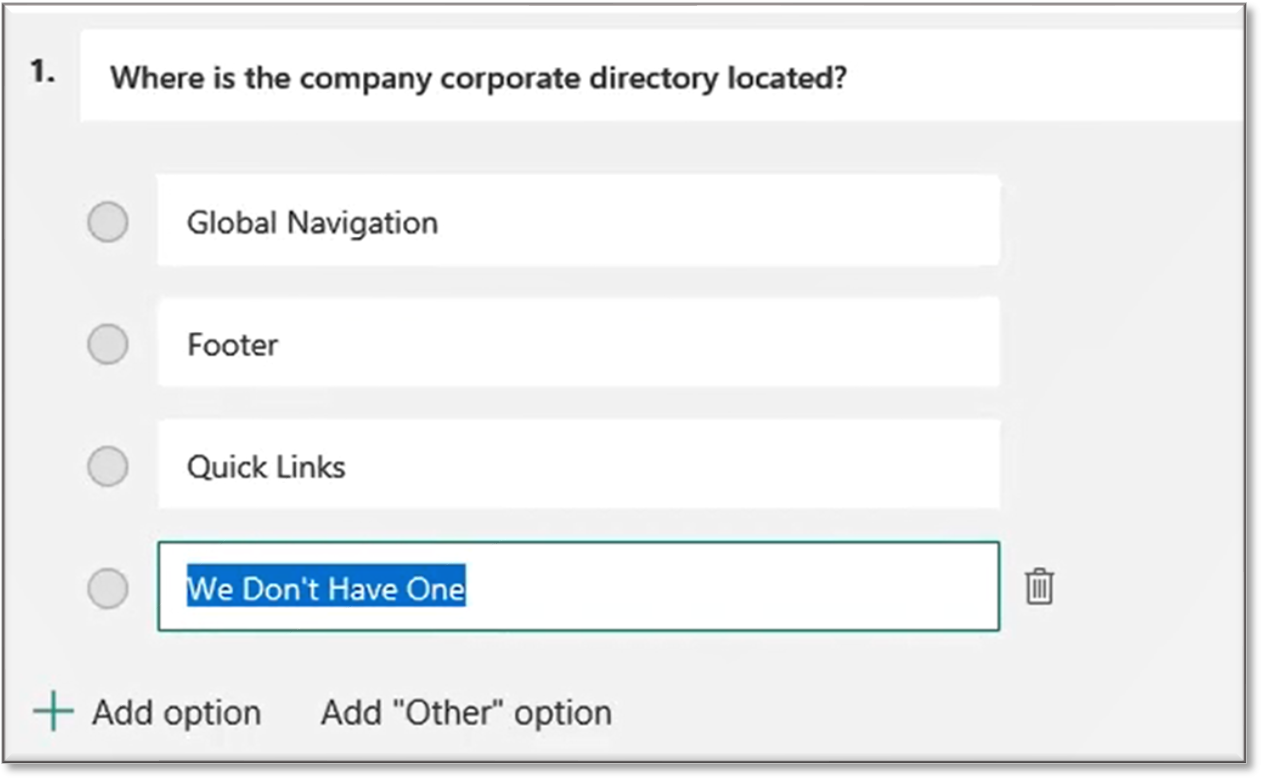 You can allow multiple answers and choose whether a response is required.

Next, we want the user to rate something, so click 'Add new' and select 'Rating.'

You enter the feature you want to be rated – for example, 'Overall Look & Feel of Intranet,' and then you can choose how many stars you want (1-10). You can also choose to use numbers instead of stars.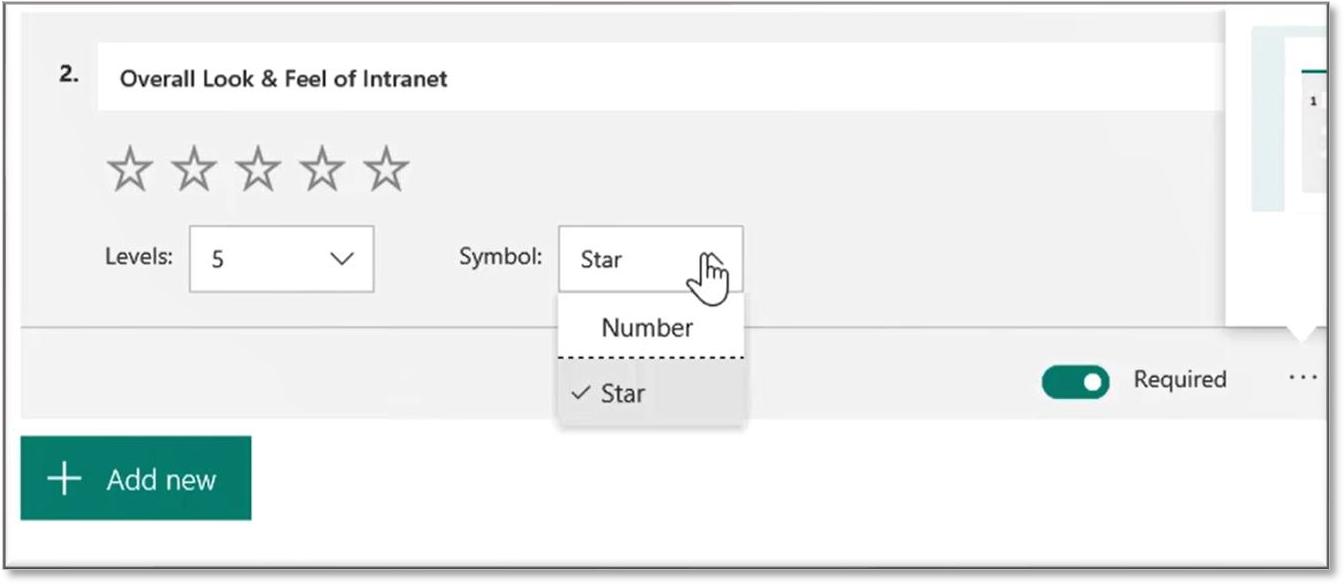 Here's another 'choice' question.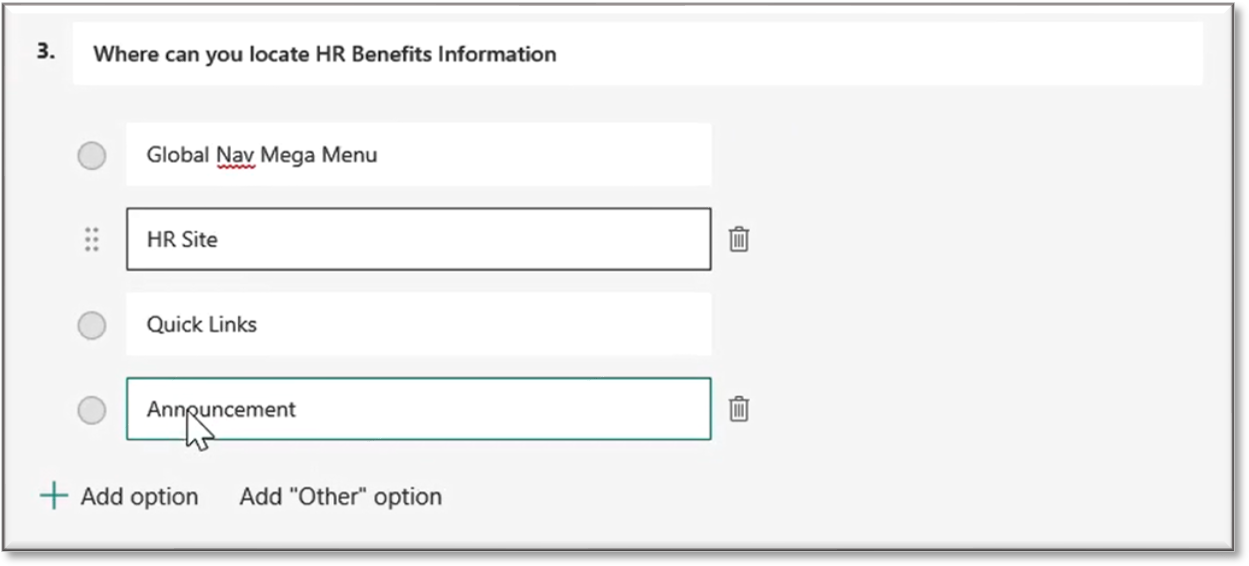 Now we can see what the questions look like together.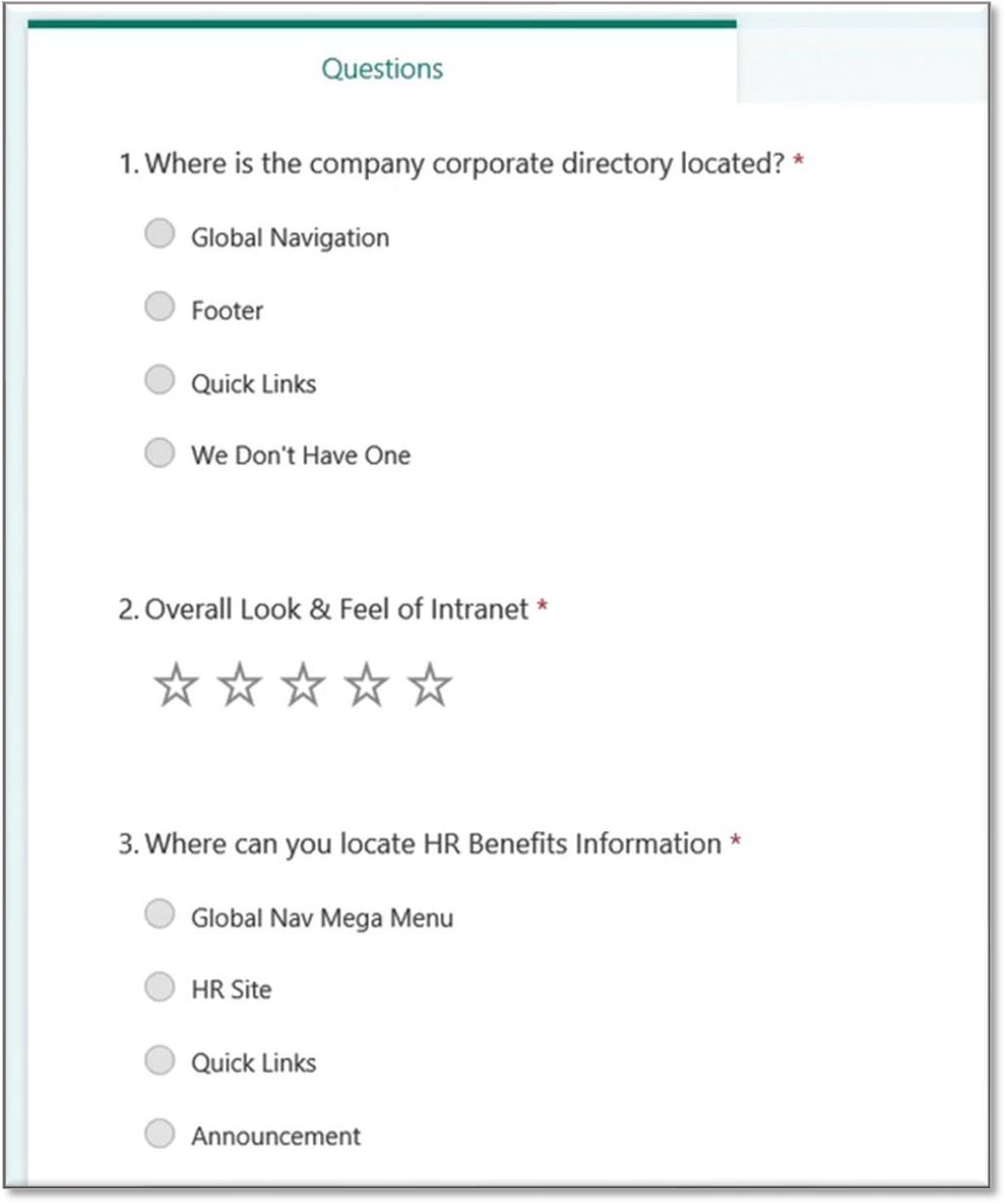 Make the questions about your intranet, all the areas you want people to go to and discover.
When you've finished the questions, you can give the form a theme – you might want to base it on your company colours.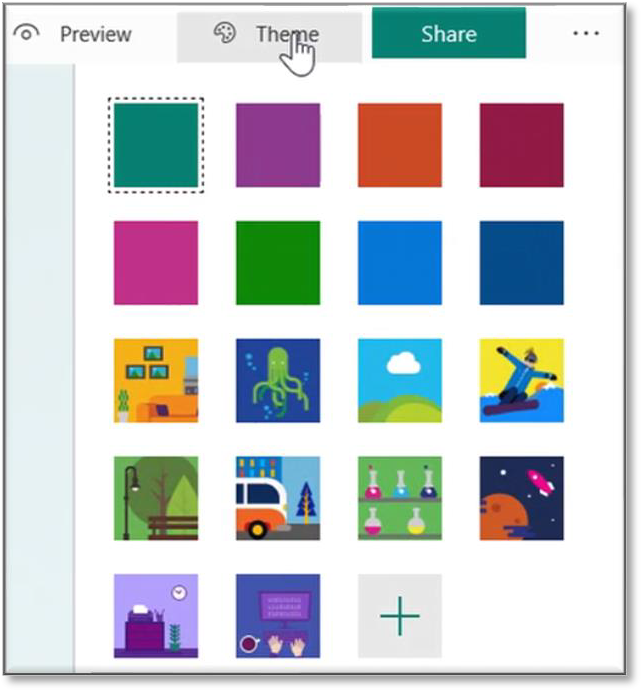 You can upload images or add a Hex # colour if the one you need isn't there.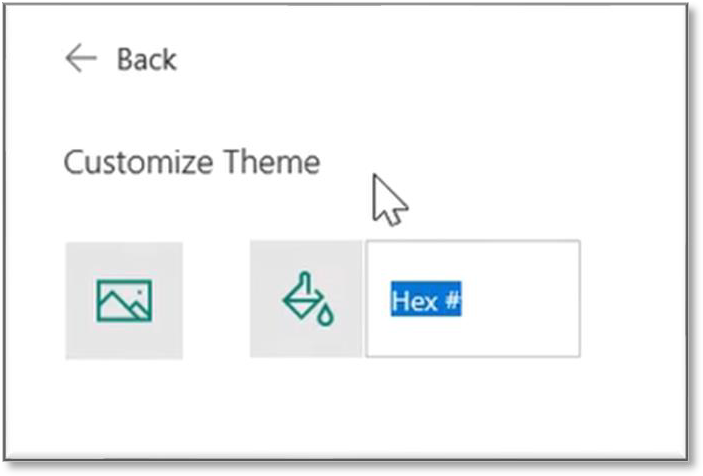 We'll just select dark blue. And now we can preview the form by clicking on 'Preview.'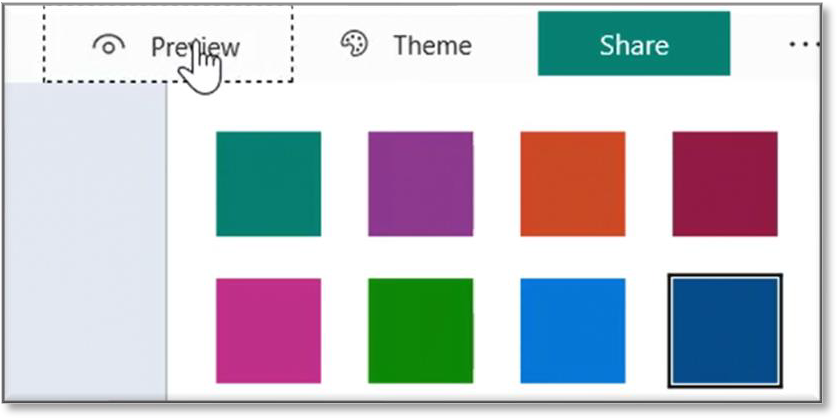 We can see what the form looks like with our title, description, questions, and theme.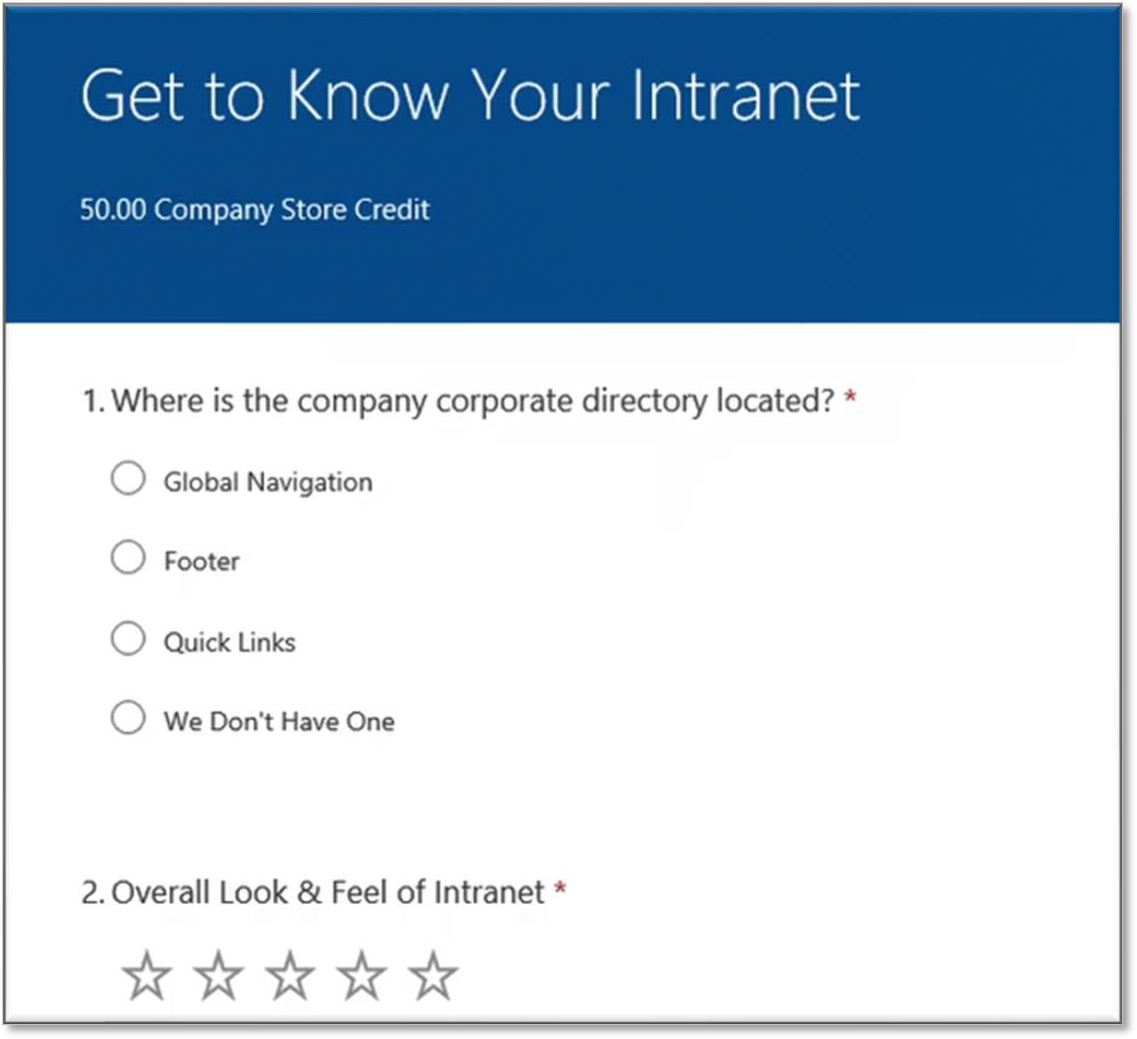 A great feature of Forms is its responsive design, which means it works on a computer, and you can see what it looks like on your mobile.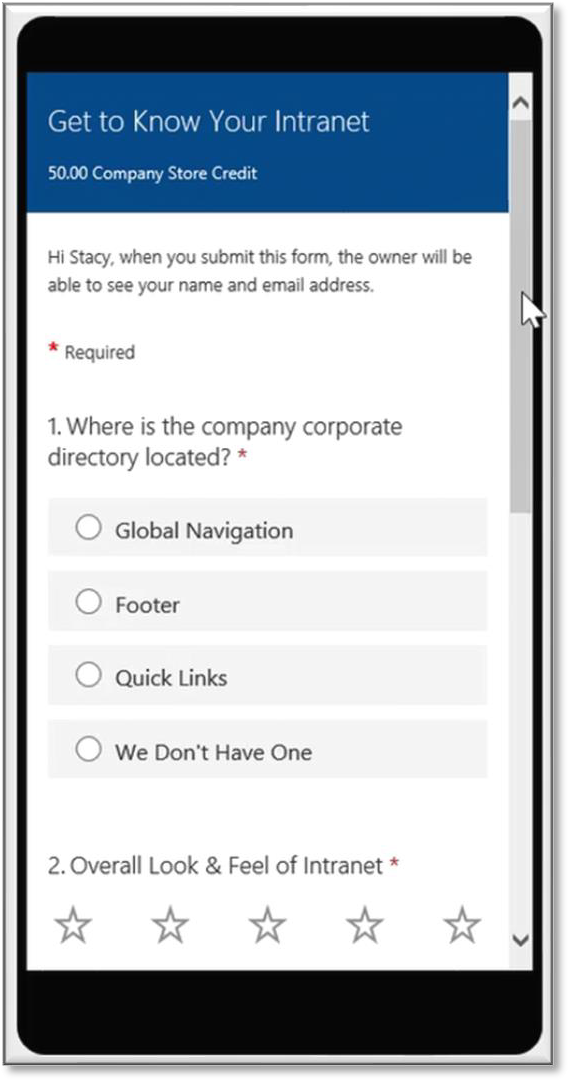 You can easily scroll down and see whether your need to add or remove questions.
You can then go to 'Share' to send and collect responses. You can choose between response options:
Only people in my organisation can respond
Anyone with a link can respond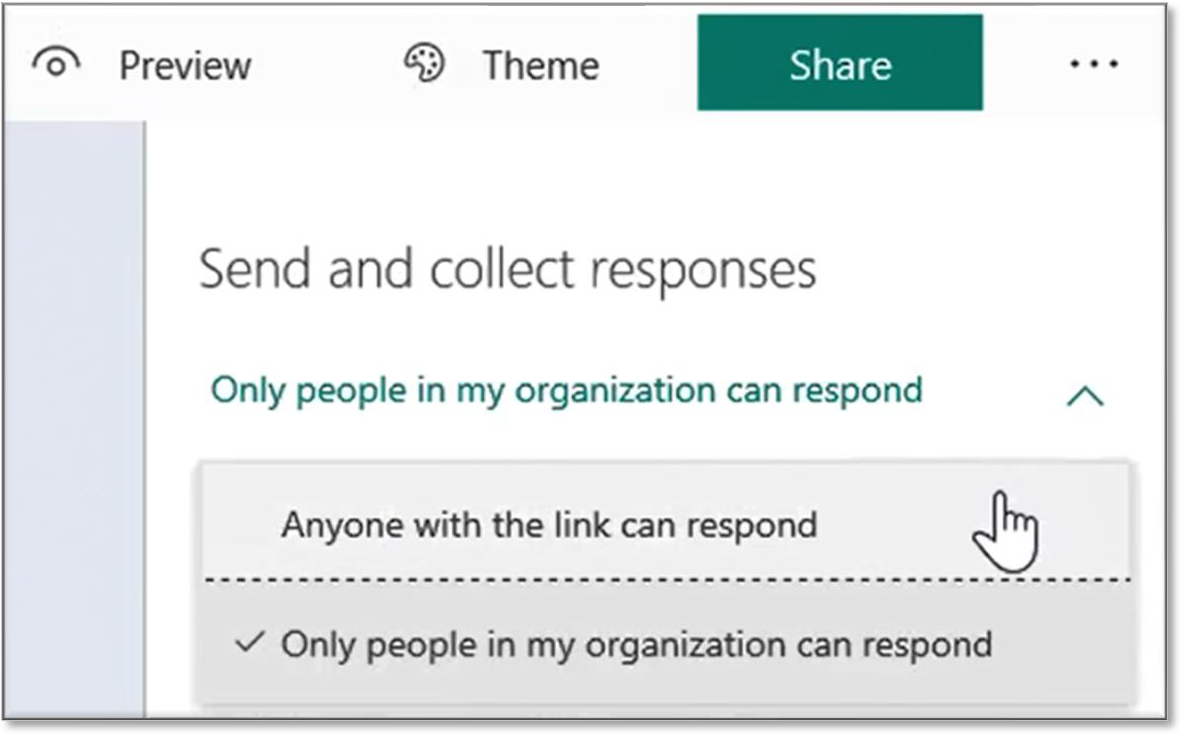 You can send a link, create a QR code (that takes recipients straight to the trivia survey), embed it, or email it.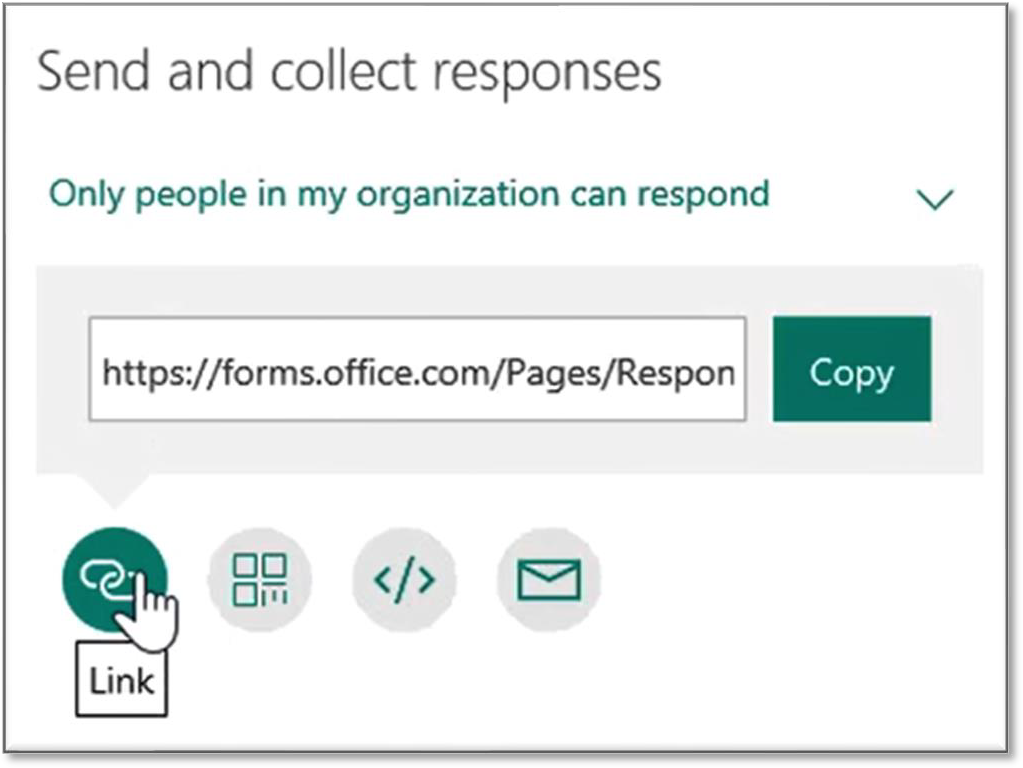 You have the option to share the form as a template so that other people can use your design as the basis of their own quizzes and surveys. You can also share to collaborate so that you can work on the form with others.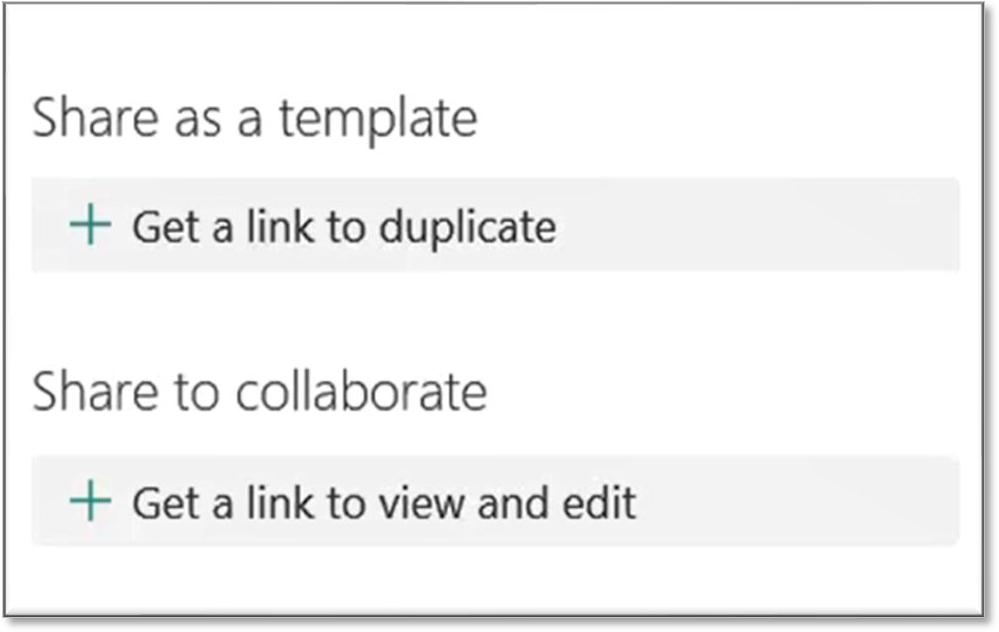 You can also copy the link here.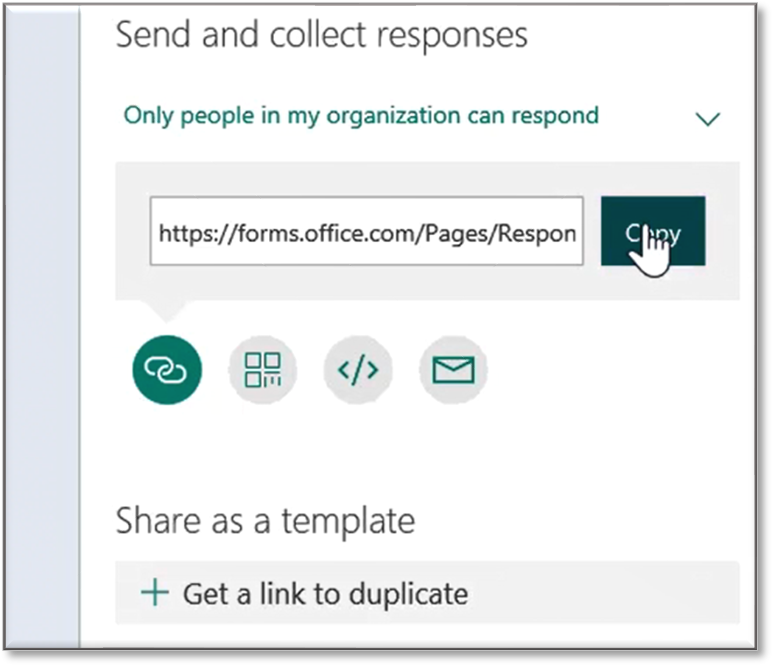 Settings
Click on the ellipsis at the top right to access Settings. In 'Who can fill out this form,' you can choose whether you want anyone with a link to respond or to restrict it to people in your organization. If you want the responses to be anonymous, leave 'Record name' unchecked. Otherwise, check the box.
How many responses do you want the person to submit? If you're creating a feedback form you would probably allow multiple submissions so you can get lots of feedback. However, if you're doing a competition like 'Get to know your intranet,' you may only want them to have one opportunity to win.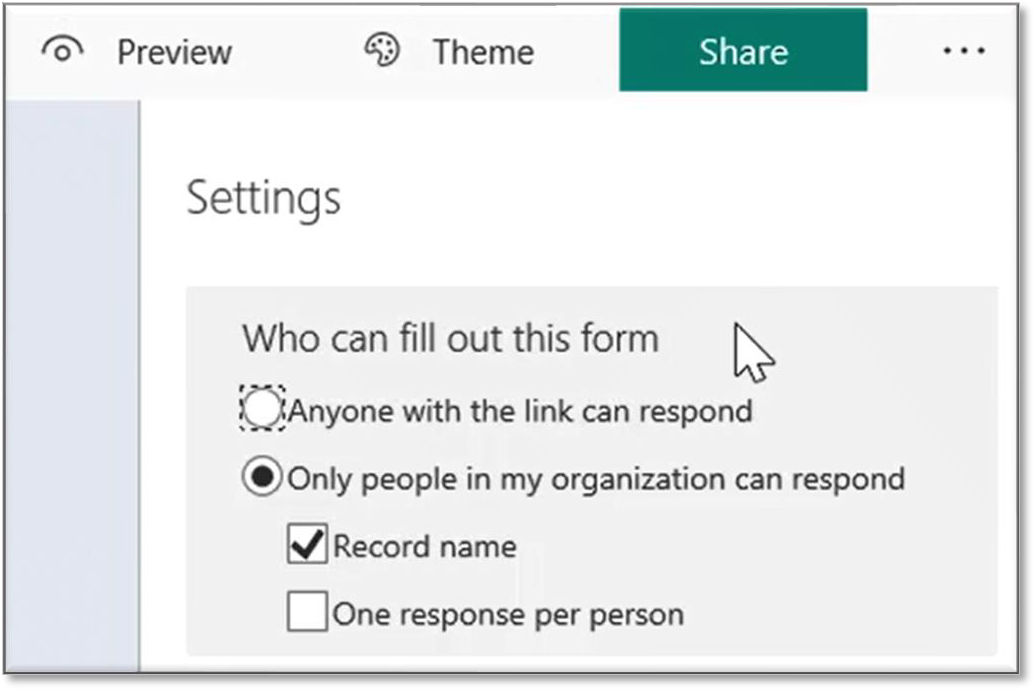 In the 'Options for responses' section, you can check to accept responses and set start and end dates for the survey.
You have the option to 'Shuffle questions,' which makes it harder for people to share answers. This is useful in a schooling or training environment – and you can easily create
forms based on video training or other types of learning. Eventually, Microsoft Stream and Forms will be combined so that at the end of a video, people can complete a quiz.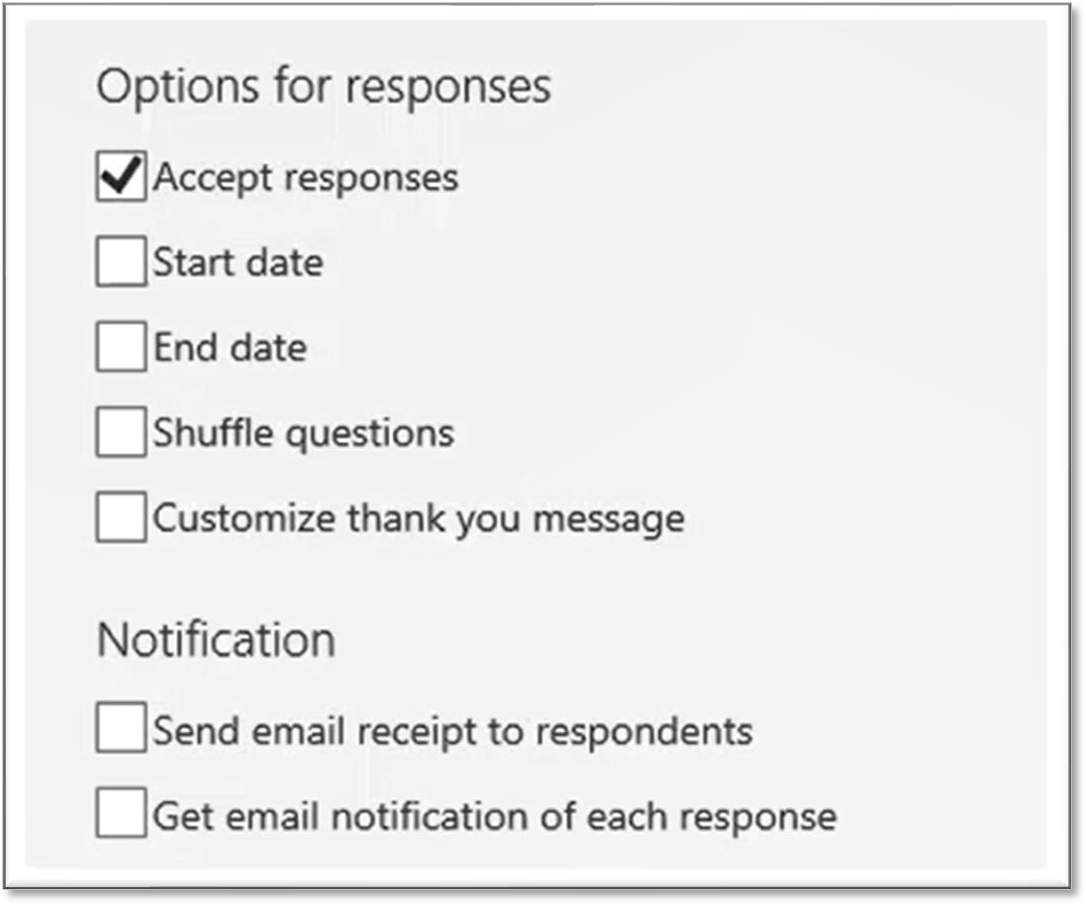 You can customize a thank you message.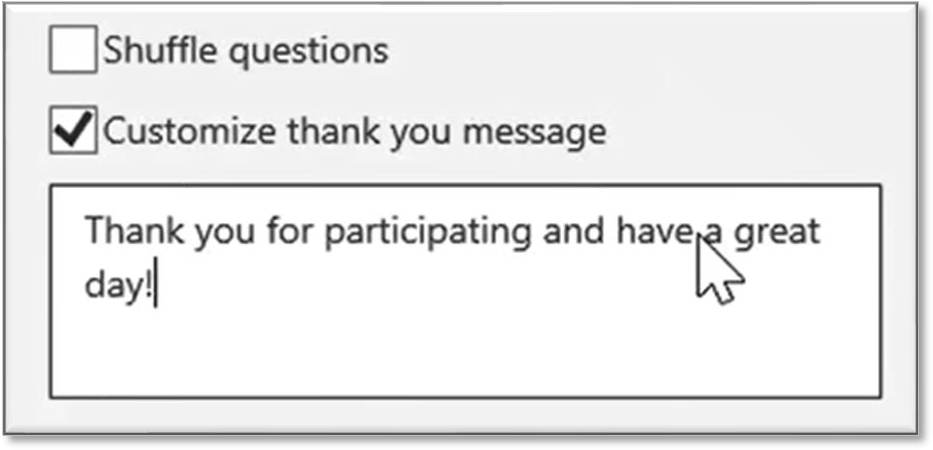 You can send an email to respondents, so they know you've received their submission. You can also receive an email notification for every single response – but you probably wouldn't want to do this if you've sent the survey out to the entire company.

Multilingual
You can add multiple languages (click the ellipsis at top right and select 'Multilingual').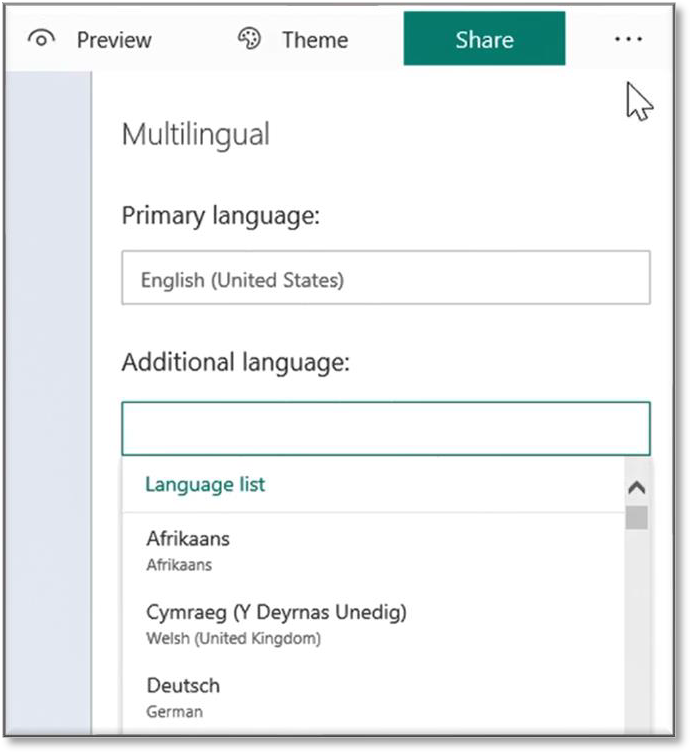 Testing your form
If you go into Preview mode you can actually take the test. Fill in the form and click
'Submit.'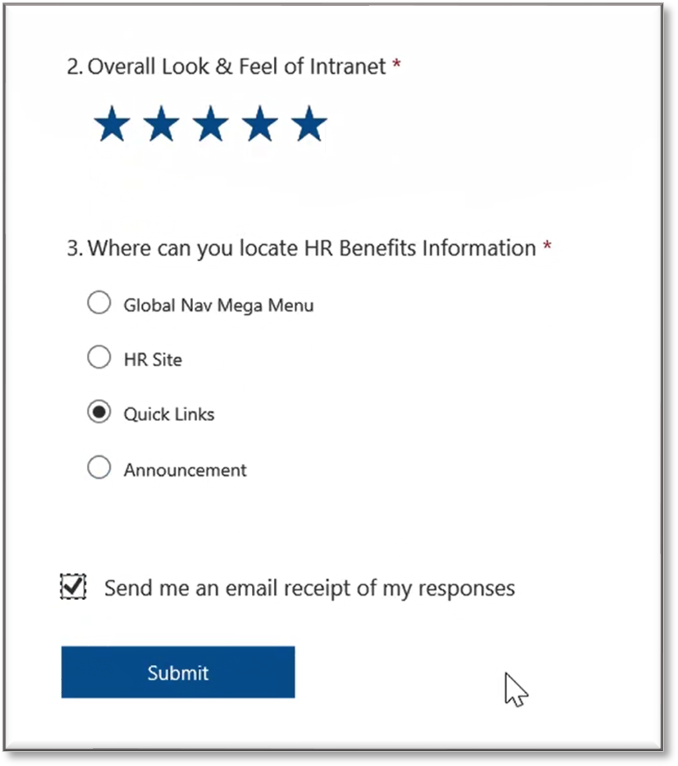 You can see the thank you message we entered. Since we didn't select 'One response
per person,' we get the opportunity to submit another response.

Viewing responses
Now you can look at the Responses tab.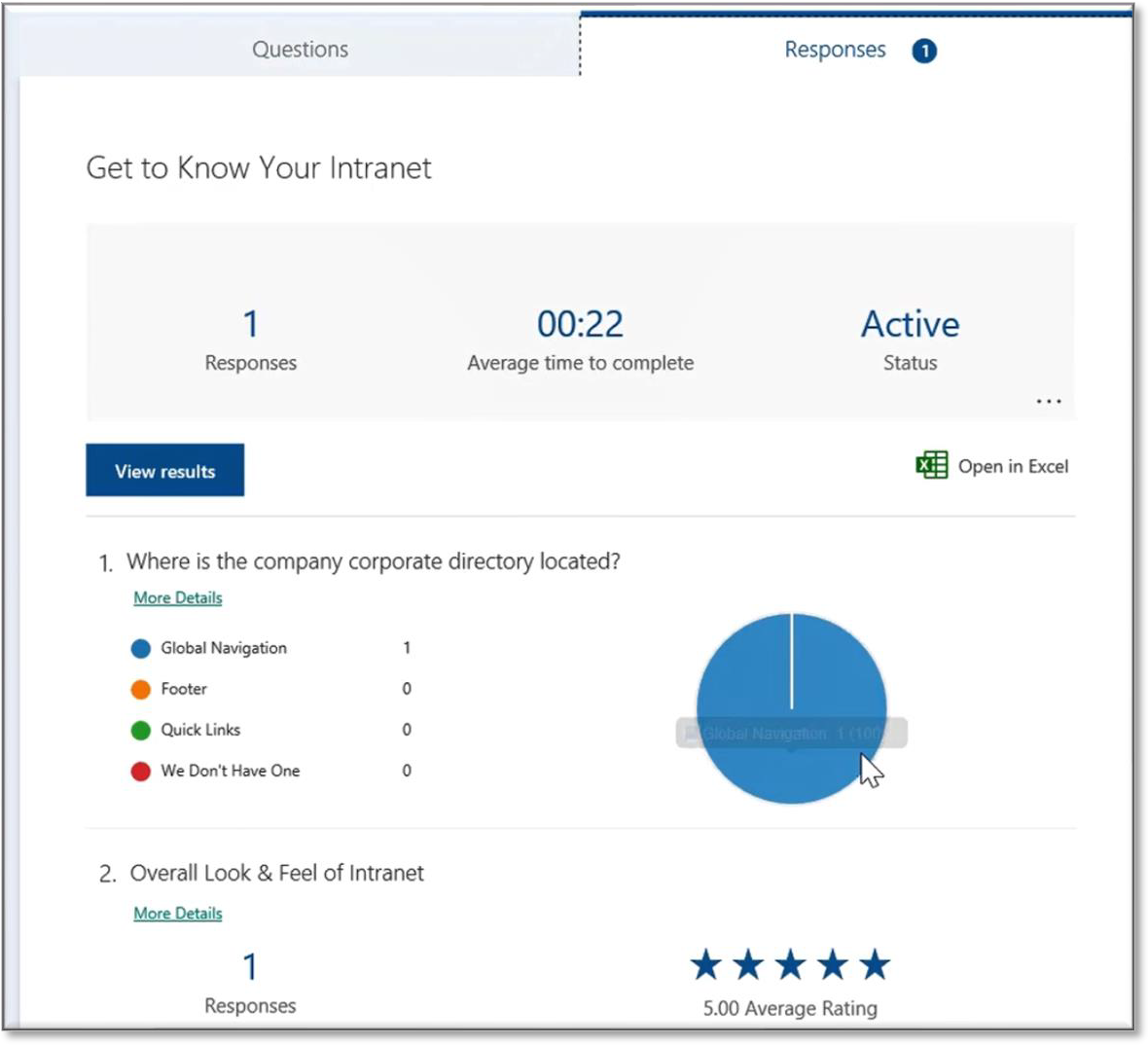 Training
Forms can play a big part in training users, whether that's getting people involved in new applications, company bonding, trivia games to see how much they know about their company, training sign-ups, or support tickets.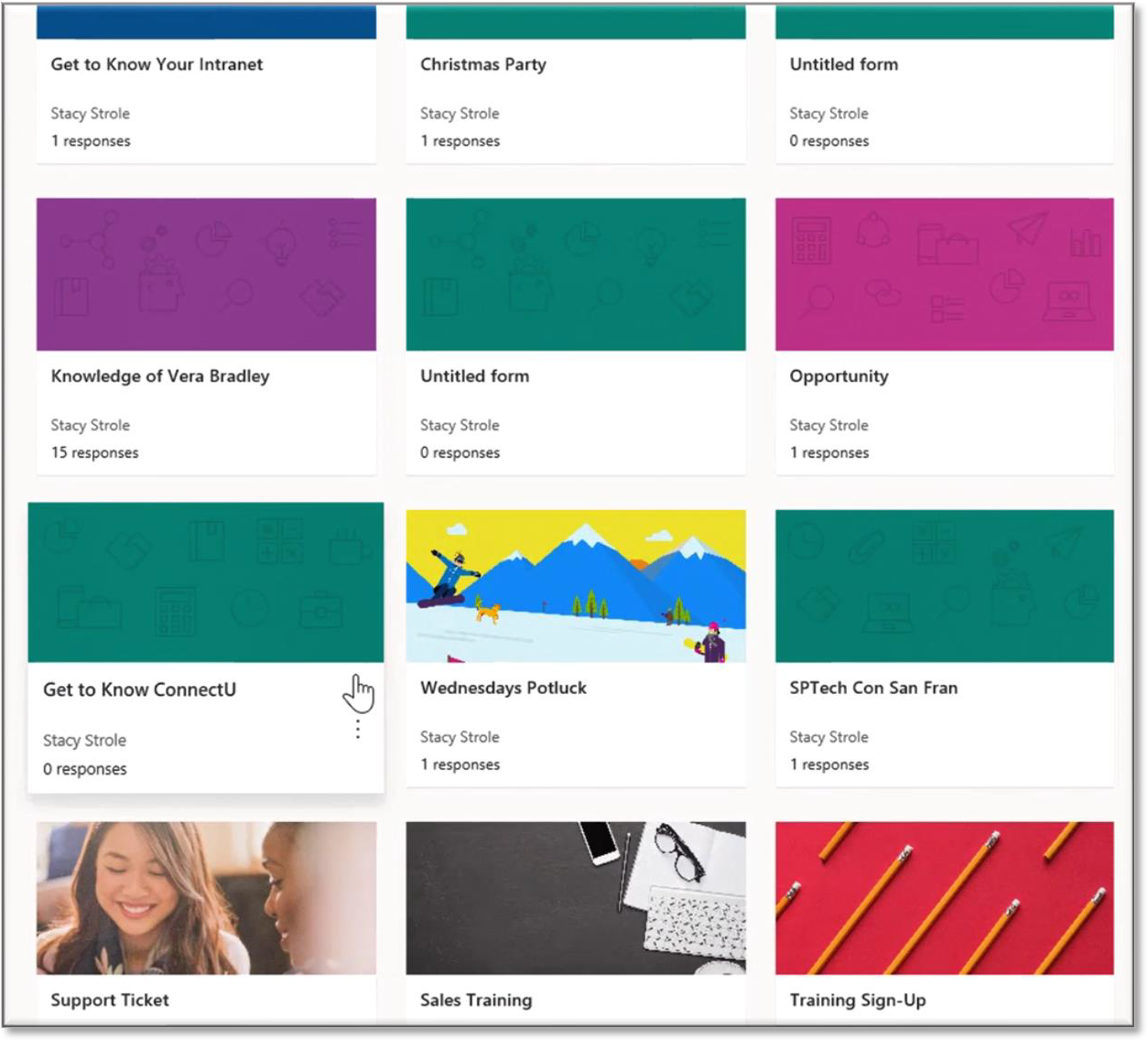 You can use quizzes to test people's knowledge and to teach them more about their company. You can allocate points for a correct answer. Forms Pro auto-calculates the points scored for the user.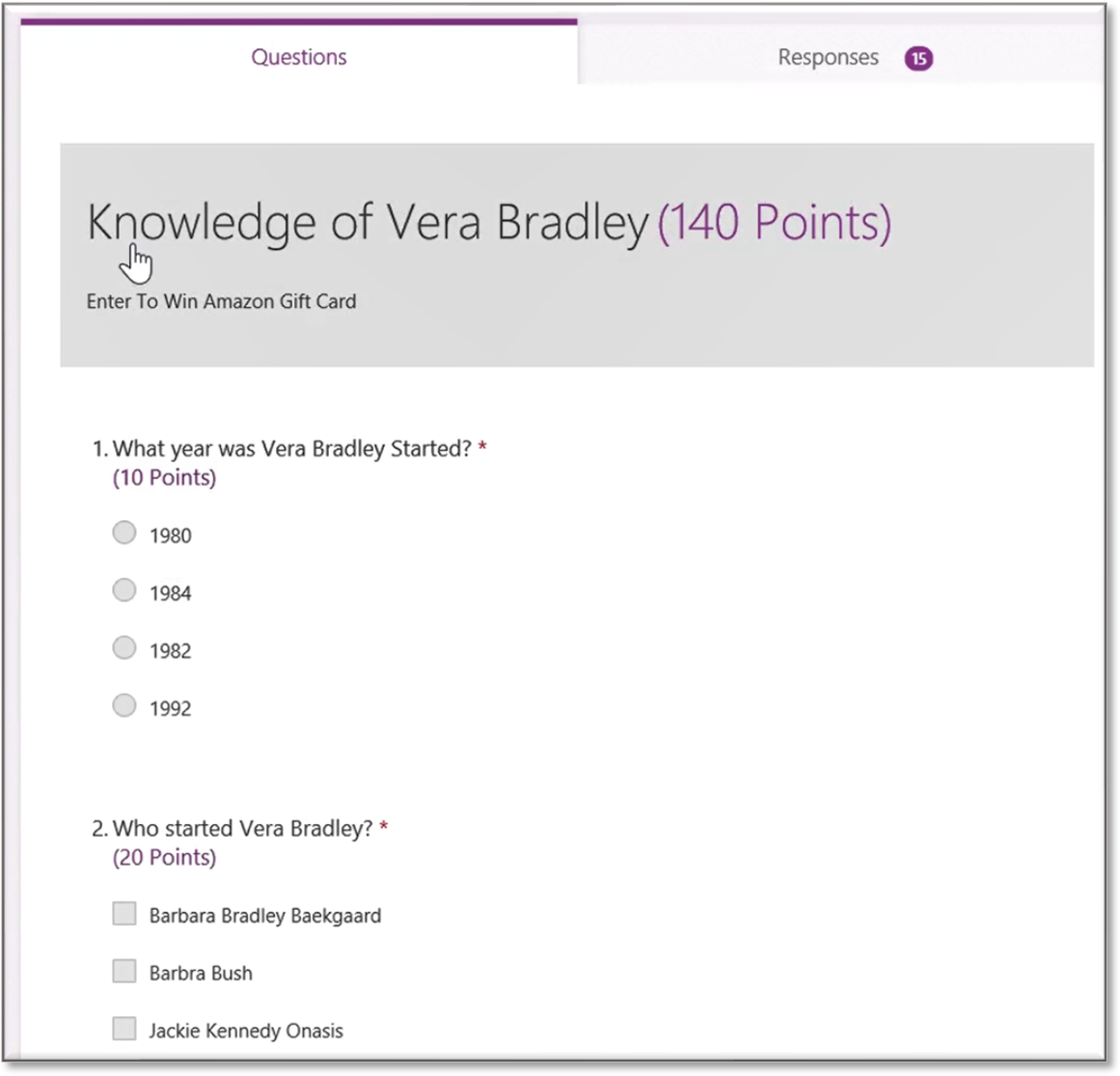 The Responses tab for a quiz tells you the number of responses, gives the average score, and shows if the quiz is still active. You have the option to open it in Excel. It gives totals for each answer and represents them in a chart.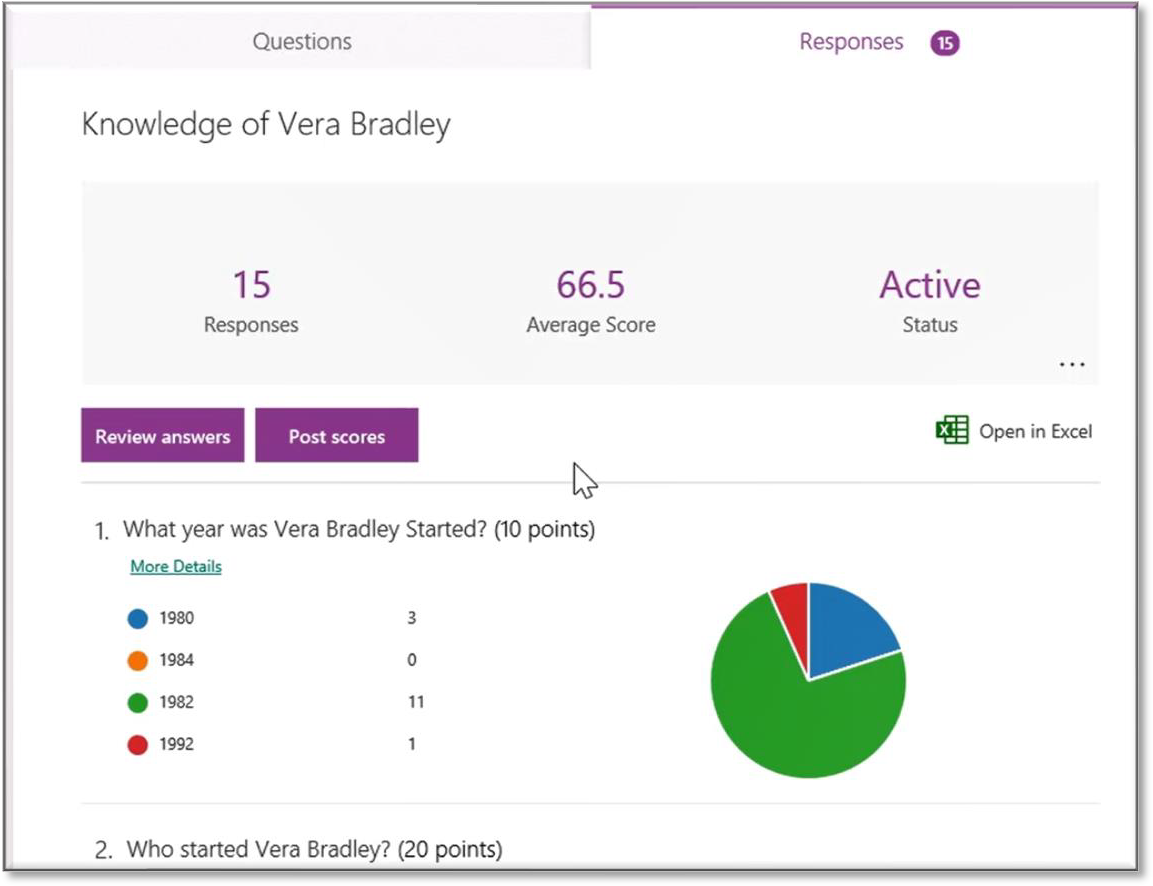 If you're not using Forms Pro, you have two different scenarios when it comes to grading the answers. You can go through each person's responses and grade them or you can grade by question, allocating points for a correct answer.
You can also post people's scores (including their percentage-correct score).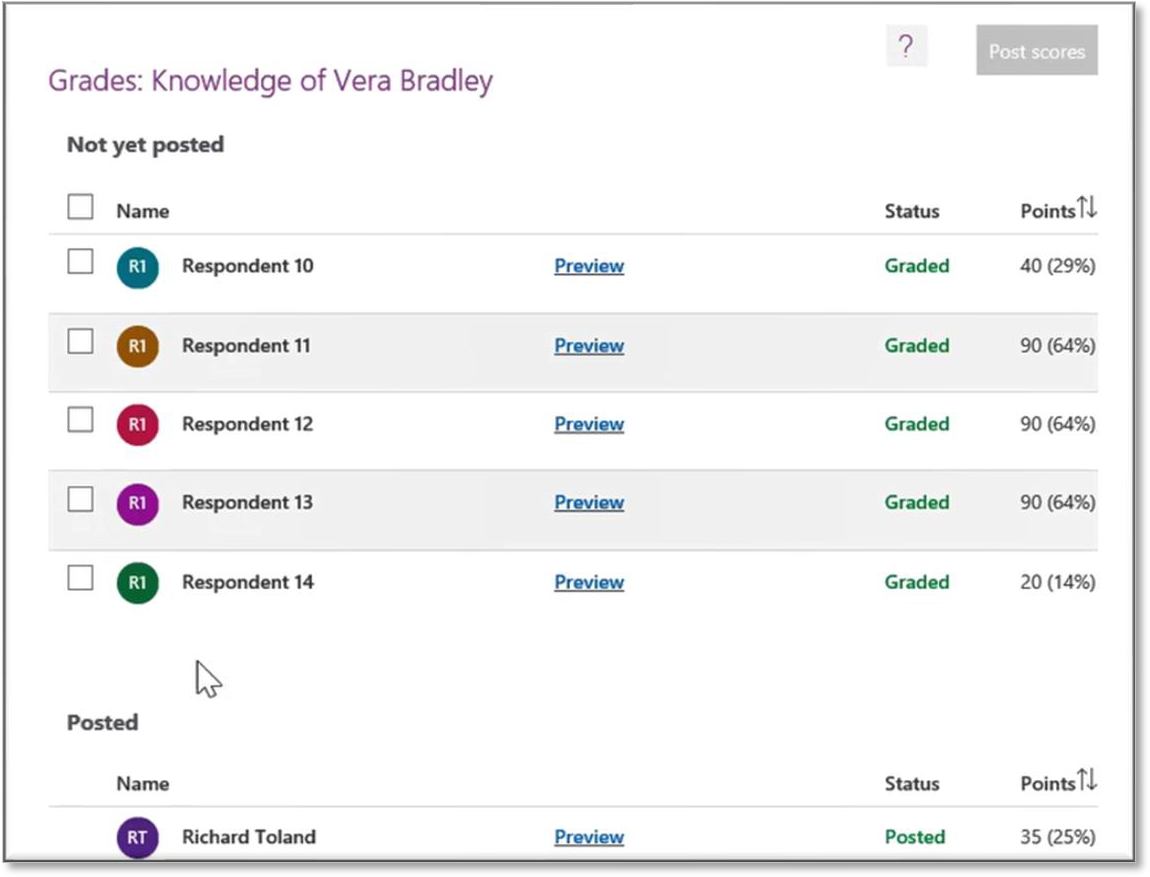 We'll create a new form called 'Company Picnic Shirts' and add a 'Text' question.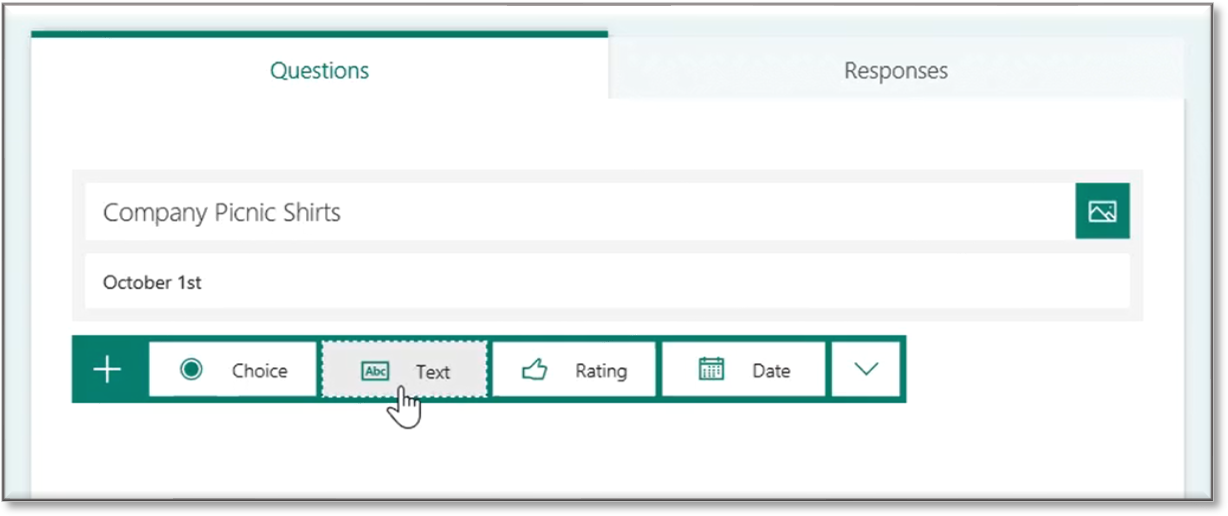 We'll enter 'Name' and click 'Required.'

Next, we'll add a 'Choice' question: enter 'Type of Shirt' as the question and 'Men,' 'Women' and 'Children' as the choices. We'll select 'Required' again.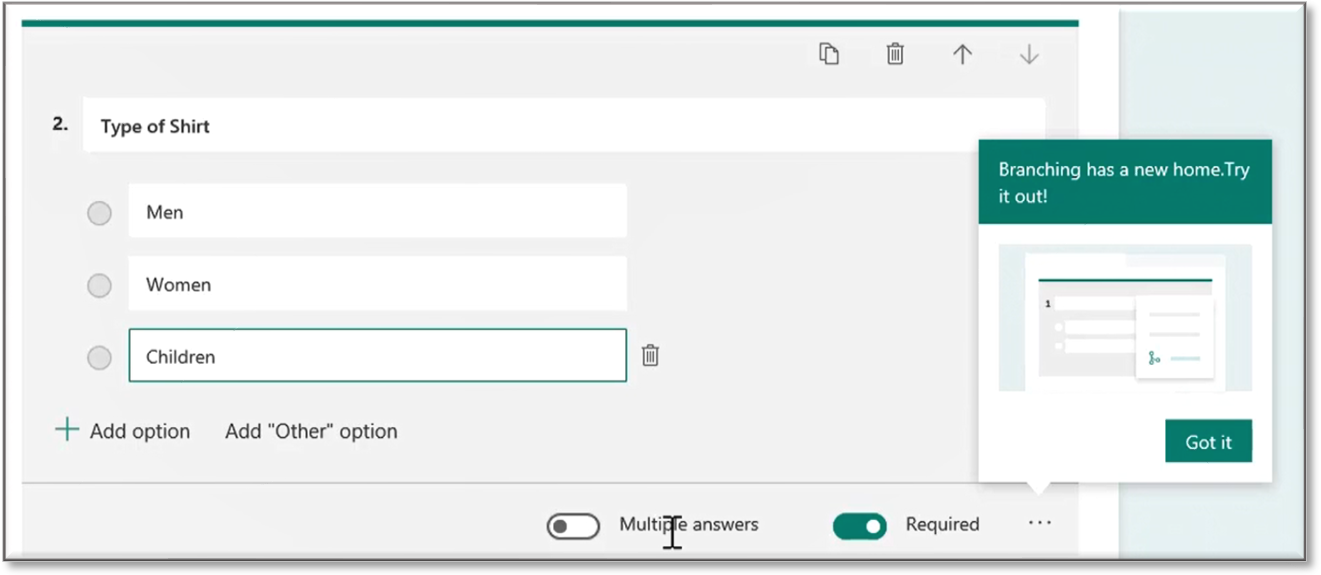 We'll enter further choices for shirt size and colour. Based on your input, Forms makes suggestions – for example, where Green is the first choice, Blue, Red, Yellow are suggested for the next choice.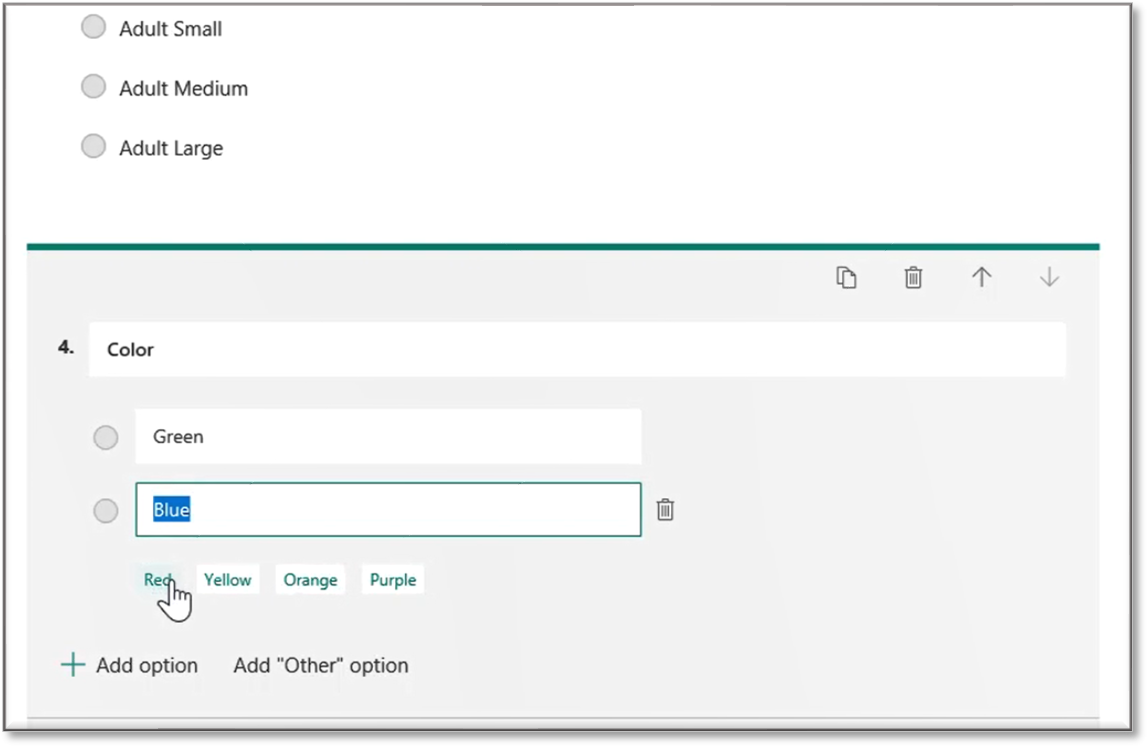 We want people to fill out this form, but we also want to capture the information, export it, and then send it to the company that makes the shirts. Then you'll get back a list of who ordered what. We can tie all this information to a SharePoint list with the same categories.

Power Platform Integration
The items in the SharePoint list are composed of single-line text fields. The choices are happening over in Forms, not in SharePoint. We are literally taking someone's answers and flowing them over here. We can add an information flow and populate the list with information from Forms. To do this, we'll go to Power Automate and select 'Create a flow.'

Here are some of the templates available: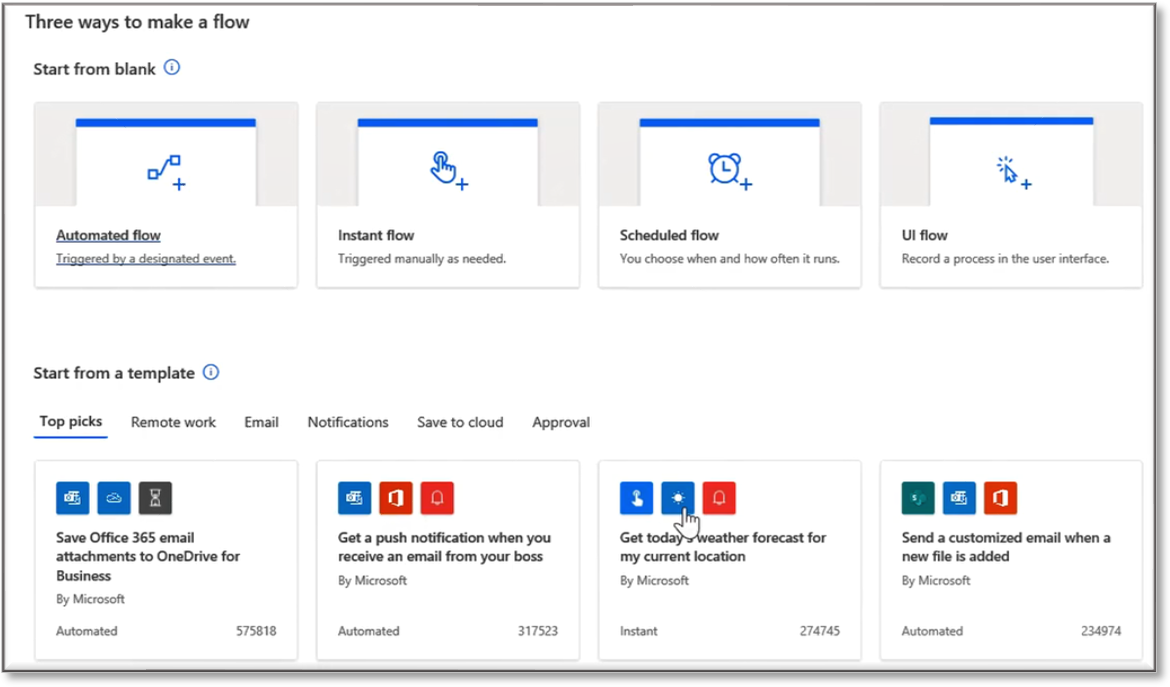 We'll use the 'Record form responses in SharePoint' template: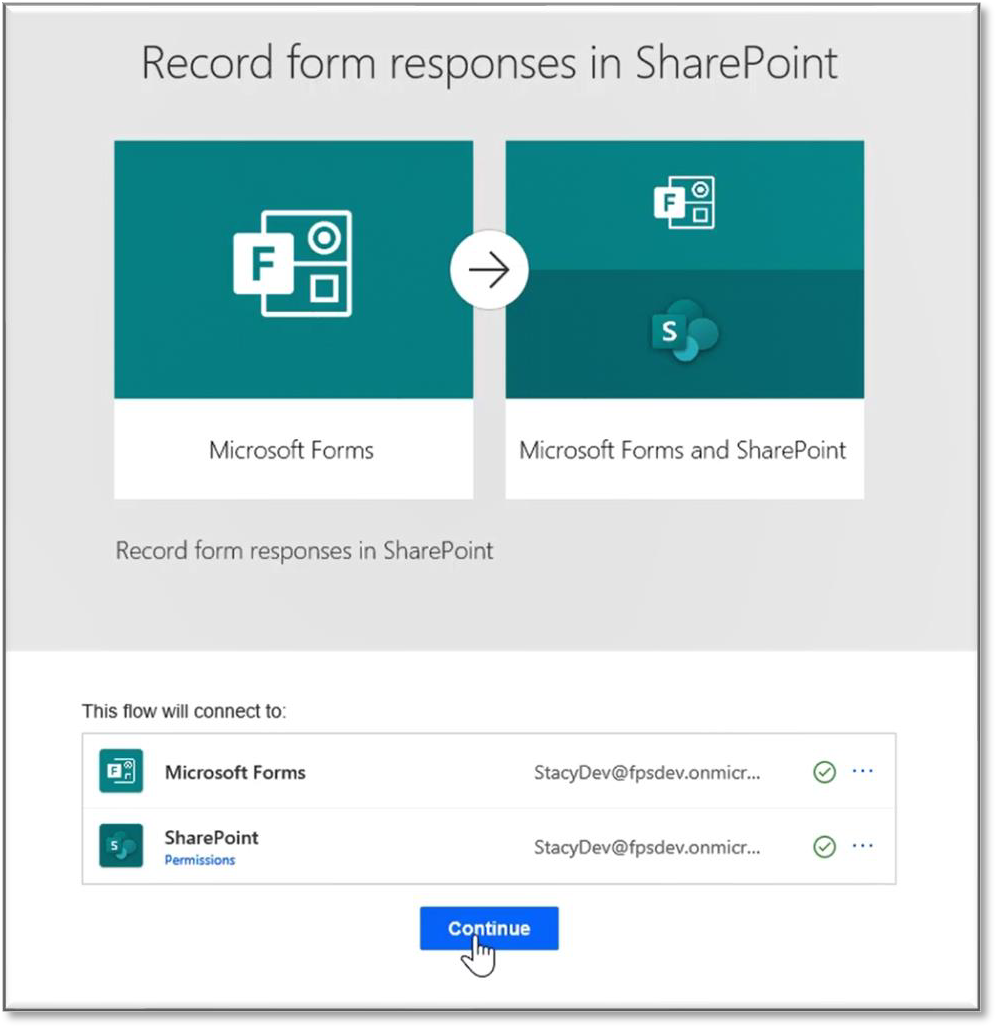 We'll choose the 'Company Picnic Shirts' question form from the dropdown list, the relevant responses form, the SharePoint site where we want to populate a list, and finally, the list itself.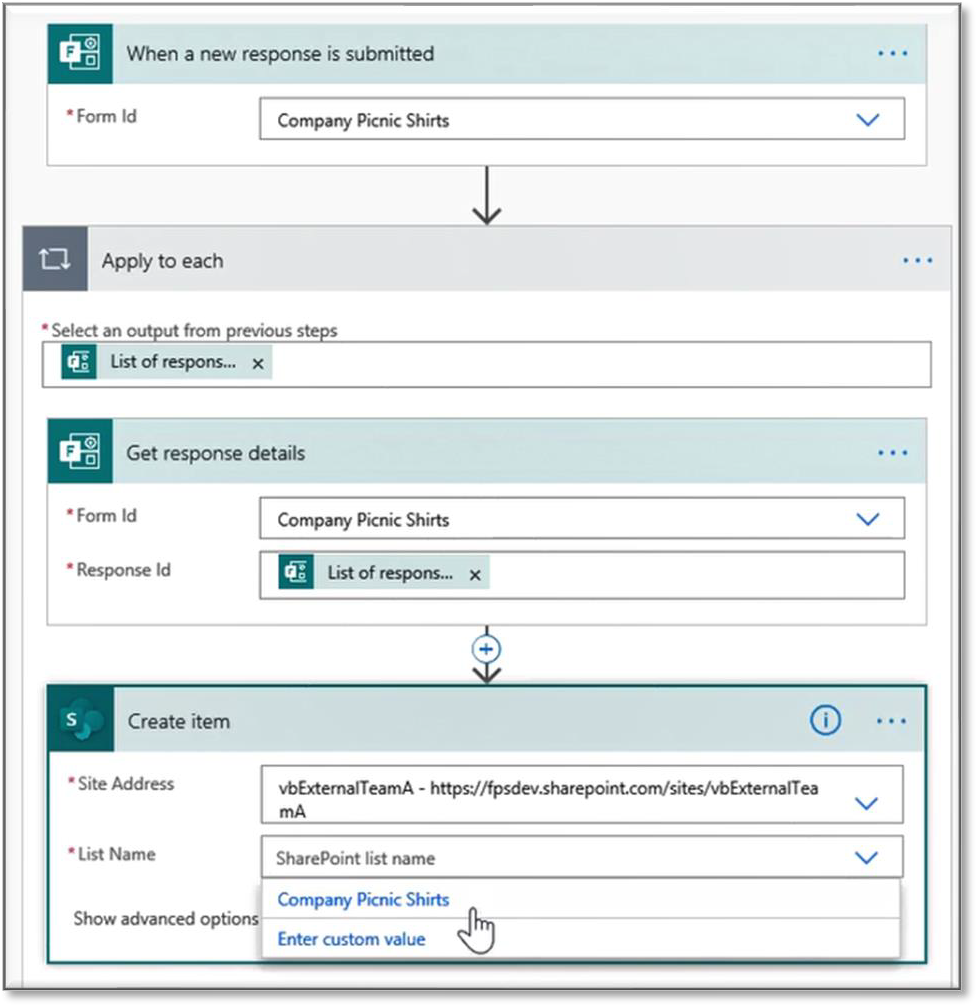 After we select the list, we map each form question to the associated SharePoint field.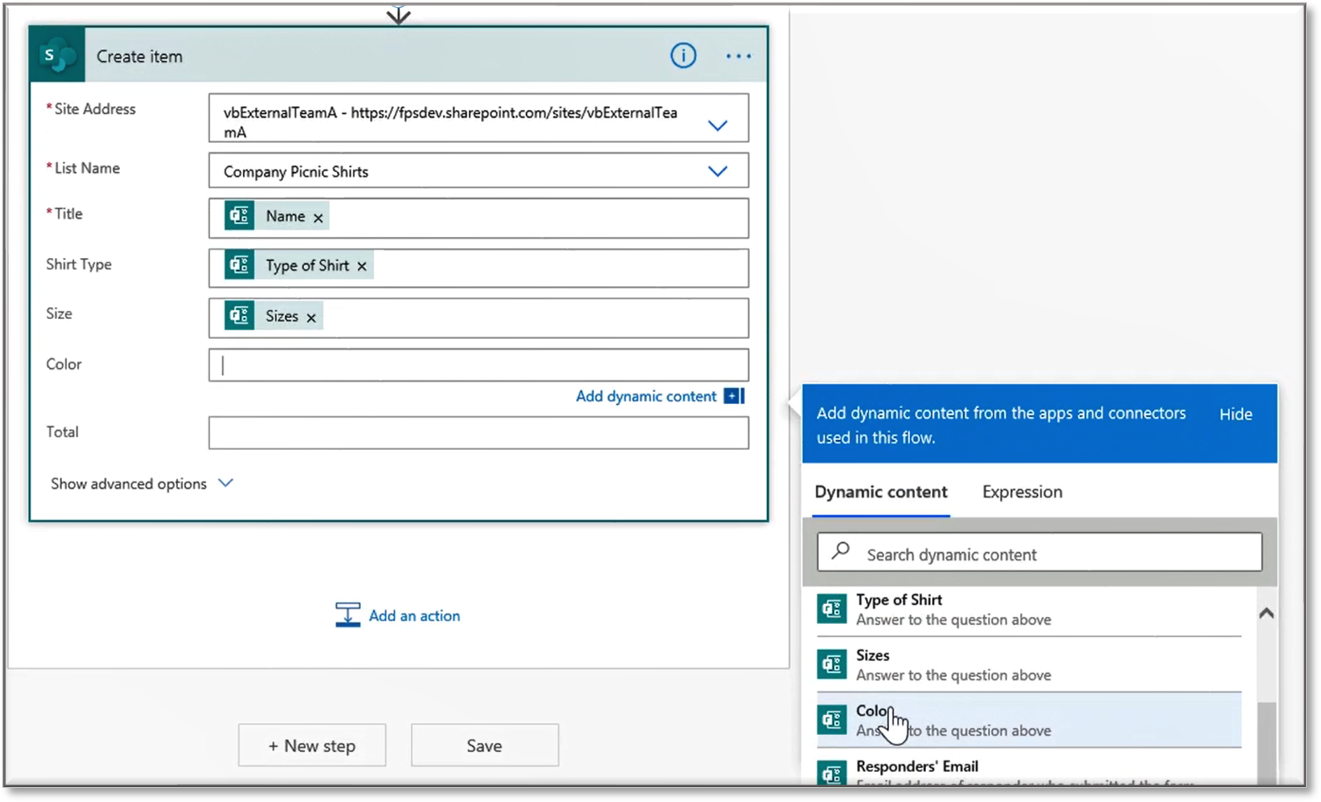 We can then run a test by selecting 'Test Flow' and then filling out the form in Microsoft Forms:

The test was successful:

We can confirm this by seeing that the SharePoint list has been populated with the new information:

Now that you have the information in a SharePoint list, you can export it and distribute it. If there are more things you want to do to the form you can connect it to a Power App and to Power BI.
Web Parts
You could replace your old surveys by embedding web parts into your pages.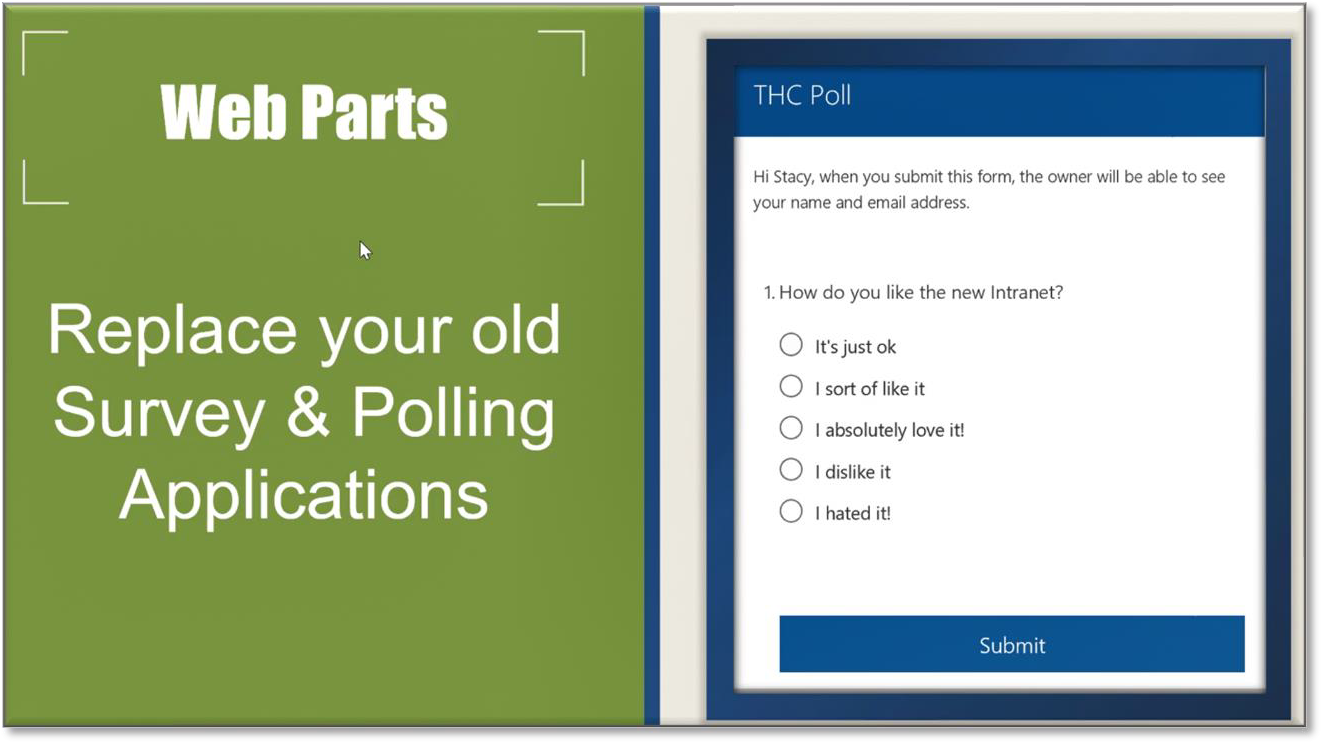 We'll open a SharePoint team page, go into Edit mode, and select 'Microsoft Forms'.

We're going to embed the company picnic shirts form, so we'll select 'Add existing
form.'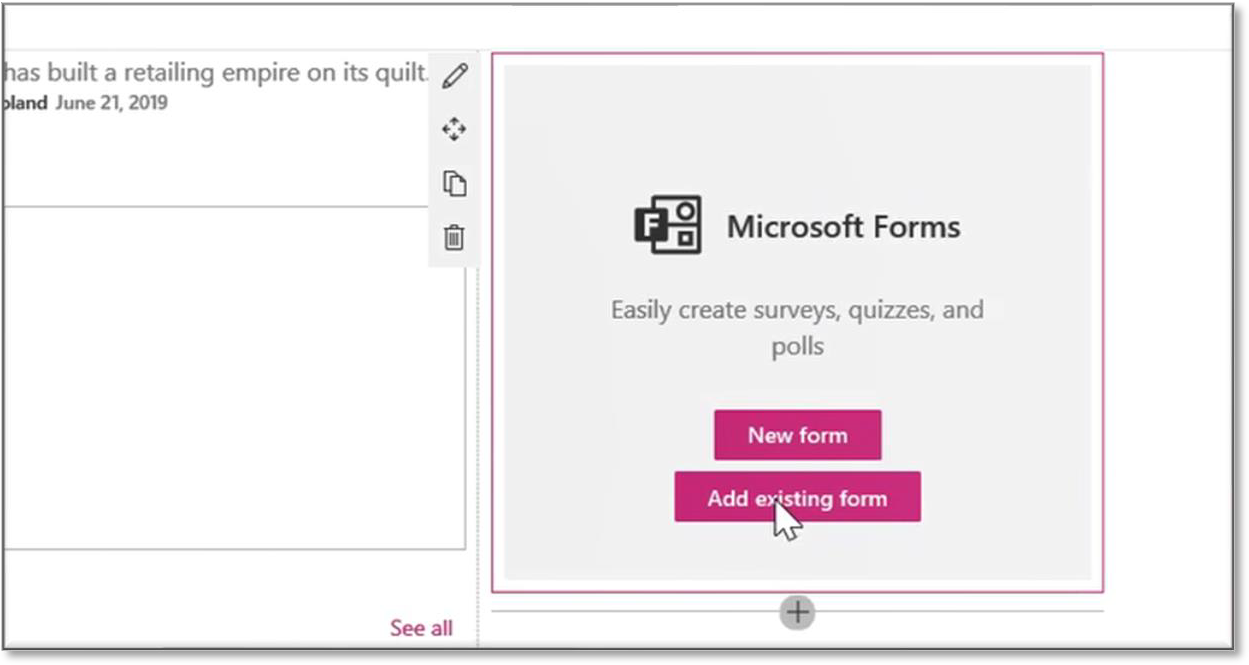 We copy and paste in the form's URL and select 'Collect responses.'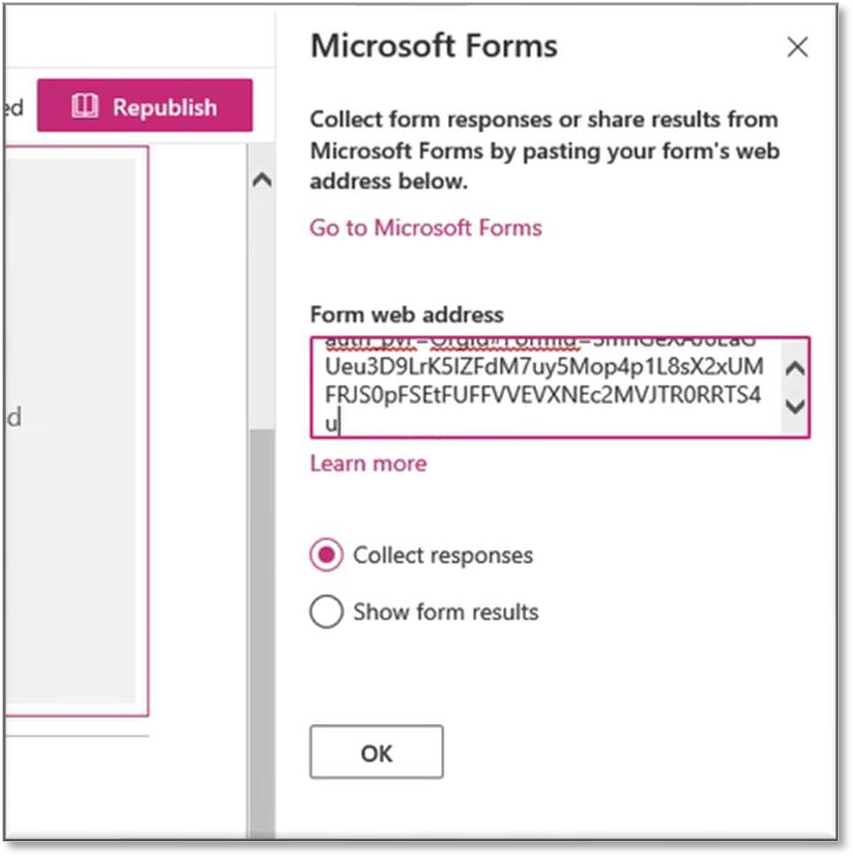 And then the form is embedded within a web part on the SharePoint page.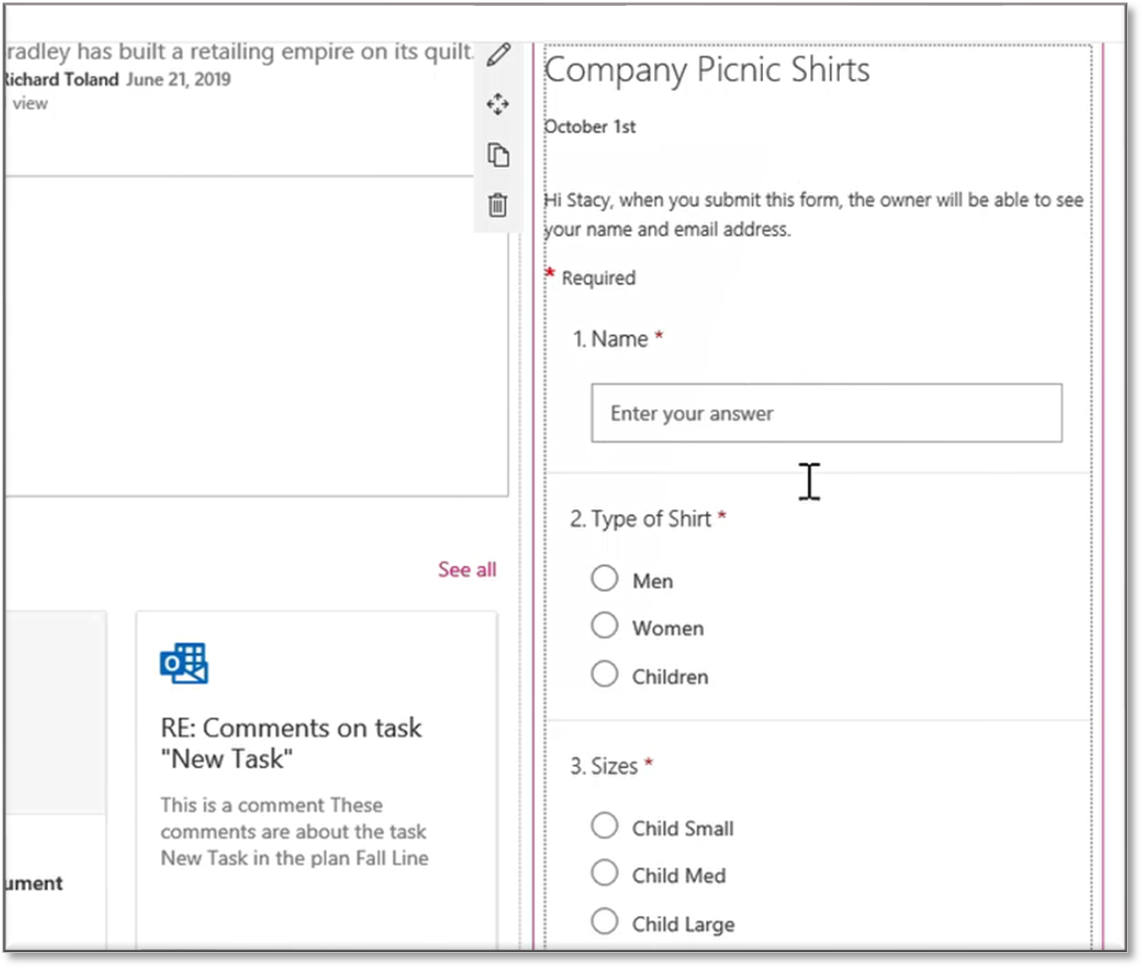 You might want to tweak the size of the form, so it doesn't appear too big on the SharePoint page.
Summary
Using Microsoft Forms to create quizzes, games, and surveys is very easy, it's quick to do, and the cost is minimal, but it could have a huge impact on your company in terms of user engagement, company bonding and training. By integrating forms with SharePoint and the Power Platform, you can enhance your users' experience even further and maximize your use of the information you gather.