Many organisations have adopted Microsoft Teams, but they use it for more than instant messages and as a meeting platform. In this eBook, you'll be taken through the 5 steps to using Teams as your workday hub.
Exploring team channels, tabs, document libraries and automation, you'll learn how to get more from Teams when using the team workspace area as your place of work.

Microsoft Teams was launched on 14 March 2017. There was a massive uptake and within two years it had 13 million daily users. By March 2020, there were 44 million daily users. Due to the pandemic, there has been a big change in the way we work and Microsoft Teams became a great asset to remote working and learning. In March 2020, there was a 7-days growth of 12+ million users – in effect, 2 years' growth in 7 days.

In April 2020, there were 75 million active daily users. 4.1 billion meeting minutes were recorded on a single day in April. Teams was also used by 183,000 educational institutions. The use of Microsoft Teams has exploded during Covid-19.
Although the stats are amazing, lots of people use Teams simply as a way of communicating – for meetings, chat and calls – but it's a lot more than that. We'll look at what Teams can really offer us and discover the 5 steps to using Teams as a workday hub.
Your workday hub
Are we using Microsoft Teams to its full capabilities? Microsoft pitches Teams as a hub. It's an application (like others in Office 365, such as Excel), but it's a lot more than a single application.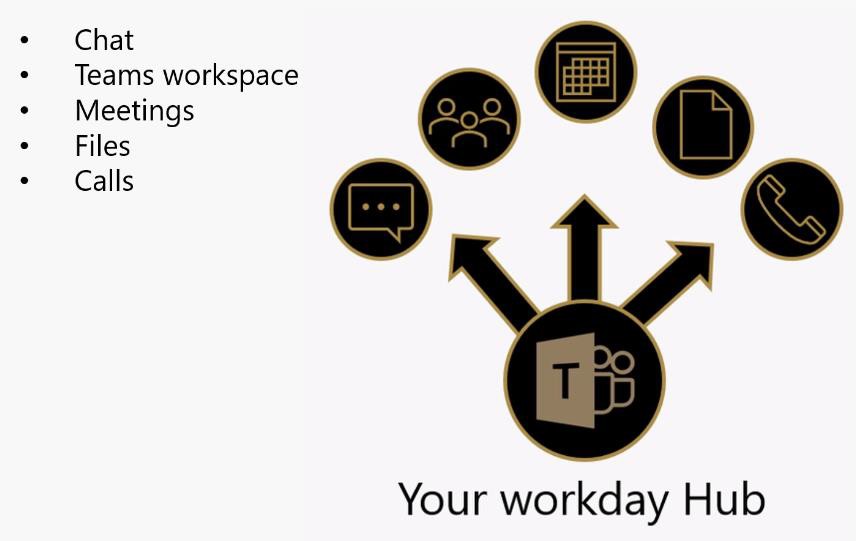 We have the ability to chat within Teams, either 1 to 1 or in small groups. There's a Teams workspace area where we can create teams, have conversations, collaborate, and meet. We can arrange and attend meetings, whether they are internal to our organisation or external. The meeting experience is fantastic in Microsoft Teams. We can work on files either in a team space or in chat, collaborating and communicating with other people. If we work on files in the team workspace, we don't have to worry about whether someone has access to them because everyone in your team will have access to files in the workspace. We can call people internally and if we have calling plans set up, externally. Calls can be audio or video.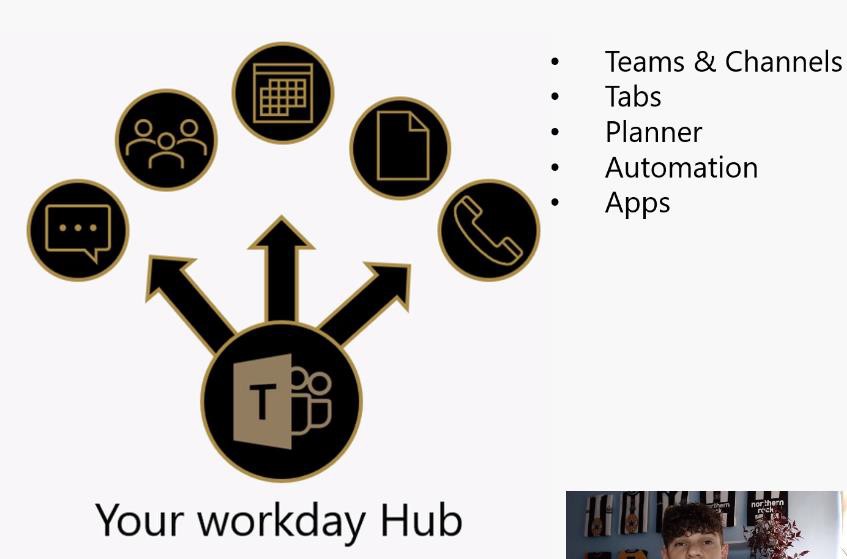 To get the most out of Microsoft Teams, we'll be looking at a few features in more depth. By the end, hopefully, you will be able to realise the potential of your team in the Teams workspace.
Step1: Teams & Channels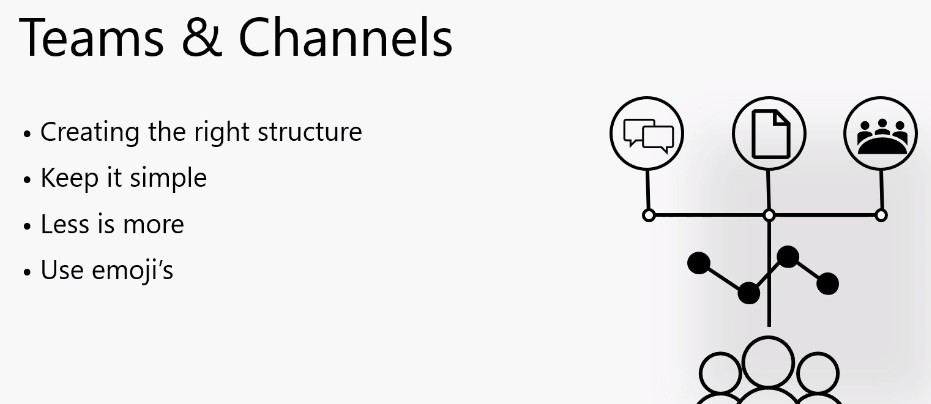 Teams and Channels are the bread and butter of Microsoft Teams, but there's so much
potential here.
Top tips
Create the right structure for your teams and channels.
Keep it simple – don't over-complicate the teams you create.
Less is more – don't have lots of channels that don't need to be channels, such as a channel for one conversation or one file. Don't create a team with only one channel in it because that team is just going to be wasted.
Use emojis – you can use emojis within the names of your channels. This can help people to understand the purpose of the channel, and it's fun. You can see the use of emojis below really make the team names stand out.
In the workspace below the teams and channels are well-structured and arranged simply. There are 3 teams: Board Meetings, Finance Department and Finance Departmental Team.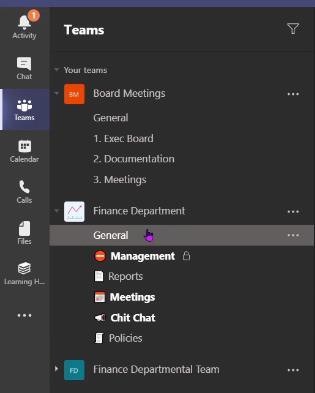 Within Board Meetings are 3 channels, arranged and numbered in the order in the order we want people to see them. The Finance Department have given their channels emojis to help make them stand out.
The Finance Departmental Team has a classic set up – with just one channel in it. We already have a Finance Department team so this extra one is unnecessary and confusing.

The Finance Department team has a General channel and further channels for Management, Reports, Meetings, Chit Chat and Policies. The 'Chit Chat' channel stops other channels from being clogged up with general discussions that aren't necessarily work-related.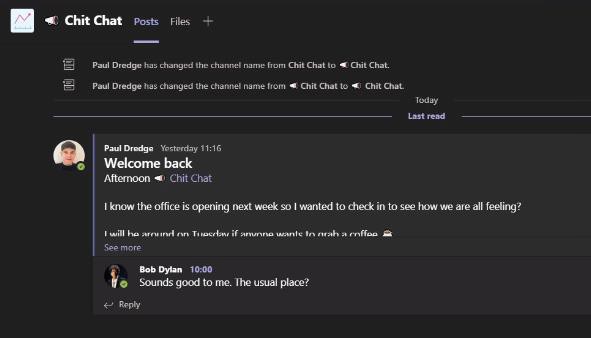 There's a channel dedicated to meetings – people know where to go to discuss and find out about meetings.

There's a private channel for the management of the finance department. A larger management team may want a whole team to itself, rather than a channel.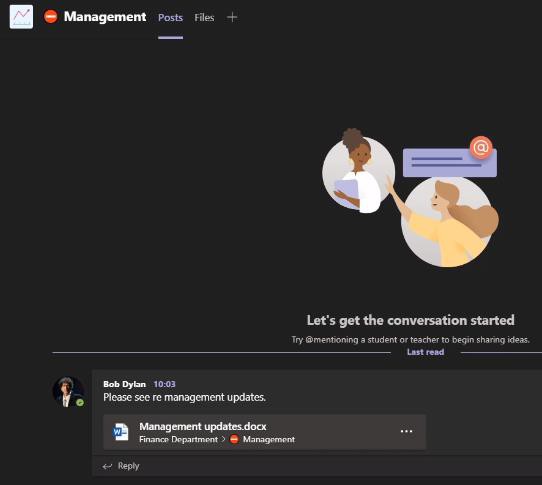 The Reports channel name has a 'sheet of paper' emoji to make it stand out.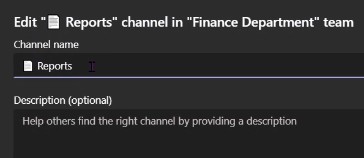 To open the emoji menu, press the Windows key and ; (semi-colon).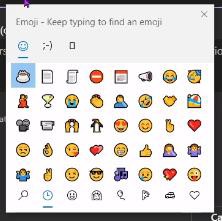 It's a good idea to keep the number of channels to a minimum and to name them appropriately, so that team members know exactly where to go.
Think of channels as signposts, pointing people in the direction of a particular topic or piece of work. If you get this correct at the beginning, it's a fantastic way to start using Teams as your workday hub.
Step 2: Tabs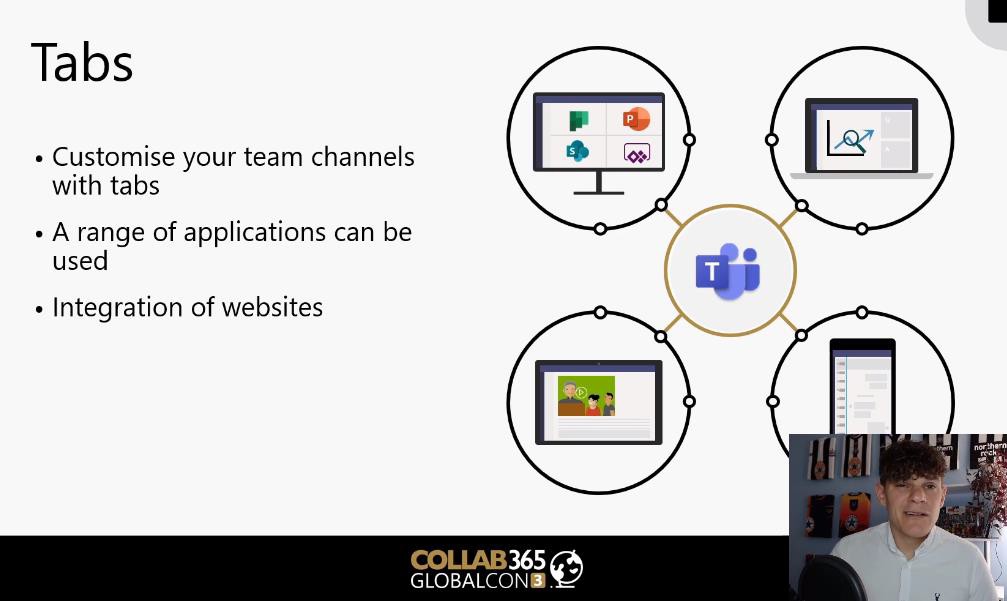 Tabs gives you access to resources outside of your team, without having to navigate
away from your team. If you're using Teams as your workday hub you don't want to be opening other web browsers or other applications – you want to stay in your Teams application and not have to go anywhere else. This is what tabs can address.
You can customise your team channels with tabs by adding links to applications and websites. Integrating external websites can enhance the user experience of Teams – you might add a login portal or resources on a website you need to check regularly. You can link in Word documents, PowerPoint presentations, SharePoint, Power Apps, and more.
In the Finance Department team, we can see some newly created tabs along the top.

This tab below shows live stock data. It's linking to an external website and you can interact with the website, but it's still within Teams.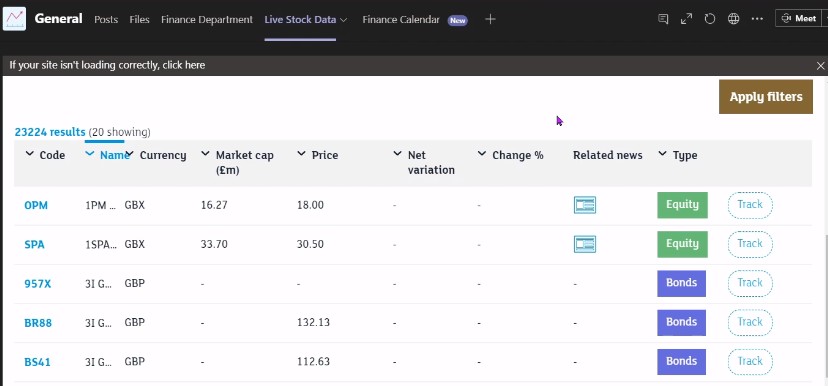 This tab contains a shared calendar. You can view the calendar and edit it from here.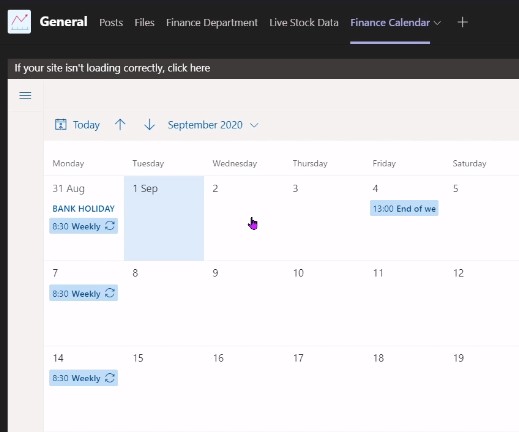 In the Meetings channel is an Agenda tab, which displays an agenda in OneNote.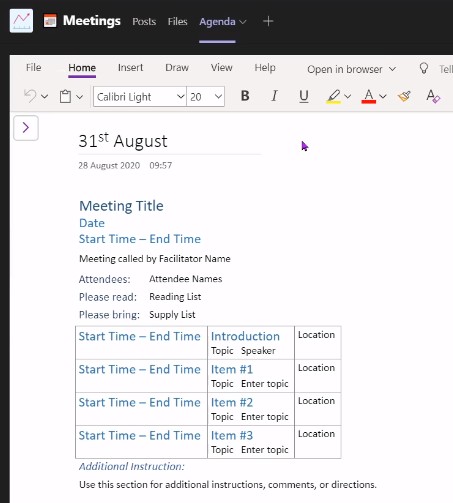 To add a new tab, click on the + symbol in the top menu bar.

The tabs available for you to select are dependent on how your organisation's IT admin department have set up Teams, but you can link to Microsoft applications like Planner, Excel, Forms and SharePoint, and to lots of third-party apps.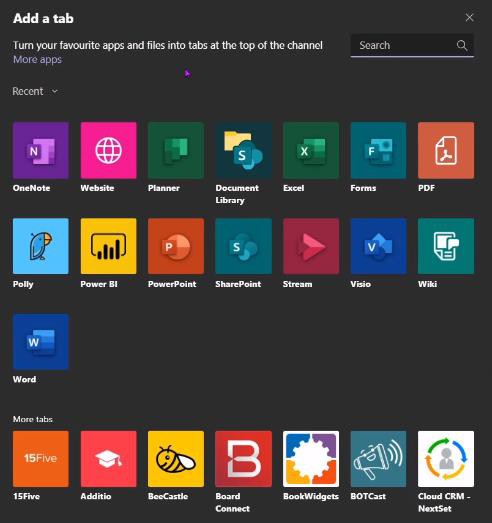 In the Policies channel is a tab linked to a SharePoint document library. The library is restricted so that managers have edit access to the files it contains, whereas other team members can only view the files. It's a great way of sharing files without people having to go into SharePoint or click on an emailed link.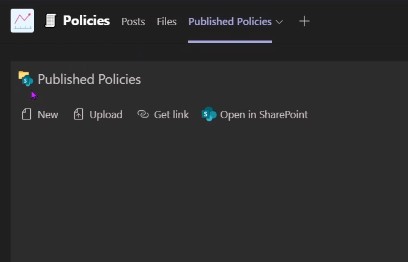 To add a document library, click on the + symbol and then select Document Library.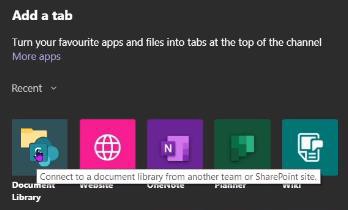 You can then see any relevant sites you have recently accessed.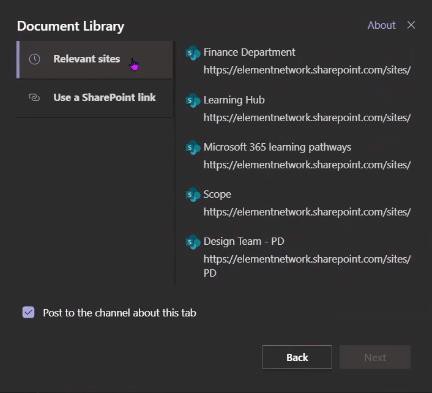 If a site doesn't show up in the list, click on 'Use a SharePoint link' to copy and paste the
library's URL. You can also check an option to 'Post to the channel about this tab'.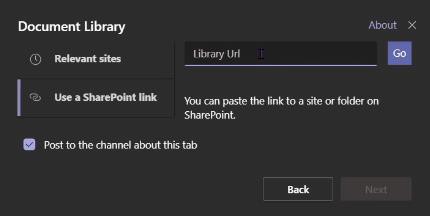 You can then select the document library…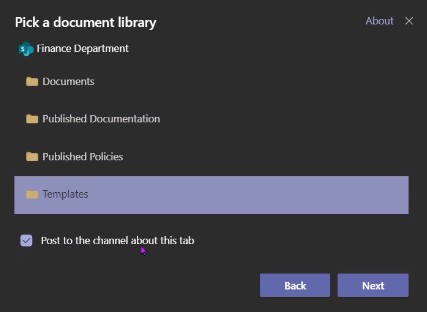 …and name it.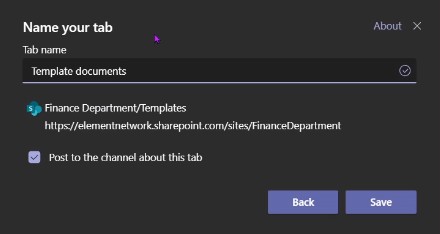 The document library is then displayed within the tab.
You can also make a file a tab. Click on the three dots next to the file name and then

select 'Make this a tab'.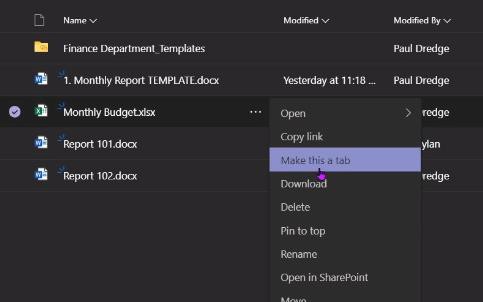 The file (Personal Monthly Budget) is then added as a tab with the team.
So, you've now got quick access to the file and you no longer have to browse elsewhere to find it.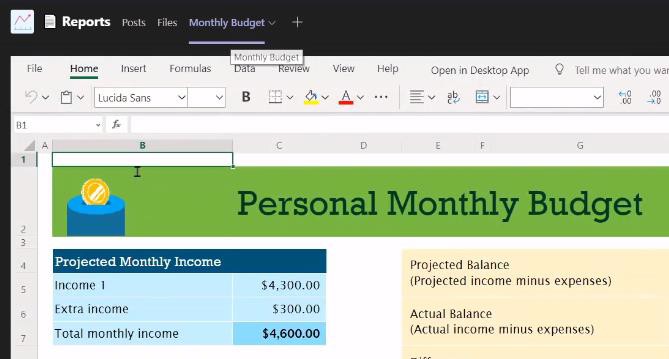 Step 3: Planner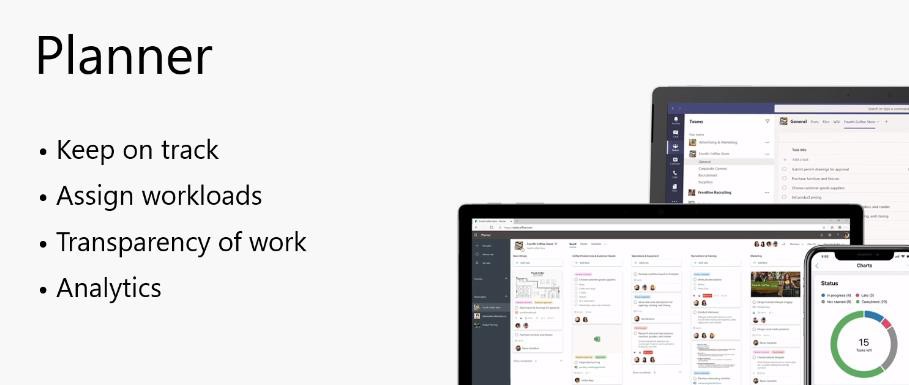 If you haven't used Planner, why haven't you used it? It's a fantastic way to keep people on track, assign workloads, and give people transparency of their work. It includes analytics and you can flag emails to appear as Planner items. Adding Planner to your Teams workspace will transform the way your team works.
Here, Planner has been added as a tab within the General channel of the Finance Department team.
The plan contains lists, known as 'buckets', such as 'To do', 'Reports', 'Policies' and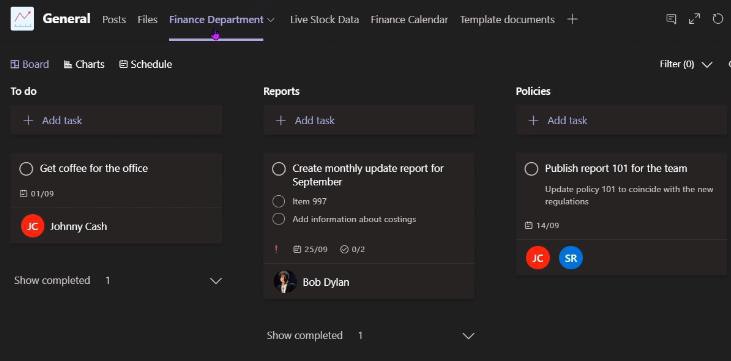 'Meetings'. You can add more buckets if you need to.
In the 'To do' bucket, Johnny Cash has been assigned to get coffee.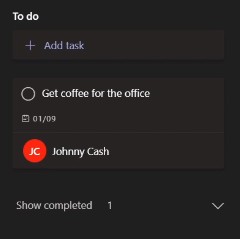 Bob Dylan has been assigned a report and he has a checklist to complete. There's a comments section, which other people in the team can add to. There's a progress status, priority category and due date.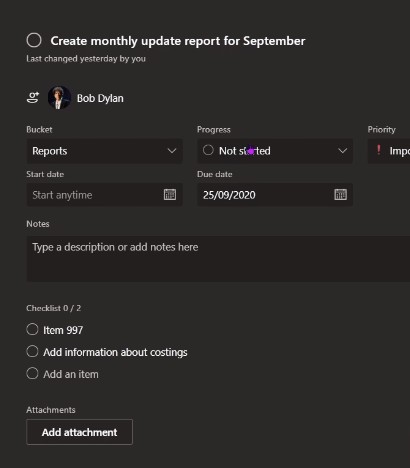 The plan also shows which tasks have been completed.
You can add a new task quickly – give it a name, a due date and assign it to someone from your team.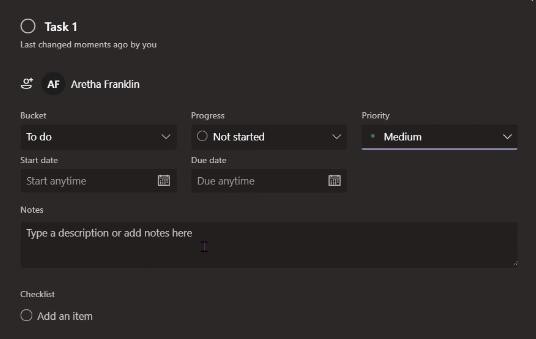 You can drag and drop a task between buckets. You can also change the order the buckets are displayed by selecting from the 'Group by' dropdown.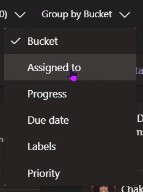 Click on 'Charts' to see analytics about the team's Planner activities.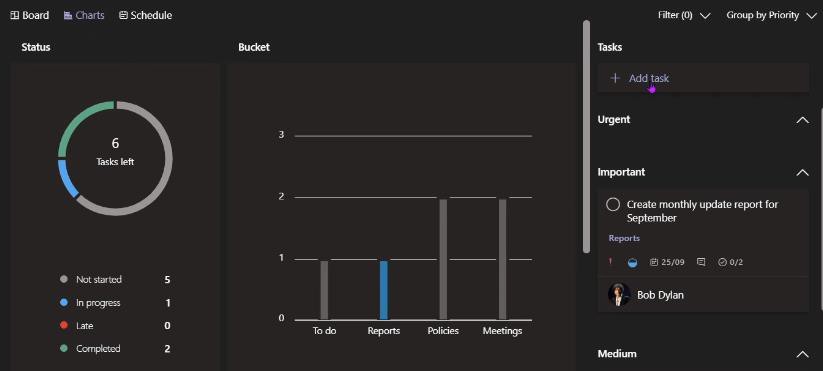 The Scheduled tab shows you when each task is scheduled.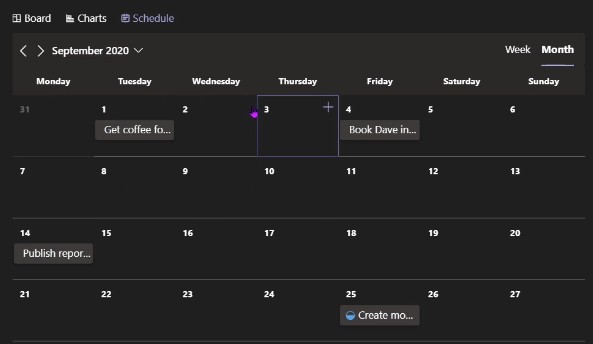 You can add tasks directly from here by clicking on the + symbol of a date. And you can click into a date to see the tasks for that date.
To add a new plan, click on the + symbol in the top menu bar and select Planner. You can either create a new plan or use an existing plan.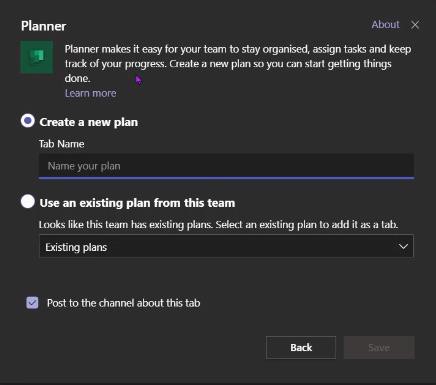 On the left-hand side, from the navigation rail, you can add Planner as an application. At
the top it says, 'Coming soon: Your individual tasks from To Do and your teams' tasks from Planner will all be together in Teams'. This new view of To Do and Planner will be known as 'Microsoft Tasks'. The Planner application (which will change very shortly) gives you an overview of all your plans from different teams.
Step 4: Automation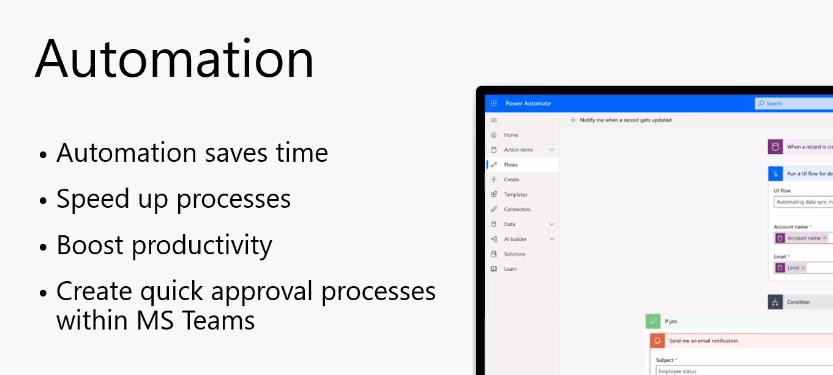 Automation within Teams saves time, speeds up processes, boosts productivity, and lets you create quick approval processes. This taps into another application within Microsoft 365 called 'Power Automate' (part of the Power Platform). Power Automate is a really powerful program that you can use within Teams to create automated processes around submitting documentation, approval processes, moving files to the correct locations, and so on. It doesn't require much code knowledge – it's a case of building up
processes of 'If this happens, then do this' and 'When this happens, then do this'.
In this example, we're looking at a Board Meetings team. In the Exec Board channel is an approval request, titled 'New documentation for approval'. It's been posted with what's known as an 'adaptive card'. It contains a link to the document, the name and details of the person who submitted it, the date of the meeting for which this documentation is needed, and a description of why the approval has been requested. You can approve or reject the approval request.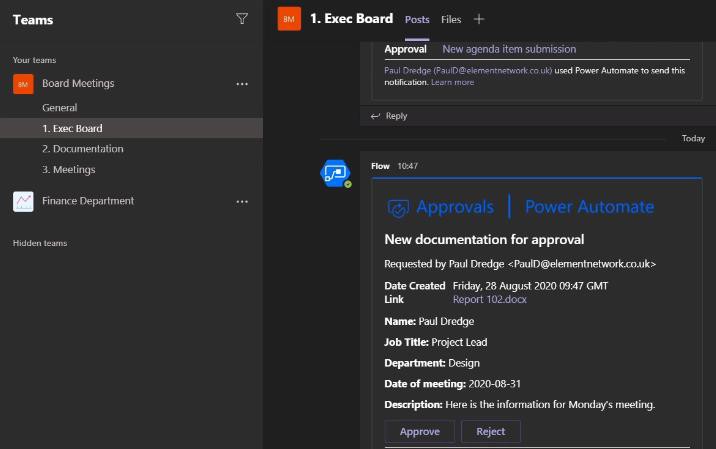 If you click on Approve, it asks you to add some comments.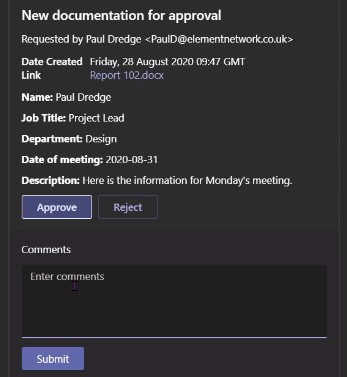 When you submit our approval response, it runs the rest of the automation process of the documentation. A chat message arrives thanking you for your submission and providing information about next steps.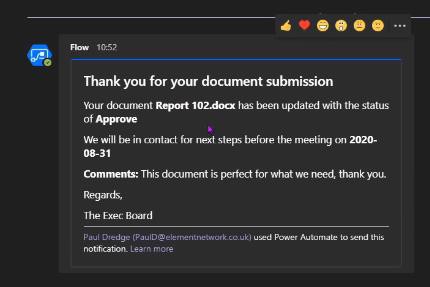 Let's see what the automation process involved.
In the Files tab of the Documentation channel, there are two files – a meeting presentation and a proposal.

A current limitation of Microsoft Teams is that you can't access the automation process within Teams itself. This functionality is due in a future update, but at the moment you need to open the SharePoint view of your file storage area by clicking on 'Open in
SharePoint'.

In SharePoint, click on the radio button next to the filename and select the Automate option from the menu bar.

Alternatively, click on the three dots to the right of the filename and select Automate from the dropdown.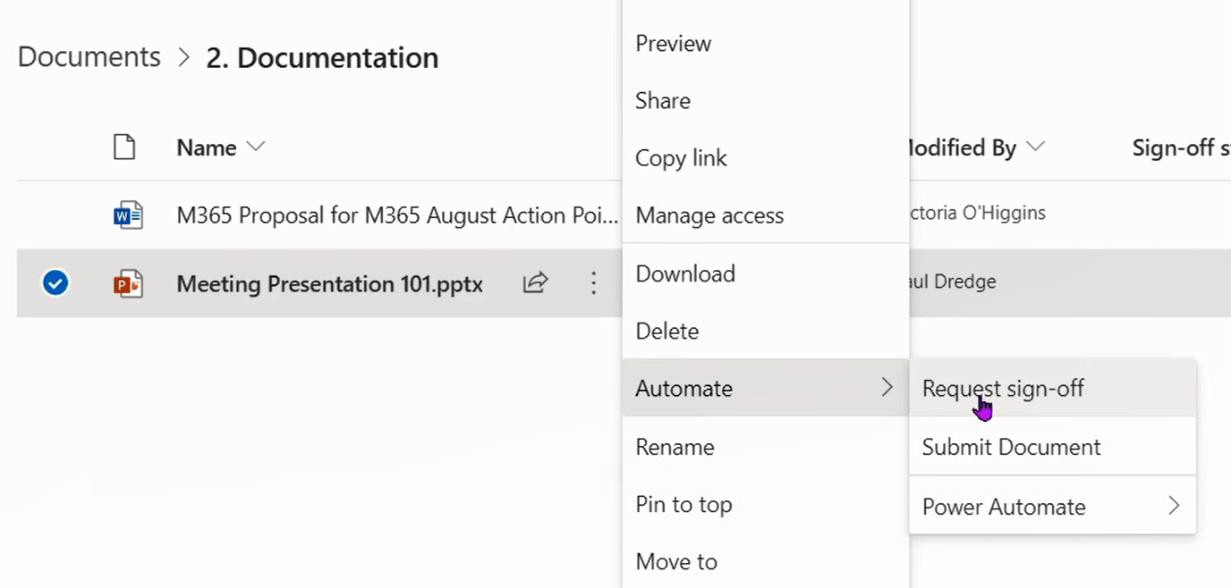 In the Automate option are 'Request sign-off' and 'Submit Document'. There's also 'Power Automate', which has a submenu containing 'Create a flow', 'See your flows' and 'Configure flows'.
Submit Document
When you click on 'Submit Document' it opens a pane asking for some details: the meeting date for this document and a description.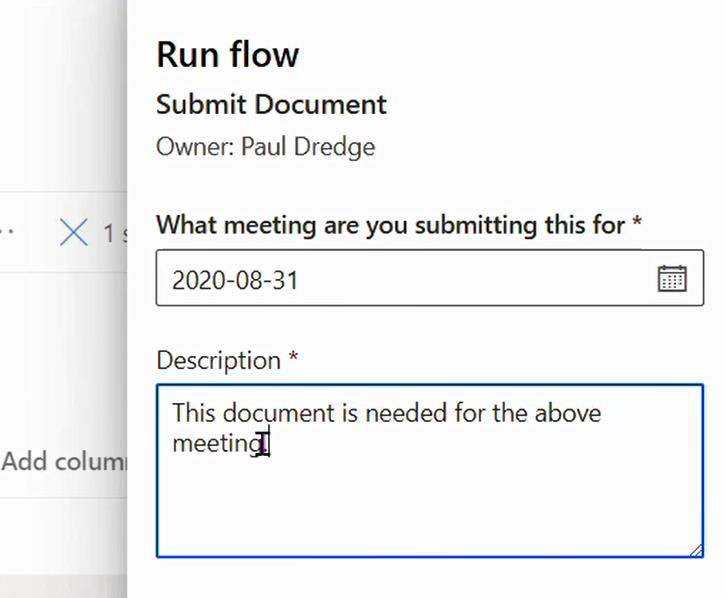 When you click on 'Run flow' the flow process proceeds in the background and the approvals card is posted into the relevant Teams channel. If the document is approved it's moved automatically from the file storage area into the Published Documents tab.

Request sign-off
Back in the SharePoint document library if you click on 'Request sign-off', a pane opens asking you to create a flow.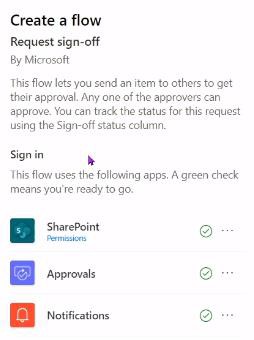 When you click on 'Create flow', you are asked to name an approver and write a message.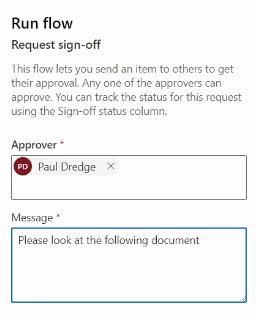 Power Automate
When you click on 'Create a flow' from the Power Automate option, you can select a template.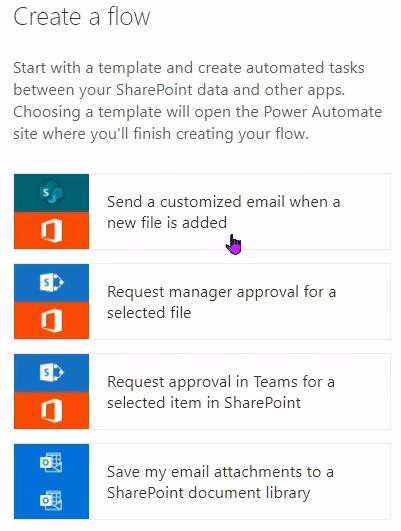 In the Power Automate application, you can see the approval process in step-by-step detail.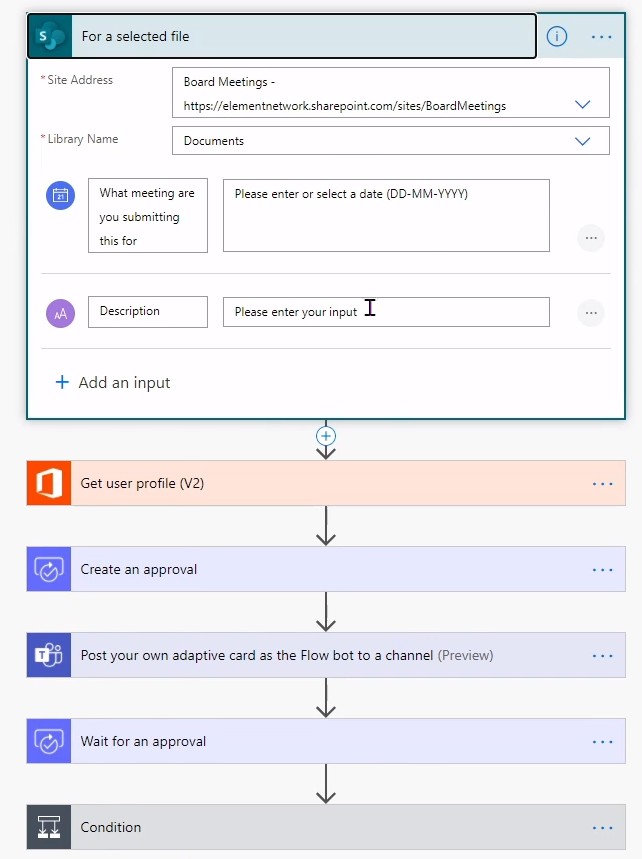 In the 'Condition' section are 'If yes' and 'If no' actions to define what happens if the document is approved or rejected.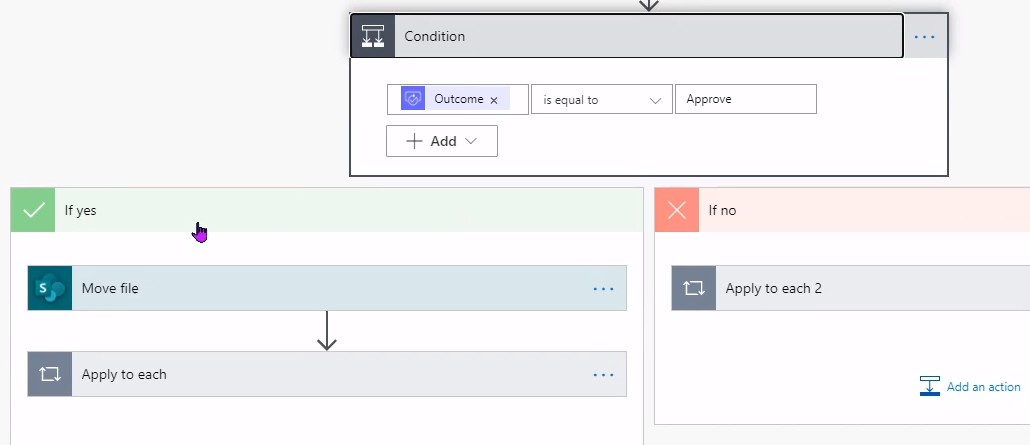 The 'Move file' action shows the specifics of how and where the file is moved, and 'Apply to each' indicates that a message will be posted back to the person who submitted the documentation.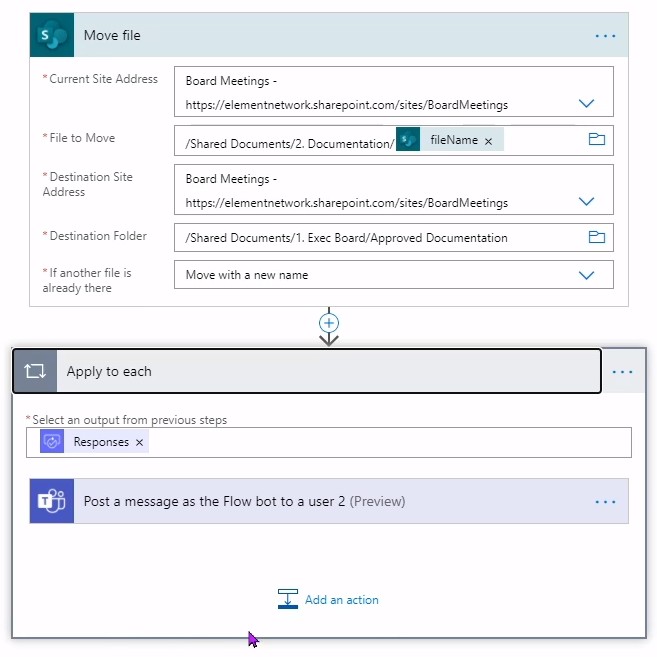 In the 'If no' option, again, it will post a message to the person who submitted the documentation.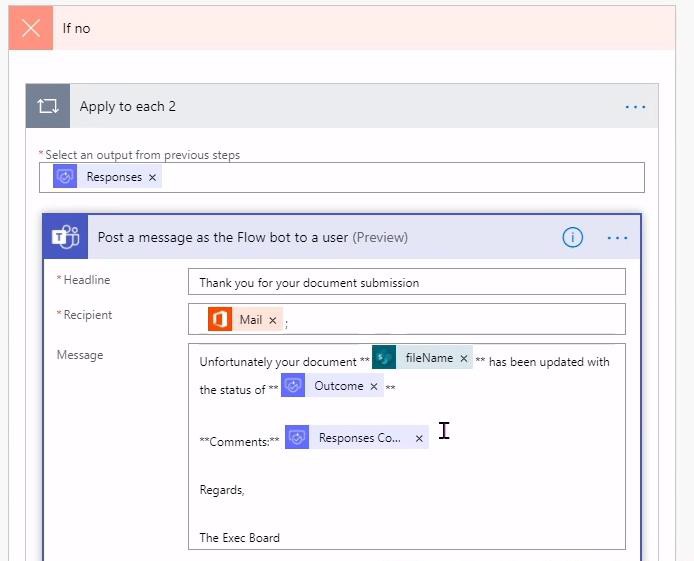 It's quite simple to create an automated process, but it's a really powerful way of
transforming your teams.
Step 5: Apps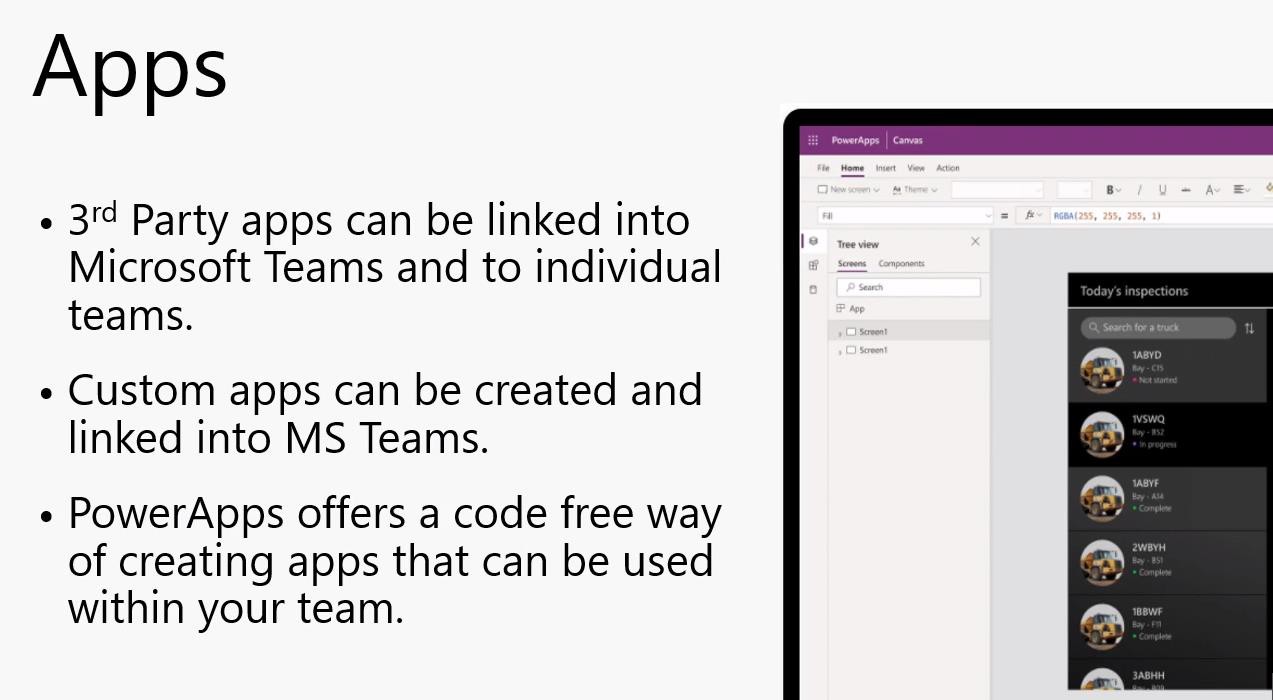 The fifth and final step of using Teams as your workday hub is Apps: third-party apps that link into Microsoft Teams and to individual teams in tabs, custom-created apps linked into Teams, and Power Apps that offer a code-free way of creating apps that can be used within your team.
There's no need to leave the Teams application – you can create and manage apps from within your Teams workday hub.
Microsoft has some nice app templates that you can deploy. Some are paid for, others are free.
We'll look at two types of app: an app you can run from your side rail and an app within a channel tab created in Power Apps.
Channel apps
In the Board Meetings team, within the tabs, is a Board Meeting Agenda app.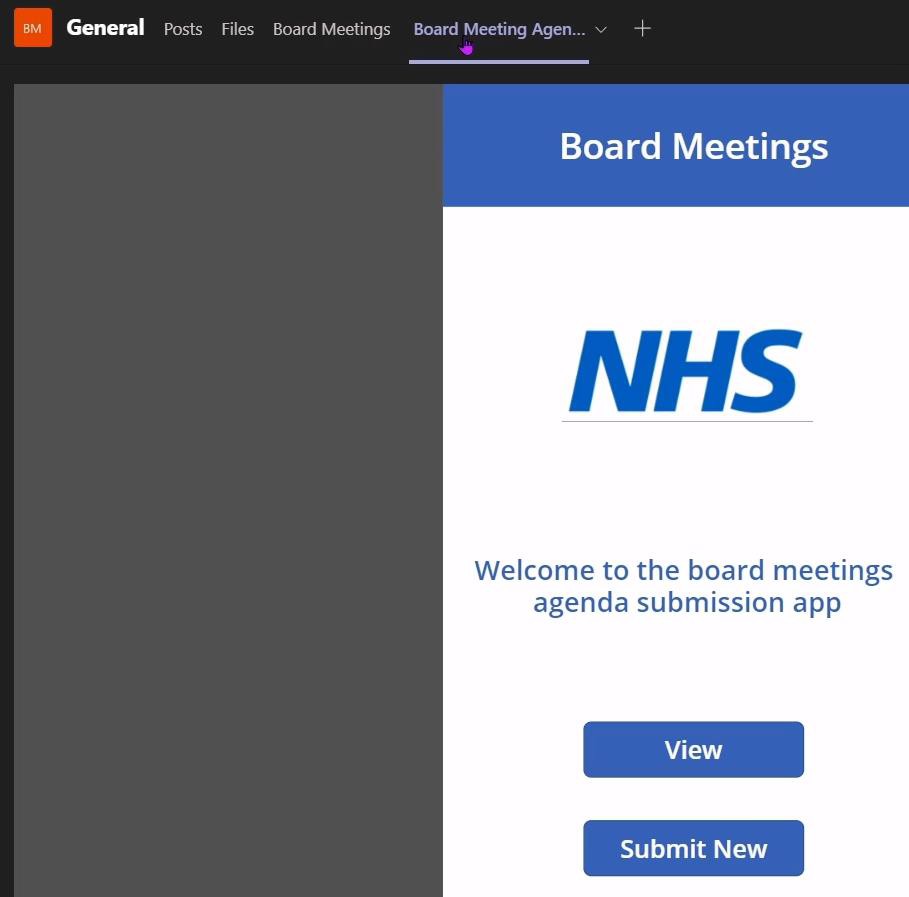 This app was created in Power Apps and linked to the team. Apps built through Power Apps offer a great way of automating procedures, such as form submission, but presented in a nice app style.
In the app, you can enter the details of the agenda you want to submit.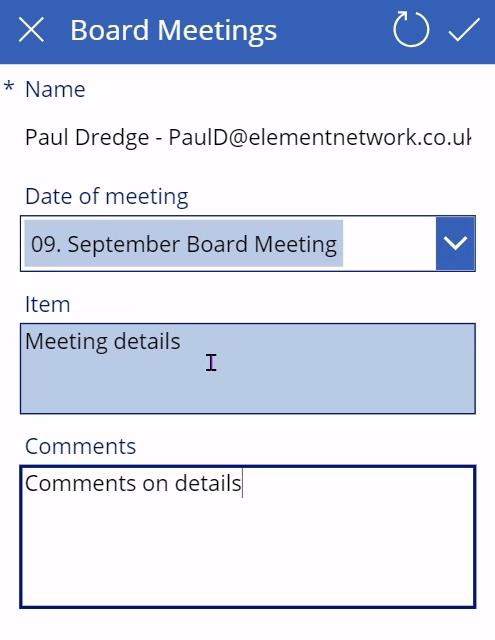 If you click on 'View' you can see details of previously submitted agendas.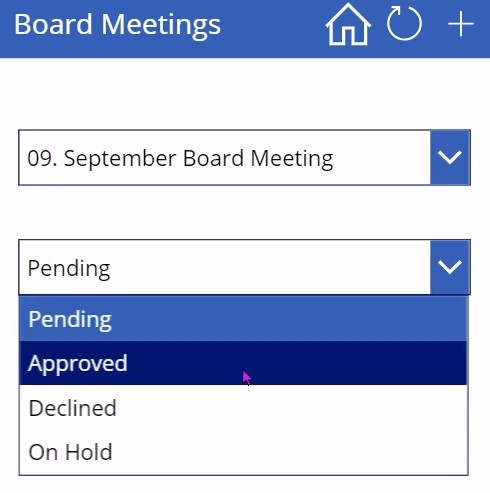 There are lots of third-party apps that you can turn into tabs at the top of your channels.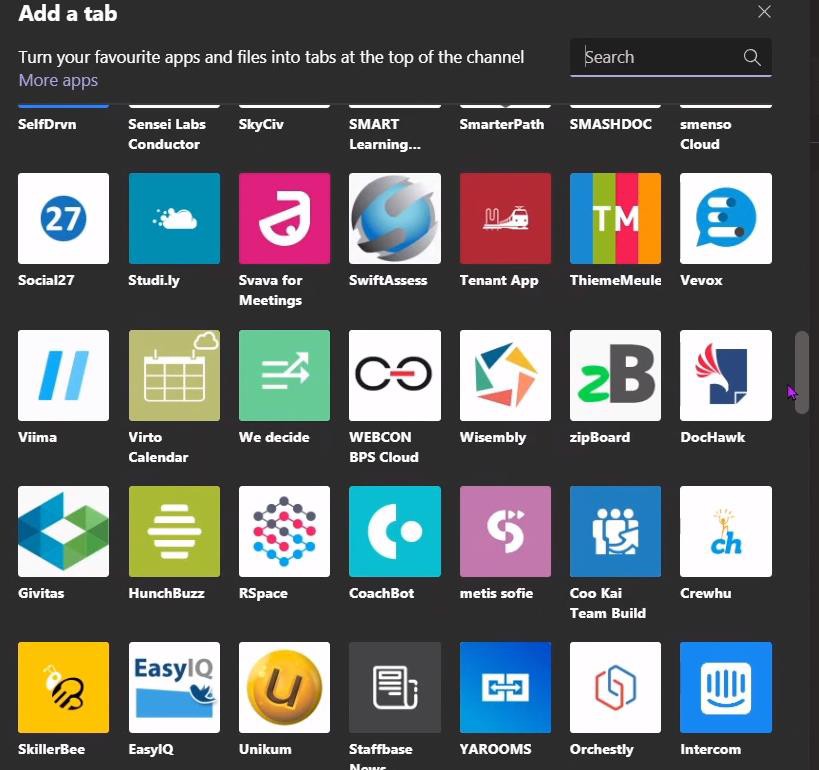 Side rail apps
You can also create apps at team level – click on the three dots in the side rail to open the apps menu.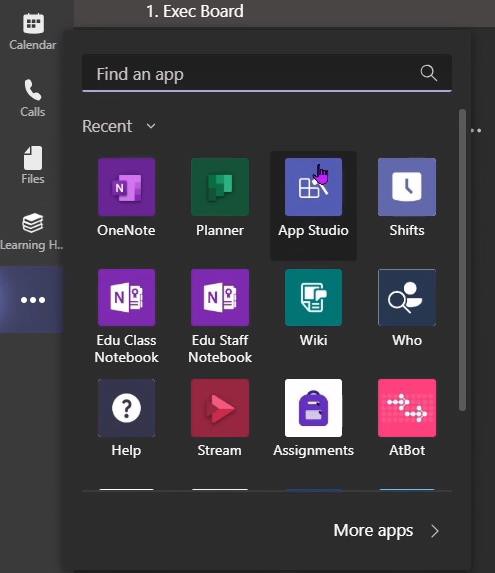 Here is a Q&A app and a learning hub app.
The learning hub app, selected from the left-hand side, links to information on a SharePoint site. The SharePoint site has been presented as an app within Teams, saving users from having to navigate away from Teams.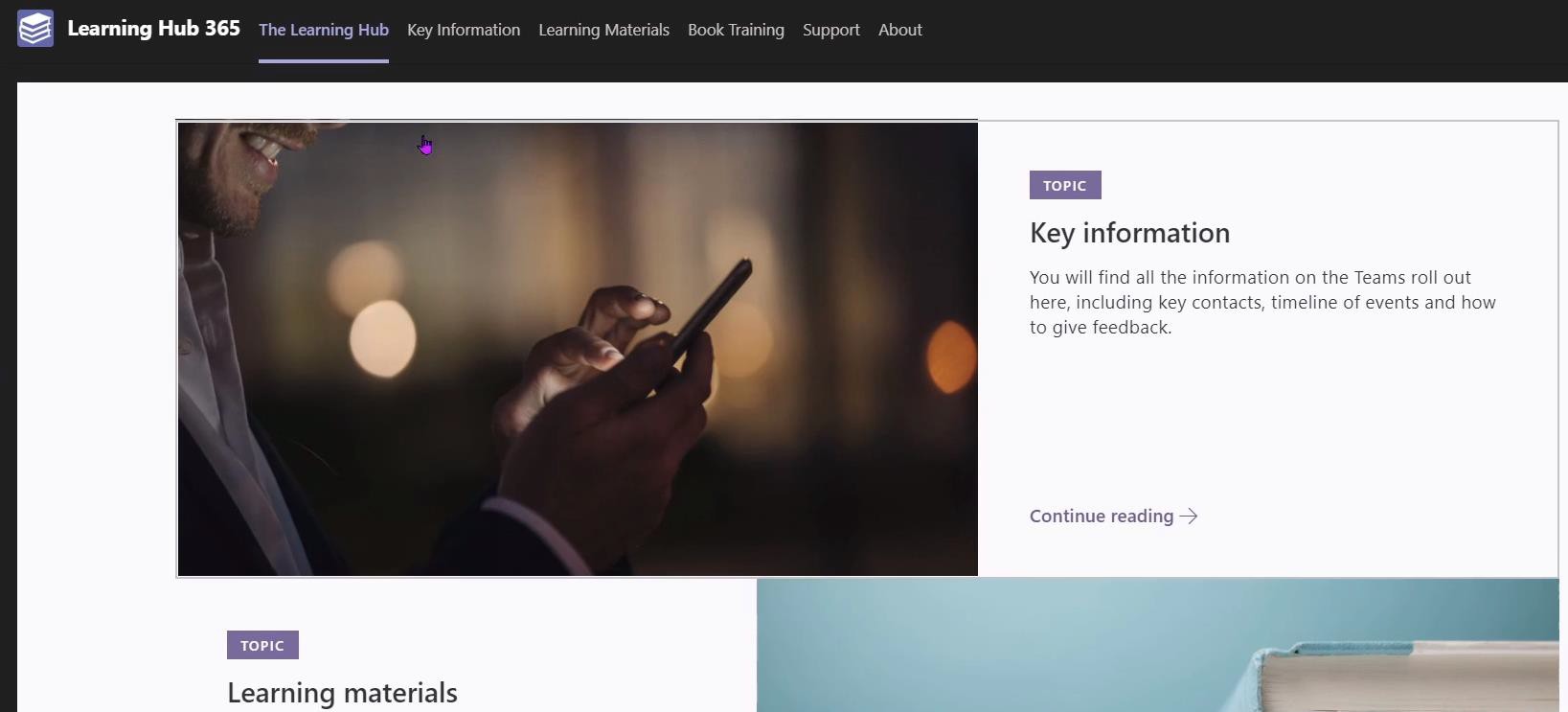 This Meeting Capture app was created in Power Apps and now linked in through the tabs.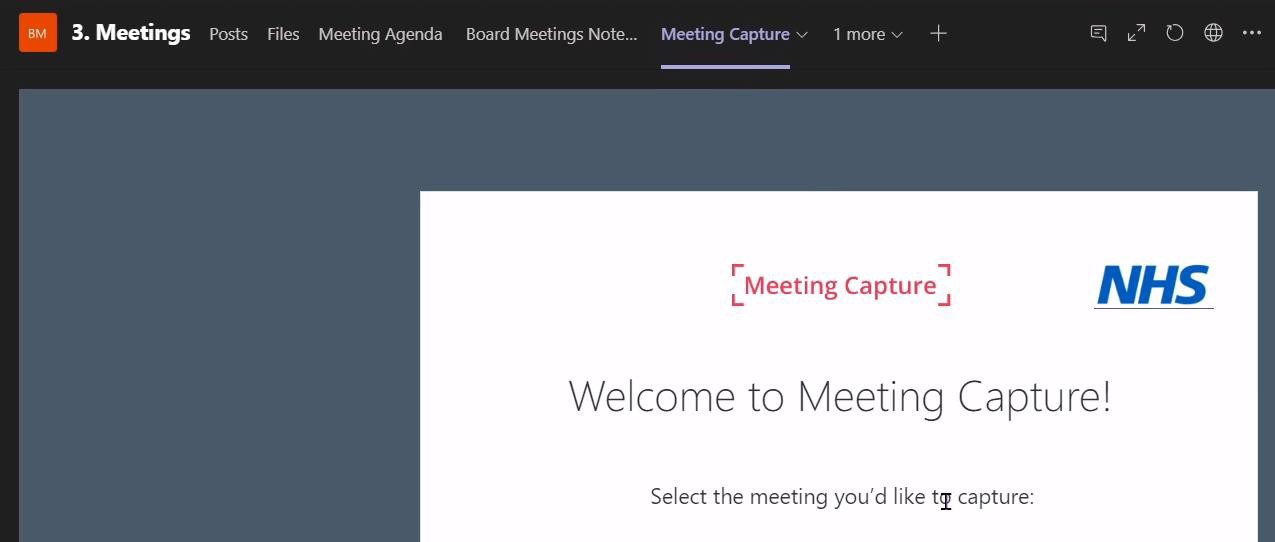 Microsoft have already created App templates that you can use to create apps within Teams – such as this FAQ bot template, which can answer frequently asked questions.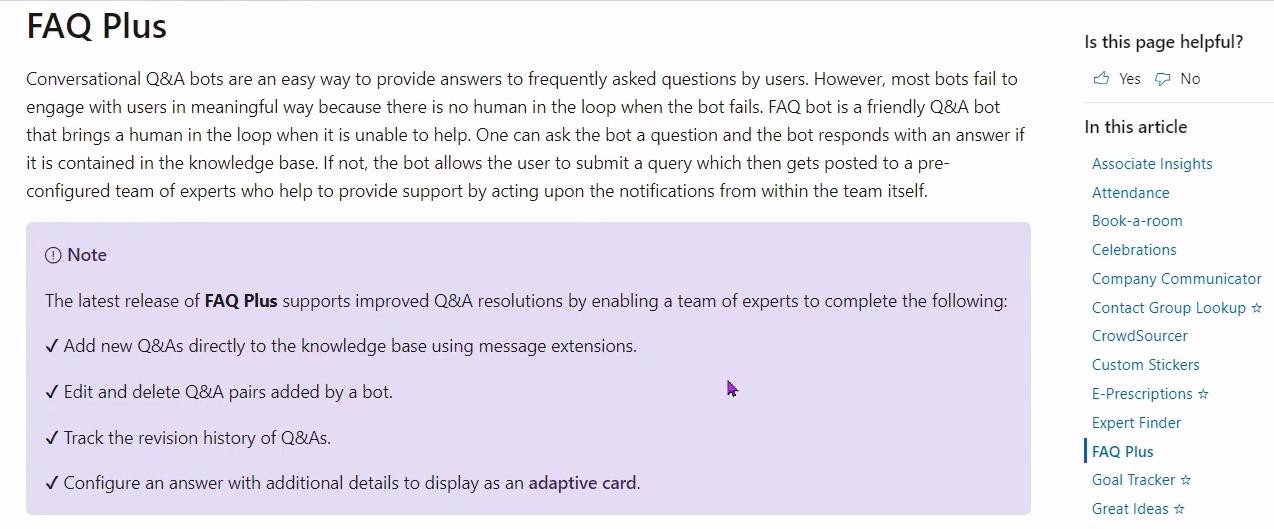 Another example is this room-booking template.
'Request-a-team' is a template that you can use to create a team-request approval app.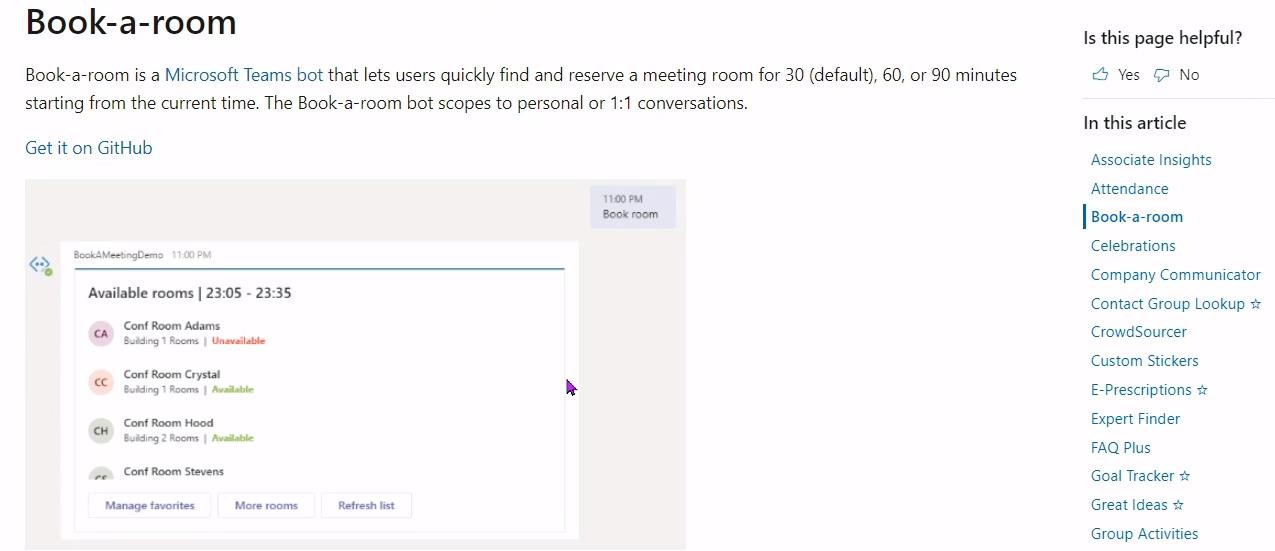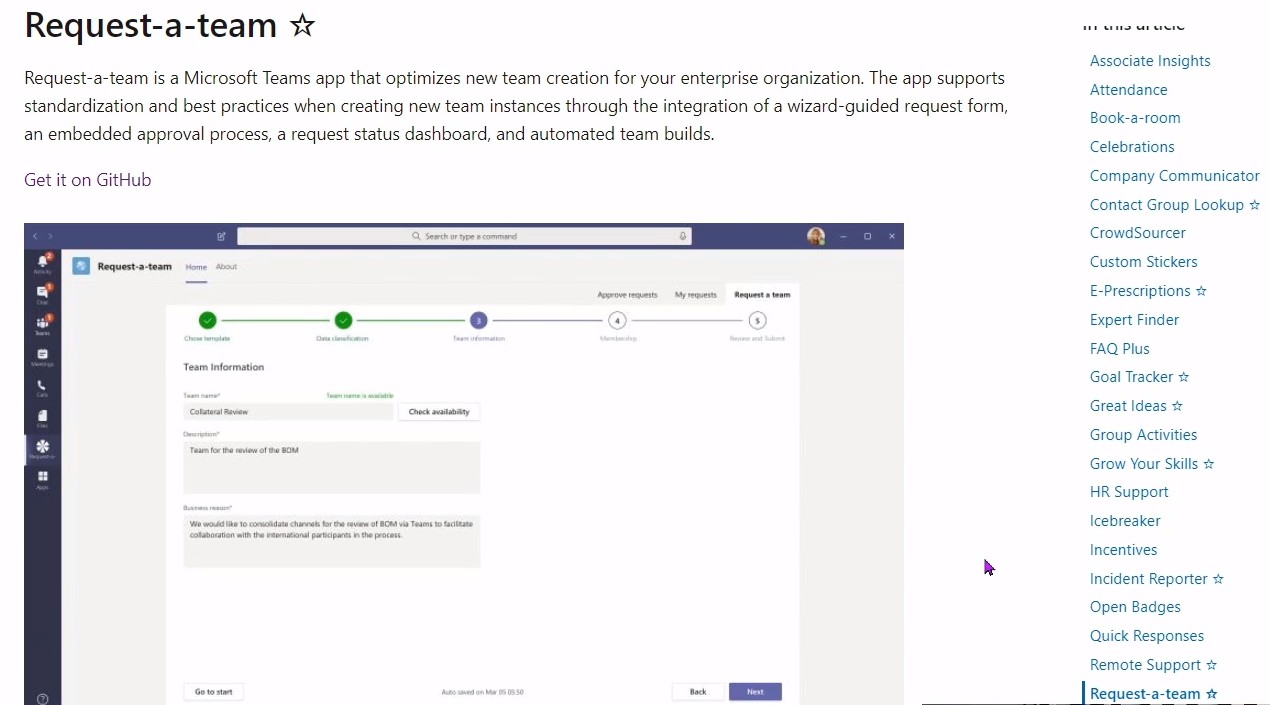 These (and many more) are available from
https://docs.microsoft.com/en-us/microsoftteams/platform/samples/app-templates
Summary
You can expand and enhance your use of Microsoft Teams in many ways to make it your one-stop, workday hub:
Teams & Channels – create the right structure and keep it simple.
Tabs – link to websites, Word, SharePoint, and many other apps.
Planner – a great way of assigning and tracking workloads. Definitely use Planner in your team!
Automation – approval processes, submitting documentation, moving documents.
Apps – create apps with Power Apps, use Microsoft app templates and third- party apps.