In this eBook companion to the video 'To-Do, Doing, Done: How To Manage Work', we will explore how tools such as To-Do, Planner, Project and Azure Boards offer different capabilities for managing tasks that are personal, for teams or part of projects.
We all have to-do lists, many of us work on projects, and we all work in one or more teams. Microsoft has been kind enough to provide many tools to help us manage tasks; some may say too many tools. They all have different strengths and weaknesses, which make them appropriate for different scenarios.
This session explores how tools such as To Do, Planner, Project, and Azure Boards offer different capabilities for managing tasks that are personal, for teams or part of projects.
As part of this session, we will explore the options for each tool to understand how to use them and how they can be extended, integrated, and reported on.
This session will provide an insight into the strengths and weaknesses of the tools so that you can better assess your needs and choose the best tool for the job.
What are tasks, and what are they for?
First thing in the morning, what do you do when you start work? Do you have a task list already for the things you are going to do that day? Do you go through your emails and work out which ones have actions that you need to do? Maybe you scribble them down and have a notepad next to you that says this is what I need to do for today.
There are lots of different things that can be considered as tasks. Maybe you are working on a project and somebody has assigned you tasks – and you need to work on those tasks because that's what you're scheduled to do. Maybe you are a delivery driver and you're given an assortment of packages – you need to work out how and in what order to deliver them. Maybe your job involves making repairs to properties – fixing a tap, cleaning a fridge. All of these are tasks that keep an organisation going.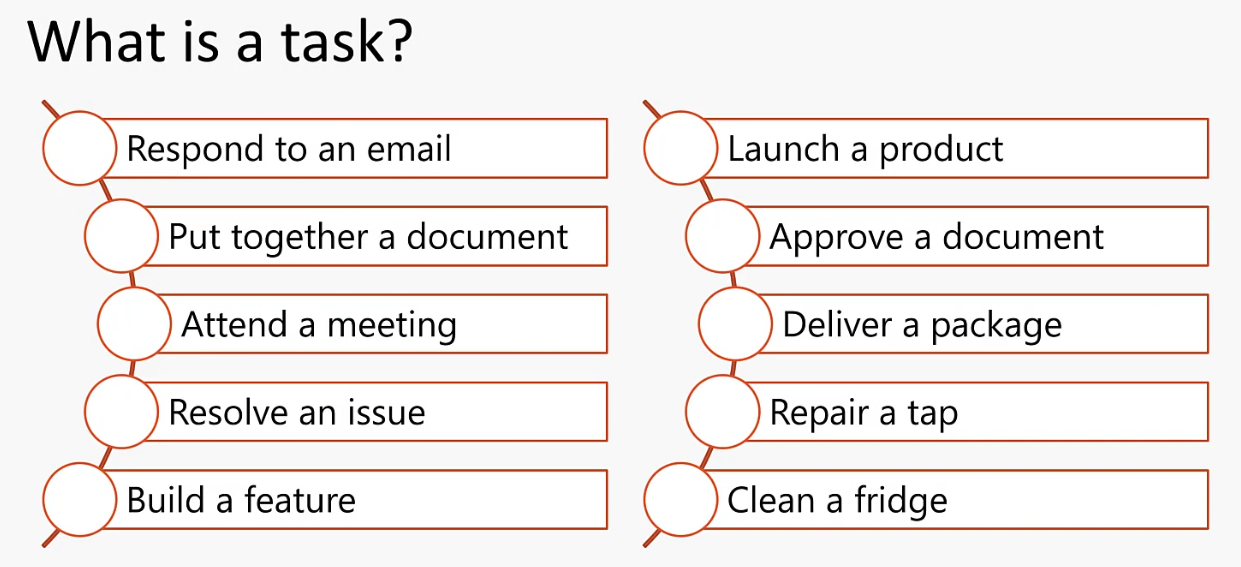 What makes up a task?
For many organisations, the number and variety of tasks is quite mind-blowing! And the number of tasks that you as an individual are required to do can be quite high as well. This session covers not just 'what are the tasks?', but also 'how we manage them.' Bearing in mind all these potential activities that we might consider as tasks, let's try and break down what makes up a task.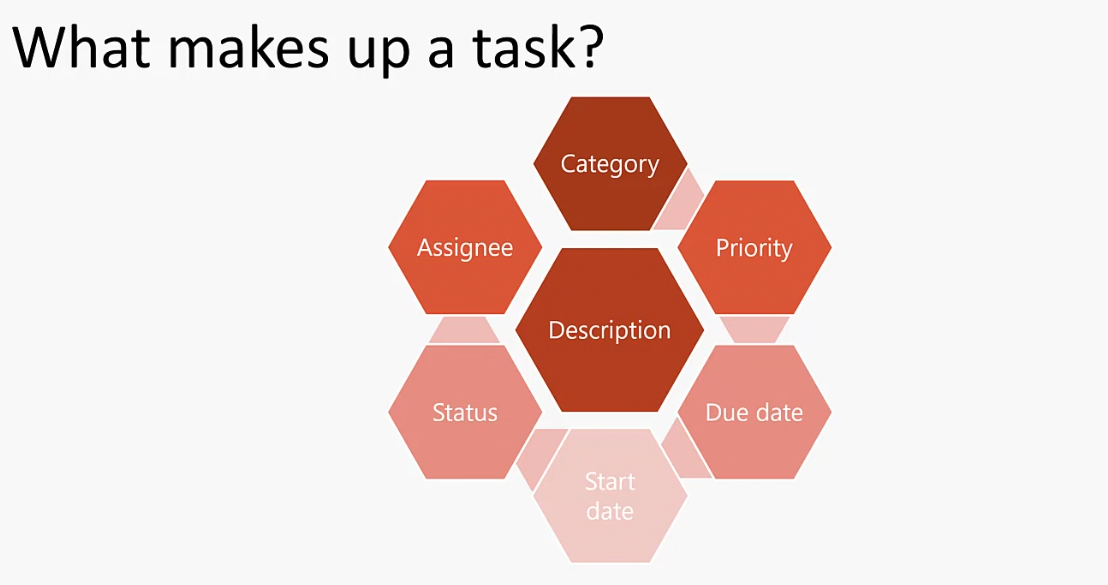 Description
You might start the day going through your emails trying to work out what you need to do. You might be writing it down on a notepad. Basically, for each task, you write a description. You put one line – you might use shortcuts and summarise so that you understand – but nobody else needs to understand it. It's just a description.
Category
You might categorise tasks: this is a personal task, something I need to do in my personal life. Maybe it's something you need to do for a particular project or for an objective you're working towards. Categorising might mean you have two pieces of paper that you write down your different tasks.
Priority and due date
When working on tasks the key is to prioritise: what are the tasks that we need to do first? You probably have a lot of tasks that you note down, but then you know that you can only do some of them in a day. So, you need to prioritise. Your boss might have told you to do something and he's told you when it needs to be done. You may also have a due date. You may need to do something by a particular date. These two features play very highly in terms of how you prioritise things: who has asked you to do it and when does it need to be completed?
Start date
If you work in more of a project scenario maybe you have a start date as well. Maybe you have a task that is going to start on Monday and is going to be finished by Friday – so you know exactly when you have to start it, and you know exactly when it has to be completed.
Status
For bigger tasks, maybe you have statuses as well. Is it scheduled? Is it in progress? Is it waiting for review? Has it moved on to a different team so it's no longer your responsibility? Status is really important because it can be used to determine whether something has been completed – therefore, whether it's incomplete and past the due date, and is late. Or maybe it has started late. This is important, especially if you're trying to manage dependencies between tasks.
Assignee
The final component of a task is the assignee – who is assigned to do it? We started off with just a description on a piece of paper and all the tasks were for you as an individual, but if you are part of a team, you need to have visibility of who is doing what task. It's really important to have transparency and to be able to say I know I'm doing this task and I'm committed to doing it as part of the team.
The scope of a task
When we transition from a piece of paper with a scribbled down a list of tasks to a fully-fledged project or programme with lots of dependencies, we're changing the scale of the project that the task is assigned to – the scope of the task.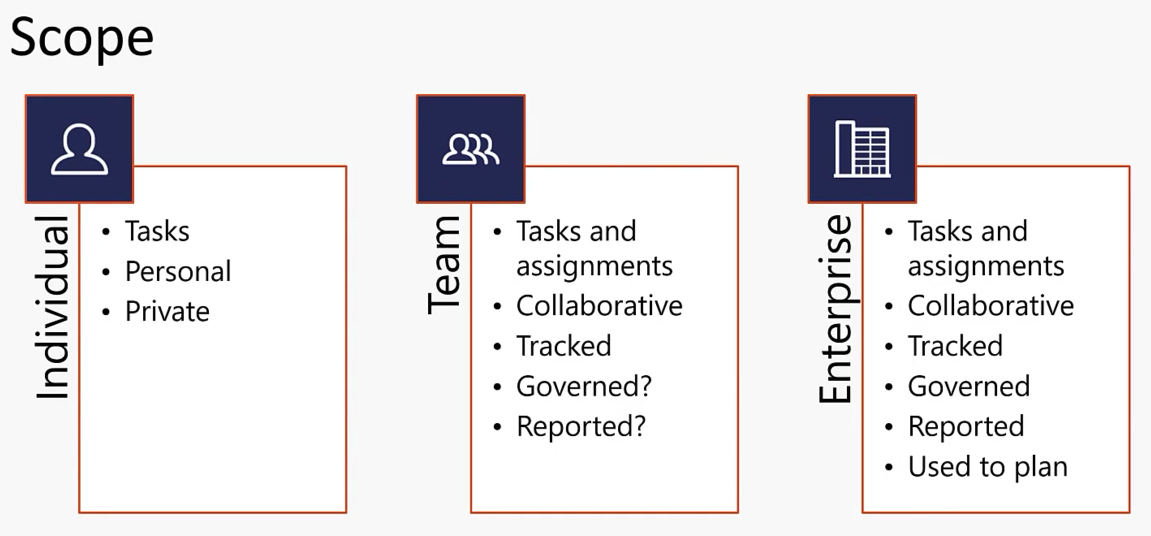 Individual
We all have our personal tasks that we want to get done. They tend to be kept to ourselves, so our piece of paper is only visible to us. We don't have to share it with anybody: we might not want to share it with anybody, we might want to ensure it is private. Having tasks that are private is really important. We need to be able to keep them separated and make sure we've got them in a place where we can track them easily.
Team
In a team, we don't want to keep our tasks private. We want to make sure that we can collaborate on them. We may have a Kanban board that we can all use together and can see clearly who's doing what and what tasks need to be done. We take a task, assign it to an individual and set it to be in progress. We have a combination of assignee and status. We have a collective understanding of priority, of knowing which tasks are the ones that need to be done first.
Where the tasks sit within the team – we might want to start tracking them. In the Kanban/Scrum/Agile world, we need to know when tasks have been completed and when they need to be completed. So, we need to start tracking them. We also need to report on them, collecting more data to be able to give us insights into how our team is performing and what our team is actually capable of doing.
We might also think about governance. What do we do about late tasks? Do we escalate them? Do we notify people? We might start to get quite sophisticated in how our team is working. Depending on how our team is doing, we might be using tools that already have a lot of notification functionality in them, and also reporting.
Enterprise
At an enterprise level, rather than focusing purely on our team, we try to collectively deliver on the tasks that are assigned to our team. We have business priorities, dependencies on different projects, deadlines that we need to work to. Rather than just impacting one team, these will impact other teams – the sales team, reporting processes, and the financial productivity of the organisation.
We also might be starting to get to the point where we're using tasks and the throughput of tasks to be able to say how do we plan, how are we going to grow as an organisation, how do we choose to make decisions to employ a new person to join a team. Usually, that will be based on a combination of the amount of work coming in, the capacity of the team based on what we've seen in the past, and how fast can a team deliver on particular tasks in projects.
This combined information will give us a business case to say we need to grow the team, we need to add more people. Or maybe the other way round. We might say we don't have the work coming in so, therefore, we're not to be able to keep the team completely occupied. When we get to an enterprise-level we're not necessarily looking at the specifics of the tasks, but we're looking at the collective data that is captured through tracking those tasks so we can make decisions to say how do we grow the team, reduce the team and how do we sell our product or services. They all come down to the capacity that we have as an organisation to deliver work.
What do we need to manage?
Planning
As managers, we have clear things we need to manage based on tasks that are coming in. We might want to start with a backlog. How are we tracking the tasks that we need to bring in and assign to our team? We might not be looking at specifics like who's going to do each task, but rather a volume of work that the team can deliver based on the prioritisation of a backlog (where 'backlog' is all the tasks that need to be done).
We might prioritise the tasks and decide on a Top 10 and say, for example, these tasks can be done in the next week. A lot of planning needs to be done to decide what we do first and how we manage the priority, so we assign tasks to individuals and teams.
When we talk about dependencies we start to work out chunks of tasks that need to be done. Maybe we could put them together into a sprint or a period of time when we say all of these need to be done so we get more done later on. These dependencies help us recognise that if we haven't done task A, we might not be able to do tasks B, C and D. There can be some really key decisions that are made on both the resourcing of tasks and the impact are if they are not met.
Doing
Once we have assigned tasks we need to track them as they are being done. What is it that people are doing? What are we delivering? We might think about the unit of effort that a task has. Is it based on a deliverable? You might have a document that will take 10 days to complete, but it could be that your deliverable is a complete project. Making it clear to people what a task is going to deliver is very important so they can say when it is done.
It is important to make sure we're assigning tasks. If a task is sitting there with nobody assigned to it we don't know who to ask to see whether it's done. Nobody will be doing that task, usually, because people tend to want to see a personal view of the tasks assigned to them.
Monitoring
Monitoring tasks helps us to measure how long a task has taken and to see our throughput or velocity. If you have a team of 5 people and you give them 10 tasks and each of those tasks is going to take a day, is it going to play out in the way you expect? You need to be able to track this and see whether your estimation of how long a task would take was accurate. This helps you refine the process you use to work out how long a task is going to take. If your estimations are wrong, you may achieve lower velocity than you thought – estimation is never easy.
Inevitably there will be things that delay a task. We may think we have the right amount of time, but then a dependency will creep up that we hadn't thought of, which will delay us. The task may become more complex for one reason or another. Maybe we do something and then think actually this isn't the right way to do it. There are lots of reasons why our tasks may not be completed when we think they're complete. That's why we need to track them to see if we're going to deliver on time or not. This comes down to status – are we completing those tasks when we think we're going to complete them? If we're not, we need to be able to manage the impact.
Managing
If we've got dependencies on what we're doing, the impact can be significant. The classic Gantt chart is a great way to see the critical path so that, if some tasks are late, we can see what the knock-on impact will be. It might be that the knock-on impact is relatively minor and we can make the time up. It might be that it will be a showstopper and completely stop our project. This may mean other teams won't be able to do things they had planned. We need to be able to understand the impact of change and delays on a project.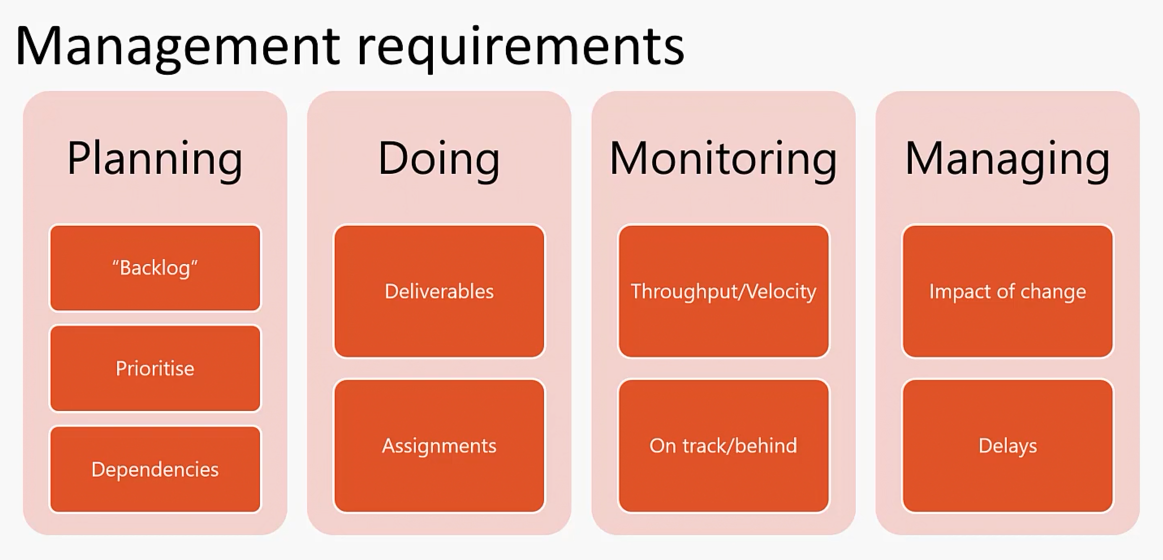 All of these considerations mean we have a variety of different sets of information that, depending on the scale of the tasks, we need to track and manage.
What options are available?
Microsoft has always been very generous in this respect. It gives us lots of options: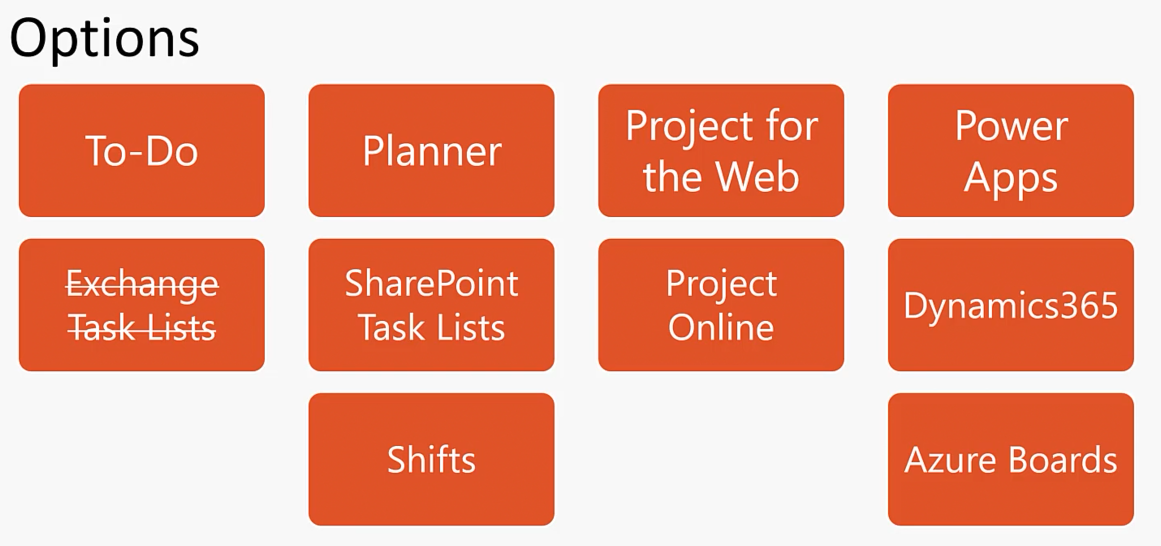 | Product | Comments |
| --- | --- |
| To Do | Discussed below. |
| Exchange Task Lists | Has been completely taken over by To Do. |
| Planner | Planner is very much task management and it integrates with To-Do. |
| SharePoint Task Lists | The recent announcement of Microsoft Lists suggests that SharePoint Task Lists are now called Microsoft Lists, but it's fundamentally the same thing. |
| Shifts | For shift workers – based on a rota but also has task management in it. |
| Project for the Web | A middle-ground between Planner and Project Online. Has a lot of extra features that people who are currently using Planner will want, without needing the full Project Online capabilities. |
| Project Online | Too much to cover in this session. |
| Power Apps | If you use a variety of planning and monitoring tools, such as Project Online, Project for the Web, Planner, SharePoint Task Lists, you could aggregate them together into Power Apps and create an interface to allow people to engage with the different tasks more effectively. |
| Dynamics365 | Has many capabilities for managing different types of tasks. Like Project Online, there are too many features to be covered in one session, but it is recommended for task management for sales teams and field service (including property management). |
| Azure Boards | If you're a developer you're probably familiar with Azure Boards and the Kanban-style of managing (user stories and tasks). It is a place to manage tasks that are integrated with the software development lifecycle. |
To Do
In Office 365, select To Do.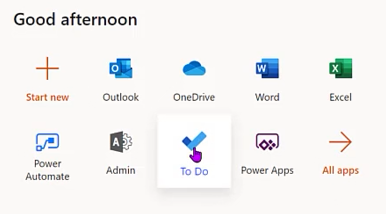 We see a list of completed tasks.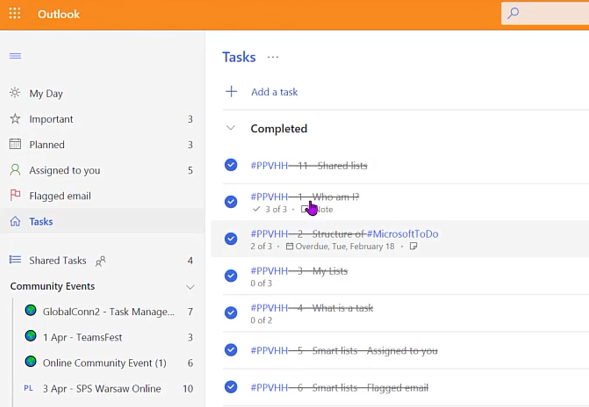 To add a new task, type in the name of the task and click Add.

That's created a task. Now we can click in and look at the anatomy of the task: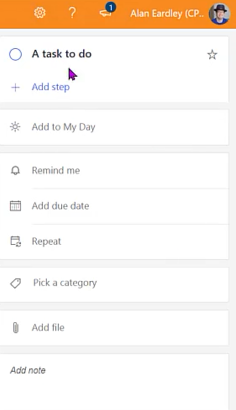 You can add different steps to a task: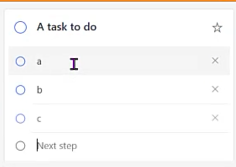 Set a reminder for next week or other times: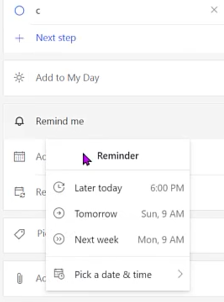 Add a due date: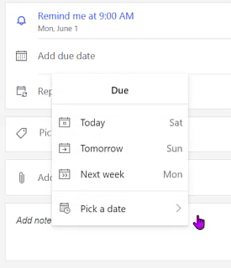 And make it repeat at set intervals – weekly, monthly, yearly or a customised time period: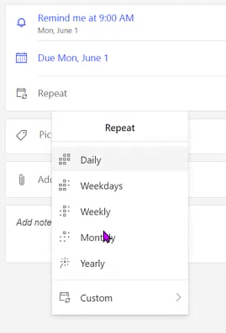 You can set different categories for a task: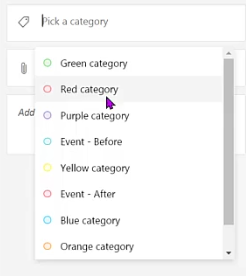 If you want to add a new category you have to go to Outlook. This is because To Do is built on Outlook Tasks. In fact, this gives us some nice integration with Outlook.
You can add files, although these are links to files rather than physical files.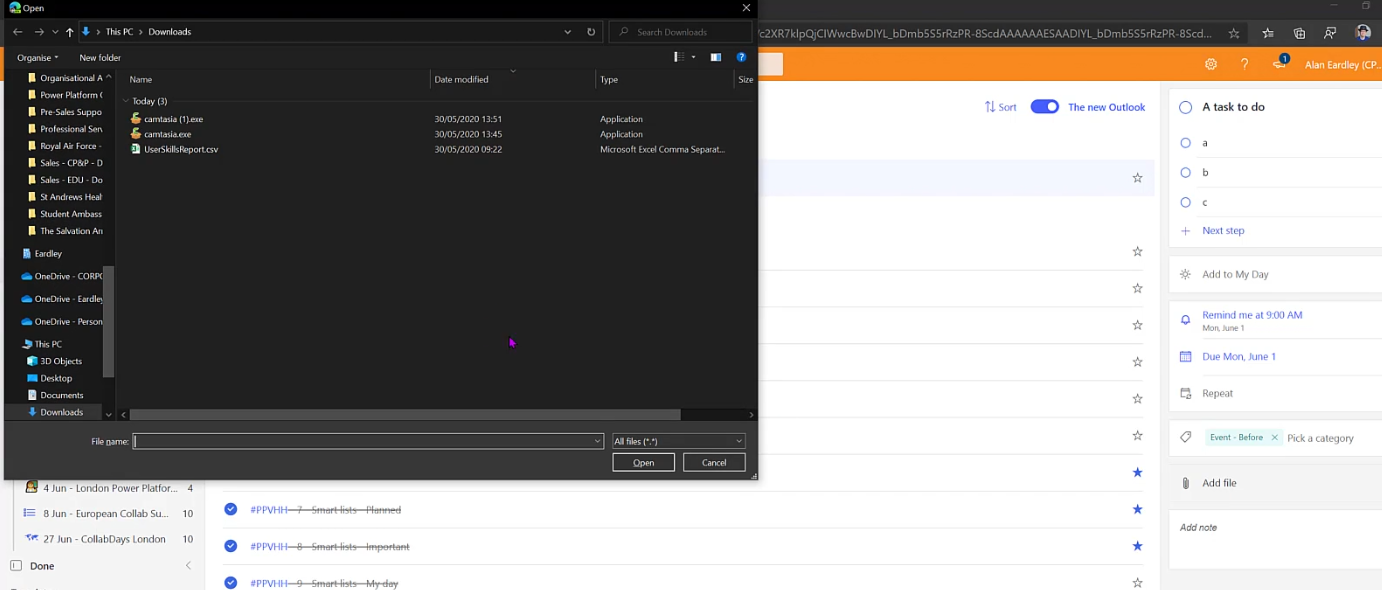 You can also add notes to your task: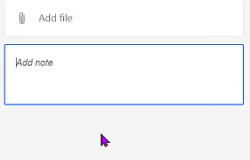 In the task list, you can see that the task has tags, notes, a reminder, due dates and sub-tasks. There's quite a lot of information in there.

But what's nice about To-Do is that you can have different lists to categorise your tasks: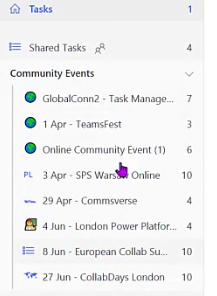 For example, here's a list for GlobalCon2: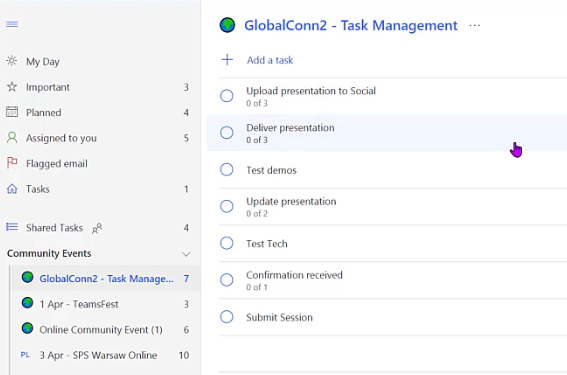 To show that a task is done, check it off and it's tagged as done. It's great that this is so easy to do: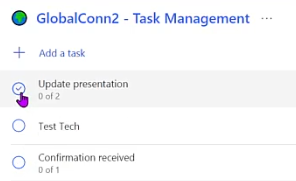 What's even better is that if you have a set of tasks you do regularly, you can make another list and duplicate it: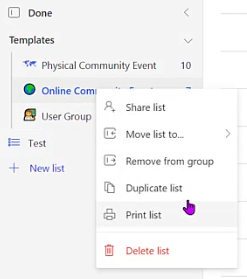 You can then move it into a different group: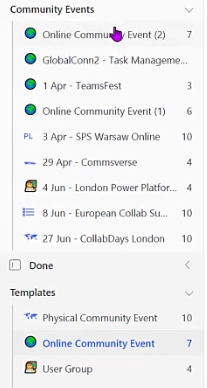 And filter the groups so that only certain ones are visible: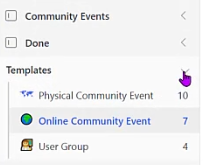 Click on Add to My Day to add the task to a smart list called 'My Day'.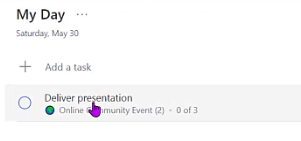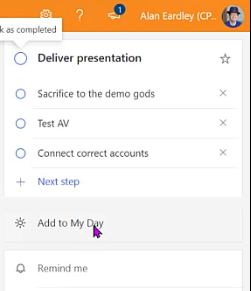 My Day shows you the tasks you need to do today:
It also makes suggestions: if you have an overdue task you can click to add it to My Day:
By adding tasks to My Day, you can choose exactly what you want to achieve today. There's no need to keep going to the other task lists – you can just work through My Day: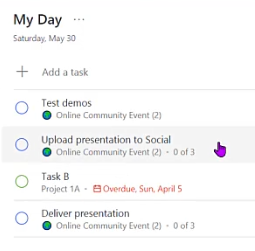 To-Do is integrated with Microsoft Planner so that tasks can be created in Planner and assigned to you.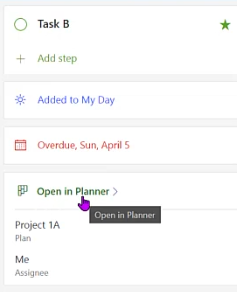 Tasks created in Planner come through into the Planned task list (along with all other tasks assigned to you that have been given a due date).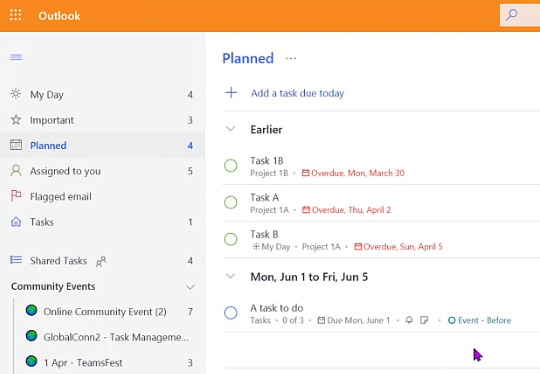 You can flag a task as important by clicking on the star to the right of the task. Flagged tasks then appear in the Important task list. You can see which tasks are overdue, which have been completed and which ones you need to do: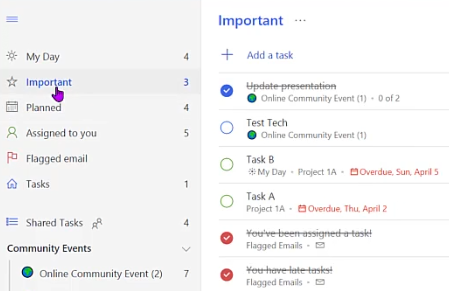 Smart lists in To Do pull together tasks from multiple locations whether they are personal tasks, tasks in planner and flagged emails.
As you look through your emails in Outlook you can flag those that you need to action: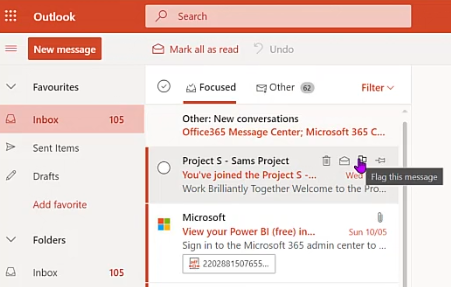 Flagged emails will then appear in To Do – in the Flagged email task list.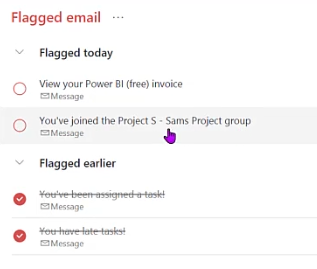 Alternatively, in Outlook, click on the My Day icon to add a selected email to My Day.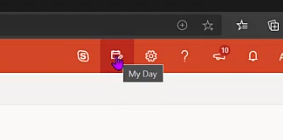 You can drag the email over and add it either as a task or as an event. You can manage tasks either in the To Do pane in Outlook or within Outlook itself.
Back in To Do, an email added as a task appears in the Tasks list.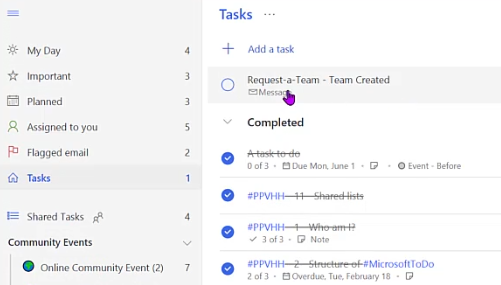 Teams
To-Do is fully integrated with Microsoft Teams and Planner. You can view and manage tasks within Microsoft Teams in the Planner tab: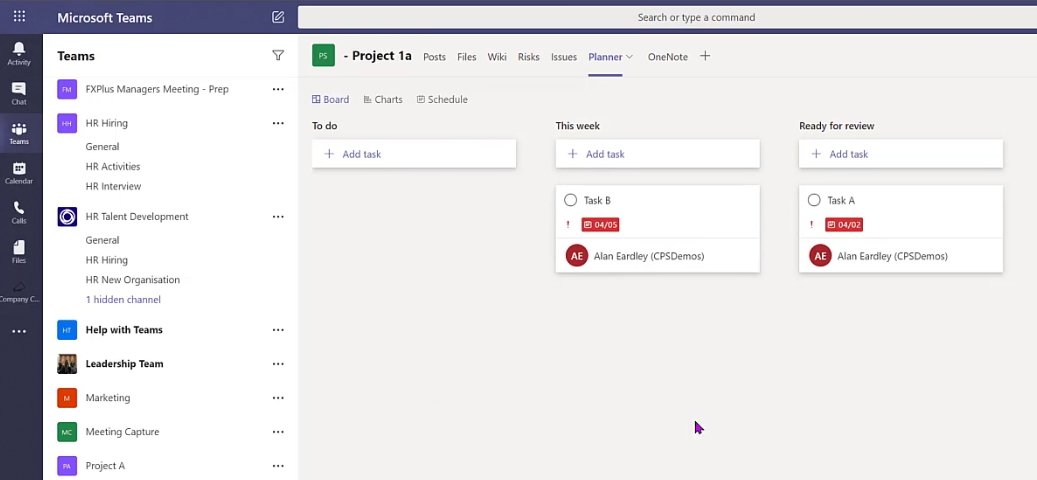 The same tasks appear in Planner: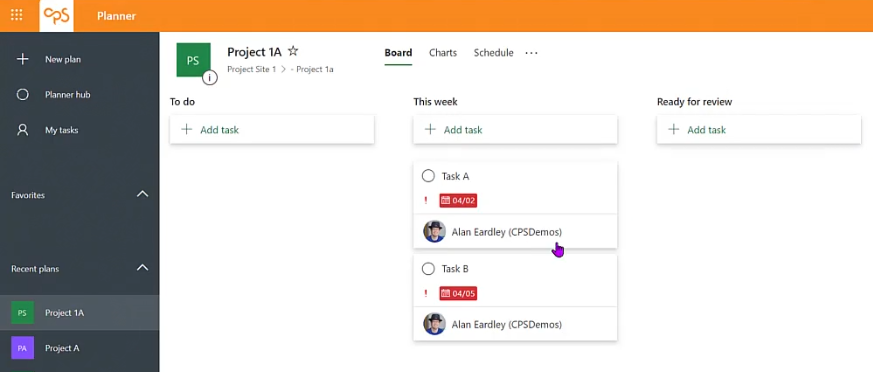 Changes made in one app are reflected in each of the others.
In Teams, you can add a new task, add a due date, and assign it to yourself and other people: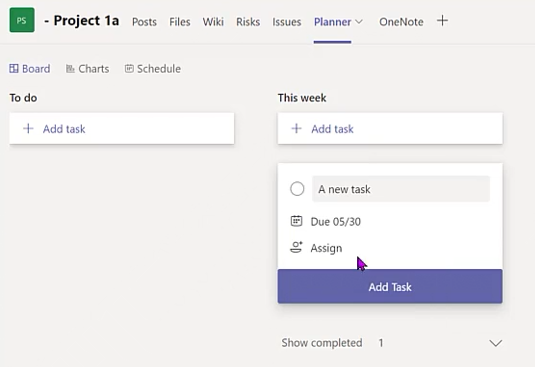 You can create categories and assign them to tasks. The colour coding gives a good visual representation of the different types of tasks.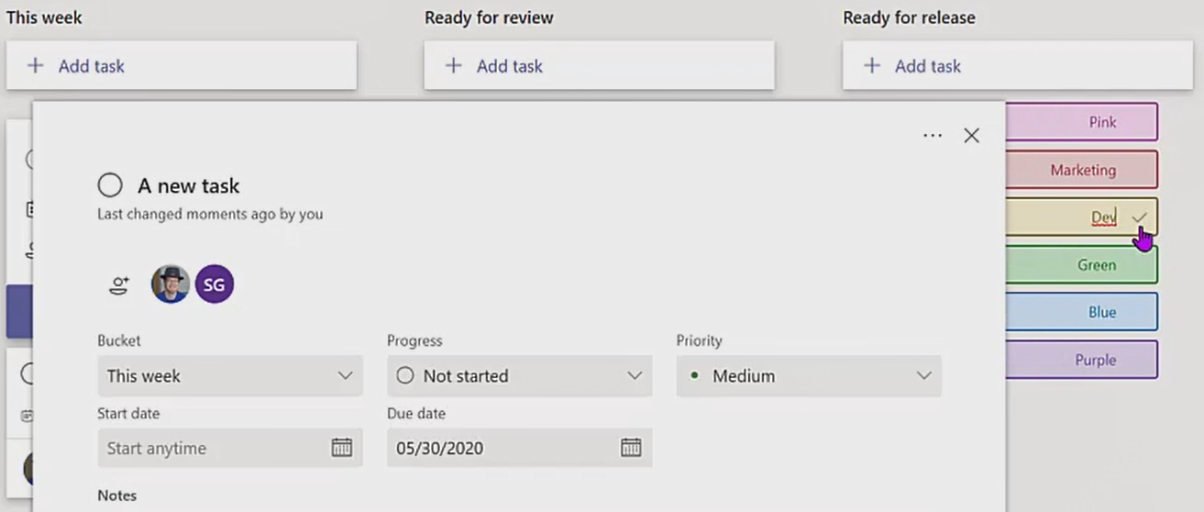 You can add start dates and due dates, but the Progress option is limited to Not started, In progress and Completed.

Similarly, Priority is limited to Urgent, Important, Medium and Low.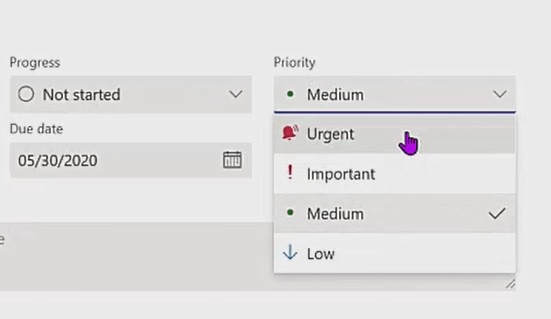 You cannot customise Progress or Priority, but you can add notes, a checklist, and attachments, links, and SharePoint files: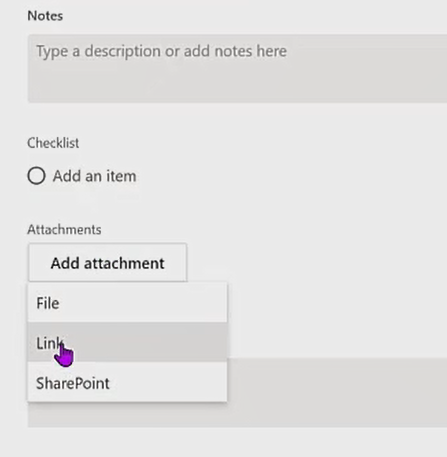 In Teams, there are many rich ways to present and use information about tasks. Tasks are grouped by 'bucket'. You can add new buckets and call them whatever you want.

You can display tasks within different types of bucket: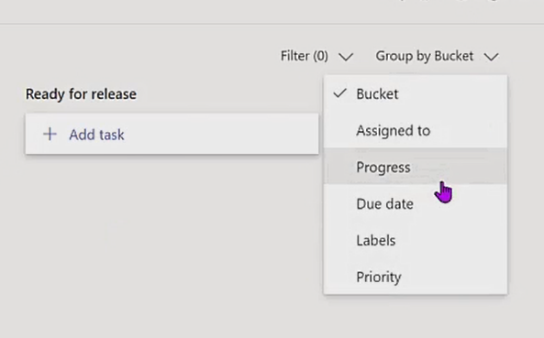 And filter by a variety of options: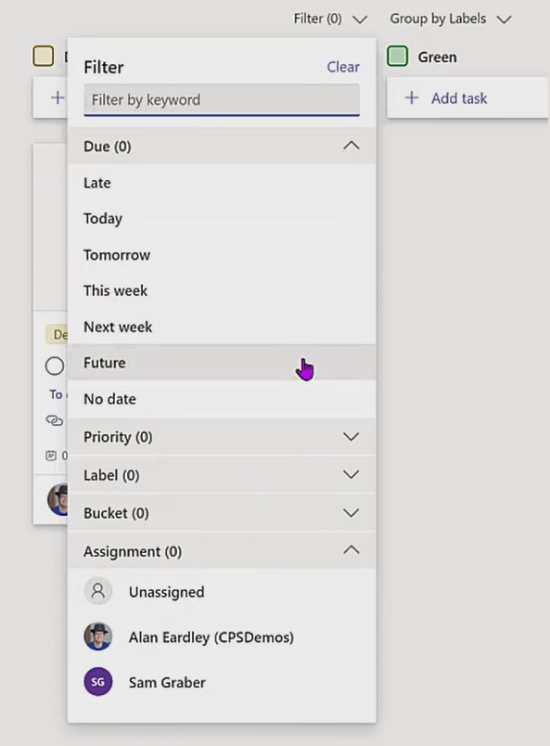 Planner
In Planner there is some useful information, but the reporting is not great. You can see your tasks in Planner: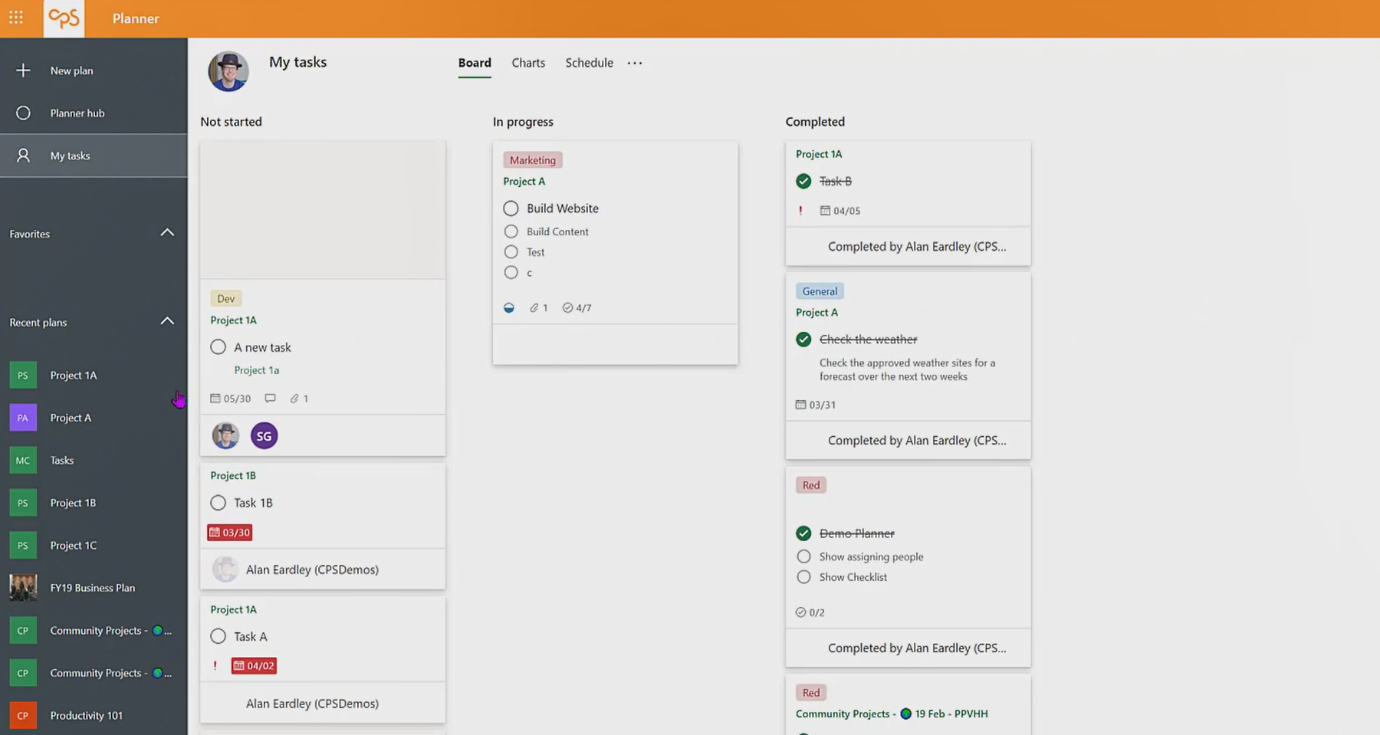 You can see graphical representations of your tasks in Charts (both in Planner and Teams):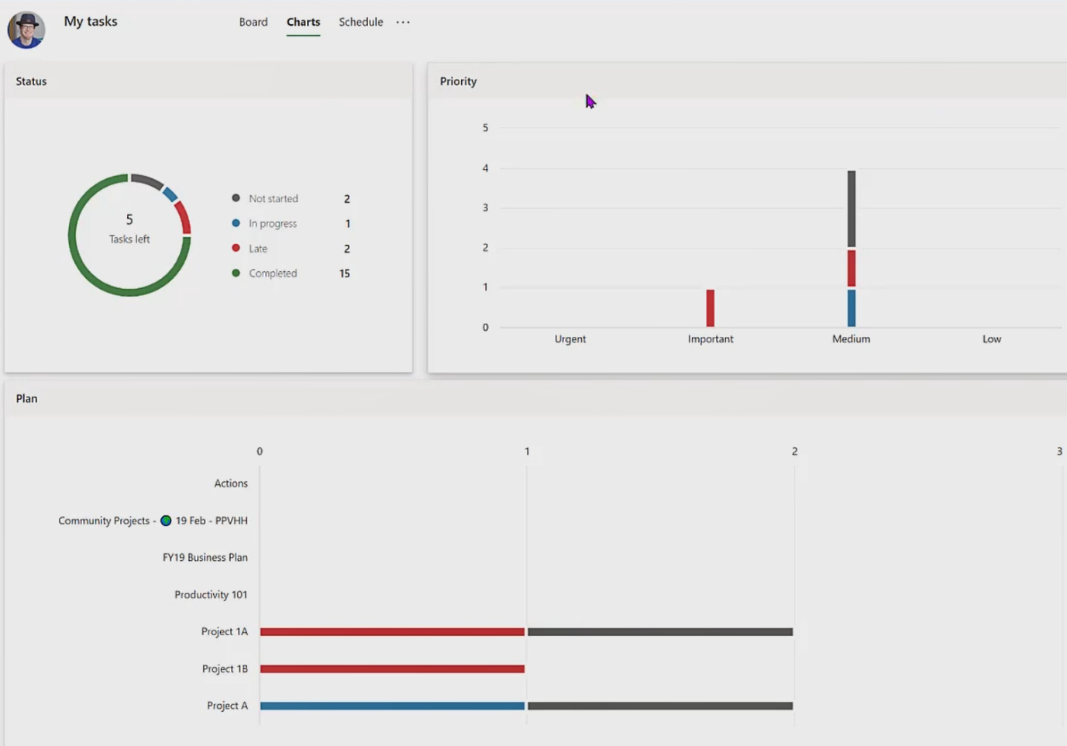 In summary, we've seen how to bring tasks together and manage them, how to put tasks into My Day and flag them as important, how to bring together flagged emails, see Planner tasks that are assigned to you, and, in general, how to use To Do as a single interface to see all of your tasks.
Project for the Web
Project for the Web offers a little bit more than Planner, but looks very similar. Planner is positioned as task management for a team, whereas Project enables more of a 'project management Gantt chart style' of planning, and more of an emphasis on the role of dependencies.
In Project for the Web (just like in Planner), your project has a list, a Gantt chart, duration, and assigned to: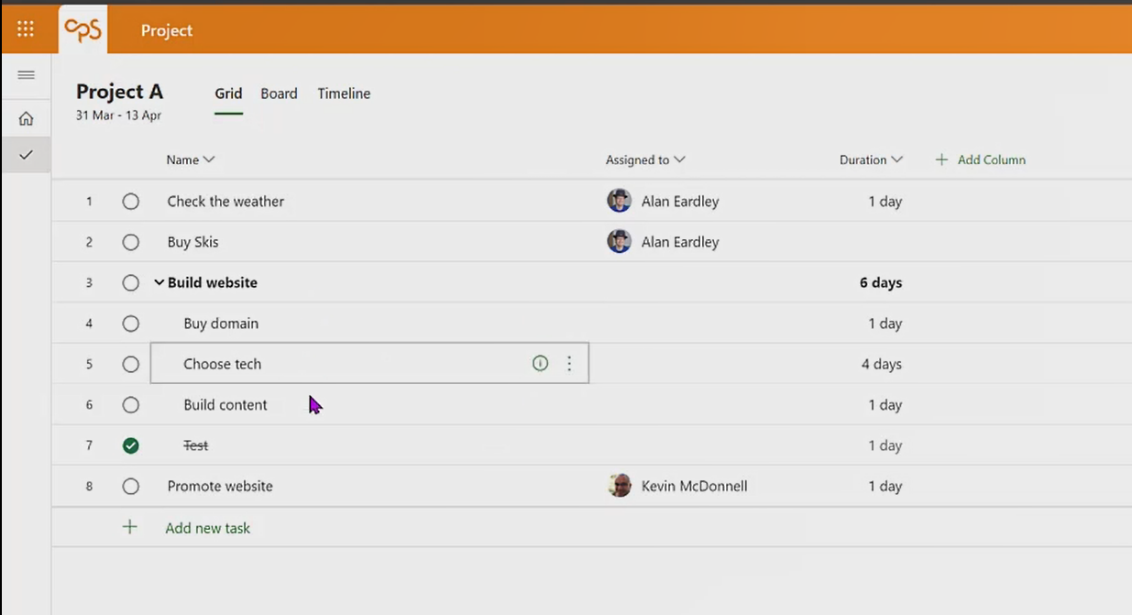 You can click on a task to see more information about it:

The information includes start and finish dates, duration, % complete and buckets. It does not have the same level of detail as Planner (you can add notes but you can't add attachments or a narrative), but it does have a lot of other features. For example, you can see a timeline for your tasks: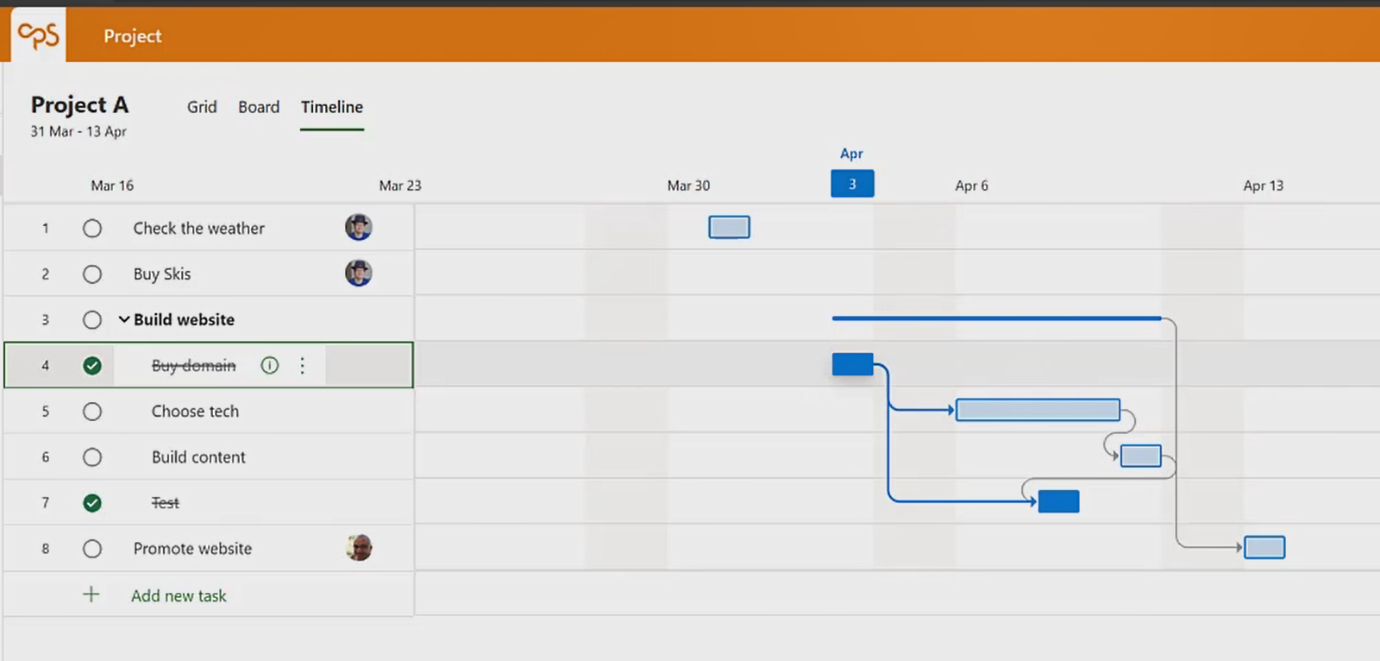 You can add dependencies and then move them around to see how they will affect your project.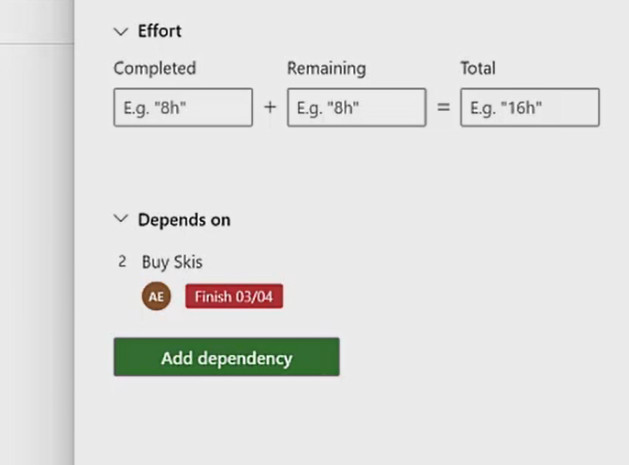 On the left, you can add dependencies, umbrella tasks, and indent headings. There are a lot of things you can do easily.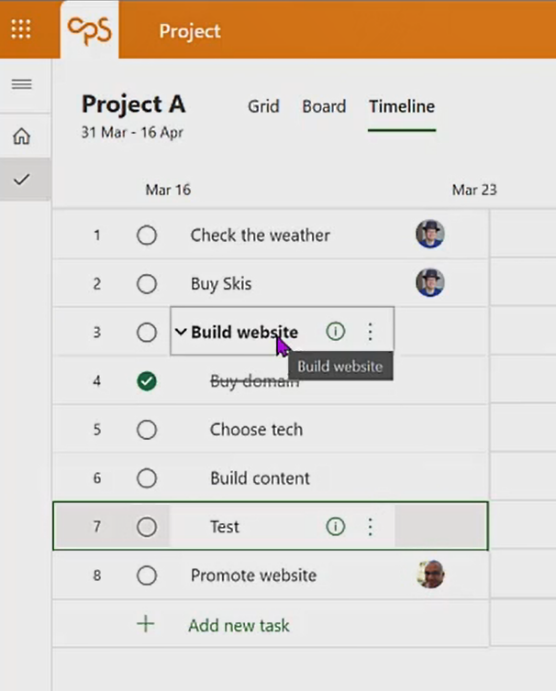 In the Board view, you can create buckets and move them around to categorise the tasks: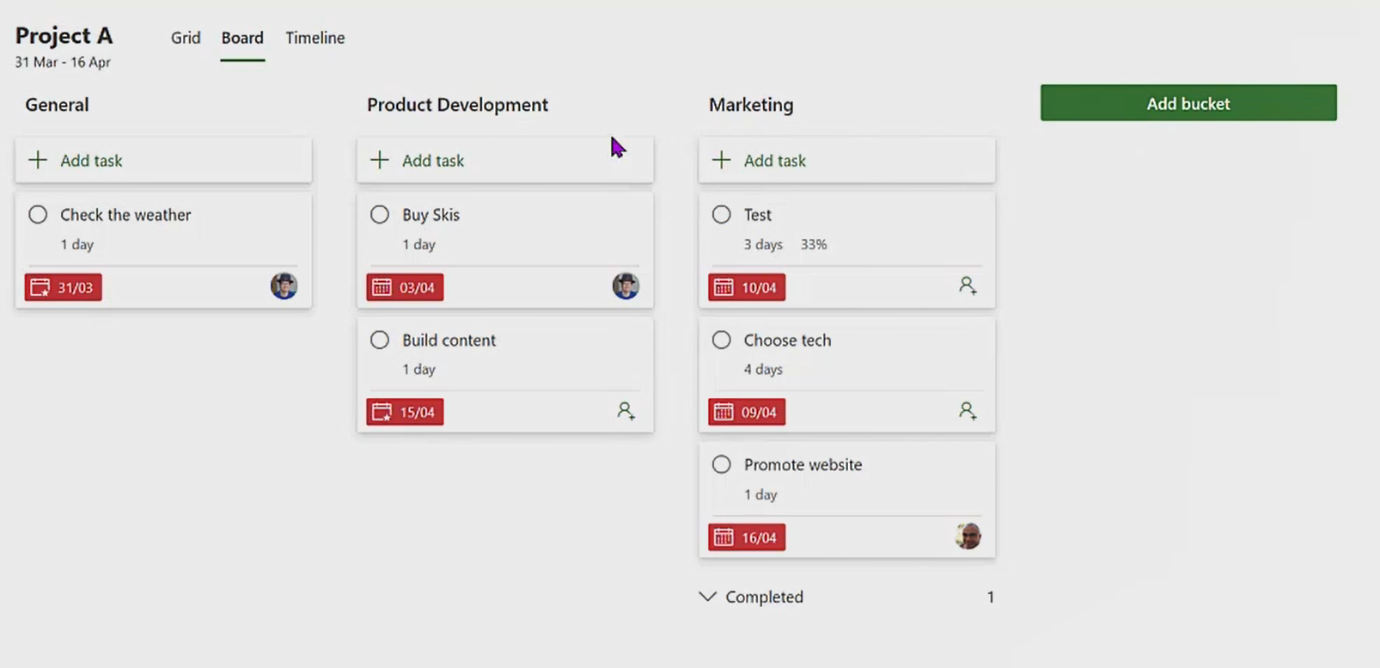 Project functionality is built on Microsoft Common Data Service (CDS) so it is extendable if you want to build a model-driven app. It can be extended to include project information, and still further to include programme information.
How do the options compare?
To make sure users have the best experience using these tools we need to fully understand how they interact with them.
Access and interfaces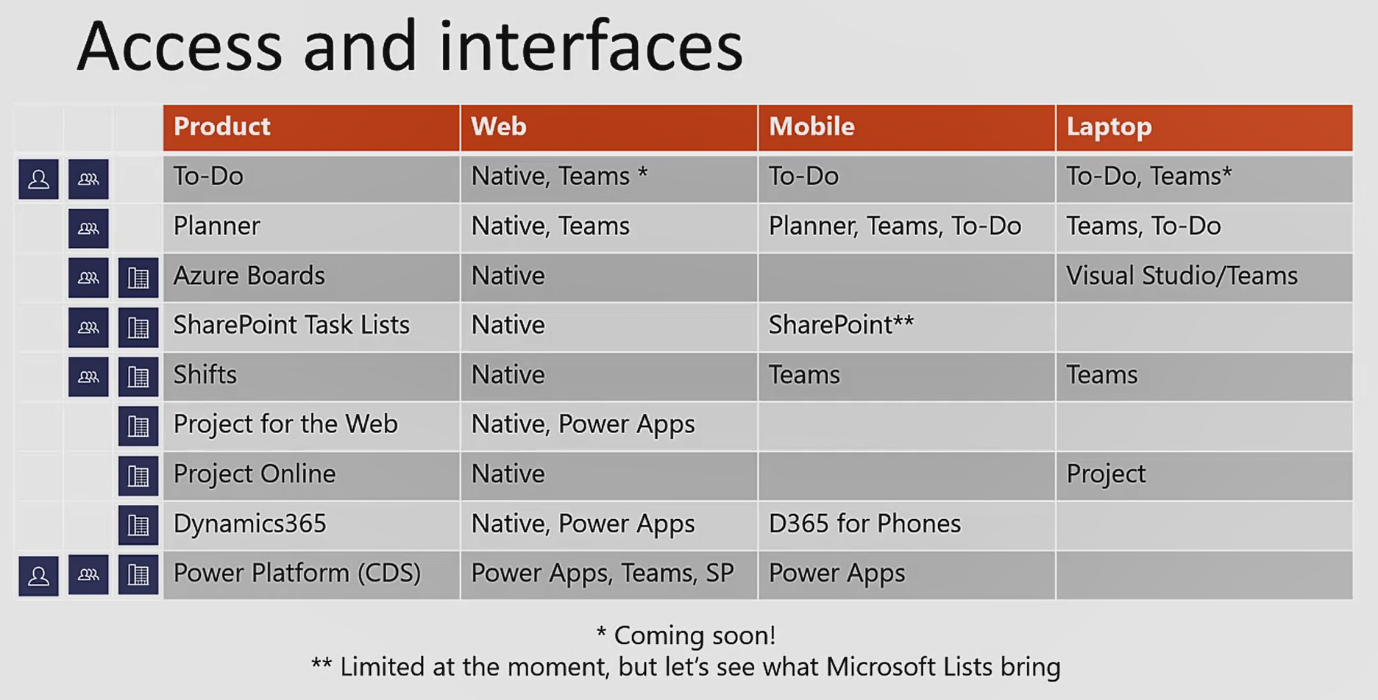 There are native web apps for all the tools with the exception of CDS (where we would build out model-driven or canvas Power Apps). We looked at the new interface within Teams that allows integration with Planner and To Do, but there is already a native web interface and native apps for mobile and laptops that allow you full interaction with To-Do. With Planner, there's a native app on mobile devices as well as Teams and web access. With Azure Boards people primarily interact with the native web app – you can work with it in Visual Studio and Teams, but people tend to use the native web app.
For SharePoint Task Lists, you can use the historical interface through SharePoint. There is also the SharePoint mobile app, but that will become obsolete after the Microsoft Lists app comes out. We don't have any native applications for laptops or Macs to be able to just use SharePoint lists or SharePoint itself – we will have to wait and see how Microsoft Lists works in terms of the navigation between apps. Shifts is all accessible through Teams.
Project for the Web is accessible through the web. However, we can build on top of it using Power Apps because Common Data Service is under the hood. Project Online is only a web interface – you can use Project to manage these projects but end-users are likely to just use the web interface. In Dynamics365, there's a mobile app for Dynamics365 for Phones, but generally, the web interface is used and extended either through model-driven apps or through custom canvas Power Apps. Common Data Service underpins a lot of the Power Platform capabilities giving the flexibility to build out custom canvas Power Apps to be used either on mobile devices or embedded within Teams. There will be more integration coming to enable canvas apps in Teams, but we can also embed those Power Apps into SharePoint pages or any web pages within our environment.
So, there are quite a few different interfaces. Out of all of them, Teams and To-Do are probably the most popular with many organisations appreciating the benefit of seeing all their tasks in one place within Teams and To Do.
Integration with Flow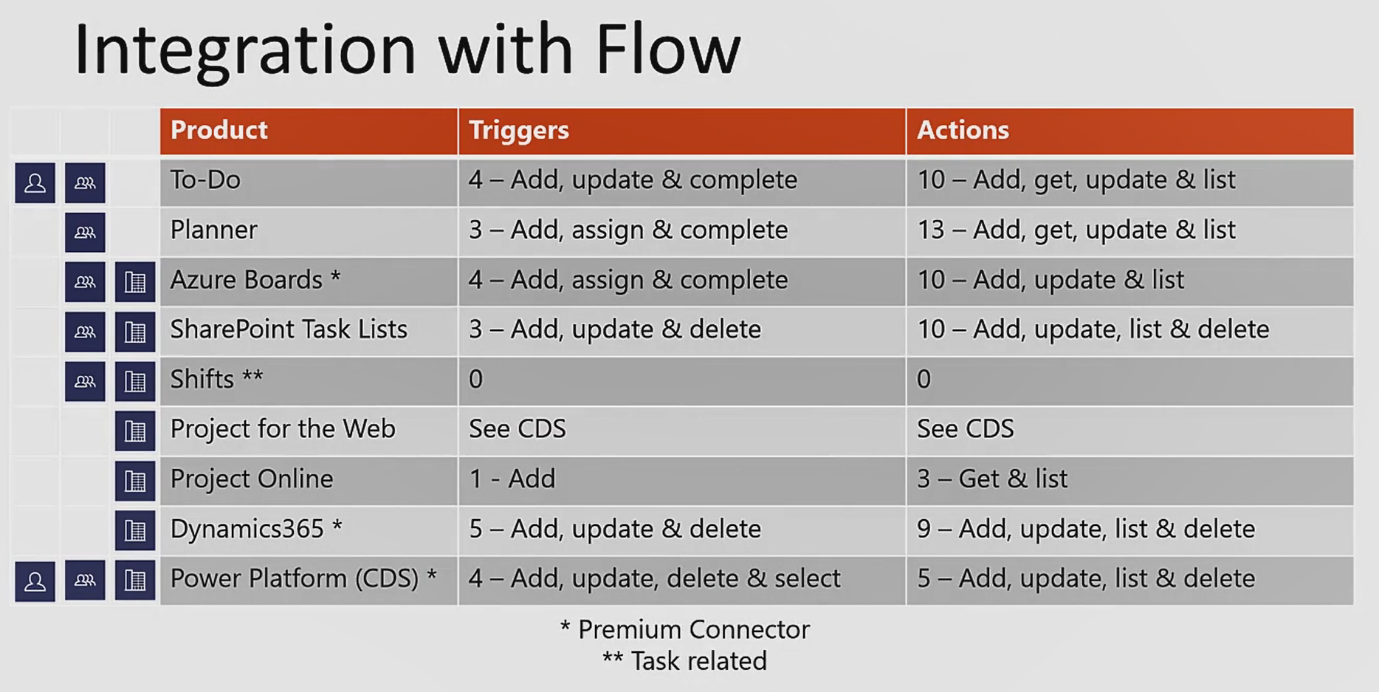 Integration with Flow is the primary way we see users increasing their own productivity (either personal or team level). Flow is part of the Power Automate umbrella of tools in the Power Platform and has triggers and actions. Most of the systems listed have triggers, which means we can create automated flows starting with a user doing something within the system or with a task within the system. They have actions that update tasks. In the table, there are more triggers and actions related to the tasks we're talking about.
In SharePoint, there are tens of different tasks outside of just the lists. It's the same within Azure Boards – there are many development capabilities. There are no specific task management activities within Shifts, which is a limitation at the moment. Azure Boards, Dynamics365 and Power Platform are premium connectors – you'll have to pay more. You can't just use the standard connectors that come with the Power Platform.
Data Access and Reporting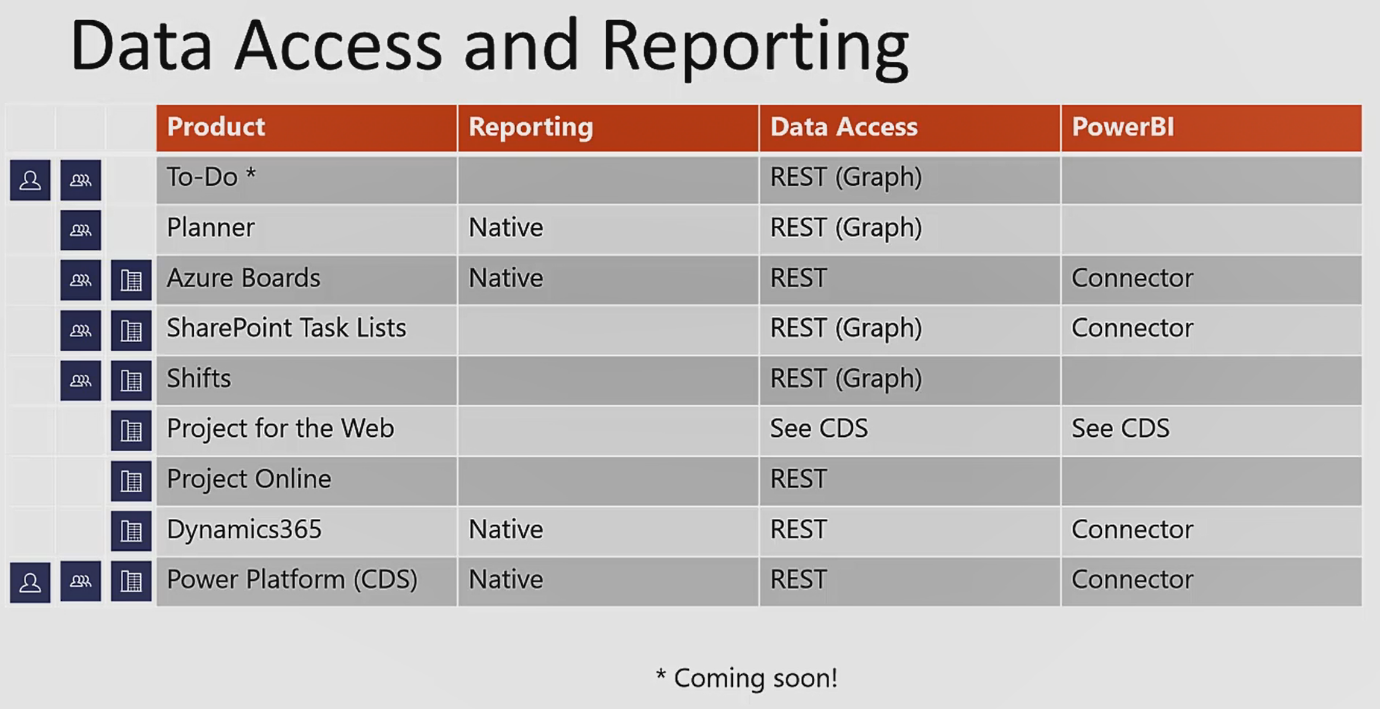 Flow is great for integrating, but if you have more development capability then data access is really important as well – and that's where the APIs come in, allowing you, for example, to integrate Jira with To-Do. There are new APIs coming for To Do and that will be quite a big jump in terms of what we can do – not just in the underlying tools like Planner and SharePoint, but also with some of To Do's capabilities such as prioritising, creating specific lists, adding to My Day. The APIs will hopefully be delivering those sorts of tools to allow us to build custom tools to integrate with To Do, Jira, and other products.
Some of these products have native connectors. We can build connectivity into Azure Boards and Dynamics365 and create reports – you just wire it up and it will work. With Planner, you have to go through a REST (Graph) API to get the information out, but hopefully, this capability will be improved.
Summary
In this session, we looked at what makes up a task, the attributes and scopes of tasks, and the different task management options available from Microsoft.
In terms of personal tasks, out of all the products we looked at, To-Do sits on top of the pile. It's the main tool that people go to when they want to see their personal tasks, flagged emails and the Planner tasks that have been assigned to them. As the functionality from To-Do gets merged into the Teams, it's going to be one of the primary tools that people use to see all their team-related tasks.
Development teams will continue to use Azure Boards. Whether they surface task information into Teams or whether they continue to use just the web interface, it's up to them, but the capabilities are there and it's definitely the tool for development teams to be working with.
At an enterprise level, Project for the Web will go so far, but it is fully extendable because it's built on the Common Data Service. It can be extended it out with model-driven apps, canvas apps and it can easily be integrated with other systems. It has a lot of potentials to be extended using the common Power Platform capabilities. Most organisations are looking to adopt Power Platform in one way or another so that gives a great opportunity to extend the Project for the Web capabilities.
Project Online is still needed at an enterprise level for time tracking and timesheets. Dynamics365 is suitable for sales, field service and project services. When you want customisation, Power Platform is the best way to build an interface to allow your users to interact with tasks.