Within this eBook, we will look at how you can use Microsoft Stream, how you can upload videos, how you can find videos, how you can organize them, and many more things.
Microsoft Stream is the video platform available in Office 365 which you can use to upload, view, and share videos within your organization. Furthermore, you can use this central video hub to embed existing videos in other places like SharePoint, Teams, or even Power Apps.
Within this eBook, we will look at how you can use Microsoft Stream, how you can upload videos, how you can find videos, how you can organize them, and many more things.
Please note that within this eBook we will only share some basic information. Please refer to Appendix A where you can find additional links for more in-depth resources.
Purpose and Use Cases
What should Microsoft Stream be used for? You can use it to
upload and share your townhall videos, so that people who can't attend them can still view them
spread your CEO's message for larger impact
store your product marketing videos
store your recorded Teams meetings
produce screen recordings for training
and many more things.
It can be videos that need to be shared within the whole organization or videos that should only be accessible to a smaller audience. However, please note that these videos can only be accessed by accounts in your existing Office 365 tenant. Users outside your organization, such as vendors, clients, partners, etc. will not be able to view these videos.
Accessing Microsoft Stream
One entry point to access Microsoft Stream is to log into office.com. At the top of the entry page, you will find various applications that you access often. If Stream is not listed here, click on All apps.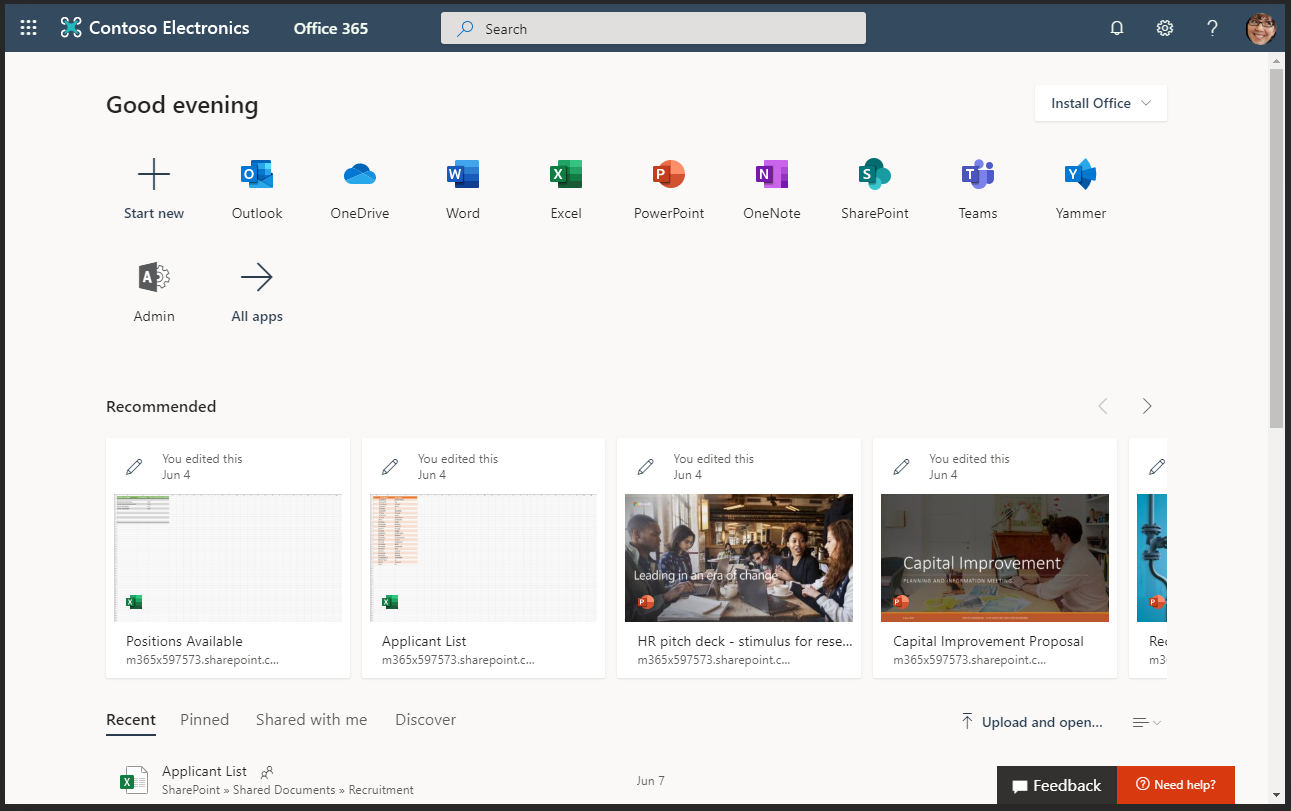 Under the All apps section you can scroll down until you find Stream and click on it.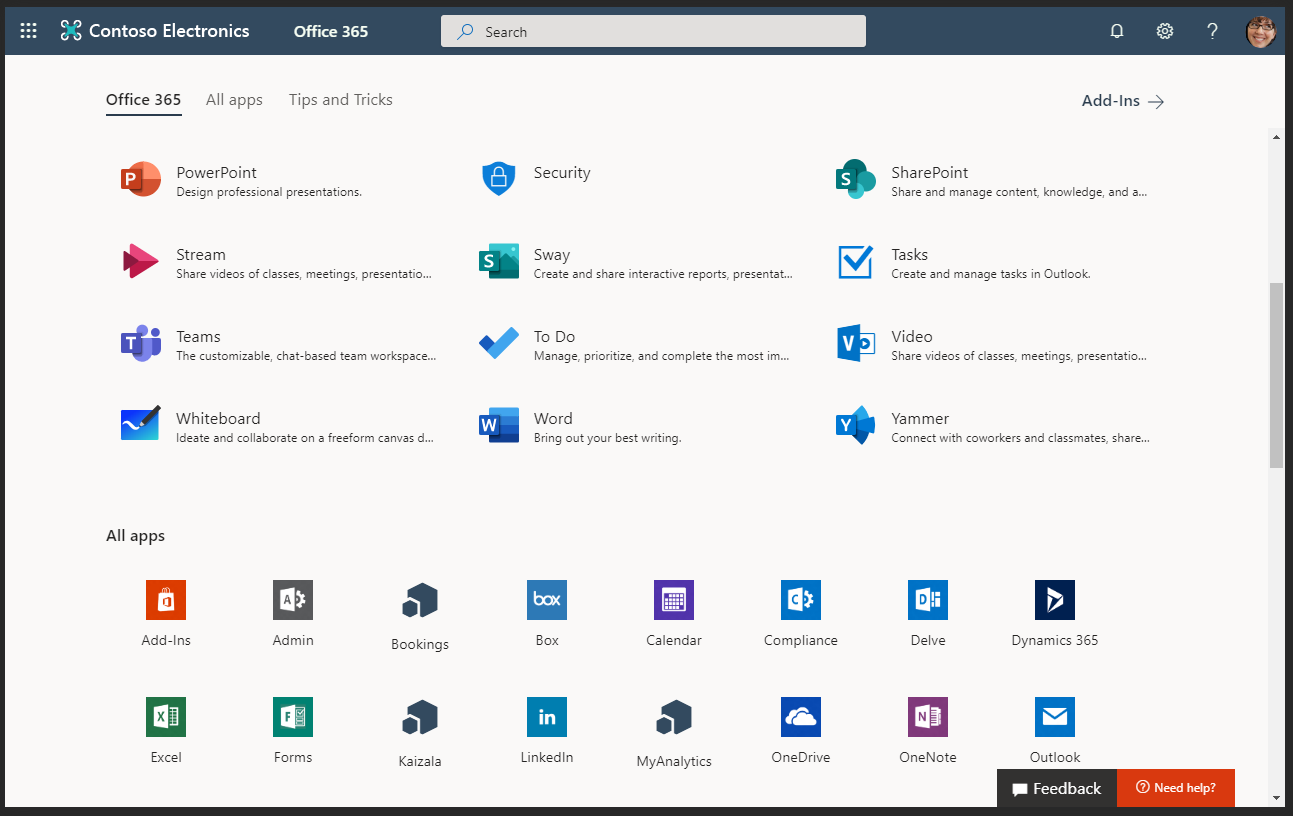 This will bring you to the Stream home page. On the home page, you can find navigation items at the top, administrative items to upload videos and more on the top right, plus suggested and highlighted video content in the main section below.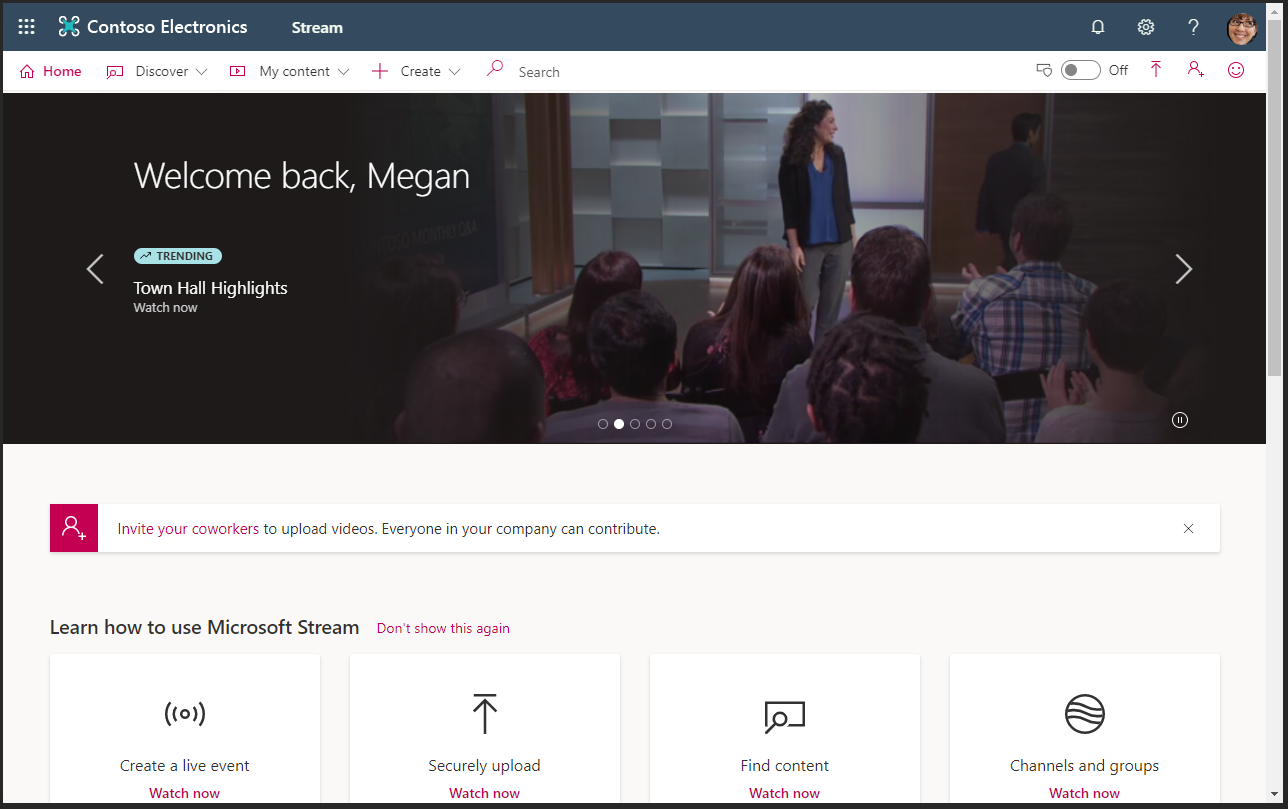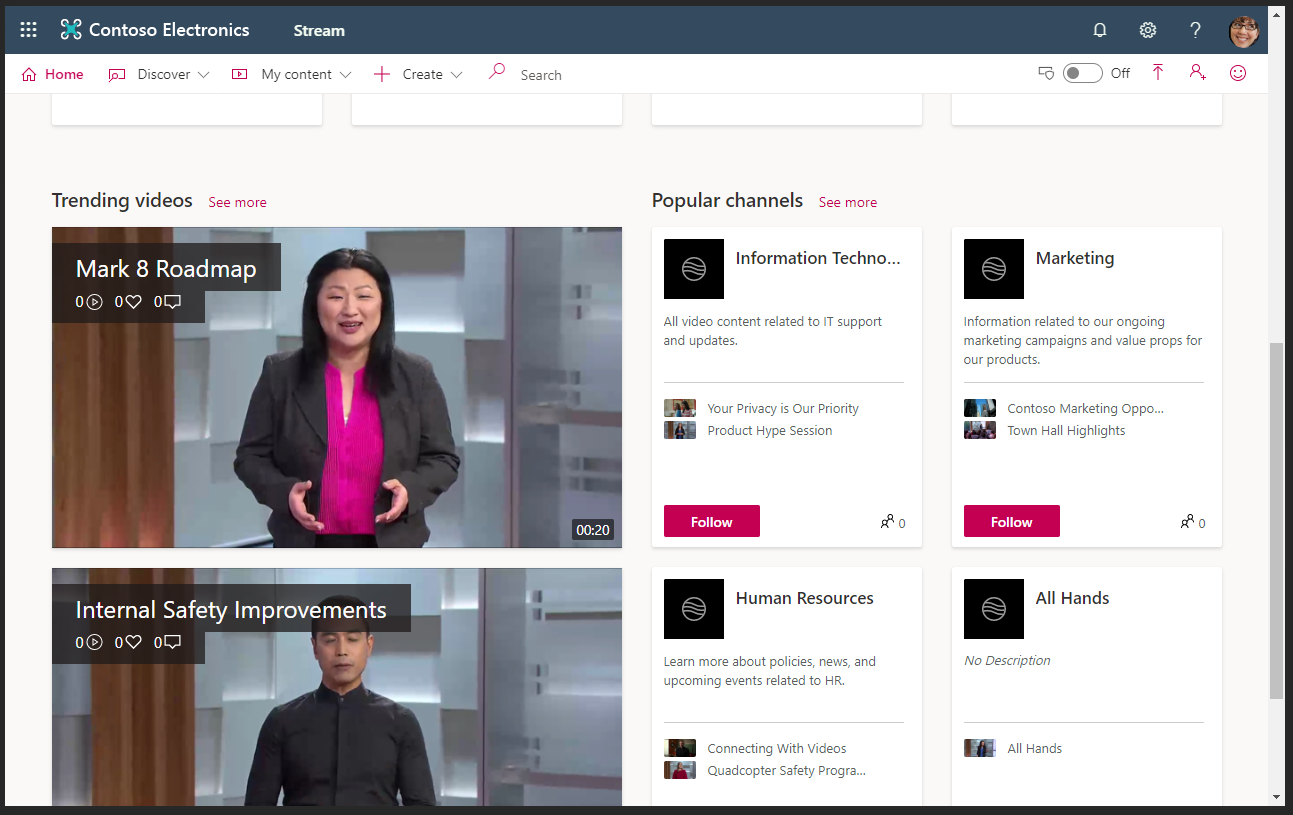 Creating and Uploading Videos
Uploading existing videos
To upload an existing video, you can click on Create and Upload video in the navigation bar, or you can click on the arrow in the top right corner.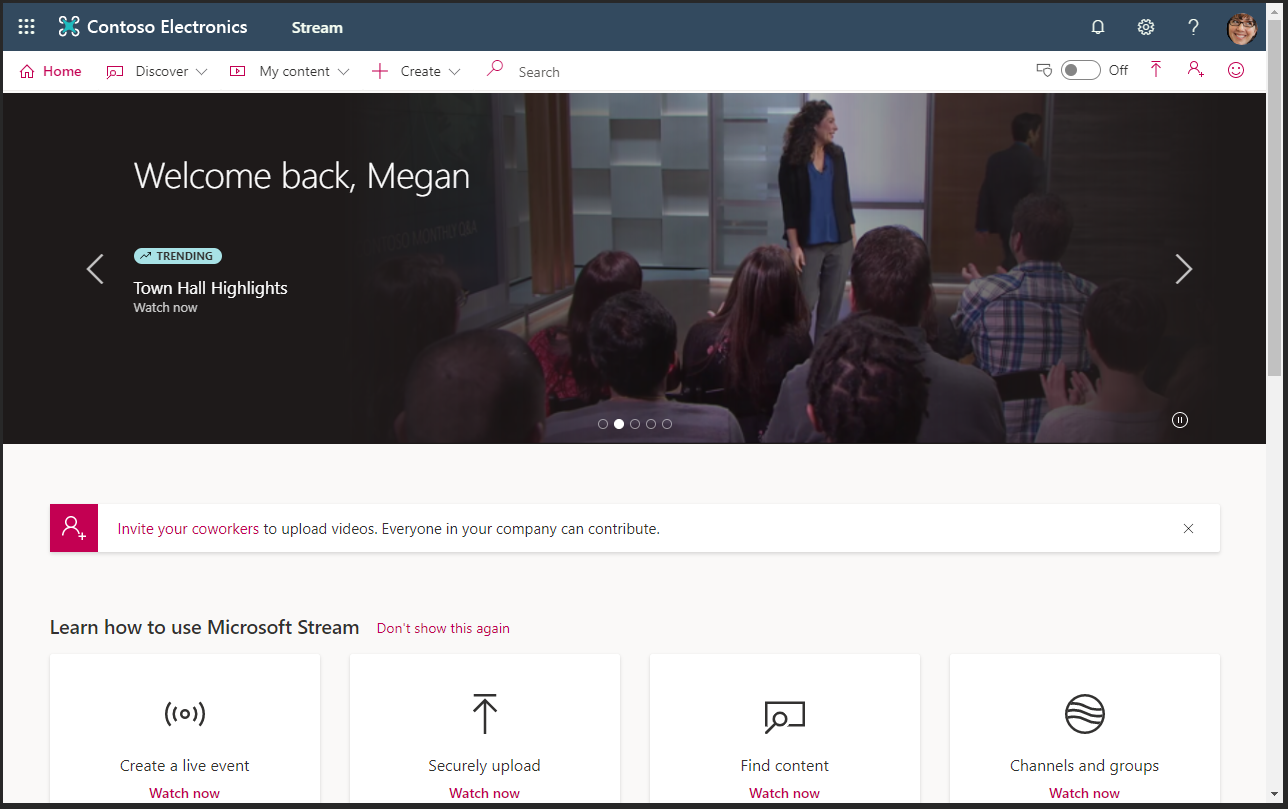 Once you're on the upload screen, you can either drag and drop an existing video file on, it or you can click on browse to search for that file.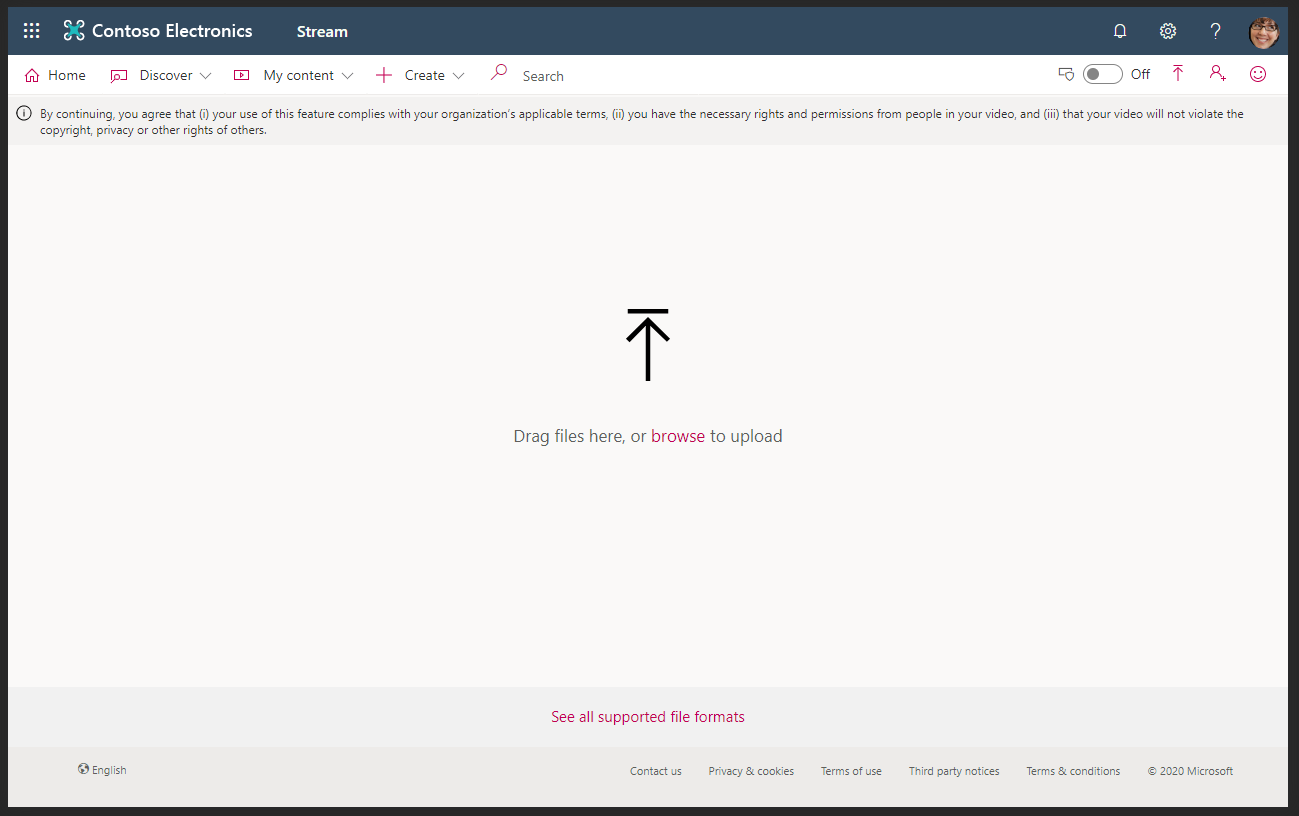 The first time you upload a video, Stream will ask you about your default video language. Defining the default video language allows you to set the language that should be used to analyze the content that is spoken within your video. Based on this analysis, a caption file of the conversations within your video will be generated and shown alongside your video.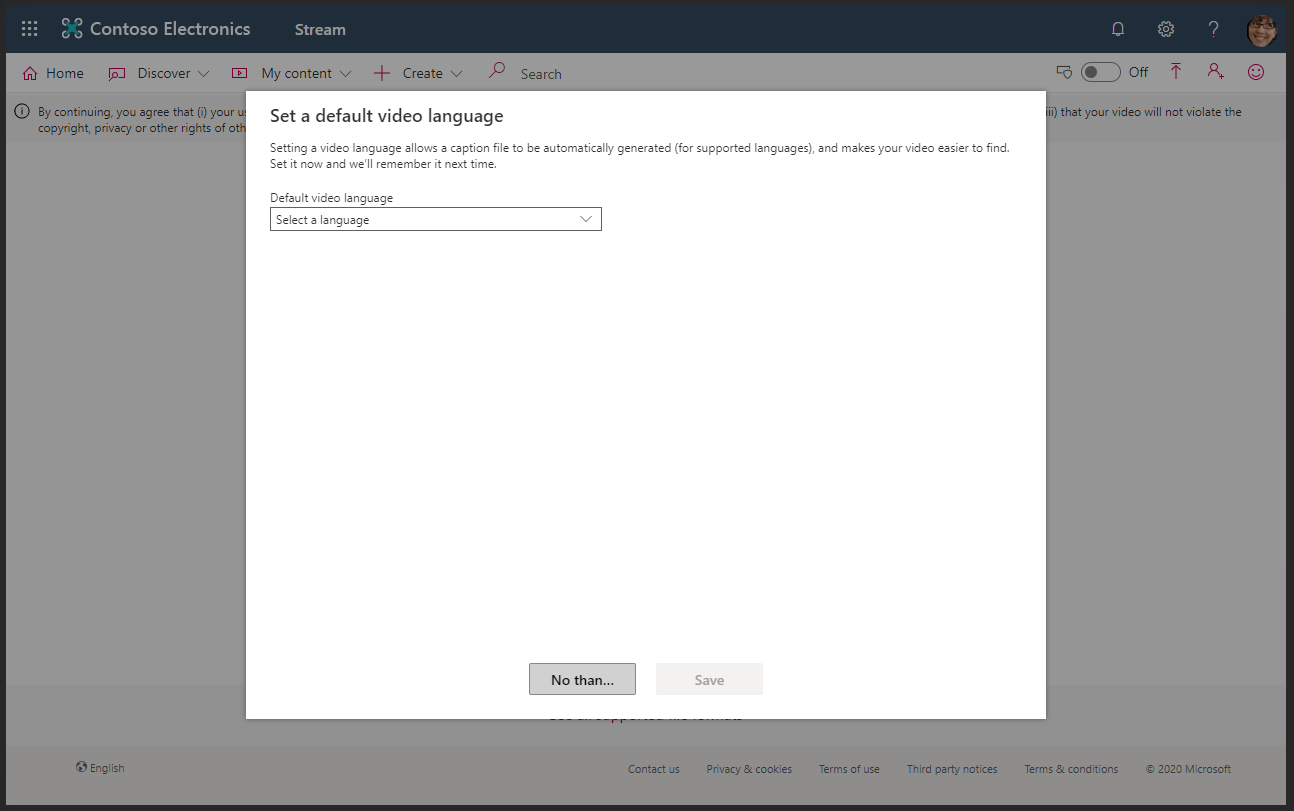 Once the upload of your video starts, you will already be able to define video specific data such as the title of your video, the description, and more. You can change the video language here, plus you can actually change the existing thumbnails used to display the preview of your video.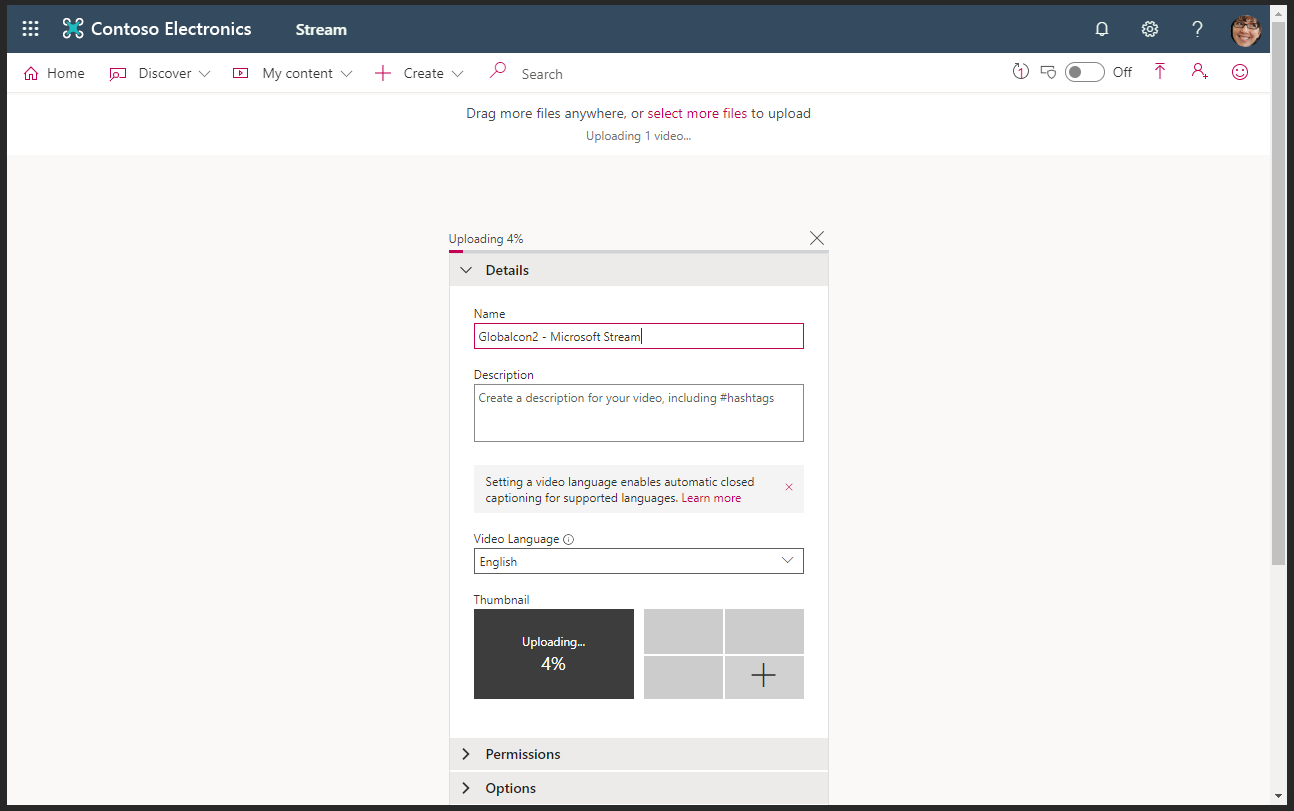 While the video is getting uploaded, it gets processed already on the back end. Included in that processing is actually a generation of potential thumbnails which you can then select.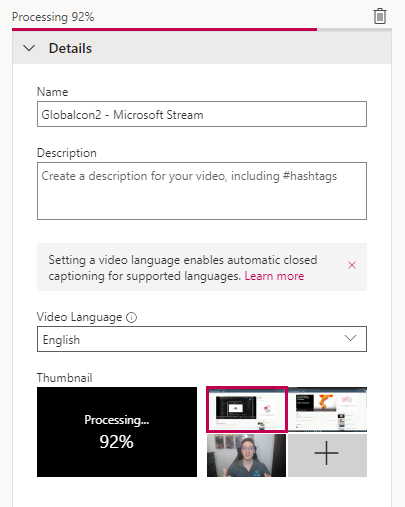 Under the Permissions section, you can define who should have access to your video. You can allow everyone in your company to view this video. Alternatively, you can define which groups or channels you want to share your video with. Further details on organizing your videos via permissions will be discussed in the upcoming Organizing Videos section.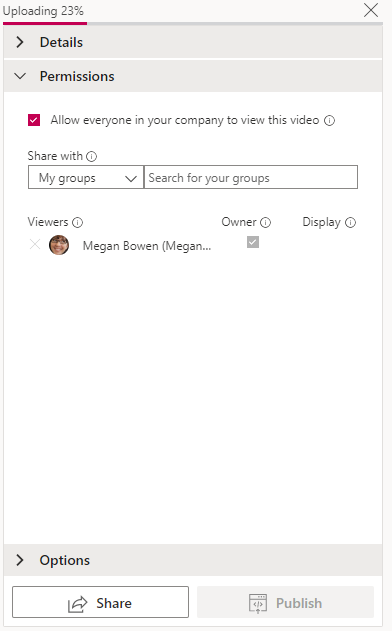 In the options section, you can allow or disallow comments on your video. You can also enable or disable noise suppression (for a better audio experience) for supported videos, plus you set up captions or subtitles.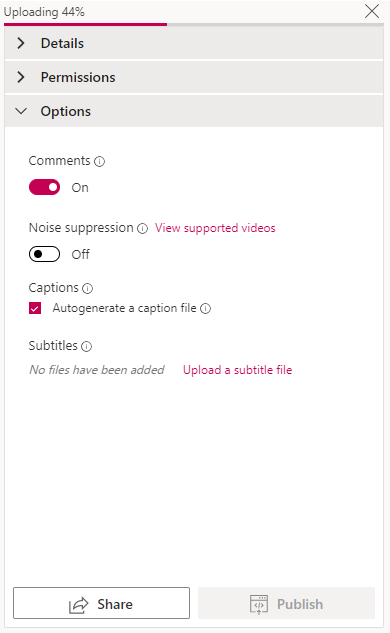 Once the video has been uploaded, you can publish it so that everyone who should have access to it can see it, and you can share it and with the intended recipients.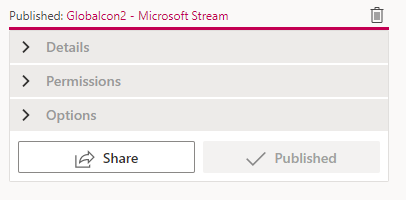 A published video looks as follows: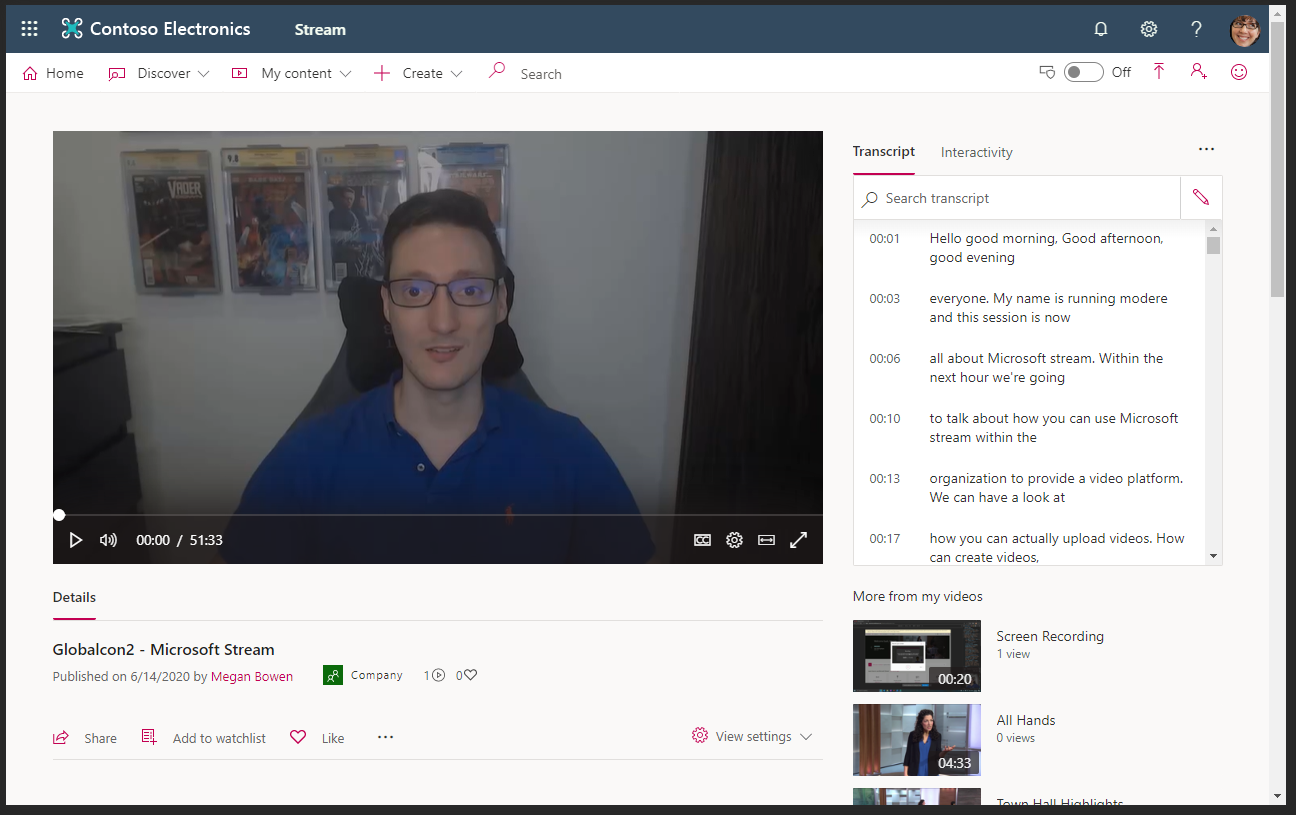 Information provided includes the title of the video, the description, who uploaded it when, plus at the sidebar, you can find a transcript if allowed. If you had the transcript generated during the upload, there may be potential spelling errors or other things you want to change within the text. Click on the edit icon in the top right of the transcript to go into edit mode.

Once you're in edit mode you can then make changes to the existing text and save it or discard it.

Record your screen and save it to Stream
One other possibility if you don't want to upload an existing video, but want to create a new one, for example, a training video on how to use a new app, is to use the Record screen functionality.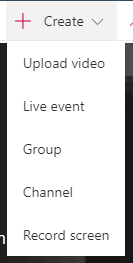 Once you click on Record screen, your browser may ask for additional permissions to access your microphone and your camera.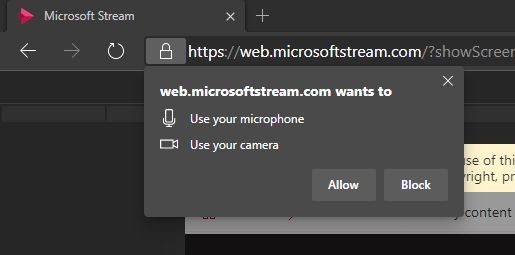 Afterwards the Record your screen dialog will pop up that allows you to select your microphone and/or camera in the bottom left section, and in the middle it allows you to start your recording.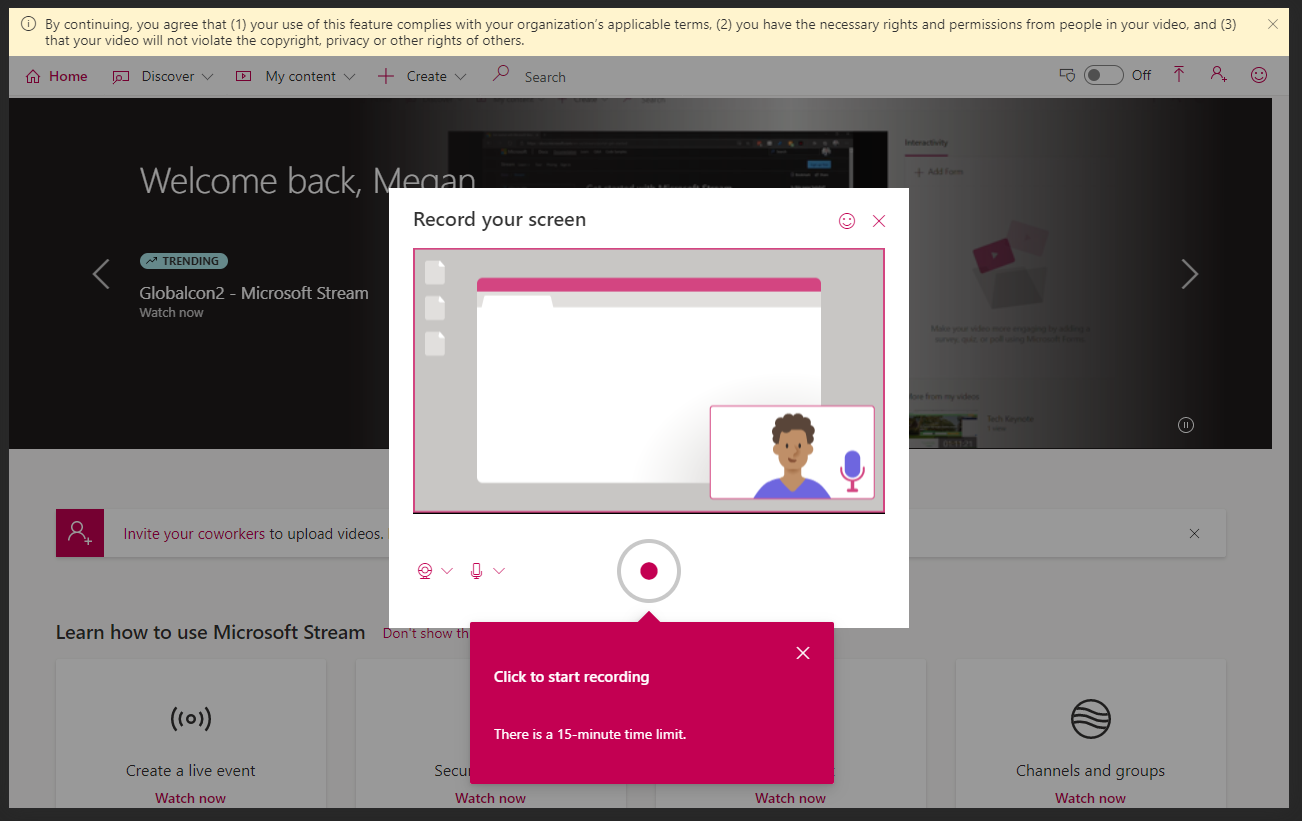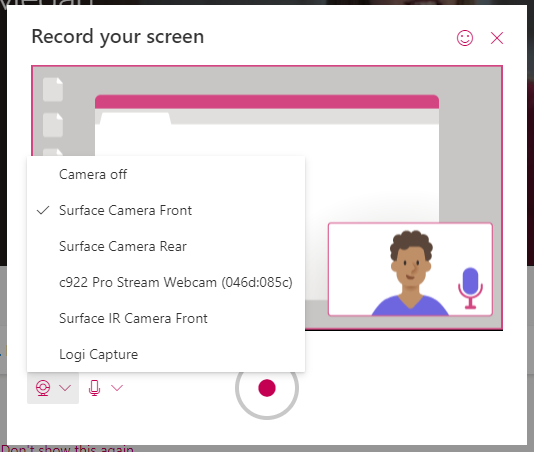 The first time you start your recording, it will ask you which area you want to record. For example, if you use multiple monitors, it will ask you which monitor you want to use for recording.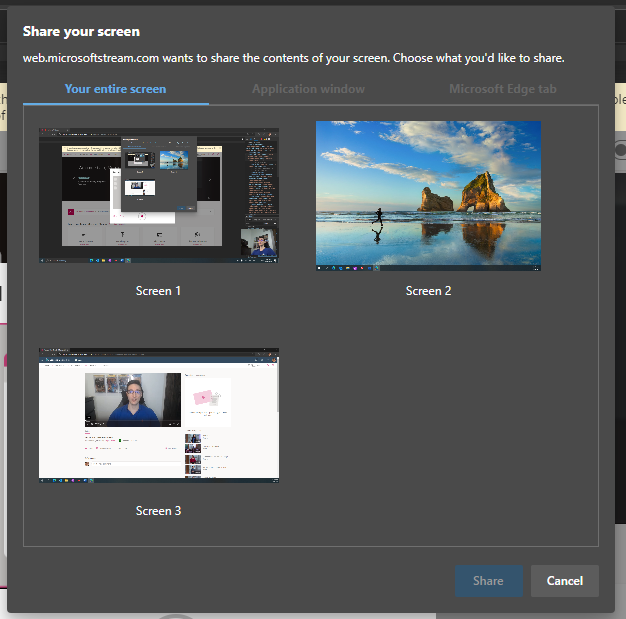 Once selected, Microsoft Stream will start recording your screen and you can then do a demo of your existing application, an explanation of a new tool, or anything else that you think you want to perform as part of your recording. You can pause your recording and resume at a slightly later stage again if you want to. However, please note that you have a maximum of 15 minutes of recording time.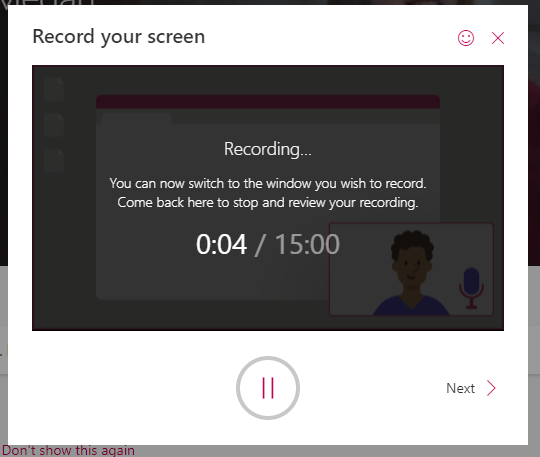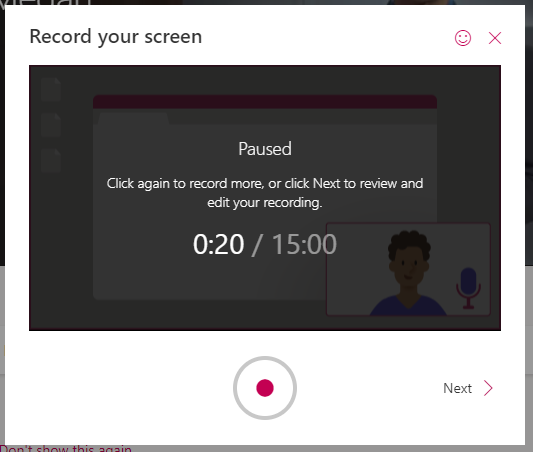 Once you are done with your recording select Next.
This will allow you to review your recording, restart your recording again from scratch, or complete the recording process and upload it to Stream.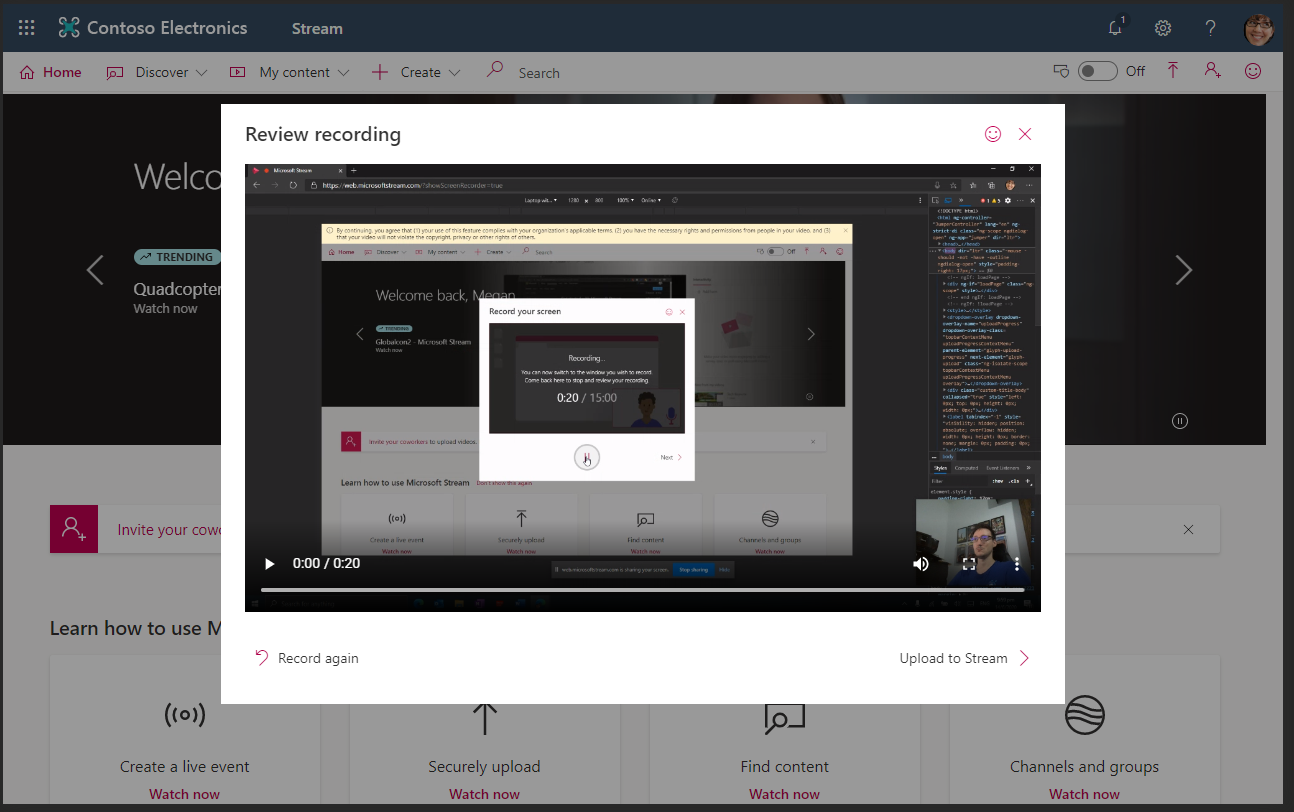 Once you decide to upload your recording to Stream, you are again asked for a name for your video, a description, and a video language. You can also decide if you want to allow everyone within your company to access the video, or if you want to set permissions at a later stage.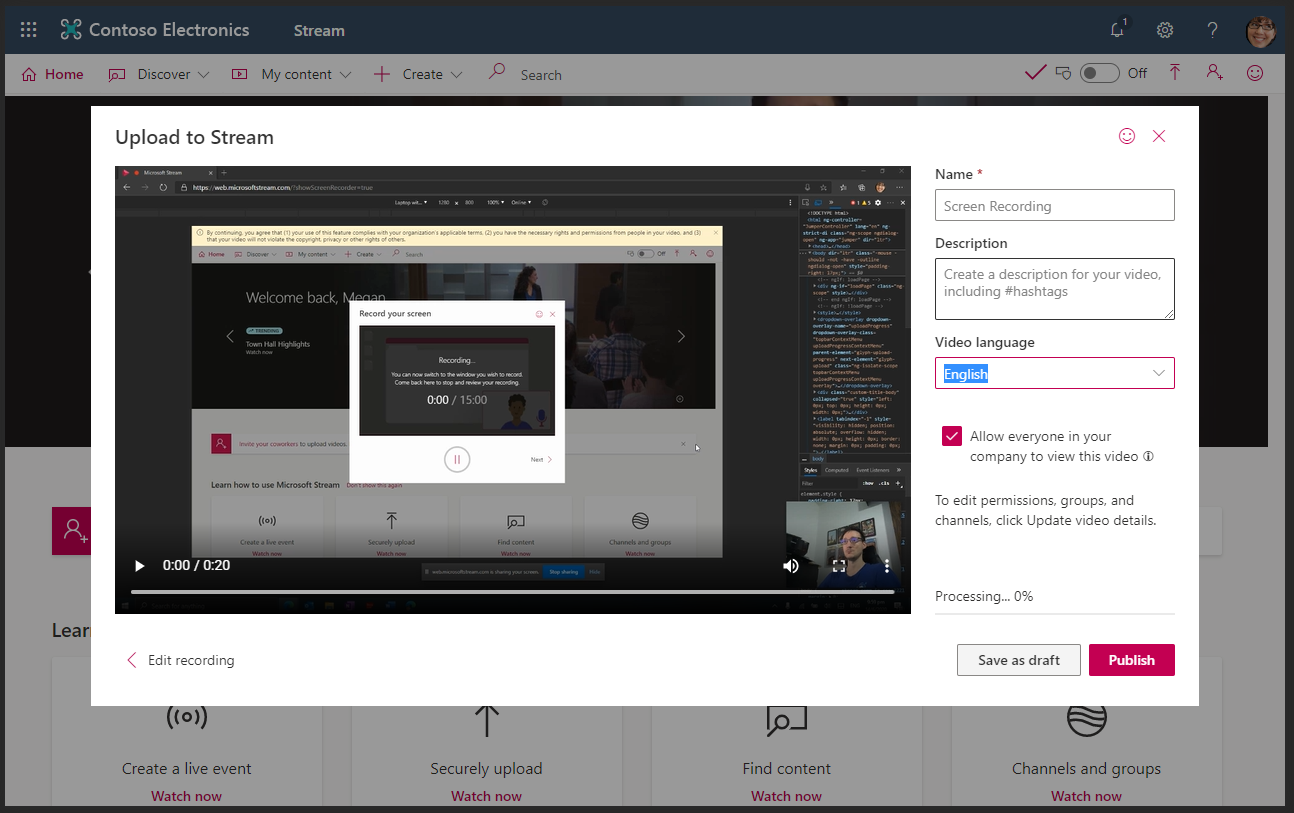 Discovering Videos
Once you have some videos in Stream, the next step is basically to find and view them. You don't just want to upload videos, but naturally, you also want to allow users to easily discover them. From the home page, you can click on Discover in the navigation and click on additional options such as Videos, Channels, and Groups. You can also use the search box at the top to look for specific content based on your keywords.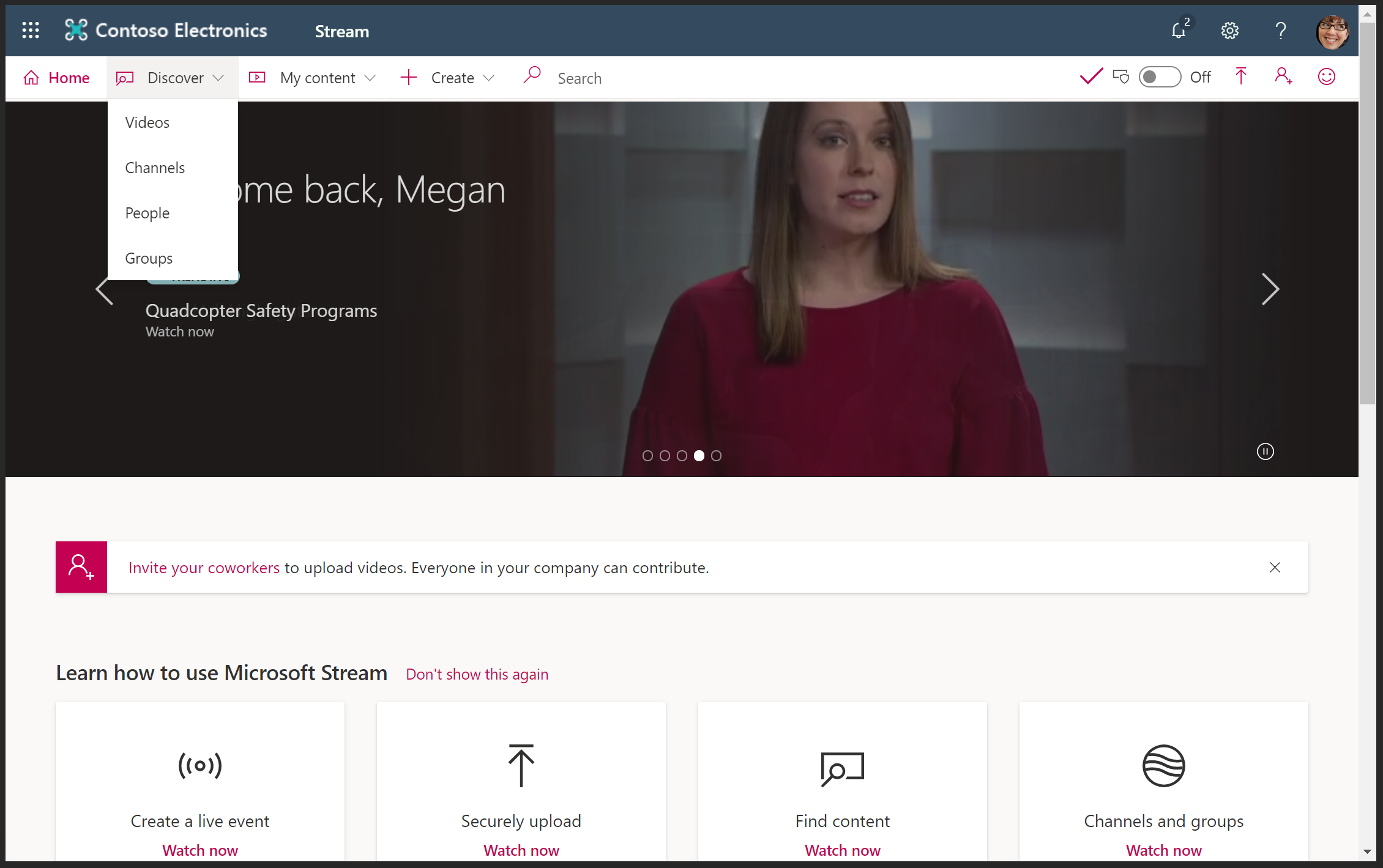 In the Videos section, you can find published videos. By default they're sorted by Trending but, there are also other options like, for example, the most recent videos.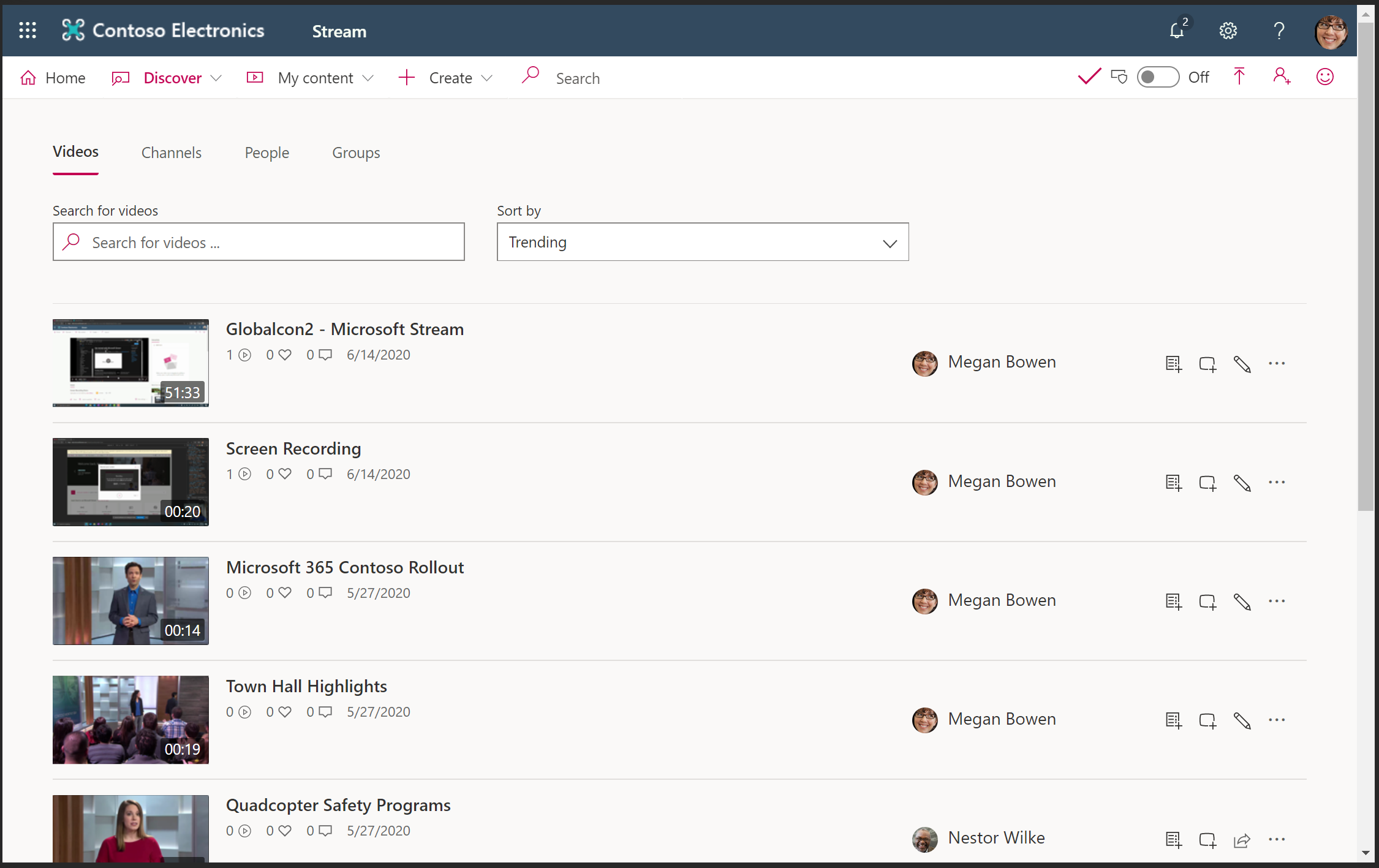 Channels allow you to explore existing channels.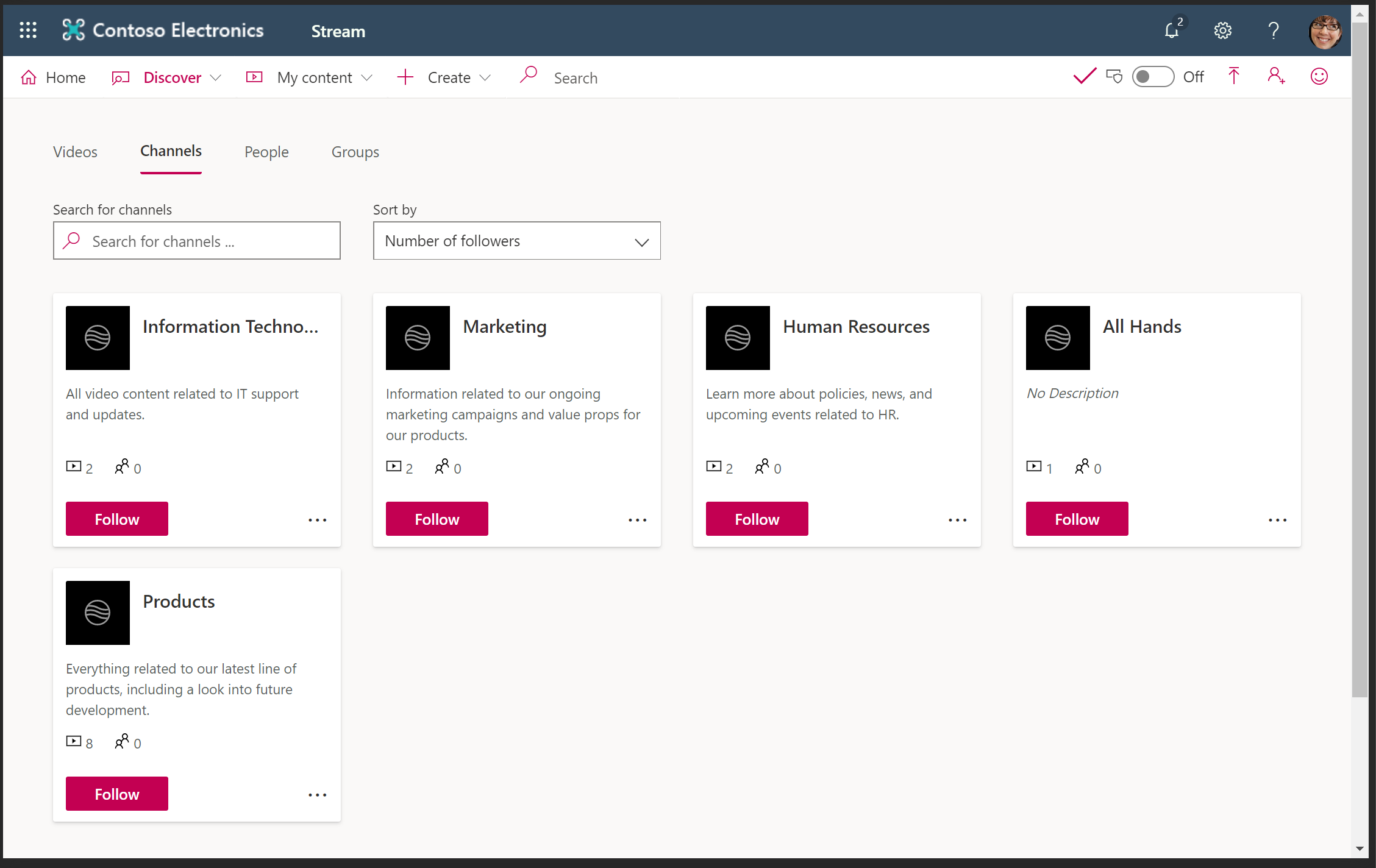 And Groups allows you to view your existing Groups, including details on the number of videos and Channels inside.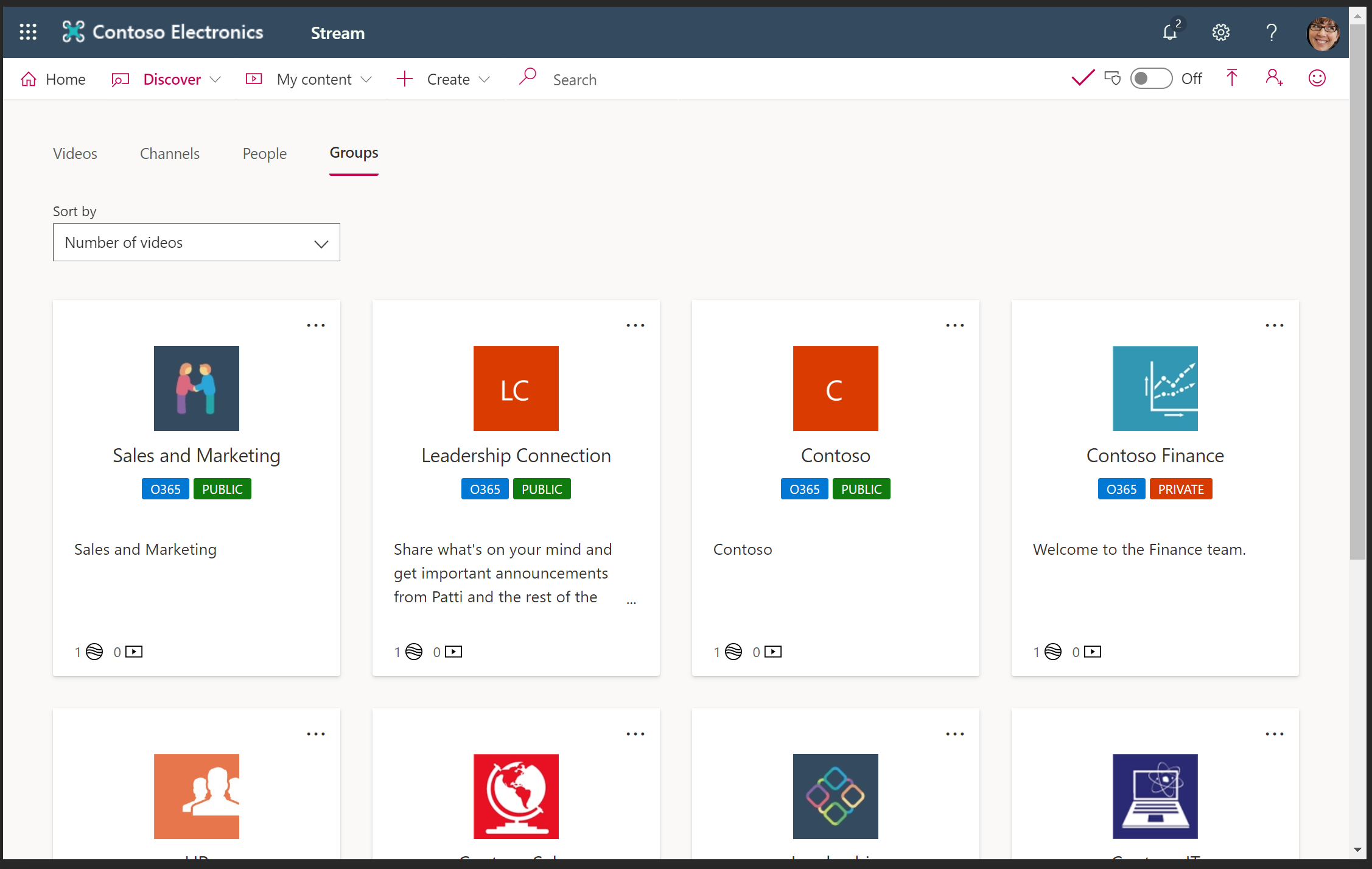 Organising Videos
We have seen how you can create and upload videos. But naturally, you don't want all videos to end up in one single location, but rather organise them in a logical manner. As mentioned before, you can use Channels and Groups for this purpose.
Channels
Channels are a way of grouping videos together – when you have a few videos that share the same context, put them in a Channel! Generally, you can use Channels to group videos together that "belong" together, such as
same topic, such as a specific product
same target audience, for example videos for your sales team
same geographic region, e.g. for a specific office location
It should be noted that you can't have Channels within Channels, there is only a single layer of grouping for them. Also, Channels do not provide any access control, this is where Groups come in.
Groups
Microsoft Stream leverages Microsoft 365 Groups to manage permissions and provide content boundaries. A Microsoft 365 Group is an object in Azure Active Directory to which you can add Members and Owners. For Stream, this means that when you upload a video, you can assign a video to one or more Groups, and the members of all these groups will have access to view the video.
Microsoft 365 Groups get created, for example, when you create a new Team Site in SharePoint or a new Team in Microsoft Teams. Connecting the dots means that you could create a Team for a specific project, manage the project members accordingly in Teams, and additionally upload one or more videos to Stream and grant this Group access to the video.
Additionally, you can even create Channels within a Group in Microsoft Stream! It is recommended to use Channels outside of Groups videos that are accessible to everyone, such as the previously mentioned Townhall meetings, and create Channels within Groups to provide a clearer separation for videos that should be seen by the target Group only.
In our project example, there could be a Channel for screen recordings and another Channel for meeting recordings.

Sharing Videos with Externals
A quick comment on sharing videos in Microsoft Stream with externals (that is, people that are not part of your Office 365 tenant). At the moment, content in Microsoft Stream is only accessible by people within the same tenant – that is, all the user accounts that reside within the same Office 365 tenant. If you want to share a video in Stream with someone outside, such as a vendor, client, or partner, you can't do so from Microsoft Stream.
The workaround for this is to download the video from Stream, upload it into OneDrive or SharePoint, and share it from there. However, this means that you can't leverage Stream's streaming capabilities, the transcript, comments, etc.
Embedding your videos in other systems
Once you have videos in Microsoft Stream, you can also embed them in various other locations. We will briefly look at the out-of-the-box options for SharePoint, Teams, and Power Apps.
SharePoint
On a modern page in SharePoint Online, when you're in edit mode, you can click the Plus icon to add a new web part. Here you can search for Stream: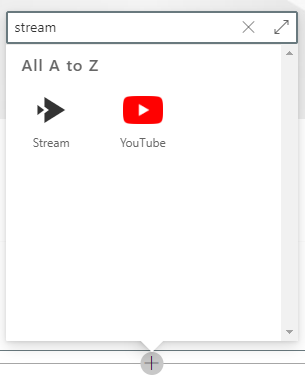 Once added, it will first show all videos by default: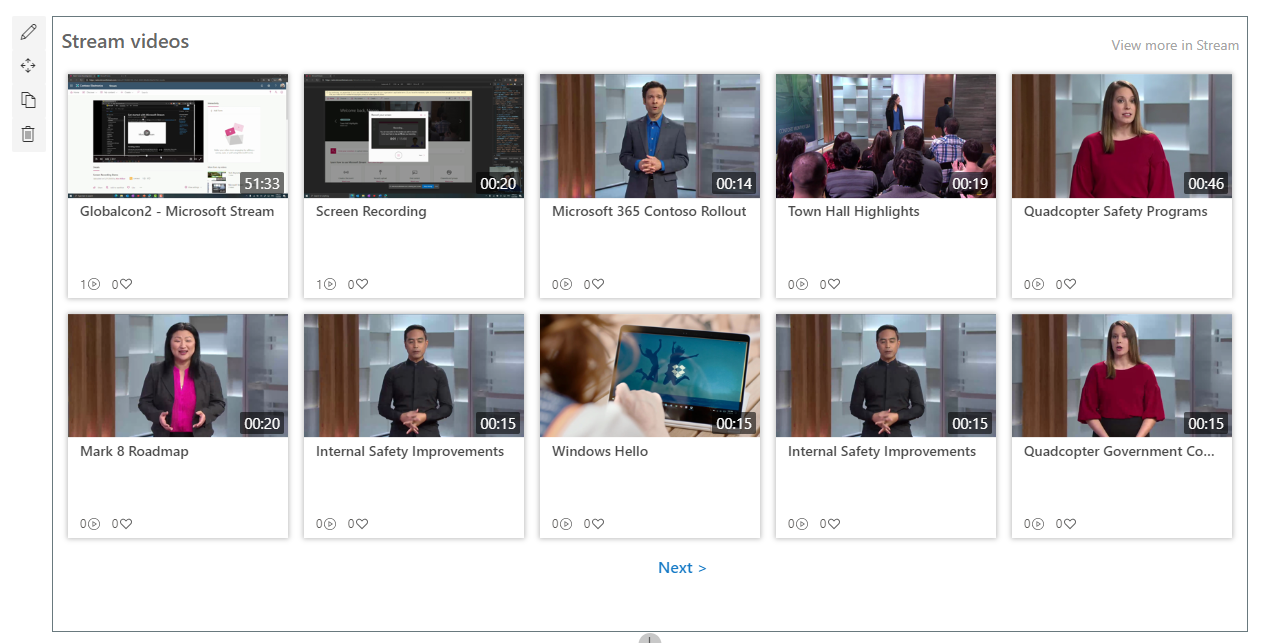 In the properties pane of the web part, you can also modify some settings to select which video(s) you want to show, and how to sort them.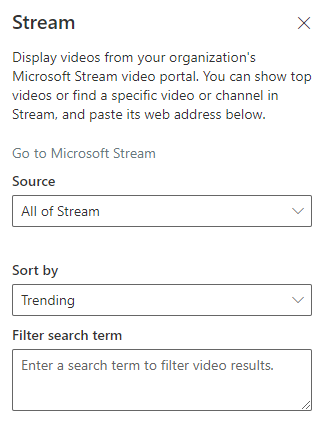 For example, you could select a single video by pasting in the URL to the video, and even selecting at which time the video should start playing: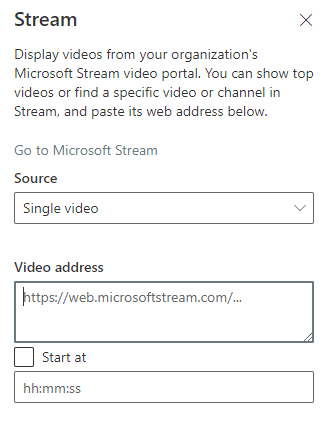 For an individual video, this is how it would look like: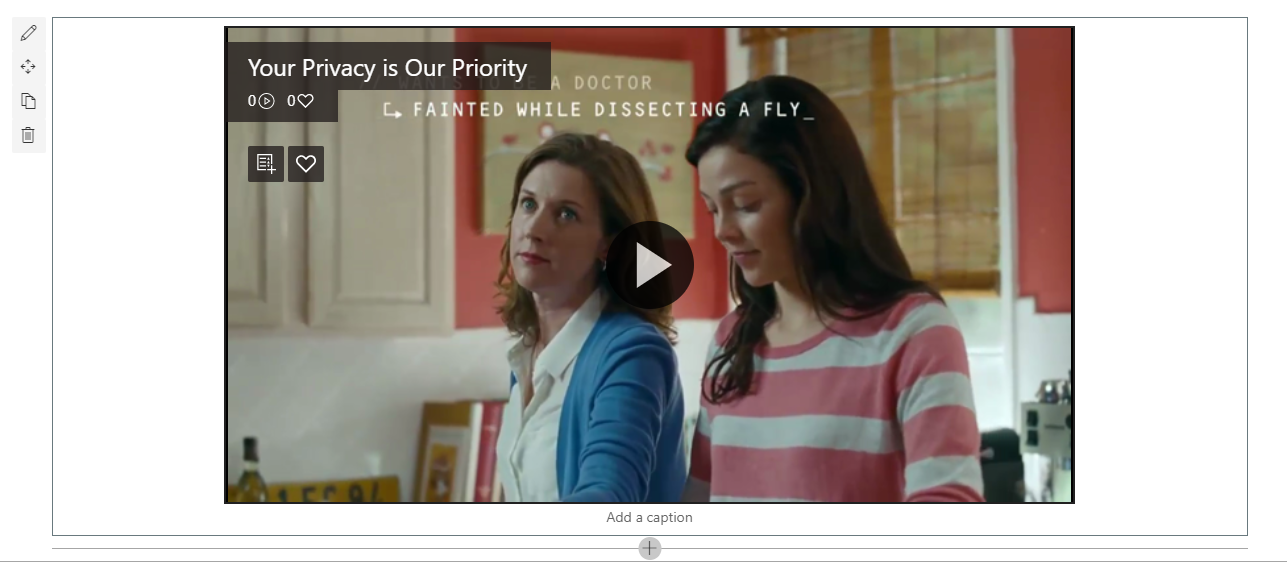 You can also choose to show videos from a selected Channel. Again, paste the URL to the Channel into the corresponding field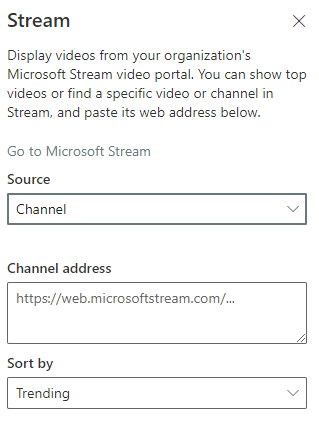 And the Channel will show up in the web part with all of its videos: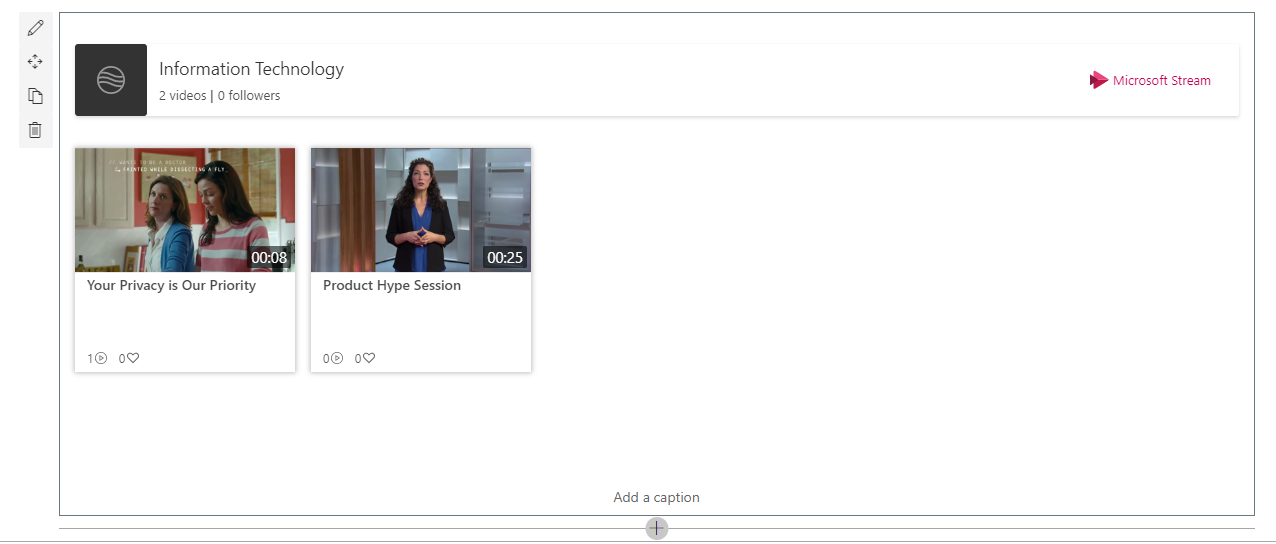 Teams
Within Microsoft Teams, you can add Tabs to a Channel (Teams) to show content from other locations. Among the available apps is Microsoft Stream: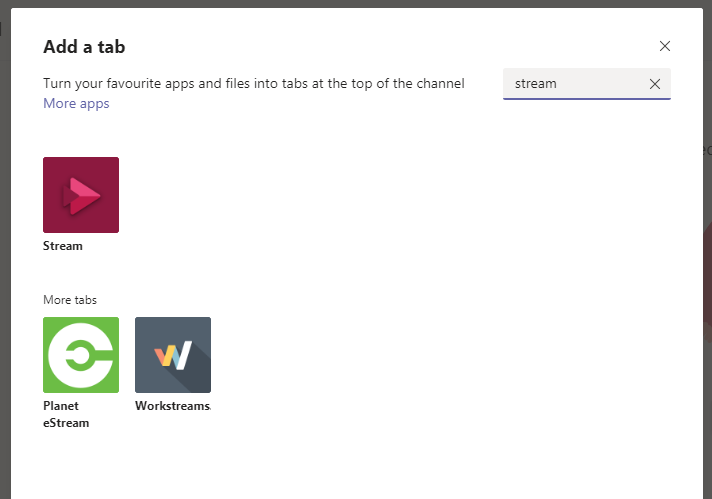 Once you've added Stream as a tab, you can choose to display a Channel (Stream) or a single video: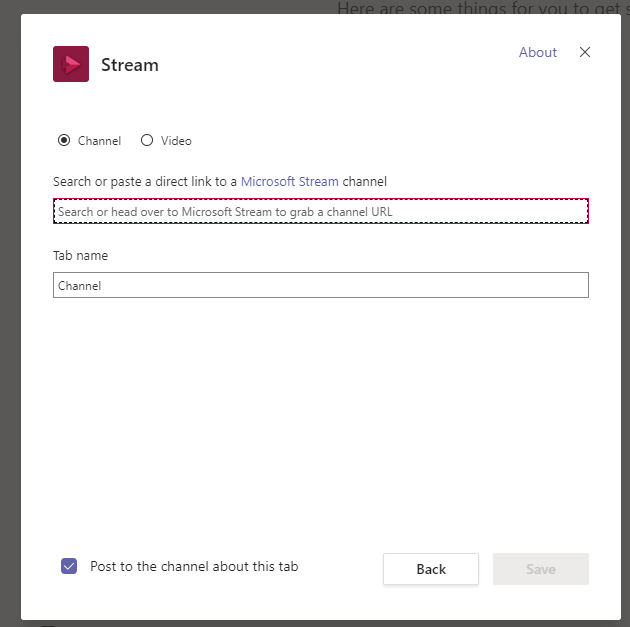 If you choose Channel (Stream), you can either paste the link to the Channel (Stream) in here, or you can search for the corresponding Channel (Stream):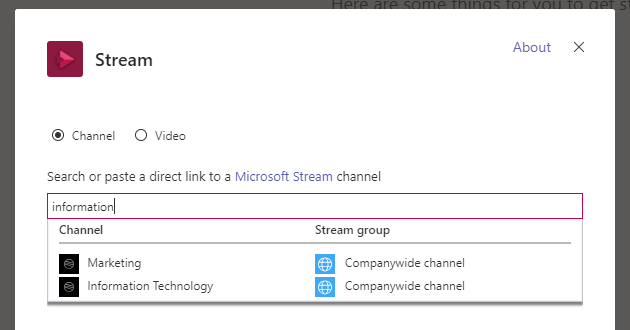 Here's how a Channel (Stream) looks like in Microsoft Teams: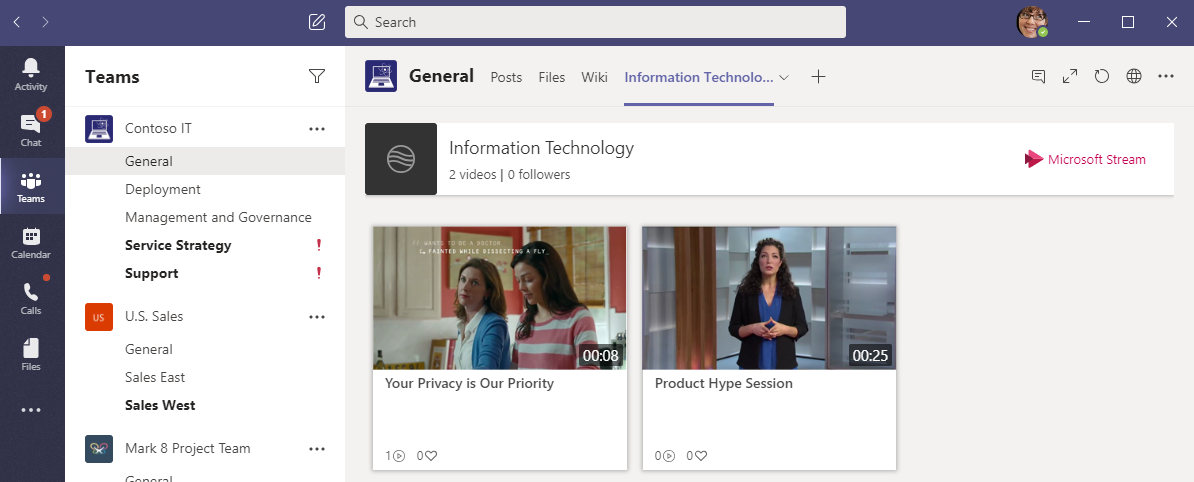 If you select Video, you can paste the video URL into the corresponding field, or search for the video: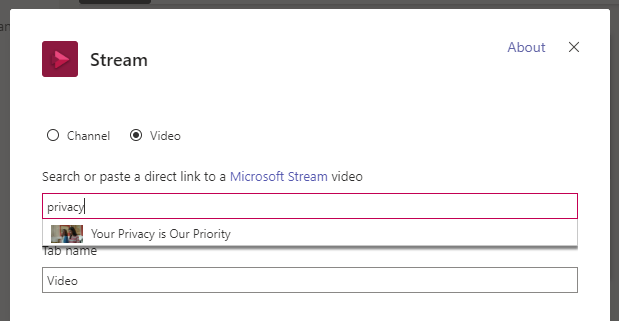 Individual videos are shown as follows: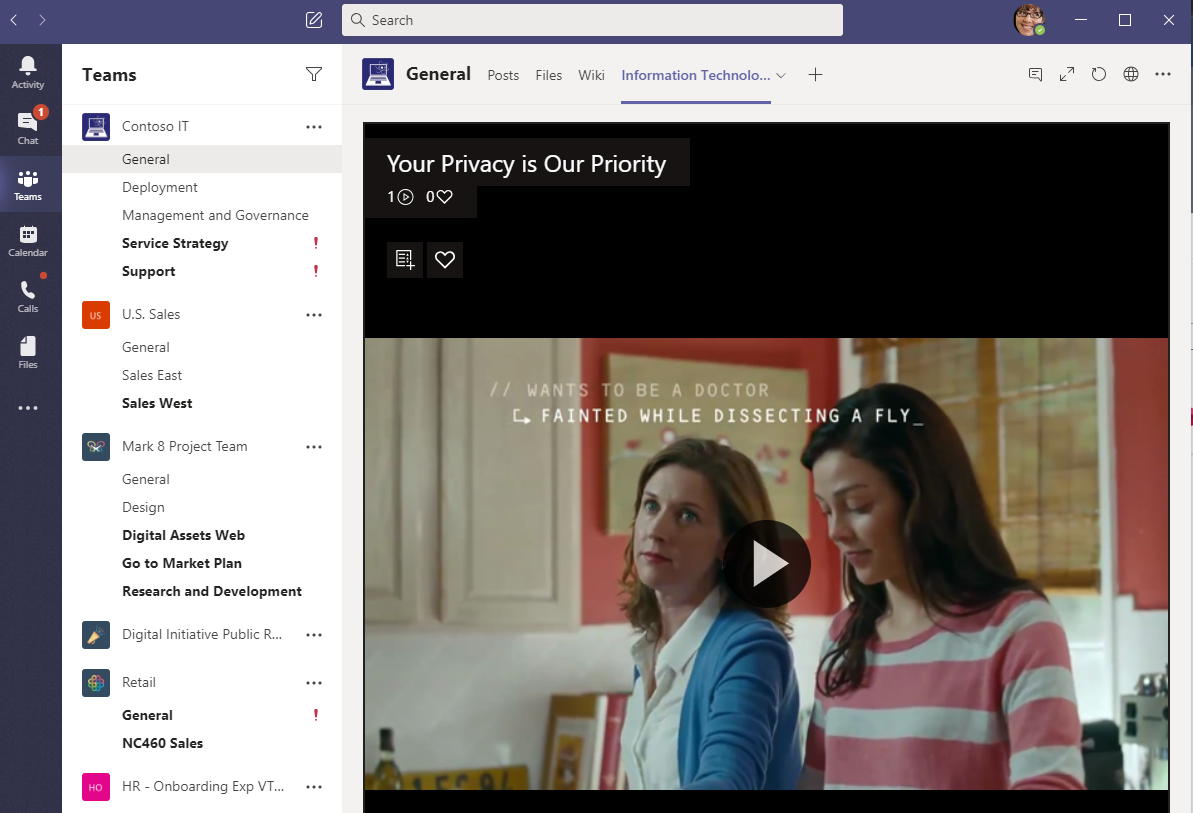 Power Apps
You can play videos from Stream within Power Apps. For example, you could do a short recording on how to use an app and show this video within the app directly in a "Help" screen!
Within a Power Apps canvas app, you can insert a Media control for Microsoft Stream: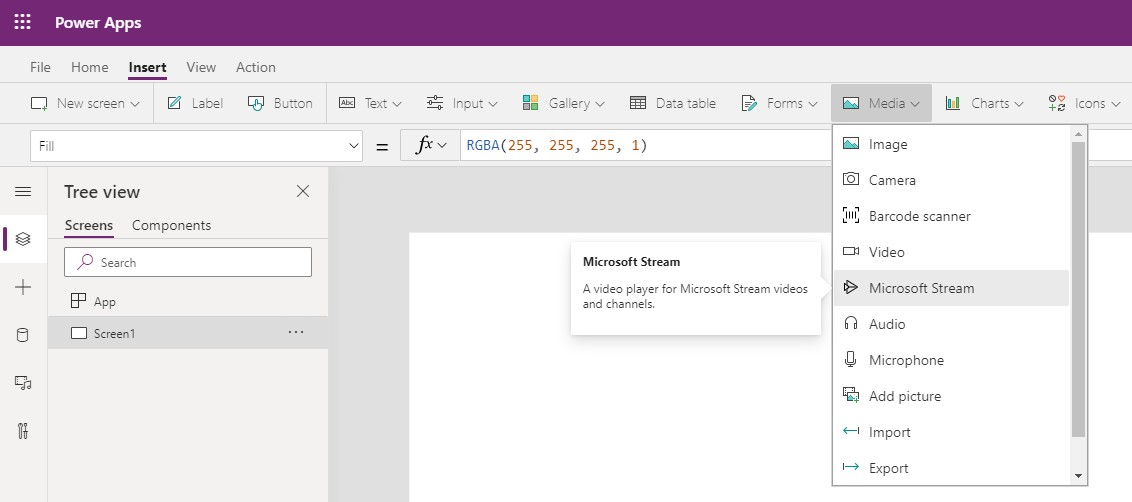 The control has a property called Stream URL, into which you can paste a Channel or individual video URL. The Autostart property can be set to define if videos should play automatically.

When you paste a Channel URL, the Channel and all videos in it will be shown: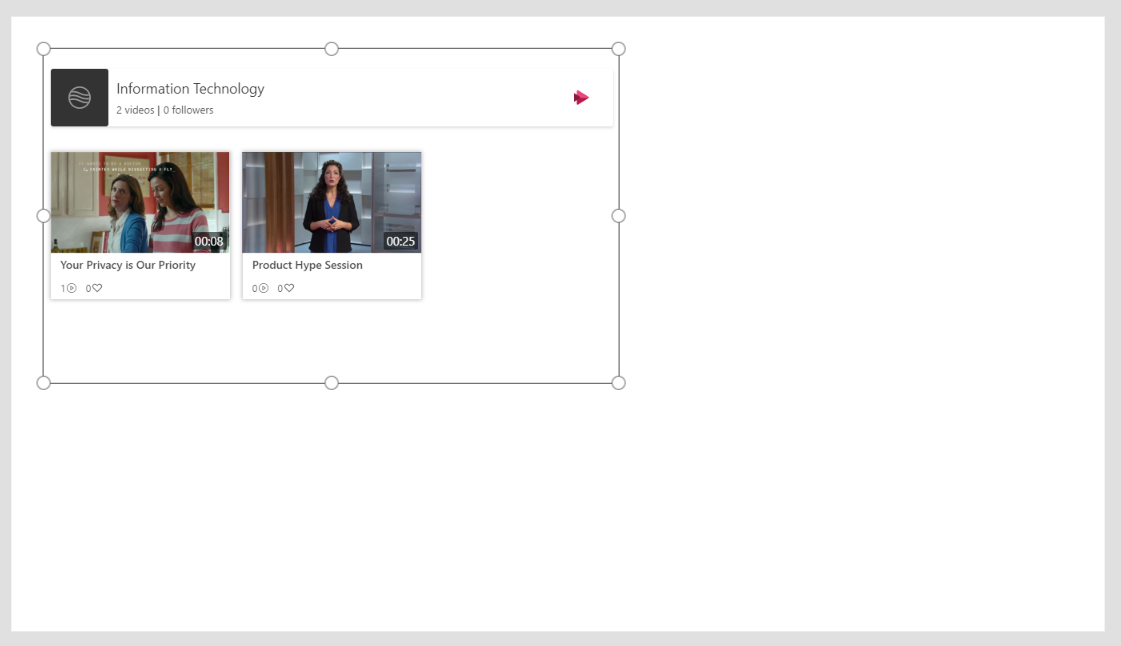 When you paste an individual video URL, the video is shown: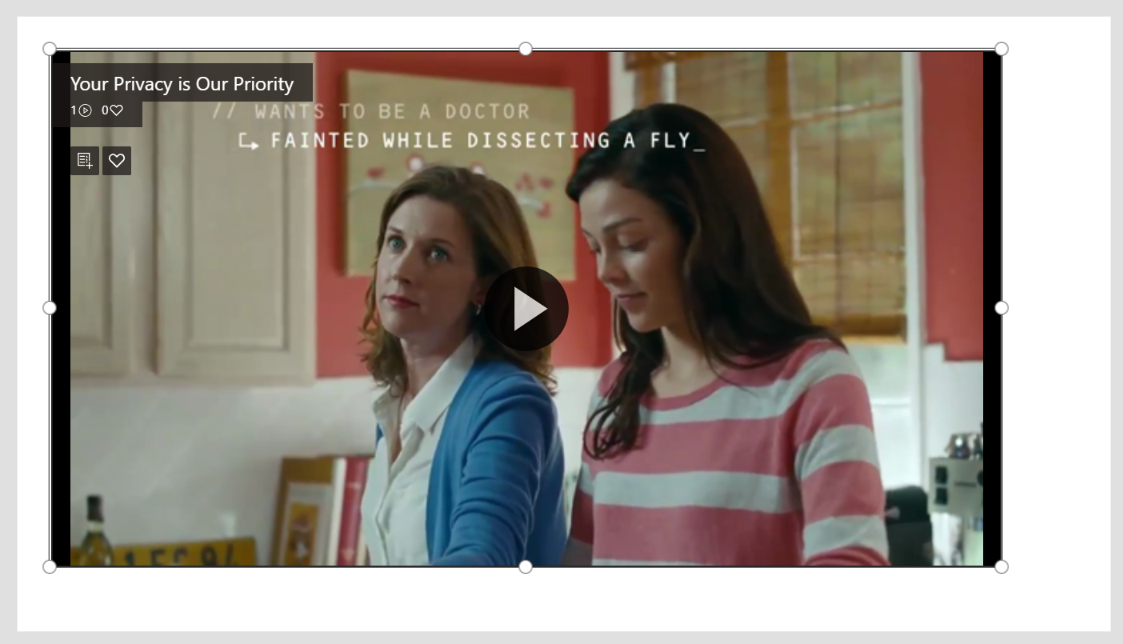 Microsoft Stream Quotas & Limits
We've seen various aspects of how Stream can be used – but it's also important to note that there are various quotas and limitations! Please note that these numbers can change, and you should refer to the official documentation (see Appendix A) for the most current details.
Tenant Limits
On a tenant level, there are a few limits that restrict how many videos can be added to Stream overall, how much storage is available for those videos, and how many Channels can be created.
Tenant Limits
Total Videos
500,000
Total Storage
500GB + 0.5GB / licensed user
Total Channels
20,000
Maximum concurrent live events (in pre-live or live)
15
It's important to note that the storage is based on the number of licensed users – the more users you have, the more storage becomes available.
Channel Limits
Within a Channel, there is also a limit to how many videos can be added to it.
Channel Limits
Videos per channel
10,000
However, generally, it should be noted that it is recommended to not put too many videos into a single Channel, but rather create additional Channels to provide further separation and purpose. A "catch-all General" channel is not as effective as dedicated Channels for specific teams, projects, products, etc.
File Size Limits
The file size limit for individual videos that you can upload to Stream is relatively high with 50GB and should not pose a problem in most cases.
File Size Limits
Max Video File
50 GB
Max Thumbnail size per file
4 MB
Max Text Track / Subtitle size
2 MB
User Limits
One important thing to note is that there are also limits for users:
User Limits
Uploaded videos per user
5,000
Channels created per user
1,000
Total Comments
50,000
While most users will not hit these limits, there may be scenarios where you want to use a single account to upload a large number of existing videos and could potentially hit this limit.
Administrating Stream
In this section, we will look at the general admin settings available for Microsoft Stream. To access them, as an existing Stream admin, click on the Gear icon in the top-right while in the Stream portal and select Admin settings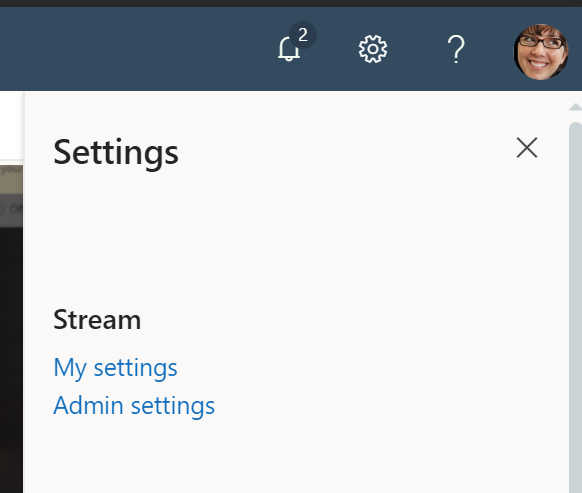 From here, one thing you can do is assign additional Stream admins. For example, you could assign people from the Communications department who would then be allowed to manage Stream admin settings as well as manage videos on behalf of users.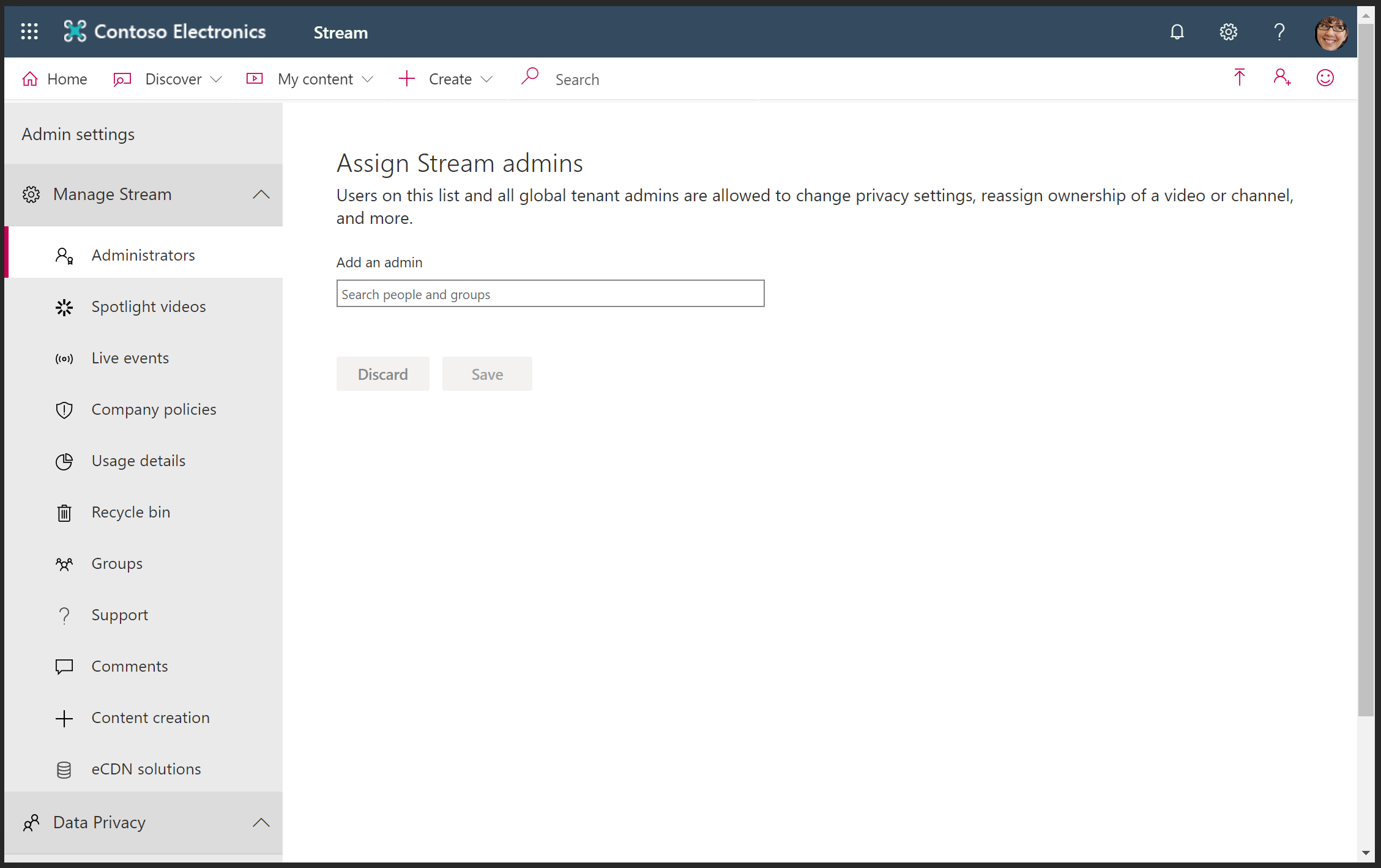 If you are an admin, you can switch to Admin mode in the Stream portal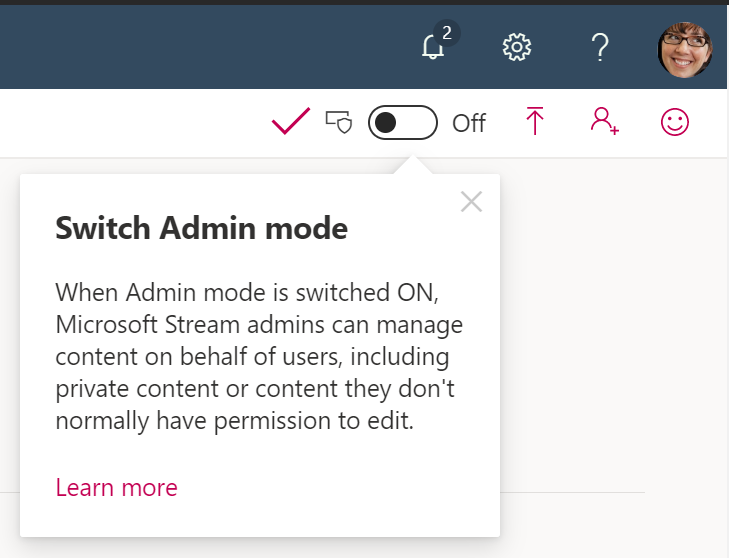 Doing so allows you to manage existing videos on behalf of other users – for example when the owner of a video is no longer around or currently not available, but changes need to be done such as changing title/description or managing channels/groups.
As a normal user, you can for example only see the following settings for someone else's video: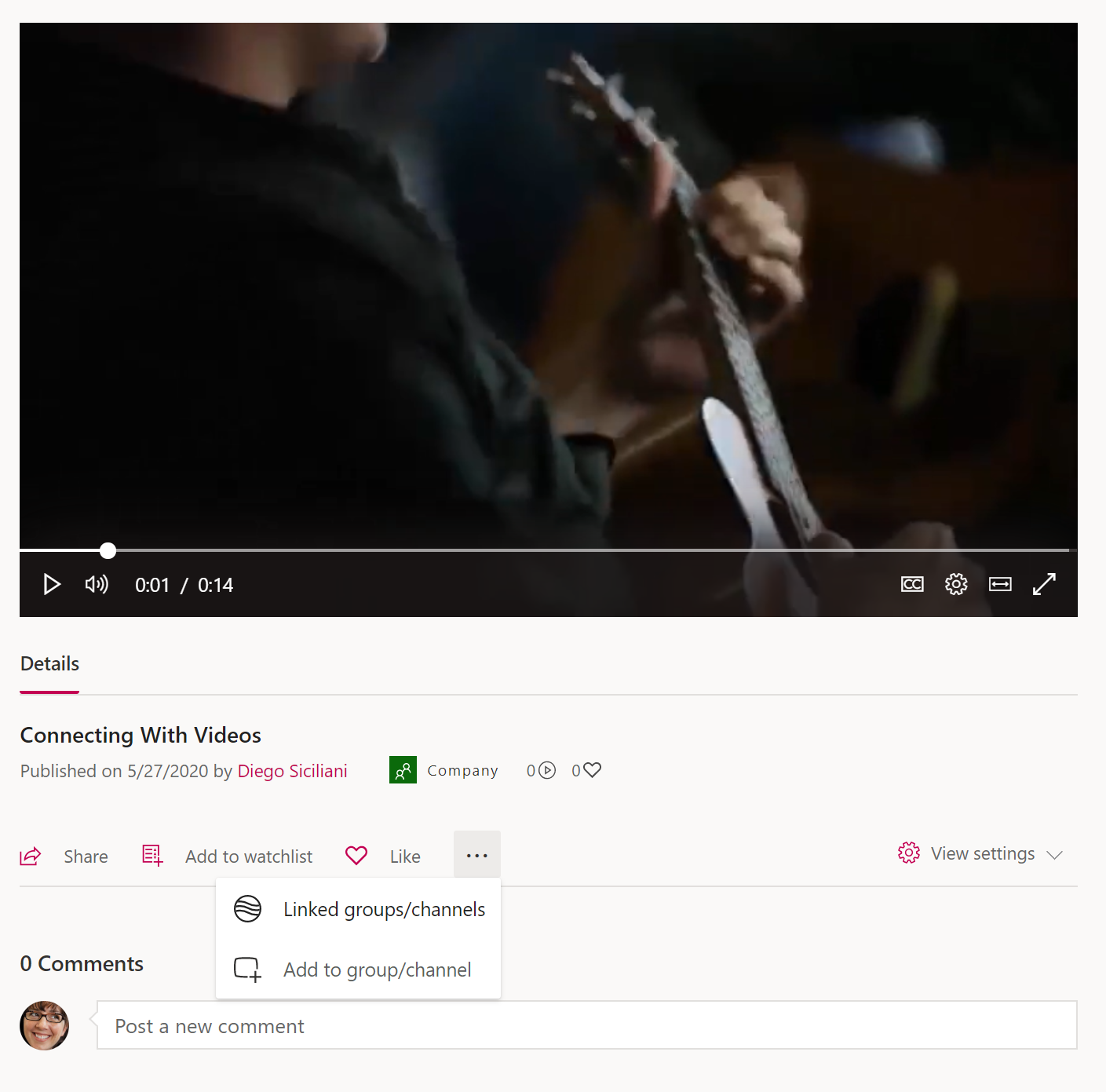 However, with admin mode set to on, additional options become available: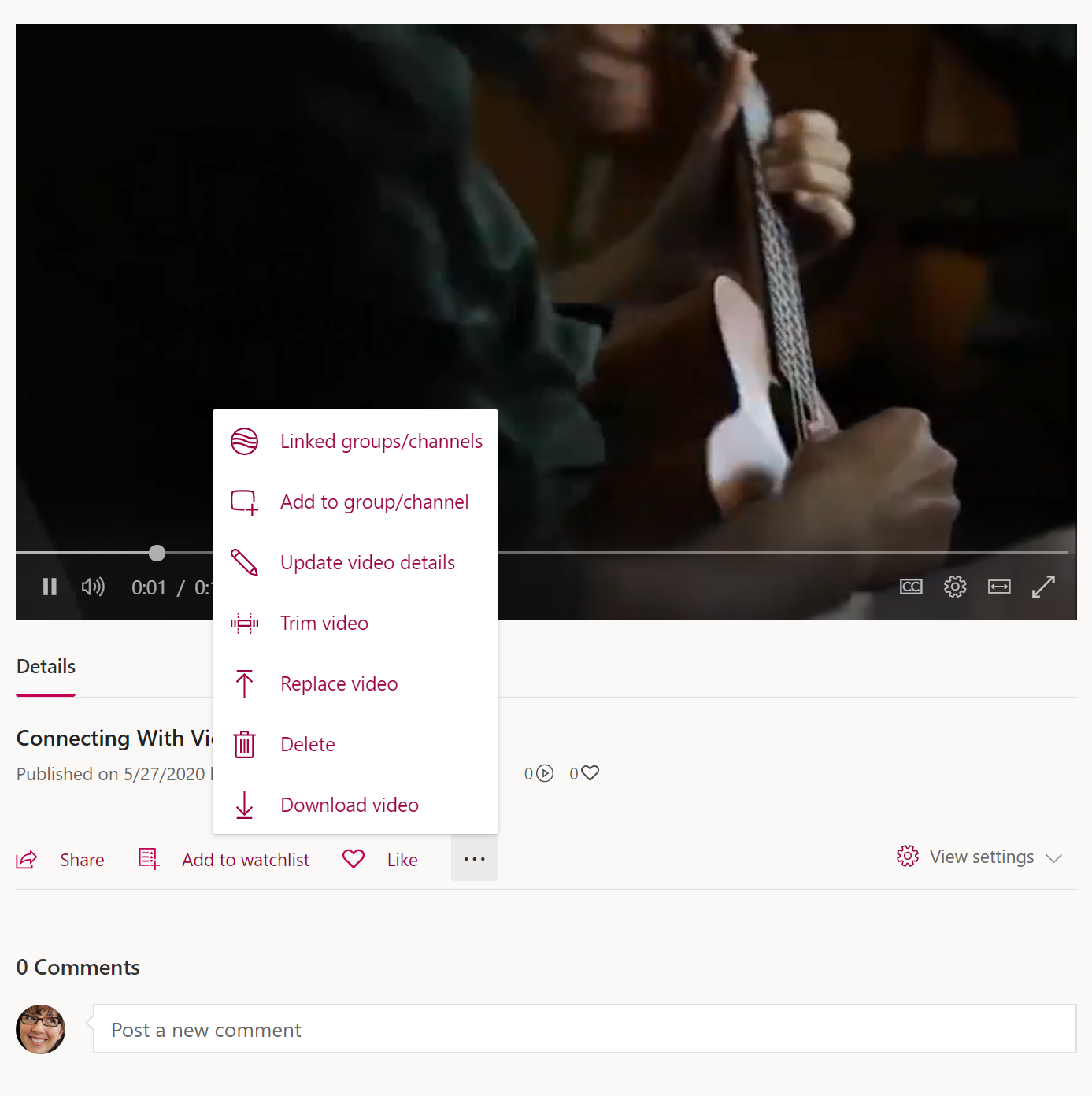 In the Spotlight videos section in the admin portal, you can select videos to be shown as "Spotlight" on the Stream homepage: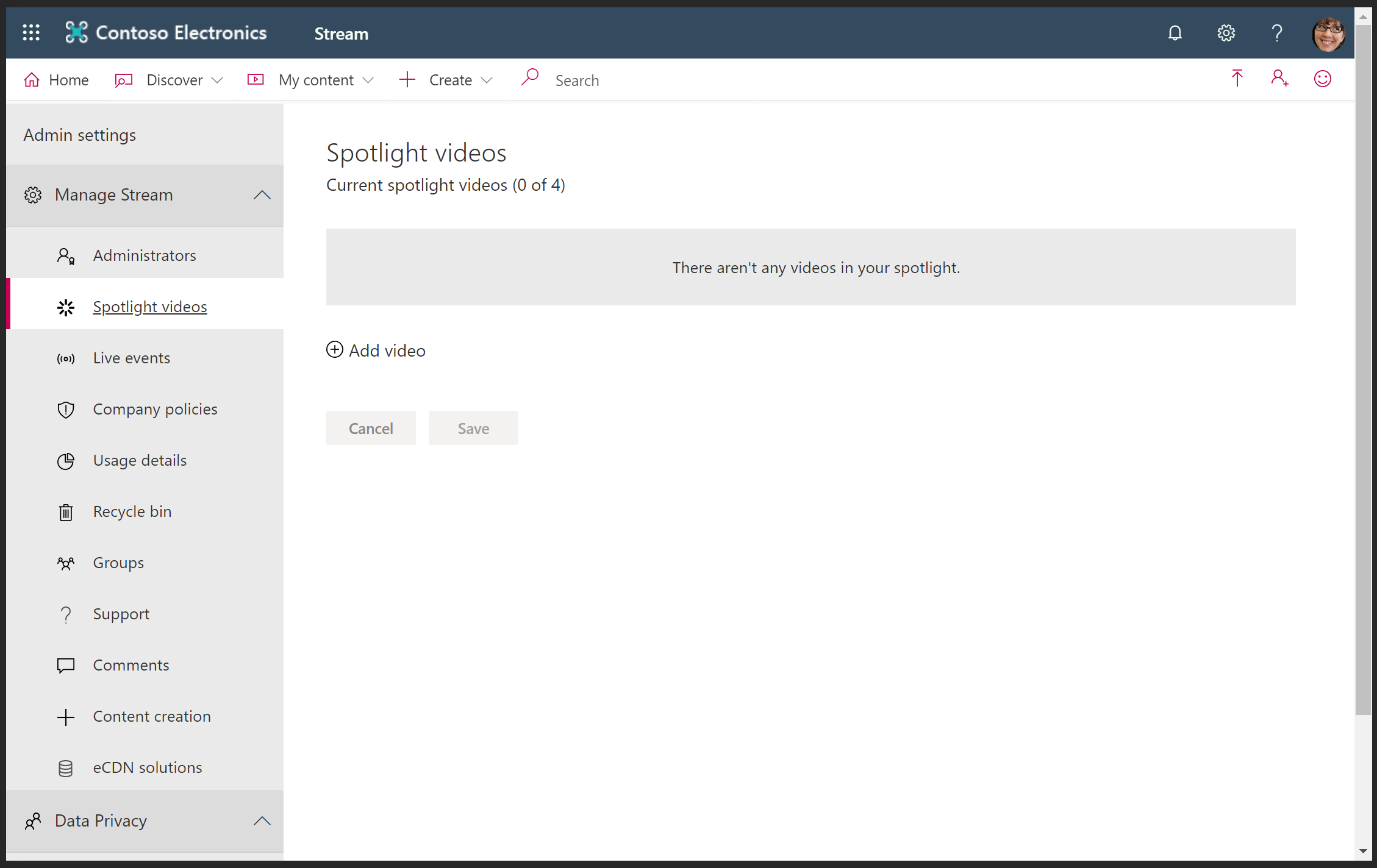 You can use the search box to find a video, and overall up to 4 videos can be set as "spotlight videos".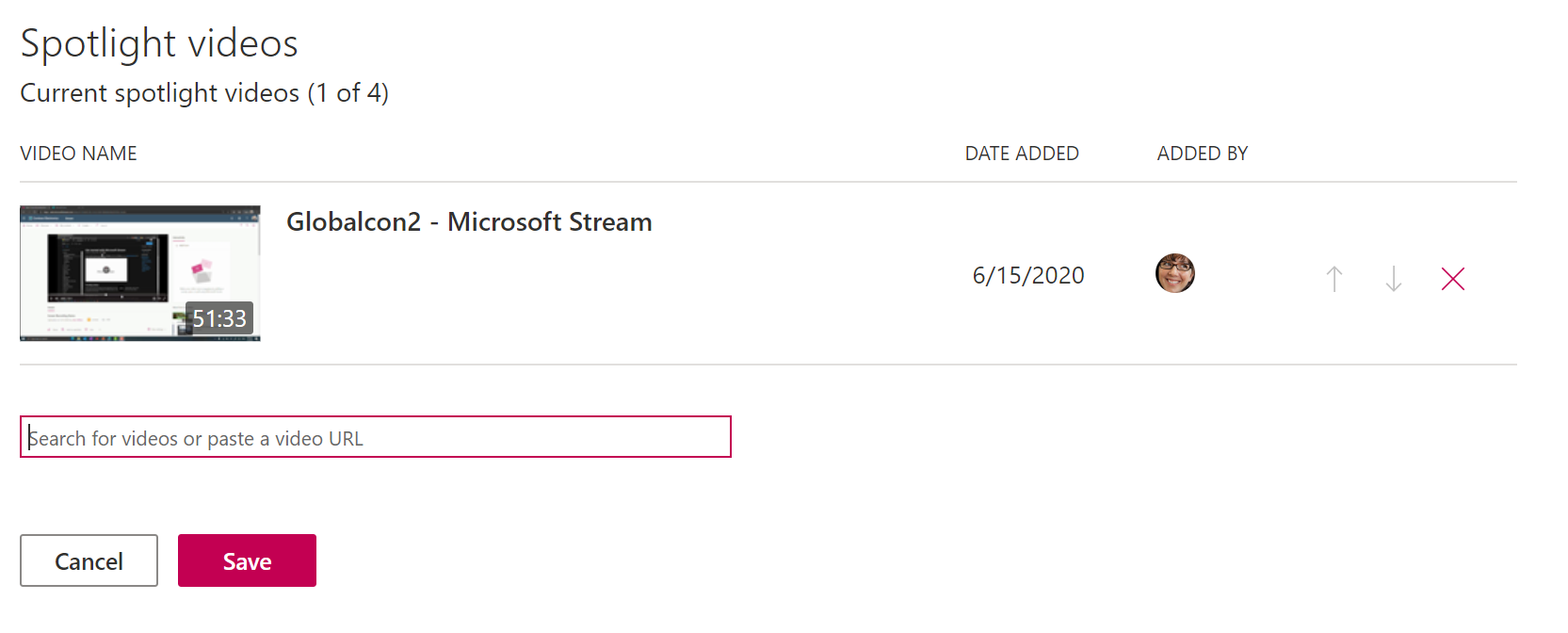 Spotlight videos show up in the banner on top of the Stream homepage: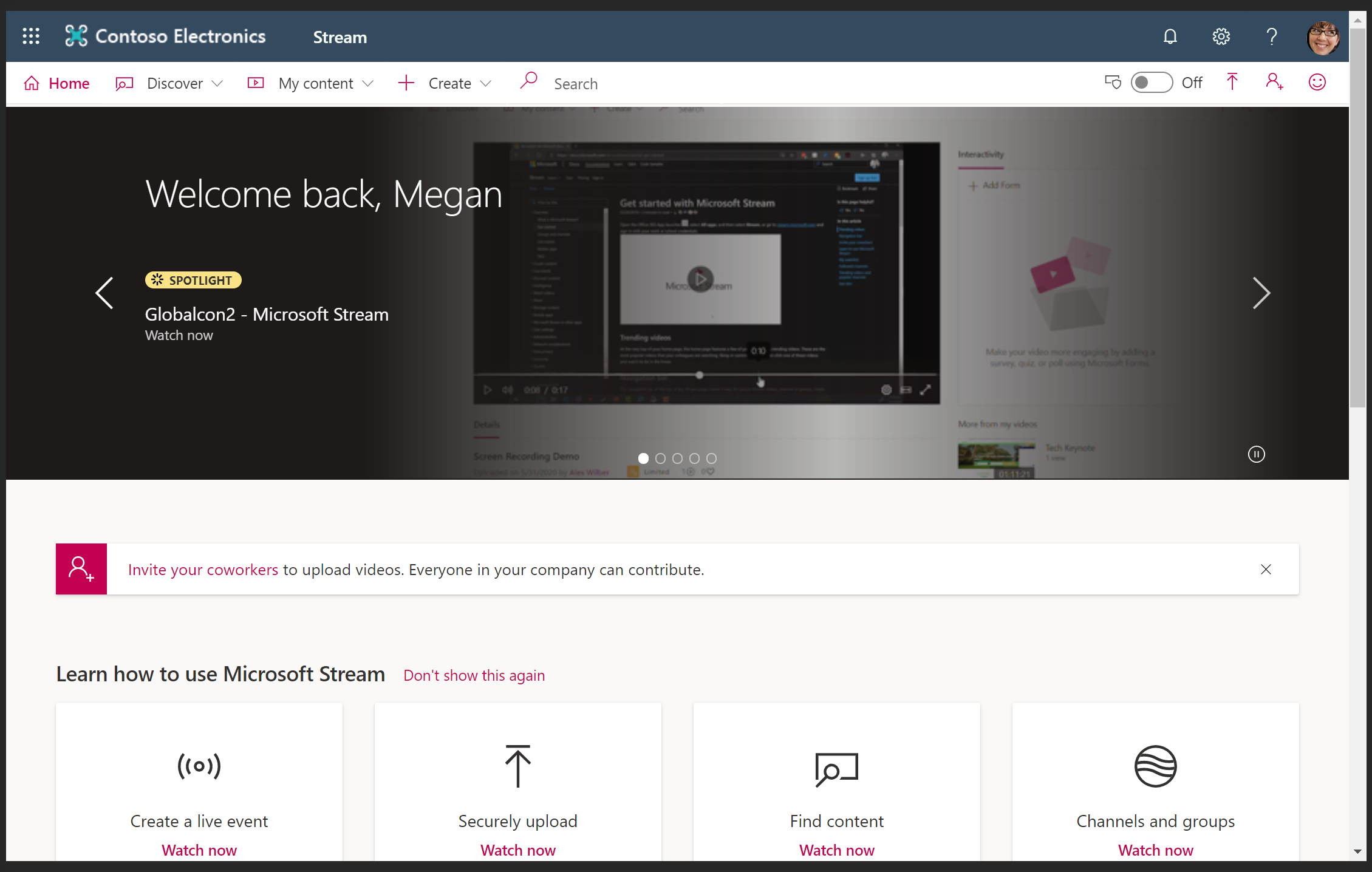 The Company policies section allows you to link to a company policy – for example, when you define what kind of videos aren't allowed in Stream. You can also define that users need to accept the policy before they are allowed to upload a video.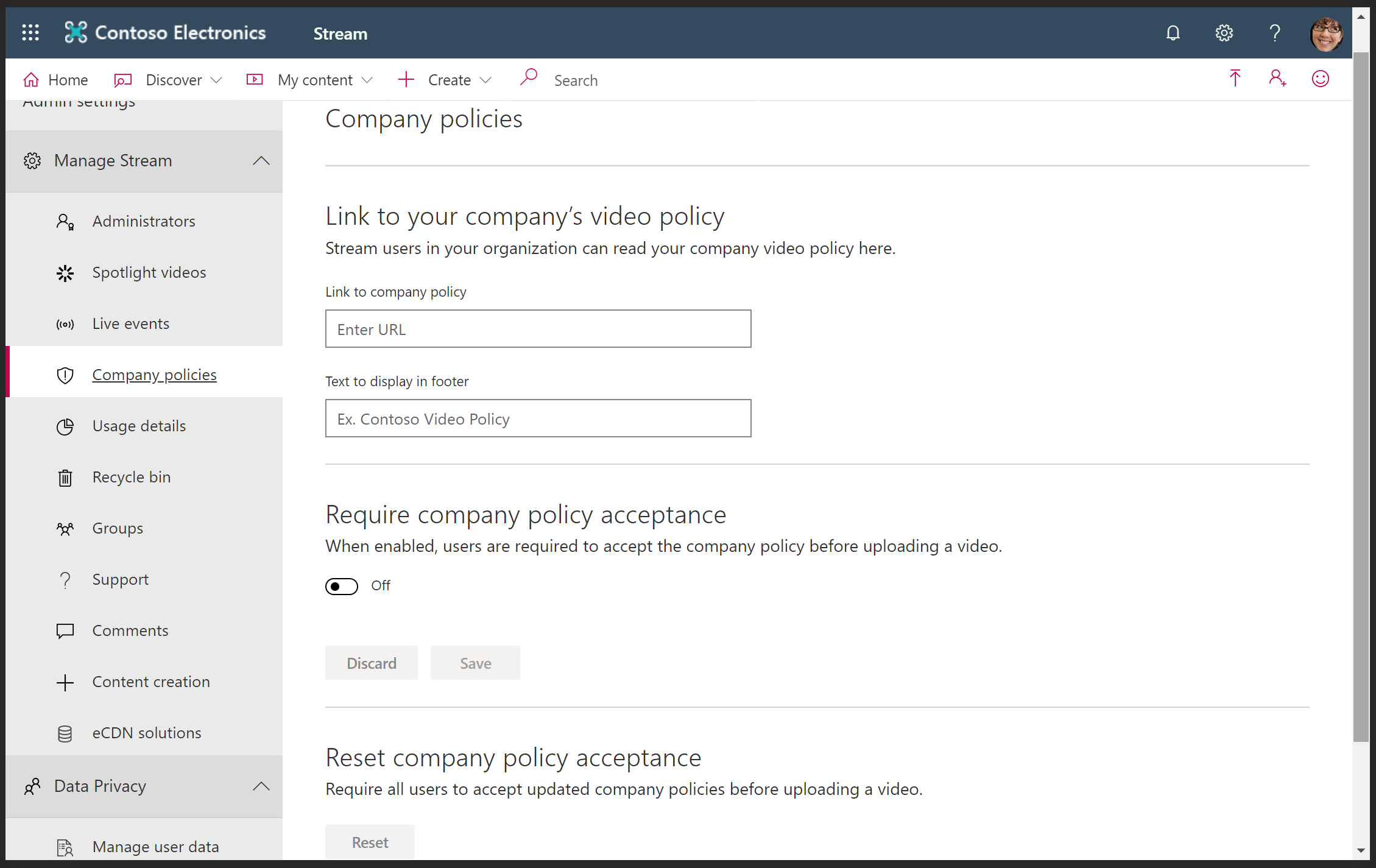 Under Usage details, you can see the current usage data. That is, the total storage size available for Stream as well as how much of it has been used up already. You can also access the Stream recycle bin from here.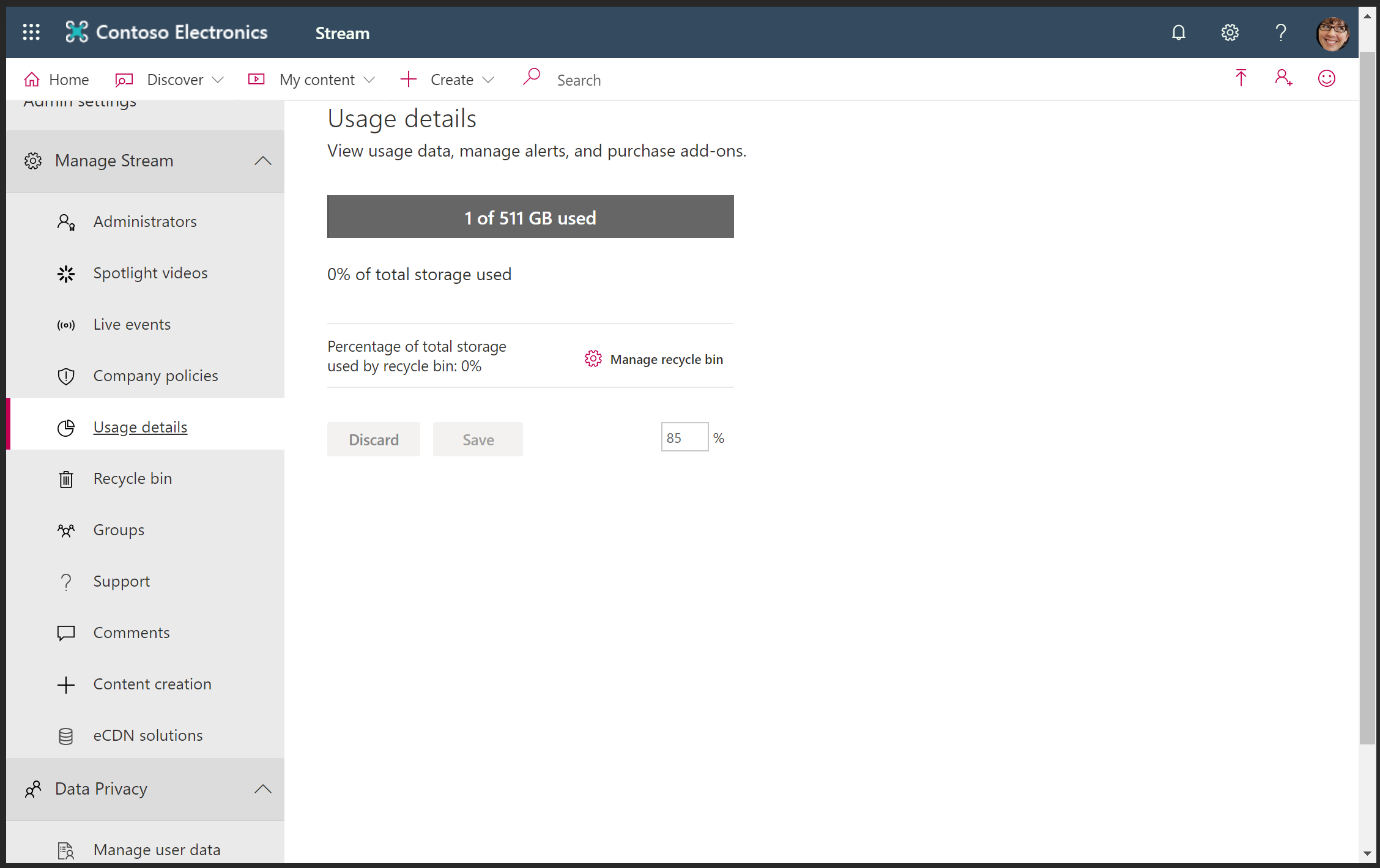 Inside the Stream recycle bin, you can restore or fully delete any recently deleted videos. If no action is taken within 30 days of deletion by a user, they'll be removed automatically.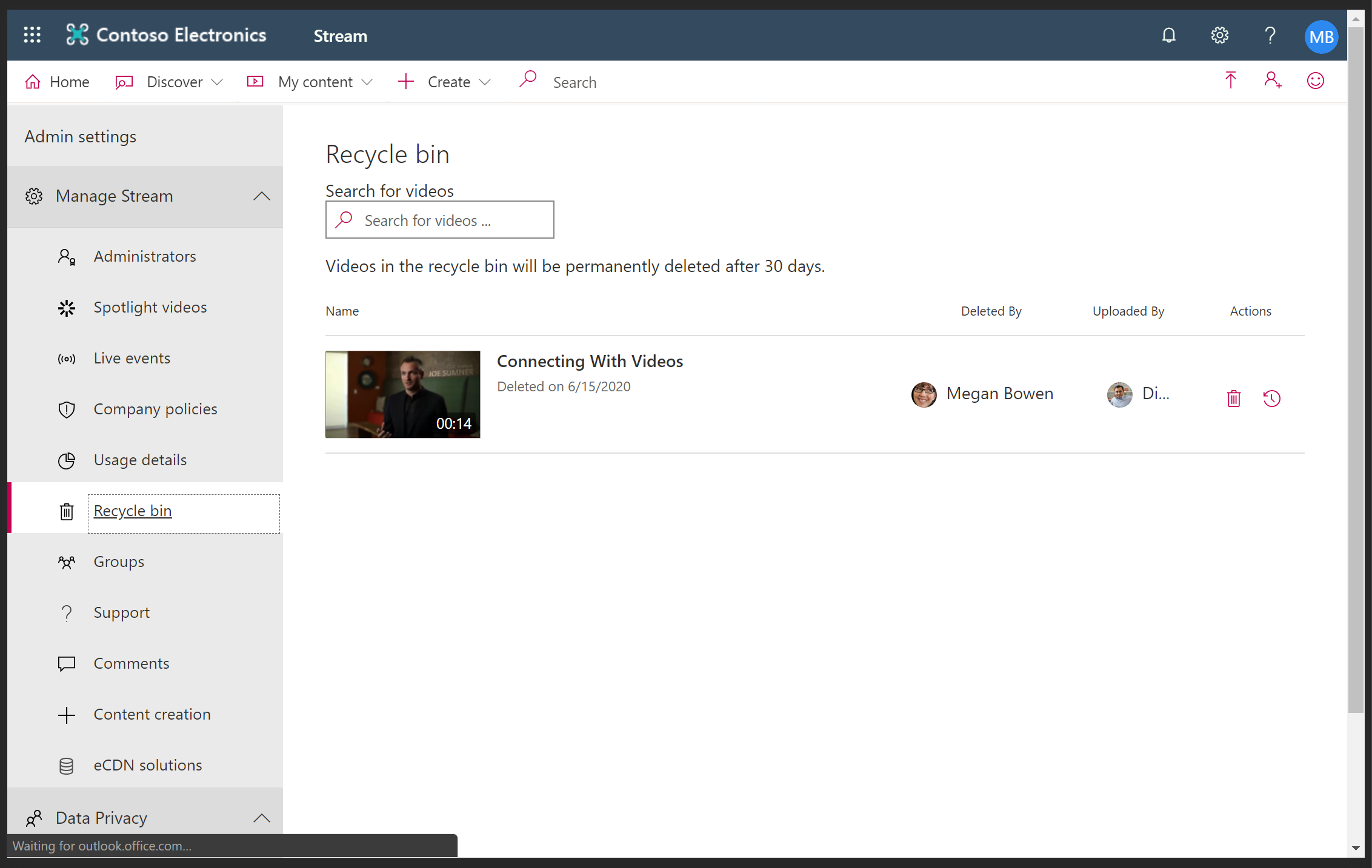 The Groups section simple provides you with shortcuts to the other admin portals where you can manage the Microsoft 365 Groups.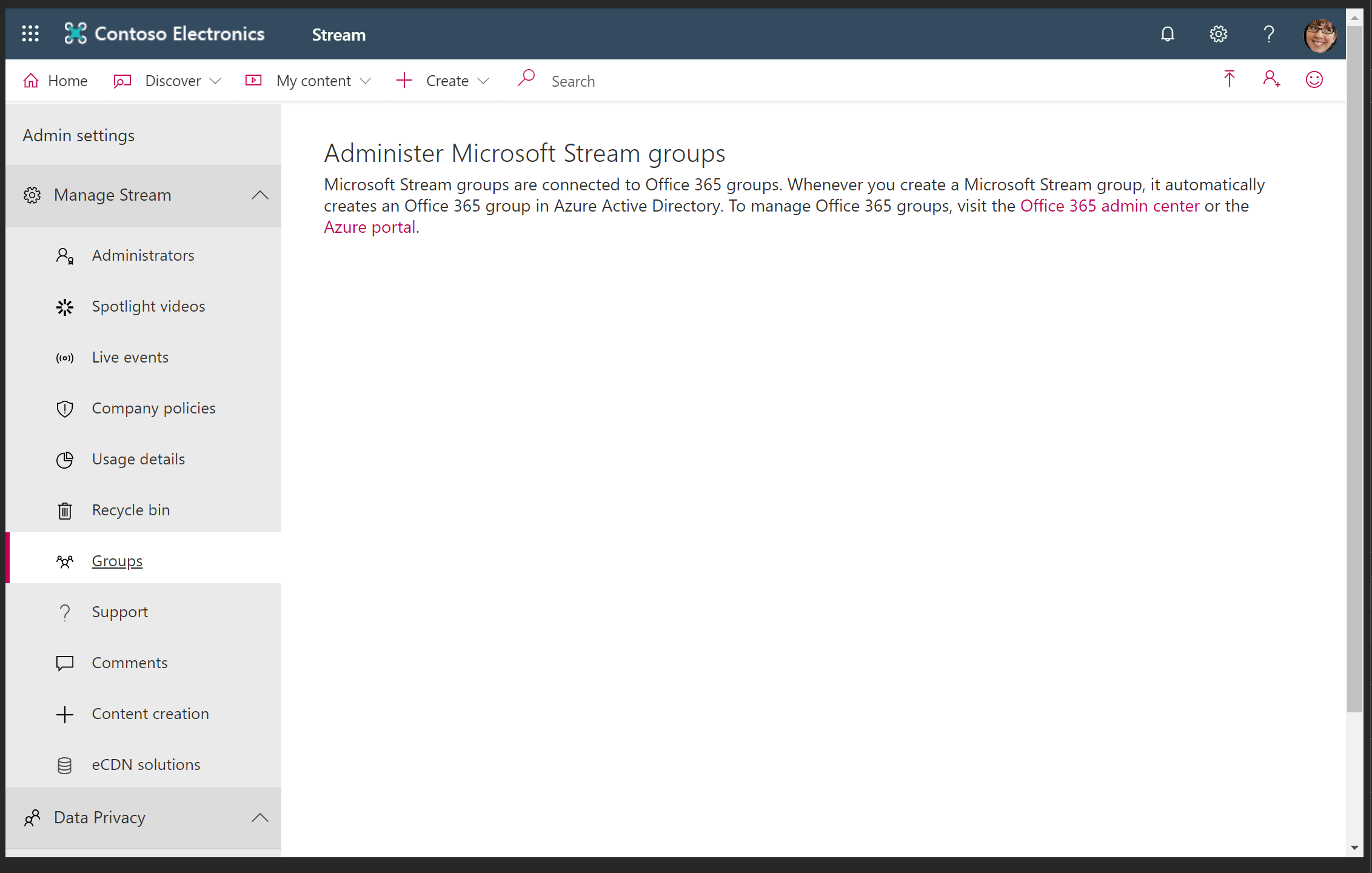 Under Contact support, you can open support tickets with Microsoft related to Microsoft Stream.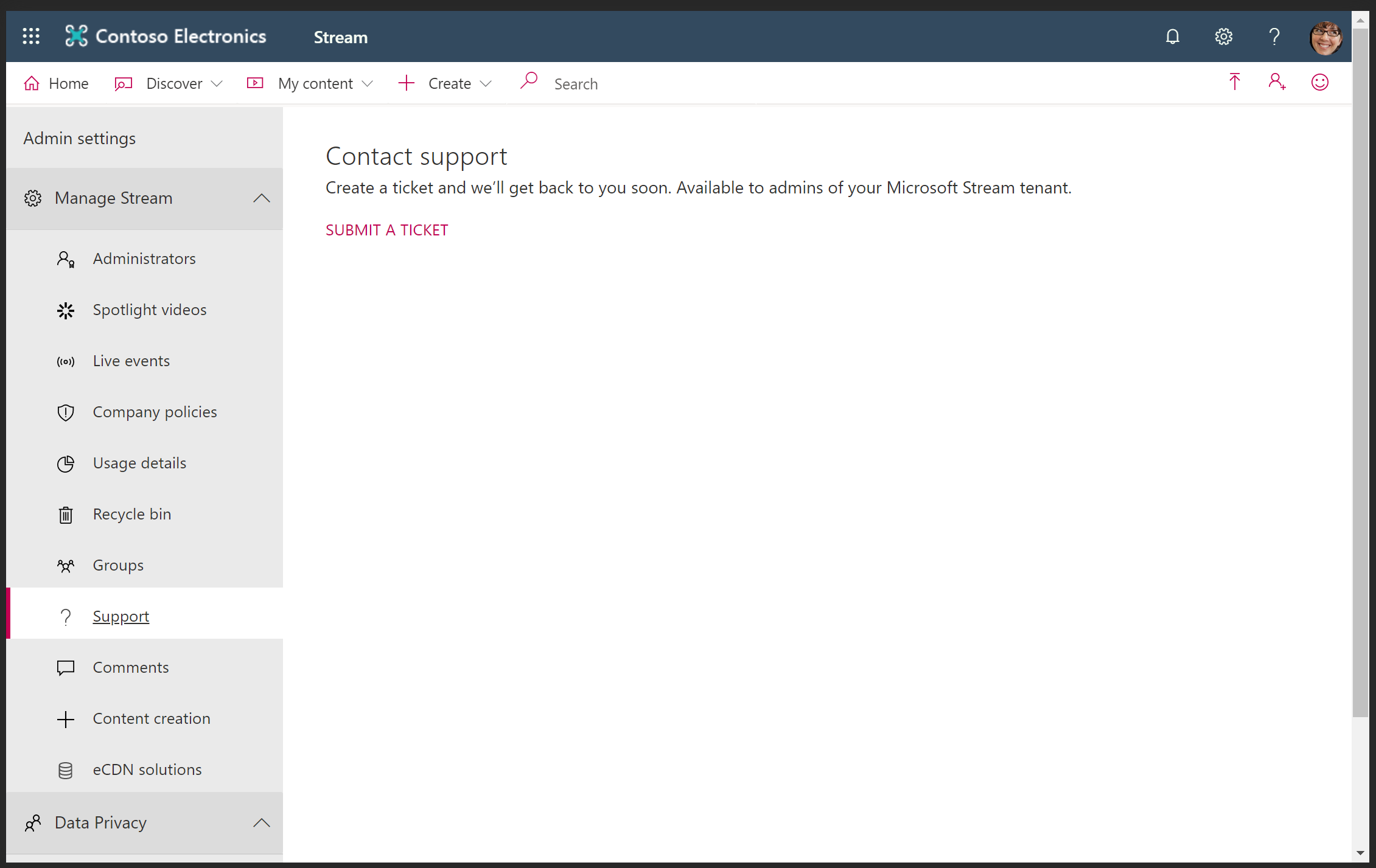 Next up is the Comments section, where you can control if comments are allowed on videos generally. When they are allowed, it is still up to video owners to define if they allow comments on their videos. Please note that these are the only two options available, it is not possible to allow/disable comments for a Channel, for example.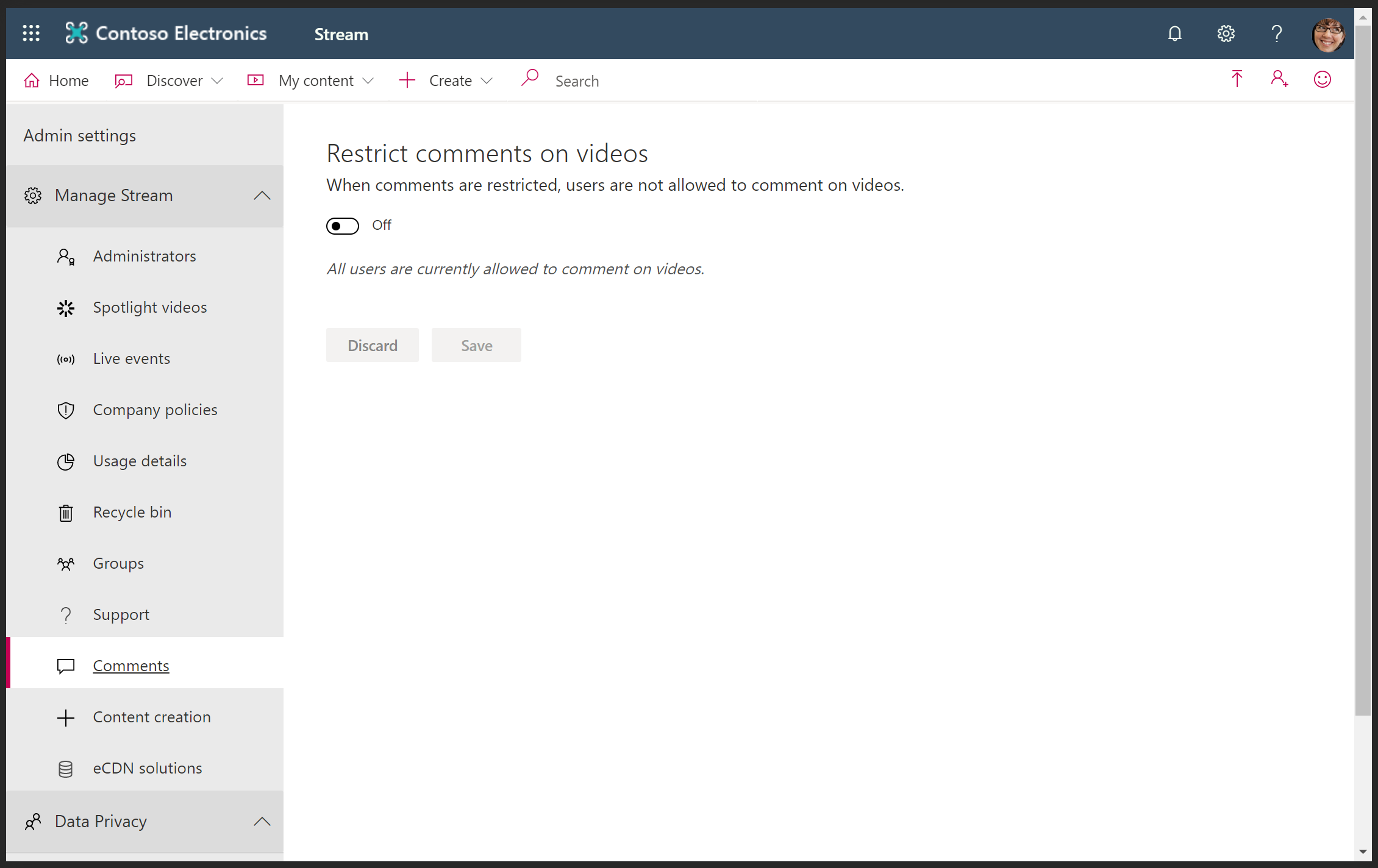 Under Content creation, you can restrict who can upload videos. If no restrictions are in place, everyone with an account can upload.
Furthermore, you can also control who can create Channels. If you have a team responsible for planning your Channel structure, it may be useful to enable this setting and only allow selected people to create Channels. Lastly, you can set the default permission for newly uploaded videos – either everyone in the company can see them, or specific groups and people.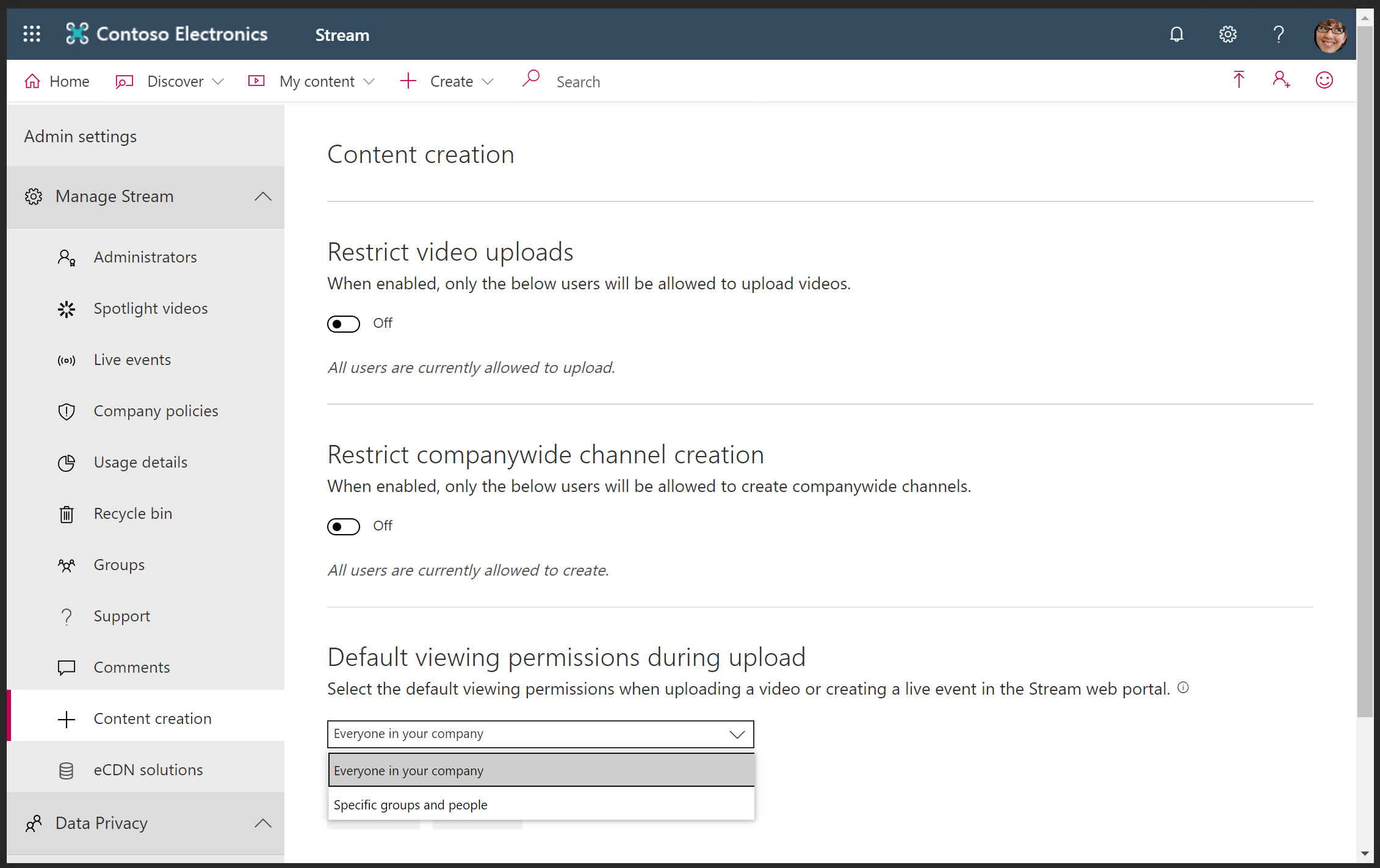 The last section we will cover is Data privacy. In this section, you can extract further information for selected users.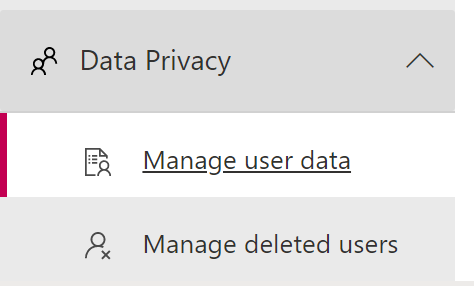 In the Manage user data subsection, you can create data reports for individual people.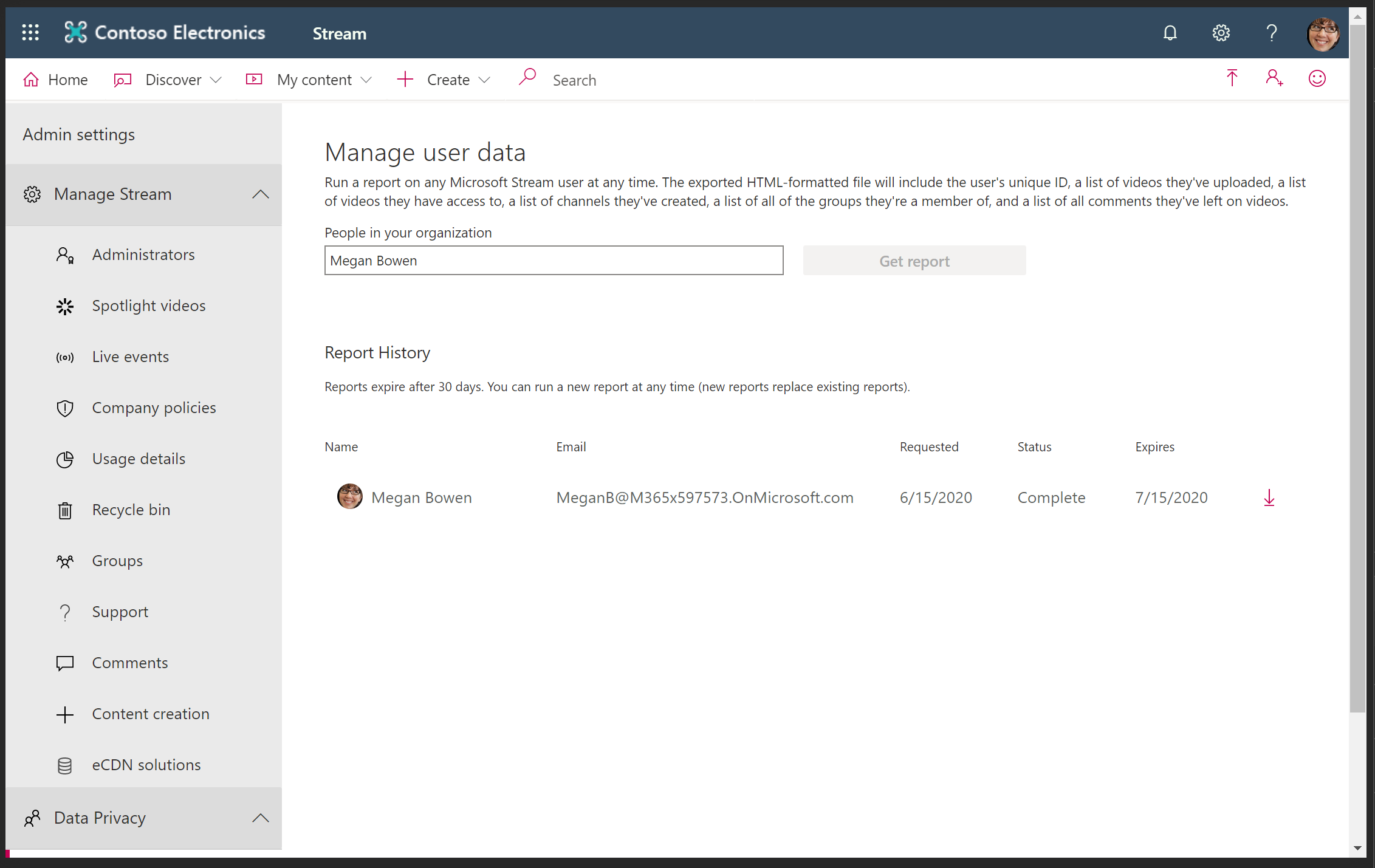 A data report includes a range of information, including
details of the selected user
Videos and Channels that were created by that person
Groups they have been assigned to
And more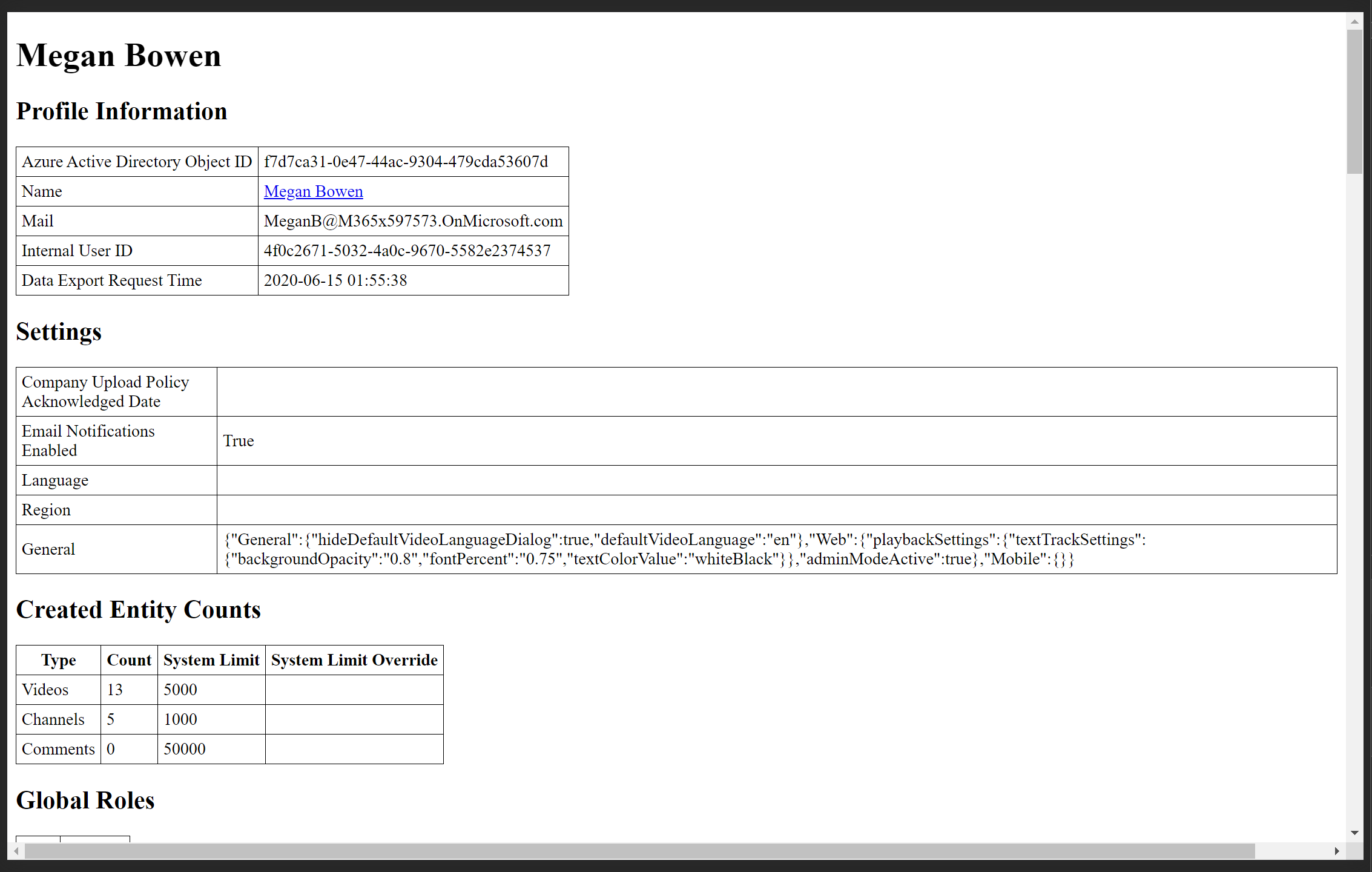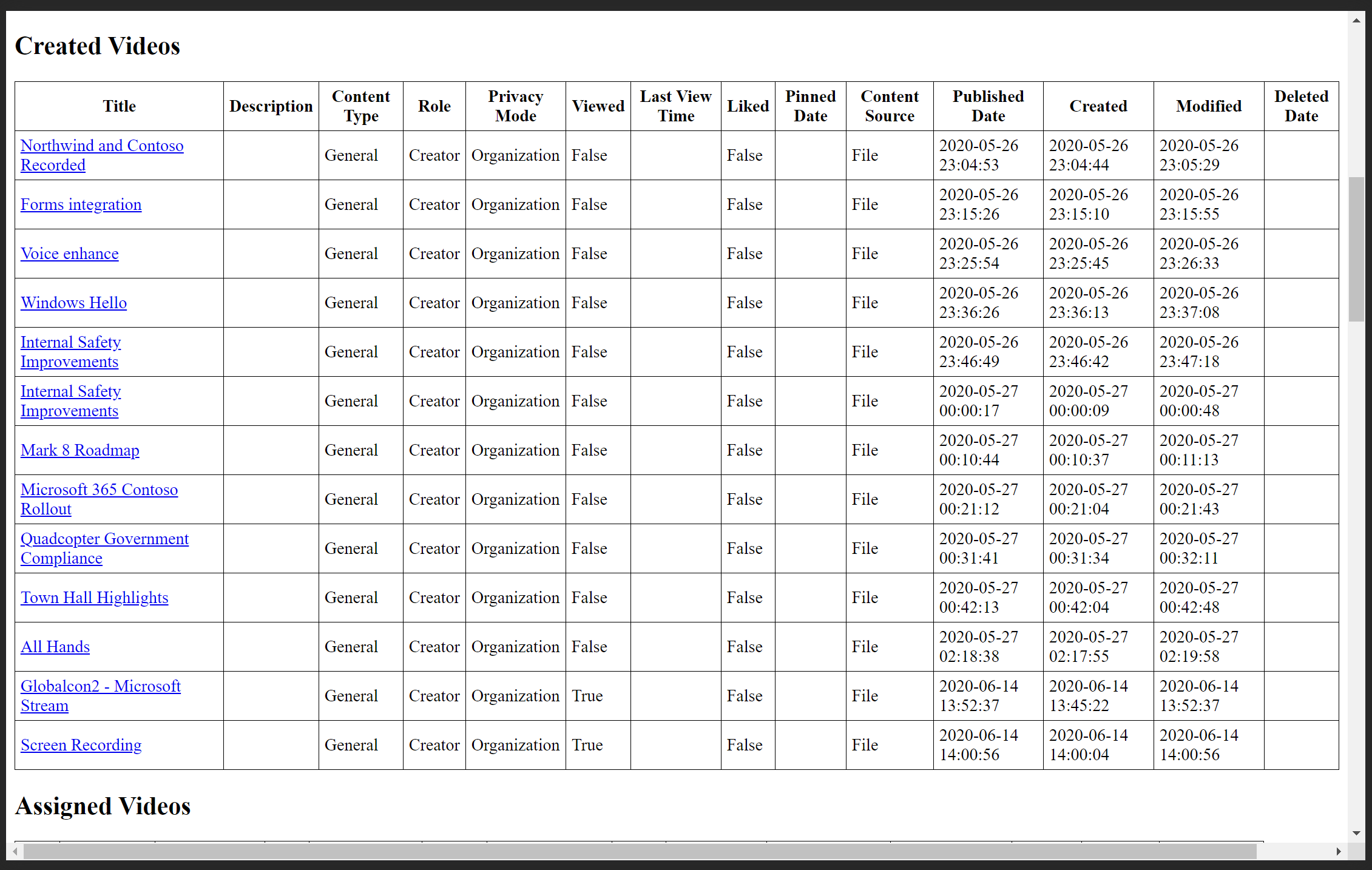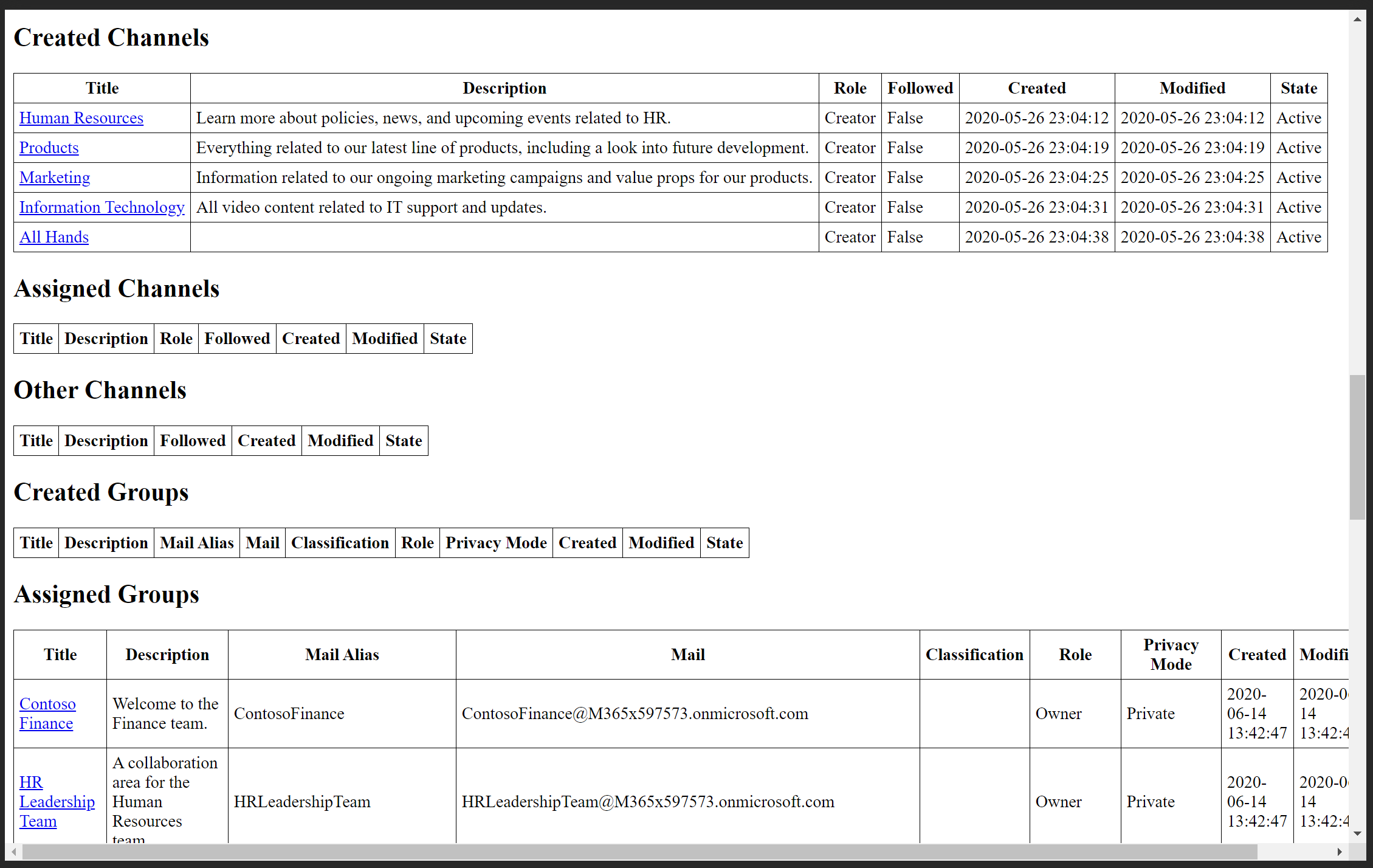 This can be useful if you want to provide a report on an individual user, e.g. to show how many videos this person has uploaded. However, please note that you can't create a report for multiple people – if you need reports for a larger number of people, you would have to create individual reports one by one.
Appendix A: Resources
In this appendix, you will find additional resources with further, detailed information. We recommend that you have a look at them if you're interested in learning more about specific aspects of Microsoft Stream.
The first, highly-recommend resource is the official documentation for Stream which can be found here: https://docs.microsoft.com/en-us/stream/
You can find detailed explanations of everything that has been covered in this ebook and more.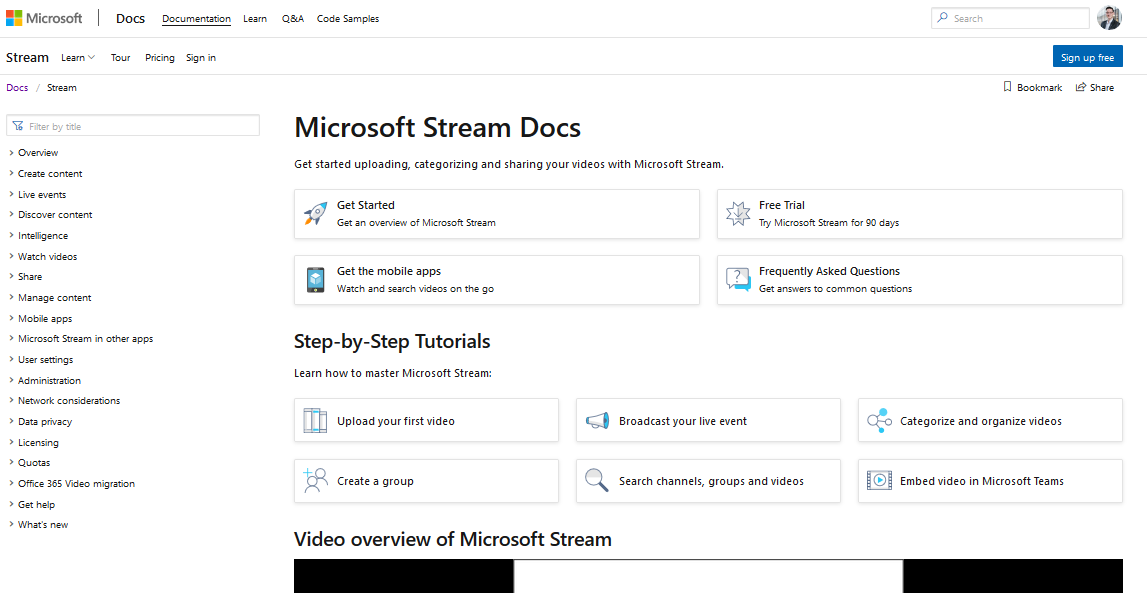 Visit the following page for current details on quotas & limitations: https://docs.microsoft.com/en-us/stream/quotas-and-limitations
What's new in Microsoft Stream: https://docs.microsoft.com/en-us/stream/whats-new-web
Transform communication and learning with intelligent video https://www.youtube.com/watch?v=srgzzoyifpM