Microsoft Teams has enabled new ways of working to take place and with the current pandemic, it has enabled many organisations to be able to carry on working in ways that they simply could not have done ten to fifteen years ago. People can quickly and easily have online meetings and chat, both internal to their organisation and outside too. This ebook is not about what you can do but what you should do. How you can help be more effective in your organisations and stop those wasted
Microsoft Teams has enabled new ways of working to take place, and with the current pandemic, it has enabled many organisations to be able to carry on working in ways that they simply could not have done ten to fifteen years ago. People can quickly and easily have online meetings and chat, both internal to their organisation and outside too.
They can work together on projects and other common objectives through easy areas that everyone uses and with all the connections to their tools in one place. In addition, there are bots and apps and Power Apps and so many other extensions that can be used. I personally know that I have been able to carry on with work in much the same way as I was before the lockdown, and a huge amount of that is down to Microsoft Teams.
Etiquette
So why am I talking about etiquette? Why am I not talking about functionality and what it is that you can do? Well, the reason is that there are a considerable number of things you can do with meetings in Teams and there are many things that are blocked.
Etiquette is about things that we could all do to help make things work better together. If people can agree on how to work together, it becomes easier to do. In the Organized Mind by Daniel Levitin, it notes that if you keep things in the same place, you can help the brain focus on the most important things. Stop being distracted by things that don't need to be thought about and save your precious brainpower for the important things.
The same applies to workshops. All the time wasted trying to connect or people not able to get their question answered is time that is lost. For workshops with limited time and plenty to get agreed, this means a whole load of time wasted and, well, time is money.
So, this is not about what you can do but what you should do. How you can help be more effective in your organisations and stop those wasted hours of meetings.
Running workshops
Before we get into the magic that Teams bring, think about how workshops are run in person, the aims of those workshops, and what is trying to be achieved.
A workshop can take place for a variety of reasons; examples like gathering requirements for a project, brainstorming ideas for the year or getting an agreement together on a decision. These could be for a quick hour between the constant rush of other meetings or could be a full away day to get the most of everyone being together.
Why are you doing the workshop?
You need decisions to be made, you need a list of actions to be done (which may be the project requirements), and in many cases, you also need to be able to track why things are being done with the meeting minutes.
Making sure that you keep this in mind when planning and executing workshops is important to keep the focus going.
Considerations for in-person workshops
When planning to run a workshop, there are three clear things to set up for:
Clear agenda with aims defined
Engaged attendees throughout
Defined outcomes that all are aware of
Clear Agenda
To get a workshop going well, a clear agenda is the real scene setter. It helps to ensure that people know what to expect, why they need to be there, and what is expected of them. If you want people to take it seriously, send that agenda with plenty of time for them to be able to do any pre-reads and prepare for the workshop. It will also allow attendees to get an idea of timings and whether they can fit in any other meetings or private items.
Finally, do not get over-excited about fitting too much in because people won't be able to
absorb it all, so help people to stay focussed by giving a break.
Summary
Outline expectations for the meeting
Ensure people know why they were there
Be clear on any pre-reads needed
Send in plenty of time
Give an idea on timings
Include time for breaks
Engaged attendees
The value of engaged attendees is that you will get the most from them, and you waste less of their time. It is not a simple thing to do, and it's important to remember that most of us are not RADA trained or multiple award-winning comedians, so keeping people engaged through entertainment is not the best option.
If you do not give attendees a break, then you will struggle to keep people engaged. It is key to keep people active and alert rather than just listening throughout the entire workshop to one person. A great technique is to hand out post-it notes to people and
allow them to note down things as they go along and that they can refer back to. Also, you can gather ideas from thoughts from people with these notes, allowing people who are quieter and more reserved to provide their opinions when there may be some dominant personalities.
Try and encourage two-way (or more) discussions to keep people chatting and focused, but you can also do other things. Change the focus around so that people are not staring at the same place all day and, if possible, change the presenter so that people hear a different voice if possible.
Summary
Keep attendees active
Use Post-its
Time to think
Identify quieter people
Two-way discussions
Change the focus with multiple screens/boards
Shift the main speaker
Defined outcomes
While the chance to meet up with people and have a good chat, it is always important to keep a clear view of what you are looking to achieve from the workshop and how long that will need. Time is often precious for people, so getting stuck on one item when there are many to be solved can derail a workshop.
To keep things on track, be clear from the start what the aims are, and tailor the agenda throughout to stick with those aims. There are always times where discussions may
make it apparent that there is a change needed but do that in an obvious way, perhaps having those aims on the board and updating them there for all to see.
In the end, wrap up with what was achieved and, if any outcomes were not, what the next steps will be to reach those aims as well.
Summary
Clearly communicated aims
Agenda tailored towards the aims
Clearly define when aims have changed
Summary of achievements at the end
Going remote vs in the office
I will be honest; I feel slightly tired just thinking about running several days of workshops in one meeting room in the office. However, could you have imagined in mid-2019 that you would be running workshops from home? You may have done workshops with others on the phone or in another country over video conference but with a large group separately sitting at home with kids and pets running around?
Interruptions from delivery drivers or the postman? It is certainly not something I imagined happening.
What has been incredible though, is how Teams has been able to keep things feeling the same. Whether it is seeing and chatting with colleagues on video, working on documents together, connecting with clients, using Bots for fun challenges, or even my weekly call with my family to see how everyone is doing. Teams has been fundamental to this.
Back in April 2020, I realised that the workshop that I had planned at a client's office would not be happening there. It was planned for a full day, and I had made sure I had post-its notes and was hoping that they had some decent coffee and great biscuits. But no, instead, I would be at home on a strangely warm April day, wearing a work shirt on top and shorts below the desk (we all do that right). It was time to put in place some of the things I had learned about running a workshop over Microsoft Teams.
Running Workshops with Microsoft Teams
There are similarities to in-person workshops, but also many areas that you may not have thought of previously. I will break down the tips into five key areas:
Preparation
Tech Details
Laying the foundation
Keeping engaged
Wrapping up and sharing
Included in some of the sections are details on some of the technologies used, especially Teams itself.
Preparation
For the preparation of workshops, much of the previous recommendations for in-person workshops hold true. The difference with Microsoft Teams starts with the invites though. Where possible, depending on the governance defined in your tenant, think about having a channel set up for the workshop so that there is a place to have all the files for it.
When setting the agenda, allow more time generally, especially for breaks as things at home take longer. Attendees may need to check on children or something as simple as making a cup of tea or coffee can take a lot longer at home. People are often sat on dining room chairs or perched on a bed and not their usual office chairs, so they may need to stretch their legs more often.
I will cover some of the technology in the next section but do make sure that you ask people to ensure that they can connect ahead of time, especially if they are connecting from another organisation or have not used Teams so much. Also, set the expectations around whether you would like videos to be turned on, especially if you would prefer it. There may be technical reasons why people cannot do this, such as not having a camera or not having enough bandwidth. The benefits of being able to see people's reactions and forge a closer understanding mean that you should encourage videos to be on as much as possible. It helps with keeping people engaged and focused on the workshop.
Summary
Follow all the items from before
Send pre-reads in Teams so all in one place
Include more time for breaks
Ask attendees to check Teams works
Set expectations – video on!
Example of using Teams
Contoso Bank (a fictional organisation) are designing a link between their project management system (conveniently built with Project on the Web) to their Finance System (conveniently using Dynamics) called the Unicorn Project. There will be plenty of data analysis, and I believe that they are hoping to run as a DevOps driven project, but
that's not the important part for now. Eric is a PM for the project who used to work in
Marketing. His first step is to create a Team for the Unicorn Project so let's do that. It'll
be a private project just for the project members.
He is organising the kick-off workshop to gather the requirements, so he creates a new channel for the workshop.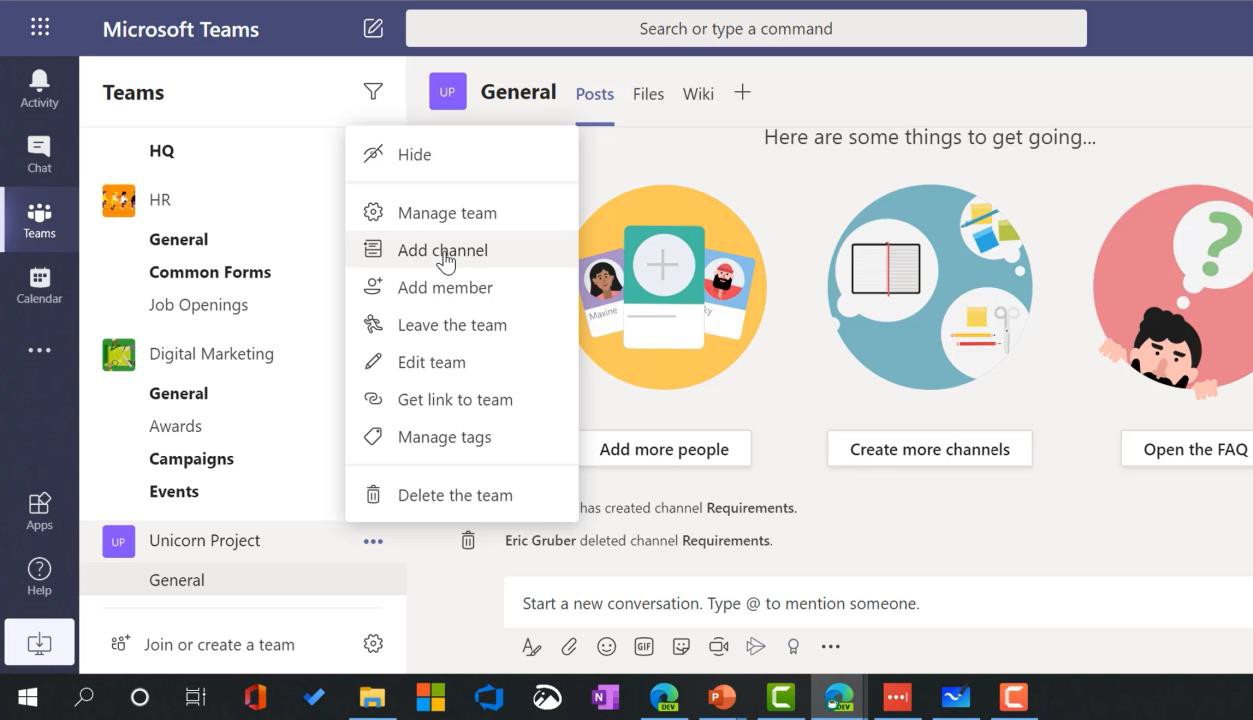 Eric uploads the agenda as a Word document to a specific tab in the channel. This means that everyone has it in that one place to go to and know that they can always reference it here. As the meeting is run in Teams and in that channel, that link is present throughout. Naturally, you can still link to this in the meeting invite, but encouraging people to build the habit of the one place to go will pay dividends later.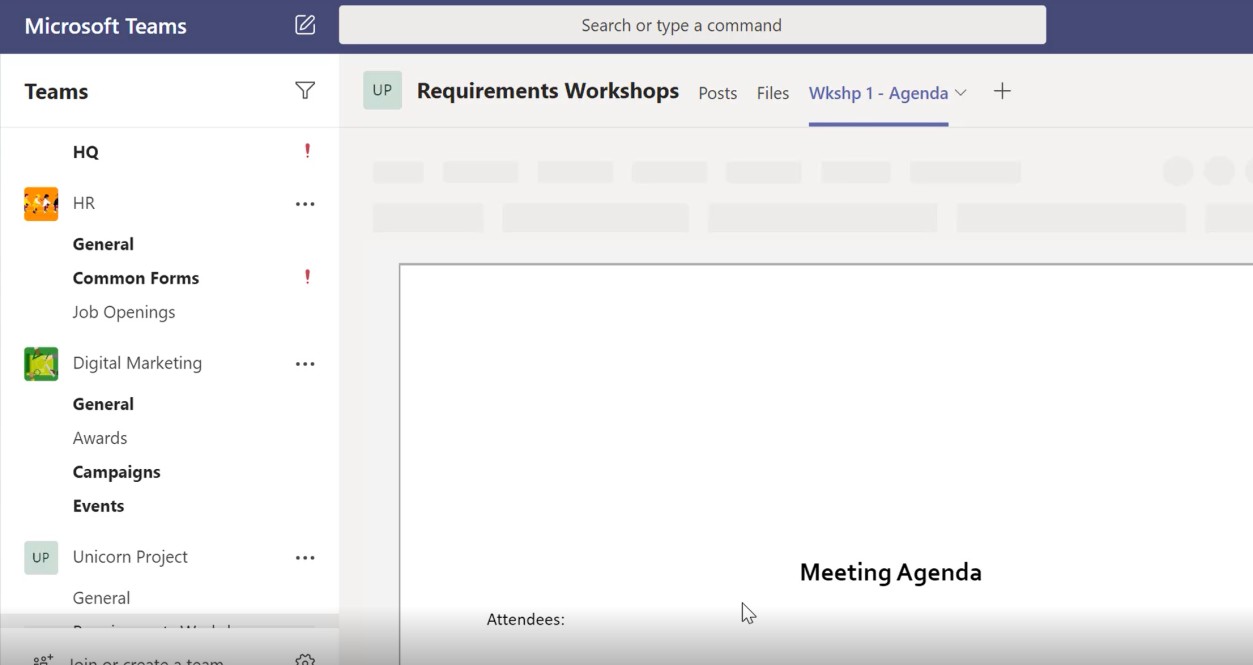 If there are more documents, such as a set of pre-reads, you would not want to have too many different tabs along the top menu. An alternative is to pin a folder of documents to the top of the Files section so that it is easy for people to find at the time. The pinned folder can change over time, so you could just pin the folder for the current workshops that are taking place if there are several.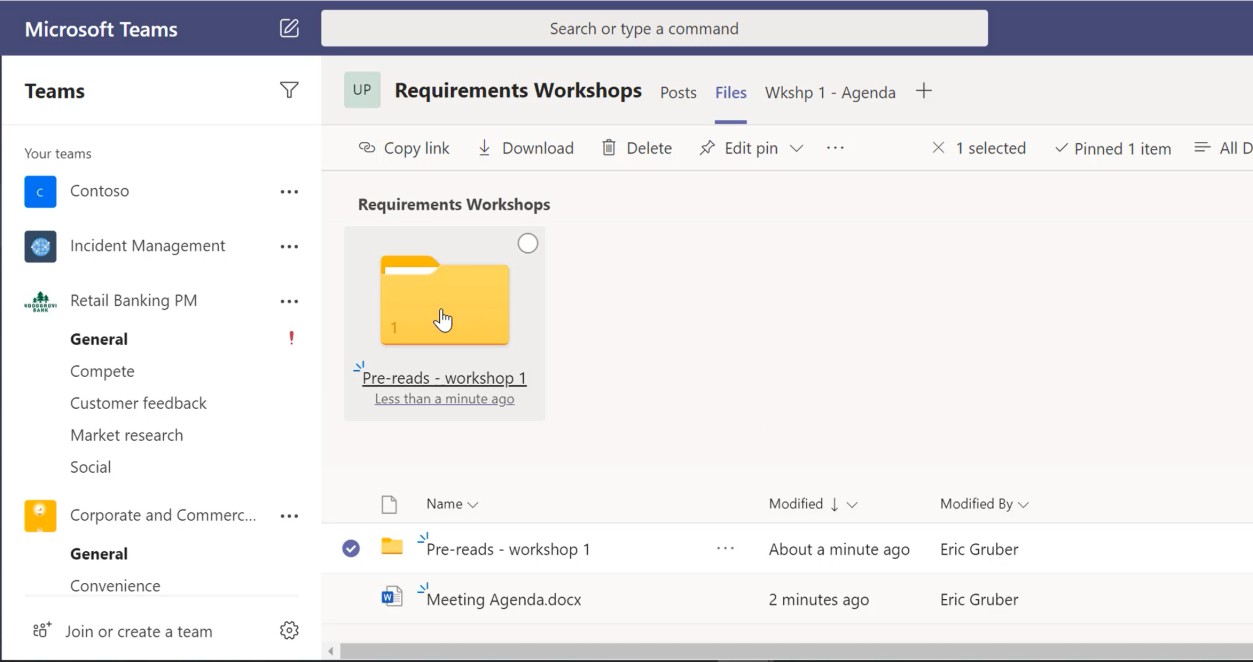 Tech Details
When running remote workshops, the technology is absolutely key to effective execution for all attendees and the host. Making sure that everything works, everyone can be heard, content can be seen and read, and all attendees are in a position to be able to work is crucial. So what do you need to think about when using Microsoft Teams?
There are two groups to think about – hosts and attendees.
Host Attendees
Host
The host will be running things and so absolutely needs to be heard, but they will also need to be able to run things. Two screens allow a host to be able to share one screen while viewing notes or meeting chat on another window, reducing the amount of distracting swapping between windows.
To ensure that the host can be heard, it is important to check that your sound works. Using a laptop microphone and speaker is very likely not to have a great impact, so think about either using a dedicated microphone or headset to ensure that you can be heard. If you have a microphone, make sure it is positioned well to avoid feedback from the speaker. Whichever device you use, consider using a Teams Certified Device to guarantee the quality for working with Teams and for the better integration with the software. You can find a list of devices at https://www.microsoft.com/en-gb/microsoft- 365/microsoft-teams/across-devices/devices.
Also consider background noise, especially things like a noisy keyboard and mouse. The constant clacking of keys can be a distraction for a host who will be less muted than others during the call. If you have more background noise such as children or other people in the location, think about ways you can reduce it is possible. Headsets definitely cut out more background noise than a microphone, but if that isn't possible, you could use a service like Krispr.ai that makes a filter for background noise. If it really is not possible, then warn your attendees about interruptions and set the expectations for all.
Attendees
Much of the advice above applies to attendees but is not quite as crucial. For example, two screens are always helpful as you can take notes on one screen while watching on the other. However, you can also work with a second device instead, taking notes on a
phone or tablet, gaining the advantage of the two screens without needing the space or cost of a second monitor.
It is also crucial to keep yourself on mute unless you are speaking to reduce the impact of background noise. It also helps to bring attention when you do speak as you are highlighted on the list of people so the host can acknowledge your desire to speak.
Both
One key thing is to set expectations about videos being on or not. Having videos on allows you to see people's reactions and generally creates better engagement for a meeting. Not everyone will want to and may need encouragement. Not everyone will be able to, either because they don't have a webcam or they may not have enough
bandwidth. Whatever the details, layout expectations for the workshop in plenty of time to allow people to be ready for it.
Assuming that you are attending a workshop with your video on, then consider the position of your webcam. Ideally, you want the camera at around eye height, so use boxes or shelving to position your laptop correctly.
Also, consider the impact of lighting so that you can be seen correctly. The simplest way to do this is to have a window facing you and make use of sunlight. Alternatively, use a ring light or even an anglepoise lamp to lighten your face and ensure that your reactions are visible.
Software
For software, it is important that you as the host ensure that all attendees have suitable permissions for everything used. Whether that is access to the appropriate Teams or other software such as Planner, One Note, Whiteboard, or even (shock, horror) non-
Microsoft content. It is always recommended to use Teams as the hub for all the software so that people know where to go to get the required content.
There are some useful bits of software for organising meetings:
Outlook – obvious to note but it has good capabilities to see where internal staff have available time and shouldn't be ignored
FindTime – allows you to ask attendees to pick from a selection of times and vote for preferences to find a suitable time which can be useful for external attendees
Cortana – the Cortana solution at https://calendar.help will take the leg work
from organising sessions by recommending a time based on internal staff's availability and will then suggest a time to external staff, removing the need for you to manage the back and forth
This also allows you to focus on a suitable agenda and prepare for the meeting. I will cover tools for sharing and collaborating on content during the meeting, such as OneNote a little later on in this document. However, one other tool worth mentioning is the Post-It app.
For in-person workshops, many people like to make use of Post-It notes to both capture decisions but also to allow many people to stay involved. These can also be used by individuals for a remote meeting, but you do not want to leave attendees with the effort of turning their notes into an electronic version manually – mostly because they probably will not do it! However, with the Post-It app, you can take a photo of the notes and share them with suitable brightness set to make them easy to read, as you can see in the images below. This greatly reduces the effort to take notes and store the details electronically in a way that can be easily used.
Original photo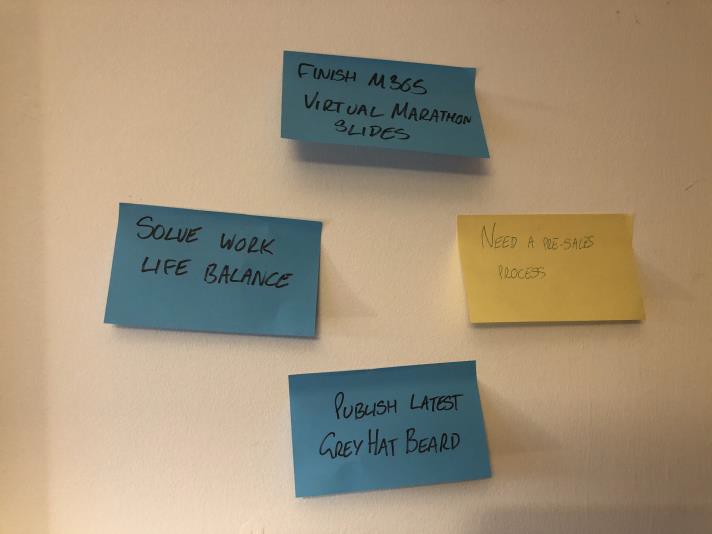 Processed image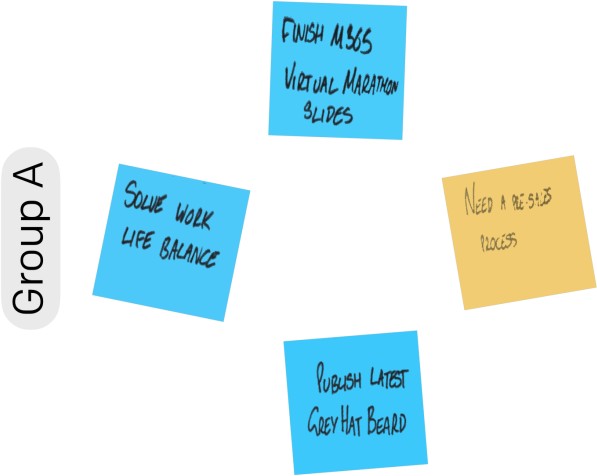 These images can then be transferred to text and sent to Excel as shown below.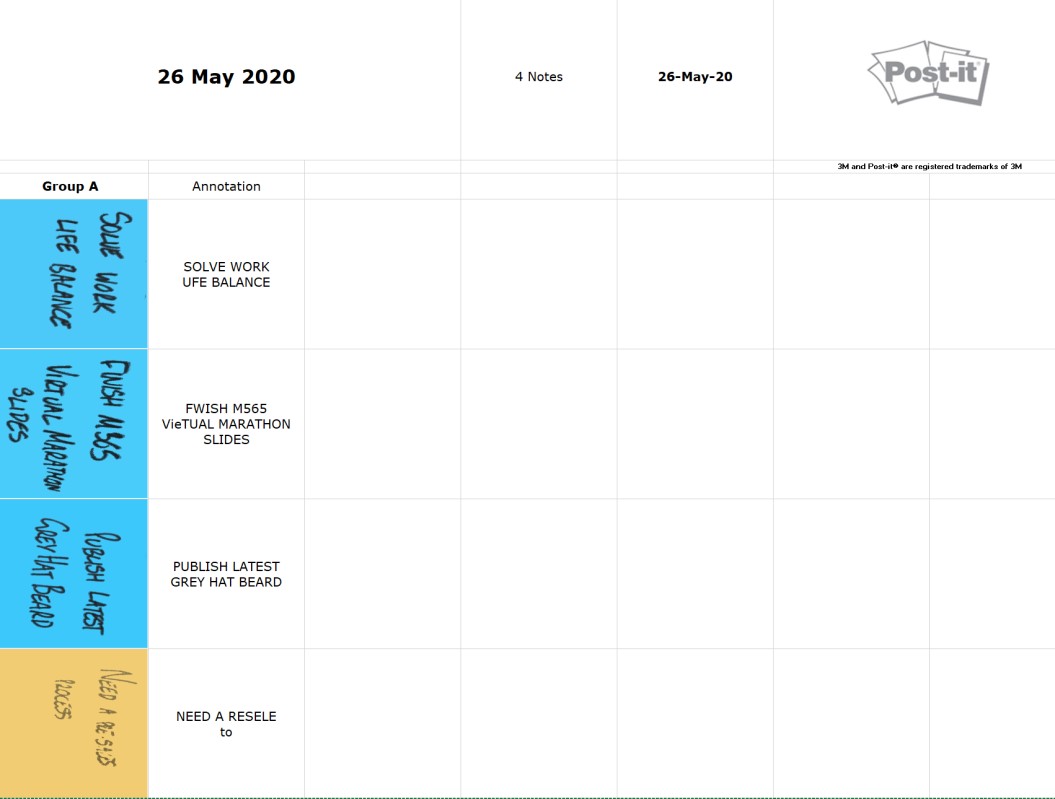 Laying the foundations
Once the meeting is ready to start, be prepared to give a little time for people to chat. With the current pandemic and people not meeting so often, it can be a great way to allow people to relax and settle well. It also gives time for attendees with technical issues to be assisted and not disrupt the main workshop.
Start the meeting by reminding people of the agenda and setting expectations for people for the workshop. Layout the expected ground rules for all at the beginning, such as:
When and how can people ask questions

Should they just speak out?
Should they use the text chat?
Should they use the raise hand functionality or even wave on the video?

Should they keep their video on

Should they have their video on the whole time or just when they are speaking?
Should they turn it off if someone comes into the room?

What about breaks and interruptions?

Can people come and go or should they announce if they need to step away?
What about if children interrupt?
Can people answer the doorbell

Remind people to have one person speaking at a time
Interruptions can be more frequent at home, whether from family or pets, especially with many people educating at home and only so many episodes of Peppa Pig to keep the children distracted. So, let people know your expectations, hopefully allowing people the opportunity to move freely.
Depending on your attendees, it is likely that you will need to introduce people. One thing to remember is that you do not have a table to go around, so do guide people one by one to say who they are, what their role is and what their expectations for the workshop are. If it is the start of a group working together for a project, it is worth considering an icebreaker game to help people get to know each other and put in place a good break from their day job. A good example is Two Truths And A Lie where each person has to make three statements about themselves, two of which are true and one of which is false and then the rest of the group guesses which one is the lie. I attended a workshop that kicked off with this to find that one of the team was actually a member of a covers' band that only sang Europe and Toto songs around the north of Sweden – not one person guessed that one!
Those were some ideas on getting people focused at the start of the meeting but in the next section, I will cover how to keep people focused.
Summary
Allow time at start to chat and deal with tech issues
Layout the ground rules
Clear timings and outcomes
Introductions
Keeping engaged
Most of the tips I recommended for in-person workshops still hold true, but how you implement them may change a little.
Instead of using Post-It notes on the wall, you could use the Whiteboard app where people can easily add post-it style notes, either with text or handwriting on them. This can also be used for people to draw together, for example working together on data flow diagrams. The downside to Whiteboard is that it will only work if all attendees are in the same organisation as it will not work for Guest users. If you have Guest users, I would recommend either using OneNote or investing in a tool such as Klaxoon (a licensed product – https://klaxoon.com/).
You could use other systems like Microsoft Forms or SharePoint/Microsoft Lists (when it arrives) to allow people to submit ideas anonymously. This creates a lot more confidence for people to say what they want without concern and gets more honest results.
Below are a couple of screenshots from a Whiteboard that I used with a remote hackathon team before the Microsoft Business Applications Summit and show the
different post-it style notes as well as the more traditional scribbles, sorry I mean drawings.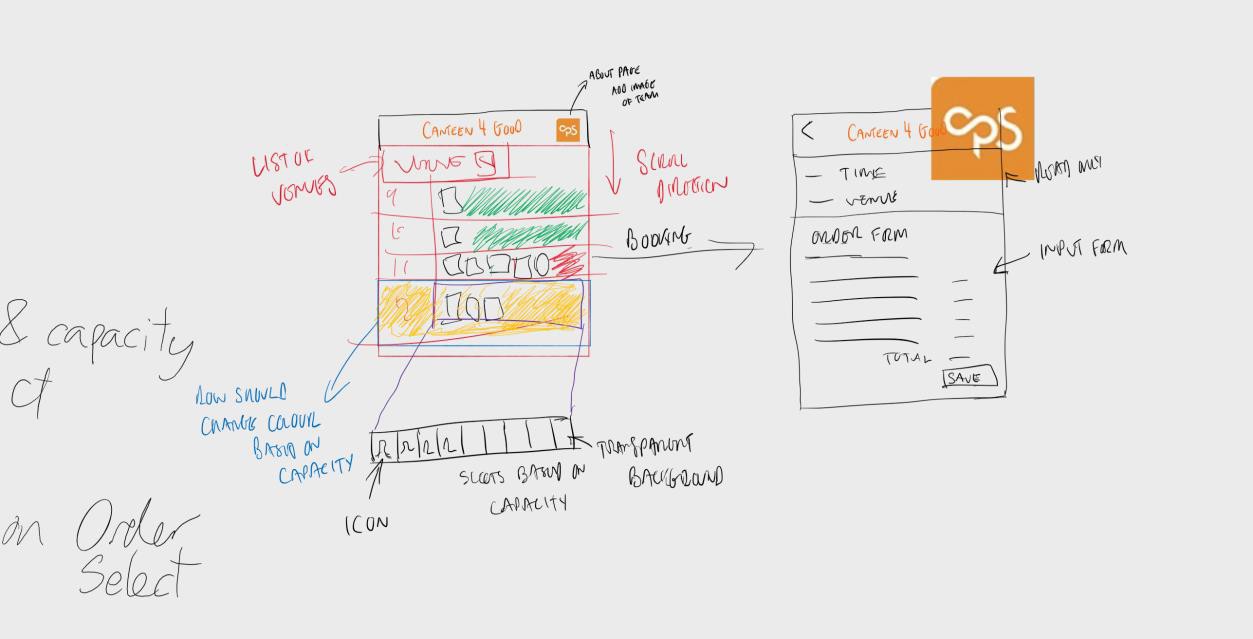 OneNote can allow people to take shared notes meaning that meeting minutes can effectively be crowdsourced as the meeting goes on. You get the different views of the meeting as you go along without having to be collated later. It can also act as somewhere for people to ask questions for later that can be tracked together and reduce duplication.
Updating all of these can give people some quiet time and break up the potential monotony of a long workshop. It will also give the opportunity for quieter people to have their voice heard, and some of the best ideas can come from here when they may not feel confident enough to speak out, especially if the workshop has many dominant characters.
To retain the flow of the workshop, you can make use of the chat window to ask questions which can be answered at the appropriate time or even answered by others not speaking during the workshop. It can give those who struggle to just listen to be able to stay more engaged without so many disruptions.
Allow others to share screens and take the main point to keep them engaged and to change the flow for other people watching. However, try to keep one person talking at a time with most others on mute to ensure that it stays easy to hear. Also, swap the screens that you are using so do not just stick on the same set of PowerPoint slides all day. Whether it is showing the Whiteboard app, demonstrating other software, or just showing everyone's faces, try to break up what is being shown. An example of this can be seen below from my GreyHatBeard podcast videos where we move between our faces and the articles that we discuss.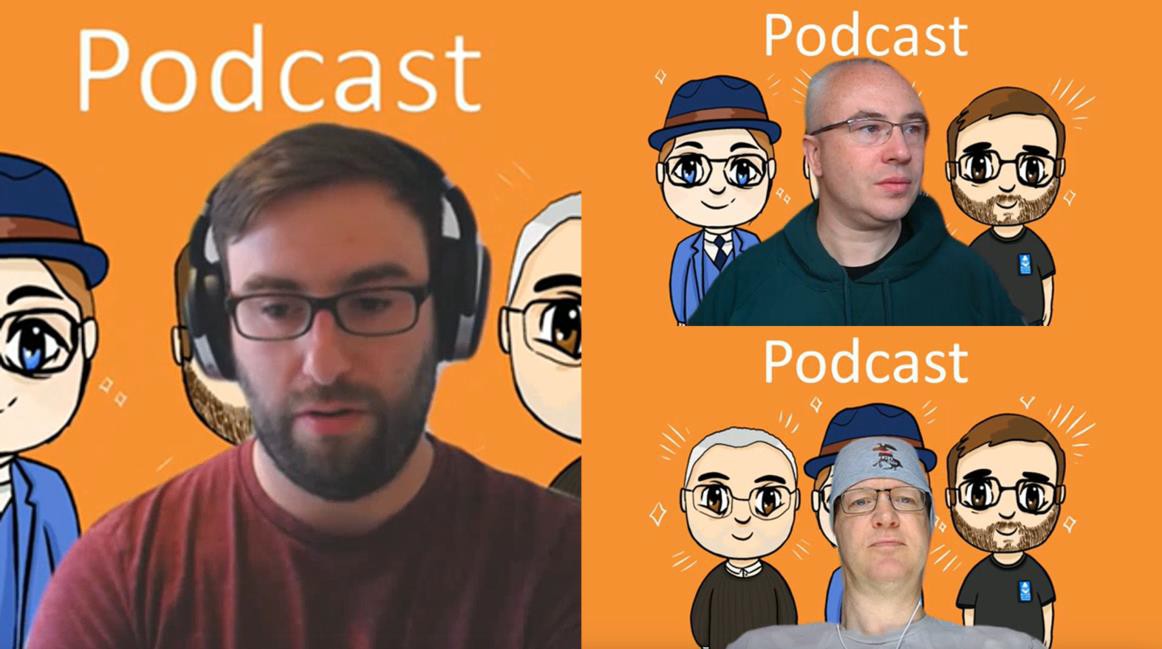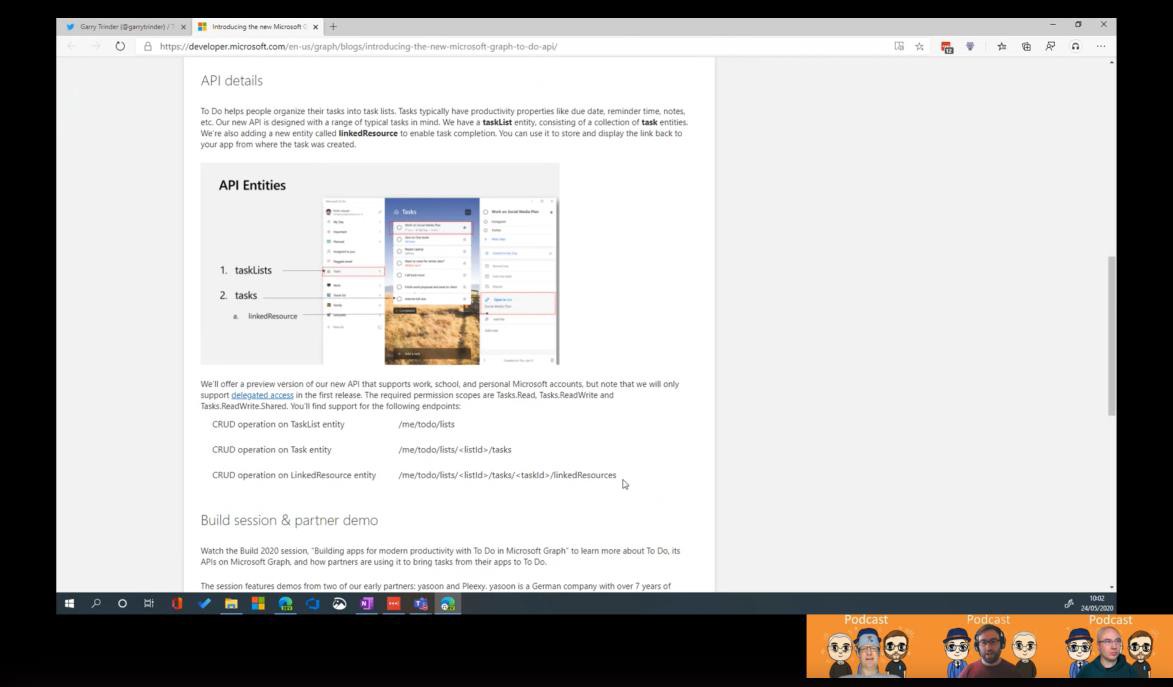 As a host and main speaker in a workshop, it is also important to think about how you speak. While many people may enjoy hours of listening to YouTubers and Podcasters to speak, their tone is very engaging and enticing and something to consider when
identifying the main speaker for your workshop. You should also consider how the message being spread may be considered when coming from that speaker. For example, if it is a technical message being spread, this may be less listened to if coming from a non-technical person. A good discussion of this topic can be found in the book Messengers, which discusses why some people are listened to more than others, even when discussing the same topics – https://www.messengersthebook.com/.
Summary
Keep attendees active
Use Post-its WhiteBoard/OneNote/chat window
Time to think
Identify quieter people
Two-way discussions
Change the focus with multiple screens/boards your screens
Shift the main speaker
How you speak
Wrapping up and sharing
At the end of the meeting, you can still make use of Teams. Make sure that during the meeting, you summarise the key points, highlighting the actions required for the next steps. If there is a follow-up meeting, then ensure that everyone knows when it will be.
Following the meeting, you can tag people in the Teams channel and share the write-ups, minutes and accompanying documents so that they again have a single place to go for the workshop. These documents should neatly align to the agenda but highlight any areas where they have not and note the decisions made to get to that point.
Summary
Key points
Actions and next meeting
Time for next meeting
Share minutes and docs in Teams
Summary
Hopefully, you've taken in some of these tips along the way, but to summarise, it's all about Teams being the one hub that people can go to for all their info. Before, during, and after, you can make the most of that central place, bringing in useful services like Whiteboard, Stream, OneNote, and Planner that you can refer to at any point. There is no doubt that it is harder to run remote meetings initially as you do not have everyone together in one place, but what it means is that you need to think more about doing the proper things. While you could get by on seeing people face to face in meeting rooms, you now need to work harder to know when people are engaged and whether you are getting the right or enough information. But it is possible.