Are you looking for more productivity in your life? Sticky notes leaving you…unsatisfied?
Sit back and enjoy this journey through the sweetest productivity story ever told, where you'll be inspired to take "note" of new ways of working more efficiently day-to-day with OneNote.
We'll cover powerful features, and compare and contrast OneNote for Windows 10 vs OneNote 2016. When it comes to working smarter and not harder, OneNote is the one.
Flavors of OneNote
This chapter focuses on different experiences of OneNote based on the device and version being used. Each version and experience of OneNote looks different visually, but also have some functional ability differences.
Devices
Mobile
OneNote is available for your mobile devices. You can download the OneNote app from Android and Apple app stores. It's small, but mighty, and syncs your notebooks in the cloud across all your devices so that notes you start on your mobile phone are ready for editing and further development when you're back at your computer.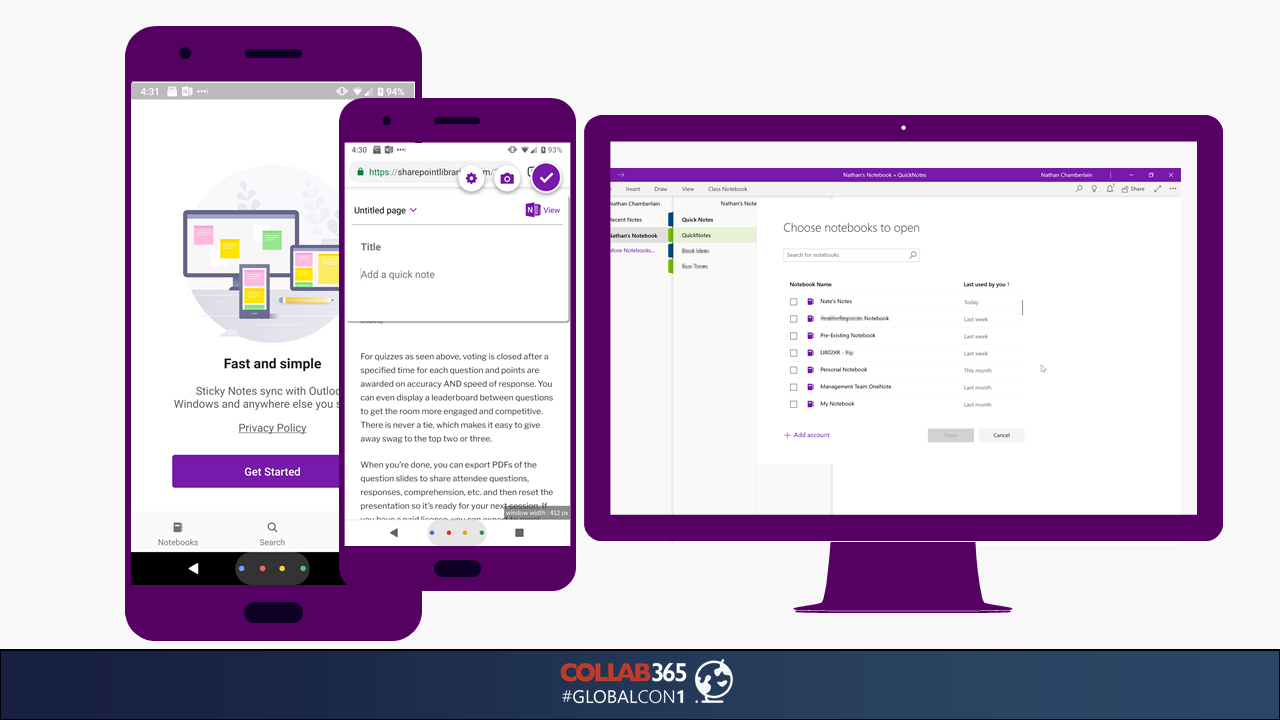 One of my favorite features in the mobile version is "Sticky Notes." On Windows 10 devices, the former Sticky Notes app is a OneNote byproduct now. So the sticky notes you create on your desktop or mobile device appear in both places because they're syncing to the cloud.
Why is that awesome? It means when you get a new computer or device, your notes sync without missing a beat. Previously, a new computer meant the legacy Sticky Notes notes would be lost if not exported in advance. Your sticky notes now also appear in the new Office app.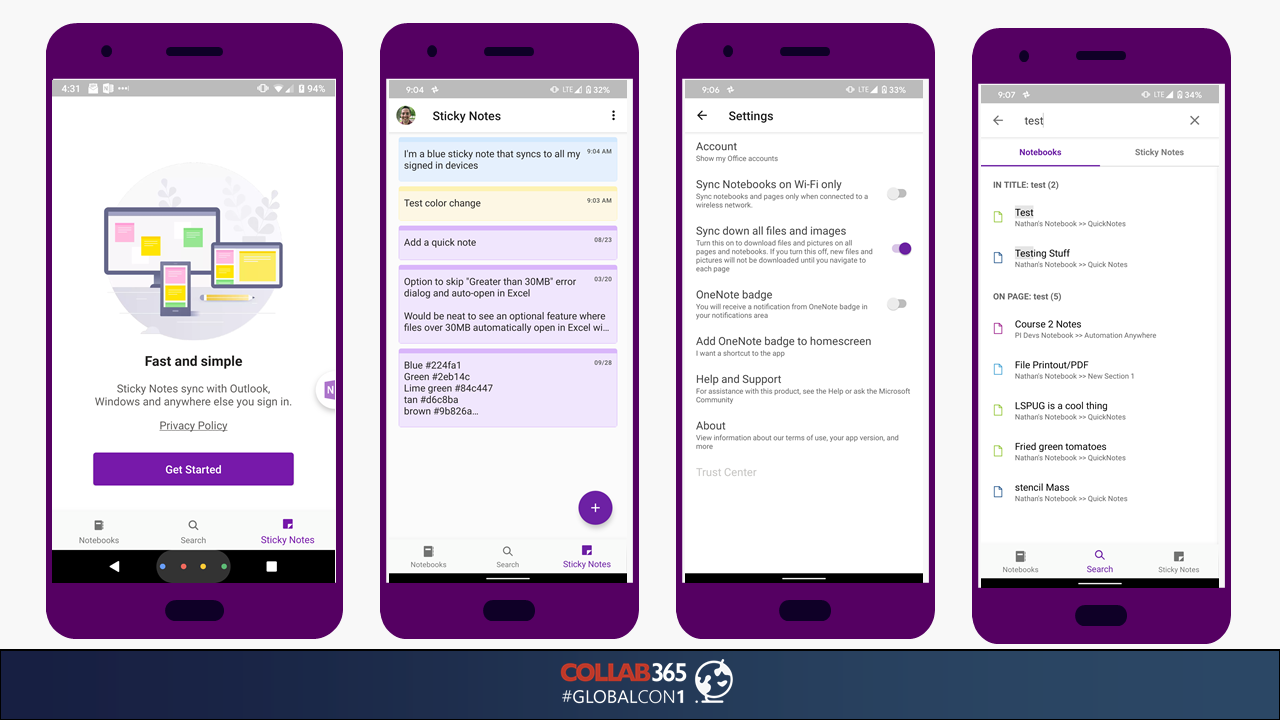 You can also see above how there are settings in the mobile experience to make sure you don't consume too much data, such as choosing not to sync all files/images or not to sync notebooks at all unless you're on wi-fi.
In the final screenshot, you can see how search in the mobile experience returns a clean listing of results from all of your cloud-based notebooks.
Devices running Windows 10
If your computer is running Windows 10, you can get both OneNote (the most up-to-date and modern version available from the Microsoft Store) and OneNote 2016 (no longer receiving updates, but supported until October 2023).
There are advantages and disadvantages to using either OneNote for Windows 10 versus OneNote 2016 – so if you're running Windows 10, get familiar with the strengths of each so that you can maximize their individual strengths. We'll discuss these individual strengths soon.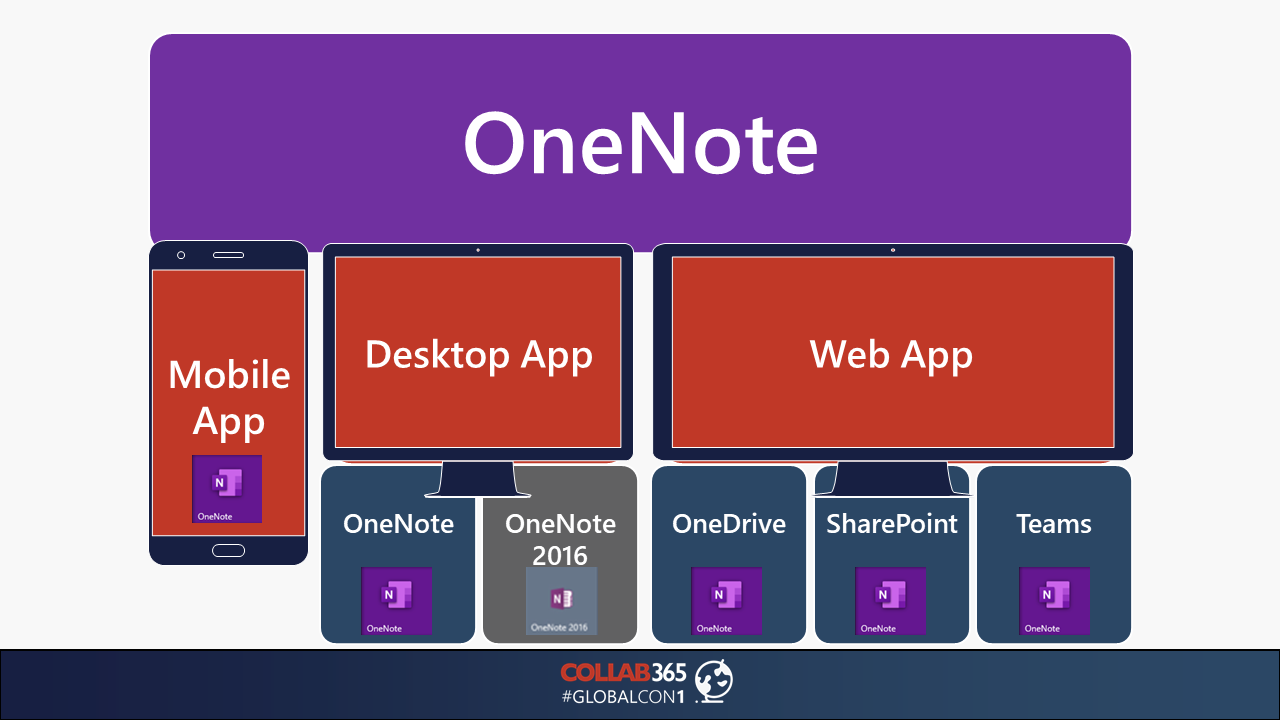 While OneNote for Windows 10 will continue to get the latest and greatest features released by Microsoft, OneNote 2016 will stay as it is until the end of its support cycle aligned with Office 2019 and ending in October 2023.
In the slide below, you can see the two icons/tiles representing the two different versions both installed on a Windows 10 device.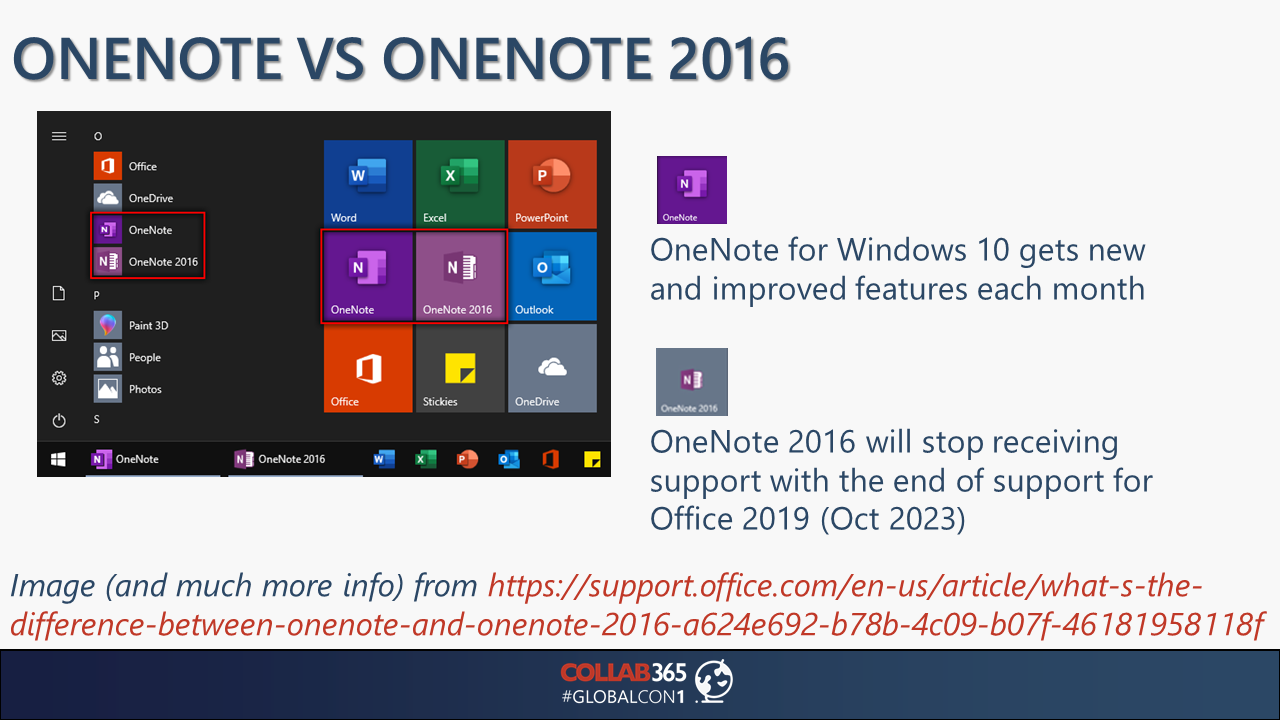 Screenshot and comparison info from https://support.office.com/en-us/article/what-s-the-difference-between-onenote-and-onenote-2016-a624e692-b78b-4c09-b07f-46181958118f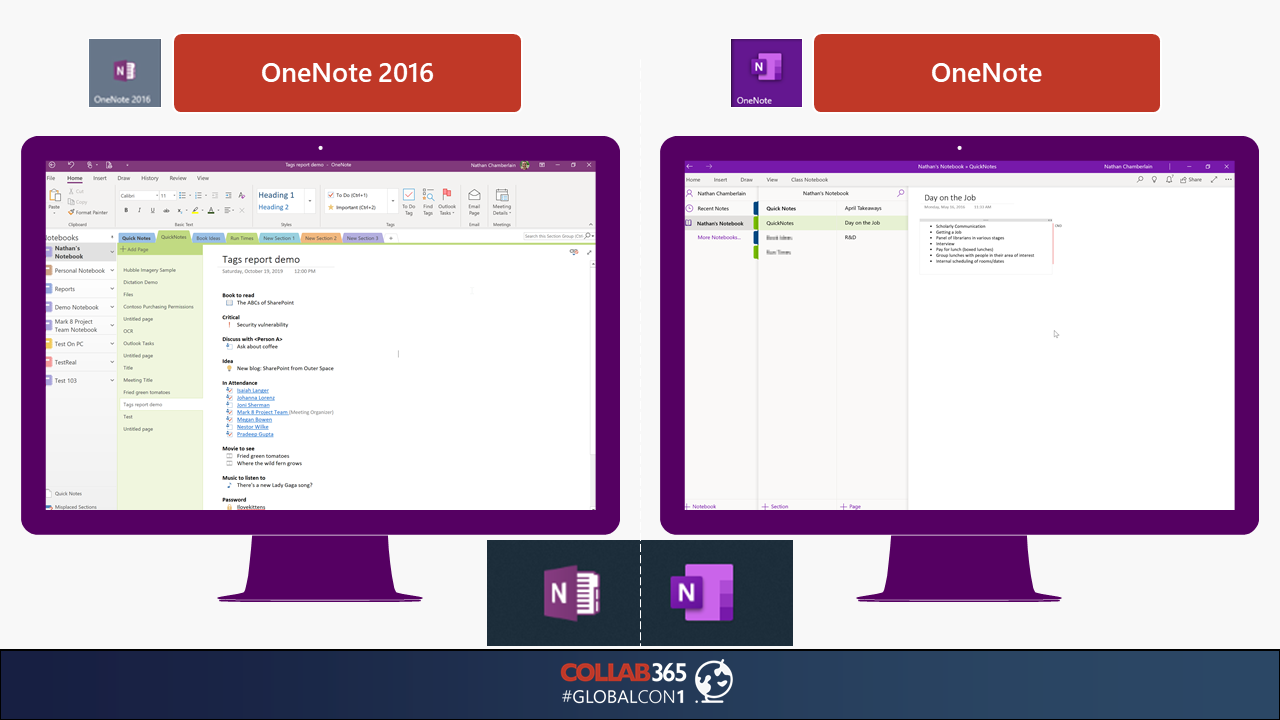 Devices not running Windows 10
If your device is not running Windows 10, your only option is to download and install OneNote 2016. However, when you're working with OneNote within Teams or SharePoint (via your web browser) you'll experience much of the modern experience available in the OneNote for Windows 10 version.
Below you can see what the Teams and SharePoint/OneDrive experiences of OneNote look like. These notebooks must be stored in the cloud (O365). This means you may have notebooks stored on a network drive or your hard drive, but those cannot be opened in modern OneNote experiences. OneNote 2016 is the only option for locally saved (non-cloud) notebooks.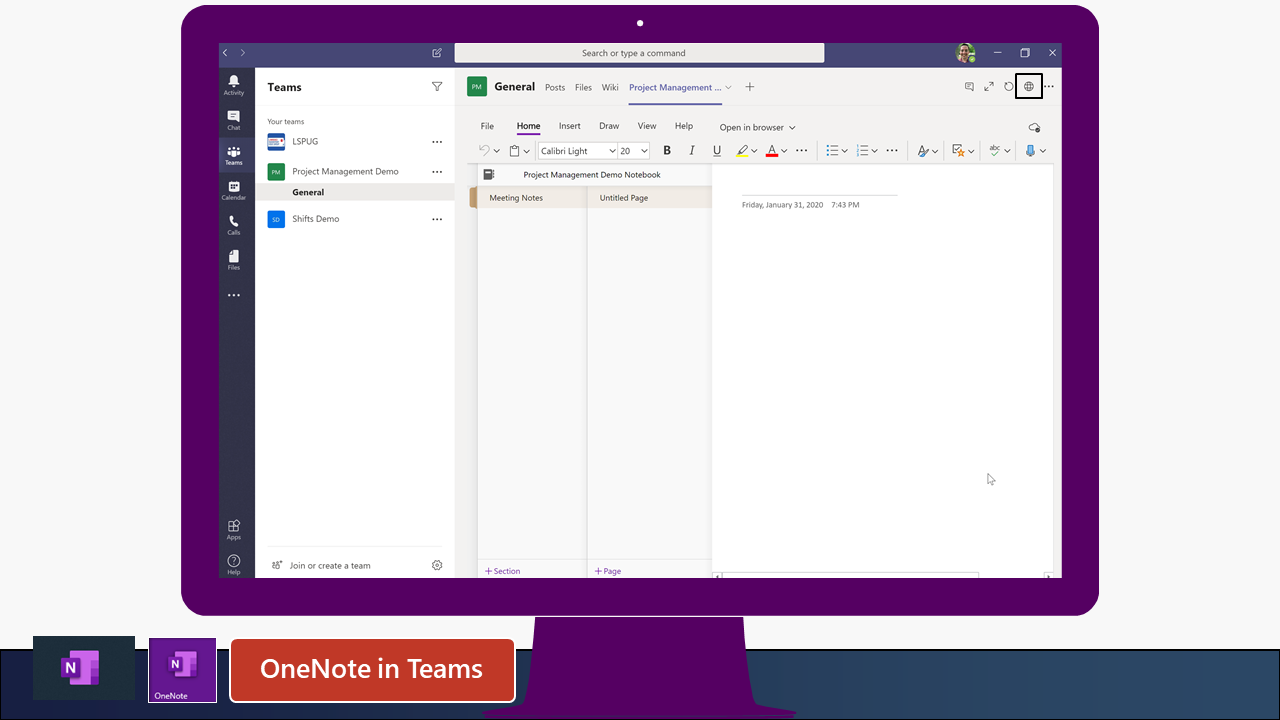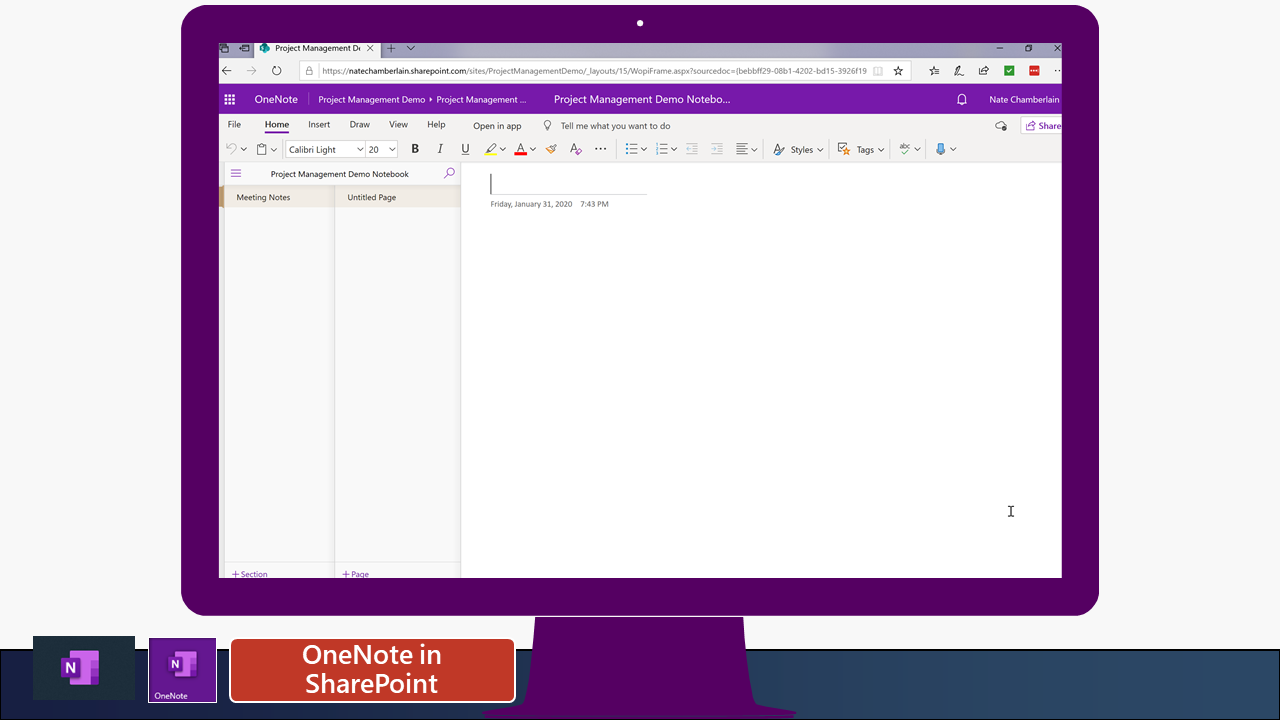 OneNote vs OneNote 2016
The following table shows the pros and cons of OneNote (for Windows 10) and may help illustrate why choosing OneNote 2016 for some functions is still wise.
| | |
| --- | --- |
| Pros of OneNote for Windows 10 | Cons of OneNote for Windows 10 |
| Gets monthly new features & updates | Windows 10 only |
| Connects seamlessly to all your work, personal, and class notebooks | Can't store notebooks on your local hard drive |
| Dictate voice-to-text | Can't create Outlook Tasks in your notes |
| Not tied to a local machine (completely cloud) | Can't pin commands to the Quick Access Toolbar |
| Create custom tags & search tags | No page template functionality |
| Sort all notes by last updated | Can't record video (can still record audio) |
| Pin favorite sections & pages to the Start menu | |
| "Phrase search" supported | |
| Helps you upload local notebooks to the cloud | |
Find more information on pros and cons at https://support.office.com/en-us/article/what-s-the-difference-between-onenote-and-onenote-2016-a624e692-b78b-4c09-b07f-46181958118f
Get to your preferred version easier
Pin your preferred version(s) of OneNote to your taskbar to make it easier to access it on a regular basis.

Search for OneNote (just start typing, even if there's not search bar)
Right-click the version you want to pin
Select Pin to taskbar
OneNote tips & tricks
Record audio
In all three versions (the mobile app, OneNote, and OneNote 2016) you can record audio. While the buttons may look different, they all function the same.
Select Insert  Record Audio (2016), Insert  Audio (Win10), or the microphone icon (mobile)

This inserts an attached audio file to the page that can be played back within OneNote itself, or saved outside of the notebook as a separate media file.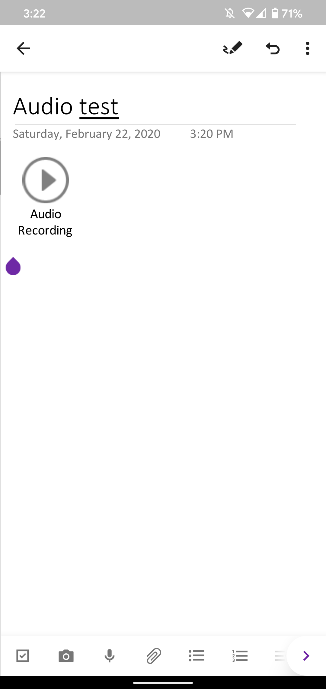 Attach, embed, or link to files
Again, in all three experiences, you can attach files.
In mobile, you can select a file from any of your device's files or its connected apps' storage (including OneDrive and Google Drive).
In OneNote 2016, you can insert a File Printout (file contents literally "printed" onto the page itself so you don't have to open an attachment) or an attachment (a copy of the original file that can be opened similar to how we work with email attachments).
OneNote 2016 has a third option that isn't available in OneNote for Windows 10 (so perhaps one of the few reasons you may still opt for 2016 occasionally). If you choose Insert 🡪 Spreadsheet, you're given the option to attach (normally) but also insert the spreadsheet or a specific chart or table from within the file.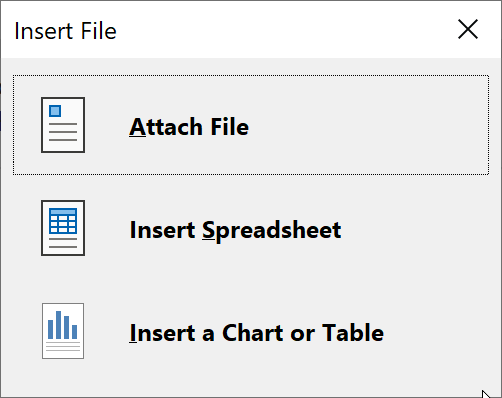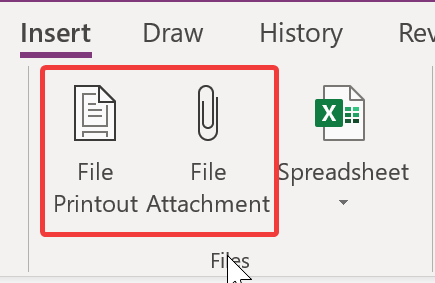 OneNote for Windows 10 also has an exclusive feature: the ability to automatically upload added files to OneDrive and insert a share link on the page rather than the file itself. This reduces your notebook's size and makes it easier to manage files in one location rather than across several pages, sections, and notebooks.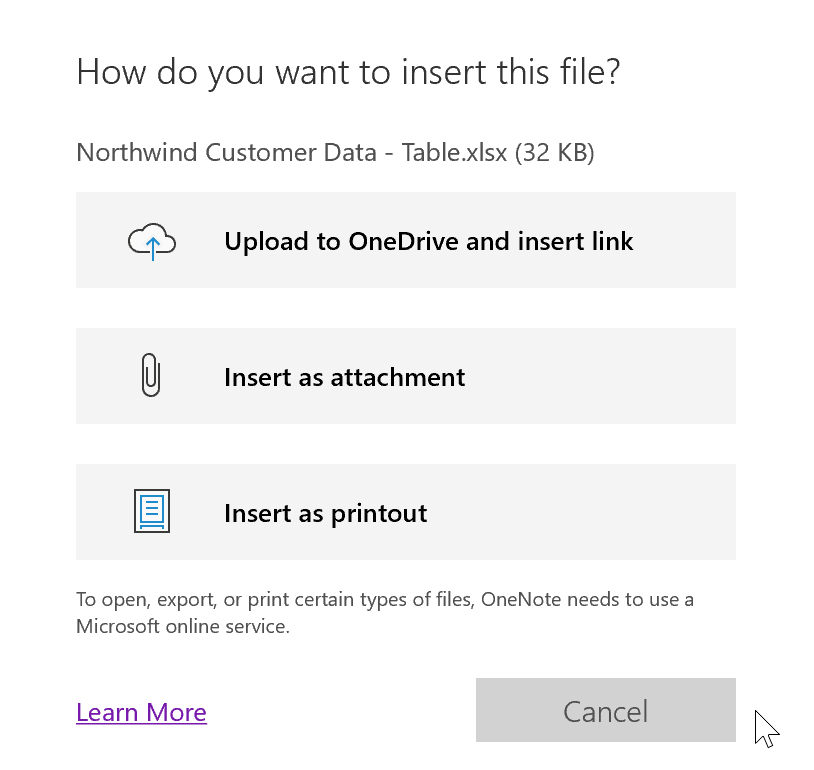 Insert time stamps
The first of many shortcuts to be shared in this ebook works in both OneNote 2016 and OneNote (for Windows 10). Alt+Shift+F inserts the current date and time wherever your cursor currently is.

This might be useful when logging action was taken on customer issues or attempts made to resolve a ticket or problem.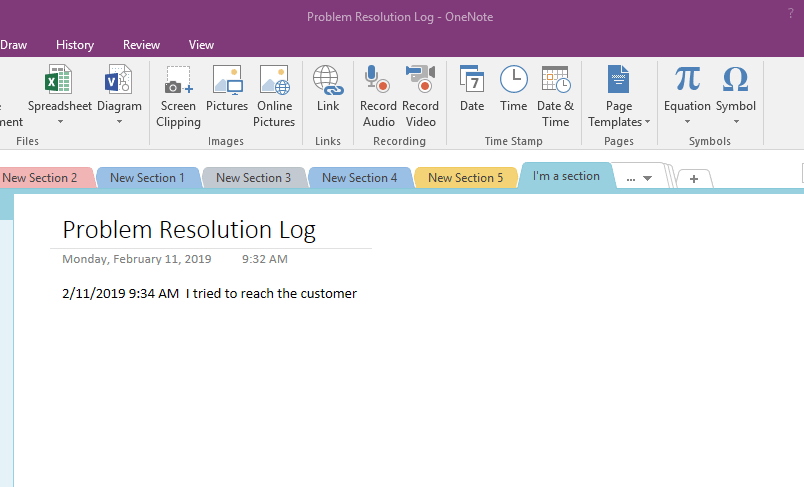 Break "content boxes" into multiple boxes
Typing anywhere on a OneNote page, Windows 10 or 2016, puts your text into a "box."

These boxes can be moved around, but once it's in a box you either have to copy text and place it into a separate box or use the next feature: Insert space.
In OneNote (for Windows 10), this "Insert Space" tool is found under Draw and looks like two lines are being directed in opposite directions.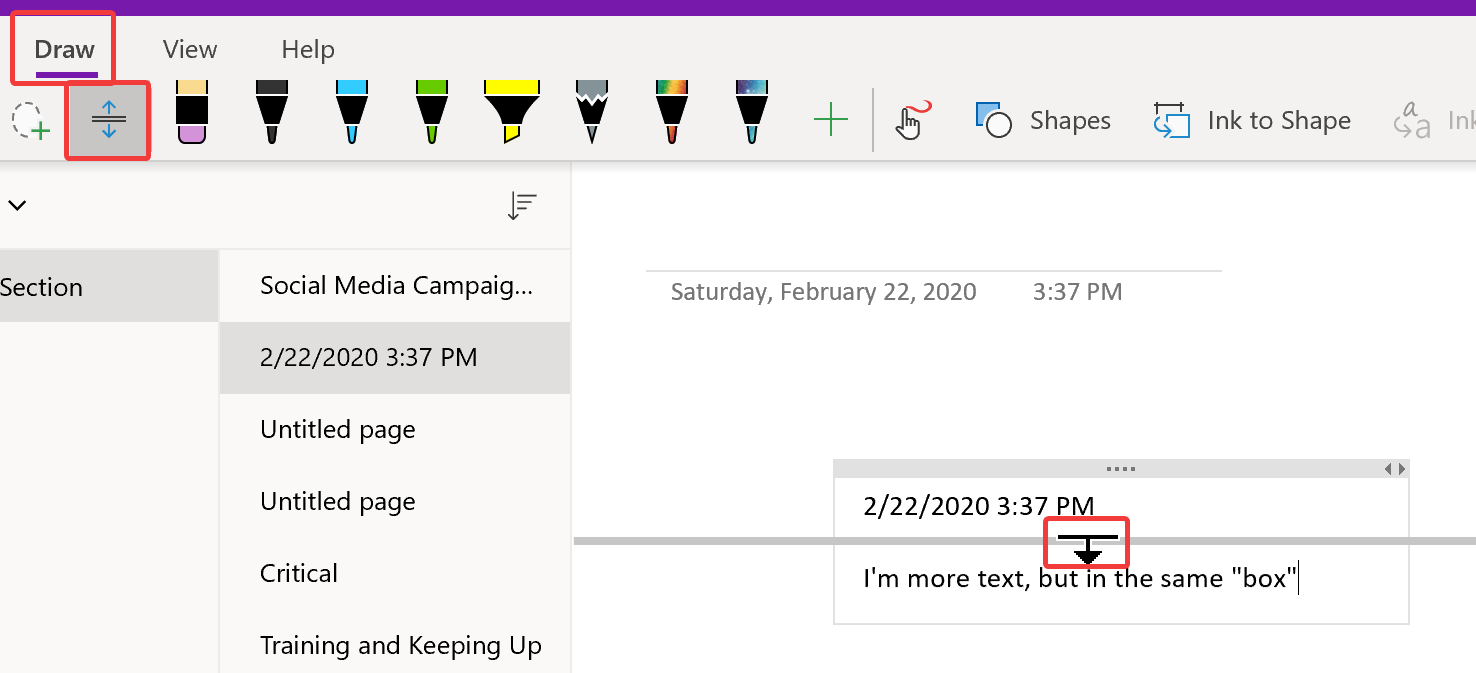 After dragging where you want to "insert space" you're left with now-separate boxes: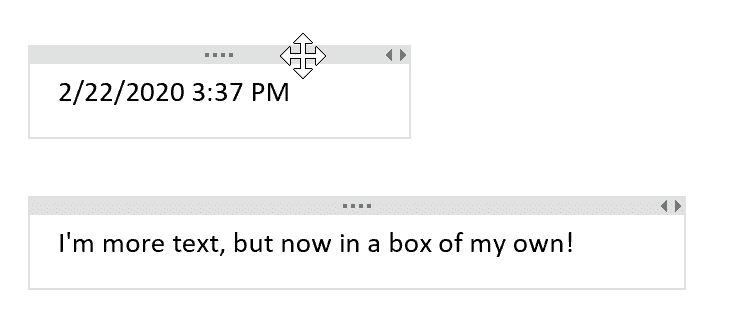 The same feature can be found in OneNote 2016 under Insert 🡪 Insert Space.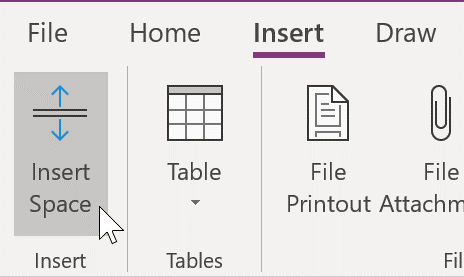 Copy text from images
If you right-click an image in OneNote 2016 only, you can "Copy Text from Picture."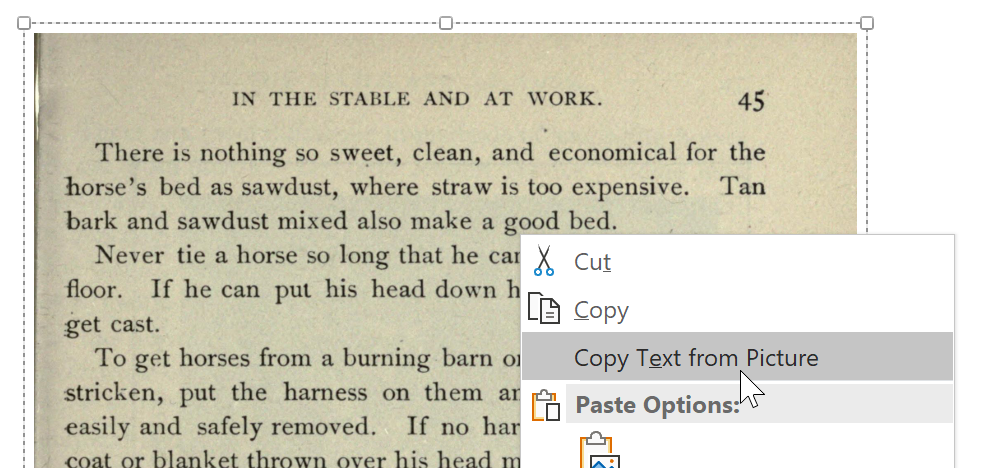 This can then be pasted somewhere else in your notebook(s) or in any other application on your computer.
The result depends on the quality of the image. In the image above, here's how OneNote did reading the first couple of lines
There is nothing so sweet, clean, and economical for the horse's bed as sawdust, where straw is too expensive. Tan bark and sawdust mixed also make a good bed.
Not bad, eh?
Search text, even if it's in an image
Also in OneNote 2016, searching your notebooks' contents will return results in the text (of course) but also text identified in images. This takes a moment for newly added images to be analyzed, but in 2016 only you can force it to analyze the image faster. Just right-click an image, Make Text in Image Searchable 🡪 Select a language.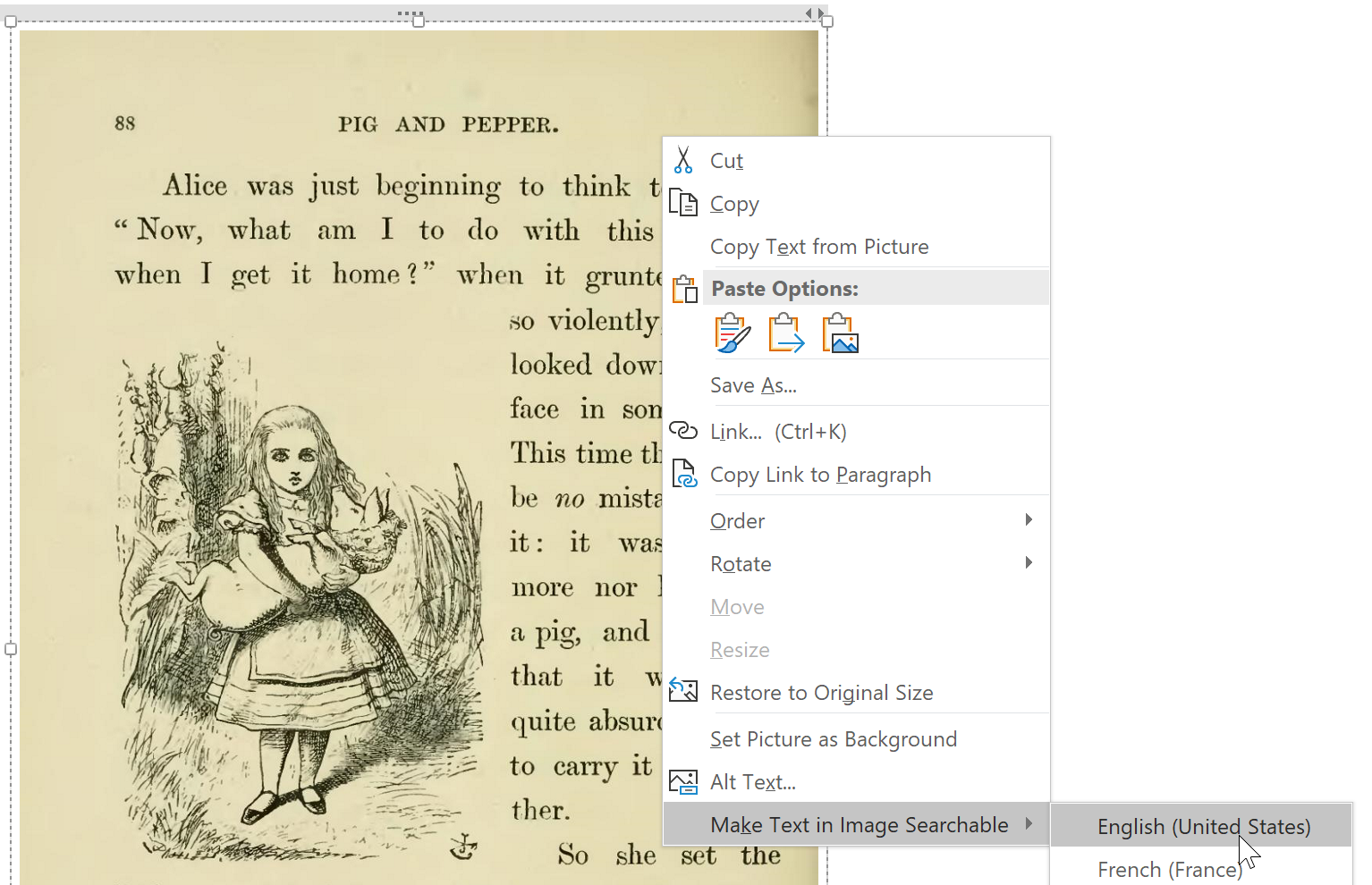 Now when you search for content, text in images you've made searchable will show as a result and will be highlighted appropriately: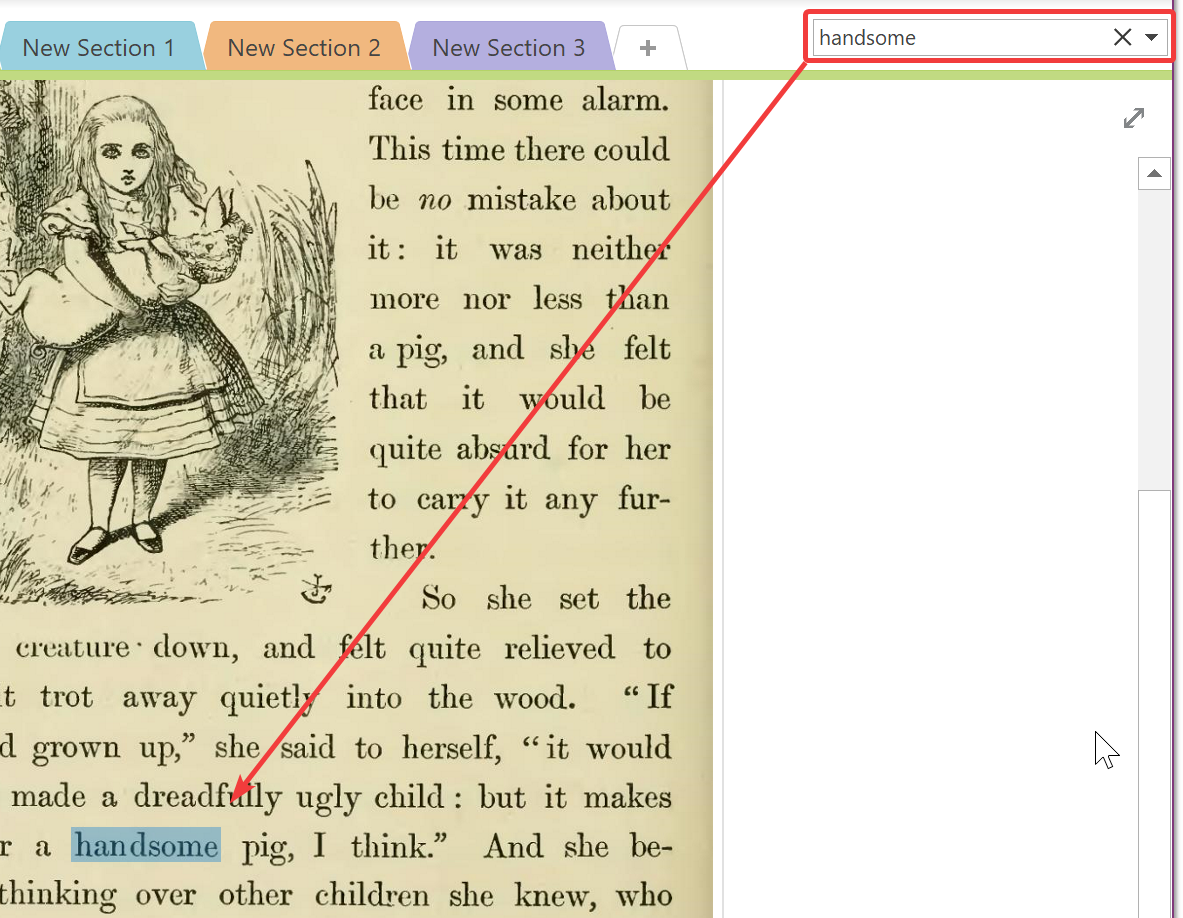 This also works in OneNote for Windows 10, but there's no option to make the image searchable immediately. Every image with text identified will become searchable, but it will take a small amount of time just like in 2016. After OneNote has analyzed the image, text (from slides, scans, images, etc.) will be searchable like any other text in your notebooks.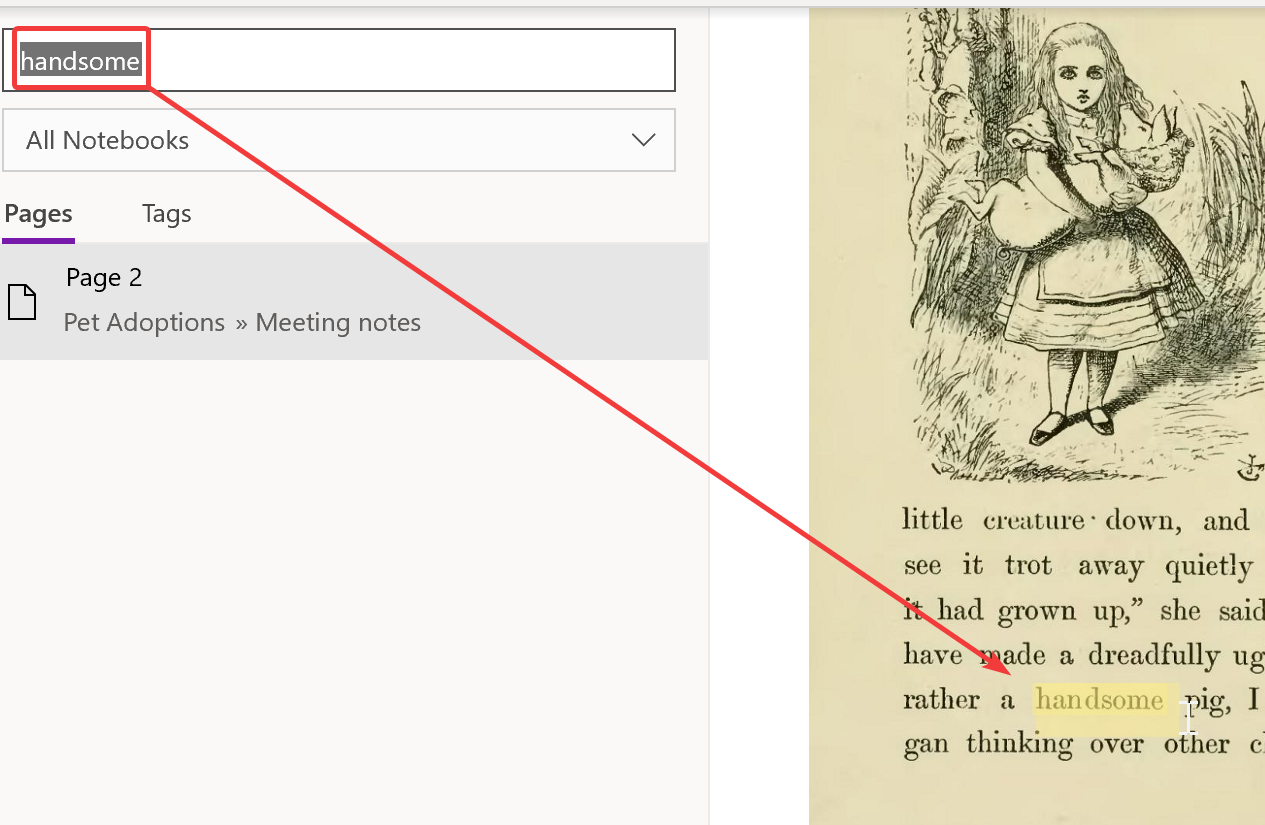 Restore deleted pages
If you delete a page by accident or just need to restore one, you can find deleted pages and sections in your Notebook Recycle Bin. In 2016, this is under History 🡪 Notebook Recycle Bin. To restore a page, right-click it and use Move or Copy… to choose a restore location.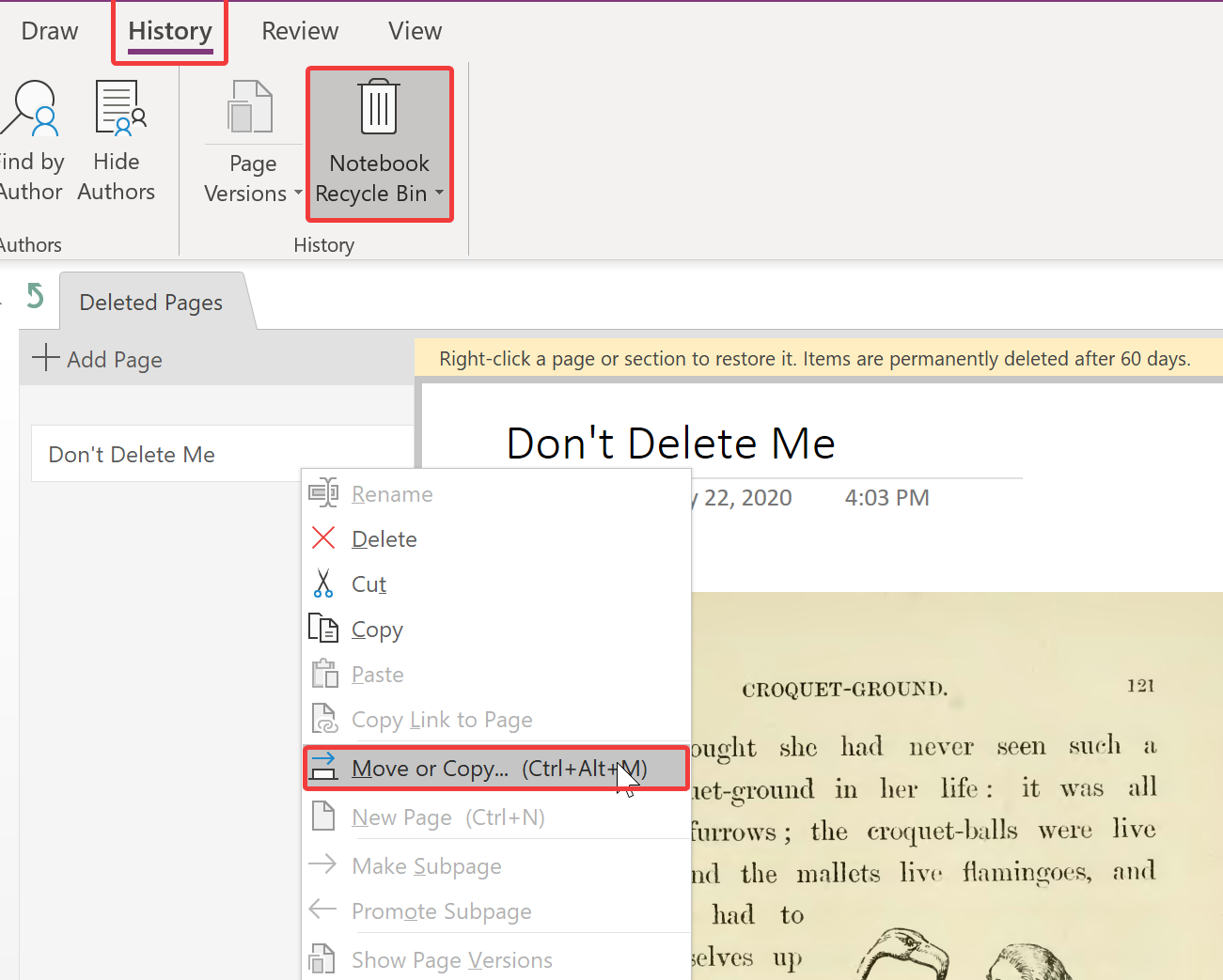 In OneNote for Windows 10, you can find the recycle bin under View 🡪 Deleted Notes. In Deleted Notes, right-click a page and use Restore To to choose a restore location.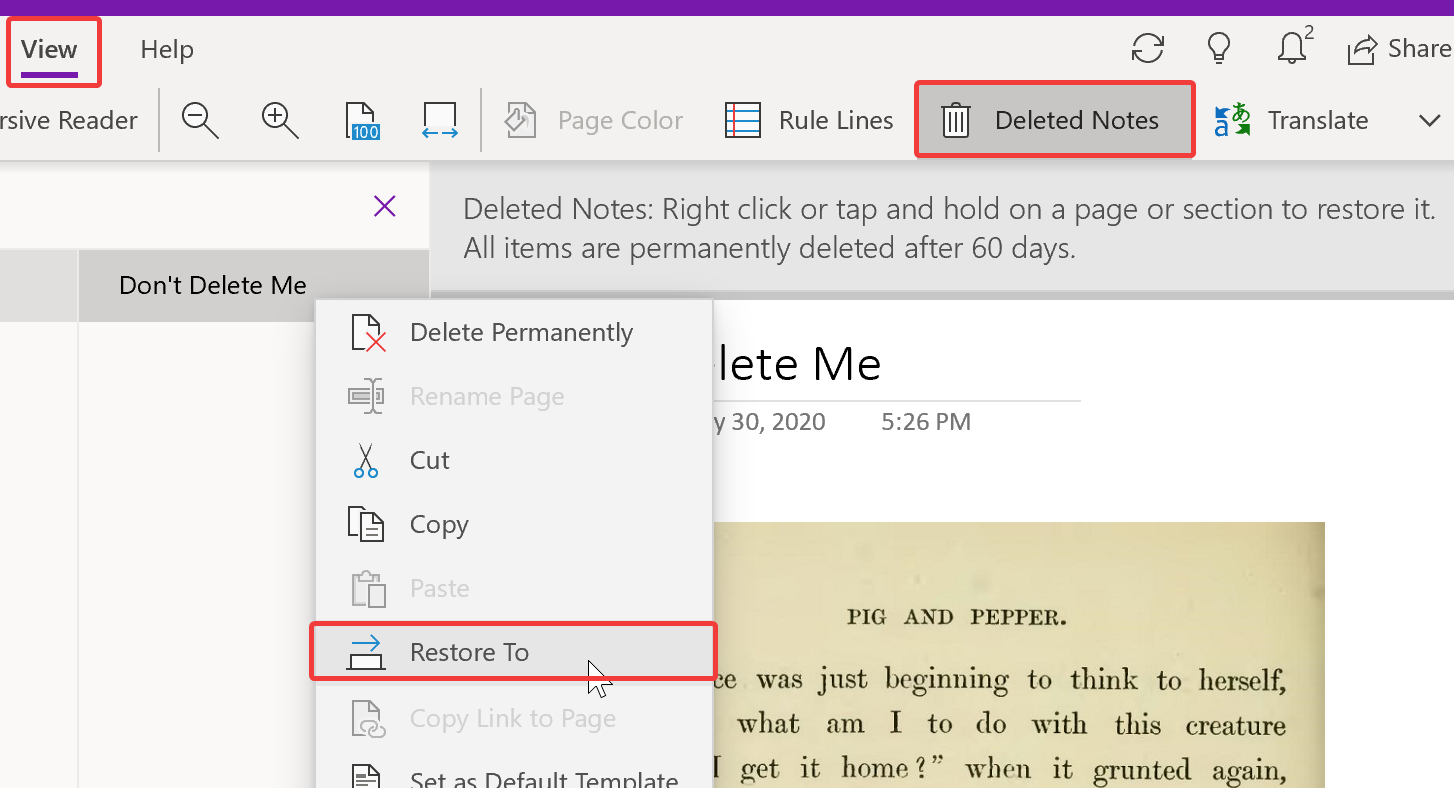 Add a task to a page that syncs to Outlook Tasks
Available in 2016 only, you can find the option to create Outlook Tasks on the Home tab. Each relative due date has its own keyboard shortcut you could memorize, see here, or you can create a custom Outlook Task type.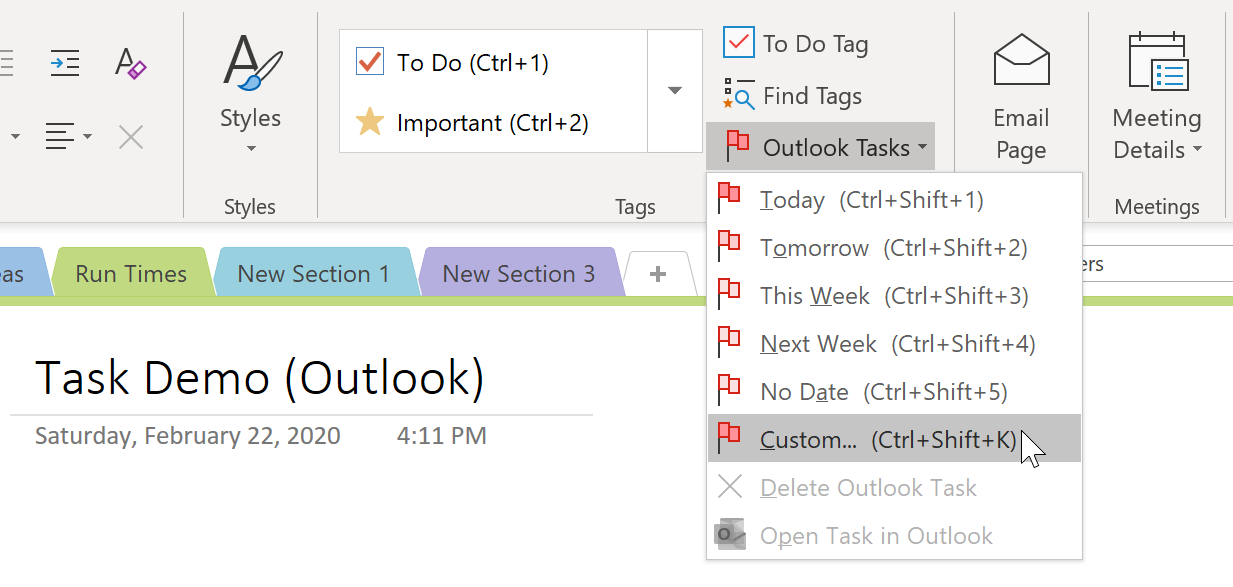 When a task is completed, in either OneNote (click the flag) or Outlook (click the flag or Complete the task from within the task body) it shows a checkmark instead of a task flag.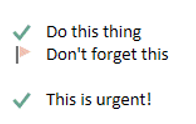 Look professional
Instantly correct geometric shapes
When using a stylus, you may be drawing boxes around content, or just trying to draw a concept or map based on geometric shapes. In OneNote for Windows 10 only, you can turn on Ink to Shape before drawing to have it automatically correct and straighten your shapes to the nearest geometric match.

Draw using a stylus and it instantly corrects your shapes: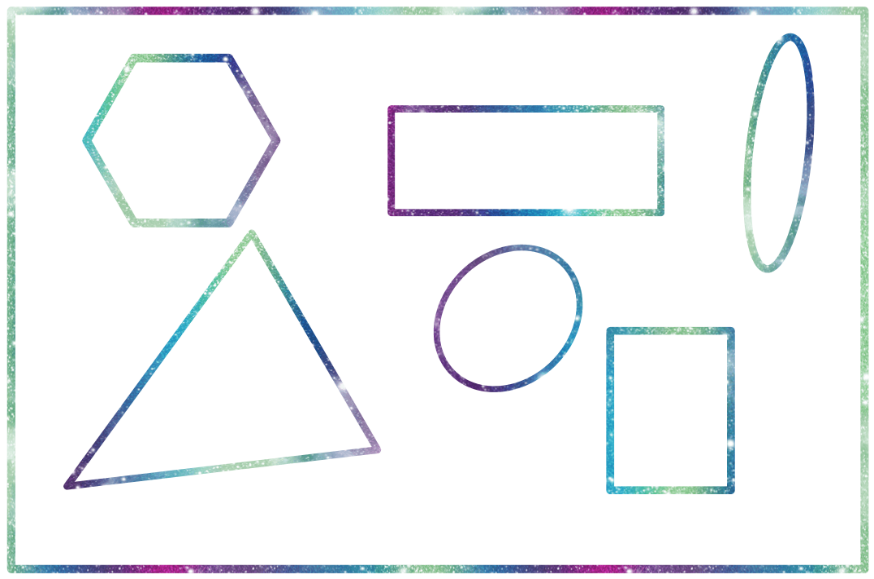 Convert handwritten notes to text
In OneNote 2016, you may be using a stylus to take handwritten notes on a Surface or other tablet device. When finished, use Draw 🡪 Ink to Text to see how well OneNote can clean up your notes:



This works in OneNote for Windows 10 as well, but before step 2 you need to click and drag around the specific handwriting ink you want to convert to select the ink first. Then you can use Draw 🡪 Ink to Text.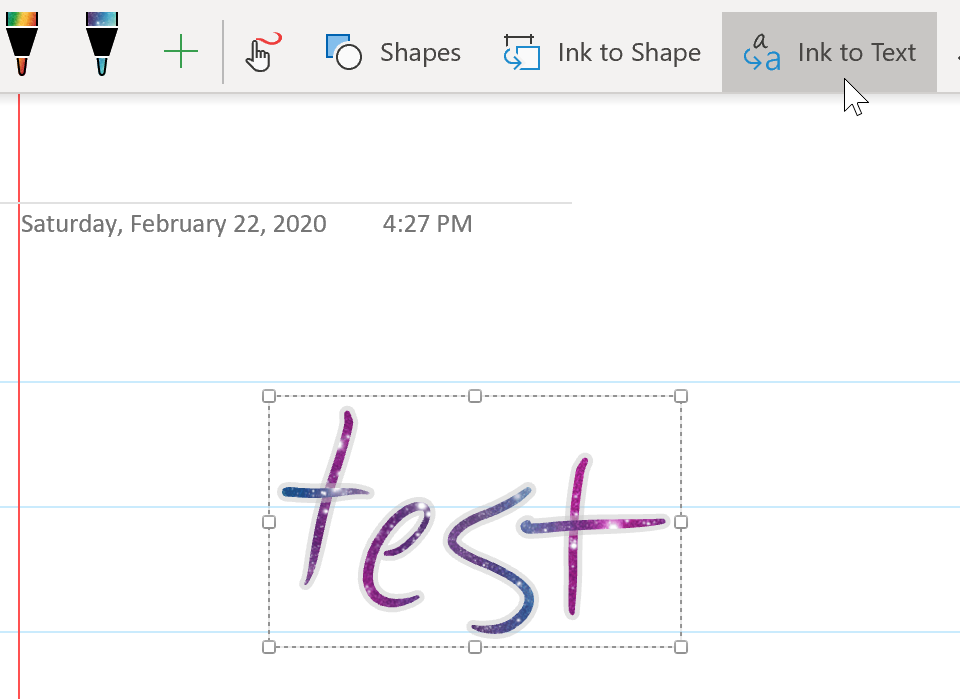 Use page templates to simplify traditional template usage
In OneNote 2016 only, you can save any page as a custom template or use one of many out-of-the-box templates provided by OneNote.

These give you a professional look in a single click: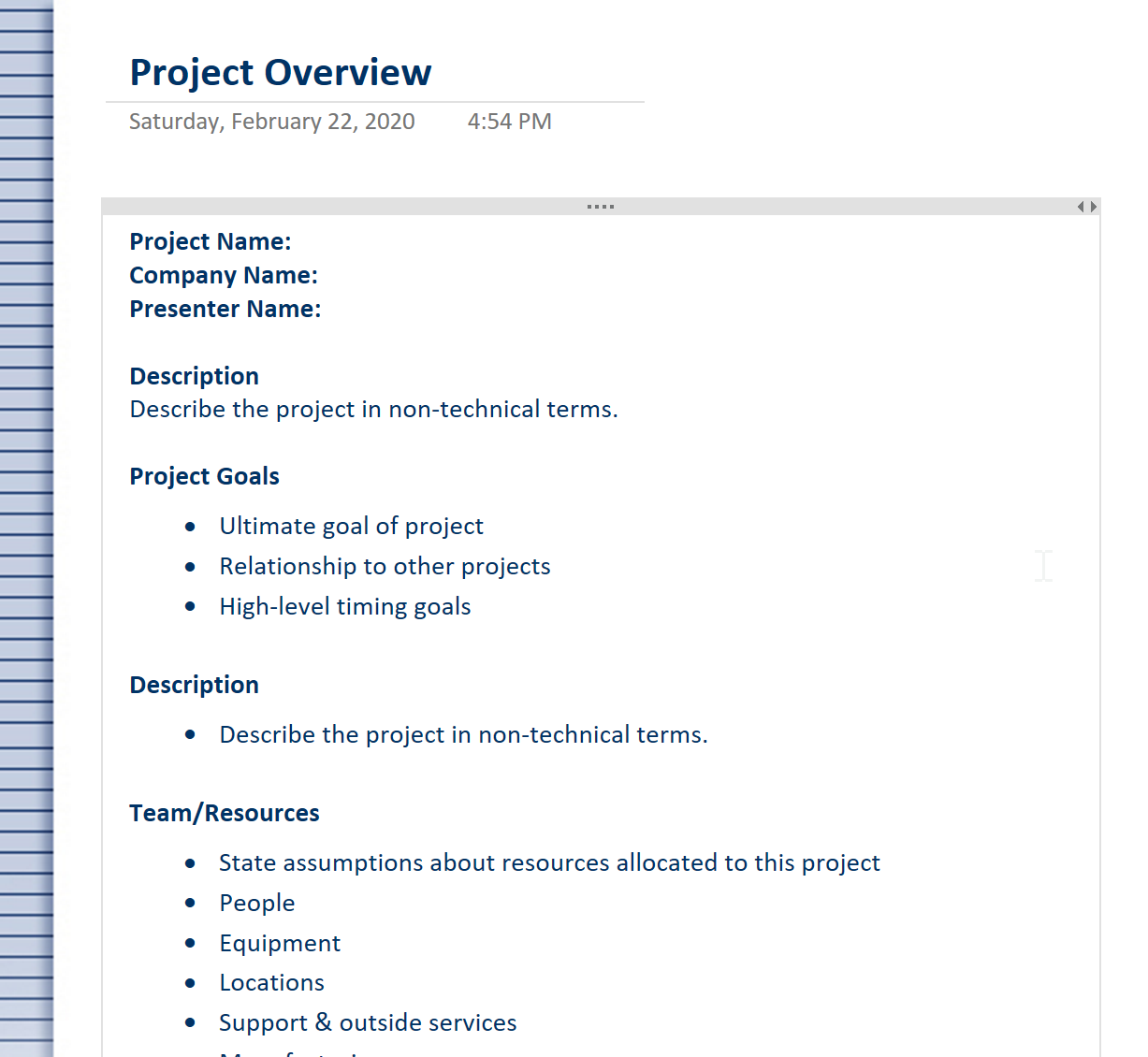 Try copying the contents of your Word doc templates and pasting them into a OneNote page. If it looks good on a OneNote page, use Insert 🡪 Page Templates 🡪 Save current page as a template to save it to "My Templates" for future use OR set it as the default for every new page in the current section. This makes regular meetings and agendas for a specific group a breeze.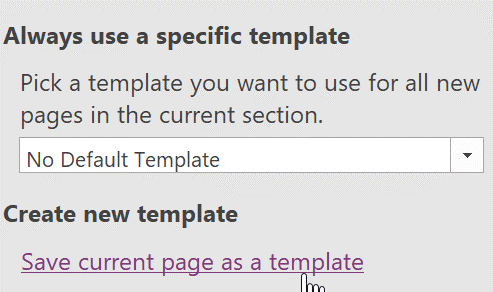 Insert Outlook meeting invite details on a page
OneNote (Windows 10 or 2016) can connect to Outlook and import meeting details for easier note-taking. Use Home 🡪 Meeting Details in OneNote 2016

or Insert  Meeting Details in OneNote for Windows 10.

This lets you choose a past, current, or future meeting to import expected attendees, meeting details from the invite's body, and essential details like time and location into a OneNote page.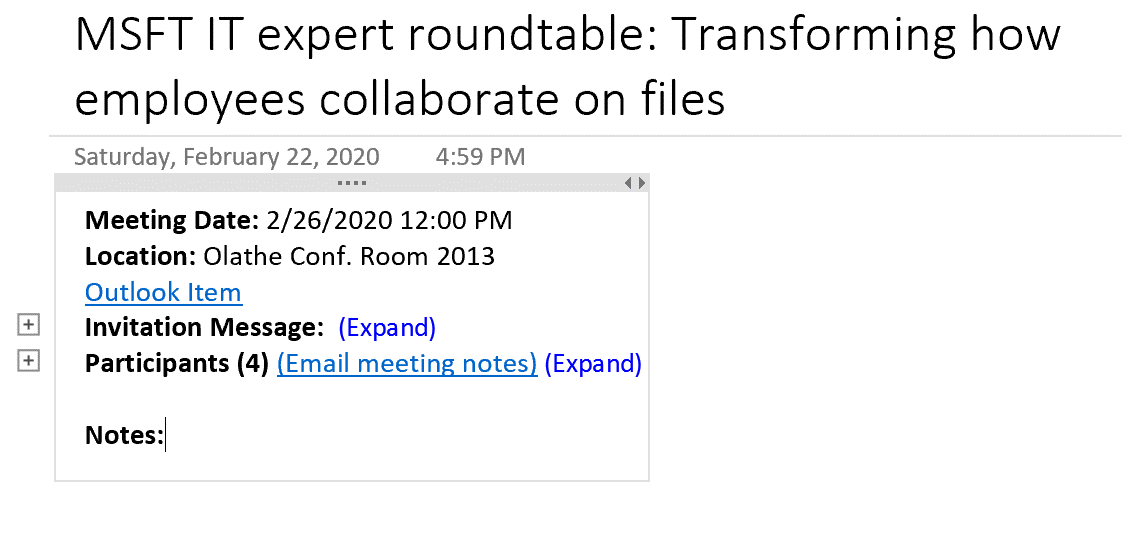 Email Outlook-connected meeting notes to attendees in one click
When finished with the previous tip (adding Outlook meeting details to a page) simply use the "Email meeting notes" link in OneNote for Windows 10 to open a new email message with all meeting attendees in the To: line and the notes copied and pasted into the email's body.

In OneNote 2016, use Home 🡪 Email page to do the same: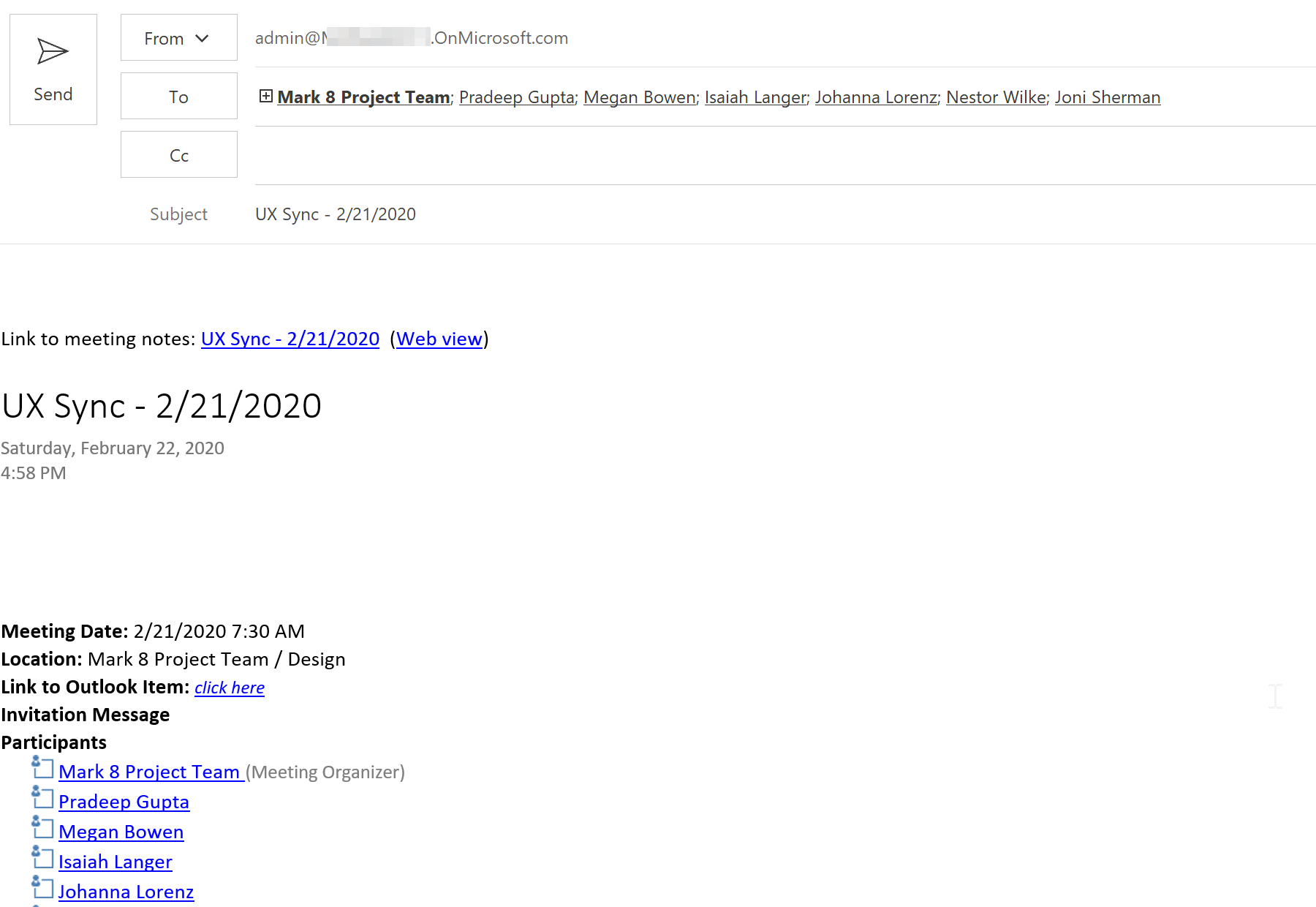 Tags and reports
In both the 2016 and Windows 10 versions of OneNote, you can use "tags" to mark your notes with icons as visual cues and organization tactics.
OneNote for Windows 10 has fewer options than 2016 but you can create your own custom tags too: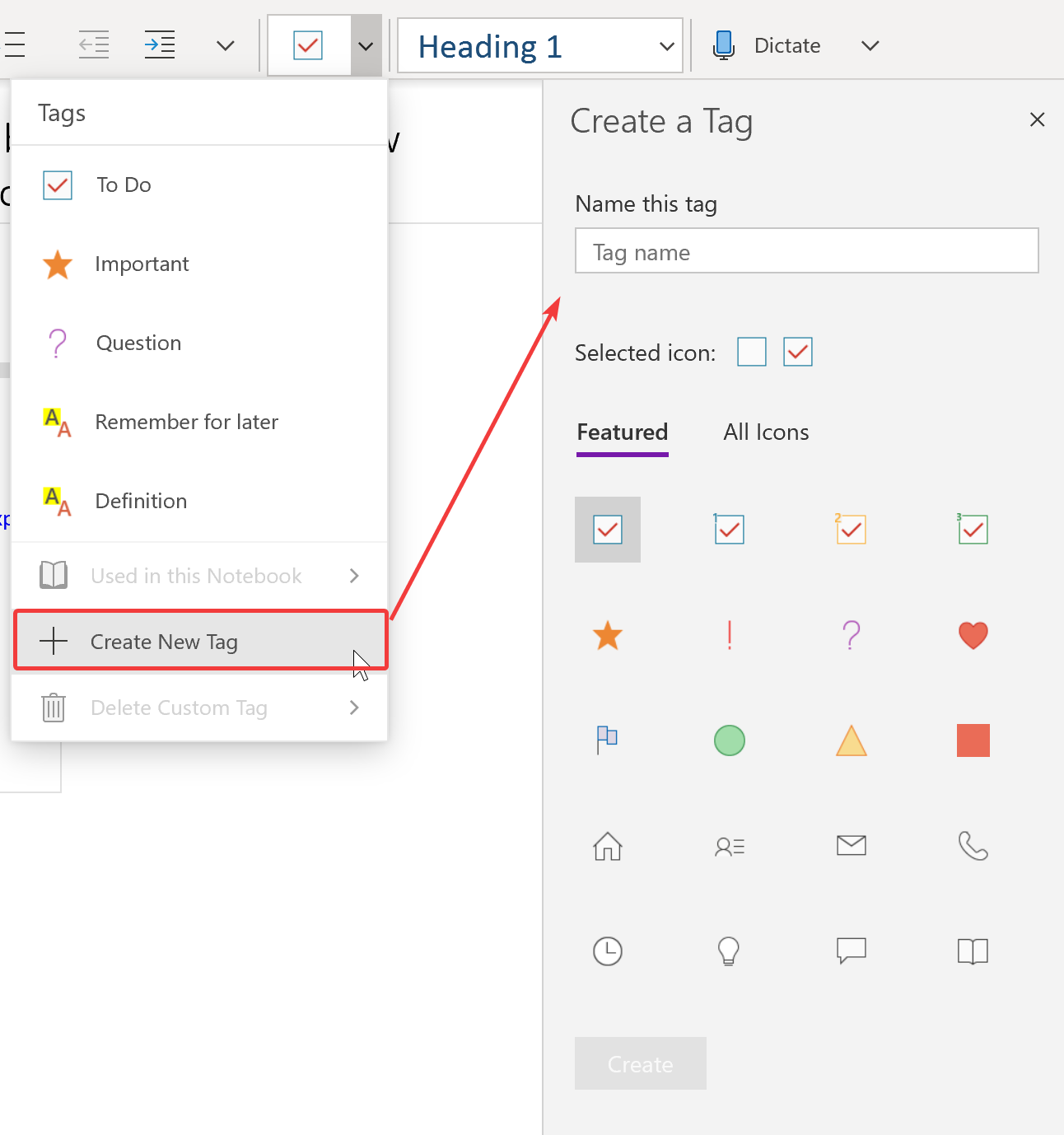 OneNote 2016 has many more out-of-the-box, and you can also create custom tags here as well and customize those that came out of the box. And if you re-order tags (using Customize tags) the top 9 on the list are assigned keyboard shortcuts. In 2016, your tags can later be retrieved and turned into organized reports called Summary Pages. Just use Find Tags 🡪 Create Summary Page.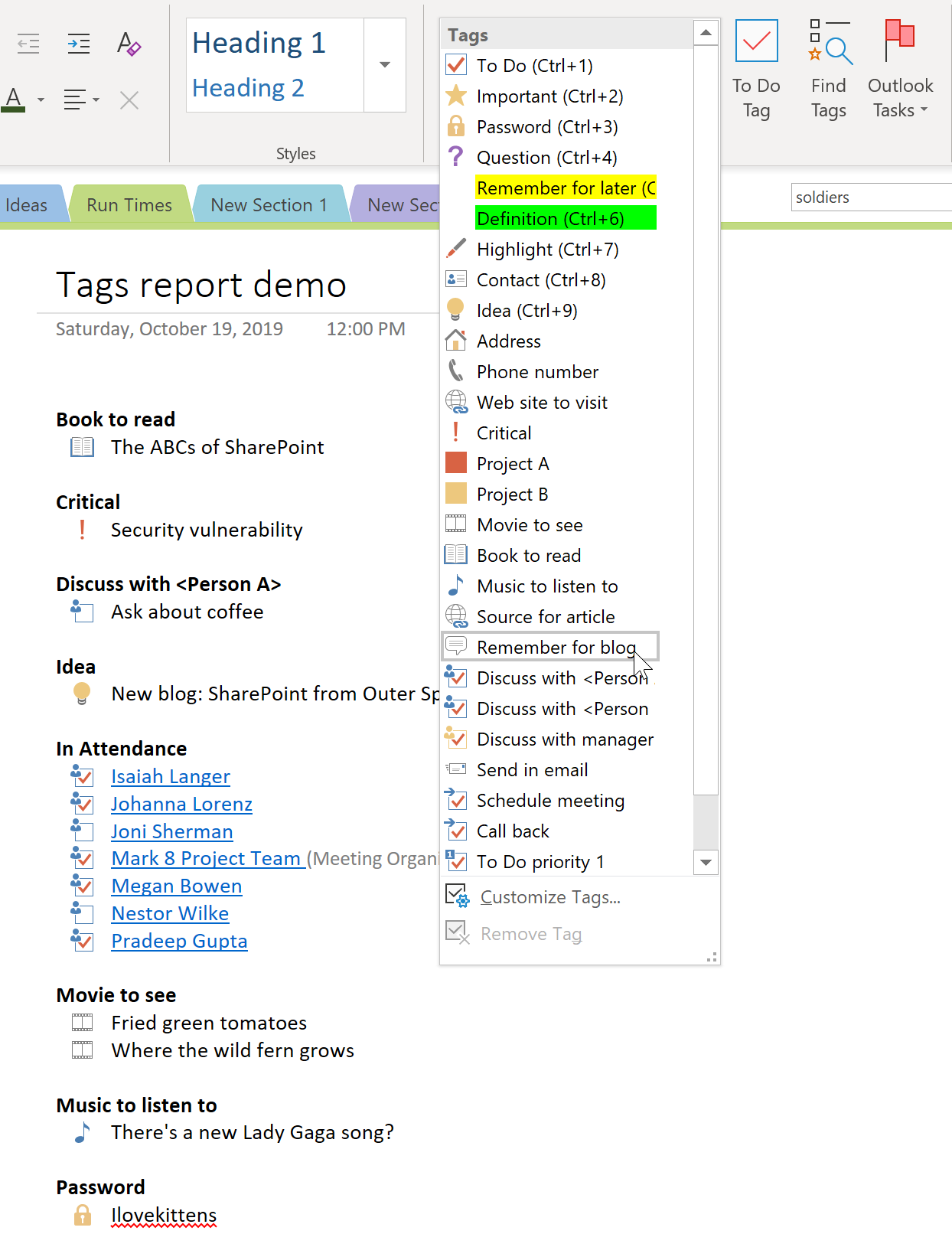 Organize sections and pages
In both OneNote for Windows 10 and OneNote 2016, you can right-click sections and:
Password protect them
Change their tab color
If you right-click in the grey/open area where sections are, you can also create section groups that can be expanded and collapsed, cleaning up your notebook's appearance and organization:

This adds a new section group among your sections row that you can drag existing sections into, or create new sections within.

In OneNote for Windows 10 section groups can be expanded and collapsed rather than entered and exited.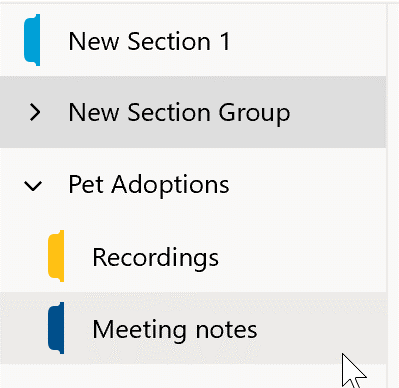 Similarly, you can create sub-pages beneath pages to help in organization and provide an additional layer of hierarchy in your notebook. Just move the page beneath the "main" or "head" page, right-click, and "Make Subpage."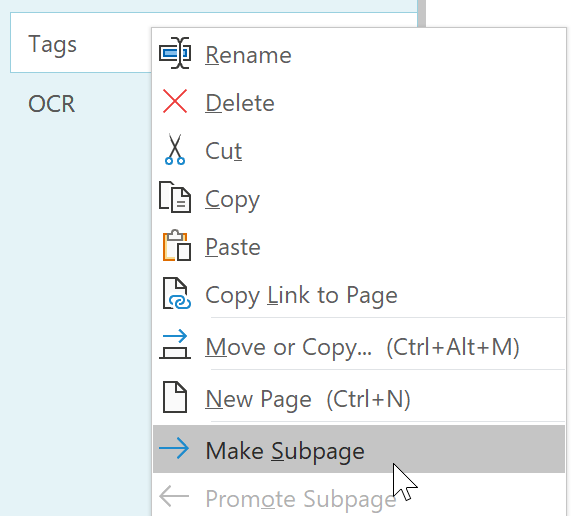 Later you can "Promote Subpage" to move it back up a level if needed. In both the 2016 and Windows 10 versions of OneNote, pages with subpages can be expanded and collapsed for simplified viewing/navigation.
Maximize and customize
Dark mode
OneNote for Windows 10 has a relatively new feature as of early 2020 to toggle your experience from light mode to dark mode. Use the ellipses 🡪 Settings 🡪 Options and change color to Dark.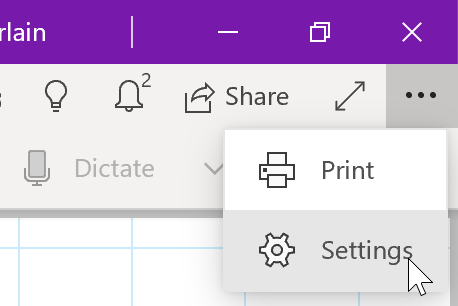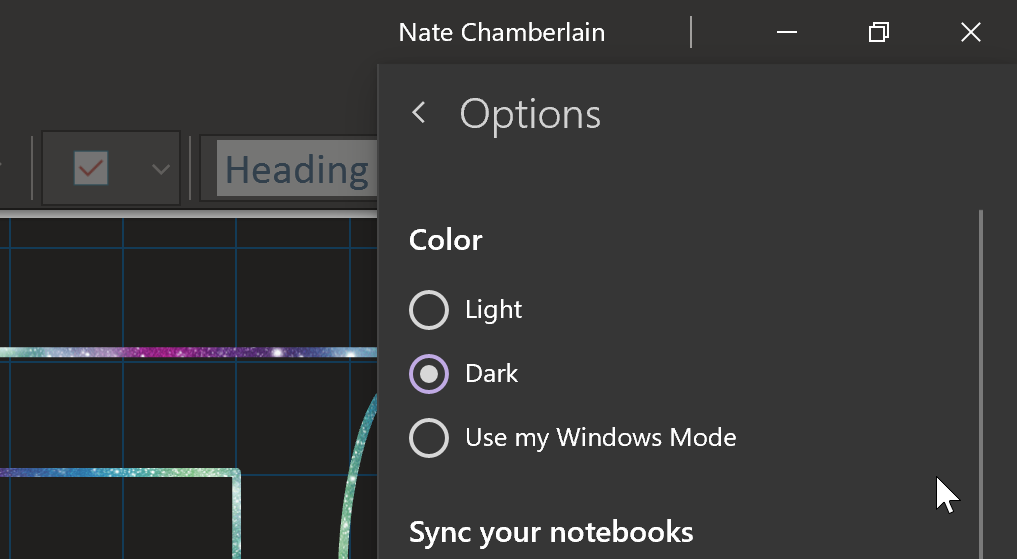 In OneNote 2016, you can achieve a similar result by going to File 🡪 Options 🡪 General and changing Office Theme to Dark Gray or Black.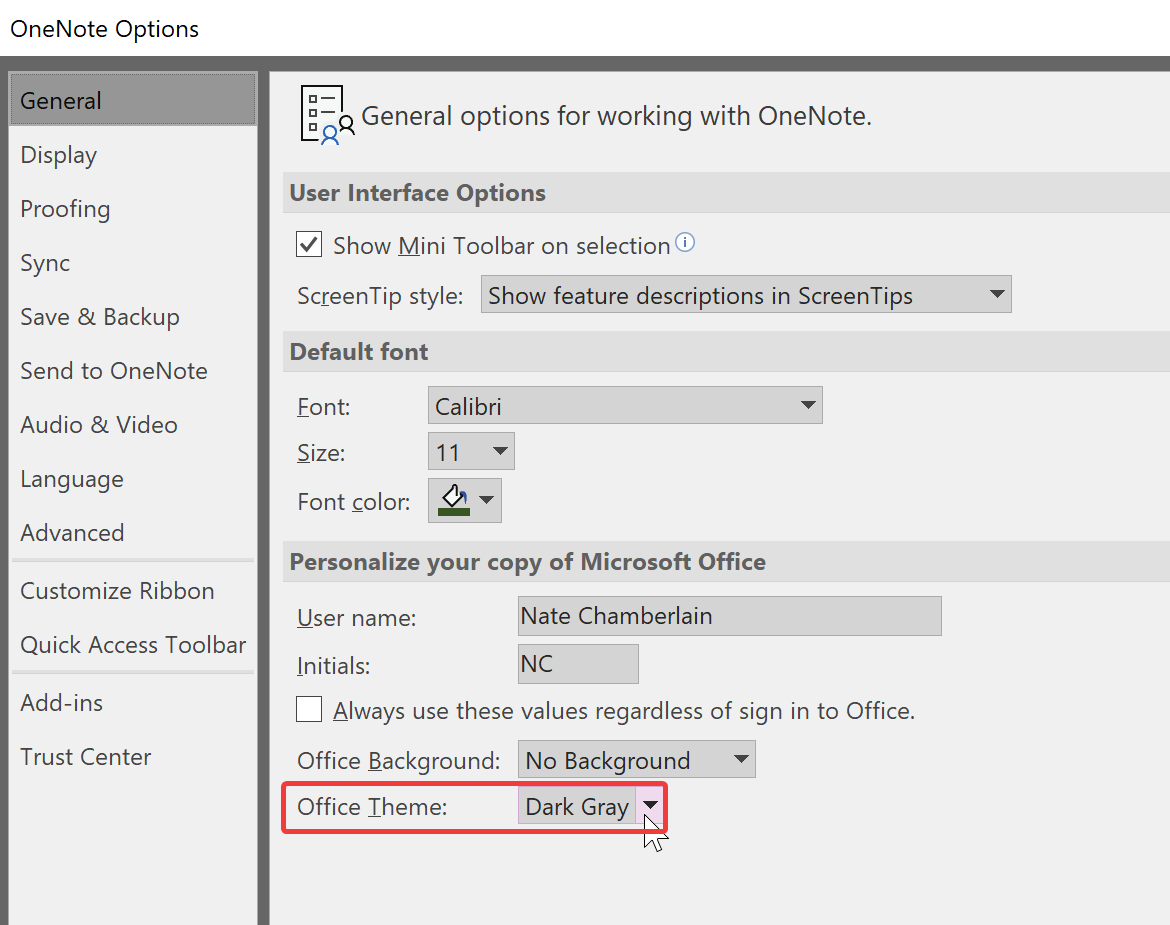 Customize tag options
As you saw in Chapter 3, tags can be useful additions to your notes, making it easy to identify important thoughts and tasks at a glance. And when there's not a tag that fits your needs, you can create your own.
In OneNote for Windows 10, expand the Tags dropdown from the Home tab and select Custom tag.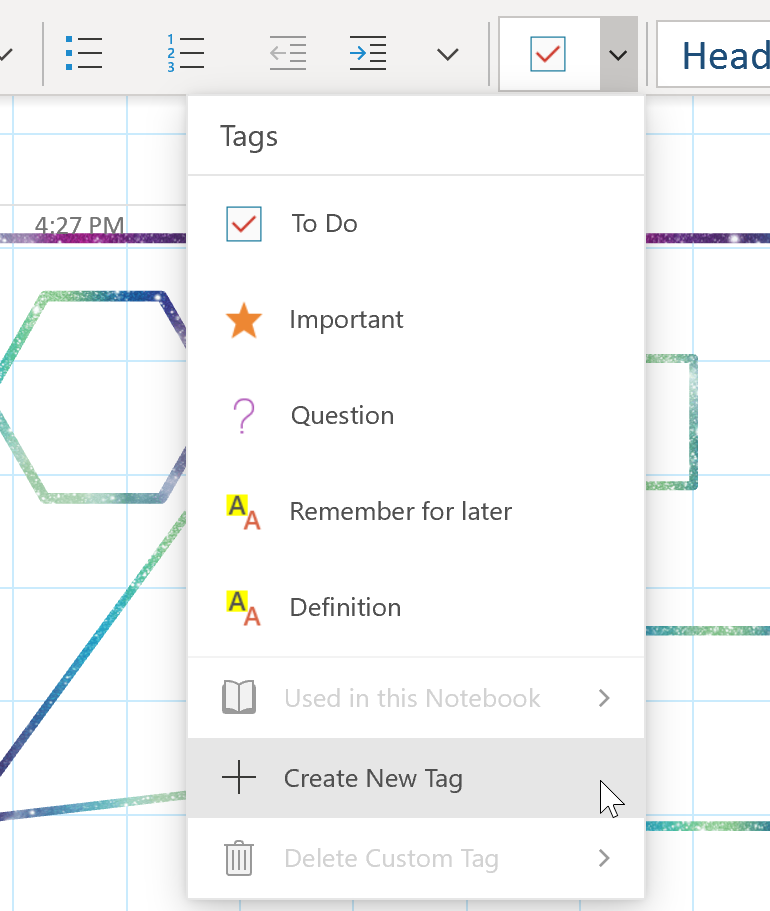 Then just name your custom tag, choose an appropriate icon and click "Create."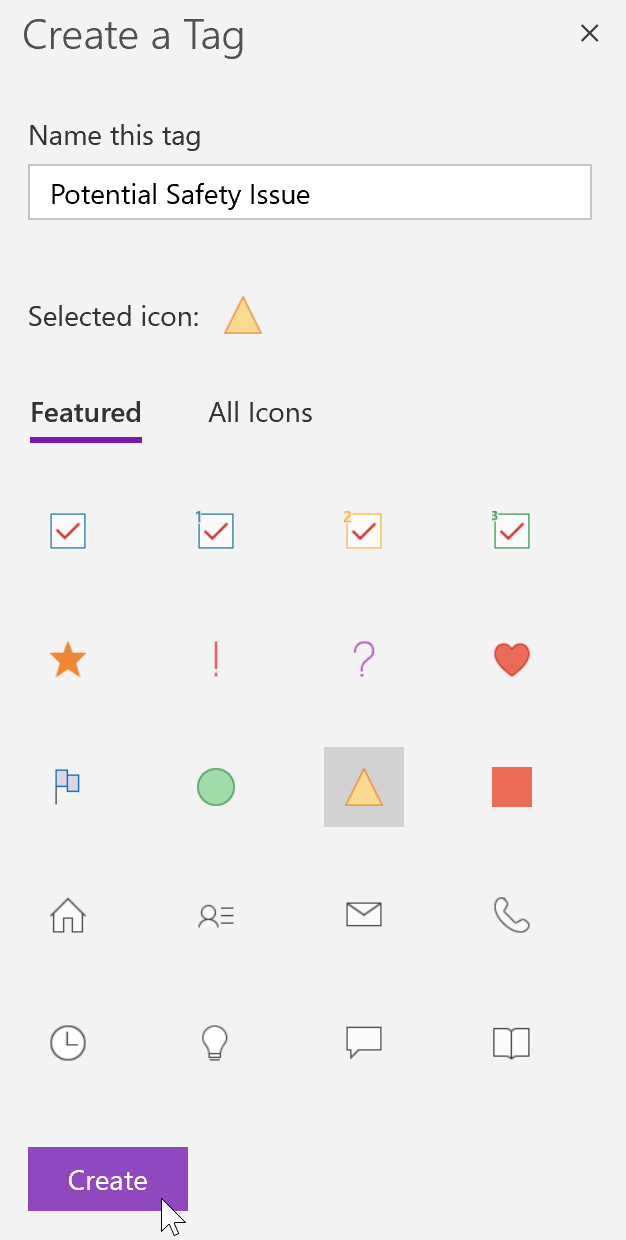 In OneNote 2016, you can achieve a similar result by expanding the tags menu from the Home tab and choosing Customize tags 🡪 New Tag: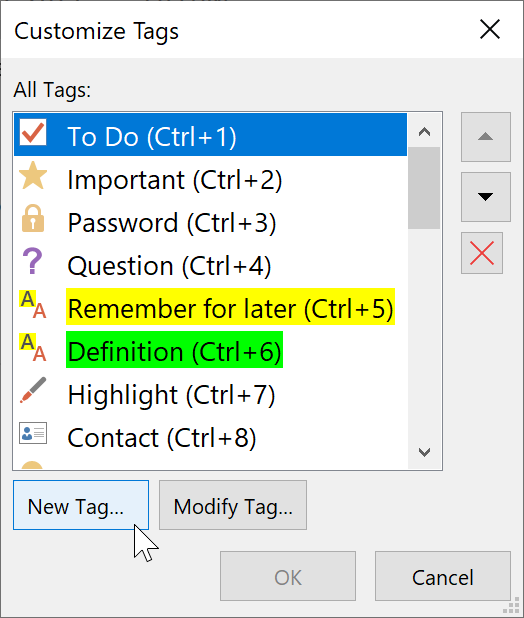 Here you can choose a symbol, font color, and highlight color to style your custom tag.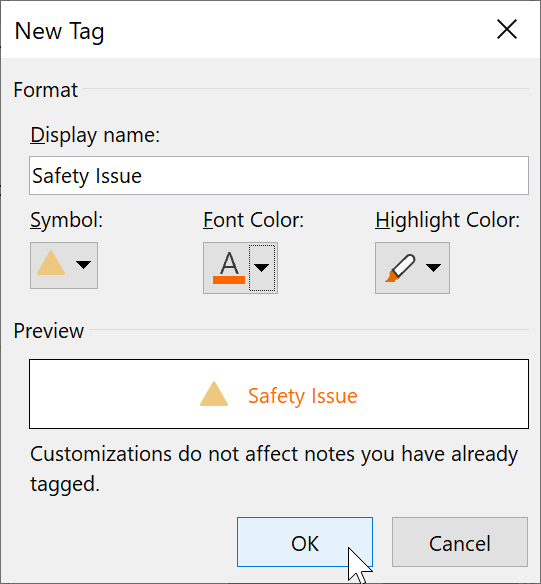 Docked view
Are you a multi-tasker? Easily dock your active OneNote page to the side of your screen so you can work on something else side-by-side while taking notes.
In OneNote 2016, this is under View 🡪 Dock to Desktop.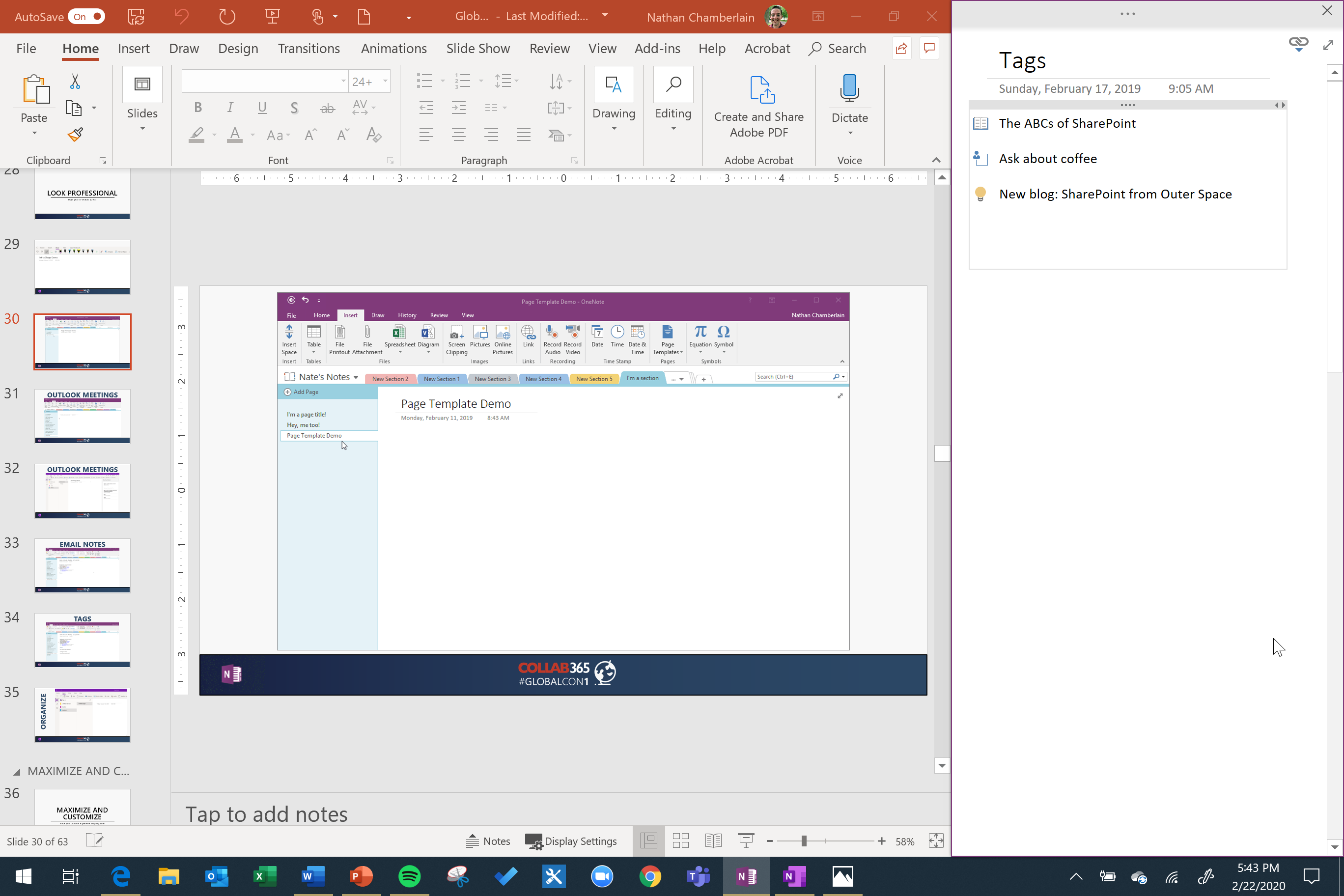 In OneNote for Windows 10, there's no button. But you can snap your windows and resize as needed to achieve a similar result.
Hide page titles
In OneNote 2016, you can hide page titles when they're not applicable or unneeded – perhaps you're just sketching or mocking up a flow chart. From the View menu, choose Hide Page Title.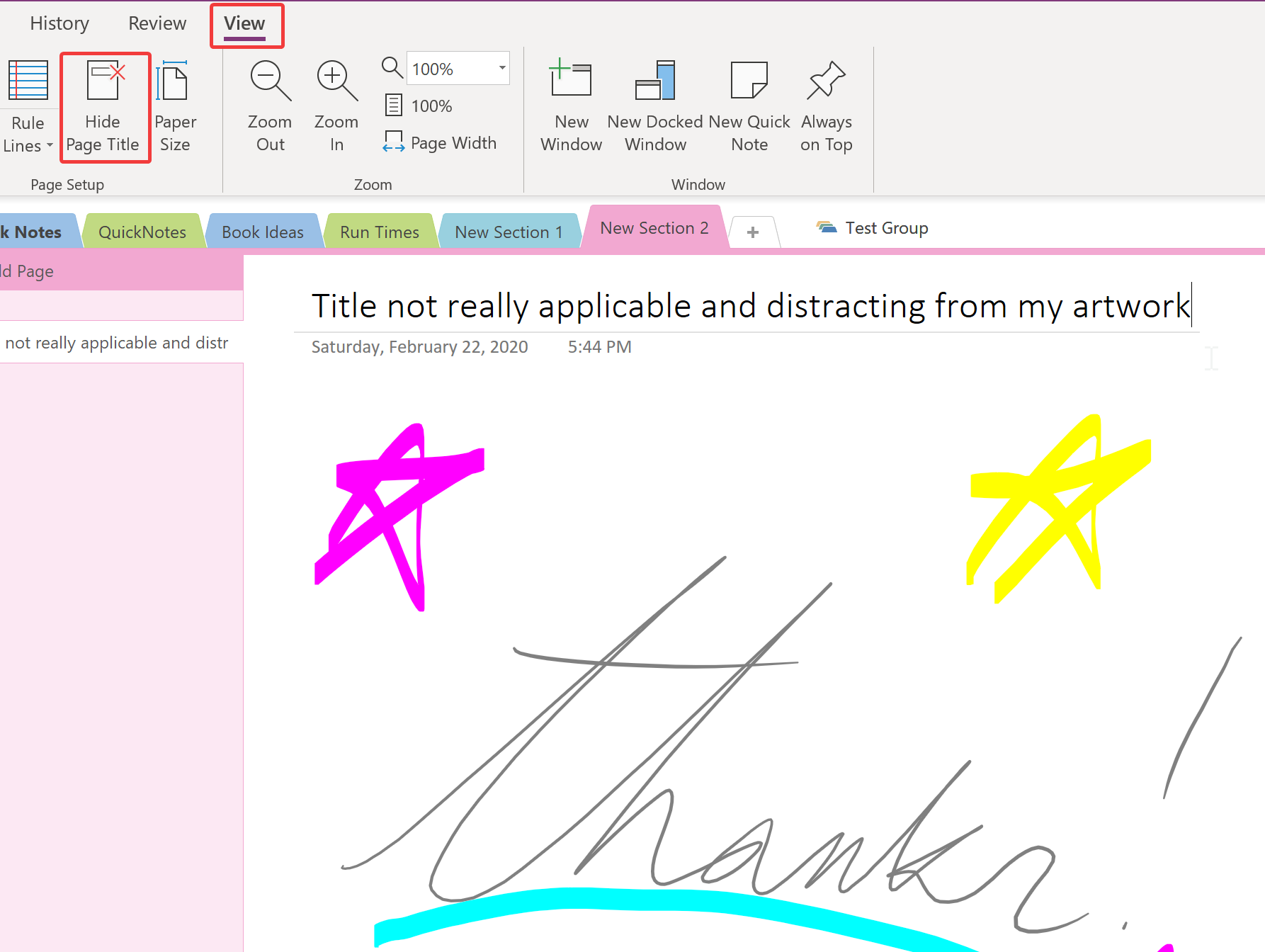 You'll receive a confirmation box; choose Yes.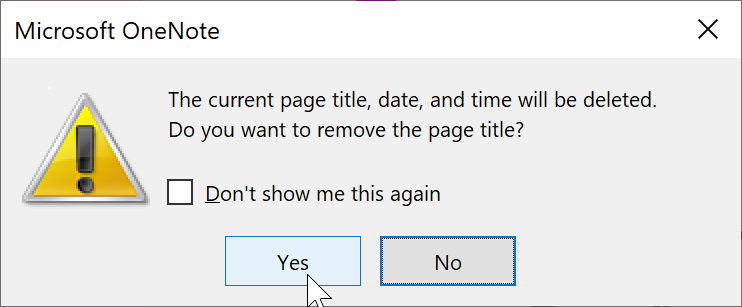 If you decide you want a title again later, just go to View 🡪 Hide Page Title to allow you to add a new one.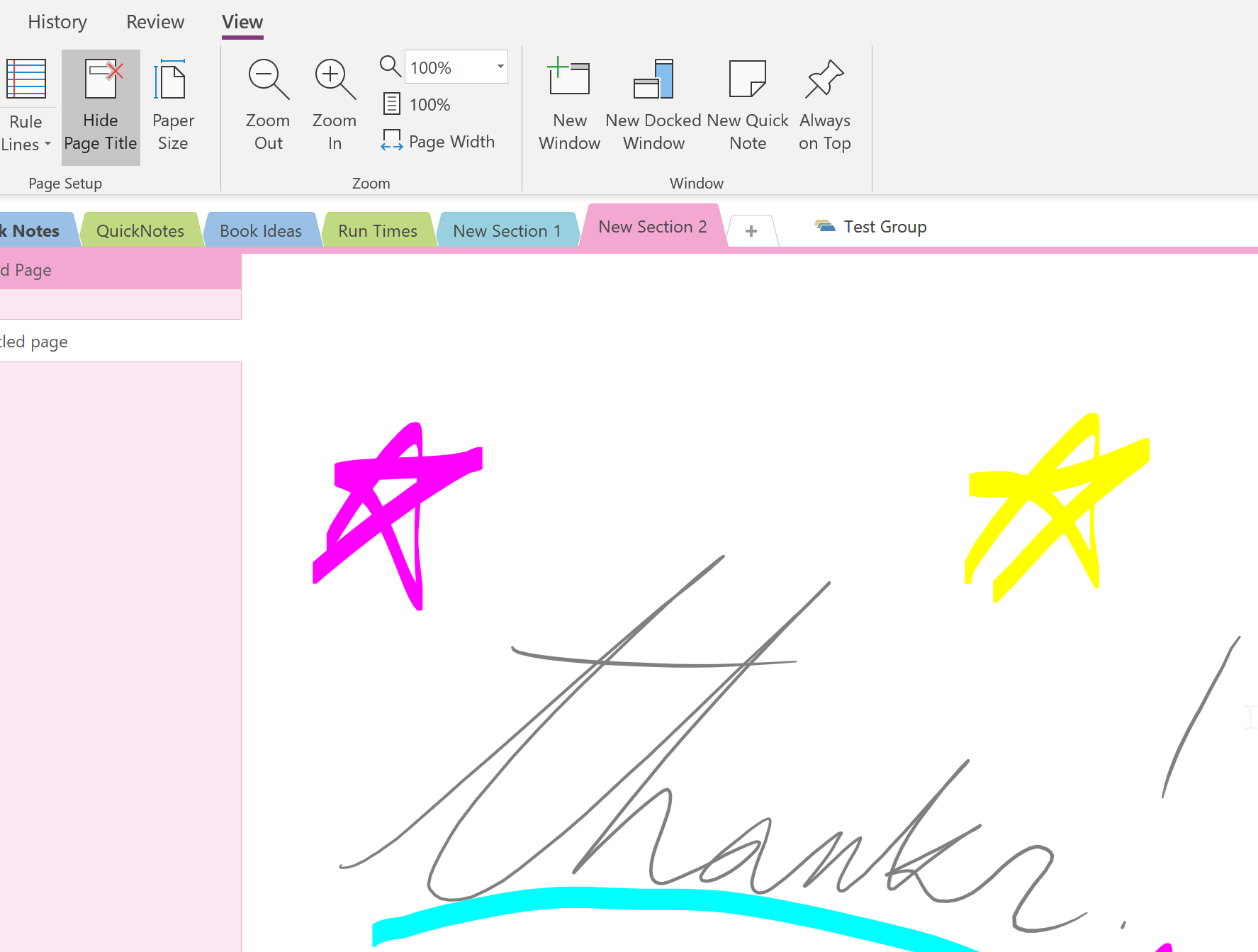 View full screen
Just like you can in a web browser, press F11 to go full-screen in OneNote and focus on your note-taking. In OneNote for Windows 10, this leaves your top menu intact and removes other distractions: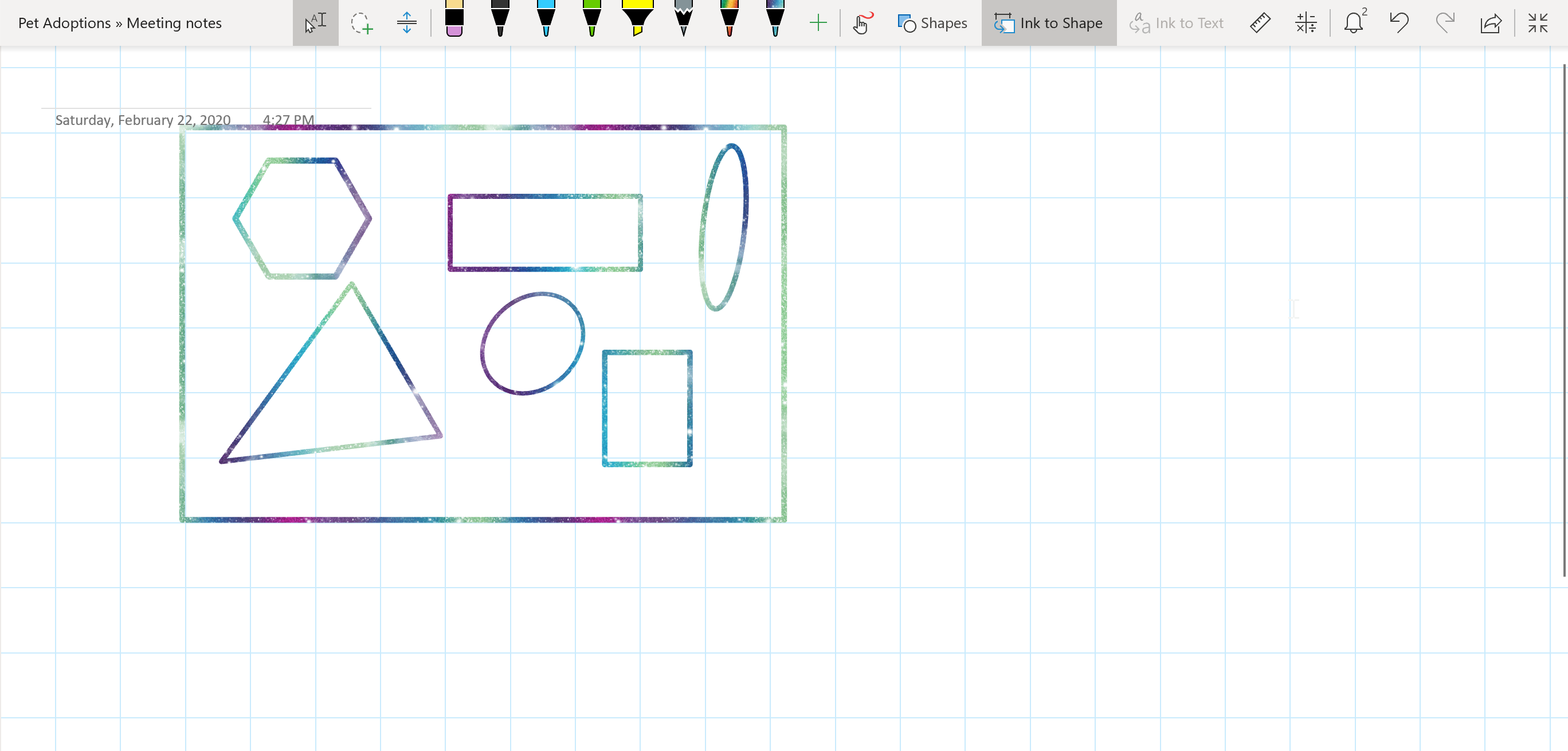 In OneNote 2016, this removes almost every distraction, but allows you to see the menu by choosing the top bar with an ellipsis:

When finished in a full-screen view, just press F11 again to restore the normal view.
Note: There are menu buttons to go full screen as well in both versions – using F11 is a shortcut preference of mine.
Move page panel to the left side of screen
In OneNote 2016 only, your "page" panel appears on the right side of your window by default.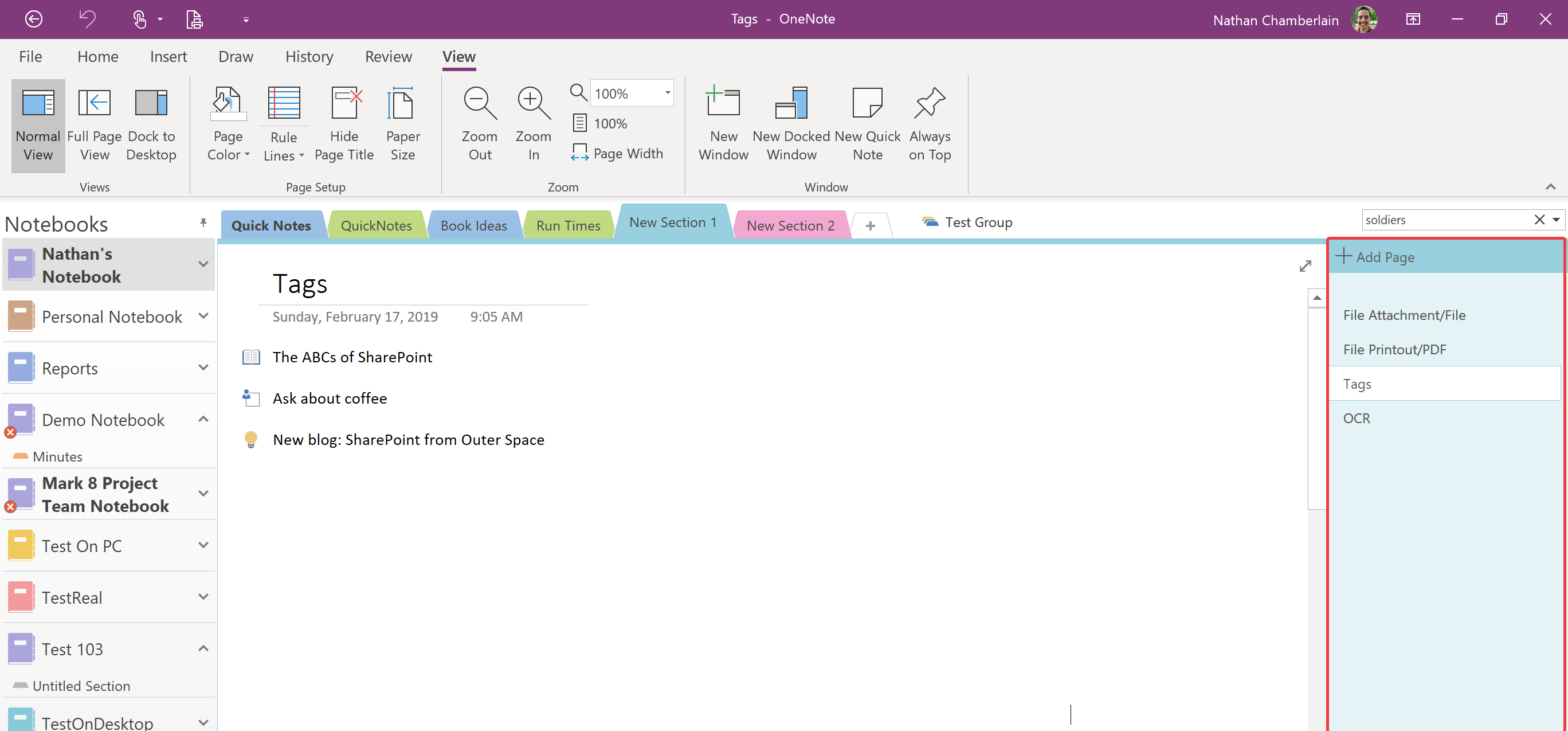 To move this to the left, to more closely resemble OneNote for Windows 10 (and even for a more intuitive left-to-right navigation experience) go to File 🡪 Options 🡪 Display and check the box for Page tabs that appear on the left.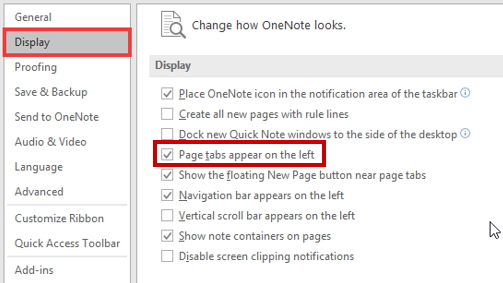 Now your page panel appears to the right of your notebook panel: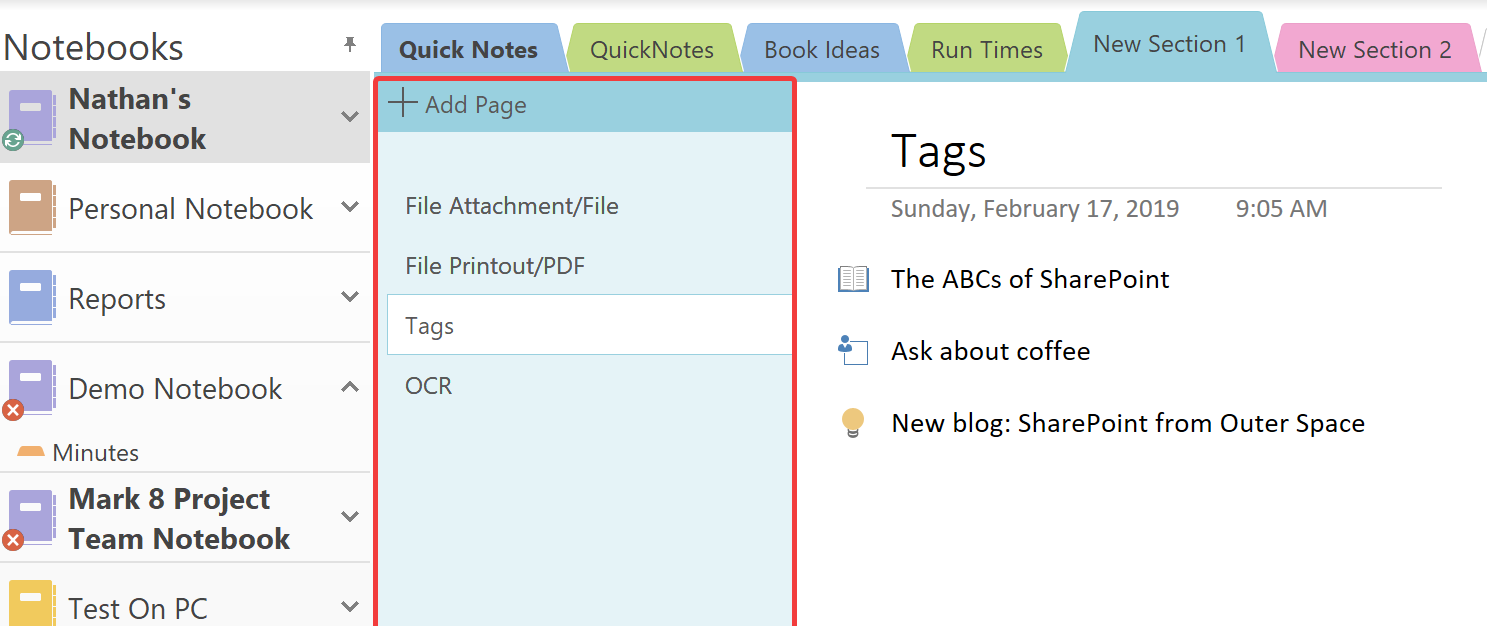 Shortcuts
Chapter 5 is all about "note-worthy" shortcuts you can commit to memory to speed up your note-taking abilities.
New sticky note
In OneNote 2016 only, use Windows Key + N to open a new "sticky note."

These "sticky notes" are full-page notes saved to your "Quick Notes" section. The advantage of Windows Key + N is that OneNote doesn't have to be open for it to work.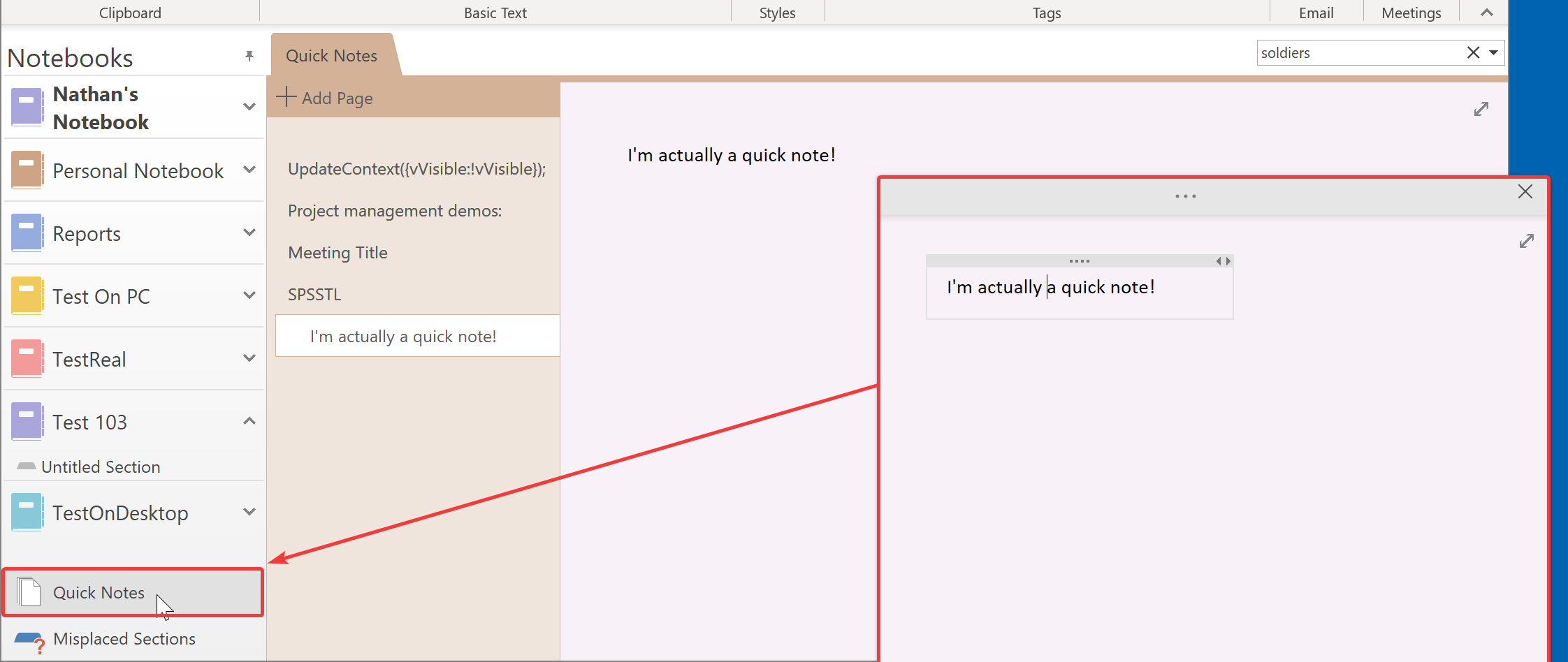 Fancy hyperlink
Anyone can type text, highlight it, right-click it and choose "Link." But it's 2020 – let's simplify that.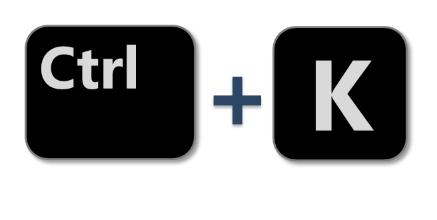 To create hyperlinked text (screenshot is OneNote 2016):
Use Ctrl+K before typing text
Enter the Text to display and what it should link to. Click OK.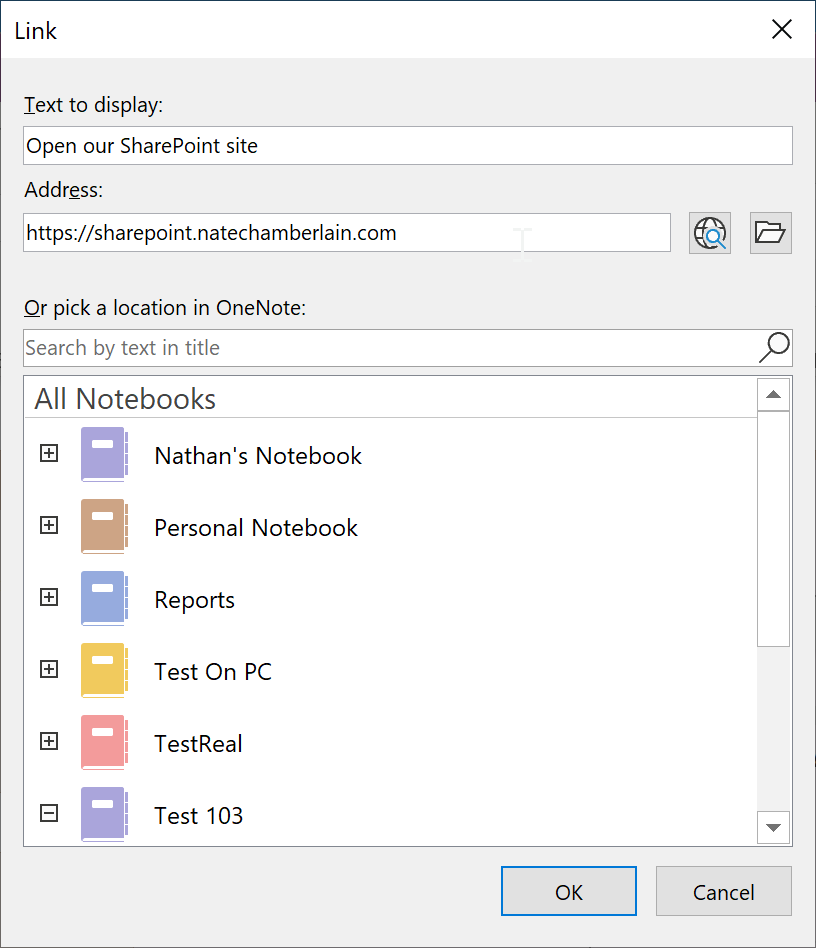 Voila! Also notice in the previous screenshot how OneNote 2016 lets you link to other notebooks and specific sections as well.

You can also highlight any pre-existing text, use Ctrl+K and just add the link. Example from OneNote for Windows 10: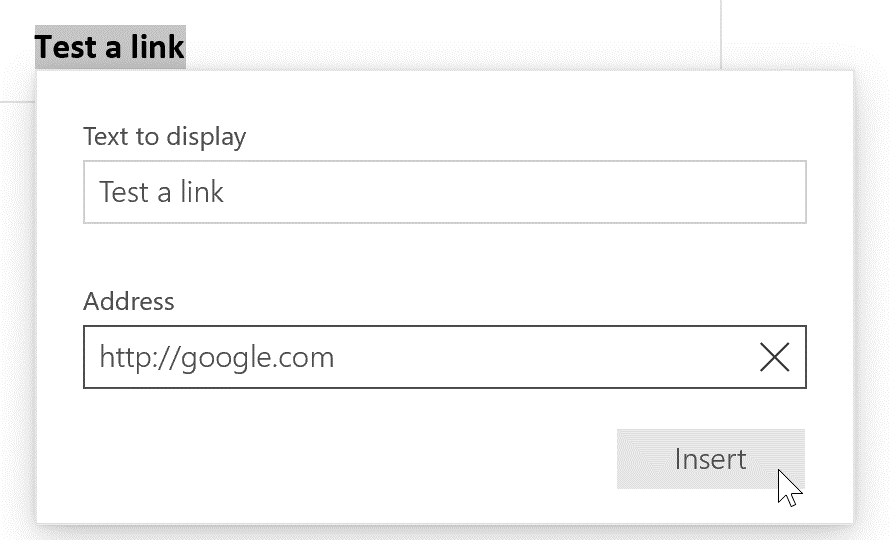 New page in current section
This one is simple. Working away in a section and need to quickly create and start typing on another page? Don't miss a beat. Use Ctrl+N to open a brand new page and keep on typing.
Apply heading styles to text
Just as you can in Word and other apps, you can use Ctrl+Alt+1, Ctrl+Alt+2, etc. to apply the respective heading level up to level 6.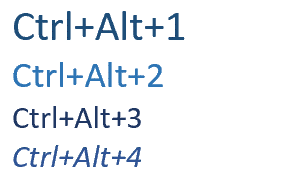 Search
In most applications, Ctrl+F will allow a quick search to find text within whatever you're currently on. OneNote is no exception, in both versions, and also accepts Ctrl+E. The difference is that Ctrl+F searches your current page, and Ctrl+E searches all notebooks/everything.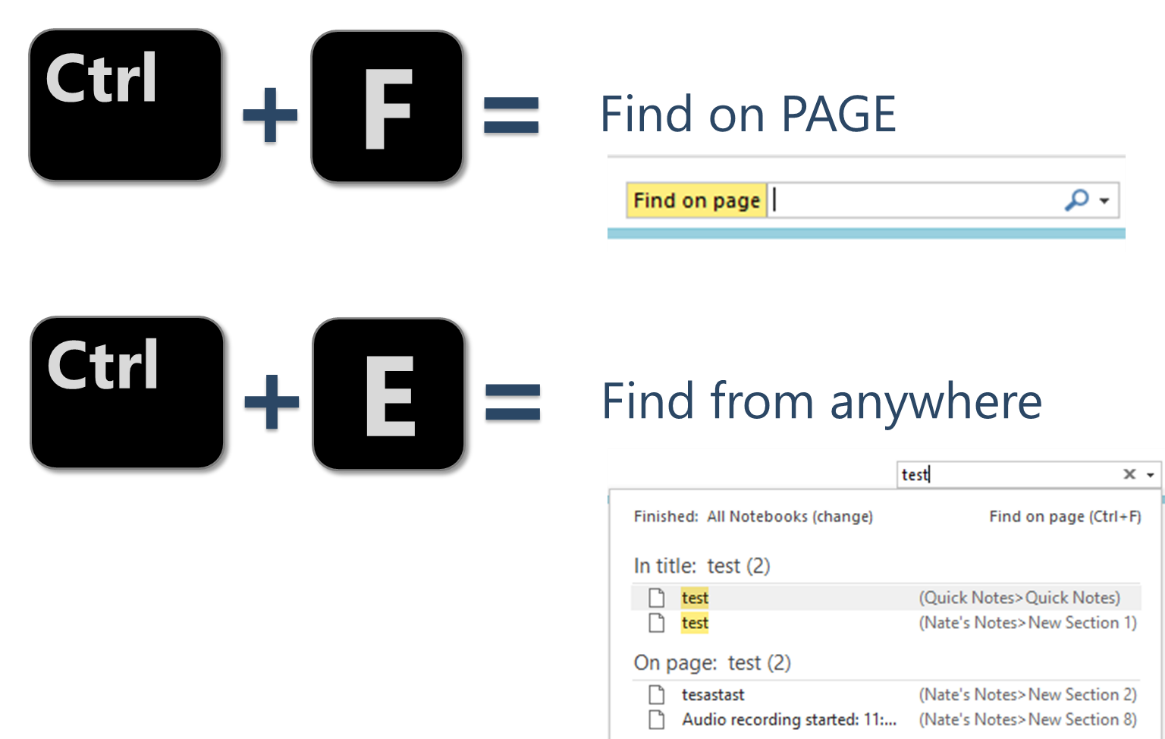 Open a second instance of OneNote
In both OneNote for Windows 10 and OneNote 2016, use Ctrl+M to open another OneNote window so you can multi-task, copy content easily from one to the other, etc.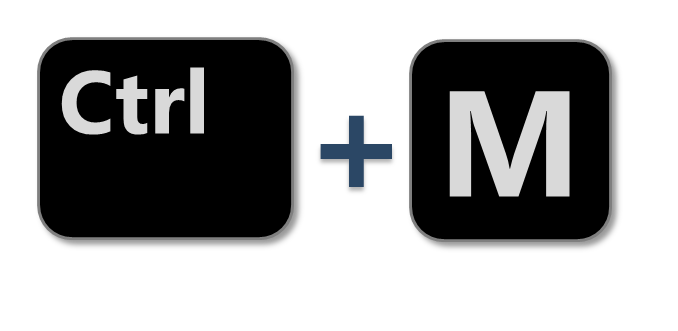 Bonus: In Windows 10, Shift+Click on ANY application's icon in your taskbar will also do this.
Delete words
We've all held the backspace and delete key for an unreasonable amount of time at one point or another, right? Yes, you can use Ctrl+A to select EVERYTHING and delete it. And you can highlight text with your mouse and then delete it. But we're talking about keyboard shortcuts here: stay focused.
Use Ctrl+Backspace and Ctrl+Delete to delete entire words (not letters) at a time in their respective directions (backspace to delete previous, delete to delete forward). Your key-pressing time is reduced and you've gained a few seconds back to your day.

Start ordered lists (bullets or numbered)
Ctrl + . starts and ends bulleted lists. Note: You can also type an asterisk (*) and space to start (but not end) a bulleted list.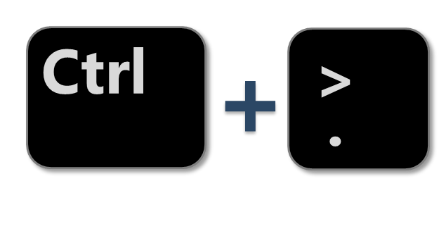 Ctrl + / starts and ends numbered lists.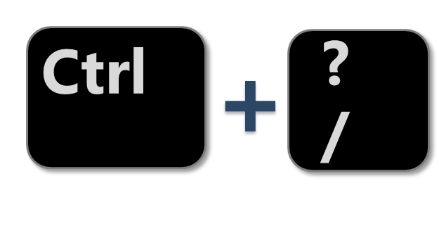 View rule lines
Are you stylus-savvy? We can't all write in straight lines and practice elegant proportions in our hand-written work. Thankfully, Ctrl+Shift+R toggles on "rule lines" so that we can have guides for our writing and drawing.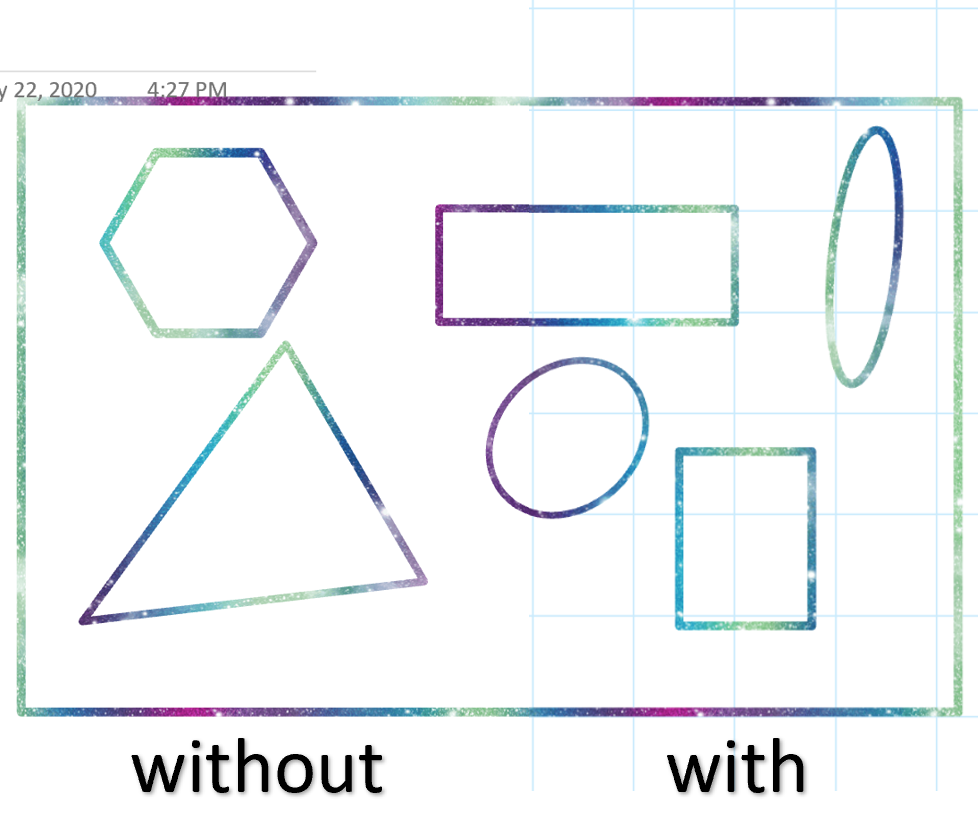 This shortcut will toggle on your most recently used style of rule lines, so be sure to choose your favorite at some point so it's ready to go next time.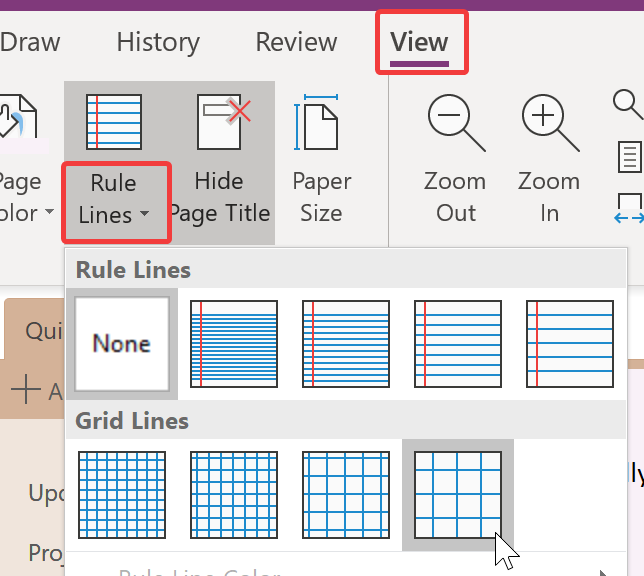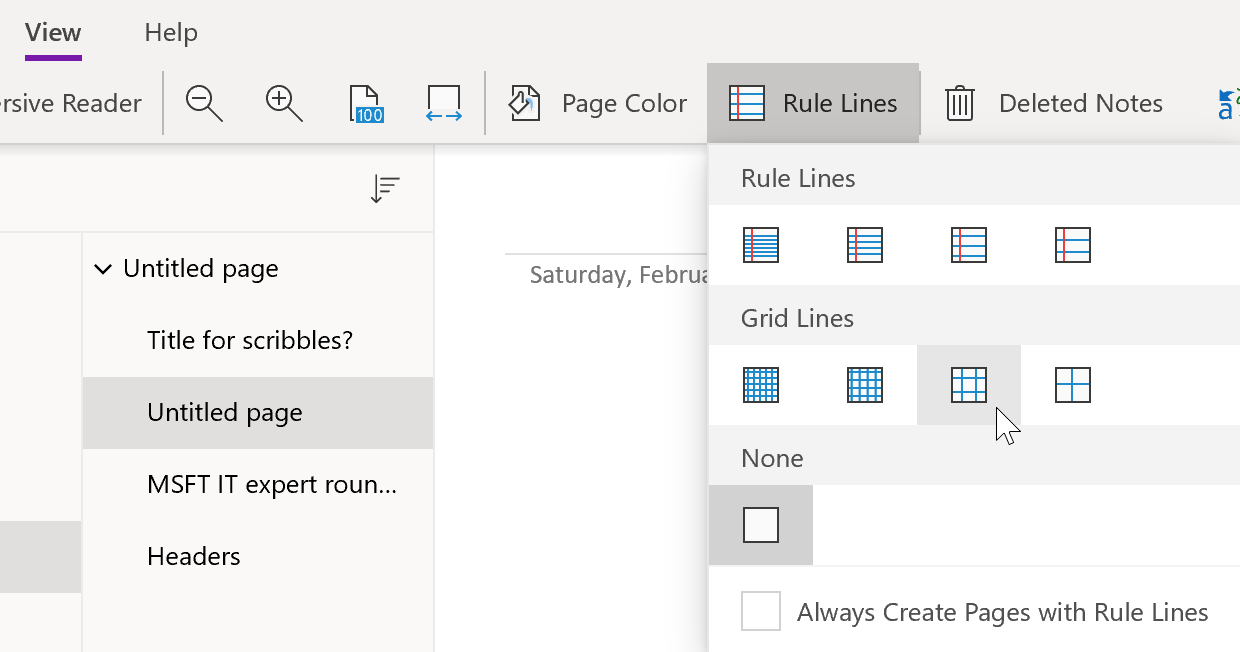 More
You can find these shortcuts, and a significant number more, at https://tiny.cc/onenotecuts.
Bonus
Crosswords
I like to end this session by sharing a few features or ideas that take your OneNote usage to the next level. One of my favorite uses for OneNote is to use my Surface Pro 4's camera to take a picture of the crossword puzzle in airplane magazines. This way I don't use a real pen and ruin the puzzle for the next passenger. I specifically use OneNote for Windows 10 since it can use my device's camera directly.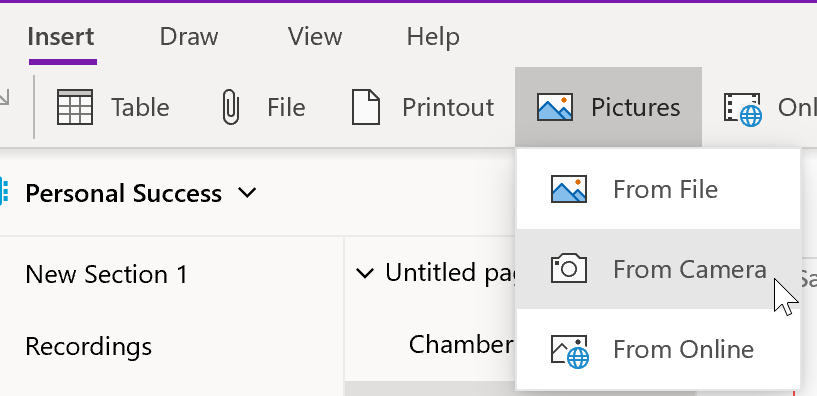 Then I use my stylus and the "Draw" menu to complete the puzzle!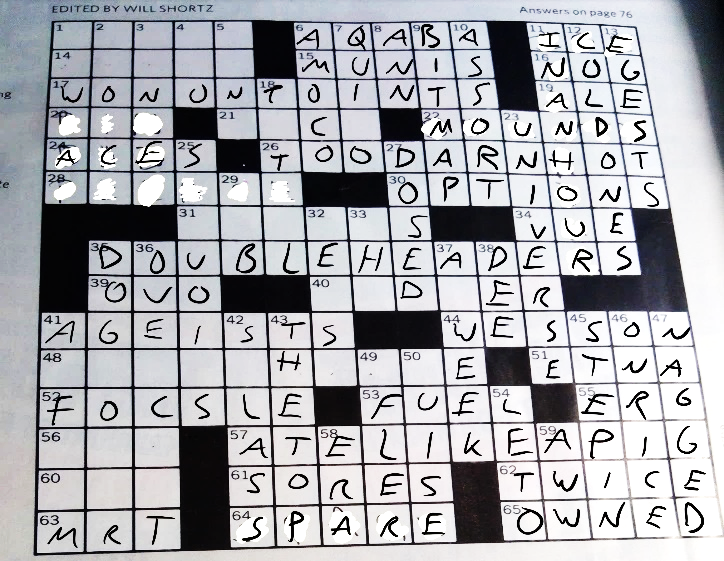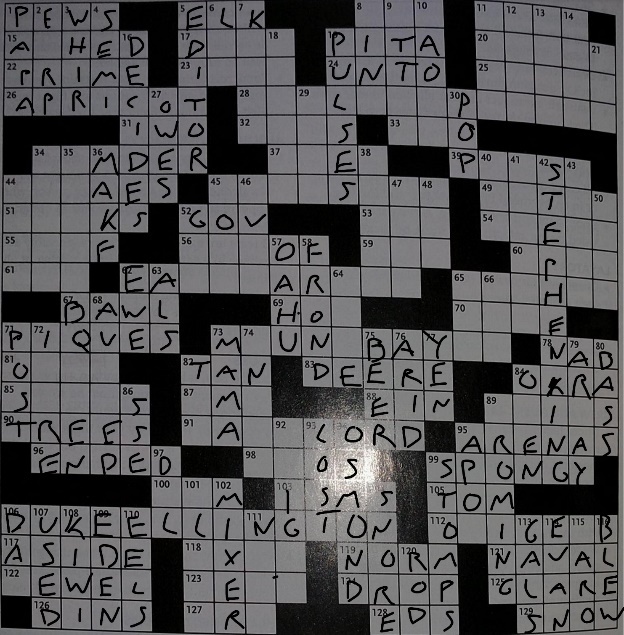 Linked Notes
If you use OneNote 2016 while working in another Microsoft Office app, turn on Linked Notes. This tracks where you are in the other document (PowerPoint presentation, Word doc you're reviewing for someone, spreadsheet used for planning, etc.) and allows you to quickly find exactly where you were typing/working in the Office document when you made the note in OneNote about it.
Find the button to turn this on under Review 🡪 Linked Notes in OneNote 2016.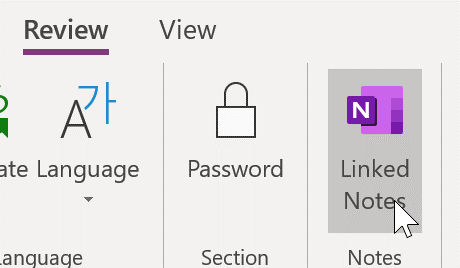 Were you on page 21 when you typed "Please clarify" but can't remember the context? Just select the Office app's icon to open the related doc and skip to page 21 where you were when the note was made. You can also right-click the app's icon for additional options.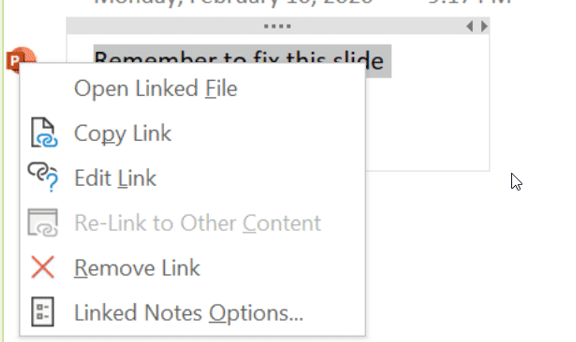 Imagine the possibilities for students taking notes about handouts, or staff doing research and collecting highlights and facts from multiple docs in a single place. Automatic links to the sources without having to copy/paste links and make additional notes.
OneNote + Power Automate
You've heard of Power Automate (formerly Microsoft Flow). But did you know you can perform automated activities to and from your cloud-based/O365 notebooks?
There are endless possibilities of things you can do, and Power Automate has a few templates ready to help give you ideas.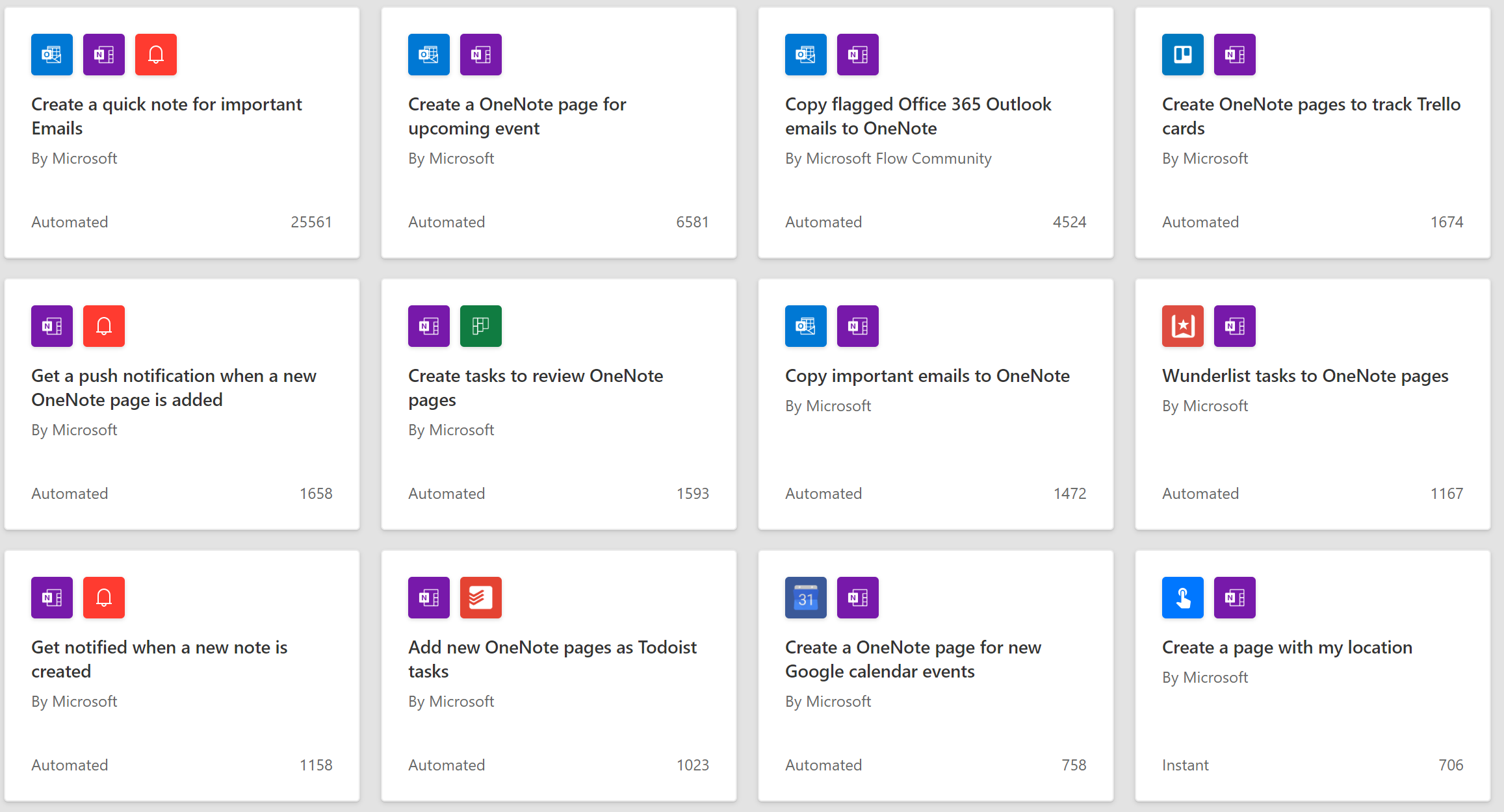 Just consider the possibilities of connecting OneNote to:
Mobile notifications
Email notifications and tickets
Calendar events
Trello cards
Tasks/Wunderlist/Approvals/Planner
SharePoint lists and libraries
So much more
Get started and create some innovative showstoppers at https://flow.microsoft.com.
Additional Resources:
Suggest features and improvements: OneNote UserVoice
Get support: OneNote help center
Learn more: