Discover how businesses and individuals can harness dark data through effective utilization of Workplace Intelligence and Microsoft AI.
Within this article, we will discover how we (as both employees and businesses) can transform with workplace intelligence. This article will specifically focus on four Microsoft products inside Office 365 that can aid in surfacing data; Delve, MyAnalytics, Workplace Analytics and Microsoft Search.
Within this book, you will also find a roadmap listing plans for the product/s in their current state and additional resources you may want to utilize in getting started or accelerating your own Workplace Intelligence.
What is Dark Data?
Gartner Glossary defines dark data as "…the information assets organizations collect, process and store during regular business activities, but generally fail to use for other purposes (for example, analytics, business relationships and direct monetizing). Like dark matter in physics, dark data often comprises most organizations' universe of information assets. Thus, organizations often retain dark data for compliance purposes only. Storing and securing data typically incurs more expense (and sometimes greater risk) than value." (Gartner Glossary, 2020)
We must first understand all companies/organizations and business entities have data, and therefore generate and retain dark data, including those who refuse to acknowledge it exists. So, the question is how can we take this vast volume of data we recognize we have at our fingertips and manipulate it in such a way as to drive digital transformation?
Well, I can assure you it is very possible and likely easier than you think. With the correct employment of in-built tools that reside within Office 365, you and your organization can harness this data and turn it from transactional, to transformational.
Workplace Intelligence?
Our society and world are in a continuous state of rapid transformation and constant growth.  The quantity of data that individually burdens us, that must be processed and sorted is ever increasing with the overall sum of digital content in the world doubling every two years.
Individuals are now typically outlaying on average 20% of their time searching for materials and information. Of these, 60% feel they are still missing crucial and significant parts of data to make choices on a day-to-day basis.
With these constant developments and changes, we (as individuals, businesses and ultimately, a society) are forced to handle an ever-increasing amount of processes and systems, often while out and about doing other things relevant to our workplaces and/or individual workloads.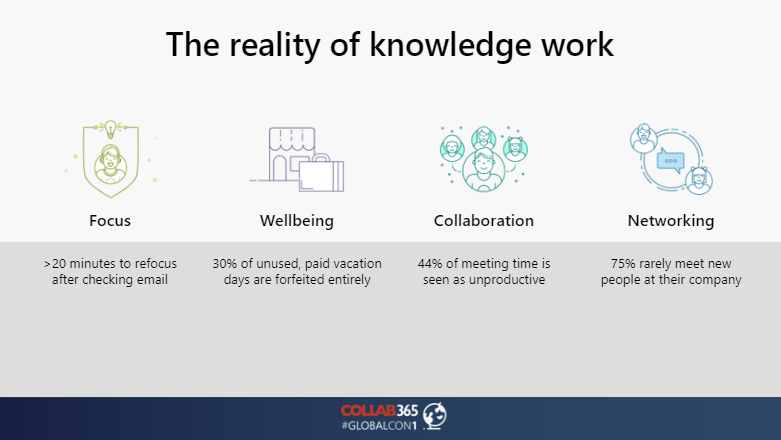 You may be asking yourself, why is workplace intelligence so vital and current? To be blunt, if your business/organization is not reforming then inevitably, it will fall behind. It is in this place that the risk of disturbance develops into a very real threat.
With competition raging between companies "born in the cloud" and those whose birthdates fall outside of it, such threats are very much a possible reality.
The term "born in the cloud" is often used in reference to corporations that began within the last decade. Companies and business entities "born in the cloud" are significantly more likely to be using up-to-date software/IT infrastructure where you may still be operating with legacy software and out of date IT infrastructure.
Now, while your business may still be standing strong on this outdated software and infrastructure, your competitors have literally been born lean and efficient. They better utilize their capital and enchant their clients by engaging with them across a broad range of channels. I reiterate; if you are not reforming or transforming then the threat of falling behind is very real.
What's the big deal about big data?
So, you may now be asking yourself where to start in this transformation process? First, let's discuss what big data is and why it is such a vital first step in this process.
If you are unsure of what is meant when using the term big data, IBM provides an excellent definition: "Big data is a term applied to data sets whose size or type is beyond the ability of traditional relational databases to capture, manage and process the data with low latency. Big data has one or more of the following characteristics: high volume, high velocity or high variety. Artificial intelligence (AI), mobile, social and the Internet of Things (IoT) are driving data complexity through new forms and sources of data. For example, big data comes from sensors, devices, video/audio, networks, log files, transactional applications, web, and social media — much of it generated in real-time and at a very large scale." (IBM, n.d)
The big data accessible in a company's or organization's communication and collaboration systems permit new opportunities for businesses to fully appreciate how they work/function.
Completely comprehending the basis behind how work is completed – communication and collaboration – through organization analytics generates a foundation for modernization/innovation and can provide a competitive edge for individuals and organizations.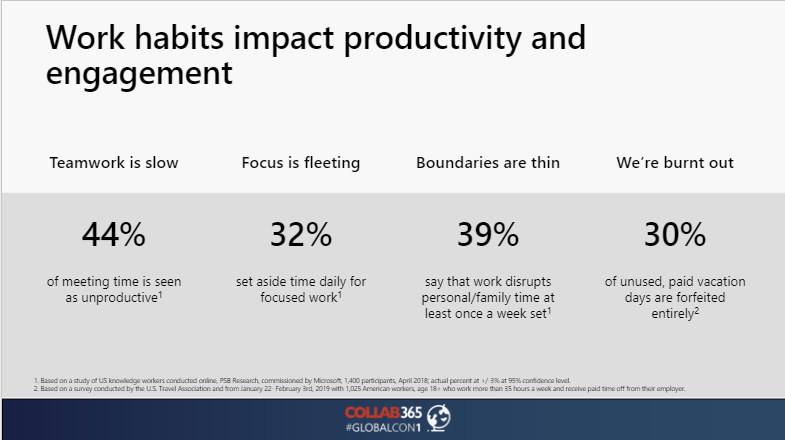 To further break this down, the big data available in an organization's communication and collaboration systems enable new opportunities for companies to really understand how they work. Understanding these building blocks on how work gets done allows organization analytics to create a source for innovation and provides a competitive advantage to individuals and organizations who have a better understanding of their own strengths and weaknesses.
With an ever-increasing number of processes and systems, often dealt with while on the go and utilising a wide variety of devices, that might seem unachievable. Read on to discover how it works, and why (if you haven't already) you should consider it for your business.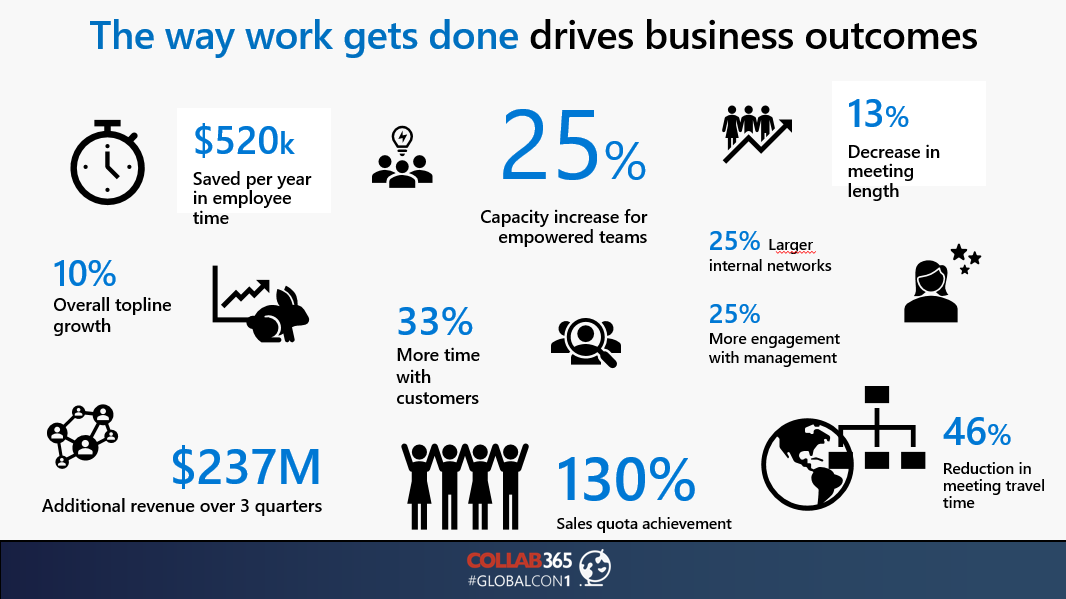 Points of consideration
Every decision made by the individual employees within an organization/company on a day-to-day basis tremendously impacts its success or failure in the long term.
The scarcest resource within the workplace today is time. Every decision made on where to spend this valuable resource is literally a choice in where to spend the capital of our organization to better grow value for shareholders and ownership.
Today, utilizing the power of big data, we have an enormous opportunity to recognize how businesses and organizations work; how to better enhance procedures, connections and activities to generate the greatest impact.
These capabilities allow businesses and organizations to more thoroughly appreciate internal time sucks that cost money, decrease employee engagement, reduce morale and cause other affiliated cost increases.
Organizations in the US alone waste an estimated $37B per year on useless meetings. Do you see this in your organization? Would you like to better understand and utilize this time?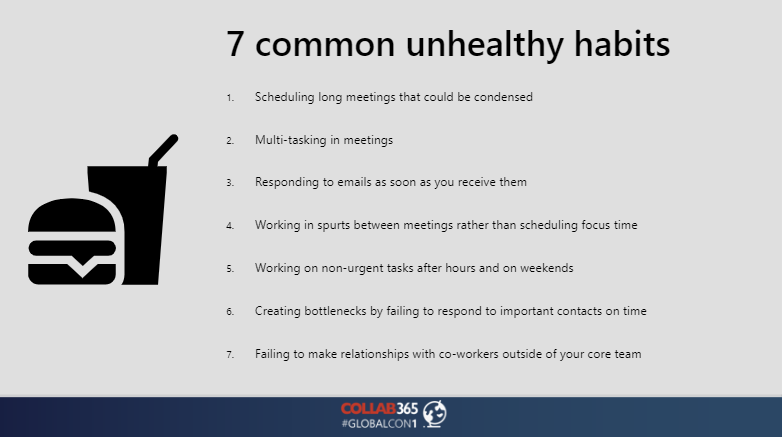 So now let's look at the 7 most common unhealthy habits I come across regularly. I think everyone here today would be guilty of at least one!
Scheduling long meetings that could be condensed (who is guilty of creating an hour-long meeting just because it was easier?).
Multi-tasking in meetings (who hasn't responded to an email or did tasks for your next meeting?).
Responding to emails as soon as you receive them.
Working in spurts between meetings rather than scheduling focus time.
Working on non-urgent tasks after hours and on weekends.
Creating bottlenecks by failing to respond to important contacts on time.
Failing to make relationships with co-workers outside of your core team.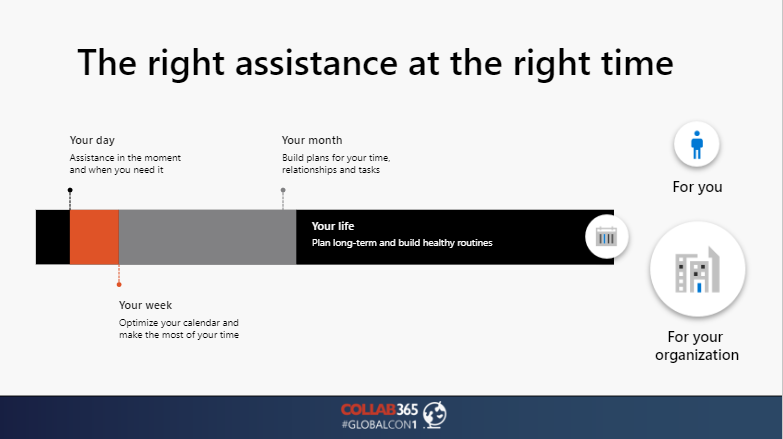 Microsoft 365 places people at the center so you can work at your best. Artificial intelligence (AI) in Microsoft 365 is championing this approach with intelligent, natural, and personalized productivity practices that can assist you in amplifying skills, transforming collaboration and finding information.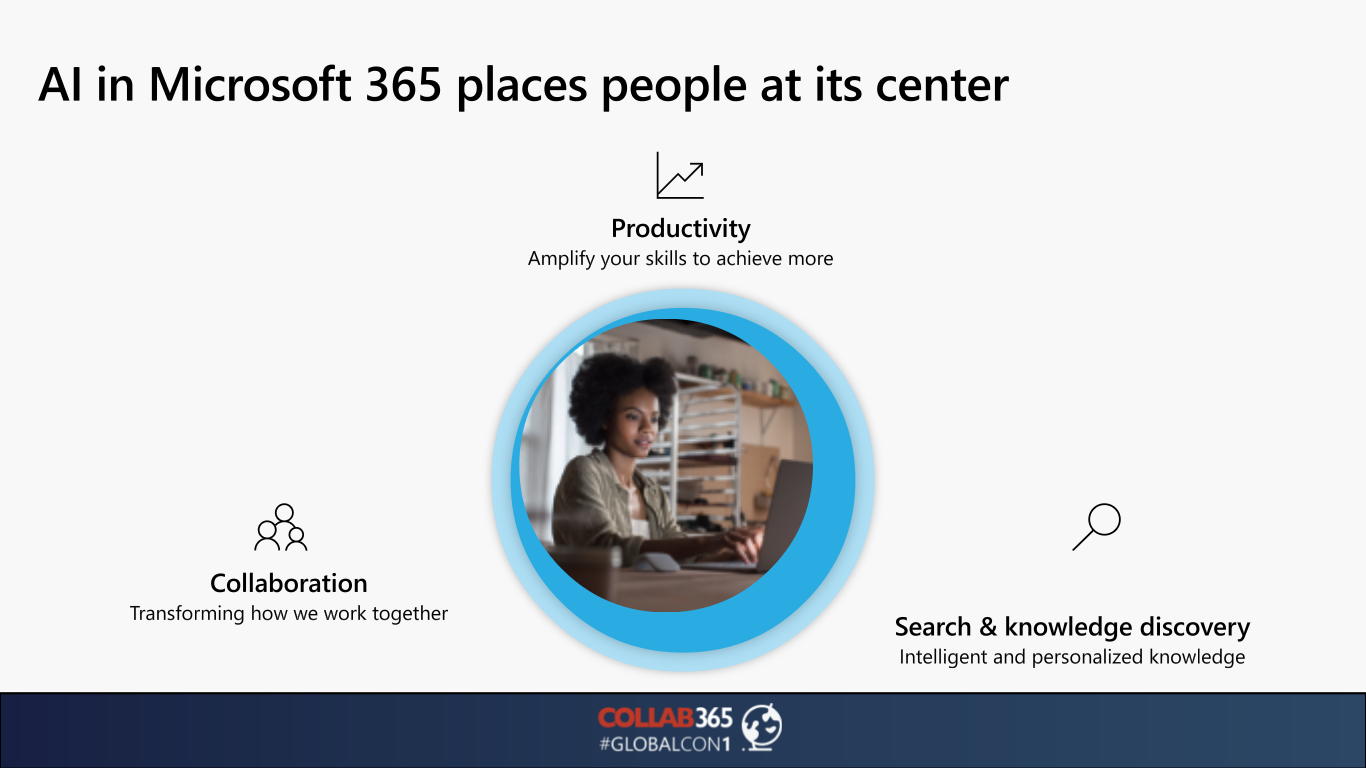 Microsoft 365 applications and the way we interact with them is dramatically changing due to the innovative advances AI brings to the table. Today, experiences within Microsoft 365 naturally adjust to you, support/assist you and strengthen your capabilities. Gone are the days of adapting your work strategies to better suit an application and the way it worked – the legacy model. Now, transformational AI-powered experiences in Microsoft 365 are being delivered that work with you.
A large portion of this social and digital advancement necessitates that we as individuals become more agile with our processes and strategies. This in turn requires additional visibility into where and how we are allocating our time and resources. Ultimately, as humans, we are naturally creatures of habit. It is therefore relatively easy to establish a pattern and routine that is cumbersome. We need to stop and contemplate how we are spending this valuable resource that we call time. How productive are we? What if we had data and insights about our behaviors at work?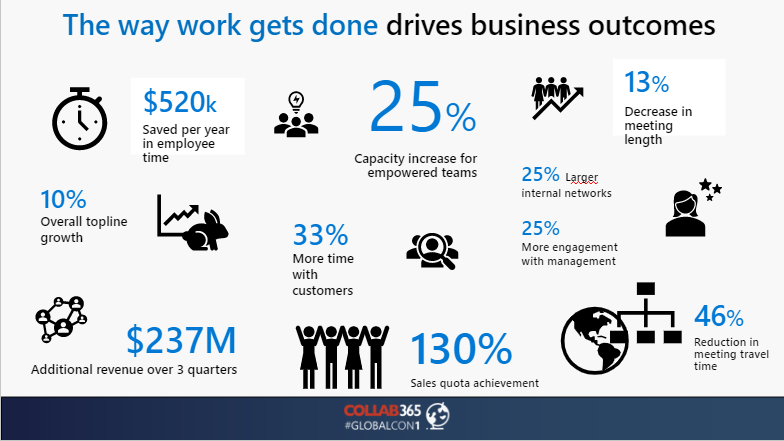 Now, utilising big data, we have an enormous chance to realize how organizations/companies work. This in turn allows us an opportunity to enhance processes, activities, and interactions for the maximum effect.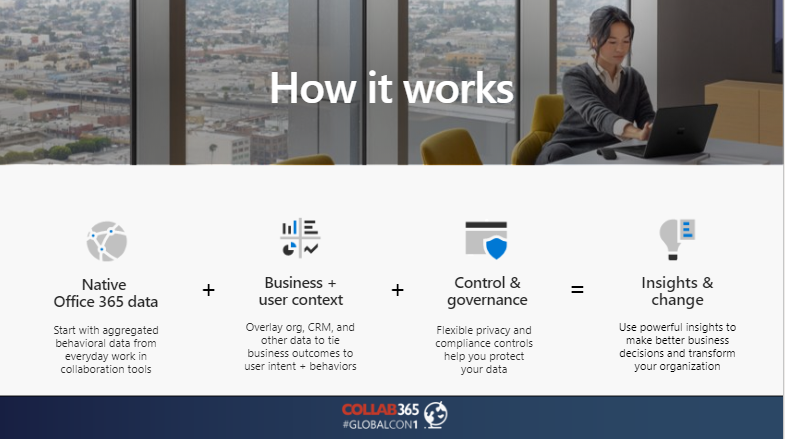 So, how does all this work? Well, it starts with… you guessed it: Data! We then take this data and pass it through business context, and all this is wrapped with security and compliance and we can really start challenging the way things are done and disrupting the status quo. Every business is unique- like snowflakes. If every business was the same, we would only have a handful of organizations in the world, but we have 100,000s of organizations today and it's their uniqueness that keep things interesting.
In the US alone, businesses are estimated to waste $37B per year on useless meetings. Do you see this in your organization?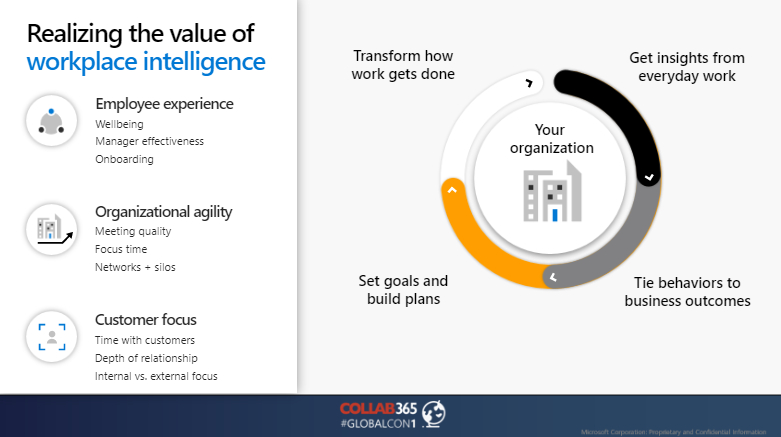 Constantly updating, Office Graph ensures users will always be up to date and accessing the most recent/current content dependent on the latest interactions within your organization.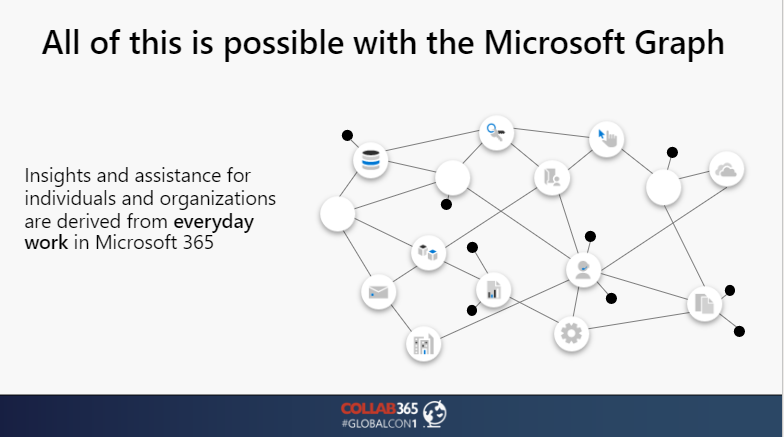 Office Graph embodies an assortment of analyzed signals from across Microsoft 365 workloads (Exchange Online, SharePoint Online, Yammer, Skype for Business, etc.) Machine learning analyses these signals, which produce insights that can be employed to control what content should be presented in applications such as Delve for each user. These insights stem from individual users' behavior, their personal associations to content, subjects, and other users within their network.
Office Graph essentially alters how you search and discover content in Microsoft 365. To quickly locate a file or document there is no longer a need to know precise file details such as keywords, titles or URLs. In place of this, Office Graph automatically notices and categorizes items with a high likelihood of interest, that are liked or have recently been touched by members of your network or working group.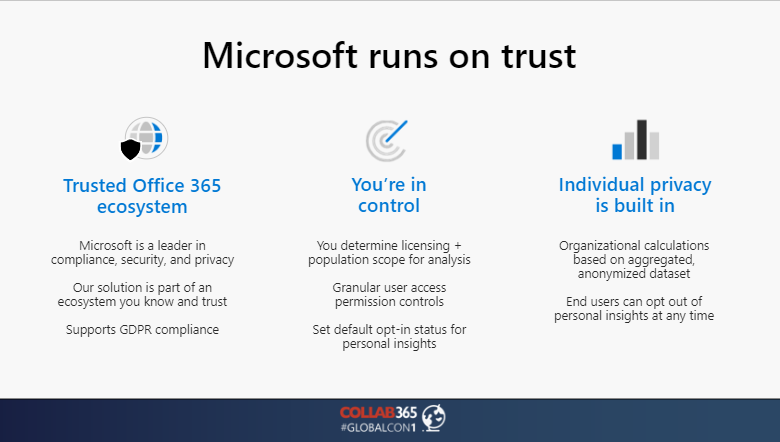 Technology has been an engine of change in the world for many, many years, enabling people to accomplish new goals and achieve new efficiencies. Microsoft is constantly moving forward to keep up with this pace of change – to give customers the most reliable cloud services possible. Because of this, Microsoft's cloud is built on four pillars of trust: security, privacy, transparency, and compliance.
Delve
Delve, powered by Office Graph, is a way to search and discover content across Office 365 based on personalized insights. The idea behind Delve is to tailor and display the most relevant content for you at any given time from across your working environment.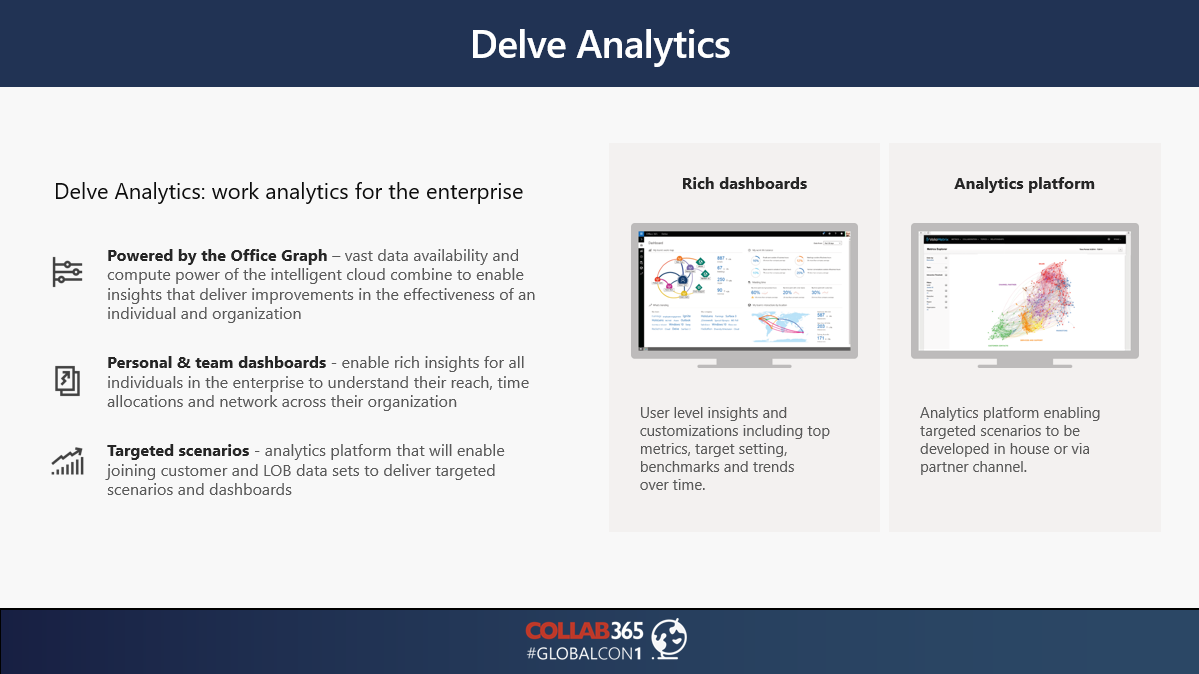 What's considered relevant is based on you, who you work with, and what topics your colleagues are working on. This helps you stay better connected and informed on topics that matter most to you. In addition, the new experience provides an engaging and natural way to search for content across any source from within a single view.
Delve Demo
For this demo, we will step into the life of Megan Bowen at company Contoso. To catch up quickly on projects, Megan logs into Delve (https://delve.office.com) and browses to her Home view.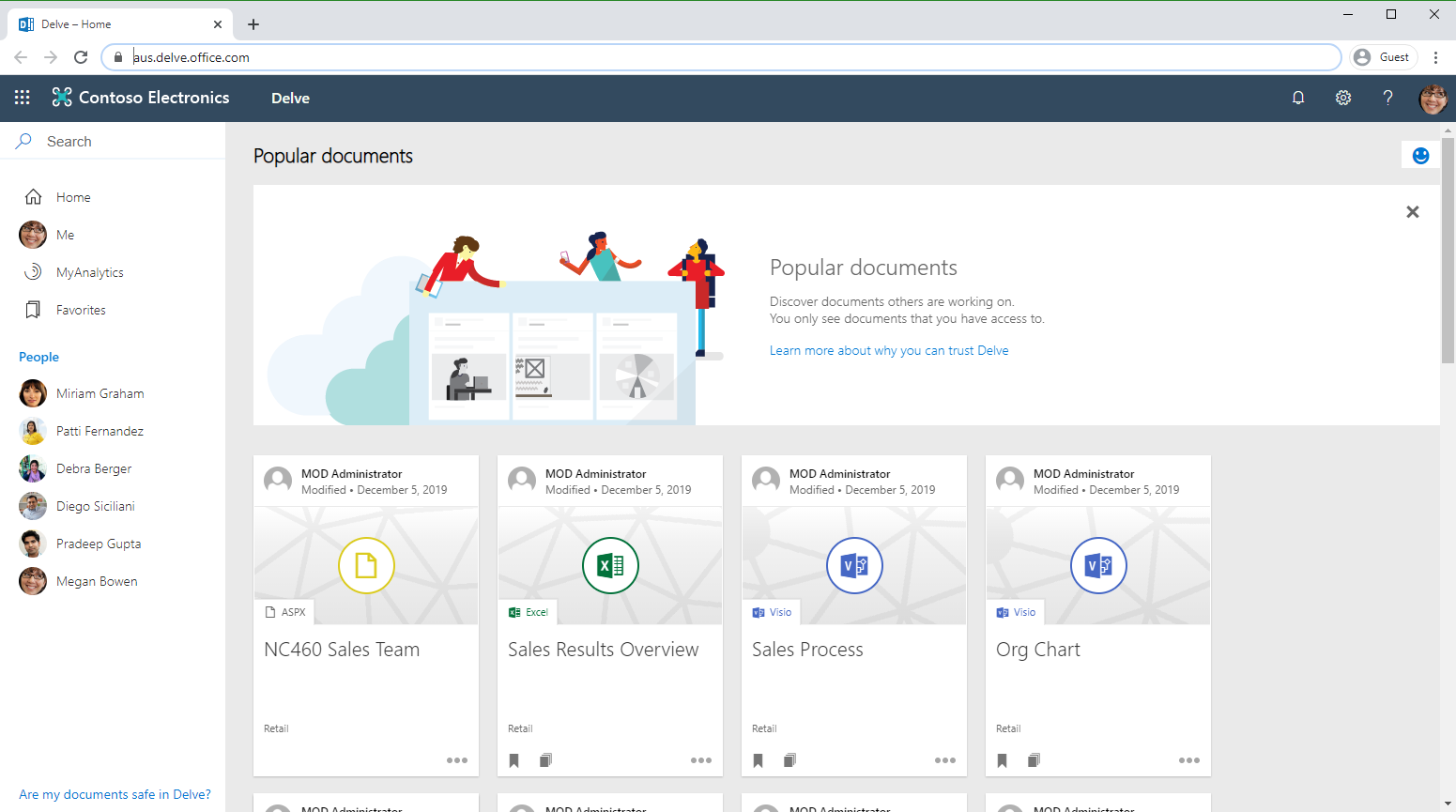 In her Delve Home view, Megan sees content that her colleagues shared with her. Delve honours security, so Megan sees only what she has permission to access.
The People section lists co-workers with whom Megan has recently interacted.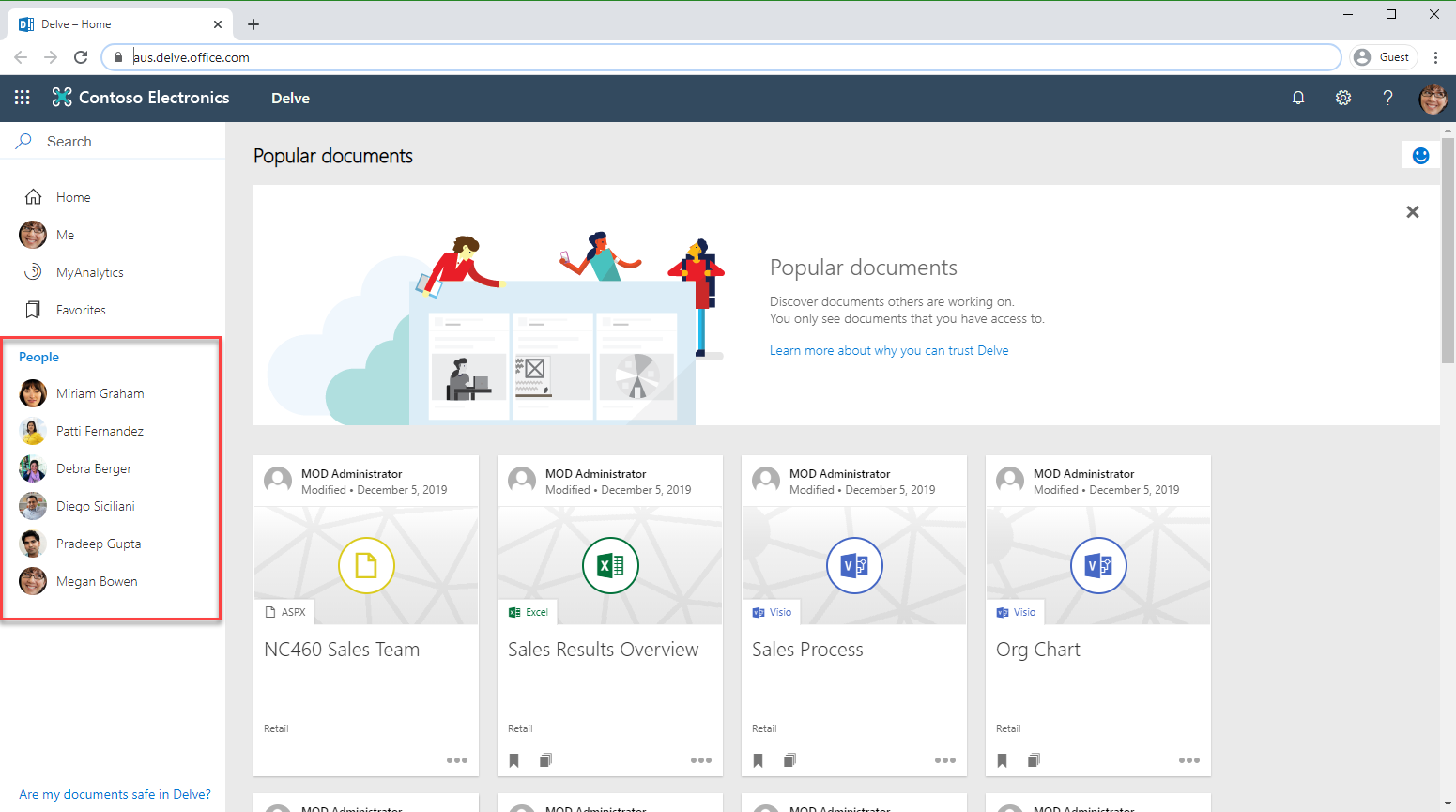 Delve displays content from multiple sources when Megan and her colleagues work with the documents. Content cards display metadata based on those interactions. Content sources include emails, videos, and office documents.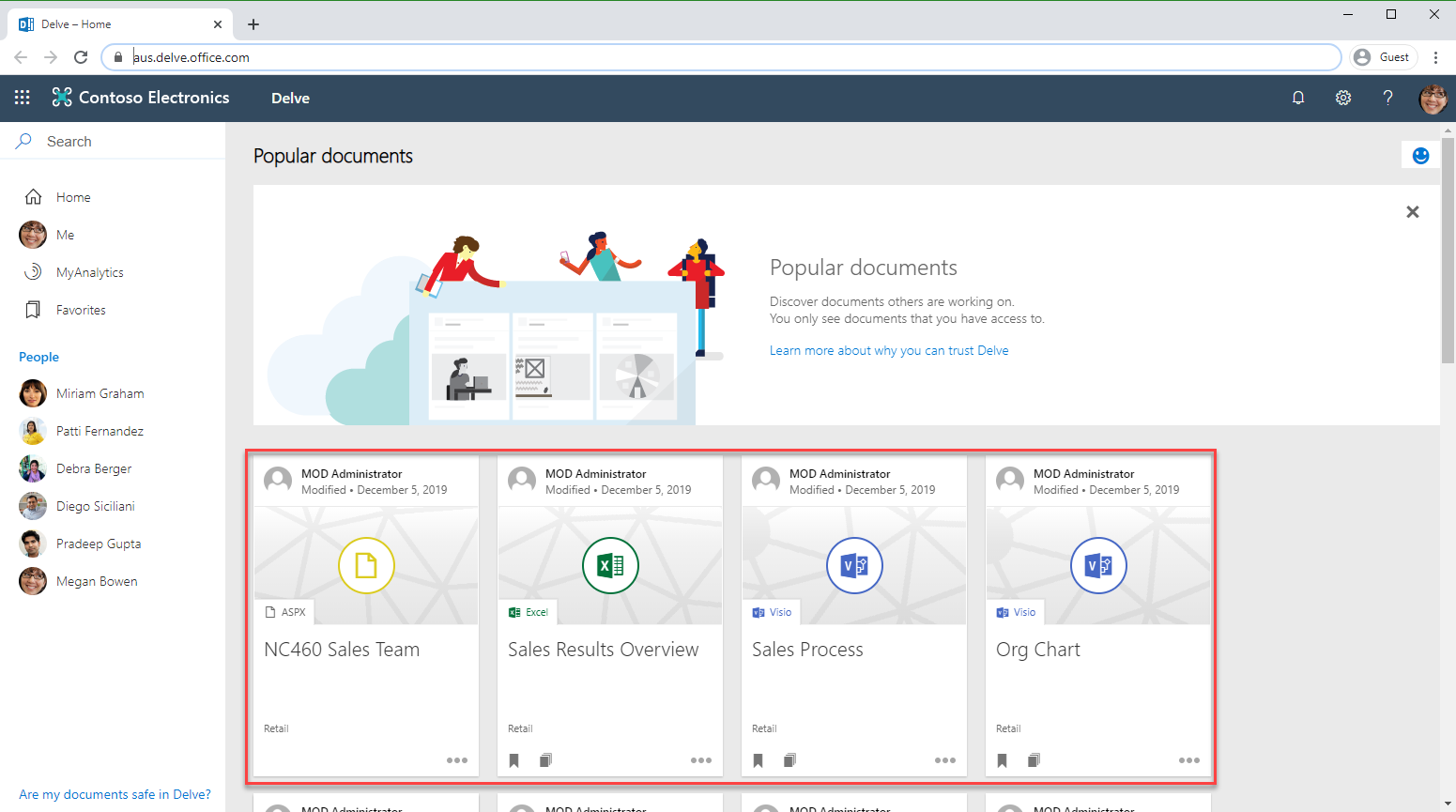 Megan can discover who else can view and interact with her on this content. Online interaction with documents allows Megan to edit, share and interact with colleagues.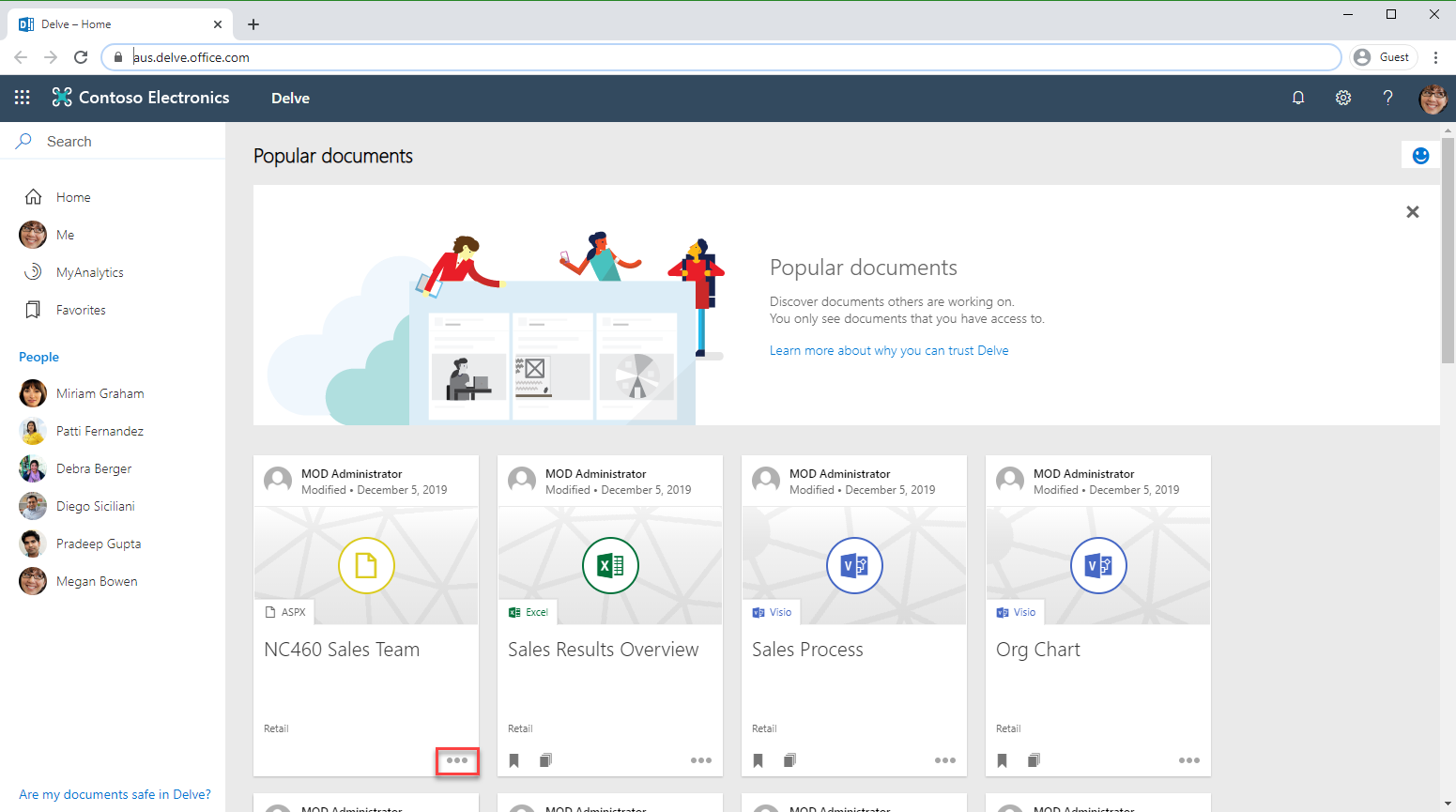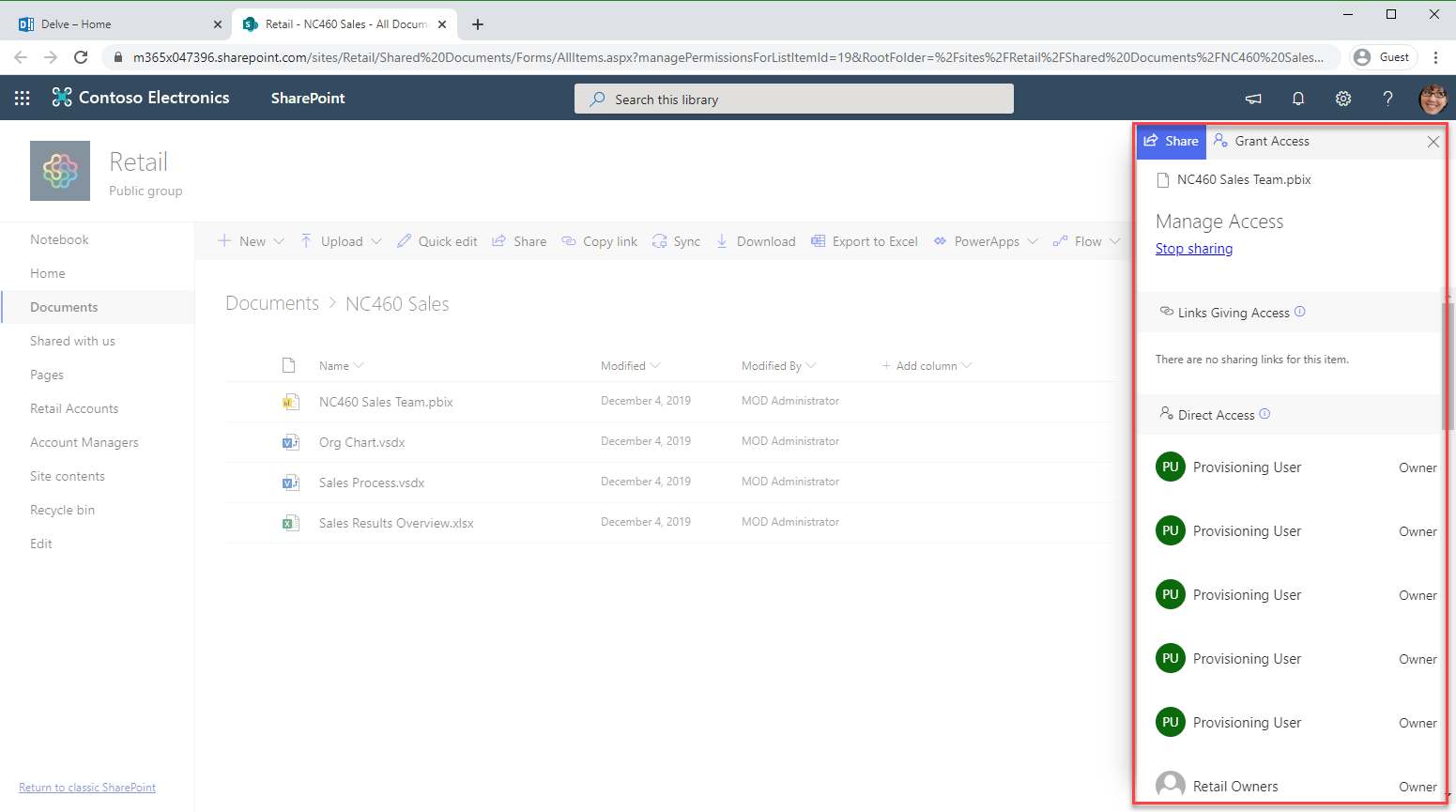 On the Me activity page, Megan sees items she recently contributed. Megan can mark content cards as Favourites, allowing her to access them quickly later.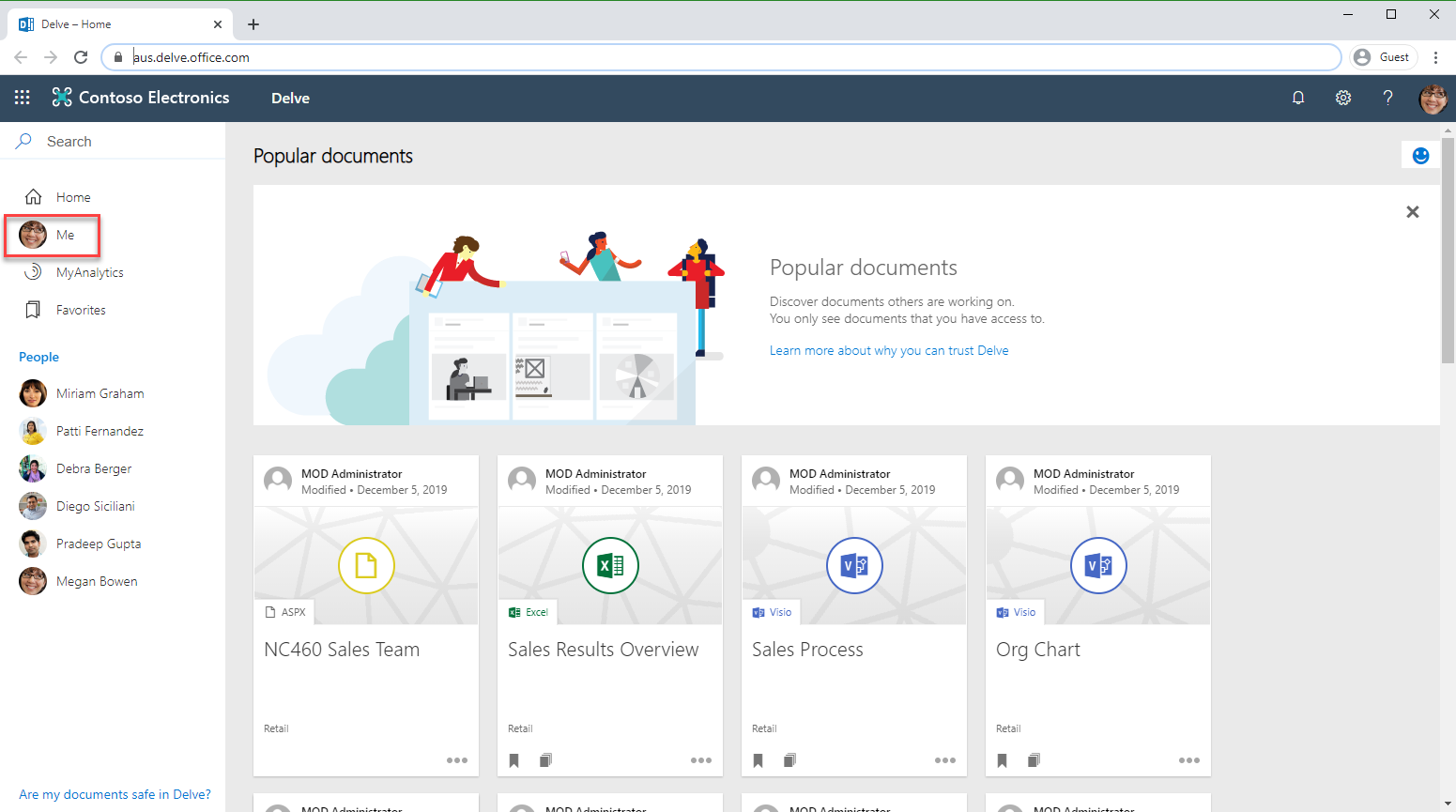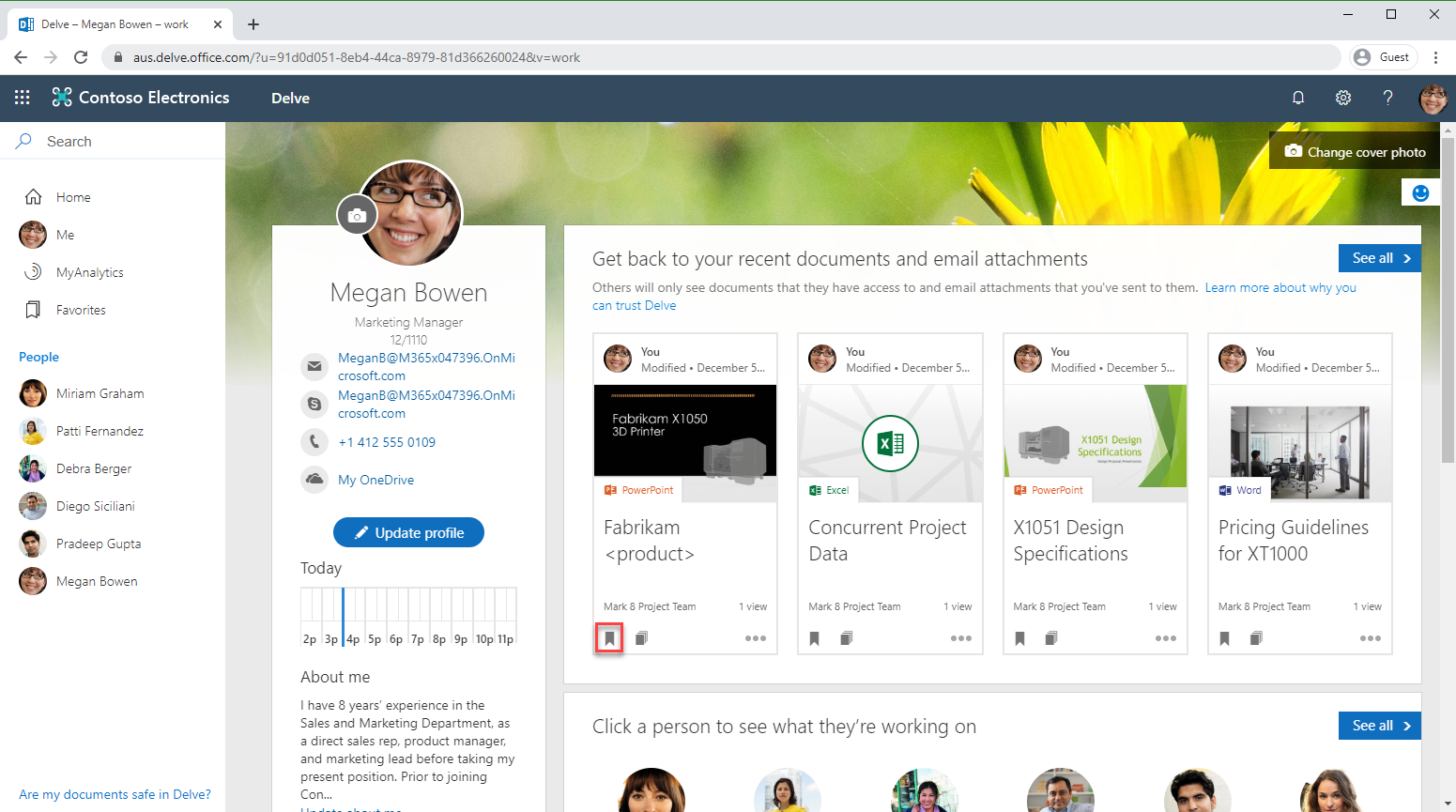 Megan can also Filter content by document type, such as spreadsheets only.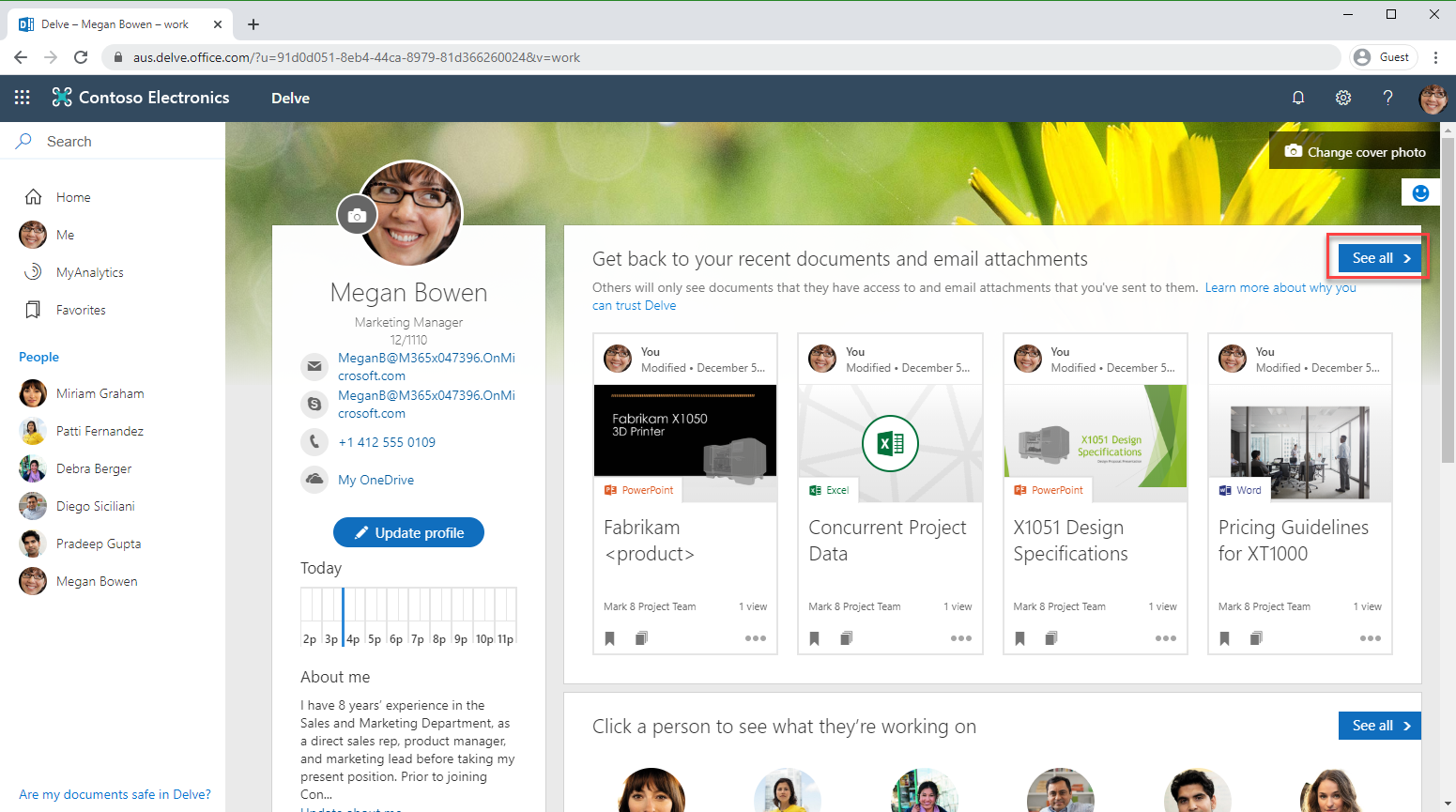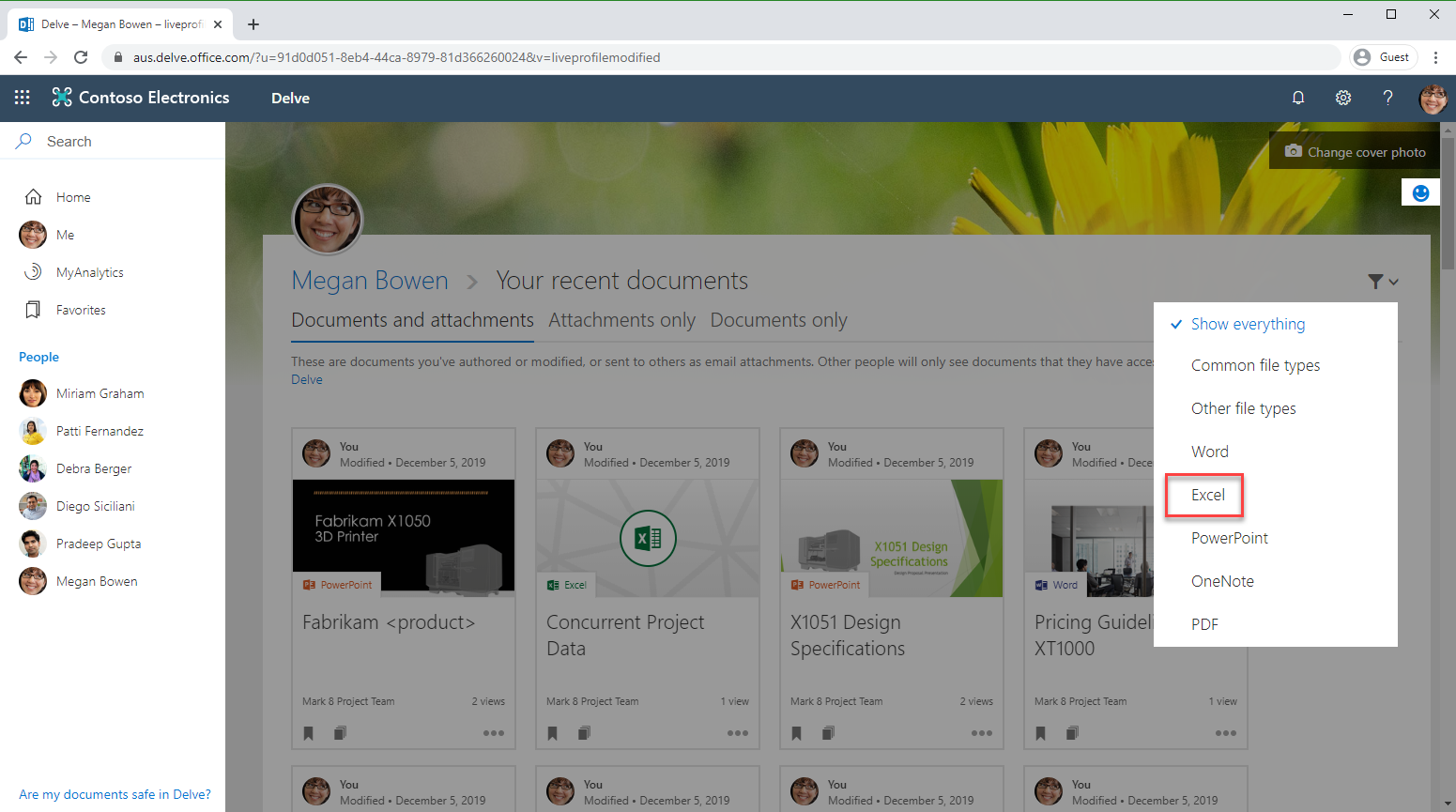 Boards help Megan organize content and are open to everyone in the organization. Security still applies. If a board has content for which Megan does not have permission, the content card won't appear. Megan can quickly add content to Boards. She just clicks the add button and selects an existing board or creates a new board. Likewise, it is easy to remove a document from a board.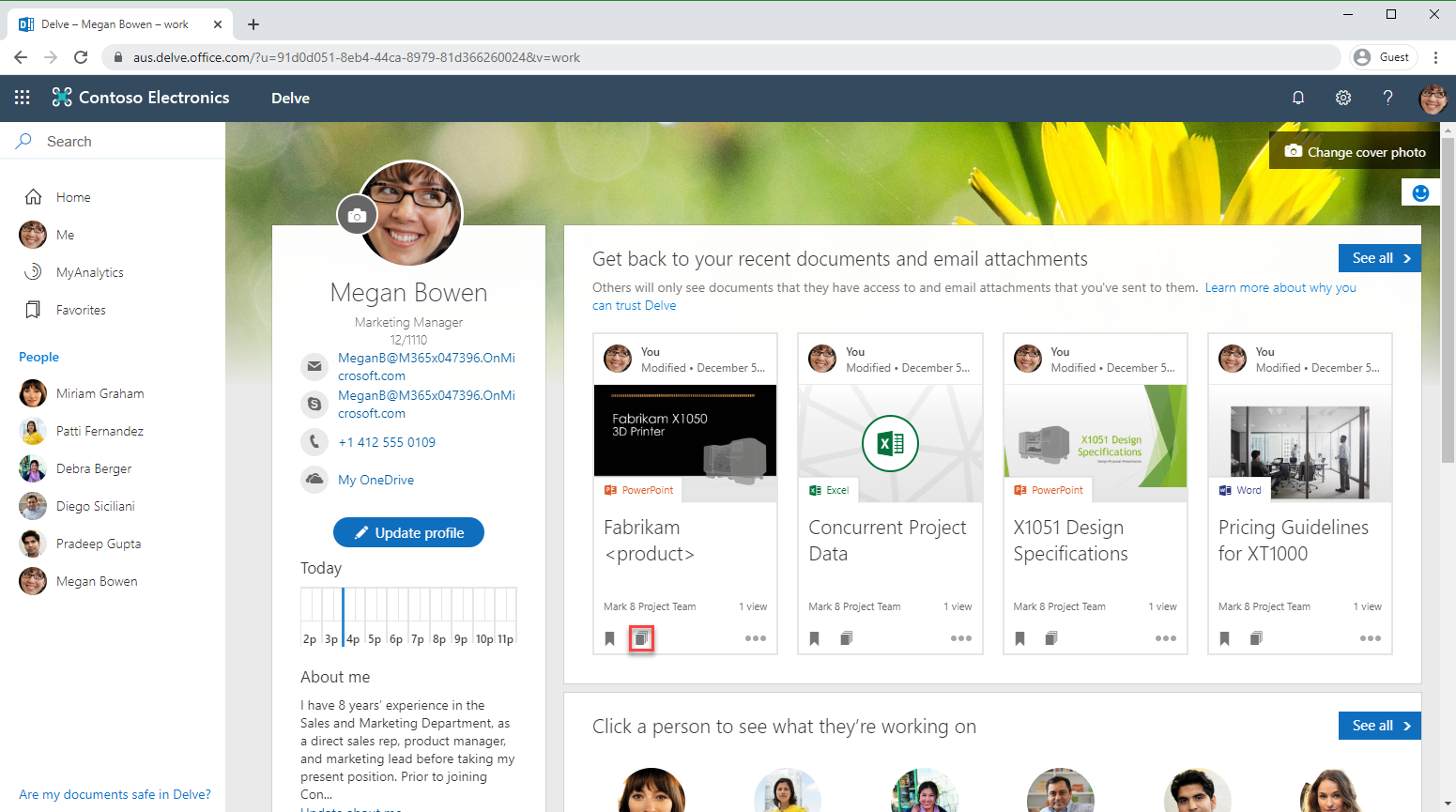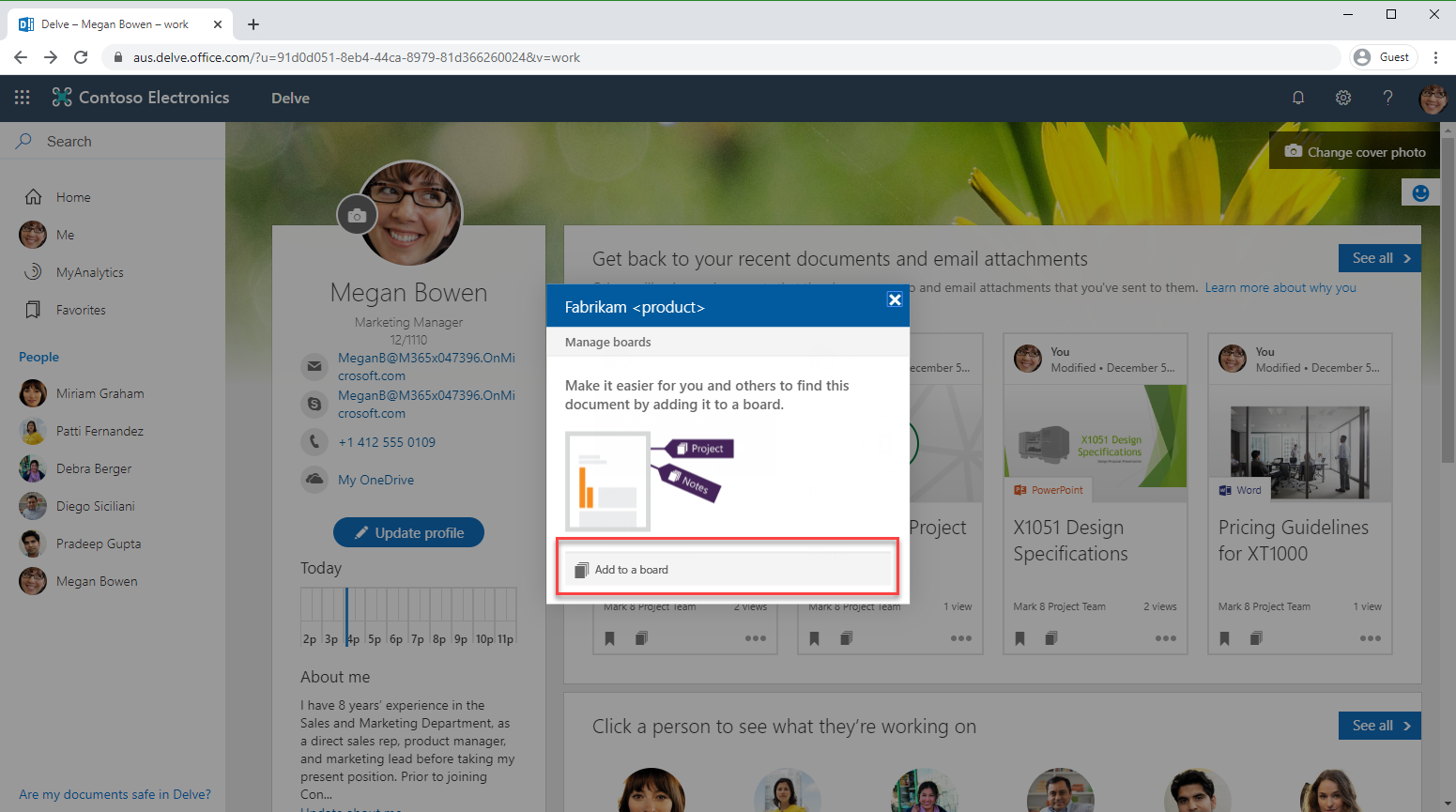 Delve lets Megan find any content, regardless of author, file type, or location. If Megan has permission to view the documents, Delve can discover and present them quickly. An initial search on Fabrikam returns several hits.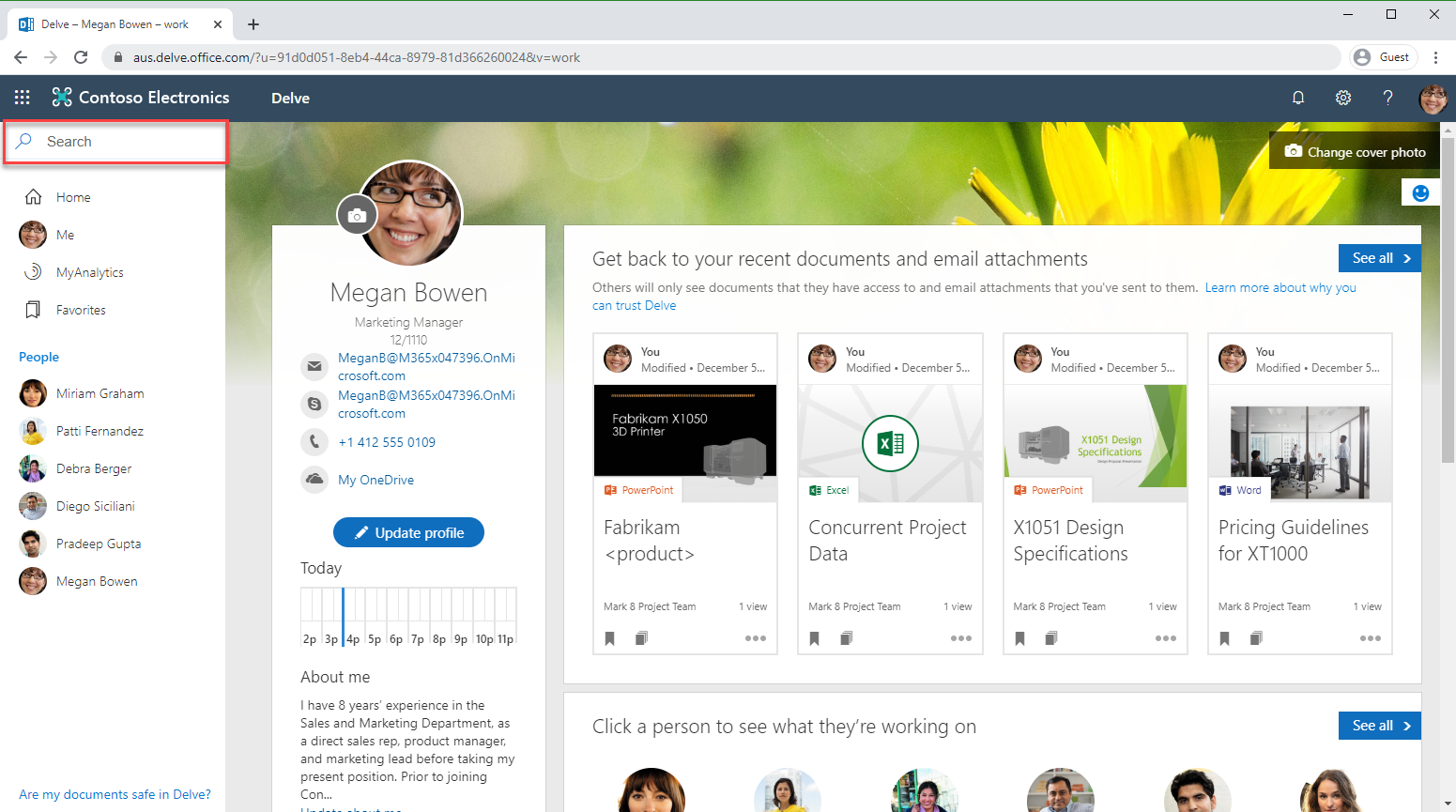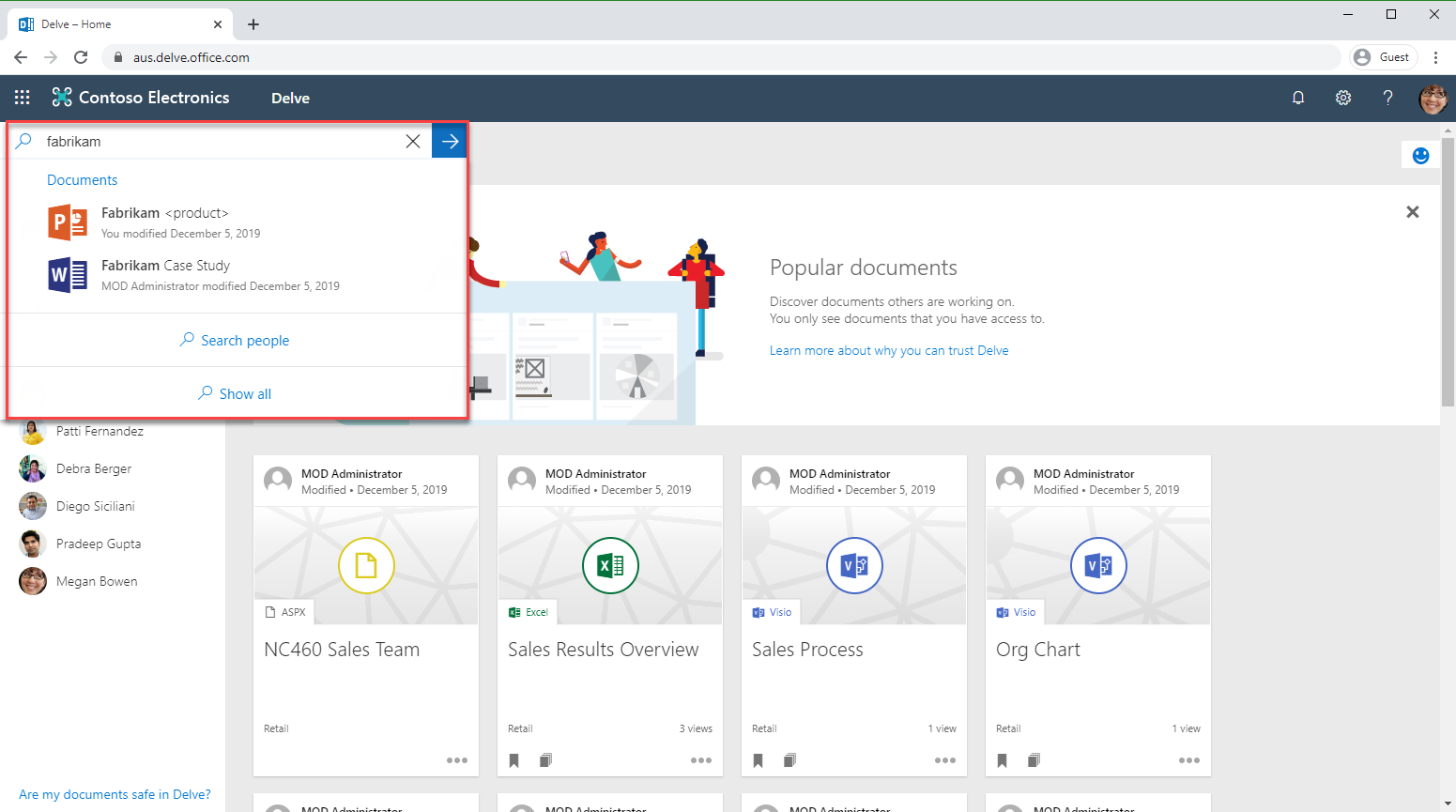 Megan can navigate to a person's Delve page from a content card. From that person's Delve page, Megan can view their Activity and Profile. Debra's profile page contains her contact information and an About me section with Projects, Skills, interests, and more. Megan also sees an organization chart displaying Robin's manager and department.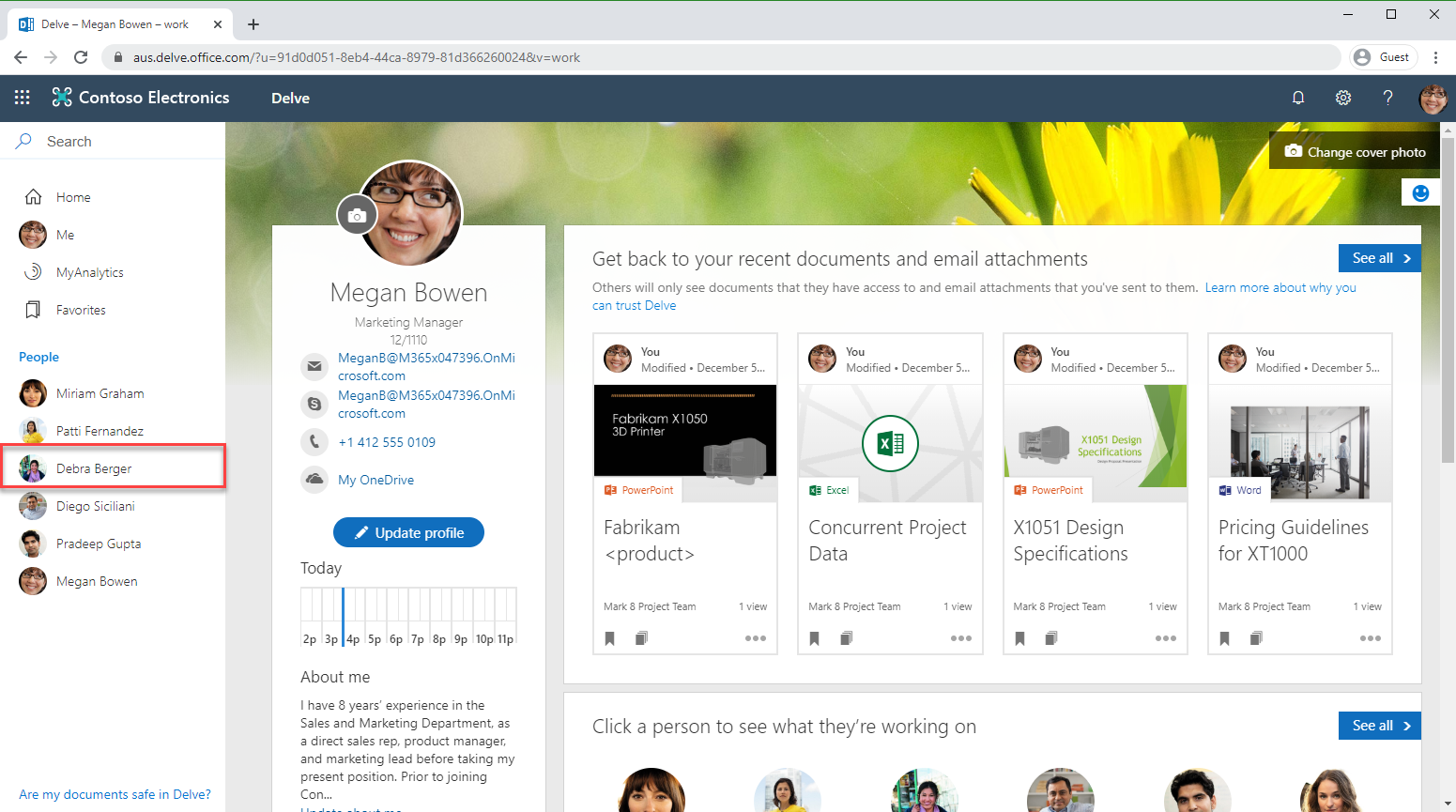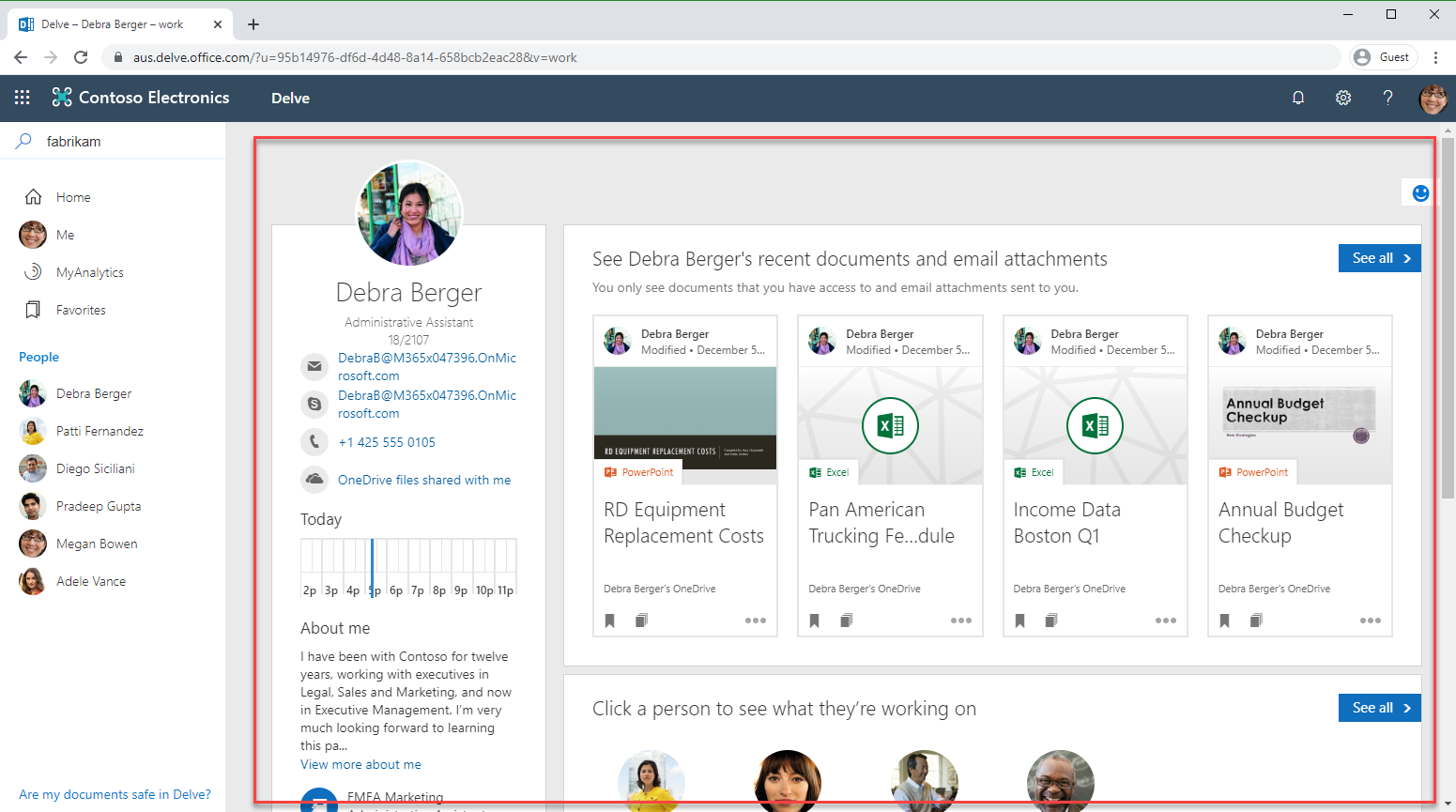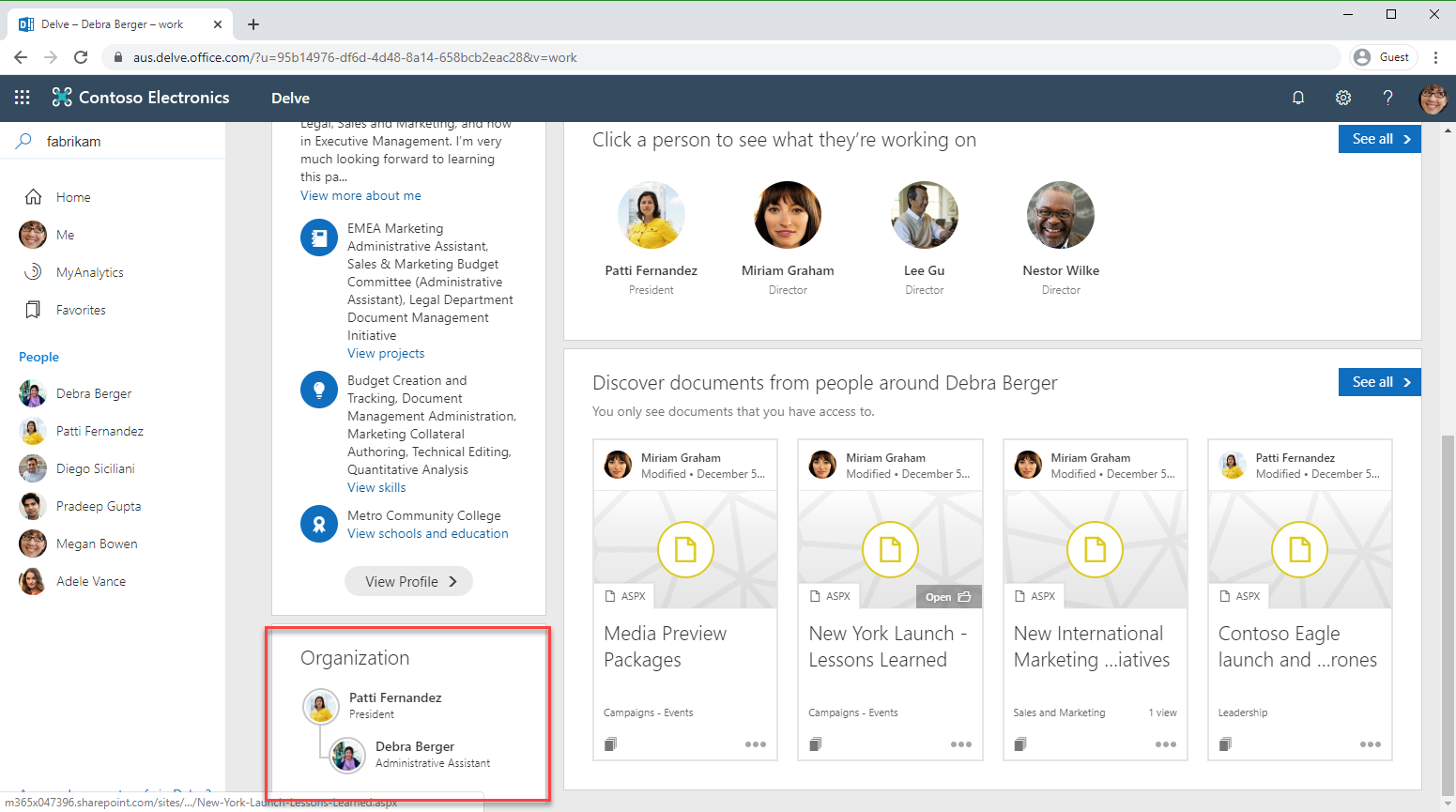 With Delve, everyone has a personal blog, providing a rich authoring canvas for individuals to share ideas and thoughts with colleagues.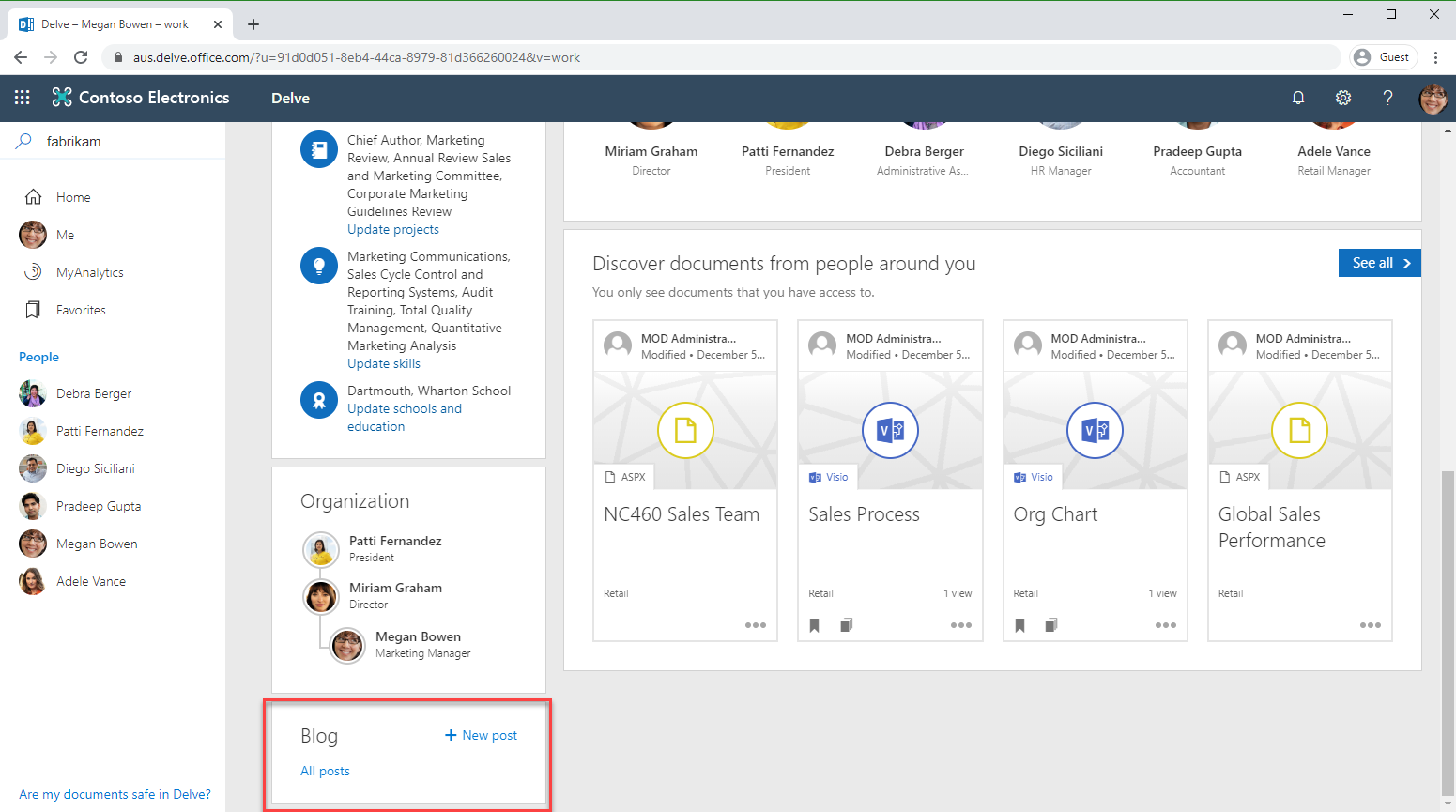 MyAnalytics
MyAnalytics focuses on patterns: Uninterrupted focus time, Network and people, collaboration time, and of course, wellbeing – time you're able to spend recharging.
We get a personalized dashboard where we can see how we're spending our time, and who we're spending it with.
We can also set new goals, monitor against benchmarks, and identify opportunities to free up time for more impact.
There are also Productivity insights, which break down how much time you're spending with certain people, in meetings, and after-hours work. MyAnalytics can make suggestions to help better optimize your time.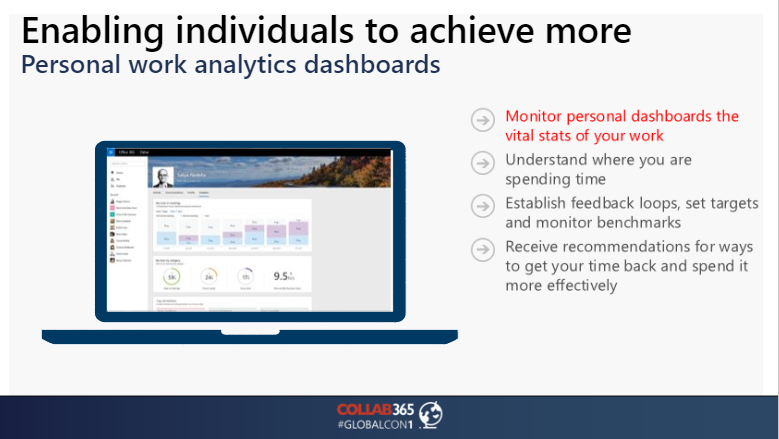 Productivity insights are also accessible to you, providing a detailed overview of how much time you're spending with specific individuals, in conferences/meetings and performing after-hours work. MyAnalytics can provide recommendations that can assist you in better optimizing your time.
MyAnalytics includes three main components: ​
Personal Dashboard​
Outlook Add-in​
Artificial Intelligence in the forms of suggestions, emails etc.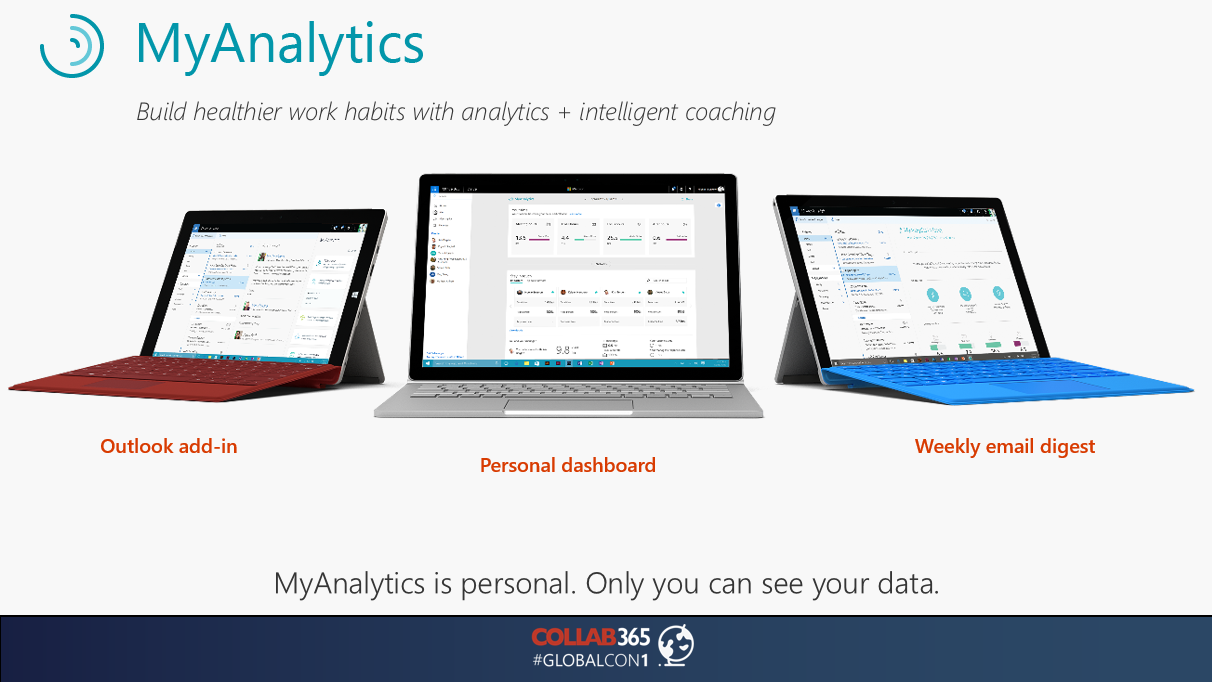 MyAnalytics Demo
MyAnalytics improves Megan's focus, wellbeing, network and collaboration by leveraging the Microsoft Graph's analysis of her past habits. This analysis is kept private, personal, and is uniquely hers.
The Wellbeing email lets Megan know how effectively she manages a healthy work/life balance. She can quickly see that most of her evenings after work are quiet, but she has worked with Nestor, Debra, and Maria after hours in the last month.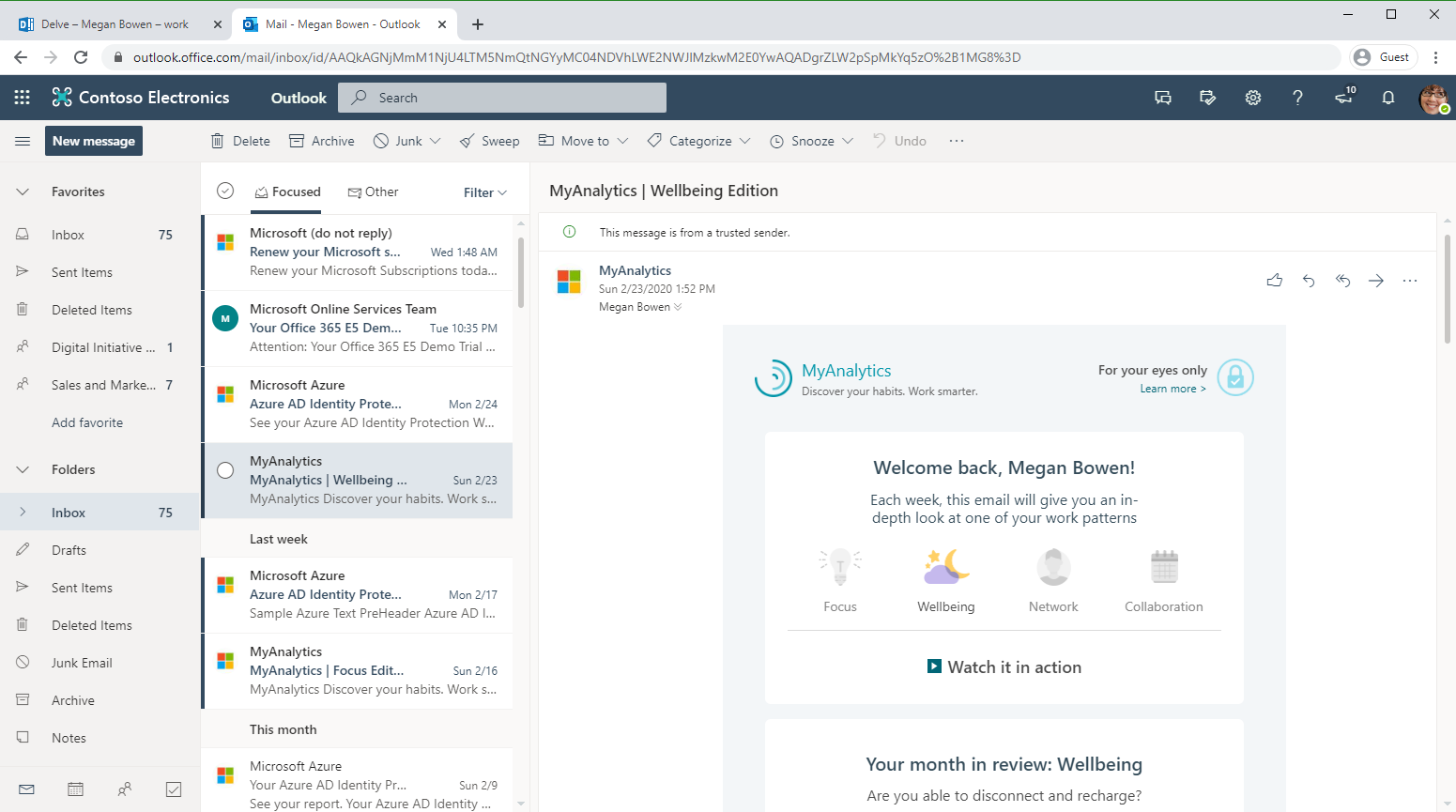 On the MyAnalytics Home page (https://myanalytics.microsoft.com/)Megan sees a summary of her Focus, Wellbeing, Network, and Collaboration habits.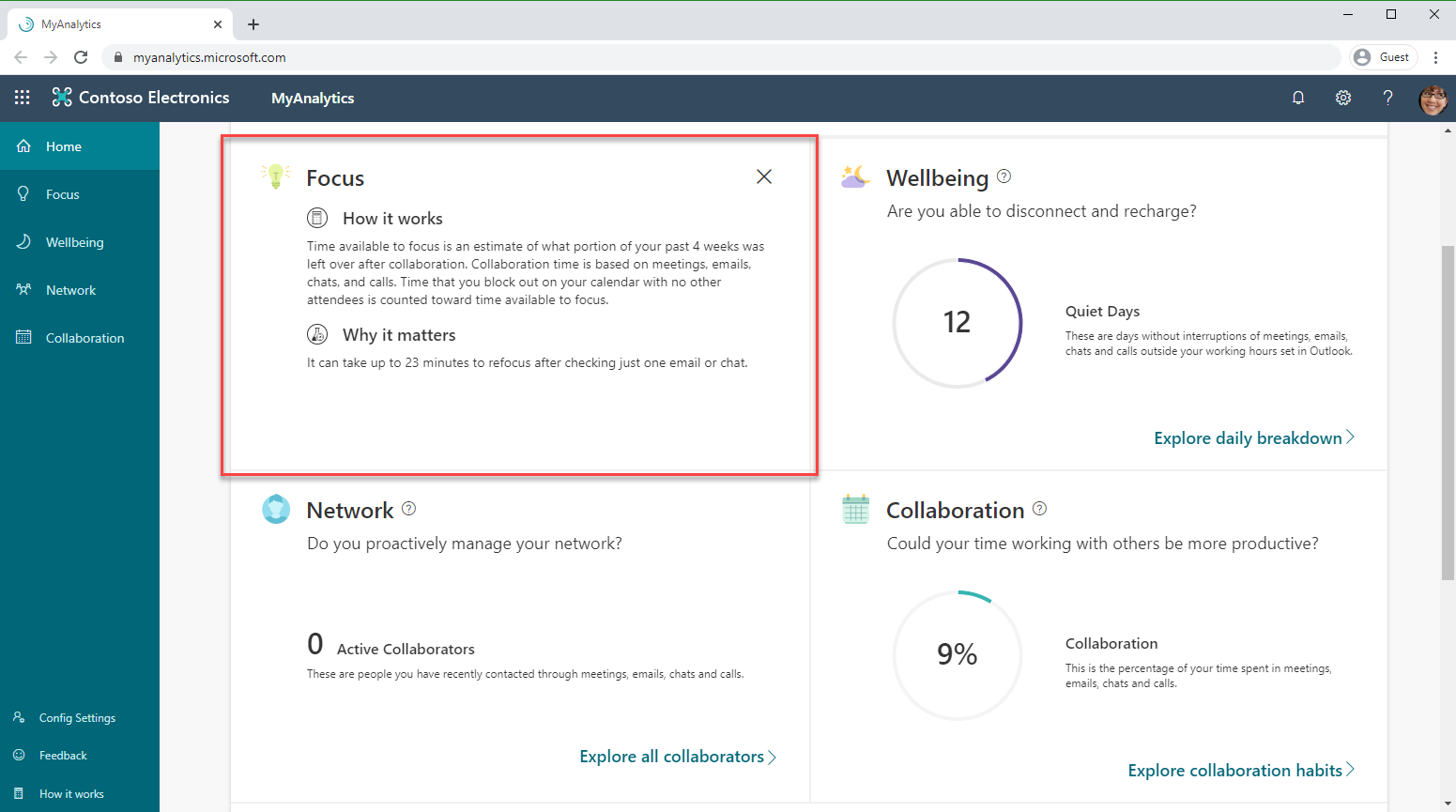 Megan quickly sees that in a typical week, 91% of her time is available to focus. By clicking on the More information icon, she can see how that value is calculated and why it should matter to her.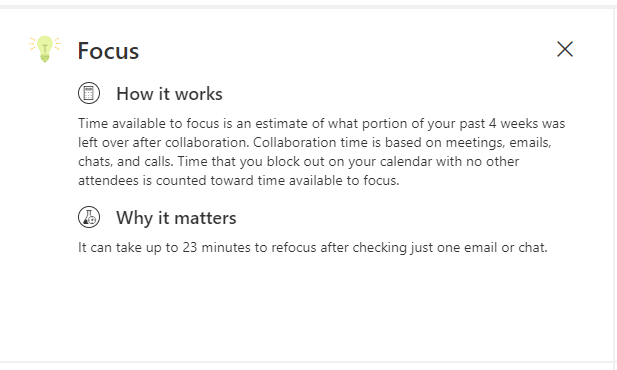 The Wellbeing section shows how effectively Megan is disconnecting from work during time off and suggests ways to reduce stress and burnout. Megan sees that she was effective at protecting 12 days from after-hours work.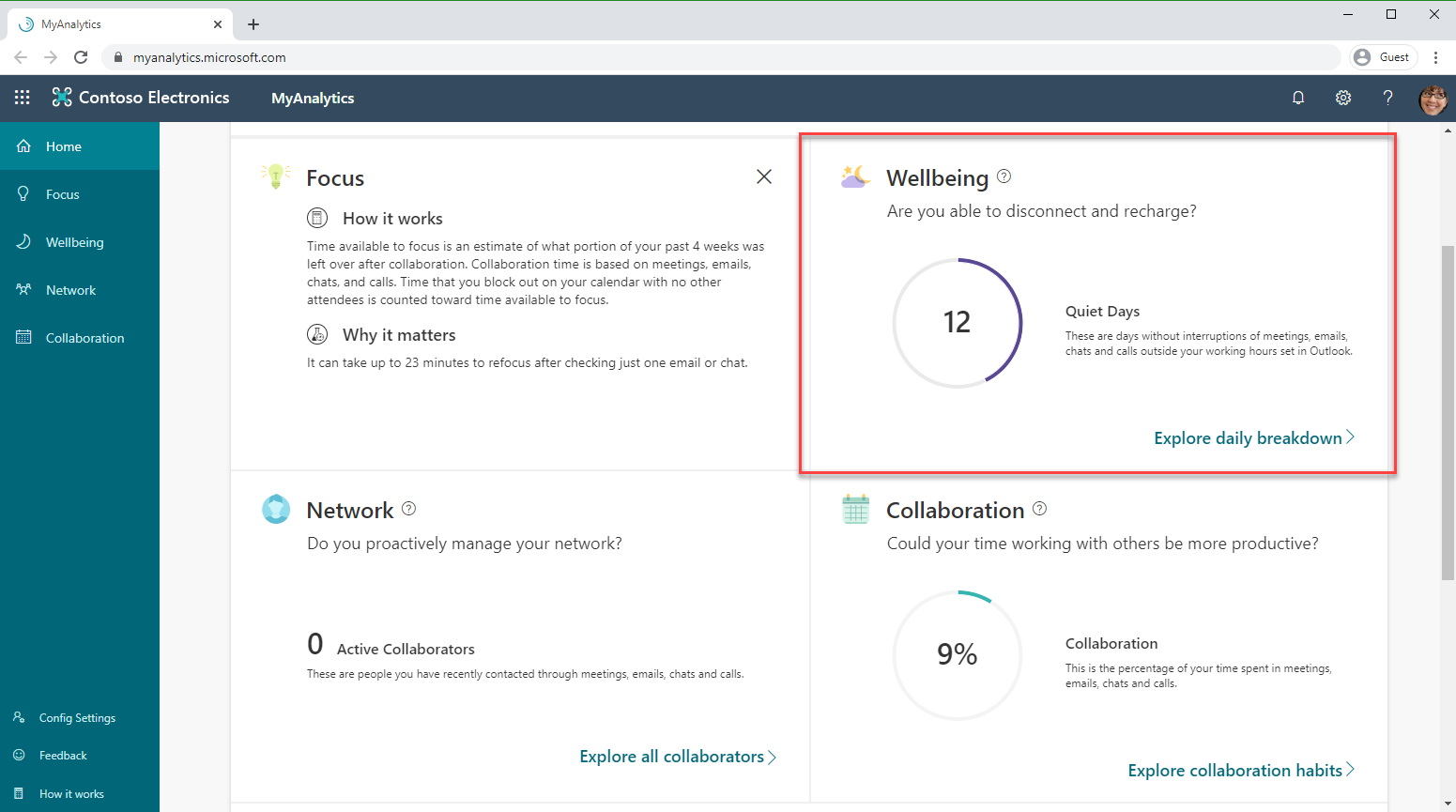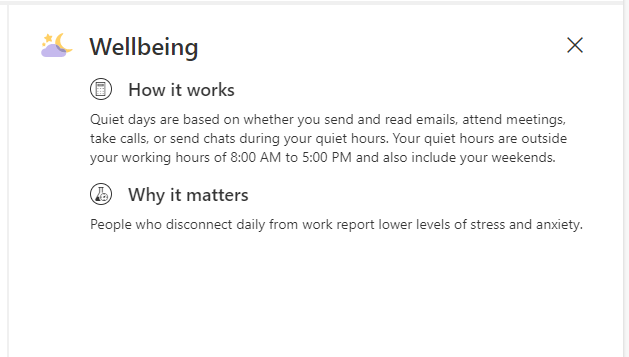 Megan's active network is comprised of all the internal and external contacts she's had a meaningful connection with at least once. Meaningful connections are comprised of two-way communication in email, chats, calls, and smaller sized meetings.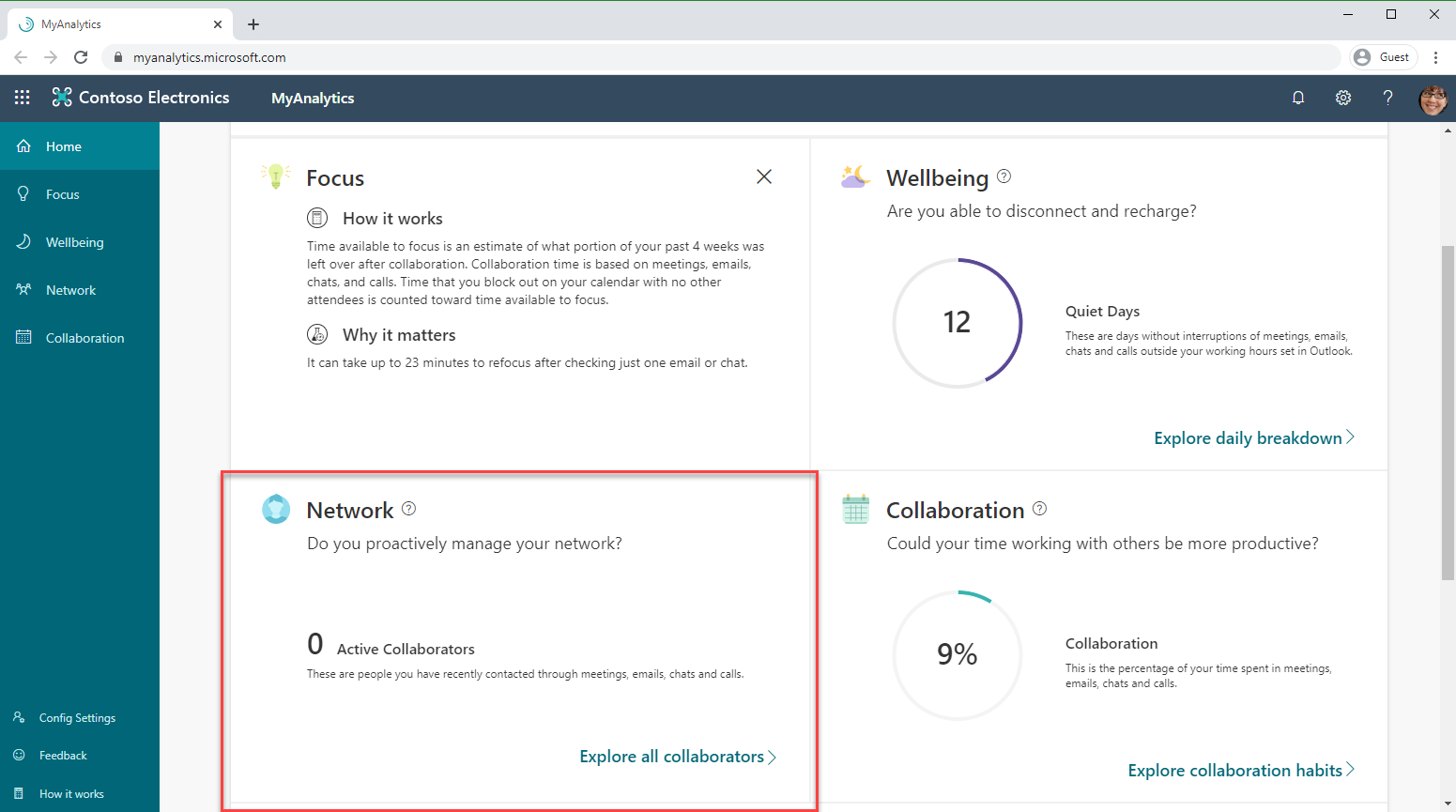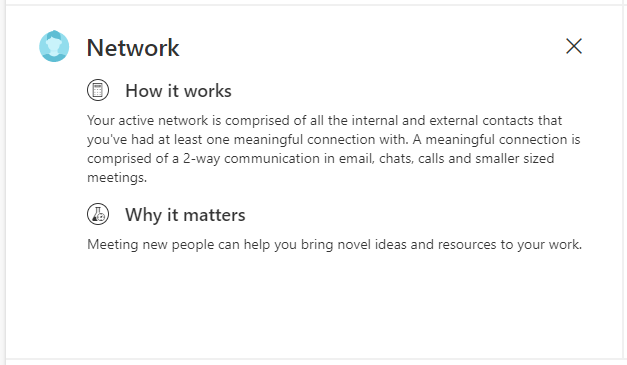 Megan's time spent in collaboration is an estimate of her time during the past four weeks in meetings, email, chats, and calls. This is measured as a percentage of her working week based on her activity during working hours.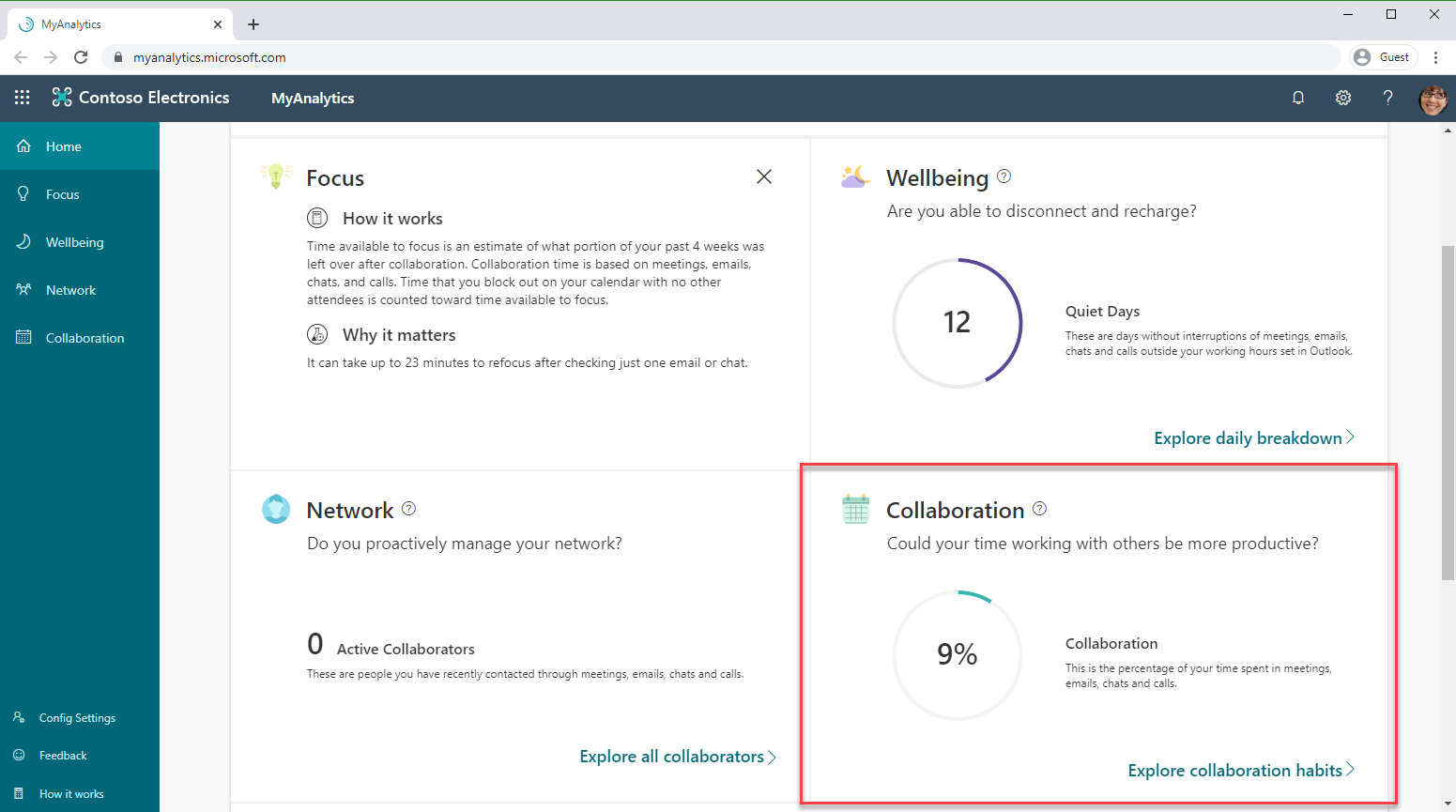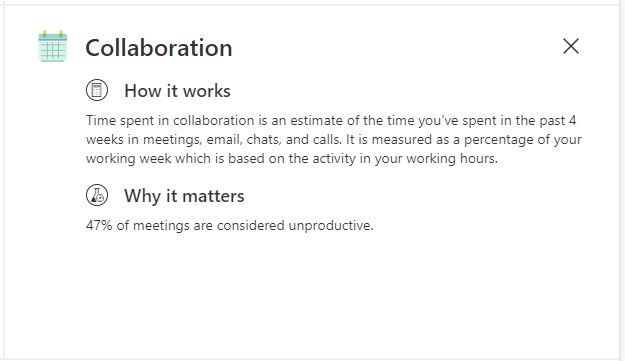 Megan's time spent in collaboration is an estimate of her time during the past four weeks in meetings, email, chats, and calls. This is measured as a percentage of her working week based on her activity during working hours.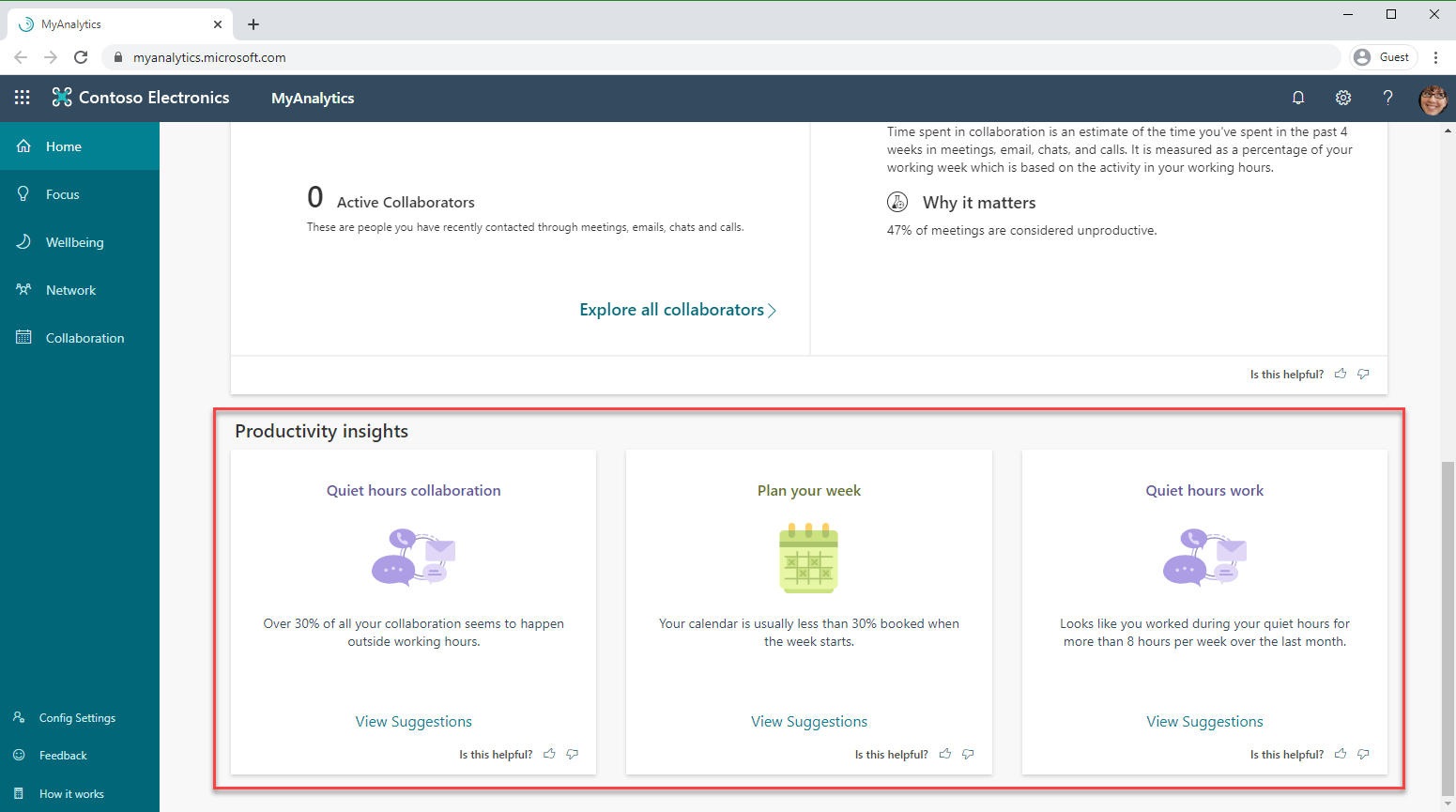 The Wellbeing dashboard informs Megan how well she is disconnecting from work during her time off and suggests ways to reduce stress and burnout.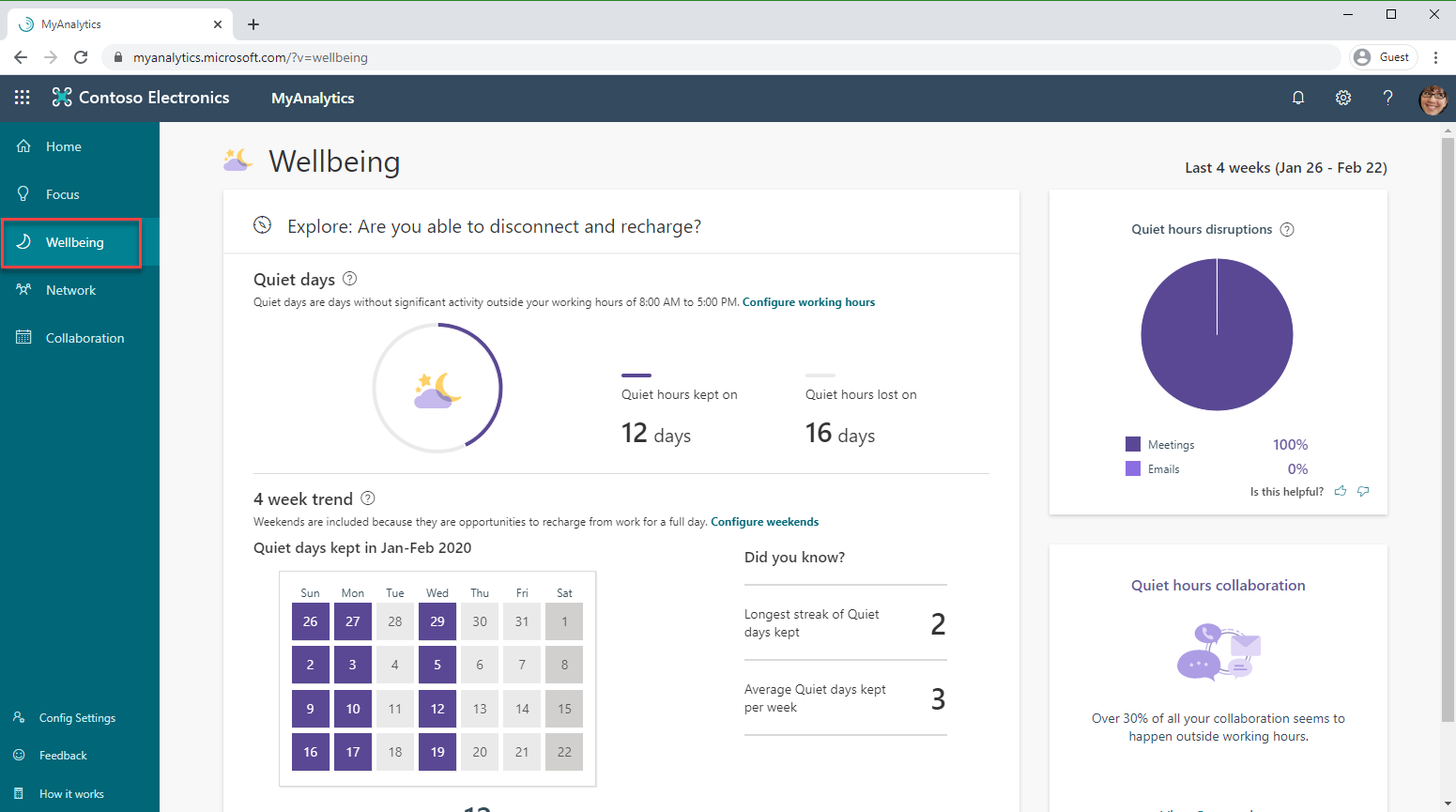 The Network dashboard shows Megan that in the last month she actively collaborated with thirty-two people in her network.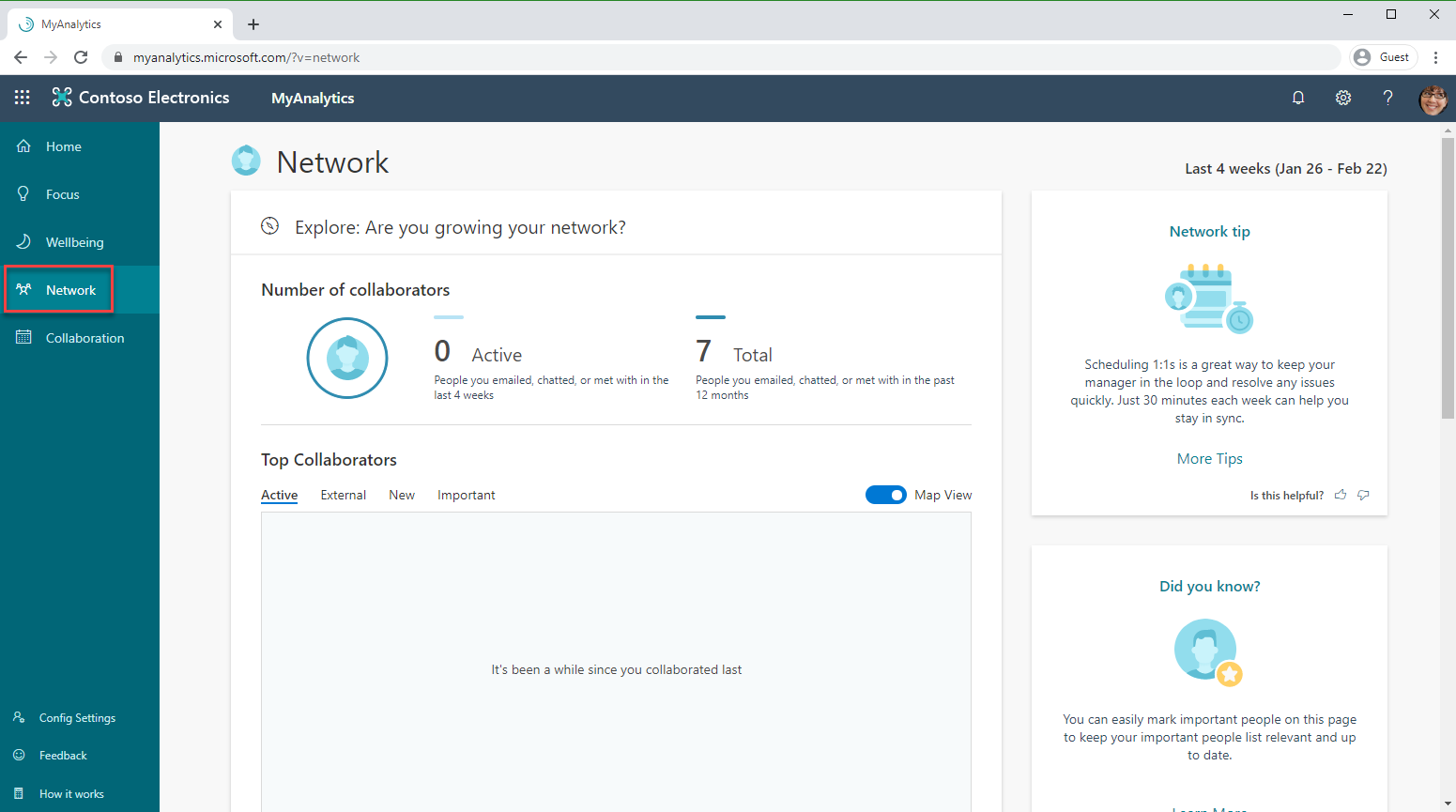 Moving on to the Collaboration dashboard, Megan gains insights into how productive her time spent working with others is. MyAnalytics shows who she's working with most and how well Megan is maintaining her relationships at work. The insights presented on the dashboard are based upon her recent collaboration activity at work.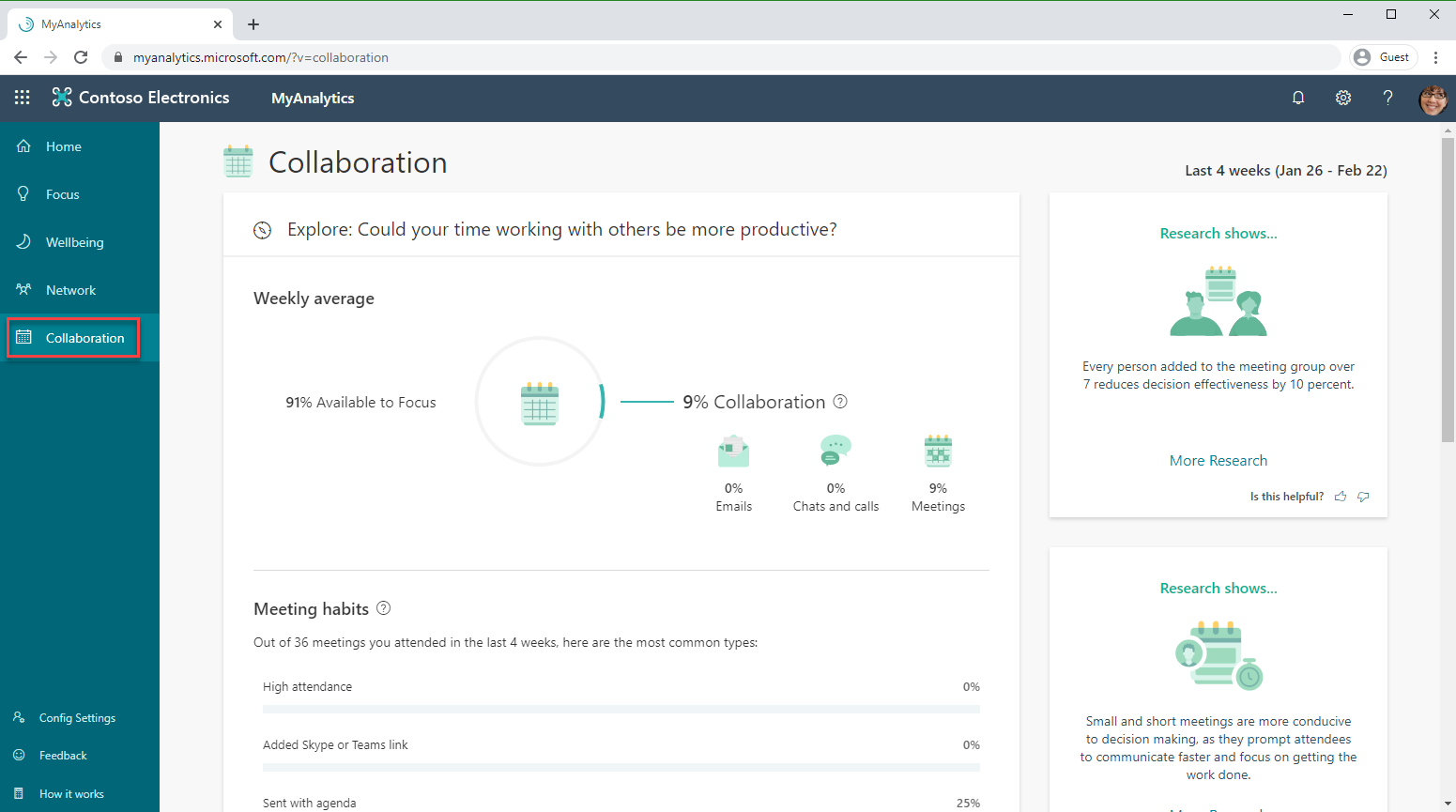 With a better understanding of how we can enhance our individual workdays, we can improve company outcomes that could drive interest at the uppermost levels of companies. This is a positive thing that Leaders in Operations are particularly concerned with; how to make the most of the time and dynamism of the people that make up their companies and organizations. ​
Workplace Analytics
​This brings us to workplace Analytics; insights focusing not just on individuals, but the total organization collectively. We have learnt and know that employee engagement, culture and inclusion are imperative to the successful optimization of a company and its resources, but equally as significant is the impact of the metric behind it and how a company can ascertain the effectiveness of this.
​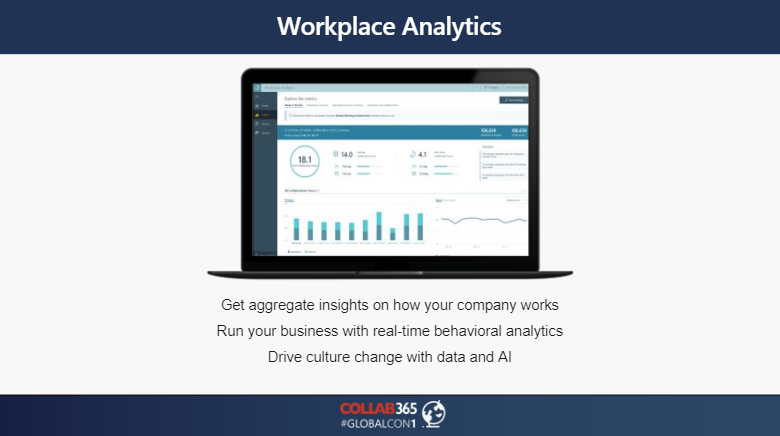 Workplace Analytics provides companies with in-depth analytics on the collective allocation of time and highlights inefficiencies in human processes/methods that can cause large amounts of time to be used unwisely and inevitably slow progress.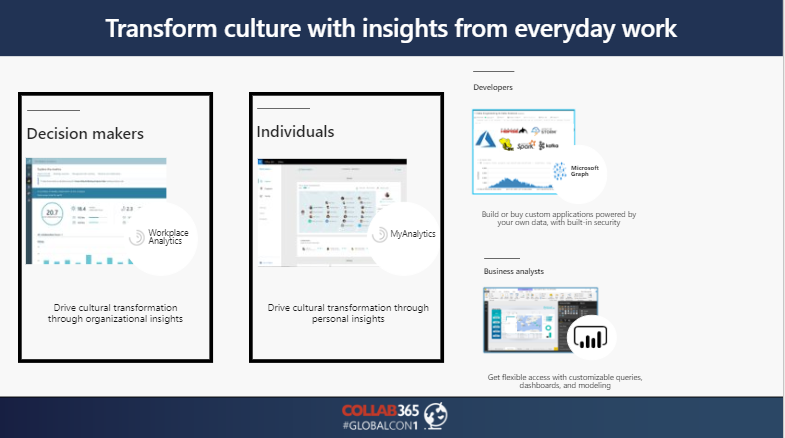 Workplace Analytics supports you in recognizing organization-level designs of achievement/success.
Workplace Analytics accesses Office 365 email and calendar metadata inclusive of to/from data and subject lines and timestamps, to highlight collaboration (relationships) and time allocation within organizations. It transforms the data that is naturally produced from people's everyday work into a set of behavioral metrics. These metrics can be utilized to better comprehend daily ongoings within organizations. Here is an example of this I prepared earlier:
Workplace Analytics Demo
Adele Vance is an analyst at Contoso. She uses Microsoft Workplace Analytics to connect collaboration patterns—based on data from everyday work in Office 365—to business outcomes like enterprise productivity, employee engagement, and sales quota attainment. A recent employee engagement survey suggests that Contoso's Marketing and Sales departments are suffering from overload and disengagement.
Adele starts on the Workplace Analytics home page. The home page gives her an overview of the internal and external populations analysed, high-level collaboration statistics, and access to more granular details via the 'Explore the metrics' dashboards.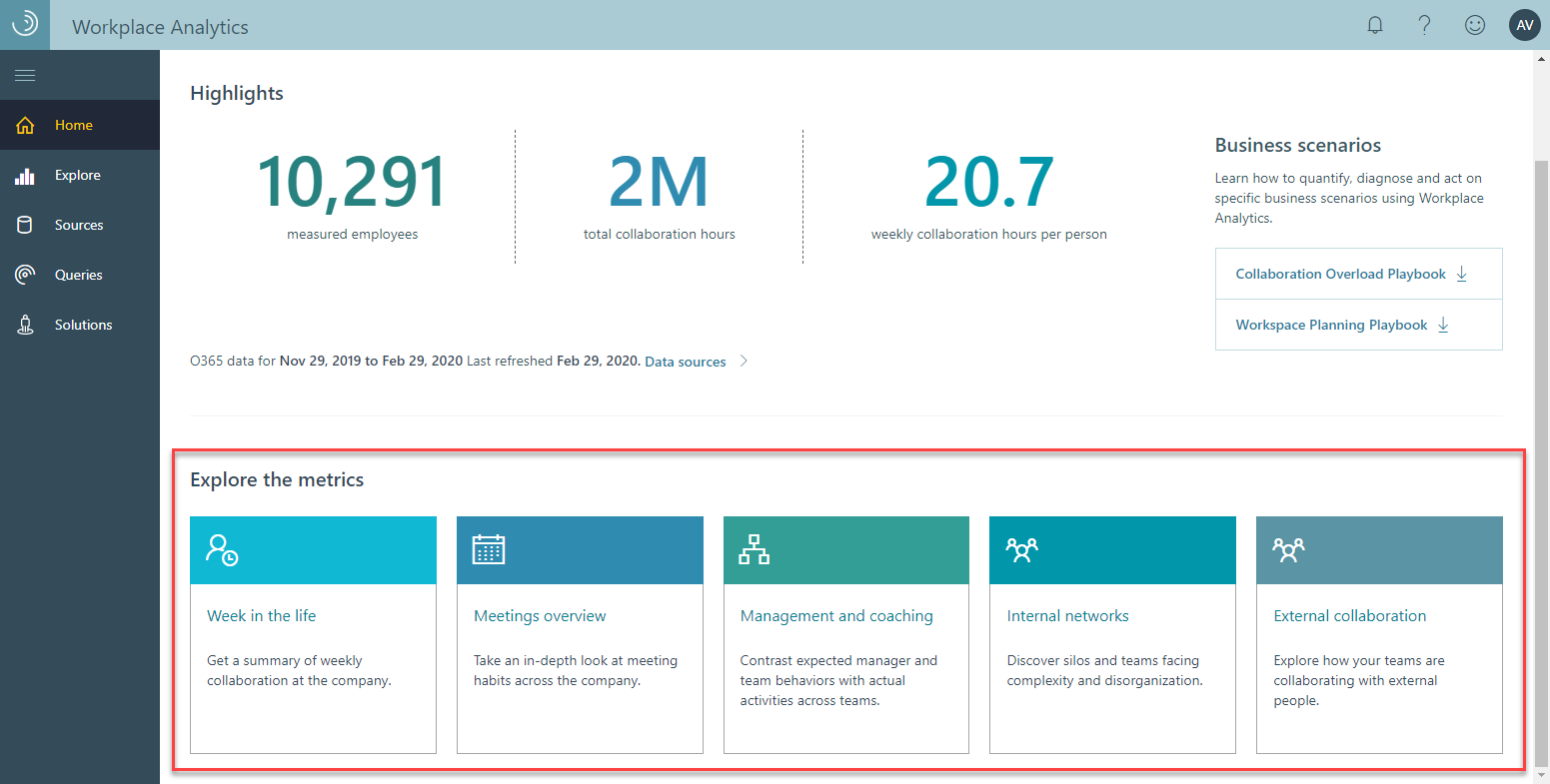 Week in the life provides Adele insights into how people in her organization collaborate, both internally and externally. To understand why the Sales and Marketing teams may become overloaded, Adele can analyse collaboration patterns across different functions.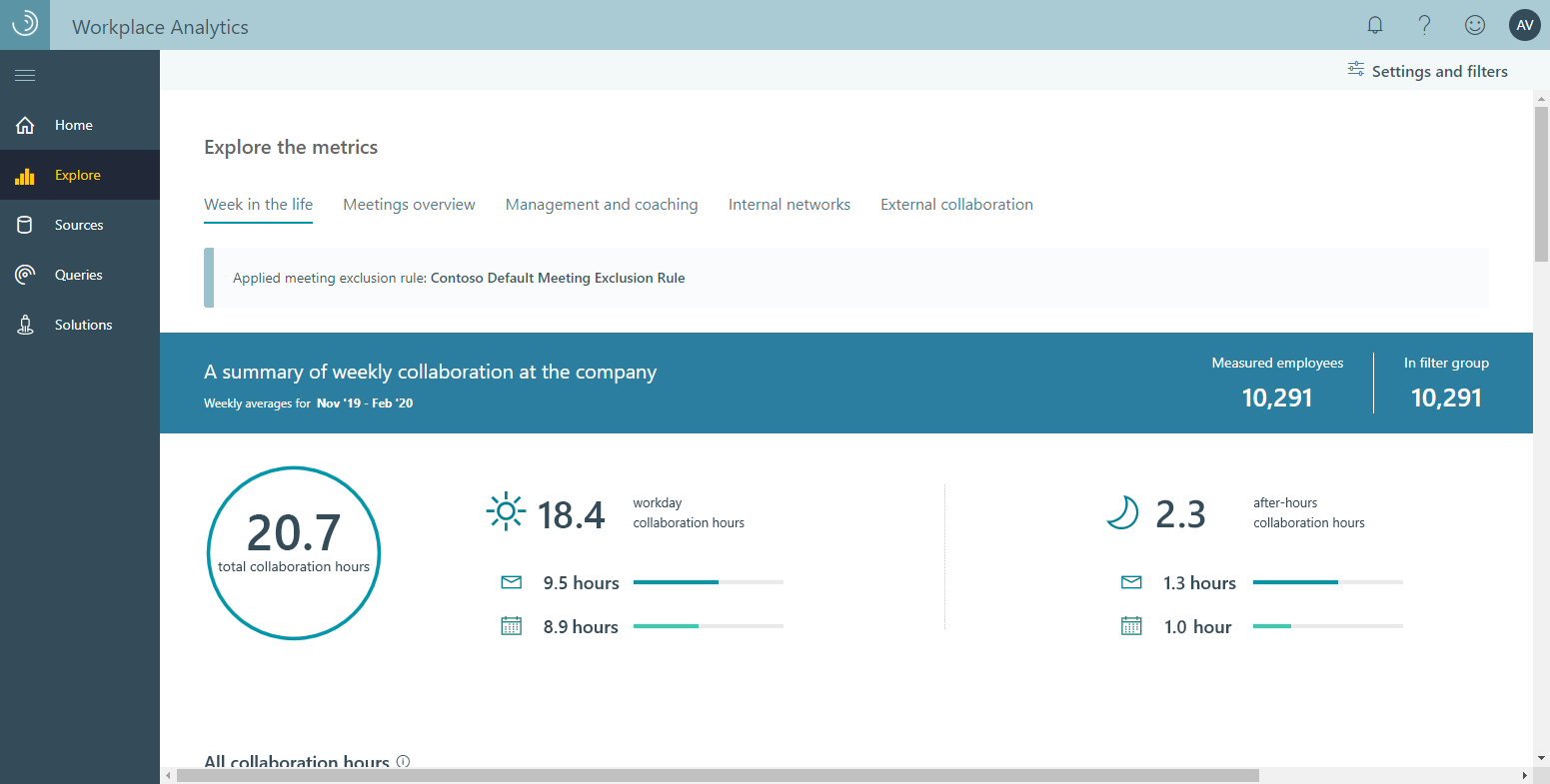 Adele knows meetings are a huge expense for most organizations. She switches to the Meetings overview dashboard, which focuses on meeting quality. This dashboard explores factors that impact a meeting's effectiveness like meeting redundancy, attendee multitasking, and complications due to scheduling conflicts.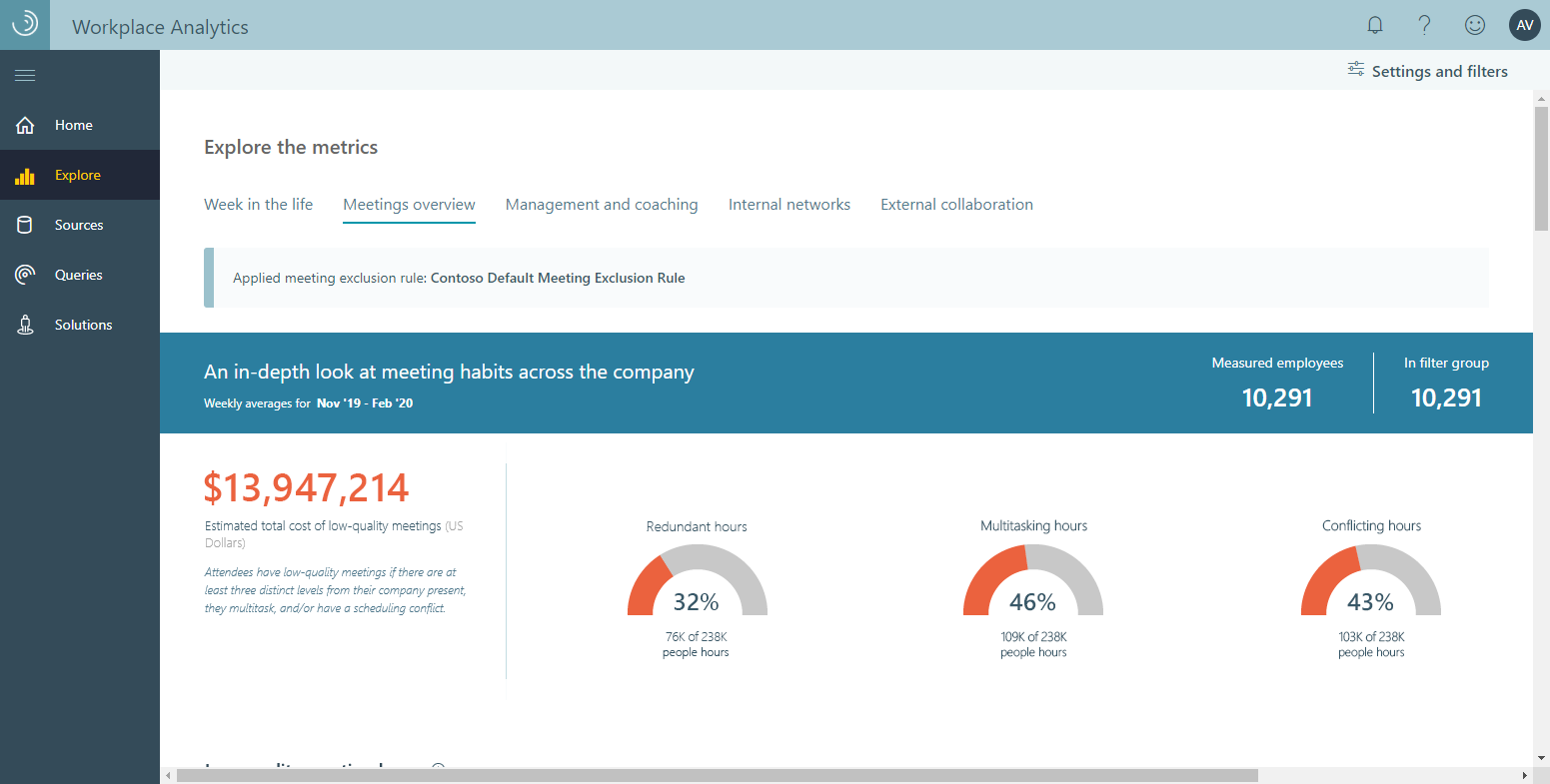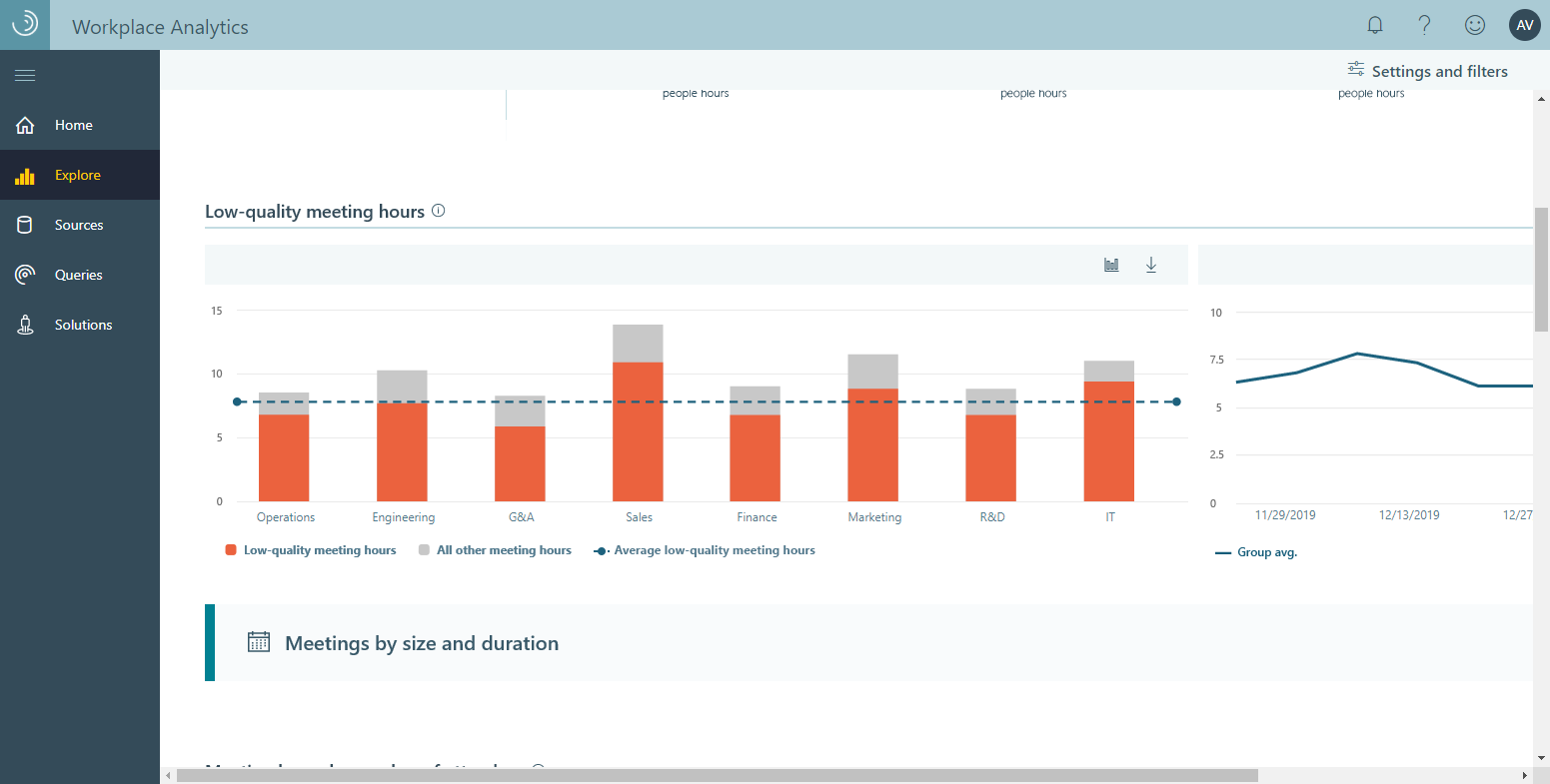 It's clear that the business is experiencing collaboration overload and that meeting quality is a pain point. However, Adele recognizes that some meetings, especially 1:1 meetings between managers and their direct reports and those that provide exposure to leadership, are critical for mentorship and coaching.
Adele turns to the Internal networks dashboard to understand how people are connected across her organization.
The Network diversity diagram reflects the network size and breadth of each group. Adele can quickly see that the Sales team has the greatest internal network size and breadth, followed by the Marketing team.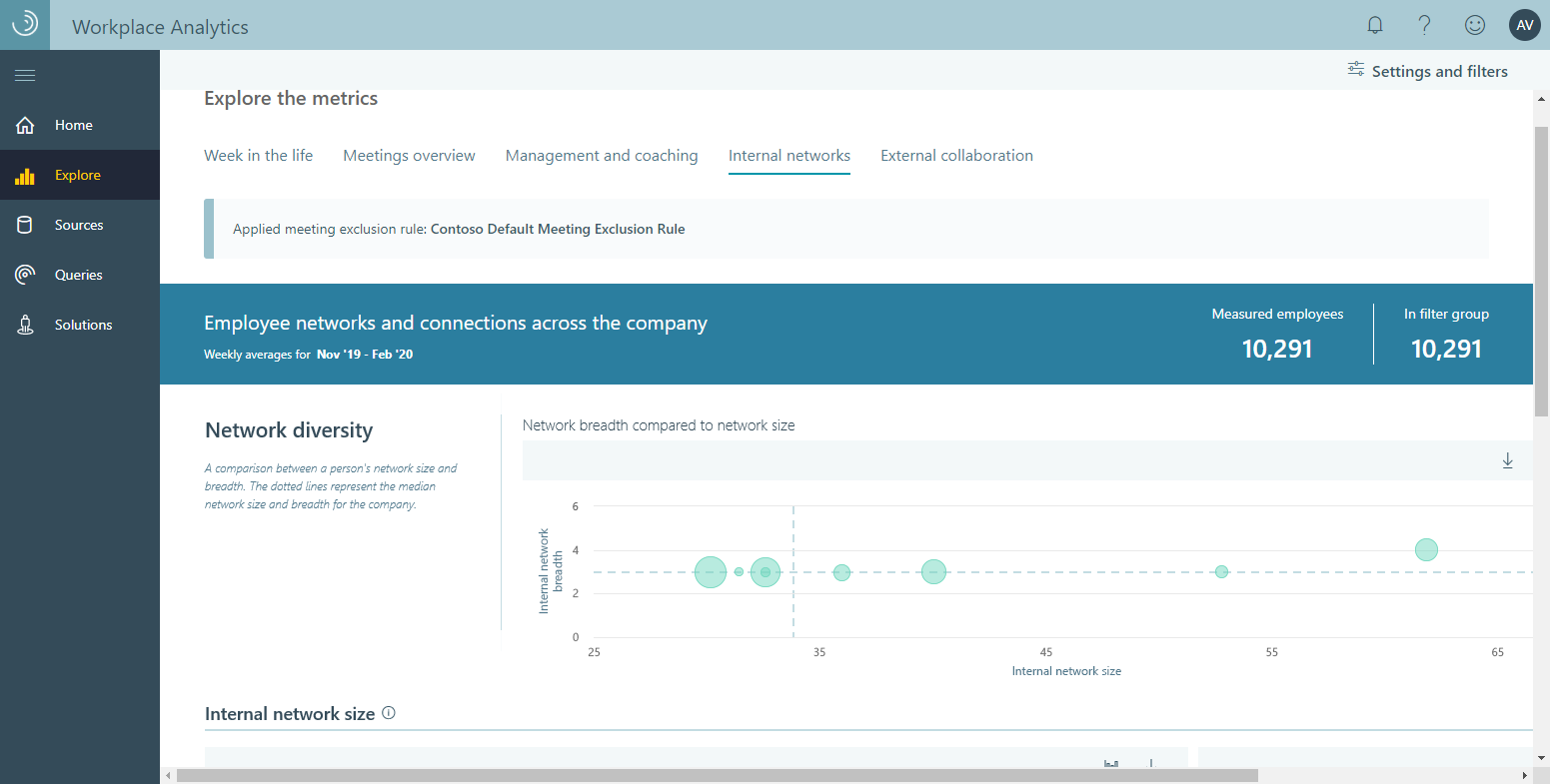 Adele has uncovered several potential causes driving internal disengagement and overload issues. But, she also wants to understand how these trends are influencing relationships with Contoso's customers. For insight into this, she turns to the External collaboration dashboard.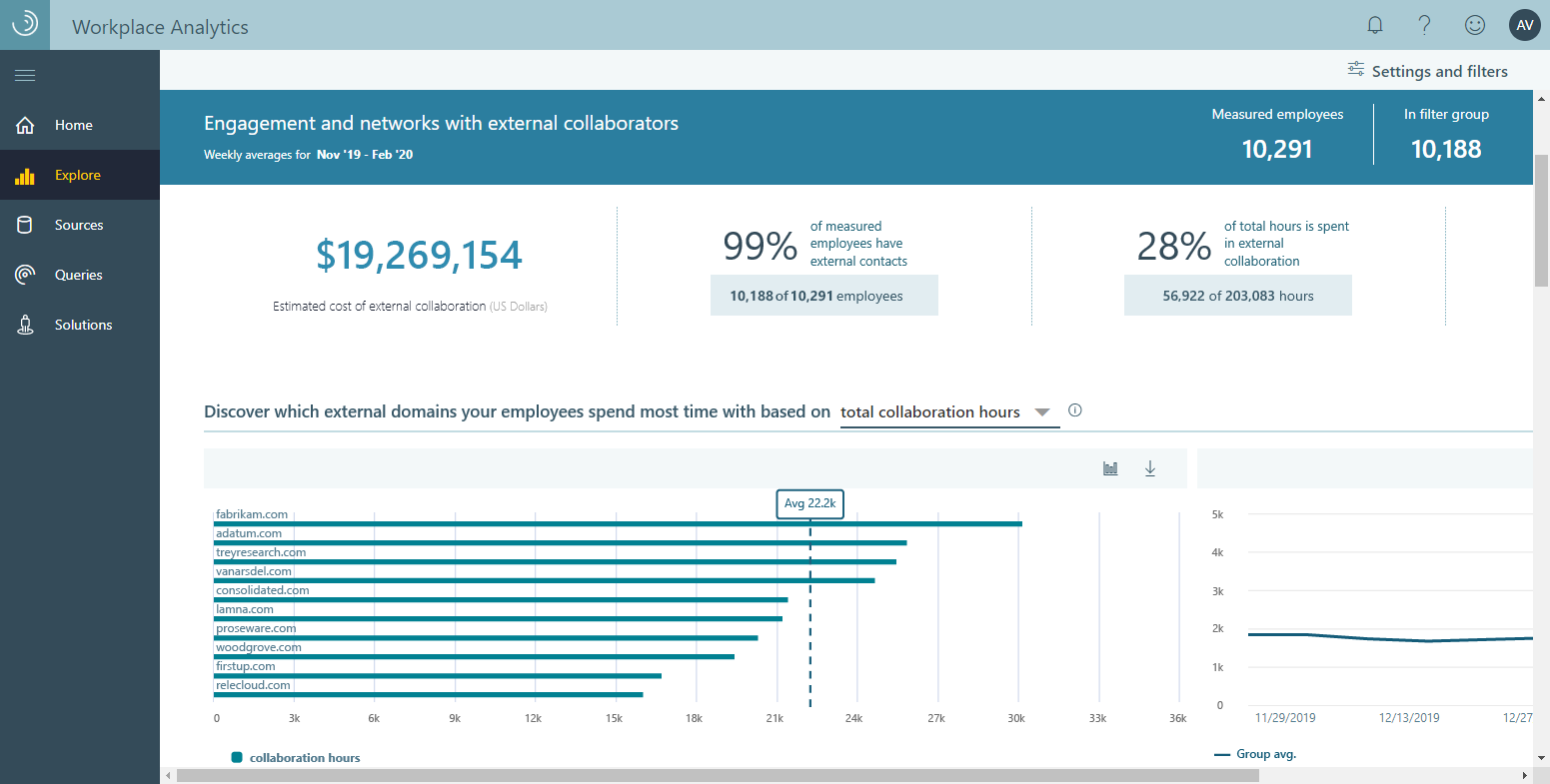 Microsoft Search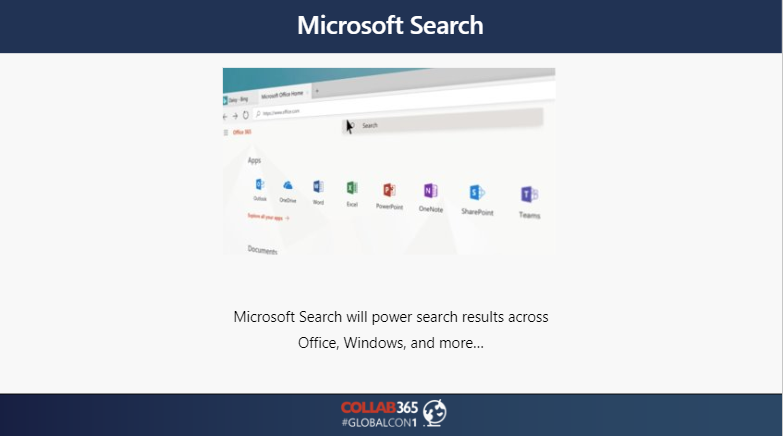 Microsoft Search was developed to help combat common search associated problems:
A dramatic spike in internet and intranet content that is now available across the enterprise and online.
The enterprise search experience has not seen a facelift of any sort over the last decade – i.e. providing an abundance of blue links, but deficient in tools/resources to quickly distinguish and discriminate between them.
Search allowed users to navigate through the surfaced links but did not provide much in the way of assistance in accomplishing tasks.
Microsoft Search breaks the enterprise search mould by presenting users:
Improved and more contextual results
A more organized, reliable and immersive user experience
Fast access to essential information to better assist in the accomplishment of crucial tasks
Microsoft Search Demo
All Microsoft products are making a bold bet on the importance of search by putting the Microsoft Search box in the header across the Microsoft 365 suite of applications. Microsoft Search is proactive, contextual, and coherent. Microsoft Search leverages advanced computing technologies like deep learning for a better semantic understanding of search queries.
Microsoft has improved search to deliver the best results across work and life. Megan starts by looking at the fundamentals first – the online search experience with Bing.
Great results start with a great place to start her search, and Bing delivers a stunning high definition image daily. The Bing home page is also a high-performance page optimized for use as a blank start page.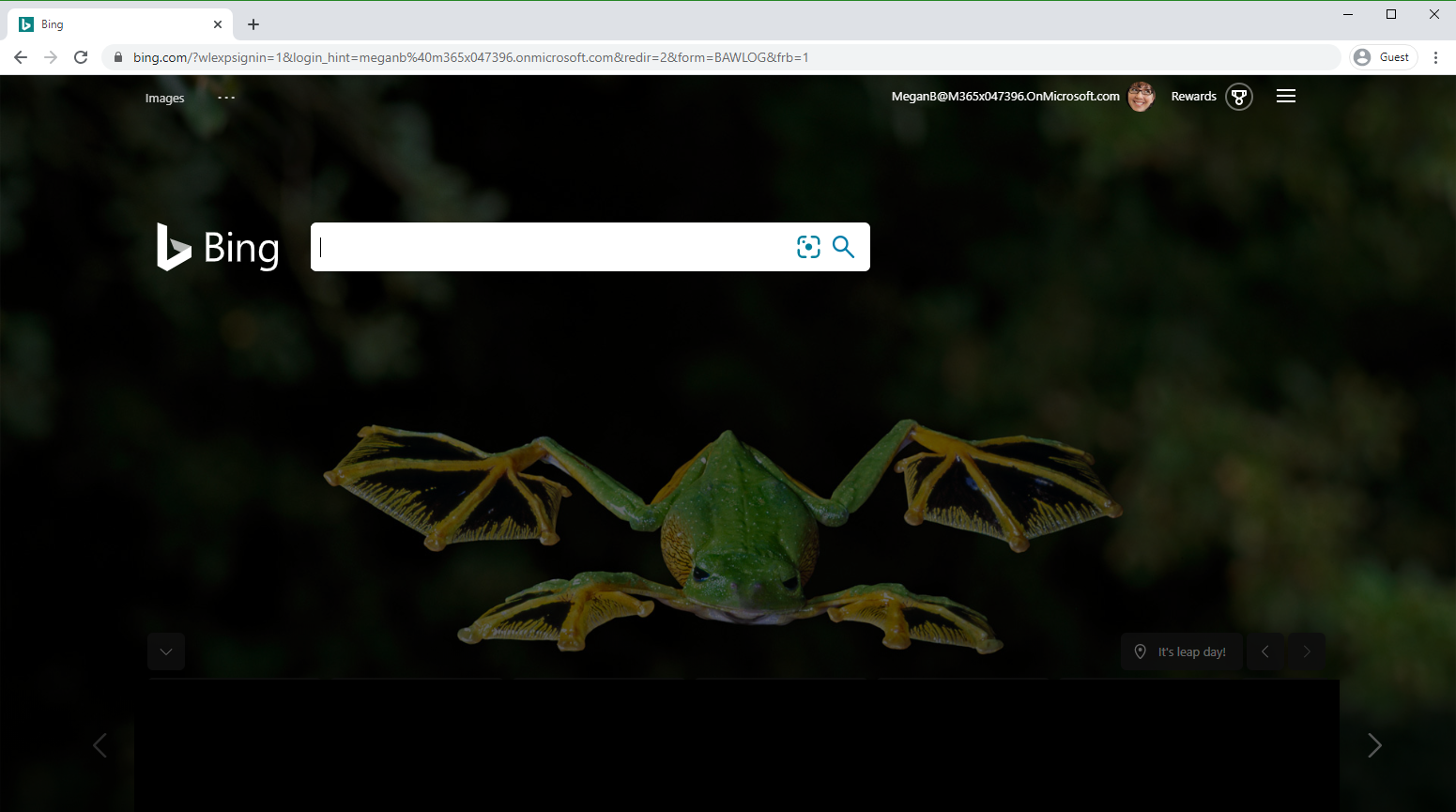 From Bing, Megan is now able to search for company data in the same search windows. Megan can type Sales results overview and be taken to all search results.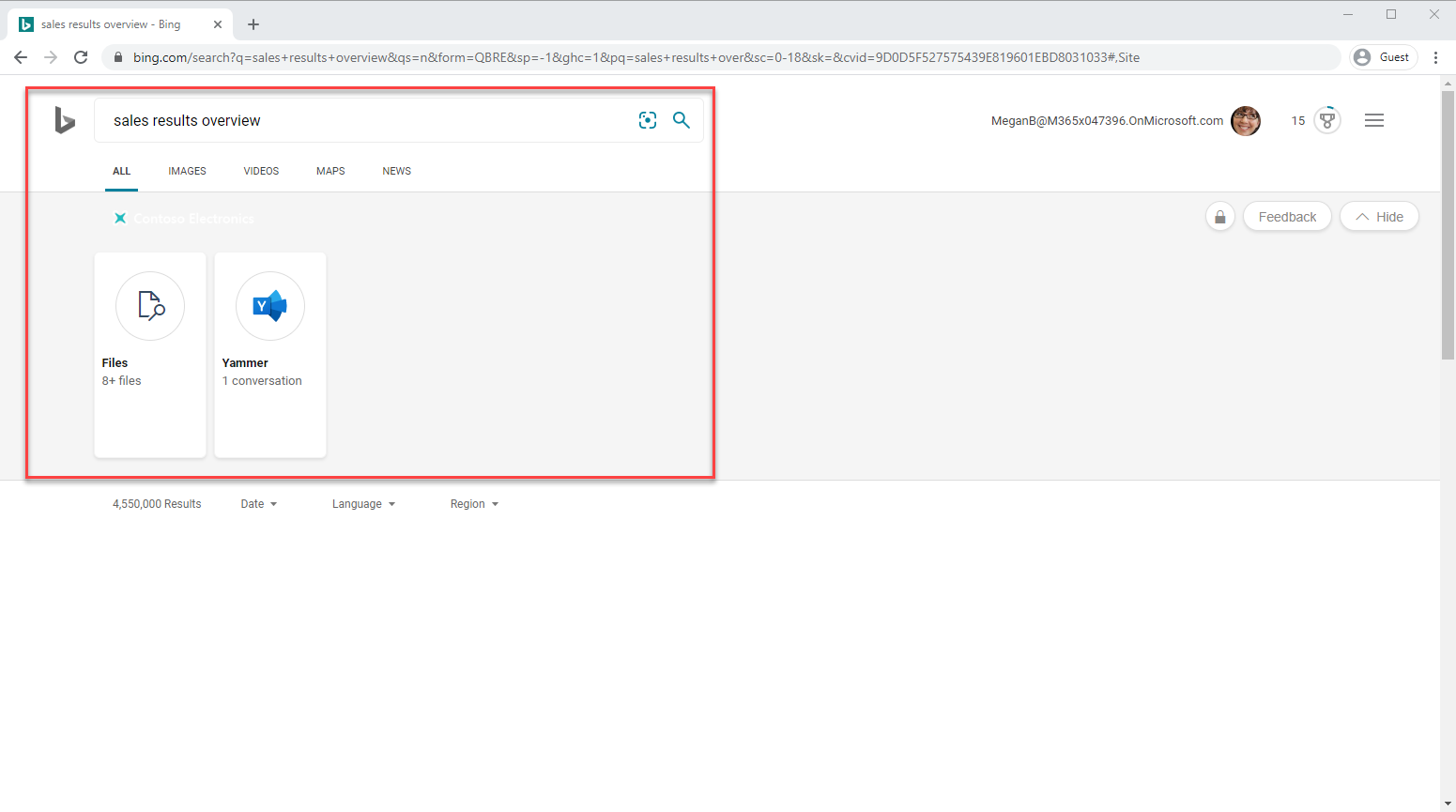 Clicking on files Megan can now start searching data within her organization.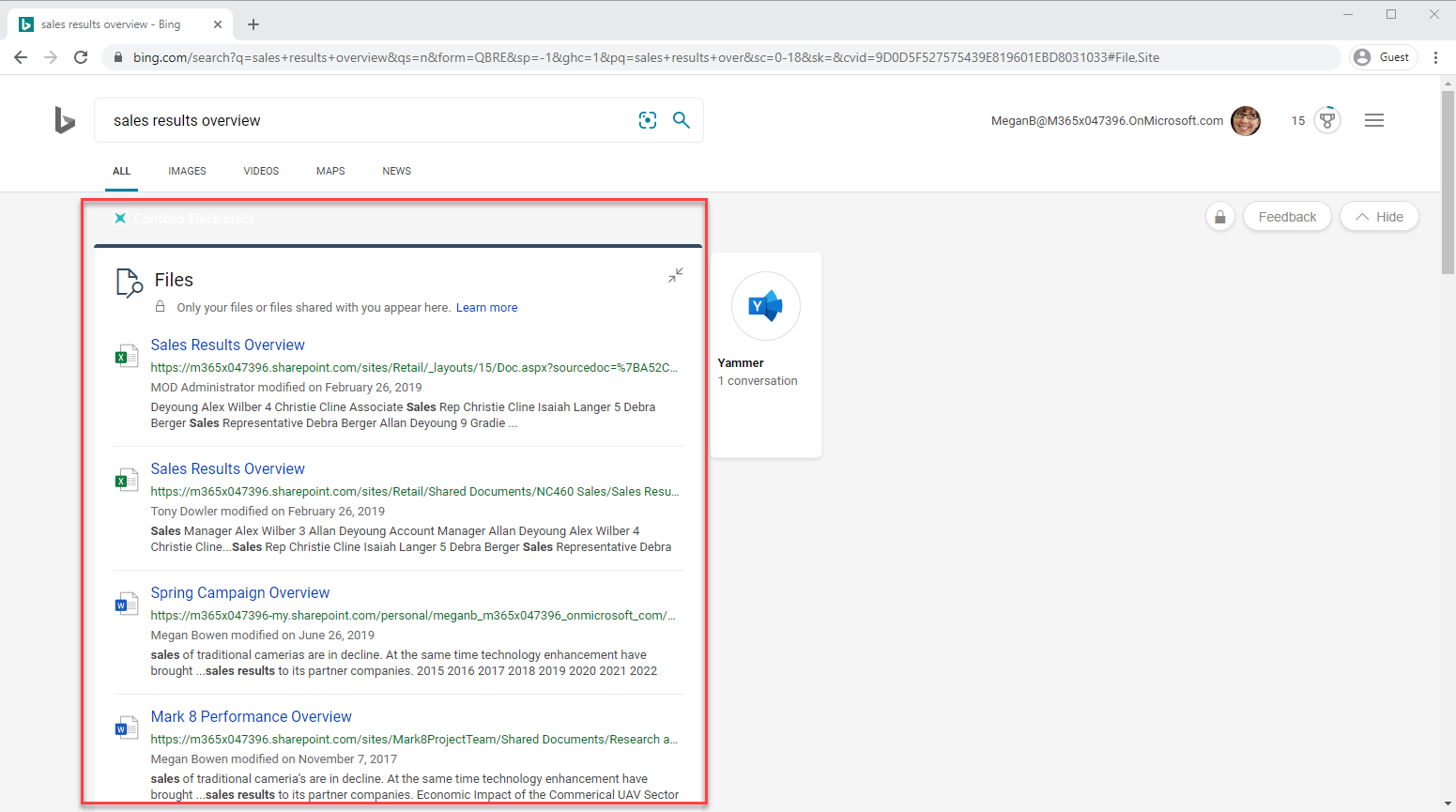 However, Microsoft Search is more than just files. When Megan wants to search for someone in the context of who they are, where they work, or what role they fulfil at Contoso, she turns to Microsoft Search. Megan navigates to the Office 365 welcome page and types one of her Directors names in the search field.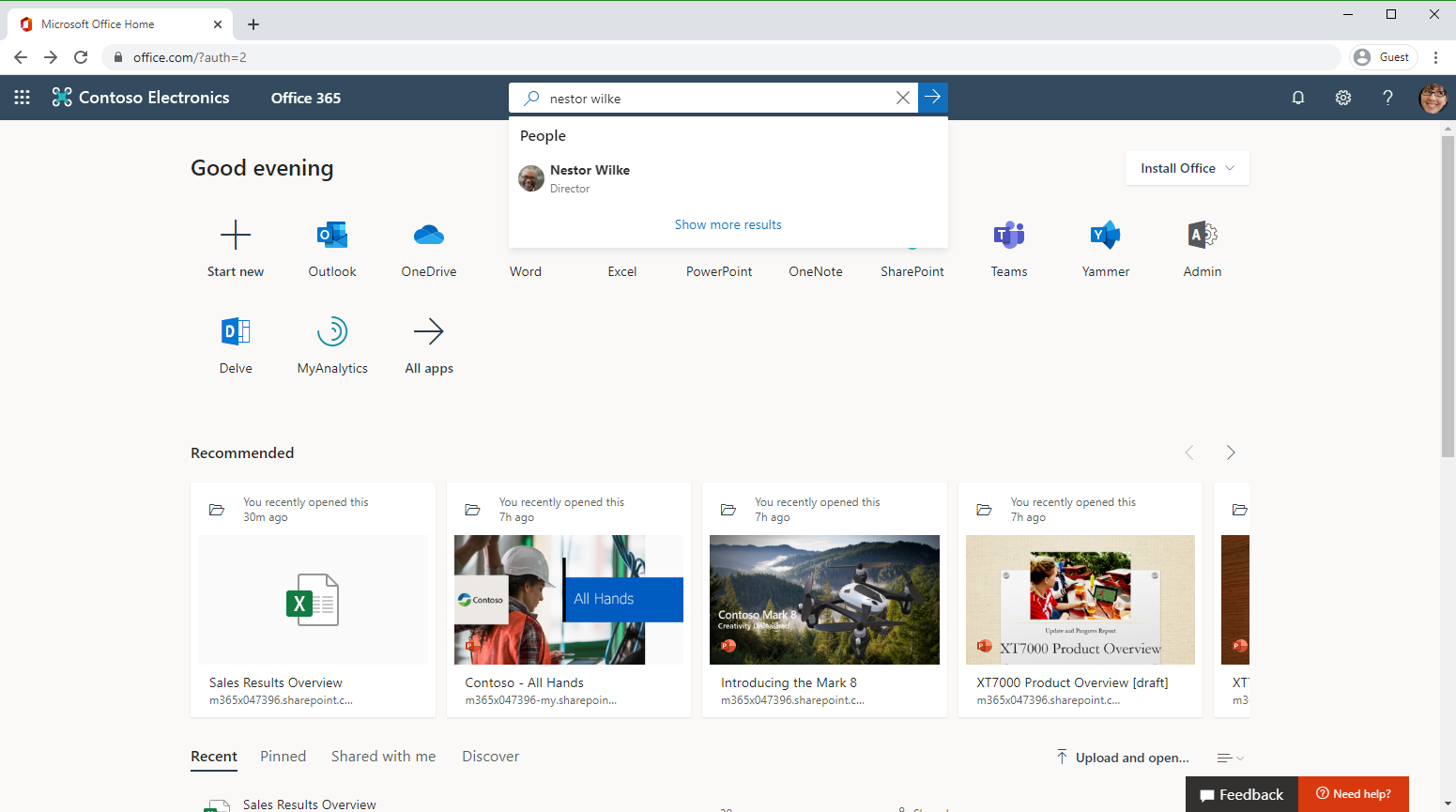 Megan can now click on Nestor Wilke to see the contact card and from here Megan can send an email or start a chat.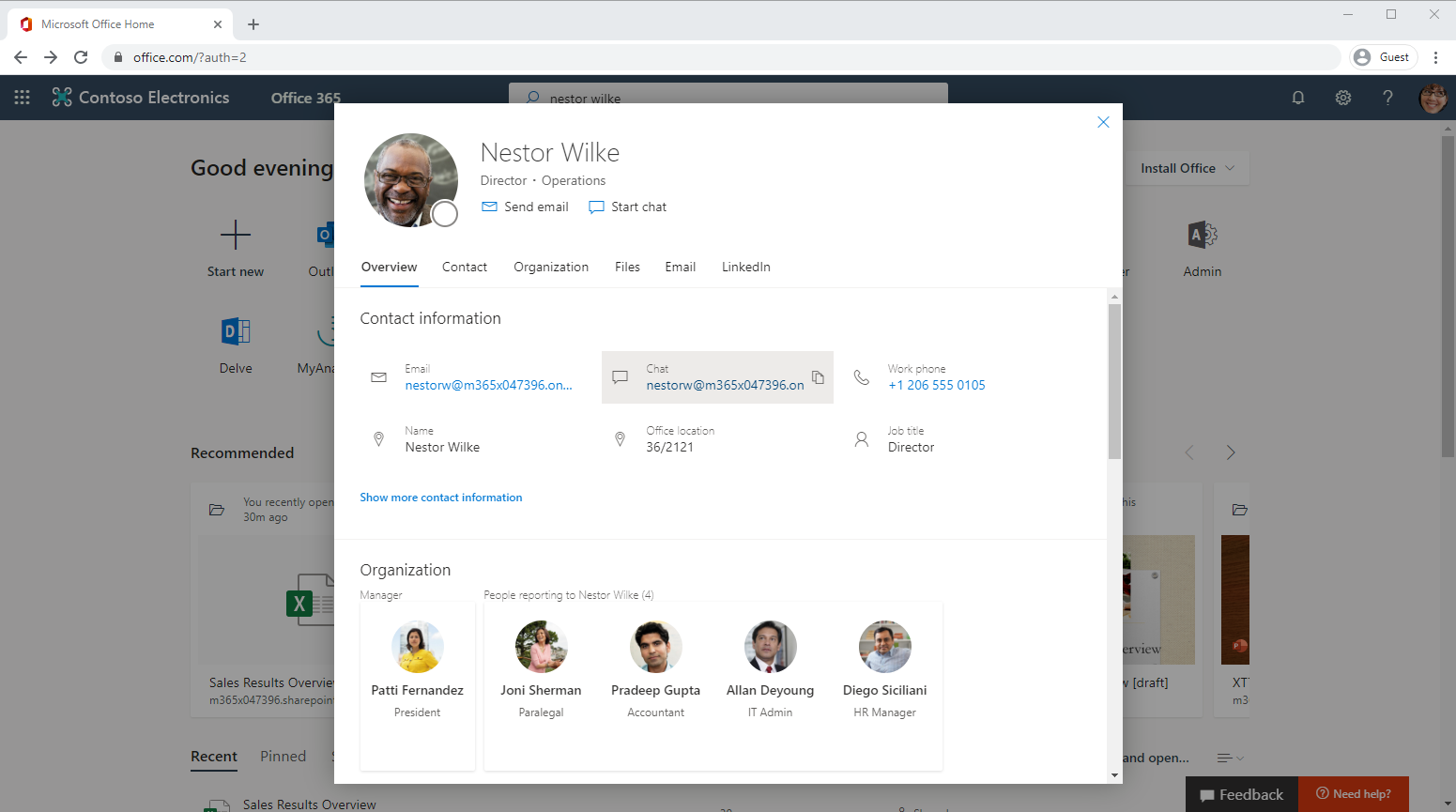 In conclusion…
I hope this ebook has provided you with a good foundation in understanding how you and your business can harness dark data (which sounds like it's Star Wars related but is disappointingly not) to turn it from transactional, to transformational.